Activists Blockade Private Jet Airport Used by World Economic Forum Attendees
Jan 17, 2023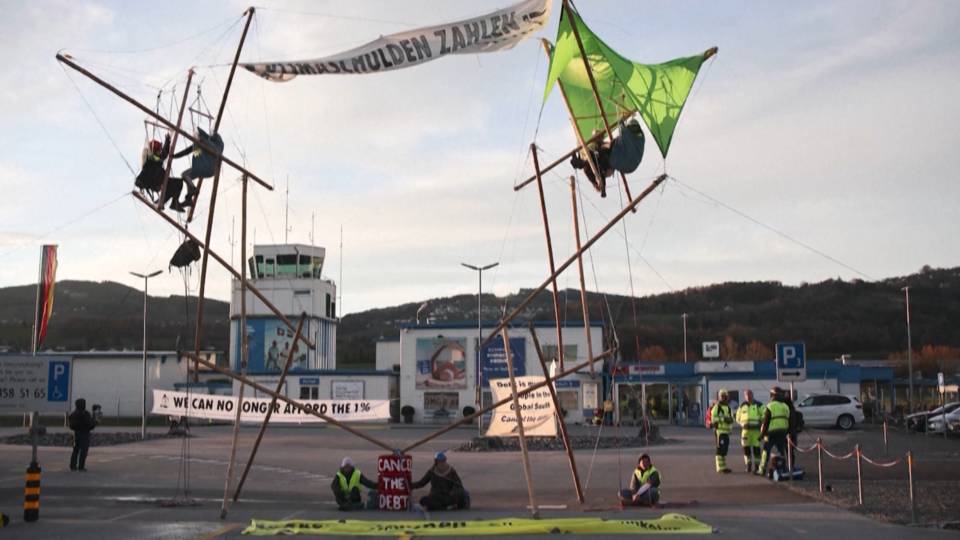 Image Credit: Debt for Climate Switzerland
The World Economic Forum has begun in the luxury ski resort of Davos, Switzerland. On Monday, climate activists blocked a private jet airport used by many to reach the annual conference. According to Greenpeace, over 1,000 private jets flew in and out of Davos during last year's gathering.
Meanwhile, over 700,000 people have signed an open letter to fossil fuel CEOs attending the World Economic Forum, urging them to "immediately stop opening any new oil, gas, or coal extraction sites, and stop blocking the clean energy transition." The letter was written by a group of climate activists including Vanessa Nakate of Uganda and Greta Thunberg of Sweden.
Nepal Airliner Crash Kills Dozens
Jan 17, 2023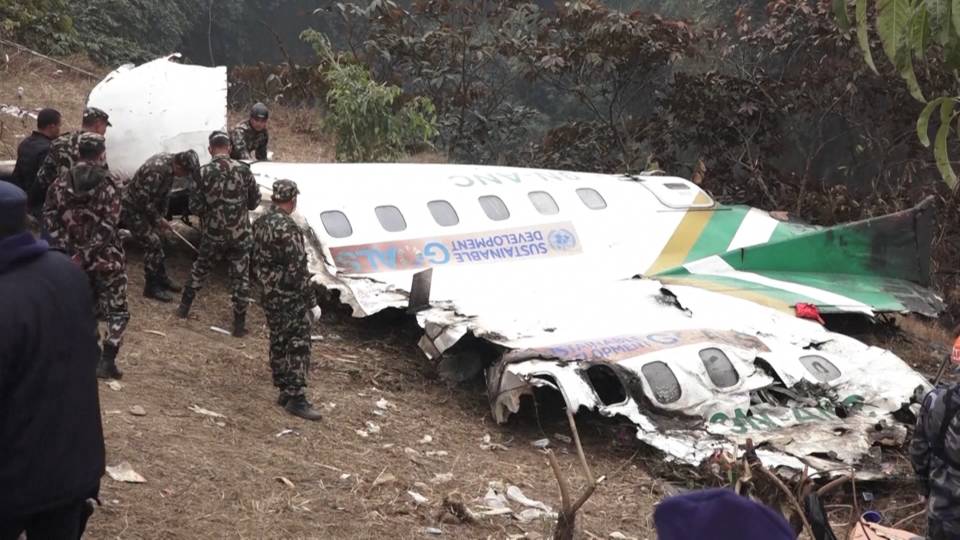 In Nepal, an investigation is underway into the cause of a Yeti Airlines crash on Sunday that appears to have killed all 72 people on board. It was Nepal's deadliest air disaster in more than three decades. The plane had been traveling from the capital Kathmandu to Nepal's second-largest city, Pokhara, when it began rolling from side to side before crashing into a gorge and catching fire. Investigators were able to recover the plane's cockpit voice recorder and flight data recorder on Monday.
Israeli Soldiers Kill 14-Year-Old Palestinian in West Bank Raid
Jan 17, 2023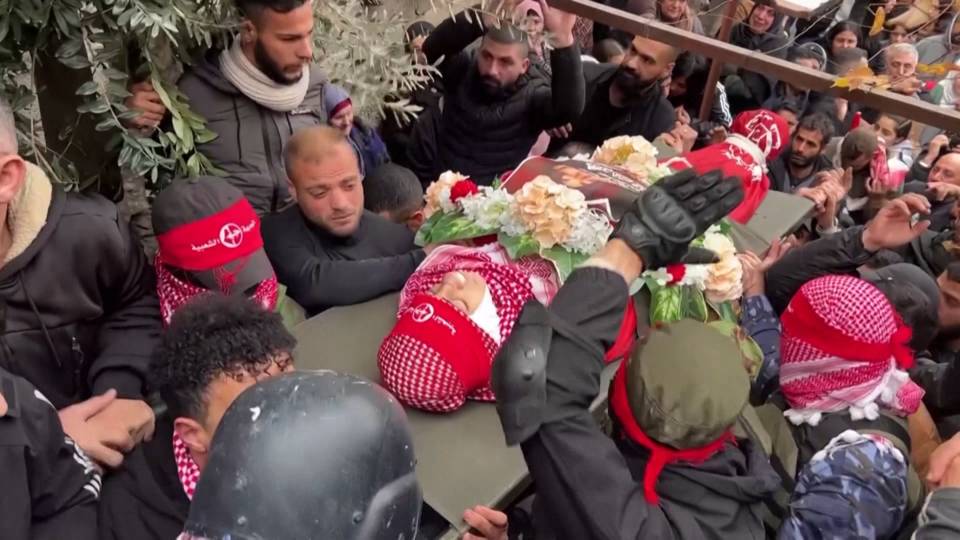 In the occupied West Bank, Israeli troops shot and killed a 14-year-old Palestinian boy on Monday as they carried out a raid in the Dheisheh refugee camp near Bethlehem. Omar Khmour was a student in the ninth grade at a United Nations refugee agency school. He was the 14th Palestinian killed by Israeli troops so far in 2023 and the fourth Palestinian child killed since the new year. 
His death came less than two days after an estimated 80,000 Israelis rallied in Tel Aviv to protest plans by Israel's new far-right government to overhaul the judicial system. Similar protests were held in Jerusalem and Haifa. A plan led by Benjamin Netanyahu would sharply limit judicial powers by allowing a simple majority of lawmakers to invalidate Supreme Court decisions.
"Unconscionable and Indefensible": U.K. Government Vetoes Scottish Gender Equality Bill
Jan 17, 2023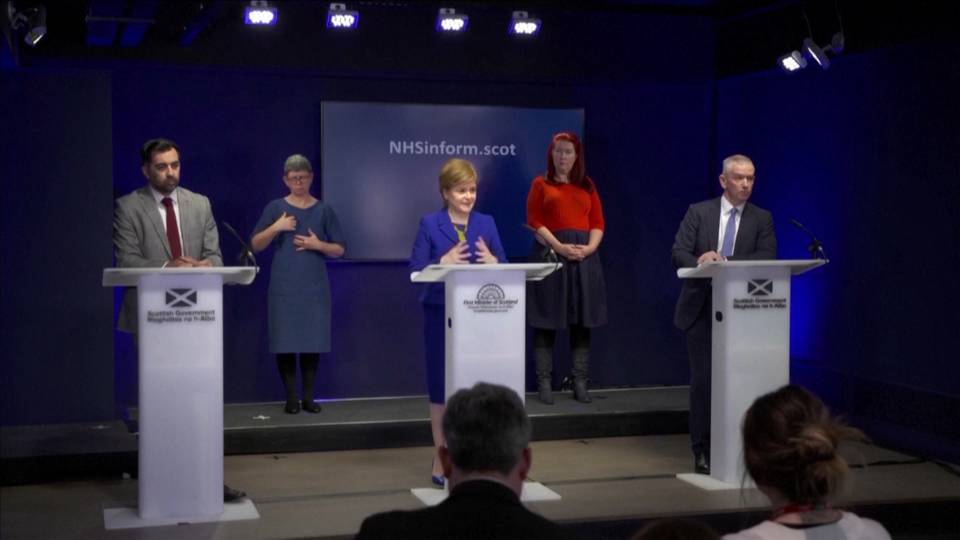 In Britain, the government of Conservative U.K. Prime Minister Rishi Sunak has vetoed a bill passed by Scotland's Parliament that would have made it easier for people to change their legal gender. The legislation was approved by Scottish lawmakers last month. It would make it simpler and faster for transgender people to obtain legal documents establishing their gender, would end the need for a medical diagnosis of "gender dysphoria" and would extend those rights to teenagers as young as 16. It's the first time since the Scottish Parliament was established in 1999 that the U.K. government has used its veto power to block a Scottish law from taking effect. On Monday, Scotland's First Minister Nicola Sturgeon condemned the veto as a "full-frontal attack" on the Scottish Parliament.
First Minister Nicola Sturgeon: "In my view, it will be, quite simply, a political decision, and I think it will be using trans people, already one of the most vulnerable, stigmatized groups in our society, as a political weapon. And I think that will be unconscionable and indefensible and really quite disgraceful."
New Mexico GOP Candidate Arrested for Shootings at Homes of Democrats
Jan 17, 2023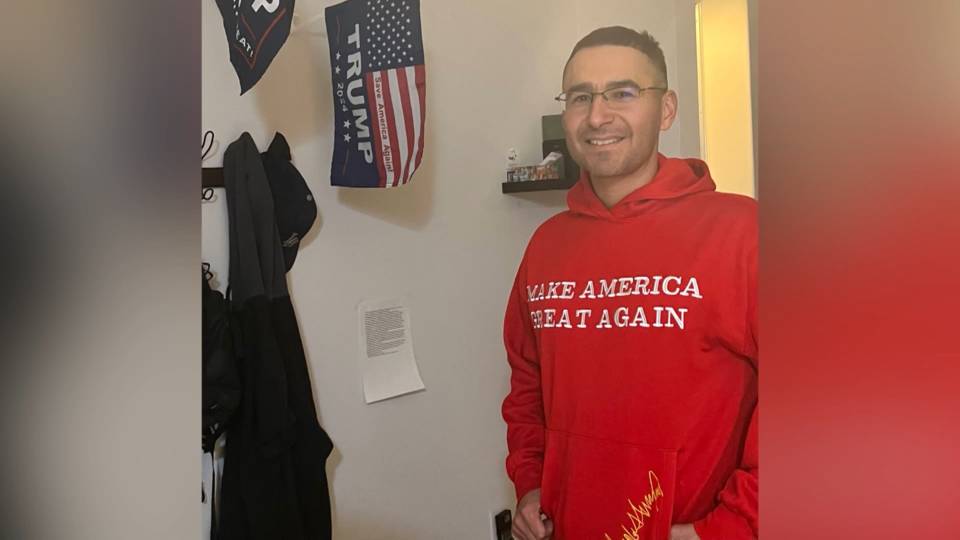 Image Credit: Twitter: @SolomonPena2022
In New Mexico, a Republican candidate who lost his bid for a seat in the state House in November has been arrested for orchestrating shootings at the homes of four Democratic officials. According to the Albuquerque Police Department, Solomon Peña paid four men in cash to shoot at the homes of two county commissioners and two state legislators. Police say he also took part in at least one of the shootings but his gun malfunctioned. He was arrested by a SWAT team on Monday. Albuquerque Mayor Tim Keller described Peña as a "right-wing, radical election denier." Peña refused to concede his election loss in November when he lost in a landslide. He also was a vocal supporter of Donald Trump.
GOP Insiders Knew More Than a Year Ago About George Santos's False Résumé
Jan 17, 2023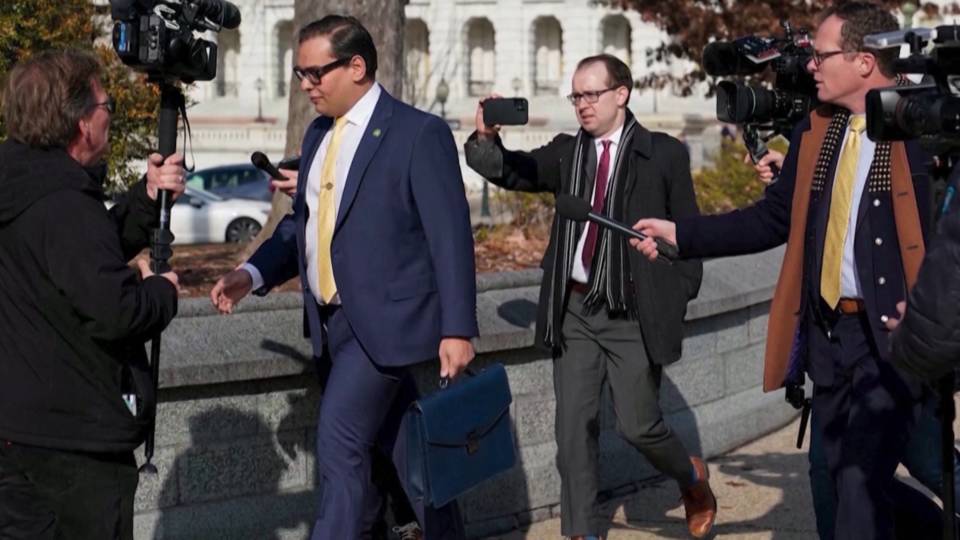 The New York Times is revealing some Republican insiders knew over a year ago that then-Republican congressional candidate — and now-congressmember — George Santos had made up much of his résumé, including his educational background, employment history and religion. Santos's lies were exposed when his campaign did a routine background report on him, but the findings were not made public. During his run, Santos would go on to pick up key endorsements, including Kevin McCarthy, who is now the House speaker. On Monday, New York Republican Congressmember Nick LaLota called on the Department of Justice and the Federal Elections Commission to freeze any money left in Santos's campaign account due to fraudulent activity. It recently came to light that one of Santos's aides impersonated Kevin McCarthy's chief of staff in fundraising efforts. On Monday, McCarthy admitted he "always had a few questions" about Santos, but McCarthy has so far refused to back calls for Santos to resign.
NYC Mayor Warns Asylum Seekers "There Is No More Room in New York"
Jan 17, 2023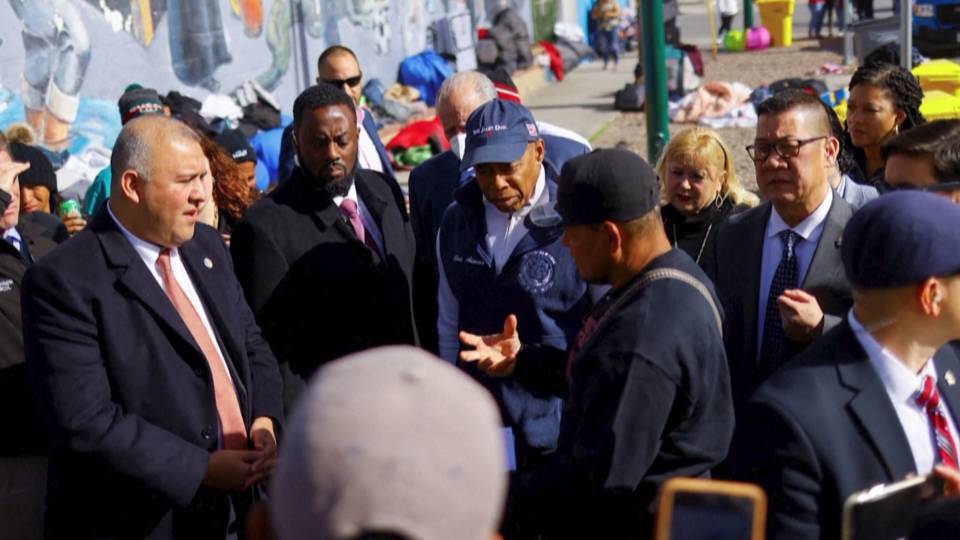 New York Mayor Eric Adams traveled to the border city of El Paso, Texas, Sunday and said New York City has no more room to house additional asylum seekers.
Mayor Eric Adams: "There's a conversation among those who are asylum and migrants — asylum seekers and migrants who are given the false impression that if you come to New York City, everything is fine. … In New York, you go there, you're going to be living in congregate settings, that there is no more room in New York."
The New York mayor used his trip to El Paso to urge the Biden administration to provide more help to New York, which has accepted 40,000 asylum seekers over the past year, including 800 in a single day last week. Eric Adams's trip was criticized by New York City Comptroller Brad Lander, who said the mayor's trip "risks reinforcing a harmful narrative that new immigrants themselves are a problem."
Oklahoma Carries Out First of 11 Executions Set for 2023
Jan 17, 2023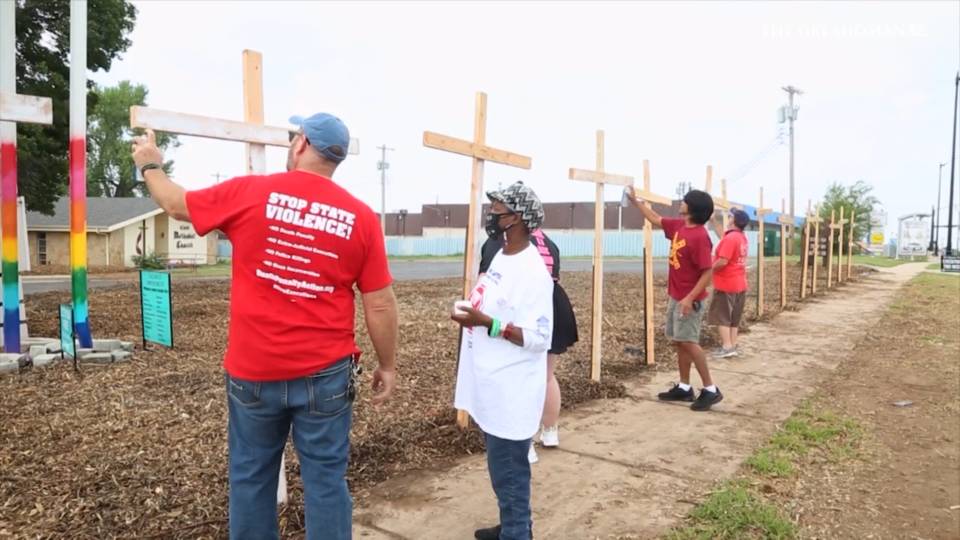 Image Credit: The Oklahoman/Addison Kliewer
Oklahoma has carried out the first of what prison officials say will be 11 executions this year. Scott Eizember was pronounced dead at 10:15 a.m. local time last Thursday, after authorities at the Oklahoma State Penitentiary strapped him to a gurney and injected him with a lethal cocktail of three drugs. Eizember is the eighth death row prisoner to be killed since Oklahoma resumed capital punishment in late 2021 after a six-year moratorium.
His killing came as one of Alabama's largest suppliers of packaged gas said it will refuse to supply nitrogen to state gas chambers. A spokesperson for the company Airgas said in a statement, "Notwithstanding the philosophical and intellectual debate of the death penalty itself, supplying nitrogen for the purpose of human execution is not consistent with our company values."
Russell Banks, Novelist Who Wrote About Criminals, Outcasts and Revolutionaries, Dies at 82
Jan 17, 2023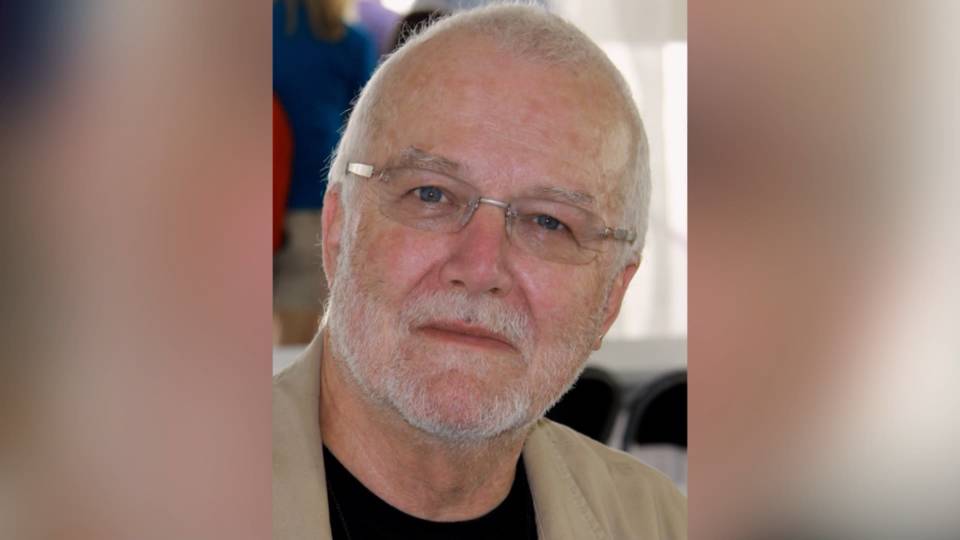 Image Credit: Larry D. Morre/Wikimedia Commons
The acclaimed novelist Russell Banks has died of cancer at the age of 82. Banks was twice a finalist for the Pulitzer Prize, known for drawing on his working-class background to write about criminals, outcasts and revolutionaries. His books "Rule of the Bone," "The Sweet Hereafter" and "Affliction" were adapted into feature films, and his 1998 historical novel "Cloudsplitter" focuses on the revolutionary abolitionist John Brown. Russell Banks spoke to Democracy Now! in 2011 about John Brown's life and legacy.
Russell Banks: "Brown sort of stood at that crossroads of religion and violence in the American imagination, and righteous wrath, if you will, or principled violence. And he was our homegrown terrorist, but he was a terrorist for a cause that certainly today we're universally in support of, which is the ending of slavery. And so, his story is still a very complicated one for most Americans."
Click here to see our full interview with Russell Banks in 2011.