Georgia Gov. Declares State of Emergency, Calls Up National Guard Amid "Cop City" Protests
Jan 27, 2023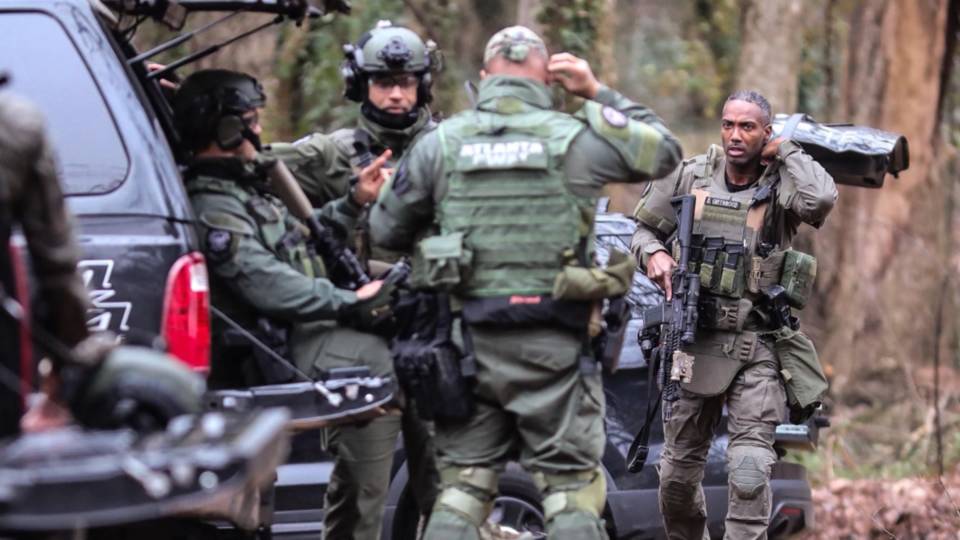 In Georgia, Republican Governor Brian Kemp on Thursday declared a state of emergency in response to mass protests that erupted after the police killing of environmental defender Manuel Terán in Atlanta last week. The declaration gives Kemp the power to deploy up to 1,000 National Guard troops over the next 15 days to quell the mobilizations. Terán, who went by the name Tortuguita, was shot dead by a SWAT team on January 18 as officers violently raided an encampment of protesters opposed to "Cop City," a proposed $90 million police training facility in a public forest in Atlanta. The Atlanta Community Press Collective tweeted, "The true emergency, however, is that law enforcement agencies across the country are killing people every day. … Kemp's declaration of a State of Emergency isn't about property damage at Saturday's protests at all. It's about police murdering #TyreNichols and Tortuguita within two weeks of each other. They're trying to instill fear in anyone who stands up against police brutality."
Haitian Police Blockade Port-au-Prince Streets After Gangs Kill 14 Officers
Jan 27, 2023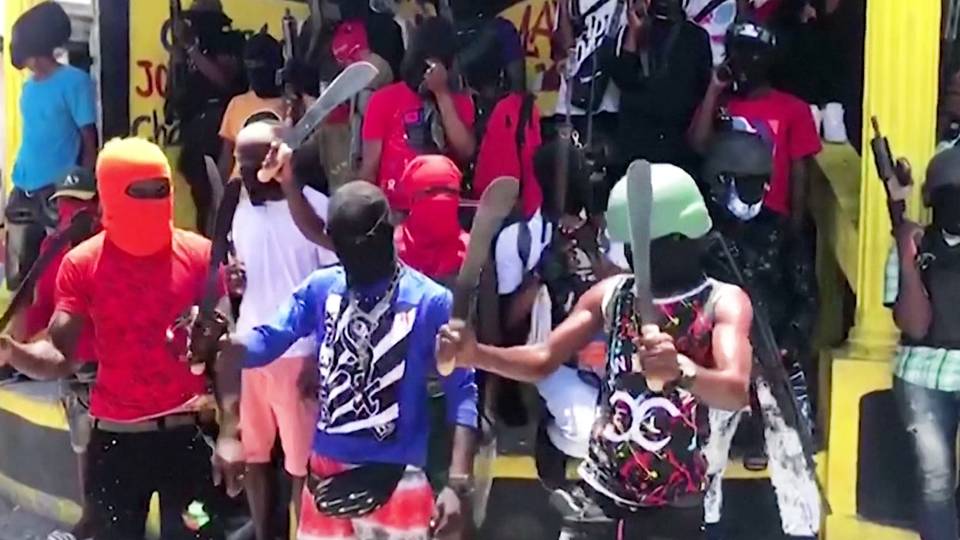 In Haiti, police officers blocked streets in the capital Port-au-Prince Thursday, burning tires and damaging vehicles, before descending on the main airport to protest the recent killing of 14 officers by armed gangs. Over 100 officers in plainclothes took part in the protest. Local media report a small group was able to break through the gates of Prime Minister Ariel Henry's home but then rerouted to the airport, where Henry was returning from the Community of Latin American and Caribbean States, or CELAC, summit in Argentina. This is a protester.
Protester: "We are going to attack all the ministers, all the directors general. There has to be a revolution. The children have to go to school for this revolution to take place. There has to be a bloodbath. All these policemen have been killed, and the prime minister has not reacted to pay tribute to them."
Armed gangs now control some 60% of Port-au-Prince, according to local groups. An estimated 78 police officers have been killed since Henry, who's backed by the United States, came to power in 2021 following the assassination of Haiti's former president. Henry had close links to a prime suspect in the assassination.
Israel Bombs Gaza Strip One Day After Israeli Forces Kill 9 in West Bank Raid
Jan 27, 2023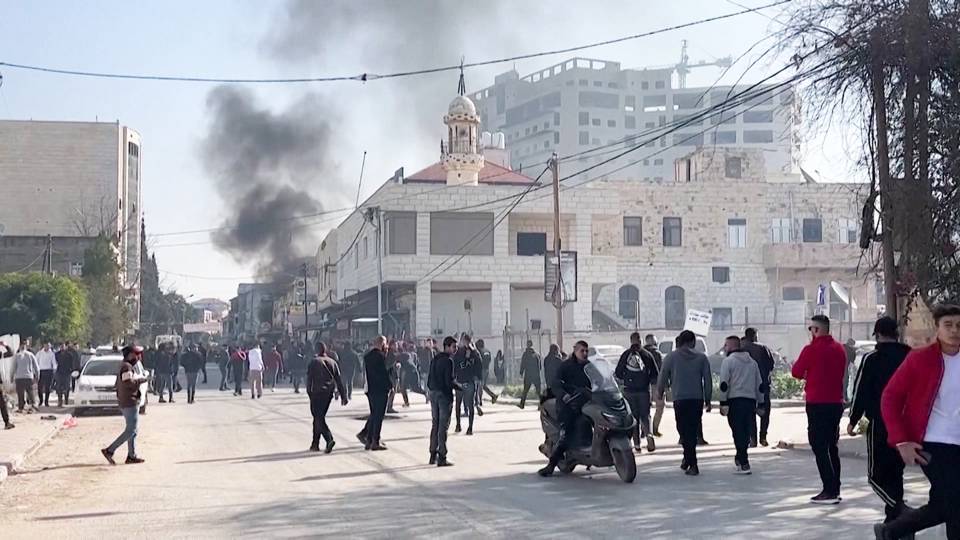 Israeli air attacks hit the occupied Gaza Strip overnight as tensions mount one day after Israeli forces killed nine Palestinians in a raid in the Jenin refugee camp in the occupied West Bank. Israel's airstrikes came down on the besieged strip after a handful of rockets were fired from Gaza, some of which were intercepted by Israel's U.S.-funded Iron Dome defense system. The Palestinian Authority said it was ending security coordination with Israel following the attack, while the U.N. Security Council is holding an emergency meeting today amid fears of another war. Thousands of people flooded the streets of Jenin Thursday to mourn the nine people killed. In Gaza, Palestinians protested the deadly attack.
Mohammed Al-Suwaisi: "I want to send a message to the Jewish occupiers: Gaza stands with Jenin and Jerusalem overcoming the humiliation and siege. Salute from Gaza to Jenin."
Israel has killed at least 29 Palestinians, including five children, since the start of the year. The violence comes as U.S. Secretary of State Antony Blinken is headed to Egypt, Israel and the occupied West Bank for a three-day visit this weekend.
Democratic Lawmakers Slam Biden for Mass Expulsion of Migrants at U.S. Border
Jan 27, 2023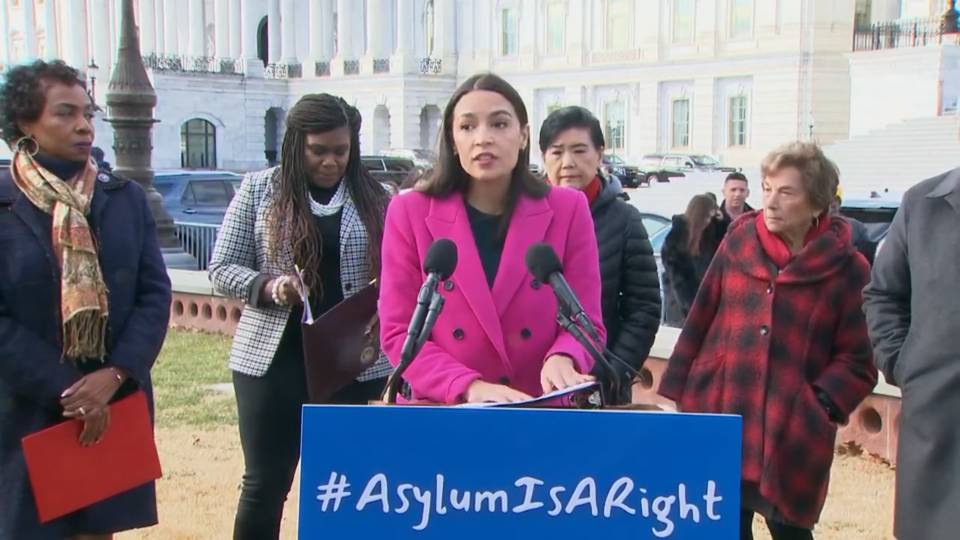 Here in the United States, dozens of Democratic congressmembers are urging President Biden to reverse the expansion of Title 42, a Trump-era pandemic policy that's been used to block over 2 million migrants from seeking asylum at the U.S.-Mexico border. In a letter to Biden, the 77 House and Senate Democrats also denounced the administration's proposal to enact a new rule that would allow immigration officials to deny asylum claims of people who don't first seek refuge in a country they pass through on their way to the U.S. southern border. Earlier this month, the Biden administration expanded Title 42 to begin expelling Haitian, Nicaraguan and Cuban asylum seekers. Congressmember Alexandria Ocasio-Cortez called out Biden at a news conference Thursday.
Rep. Alexandria Ocasio-Cortez: "We have sought and aspired to be an example to uphold international law. Instead, this administration is making it effectively impossible to seek refuge at our border. The courts rightly rejected the Trump administration's attempt to categorically end asylum. President Biden should listen to the courts and human rights activists and reverse course."
NYT: Bill Barr Pushed Trump-Russia Investigator to Use False Russian Intelligence Claims
Jan 27, 2023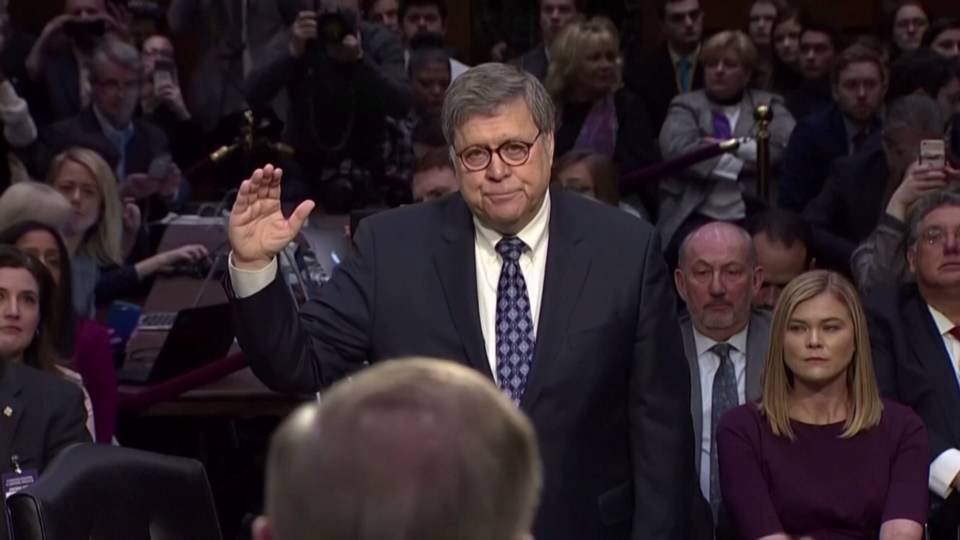 A damning new report by The New York Times reveals how Donald Trump and the Justice Department's efforts to prove the former president was the victim of a witch hunt in the FBI's Russia probe instead led the Justice Department to open a criminal probe into Trump's possible financial crimes. Details of that probe remain unknown, and special counsel John Durham, who was appointed by Attorney General Bill Barr to look into the origins of the Trump-Russia investigation, did not uncover any major conspiracies against Trump. But Barr repeatedly pressured Durham to uncover flaws in the Russia investigation, and Durham relied on questionable information in pursuit of an outcome favorable to Trump and his narrative of a "hoax." This included suspicious Russian intelligence claims, which were used to gain access to the emails of an executive at George Soros's Open Society Foundation. Durham obtained the emails even after a federal judge denied his request to subpoena them. John Durham is currently working on the final report of the Trump-Russia investigation.
Chevron to Buy Back $75 Billion in Own Stock After Posting Record Profits in 2022
Jan 27, 2023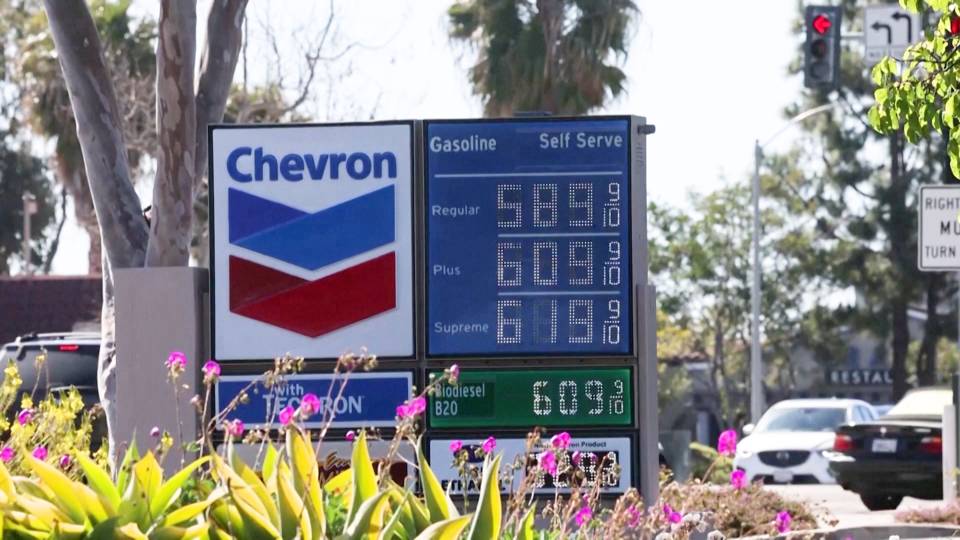 Chevron has announced plans to repurchase $75 billion of its own stock, angering consumer advocates who accuse the oil giant of price gouging even as it helps to accelerate the climate crisis. The stock buyback came as Chevron reported record profits in 2022, after Russia's invasion of Ukraine helped drive up the cost of fuel. This week, Senate Democrats reintroduced the Fair and Transparent Gas Prices Act, which would crack down on unfair practices by fossil fuel companies.
Dutch Police Arrest Climate Activists Ahead of Planned Peaceful Protests
Jan 27, 2023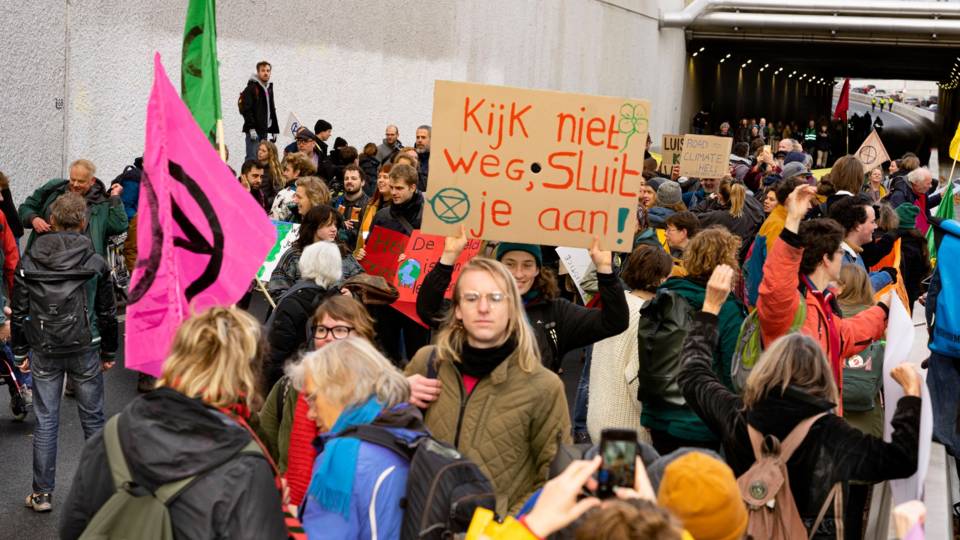 Image Credit: Extinction Rebellion
In the Netherlands, police arrested six climate activists in their homes Thursday and charged them with incitement over their roles in planning nonviolent civil disobedience actions. Their arrests came ahead of Saturday's planned peaceful blockade of a highway next to the Dutch Parliament in The Hague. The group Extinction Rebellion is demanding an immediate end to $19 billion in annual fossil fuel subsidies.
450+ Groups Condemn Choice of Oil Executive to Lead COP28 U.N. Climate Summit
Jan 27, 2023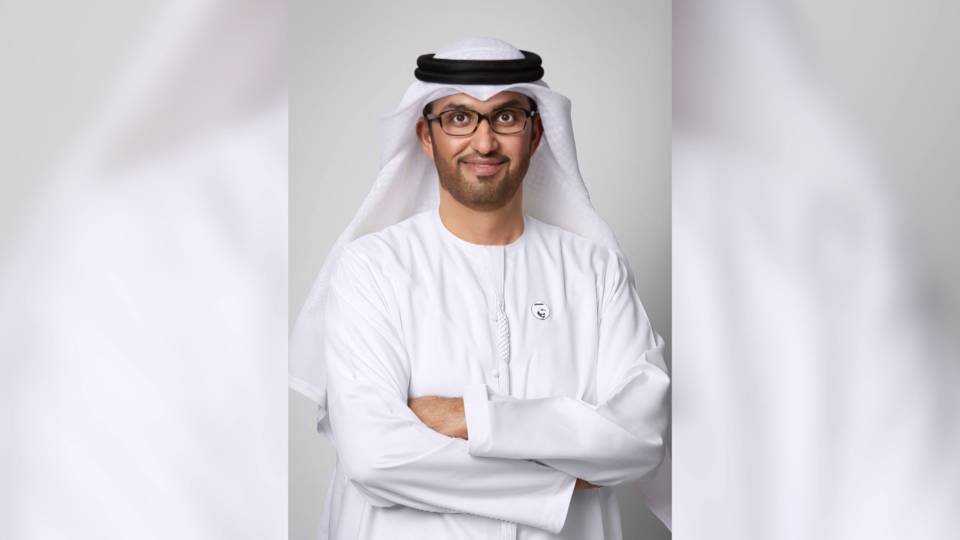 In more climate news, over 450 environmental and human rights groups have condemned the appointment of an oil company executive to lead the COP28 U.N. climate summit in the United Arab Emirates later this year. Sultan Ahmed Al Jaber heads the Abu Dhabi National Oil Company. Members of the Kick Big Polluters Out network wrote in an open letter to top U.N. officials, "There is no honor in appointing a fossil fuel executive who profits immensely off of fueling the climate crisis to oversee the global response to climate change. That such a move could ever be seen to be legitimate amidst an intensifying climate crisis where millions of lives and ecosystems are on the line exemplifies just how insidious Big Polluters' stranglehold over climate policy is."
ICC Resumes Probe of Philippines' Deadly "War on Drugs"
Jan 27, 2023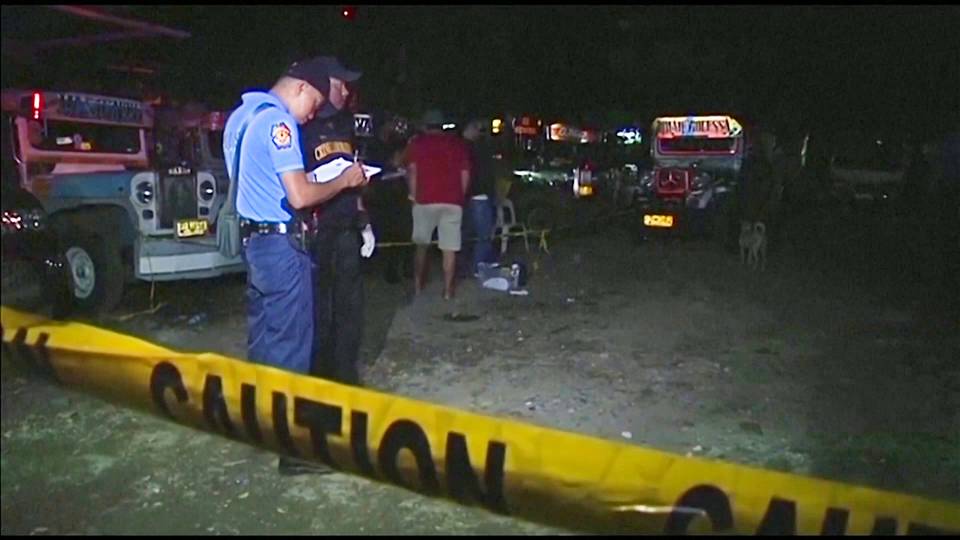 The International Criminal Court says it will resume its investigation into possible crimes against humanity committed as part of former Philippine President Rodrigo Duterte's brutal war on drugs. The probe was suspended in November 2021 after Philippine officials said they were conducting their own review of the crimes. The ICC accused Philippine authorities of failing to take meaningful steps to investigate or prosecute the killings. A United Nations report found at least 8,600 people were killed in the drug war unleashed by Duterte, with some estimates suggesting the true toll could be three times higher. Police often falsified evidence to justify the unlawful killings.
California Farm Where Four Were Murdered Had Another Shooting Last Year
Jan 27, 2023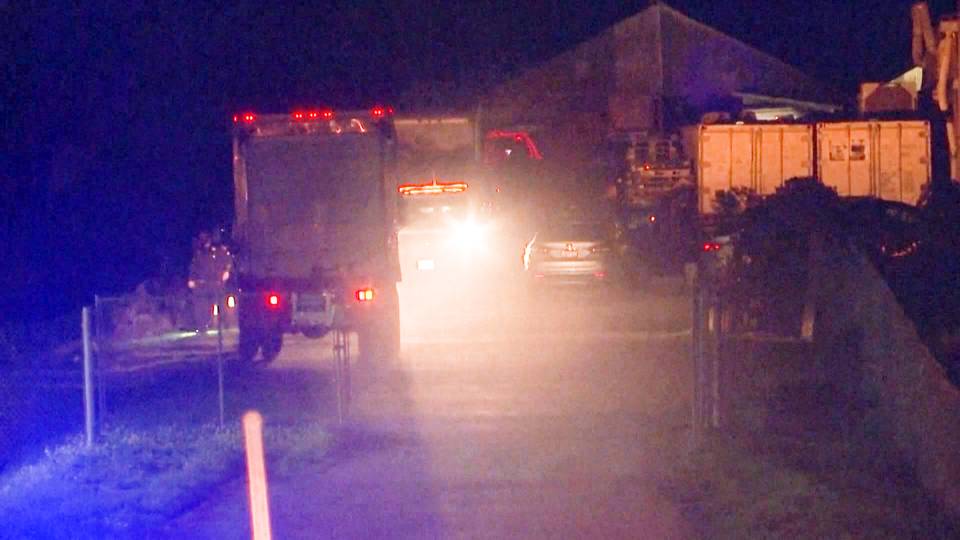 In California, the 66-year-old farmworker charged with killing seven co-workers Monday at two mushroom farms told a Bay Area TV station he "wasn't in his right mind" on the day of the shootings. In a jailhouse interview with KNTV, Chunli Zhao said he was bullied and forced to work long hours on the farms and that his complaints went ignored. The farm where Zhao killed four of his victims had a separate shooting last summer. In that altercation, one manager was charged with attempting to murder another manager, after he fired a bullet into the man's trailer. The bullet went on to strike the mobile home of one of the workers who was killed in Monday's mass shooting.
President Biden Repeats Call for Assault Weapons Ban, Warns Against Anti-Asian Hate
Jan 27, 2023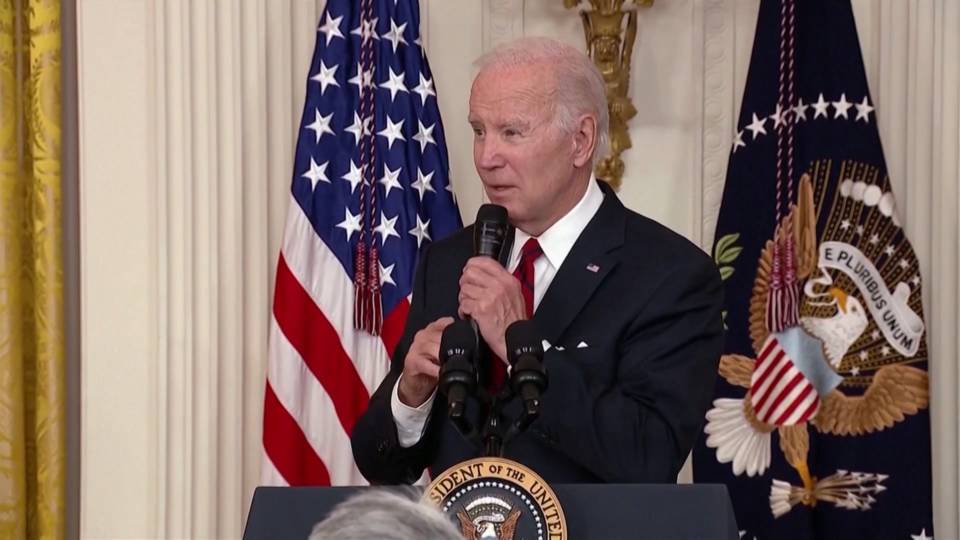 In Washington, D.C., President Biden repeated his call for Congress to reinstate a federal ban on assault weapons, and warned against rising anti-Asian hate. Biden's remarks came at a White House reception for the Lunar New Year, just days after 11 people were killed at a Lunar New Year celebration in the majority-Asian L.A. suburb of Monterey Park.
President Joe Biden: "Silence is complicity. Silence is complicity. We cannot be silent. I will not be silent. And one more thing: We're going to ban assault weapons again."
According to the Gun Violence Archive, there have been 40 mass shootings across the U.S. so far in 2023.