11,000 dead counted so far in Turkey-Syria Earthquake
Feb 08, 2023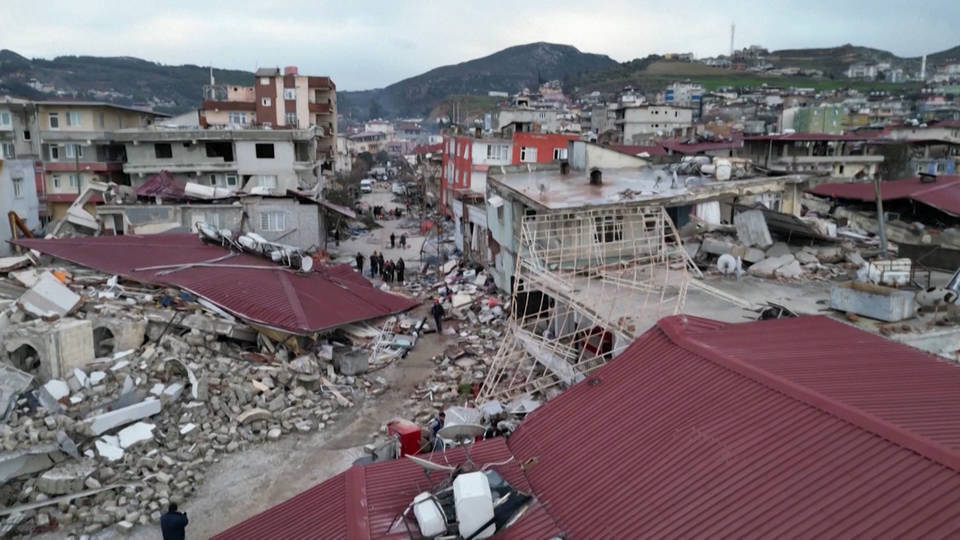 Rescue operations continued in Turkey and Syria, three days after a 7.8-magnitude earthquake jolted the two countries in the region's most powerful quake in over eight decades. Harrowing scenes have emerged from the affected areas as bodies are pulled from the wreckage and the death toll surpasses 11,000. In Turkey's border province of Hatay, devastated residents say help took too long to arrive, as they take stock of the disaster.
Halil Gencoglu: "We went to the city center. The situation is worse than here. It is worse. It is almost like a ghost city. We went back at least 50 years in time. Our lives are ruined. Our children are devastated. Our lives are lost. We lost our children, our parents. At least two to three people died from each home."
Some miraculous survivals are also being reported. In Syria, a baby born in the rubble was pulled to safety by her uncle and made it to a nearby hospital. Her mother did not survive. Displaced survivors around Aleppo say they face freezing conditions amid shortages of heating oil, and some are too scared to remain indoors for fear of more tremors.
Kinda Kordi: "To be honest, this is harder than war. At war, a strike, and it passes. Here, we don't know when it ends. We are terrified, but it's all in God's hands."
Rescue efforts in Syria have been complicated by damage and displacement from 12 years of war and harsh sanctions. The Syrian Arab Red Crescent called on the European Union Tuesday to lift its sanctions to facilitate humanitarian aid reaching those who need it in government-controlled areas. The U.S. also maintains sanctions on the government of Bashar al-Assad.
Biden Calls for Police Reform, Assault Weapons Ban, Protection of Abortion, While GOP Heckles
Feb 08, 2023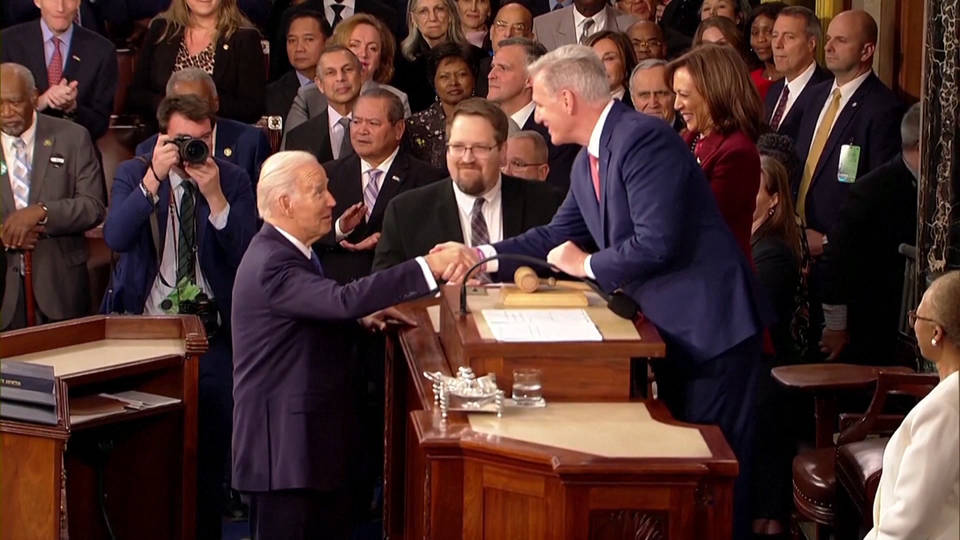 President Joe Biden delivered his second State of the Union Tuesday night — and his first to a divided Congress after Republicans took the House in the midterms. Biden touted his infrastructure legislation and backed an assault weapons ban, the codification of abortion rights, and taxing the rich and corporations. Biden also addressed racism and police violence, calling on Congress to support police reform.
Republicans repeatedly heckled Biden throughout his address. One of the more raucous moments came when Biden accused Republicans of pushing to cut Medicare and Social Security.
President Joe Biden: "Some Republicans want Medicare and Social Security to sunset. I'm not saying it's the majority. Let me give you — anybody who doubts it, contact my office. I'll give you a copy — I'll give you a copy of the proposal."
Rep. Marjorie Taylor Greene: "Liar!"
President Joe Biden: "That means Congress doesn't vote" —
Rep. Marjorie Taylor Greene: "Liar!"
The lawmaker yelling "liar!" at President Biden is far-right Republican Marjorie Taylor Greene.
Members of the Congressional Black Caucus and other Democrats wore pins with the number 1870 on them — that was the year when a Black man named Henry Truman was shot dead by a Philadelphia police officer. It is the first known instance of a police officer killing a free Black person in the United States.
Tyre Nichols Killer Shared Photo of Dying Nichols; Cops Assaulted Another Man Days Before
Feb 08, 2023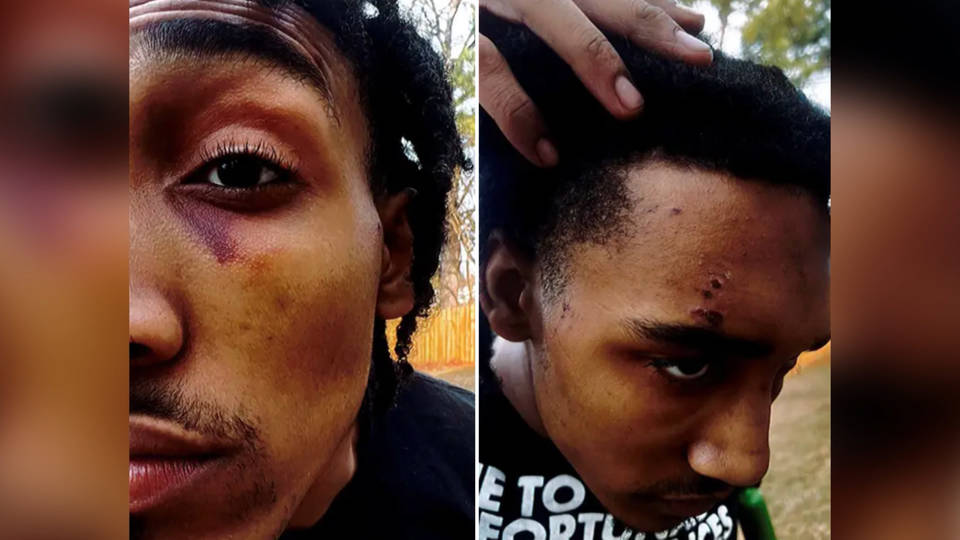 Among the notable guests at the State of the Union address were Tyre Nichols's parents, who accompanied first lady Jill Biden. This comes as seven more Memphis police officers are under investigation following the deadly beating of the 29-year-old Black father last month. City Attorney Jennifer Sink said Tuesday the officers, who haven't been identified, will likely be notified of charges by next week.
Meanwhile, the city of Memphis has asked the Justice Department to conduct a review of its police, which would include an assessment of special units and its policies on use of force. In the wake of Tyre Nichols's killing, Memphis disbanded the SCORPION police unit that the five ex-officers who beat Nichols belonged to; they have all been charged with second-degree murder.
New documents revealed Tuesday one of the officers, Demetrius Haley, took and shared a photo of Nichols as he sat propped against a police car, nearly unconscious, covered in blood and handcuffed. The officer sent the photo to at least five people, including an acquaintance outside the police department. After the beating, the officers also shouted profanities at Nichols and were seen laughing and bragging with each other.
A federal lawsuit filed Tuesday accuses the same five officers of assaulting another young Black man just three days before their encounter with Nichols. Twenty-two-year-old Monterrious Harris says the officers punched, stomped and dragged him across concrete as they arrested him on January 4.
Missouri Executes Raheem Taylor Despite Claims of Innocence and Calls for a Stay
Feb 08, 2023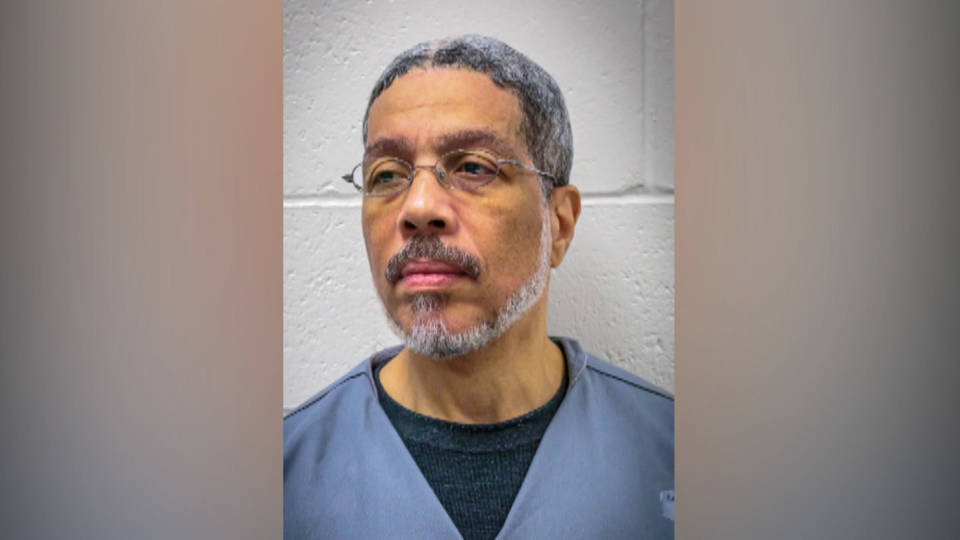 In Missouri, Leonard "Raheem" Taylor was executed Tuesday by lethal injection after Governor Mike Parson refused to grant him clemency or a stay, despite calls from the Innocence Project, the NAACP and others. Fifty-eight-year-old Taylor had always maintained his innocence, asserting he was nearly 2,000 miles away at the time of the quadruple murder of his then-girlfriend and her children in 2004. The Innocence Project also raised concerns about the competence of the lawyer who represented him at trial.
In a final statement, Taylor wrote, "Muslims don't die. We live eternally in the hearts of our family and friends." Taylor is the third person to be executed in Missouri since November and the fifth person to be executed in the U.S. this year.
Israeli Forces Kill 17-Year-Old Palestinian in Nablus Raid
Feb 08, 2023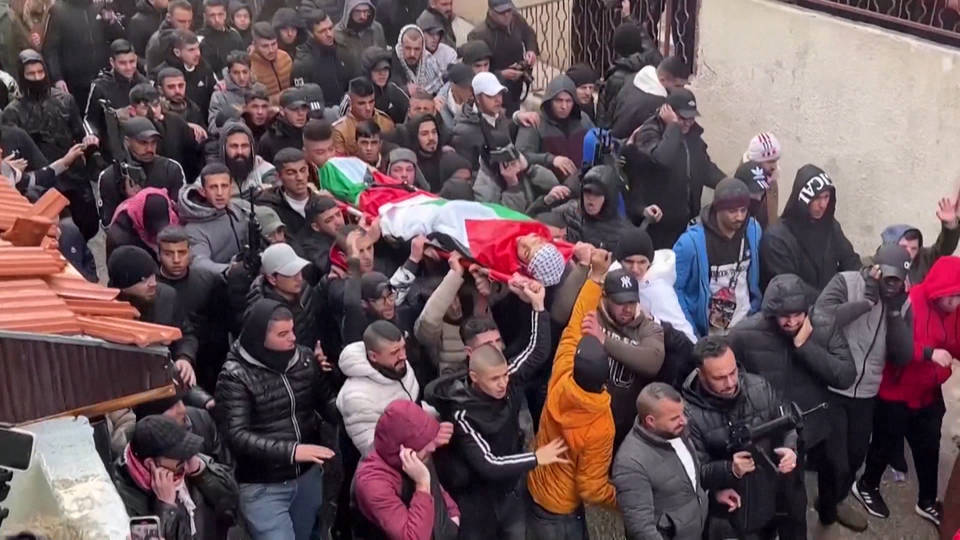 In the occupied West Bank, Israeli soldiers have killed another Palestinian teenager in the city of Nablus. Seventeen-year-old Hamza al-Ashkar was fatally shot in the face as Israeli forces conducted raids and dozens of arrests across the West Bank Tuesday. This is al-Ashkar's grandmother.
Lina al-Ashkar: "My sweetheart, he is still 17 years old. He wanted to work, because his father is not financially stable. God bless him. He wanted to work, but he didn't. He died. He couldn't work. My sweetheart, he died. May he rest in peace."
President Volodymyr Zelensky Visits U.K. Ahead of Expected Russian Offensive
Feb 08, 2023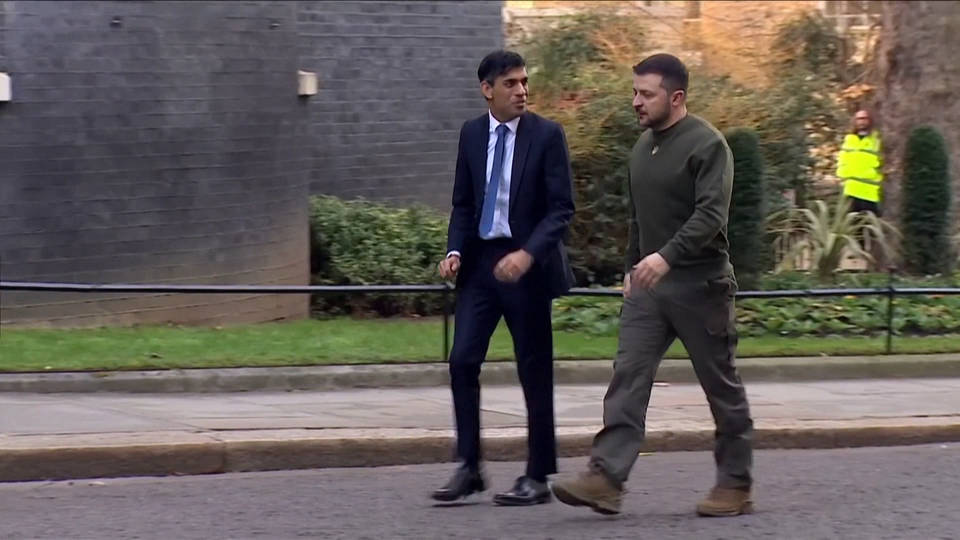 Ukrainian President Volodymyr Zelensky is in Britain on a rare trip abroad, where he is meeting with Prime Minister Rishi Sunak and King Charles. Zelensky will also address the U.K. Parliament. Britain, which announced new sanctions against Russia today, has provided military equipment and training to Ukraine in its efforts to counter Russia's invasion. Zelensky's visit comes as Russia seems poised to launch a major offensive in the east and as the war approaches its one-year mark.
Meanwhile, President Biden is expected to travel to Poland for the February 24 anniversary of Russia's invasion of Ukraine.
Mudslides Kill 15 People in Southern Peru After Heavy Downpours
Feb 08, 2023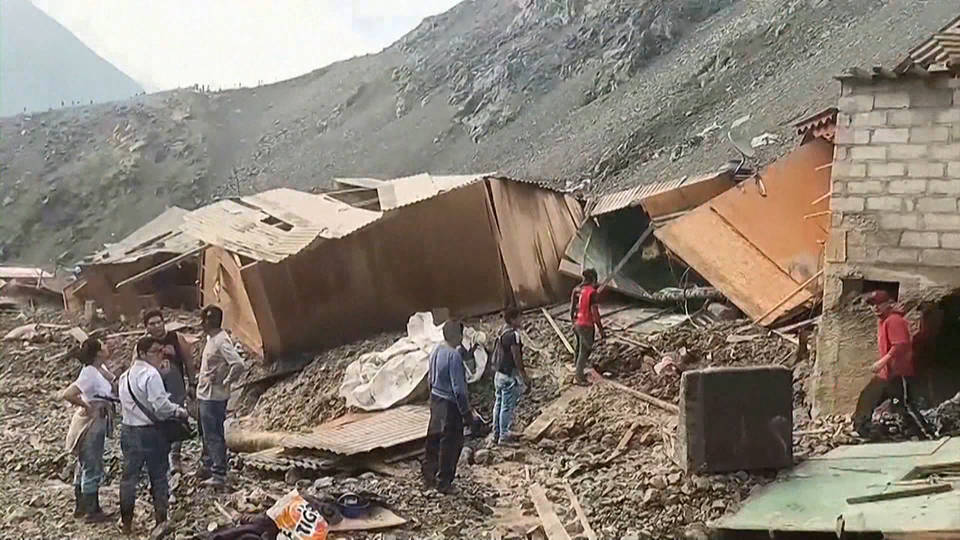 In Peru, at least 15 people are dead and several injured after heavy rains triggered massive mudslides and floods in the southern region of Arequipa.
Sonia Huamani: "The landslide came out of nowhere, and we got desperate. We couldn't even take blankets, anything. We desperately left with our children and shouting."
Authorities said the death toll could rise in the coming days. Doctors, nurses and army helicopters transporting food, water and other aid have been deployed to the devastated areas as search and rescue efforts continue.
Greenpeace Activists Continue Protest Aboard Shell Platform in Atlantic Ocean
Feb 08, 2023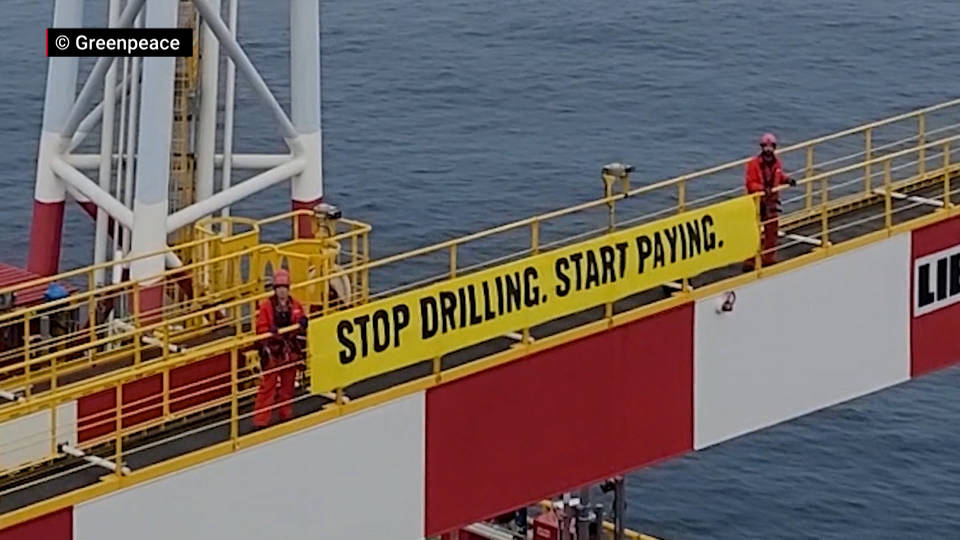 Two more Greenpeace activists have joined a group of four climate defenders who have been on board a massive Shell vessel in the English Channel since last week to demand Shell stop drilling for oil and start paying reparations for its role in the climate catastrophe. Shell, which last week reported a record-shattering $40 billion in 2022 profits, has threatened Greenpeace with legal action that could result in two years in jail for the peaceful protesters.
Meanwhile, BP, which also recently announced record annual profits, said Tuesday it would increase oil and gas drilling, reversing a previous pledge to cut down fossil fuel production by 40% below 2019 levels. BP now expects to reduce its output by just 25%.
Calls for a windfall tax have been growing as the major oil and gas companies report tens of billions of dollars in profits amid a surge in oil prices last year spurred by the Russian invasion of Ukraine.
Over One-Third of U.S. Animals and Plants at Risk of Extinction
Feb 08, 2023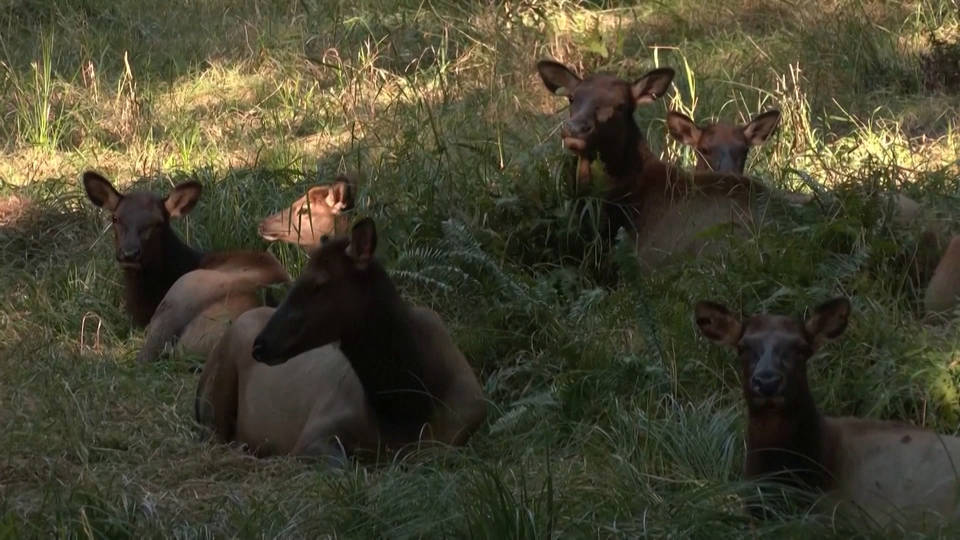 A sweeping new study by conservation research group NatureServe finds that 40% of animals and 34% of plants in the U.S. are at risk of extinction, and 41% of ecosystems are facing collapse. Researchers say passing legislation to protect land and biodiversity is key, and list some of the greatest threats to wildlife as "habitat degradation and land conversion, invasive species, damming and polluting of rivers, and climate change." This is Sean O'Brien, president of NatureServe.
Sean O'Brien: "Nature is also incredibly complex, and we don't always know what the sort of the keystone species is, as sometimes people call them. So, when you have a habitat and species start going extinct or becoming smaller in number, eventually that can cause the collapse of that habitat type."
Yusef Salaam, One of Exonerated Central Park Five, to Run for Harlem City Council Seat
Feb 08, 2023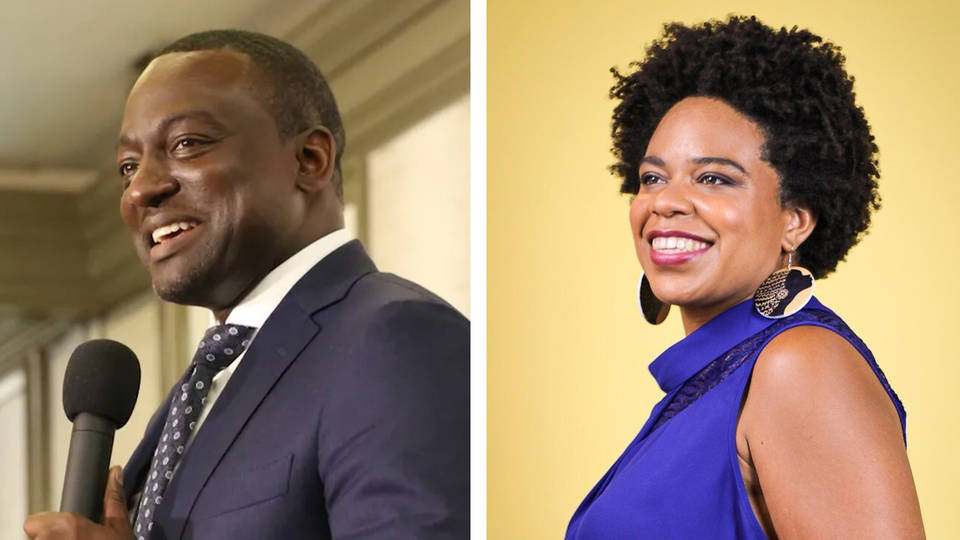 Here in New York City, Yusef Salaam, one of the exonerated Central Park Five, announced he is running for a city council seat in Harlem. Salaam was one of five Black and Latino teenagers wrongfully convicted of the 1989 beating and rape of a white woman. He spent seven years in jail. Salaam said he will overhaul New York City's criminal legal system, end mass incarceration and help bring about police reform.
His candidacy challenges progressive incumbent Kristin Richardson Jordan, a democratic socialist who has called for free public transportation, prison abolition and cuts to the NYPD budget. She has also fought for affordable housing and against gentrification in Harlem.
Australia Becomes First Country to Approve Medical Use of MDMA and Psilocybin
Feb 08, 2023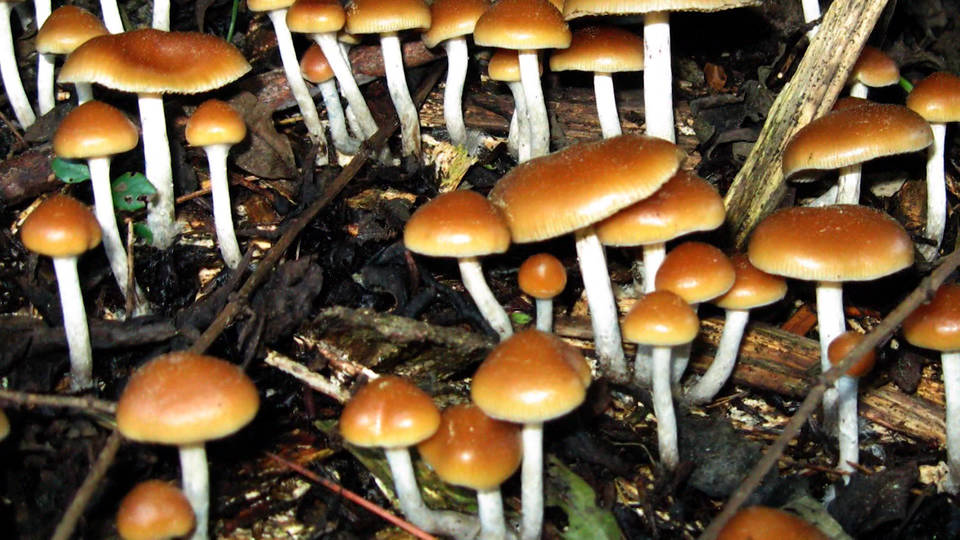 Australia's medical regulators have approved the use of MDMA and psilocybin, better known as magic mushrooms and ecstasy, to treat depression and post-traumatic stress disorder. The Therapeutic Goods Administration said it found "sufficient evidence for potential benefits in certain patients." Psychiatrists would be able to prescribe the substances only after a thorough diagnosis, and their use would be restricted to clinical trials for now.