Rail Operator Behind Ohio Crash That Released Toxic Chemicals Lobbied Against Safety Measures
Feb 09, 2023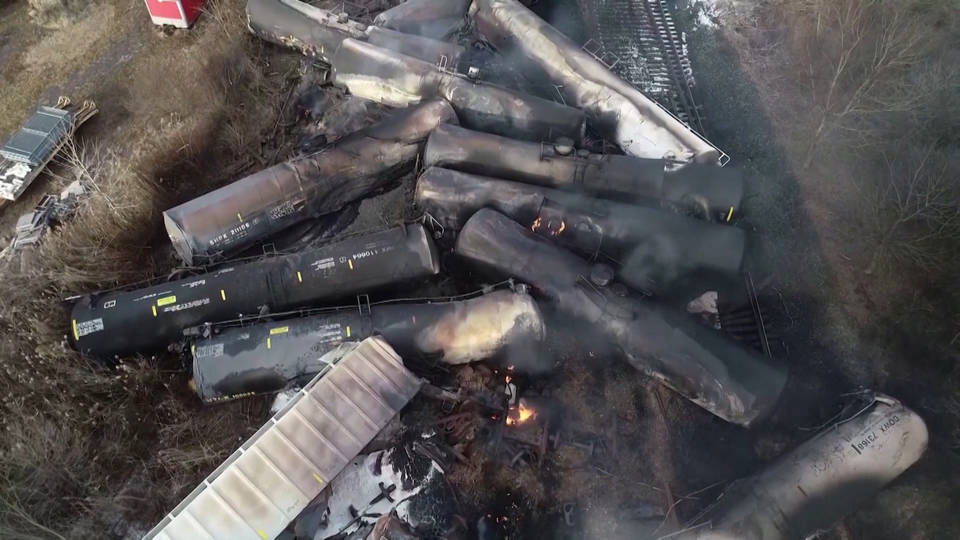 Ohio authorities have lifted an evacuation order for residents of East Palestine, following Friday's freight train crash and fire, and the controlled release of toxic chemicals into the air by authorities Monday. The accident has drawn scrutiny to so-called bomb trains, which transport crude oil and other dangerous chemicals across the U.S. Some residents of East Palestine have sued the rail company Norfolk Southern for negligence. New reporting by The Lever reveals that Norfolk Southern helped lobby against federal safety rules for freight trains, including a requirement to update Civil War-era braking systems. Meanwhile, Norfolk Southern paid executives millions and spent billions on stock buybacks while slashing thousands of jobs.
Black Reporter Attacked and Arrested Covering Ohio Train Derailment News Conference
Feb 09, 2023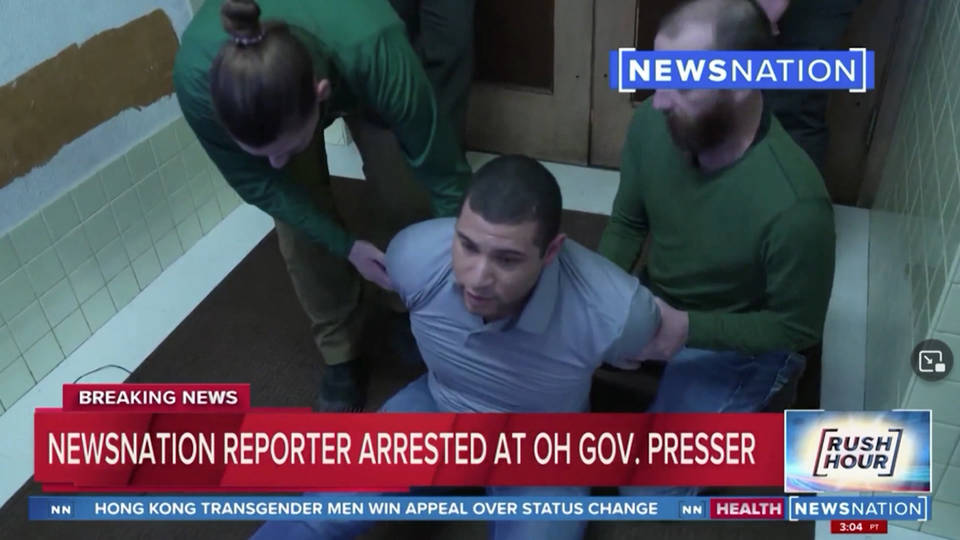 Image Credit: NewsNation
At a Wednesday press conference with Ohio Governor Mike DeWine about the Norfolk Southern train disaster, a reporter was attacked, handcuffed and arrested for supposed trespassing. NewsNation reporter Evan Lambert, a member of the National Association of Black Journalists, was held for five hours. He spoke about the ordeal after his release.
Evan Lambert: "This essentially says that there are still charges pending against me, so, you know, considering that, I don't think I'm going to talk too specifically about those moments. But what I can say is that no one expects — no journalist expects to be arrested when you're doing your job. And I think that's really important that that doesn't happen in our country."
Atlanta Police Release Bodycam Video Amid Growing Outrage over Activist's Killing and "Cop City"
Feb 09, 2023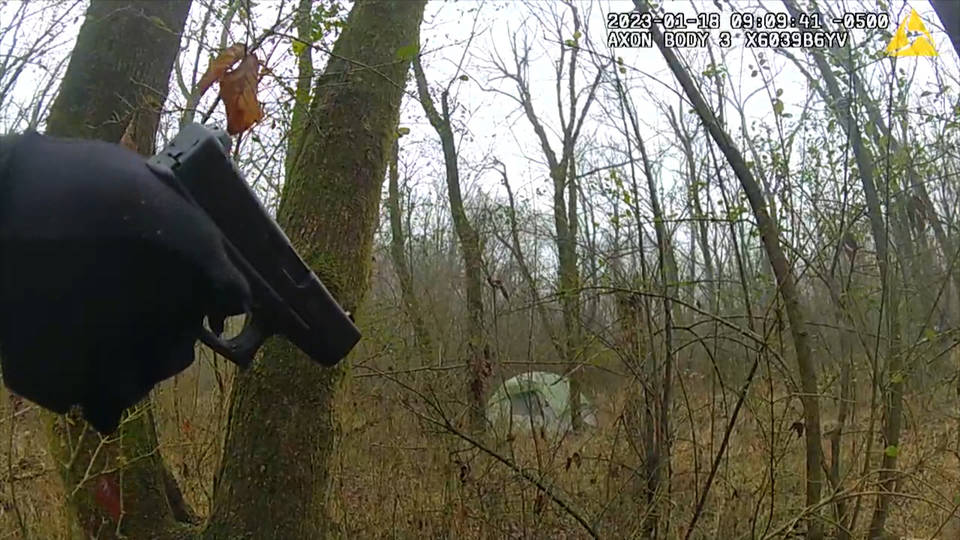 In Georgia, the Atlanta Police Department has released four body-camera videos recorded during the deadly January 18 raid on an encampment of activists opposing "Cop City," a proposed $90 million police training complex in the Weelaunee Forest. Twenty-six-year-old Manuel Esteban Páez Terán, who went by the name Tortuguita, was shot dead by police during the raid. A private autopsy commissioned by Terán's family found they were struck by at least 13 bullets. The videos don't directly show Terán's death, but the sound of the gunfire is clearly audible in the footage.
Police officer: "Oh [bleep]. Is this target practice?"
The Georgia State Patrol says it does not have footage of Terán's killing because it doesn't issue body cameras to its officers. The Atlanta police footage shows some officers warned about the threat of crossfire and questioned whether the wounded state trooper was shot by another officer.
Police officer: "You [bleep]ed your own officer up. … Did they shoot their own man? Hmm?"
Police have said the injured officer was hit in the stomach by a bullet fired by a 9mm pistol purchased by Terán. Georgia's Department of Public Safety said it would not release the name of the trooper, "because disclosure would compromise security against criminal or terroristic acts due to retaliation."
The video's release comes after a member of a Community Stakeholder Advisory Committee for Cop City filed an appeal, claiming DeKalb County improperly issued a license for the project. Another committee member, Nicole Morado, resigned in protest of Terán's killing. Morado said, "Deescalation is possible, and a family lost a child because all they wanted to was save a forest, and that doesn't sit well with me." Click here to see our coverage of Cop City and the killing of Tortuguita.
Temple University Rescinds Tuition Aid and Benefits for Striking Graduate Workers
Feb 09, 2023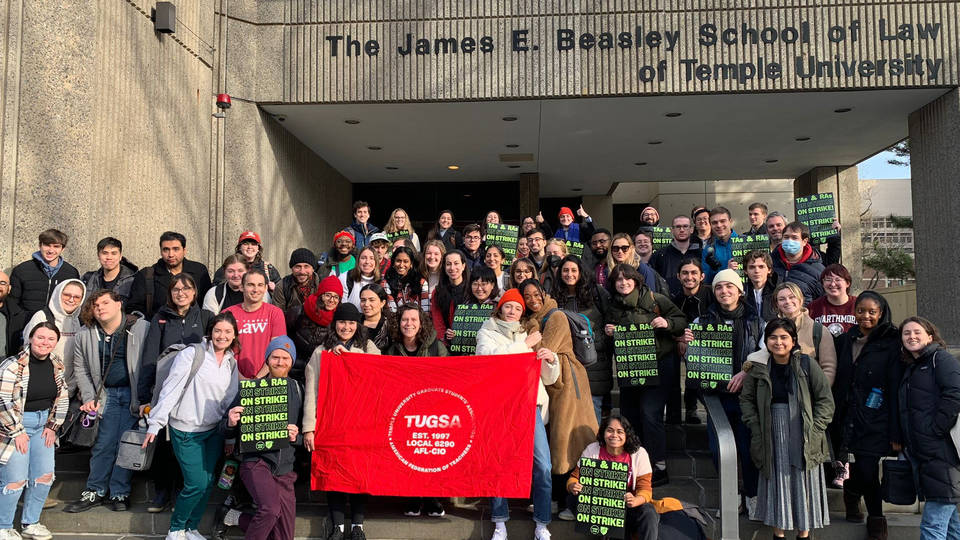 Image Credit: @TUGSA_6290
In Philadelphia, teaching and research assistants at Temple University who've been on strike since January 31 have been told they'll lose their tuition and healthcare benefits. The Temple University Graduate Students' Association called the strike in an effort to boost pay and conditions for the student workers, who earn less than $20,000 a year. The cutoff in health benefits left some students unable to fill prescriptions, while others have had to cancel doctor's appointments. The strikers were given until March 9 to pay the entire balance of their tuition or they will face a $100 late payment fee, with a financial hold placed on their accounts. A lead negotiator for the union called Temple's decision "needlessly cruel."