Israeli Soldier Attacks Palestinian Activist During Press Interview
Feb 15, 2023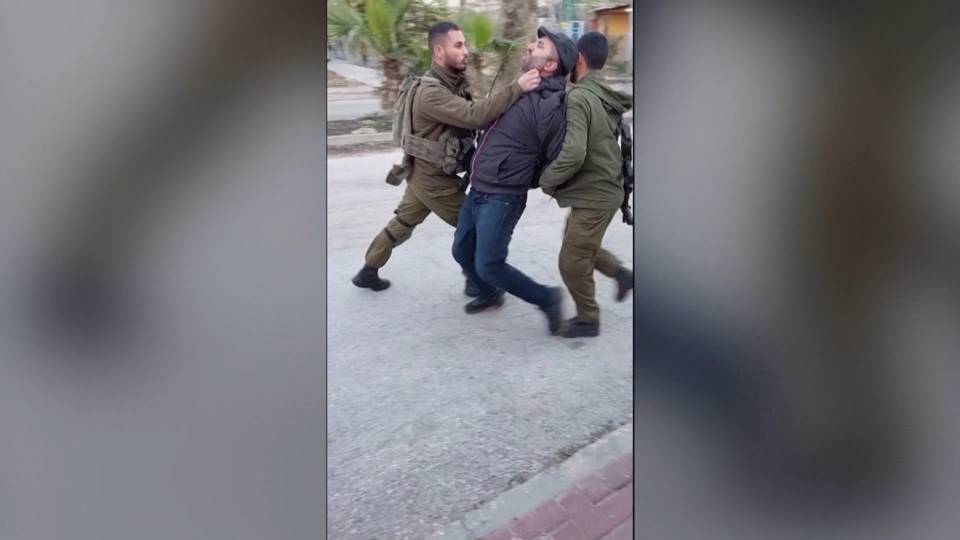 Image Credit: Barbara Debeuckelaere
An Israeli soldier has been jailed for 10 days after he attacked prominent Palestinian activist Issa Amro as he was being interviewed by New Yorker journalist and Pulitzer Prize-winning author Lawrence Wright. The assault took place in Hebron in the occupied West Bank. Amro spoke after the attack.
Issa Amro: "I see that there is a huge escalation from the Israeli soldiers and the Israeli settlers toward Palestinians and Israeli human rights defenders. We now really have real life threats. I feel my life is in danger. What happened, that the soldier was wild, and he didn't care about the presence of a prominent international journalist. They don't care. They don't care anymore even about the cameras, about journalists. They feel that they are backed up with their own government and backed up by their own system."
A Twitter video of the attack posted by Wright has gone viral. Israel's far-right National Security Minister Itamar Ben-Gvir has expressed full support for the assailant.
This comes amid escalating violence against Palestinians, with Israeli soldiers killing another two people, including a teenager, during a raid on the Far'a refugee camp in the northern occupied West Bank Tuesday. Israel has killed at least 50 Palestinians, including 11 children, since the start of the year.
U.N. Aid Trucks Enter Earthquake-Stricken NW Syria as Combined Death Toll with Turkey Tops 41,000
Feb 15, 2023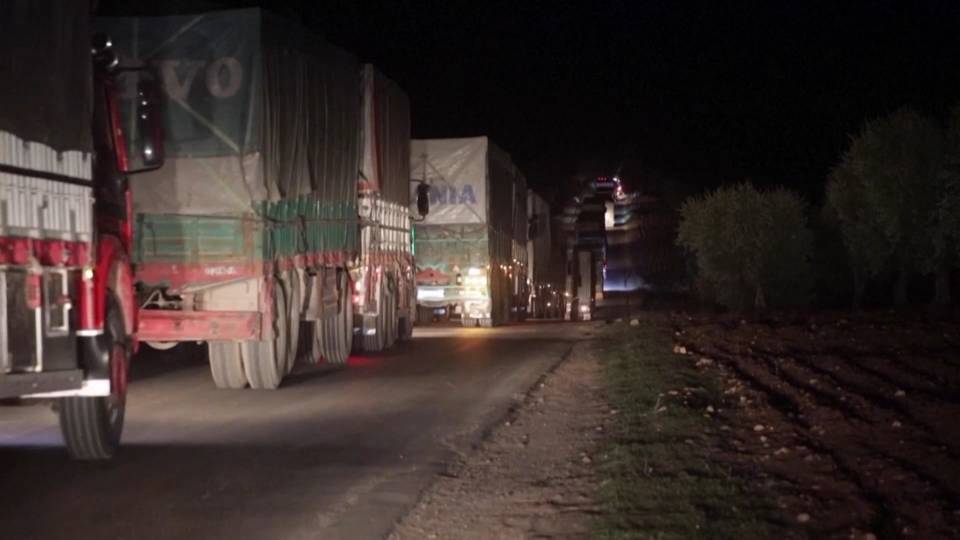 A convoy of U.N. aid trucks passed through a newly reopened border crossing into northwestern Syria Tuesday, where some earthquake survivors have been waiting for help for over a week.
In Turkey, nine survivors were pulled from the wreckage Tuesday as the death toll from last Monday's 7.8-magnitude earthquake and aftershocks topped 41,000 across Turkey and Syria.
The World Health Organization warned of the risk of waterborne diseases amid the massive destruction and displacement in both countries. Medical workers also report many patients with mental health concerns, including PTSD. This is Diana Fattal, a UNICEF worker in Syria.
Diana Fattal: "Thousands of children faced on the 6th of February a crisis within a crisis, where they continue to face complex situation of displacement, of fear and extreme cold weather. As you see, that this collective shelter, that used to be a school, is now accommodating families that lost houses and loved ones."
U.N. Seeks $5.6 Billion for Ukraine War Relief as NATO Says Russia's Latest Offensive Is Underway
Feb 15, 2023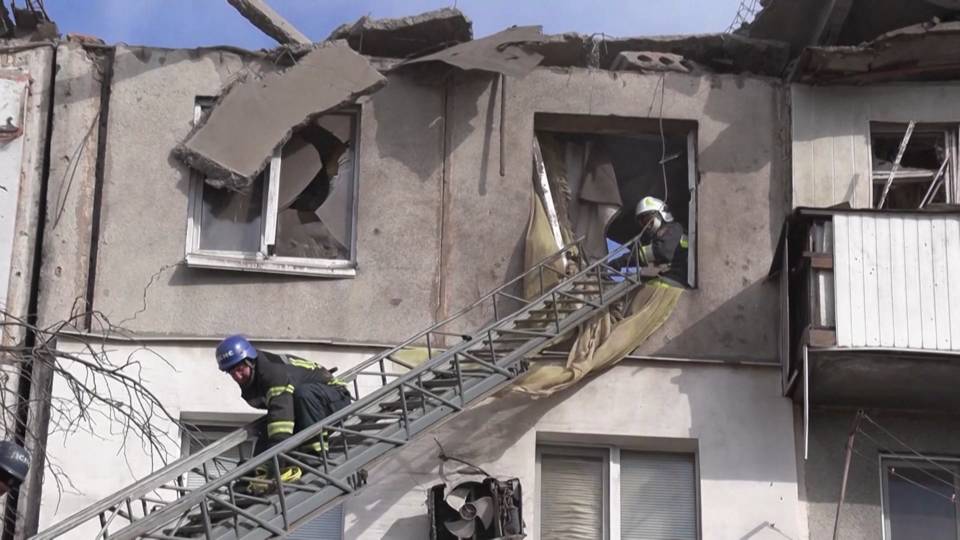 The United Nations says it needs $5.6 billion to help address the humanitarian crisis in Ukraine and to help the millions who have fled Ukraine since Russia's invasion began almost a year ago. The U.N. estimates nearly 22 million Ukrainians depend on humanitarian assistance.
This comes as NATO says Russia's eastern offensive has begun, as Moscow aims to capture the strategic city of Bakhmut. The Ukrainian military ordered aid groups to leave the city earlier this week. Kyiv says, though, it has repelled Russian attacks on Luhansk. Meanwhile, the Pentagon is seeking to restart a program to place U.S. special operations forces inside Ukraine.
In other news on the war, a State Department-backed report has accused Russia of holding at least 6,000 Ukrainian children at facilities in occupied Crimea and Russia. State Department spokesperson Ned Price criticized the Russia program on Tuesday.
Ned Price: "Putin seeks to rob Ukraine of its future by taking its children. Russia's system of forced relocation, reeducation and adoption of Ukraine's children is a key element of the Kremlin's systematic efforts to deny and suppress Ukraine's identity, its history and its culture."
Biden Admin Withdraws Nomination of Human Rights Attorney for Condemning Israeli Apartheid
Feb 15, 2023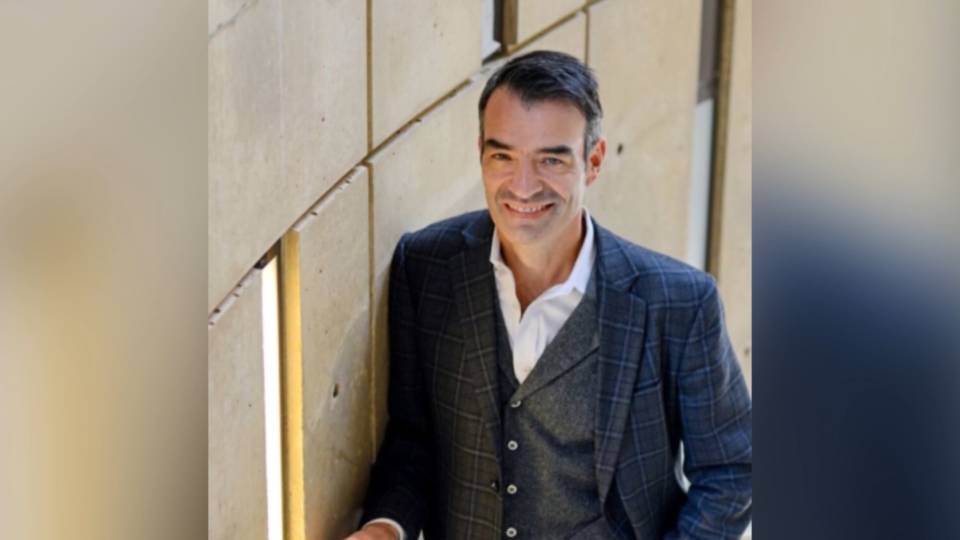 Image Credit: Human Rights Network
The Biden administration has withdrawn its nomination of prominent human rights attorney James Cavallaro to serve on the Inter-American Commission on Human Rights over the attorney's past comments describing Israel as an "apartheid state." He has also criticized House Minority Leader Hakeem Jeffries's close ties to AIPAC, the American Israel Public Affairs Committee. Cavallaro is co-founder and executive director of the University Network for Human Rights. He has previously served on the Inter-American Commission on Human Rights from 2014 to 2017. Writing on Twitter, Cavallaro decried what he described as "Censorship of human rights advocates who denounce apartheid in Israel."
India Orders Search of BBC Offices After Release of Documentary Critical of Narendra Modi
Feb 15, 2023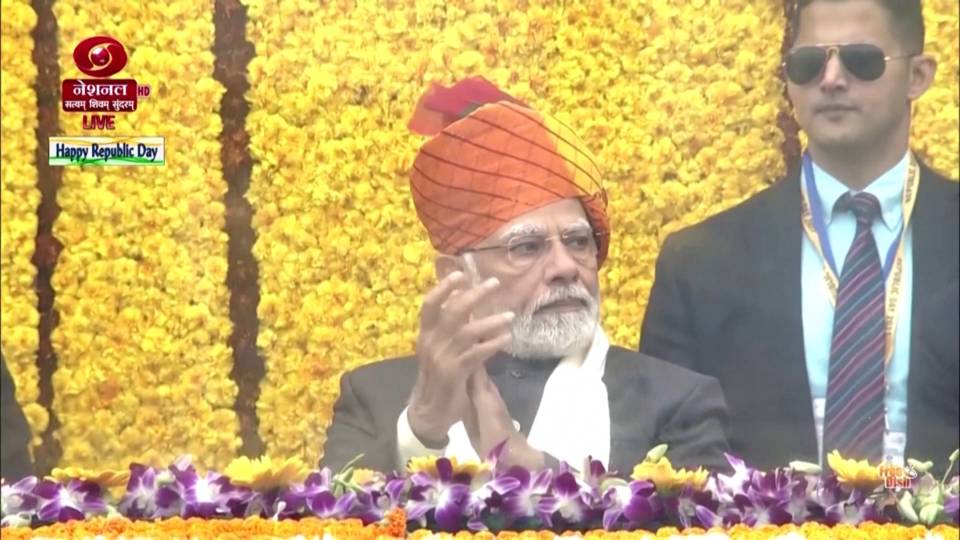 Indian tax officials raided the BBC's offices in New Delhi and Mumbai for a second day today amid an ongoing firestorm over a new BBC documentary critical of Prime Minister Narendra Modi. Modi has banned the film, which in part covers his time as chief minister of Gujarat, when he was accused of complicity in the deadly 2002 anti-Muslim riots which killed an estimated 1,000 people. Students have been arrested for showing or attempting to show the film.
Papuan Independence Fighters Hold New Zealand Pilot Hostage, Demand Freedom from Indonesia
Feb 15, 2023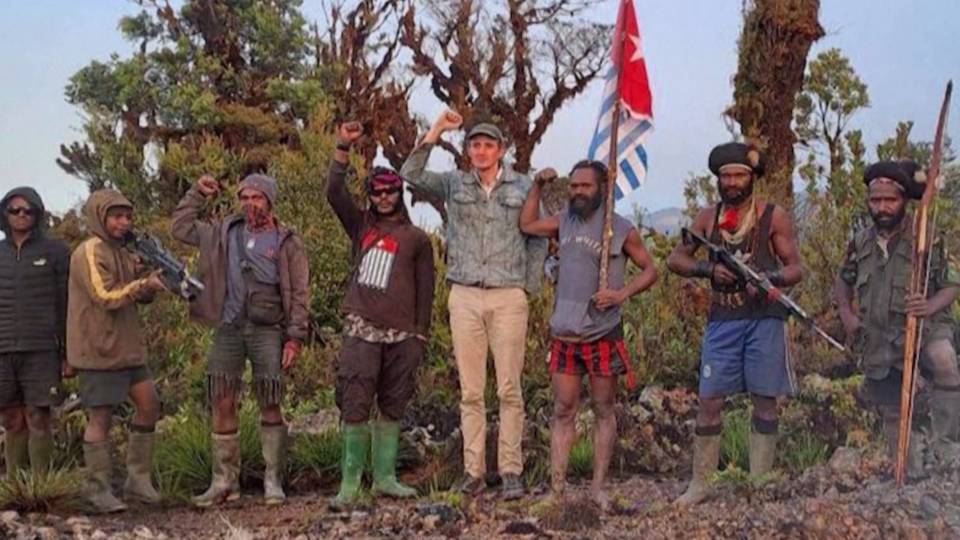 Independence fighters in the Indonesian region of Papua have taken a pilot from New Zealand hostage after he landed his plane on a remote airstrip. Members of the West Papua National Liberation Army have vowed to hold the pilot, Philip Mehrtens, until the Indonesian government acknowledges Papuan independence. The liberation group released photos of the pilot along with a brief video statement from one of the group's commanders.
Egianus Kogoya: "We will not release without the freedom of Papua, and we will keep detaining the pilot. So the whole country of Indonesia should open their eyes and acknowledge the freedom of Papua."
New Zealand Minister Slams Inaction on Climate Crisis as Cyclone Kills 4 People
Feb 15, 2023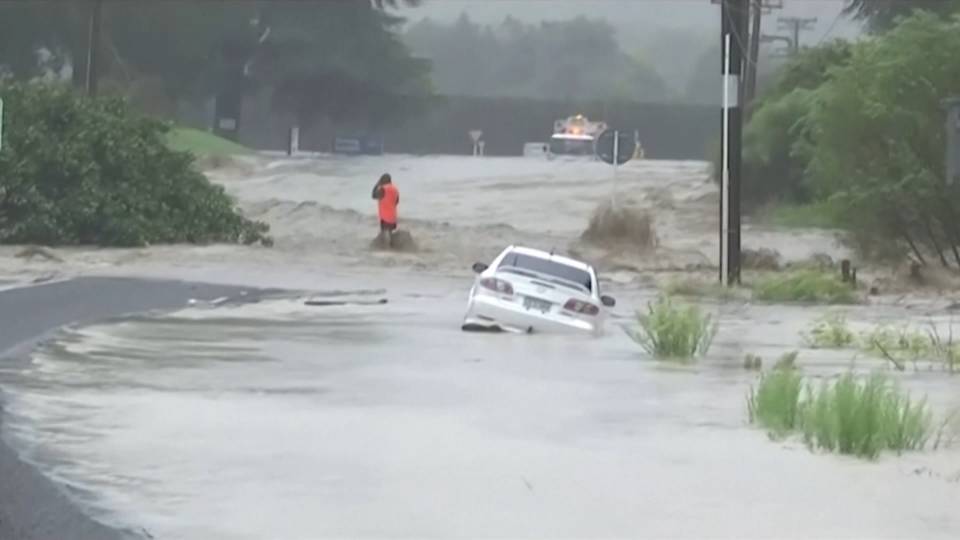 In New Zealand, Cyclone Gabrielle has killed at least four people and left a trail of destruction as it moved away from the country, while rescue and recovery efforts continue. Hundreds of people were rescued from rooftops due to rising waters. Prime Minister Chris Hipkins called Gabrielle the worst storm to hit the nation in the past century. New Zealand's Climate Change Minister James Shaw delivered a scathing condemnation of governmental inaction on the climate crisis, which is contributing to more frequent and more devastating weather events.
James Shaw: "I don't think I've ever felt as sad or as angry about the lost decades that we spent bickering and arguing about whether climate change was real or not, whether it was caused by humans or not, whether it was bad or not, whether we should do something about it or not, because it is clearly here now. And if we do not act, it will get worse."
Climate Activists Issue Ultimatum to U.K. PM, Warning of "Escalating Disruption"
Feb 15, 2023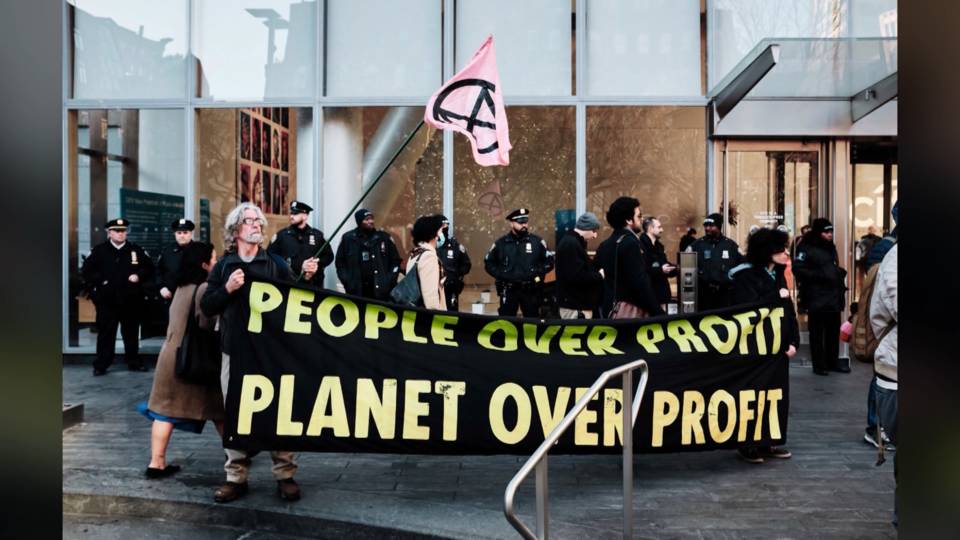 Image Credit: Courtesy: Jason Little
In the U.K., activists with the group Just Stop Oil delivered an ultimatum to Prime Minister Rishi Sunak, warning the British government must stop any new fossil fuel licenses after April 10 or deal with "escalating disruption" from the youth activists. The climate group is known for its high-profile acts of nonviolent direct action and disrupting public spaces, such as art museums and roads, to bring public awareness to the urgency of the climate crisis. This is activist Hannah Hunt.
Hannah Hunt: "Instead of responding to the wishes of the British people, they are implementing policies that throw millions into destitution, while enabling fossil fuel companies to make the largest profits in U.K. history. … For the government to win, it will have to defeat the youth of this country, for we will put our bodies on the line."
As that action was taking place, climate activists with Extinction Rebellion blocked private jet terminals at Luton Airport, outside London, holding a banner that read "tax frequent flyers."
Here in New York, dozens of Extinction Rebellion activists protested in front of Citigroup to demand it stop investing in fossil fuel expansion. Citi is the world's second-largest financier of fossil fuels after JPMorgan Chase.
Bolsonaro Gangsters Plan Return to Brazil
Feb 15, 2023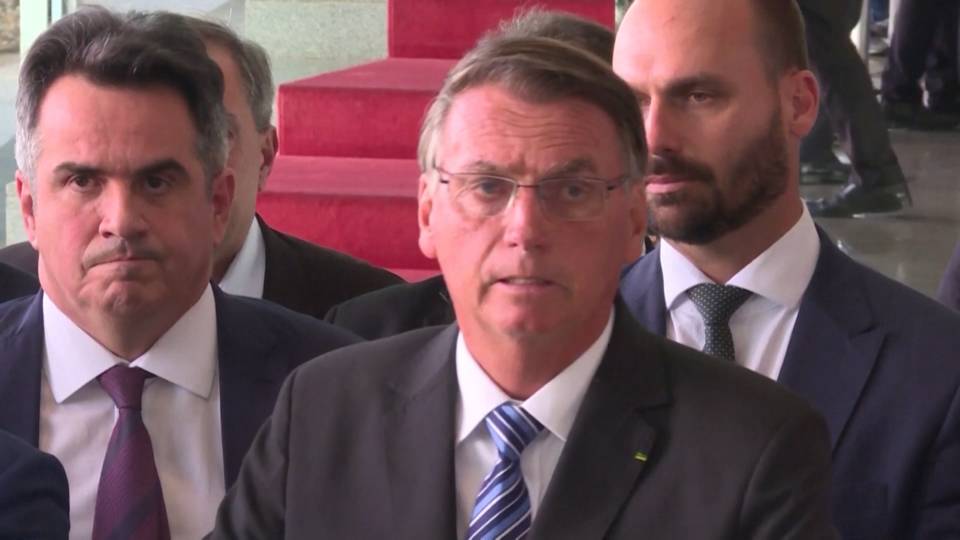 Brazil's far-right former President Jair Bolsonaro told The Wall Street Journal he plans to return to Brazil in March to lead the opposition and face accusations he incited last month's attack by rabid supporters on government buildings in Brasília. Bolsonaro, who never conceded defeat to President Luiz Inácio Lula da Silva in last October's election, has been in Florida since December.
Four More Suspects, Incl. 3 U.S. Citizens, Arrested in Jovenel Moïse Assassination Probe
Feb 15, 2023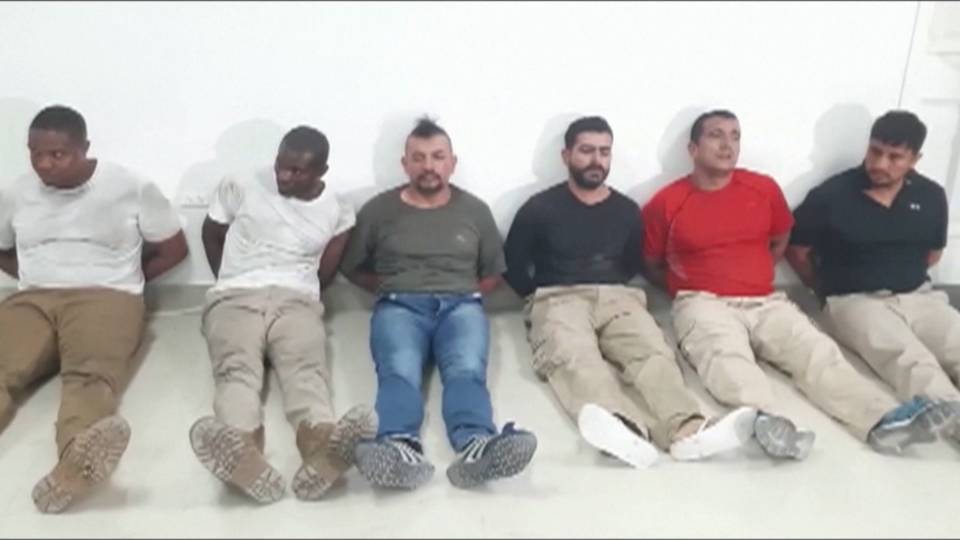 U.S. authorities have arrested four more suspects in connection with the 2021 assassination of Haitian President Jovenel Moïse. The four men were arrested in Florida, and three were charged by the Justice Department with "conspiracy to kidnap or kill outside the United States"; one suspect was charged with smuggling ballistic vests. Three of the men are U.S. citizens, and the fourth a permanent resident, according to the U.S. Attorney's Office for the Southern District of Florida. This is U.S. Assistant Attorney General Matthew Olsen.
Matthew Olsen: "According to the complaint, three of the defendants arrested today operated businesses here in South Florida and hoped to reap windfall benefits from security and construction contracts to be granted by those who they believed would assume power in Haiti following President Moïse's demise."
U.S. Says No Signs Downed Objects in North American Airspace on Weekend Were Chinese Spy Devices
Feb 15, 2023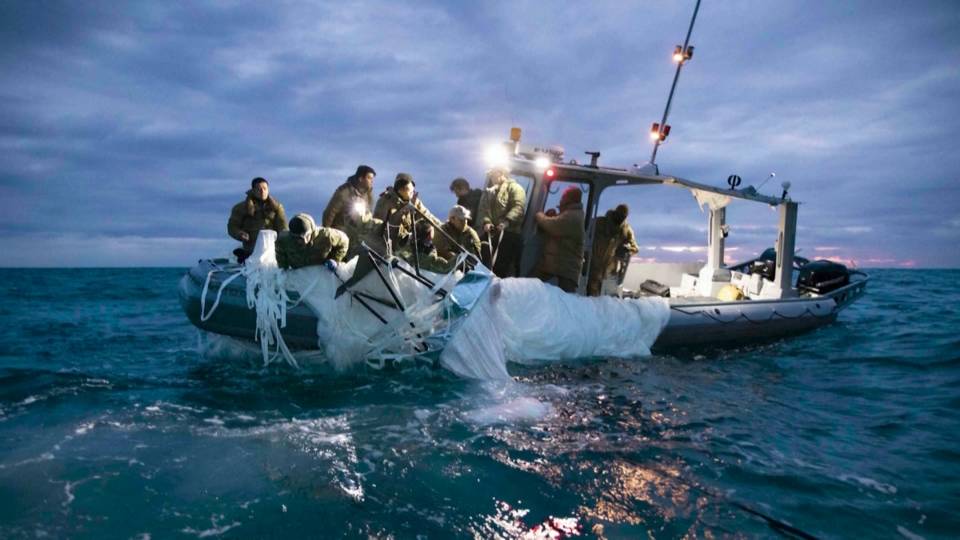 Image Credit: U.S. Department of Defense
The Biden administration said Tuesday it has not uncovered any evidence three unidentified flying objects shot down over the weekend over North American territory are connected to a Chinese — or any other nation's — surveillance program. National Security Council spokesperson John Kirby said the objects could turn out to be related to commercial or research efforts.
Bloomberg reports the Raytheon-produced missiles used by the U.S. to shoot down the objects come at a cost of around $440,000 each.
South Dakota Bans Transgender Youth Healthcare as Tennessee's GOP Advances Similar Bill
Feb 15, 2023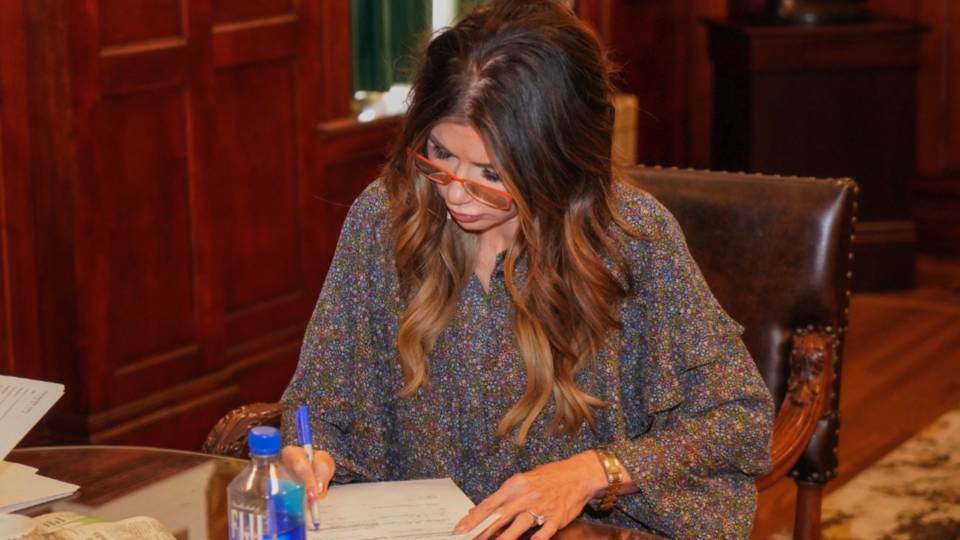 Image Credit: @KristiNoem
South Dakota's Republican Governor Kristi Noem signed into law a bill banning surgical and nonsurgical gender-affirming treatment for young people starting July 1. Medical providers who violate the law could face civil suits or lose their licenses. South Dakota is the sixth state to enact such a law, and Tennessee could be next, as Republican lawmakers advanced a similar bill Monday. The ACLU and others have vowed to challenge it.
The ACLU's Chase Strangio wrote, "By shifting from 'safety' to 'privacy' — the rhetoric fueling anti-trans bills placed the 'problem' squarely on the body and existence of trans people. It was not something we did but just who we are and how we look that was the problem."
Sen. Dianne Feinstein Announces She Will Not Run for Reelection in 2024
Feb 15, 2023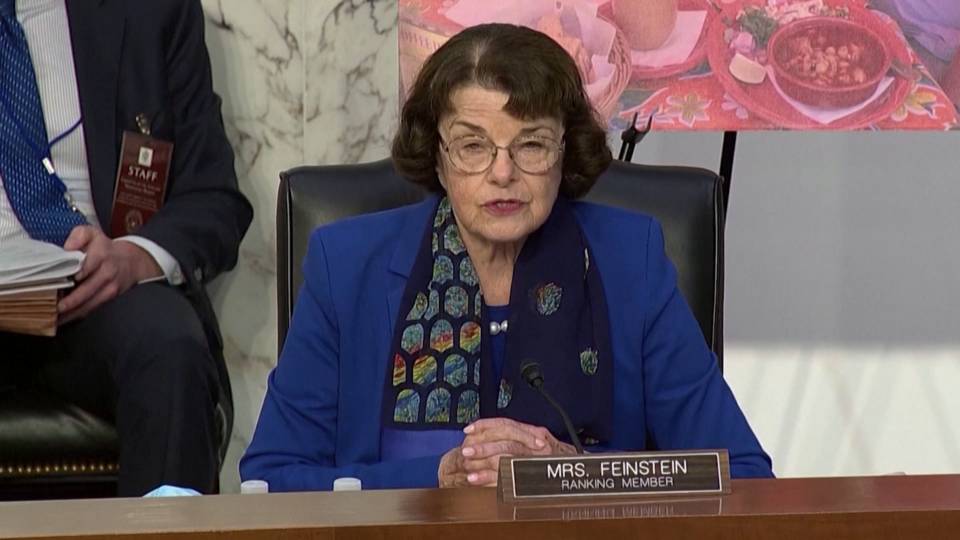 California Democratic Senator Dianne Feinstein announced she will not seek reelection in 2024. The move was widely expected by the 89-year-old Feinstein, who was first elected as U.S. senator in 1992 and is the oldest sitting member of Congress. She is also the longest-serving woman senator and the first woman to chair the Senate Judiciary Committee. She was also the first woman mayor of San Francisco.
Two California congressmembers, Katie Porter and Adam Schiff, already announced they would run for the open seat, with Nancy Pelosi throwing her support behind Schiff. Congressmember Barbara Lee has reportedly shared with colleagues she will also launch a bid for the seat.