World Bank President to Resign Early Amid Backlash to Climate Crisis Denial
Feb 16, 2023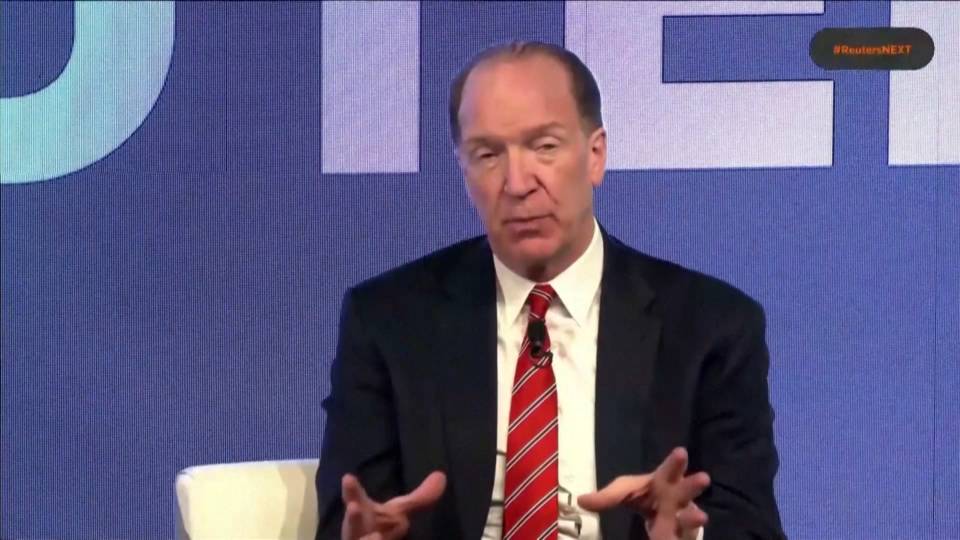 World Bank president David Malpass said Wednesday he will resign his post by the end of June, nearly a year before his five-year term is set to expire. Malpass was nominated to head the World Bank in 2019 by then-President Donald Trump. He previously served as chief economist at Bear Stearns for the six years leading up to the investment bank's collapse at the start of the Great Recession in 2008. Last September, Malpass came under increased pressure from the Biden administration to resign, after he fumbled his answer to this question from David Gelles, the New York Times' climate reporter.
David Gelles: "Vice President Gore was here earlier today and I don't know if you heard, but he referred to you in his remarks publicly on stage here as a climate denier. Would you clear the air? Do you accept the scientific consensus that the burning of fossil fuels is dangerously warming the planet?
David Malpass: "You know – ah, em – some of the I — I don't know all of the all of the, all of the instances that you're talking about. I've been very pleased to have super strong U.S. government support across the board on the initiatives that we've been taking. Some people that are critical I think are unfounded. They — they may not know what the World Bank is doing."
In a statement, the climate justice group Oil Change International said, "The World Bank Group still funds more fossil fuels than any other multilateral development bank. Ending this support for oil, gas and coal needs to be priority number one in the next six weeks ahead of the Bank's Spring Meetings."
Virginia Republicans Thwart Bill to Safeguard People's Private Menstrual Data
Feb 16, 2023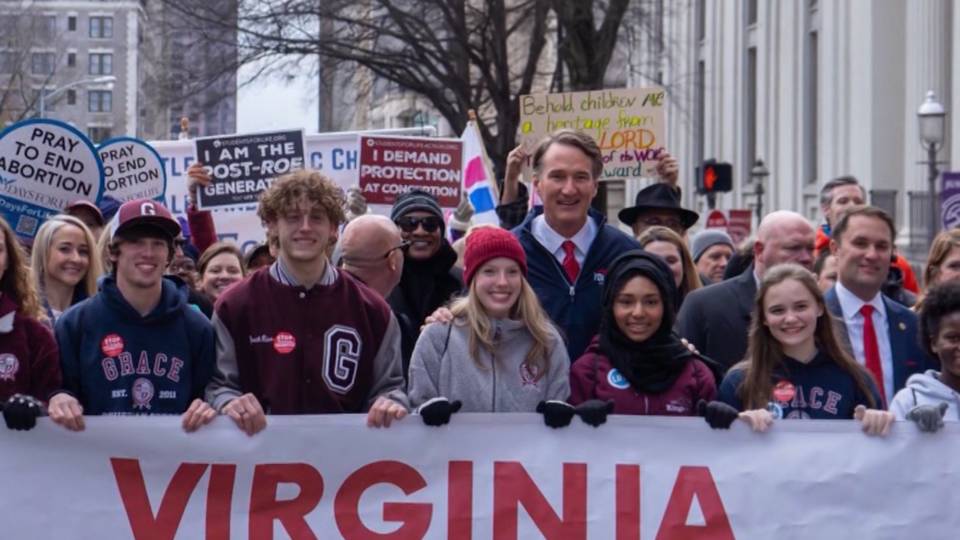 Image Credit: Twitter: @GovernorVA
In Virginia, Republican Governor Glenn Youngkin has blocked a bill that would ban search warrants to access personal data on menstrual tracking apps. The measure was put forward by Democrats in an effort to prevent private health information from being used in prosecutions related to abortions following the overturning last year of Roe v. Wade. Abortion is currently legal in Virginia until the 27th week of pregnancy but Youngkin is pushing to enact a 15-week abortion ban, and favors prosecuting providers who violate abortion laws.
73 People Presumed Dead After Migrant Boat Deflates off Libyan Coast
Feb 16, 2023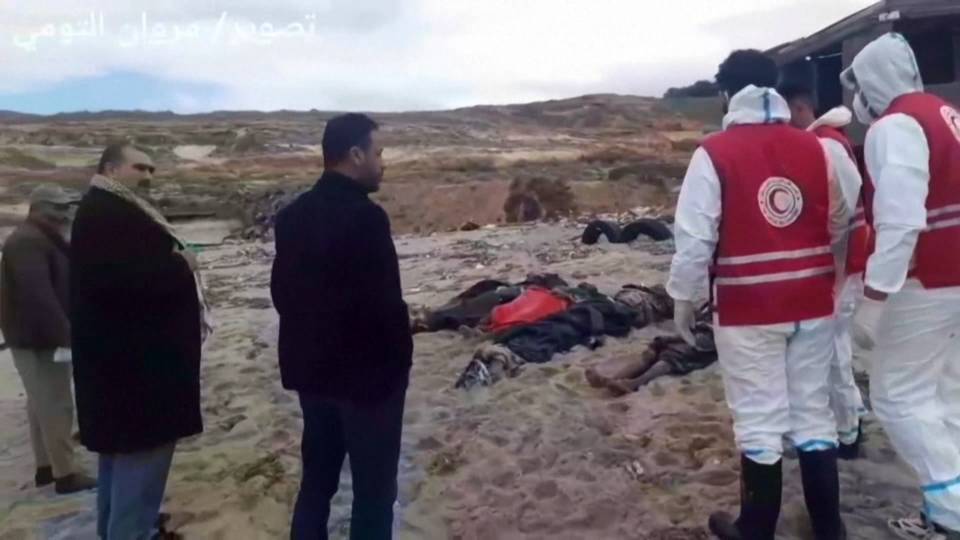 The United Nations says 73 people are missing and presumed dead after their inflatable rubber boat deflated off the coast of Libya Tuesday. Eleven bodies were recovered along with the tattered remains of their boat. Last year the U.N.'s International Organization for Migration recorded 1,450 deaths of migrants attempting to cross the Mediterranean, and more than 130 people have died so far this year.
Bus Carrying Migrants Plunges off Cliff in Panama, Killing at Least 39 People
Feb 16, 2023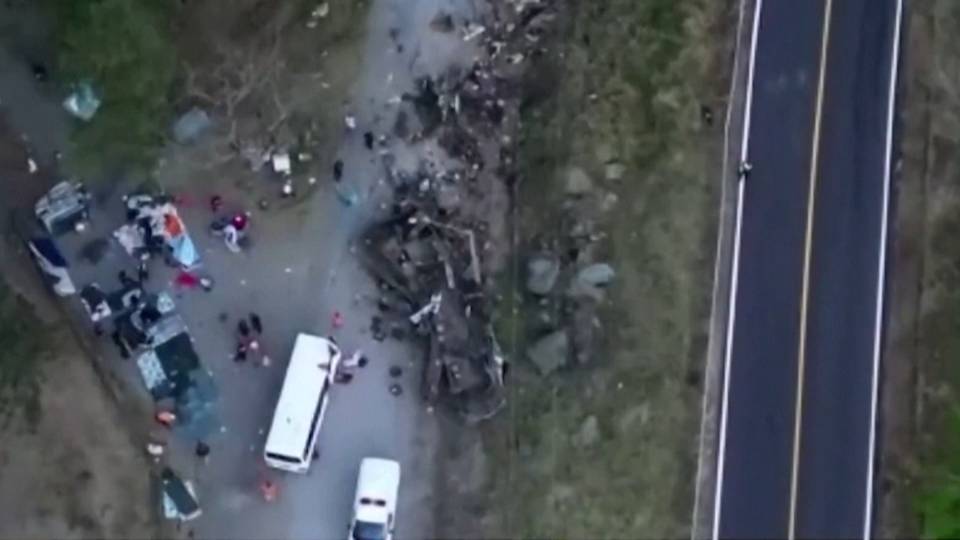 In Panama, a bus carrying 66 U.S.-bound migrants plunged off a cliff Wednesday, killing at least 39 people, including children. Some of the victims are believed to be from Ecuador and Cuba. The migrants had traveled through the Darién Gap, a perilous stretch of jungle between Colombia and Panama.
Antarctica's "Doomsday Glacier" Headed for Collapse, Portending Disastrous Sea Level Rise
Feb 16, 2023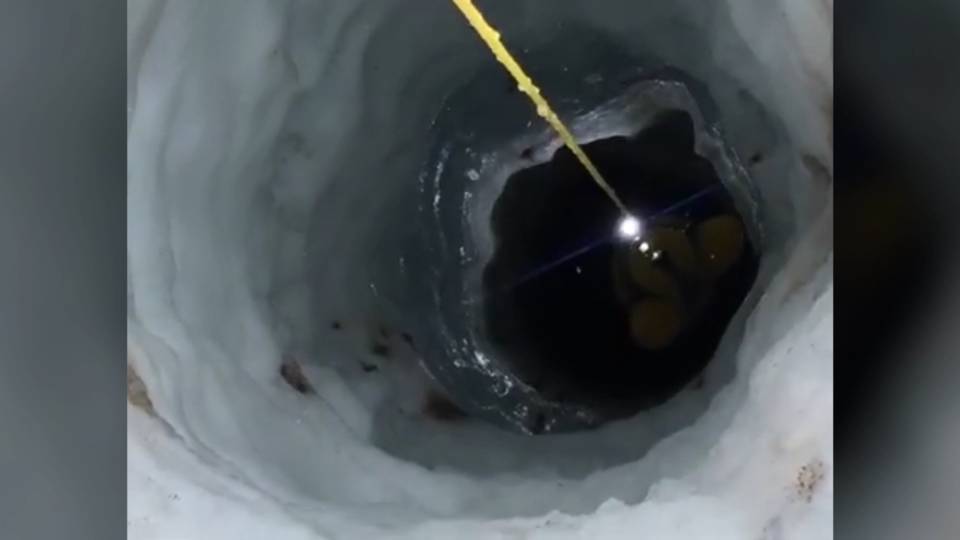 Image Credit: Icefin/NASA PSTAR RISE UP/Schmidt/Dicheck
A team of researchers reports Antarctica's enormous Thwaites Glacier is on the verge of collapse, with warm water seeping under the weakest parts of the glacier and melting it from below. Researchers deployed a robotic submarine to penetrate the vast ice sheet, which is roughly the size of Florida. They found the glacier is susceptible to rapid and irreversible ice loss that could raise global sea levels by more than half a meter. Its collapse could destabilize surrounding glaciers that could raise the Earth's oceans by a further three meters — or nearly 10 feet.