U.S. Frees Two Guantánamo Prisoners after 20 Years of Arbitrary Detention
Feb 24, 2023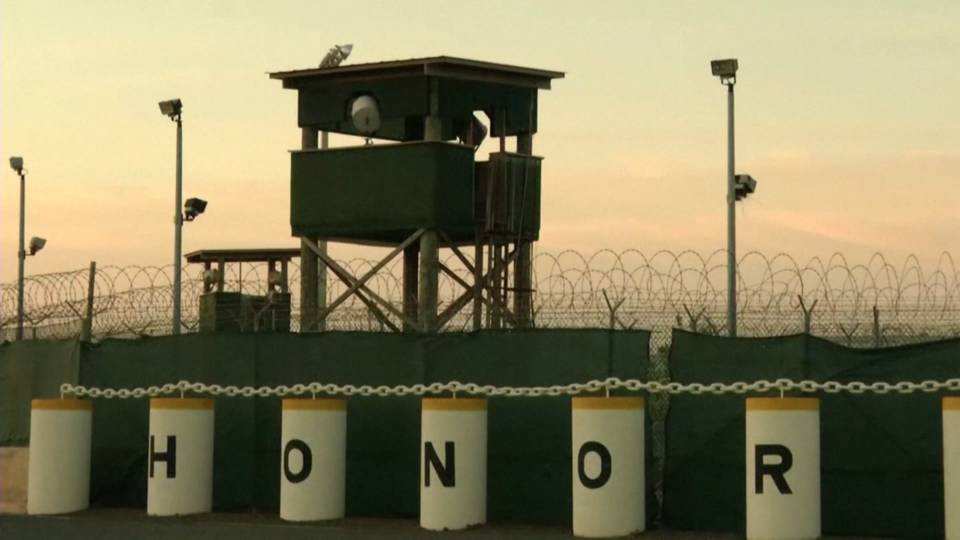 The Biden administration has released two more prisoners from the Guantánamo Bay Naval Base in Cuba. Mohammed and Abdul Rabbani, two brothers now in their mid-fifties, were repatriated to Pakistan after they were held without charges for two decades. The U.S. accused them of providing low-level logistical support to al-Qaeda, but never provided evidence in a court of law. Both brothers say they were tortured at a secret CIA prison in Afghanistan for about 550 days before they were transferred to Guantánamo in 2004. The U.S. continues to imprison 32 men at Guantánamo.
U.N. Resumes Talks on Treaty to Protect Ocean Biodiversity
Feb 24, 2023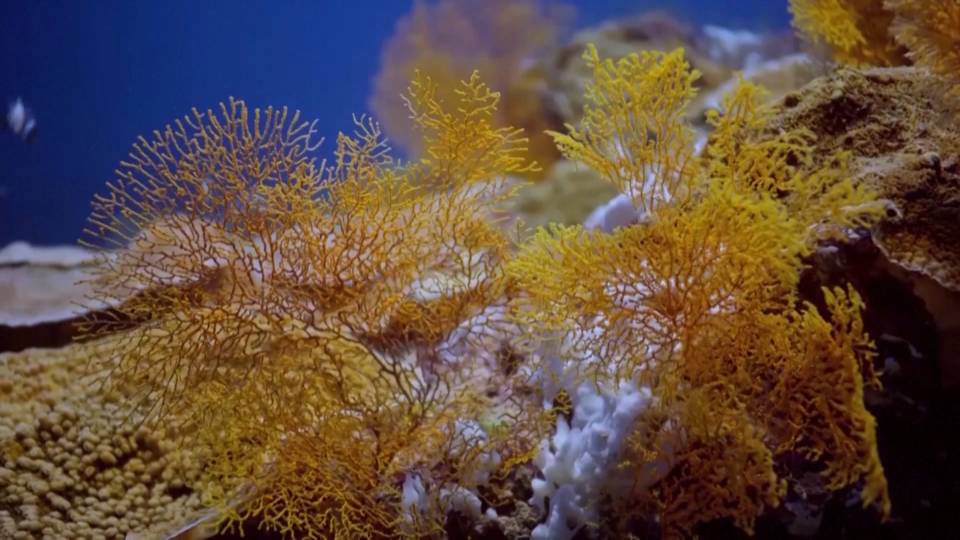 Here in New York, representatives from all 193 U.N. member states are convening in hopes of agreeing on a new treaty to protect the world's oceans and their biodiversity. A round of talks last summer was suspended after participants were unable to reach an agreement on financing, among other issues. Earlier this week, actor and activist Jane Fonda addressed delegates at the U.N. headquarters.
Jane Fonda: "This treaty, that will lay the groundwork for creating 30% of the ocean into marine sanctuaries that cannot be fished in, is so important. We have to save these creatures, who basically are fighting to save us. They are our strongest allies in the fight against the climate crisis. The ocean is one of our strongest allies."
Winter Storms Blanket Midwest and SoCal with Snow as Southern U.S. Sees Record Temperatures
Feb 24, 2023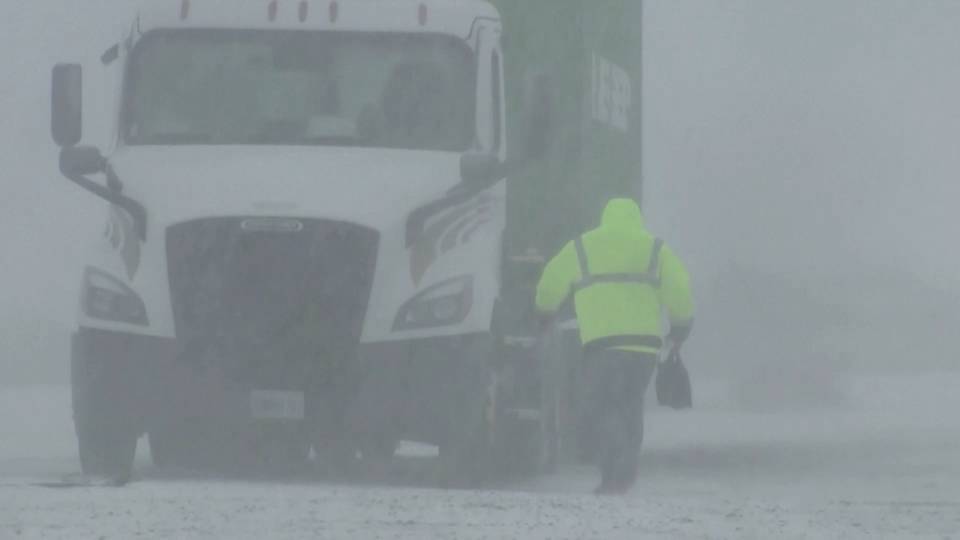 Nearly 1 million customers in the Midwest were left without power amid freezing temperatures Thursday as a historic winter storm brought extreme weather to most of the nation. About 75 million people in 29 states have faced winter weather advisories. In California, officials in Los Angeles and surrounding counties issued a rare blizzard warning through Saturday. Meanwhile, many southern states are experiencing record heat. Thursday's high temperature in Washington, D.C., topped 80 degrees Fahrenheit, shattering a 150-year-old record for the date.
Biden Taps Former Mastercard CEO and Wall Street Insider Ajay Banga to Lead World Bank
Feb 24, 2023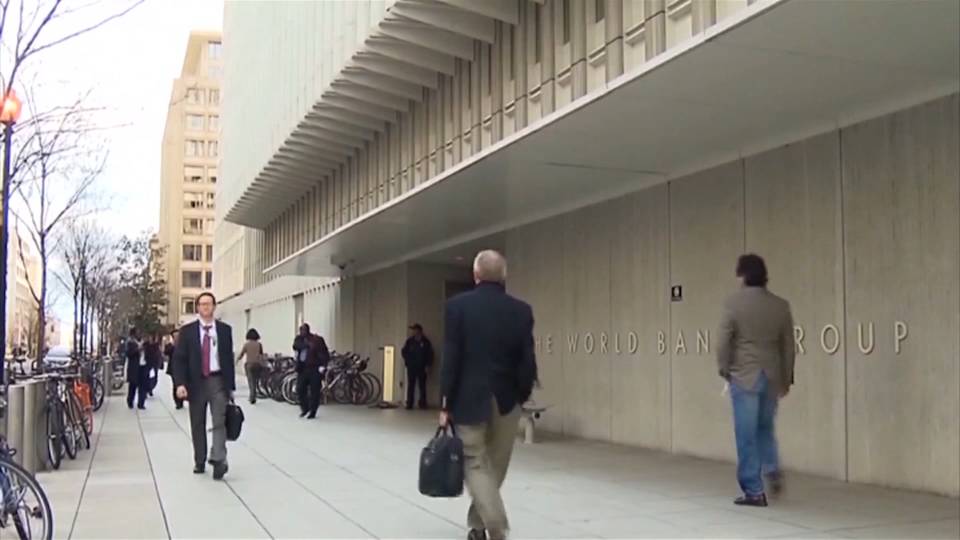 President Joe Biden has nominated former Mastercard CEO Ajay Banga to lead the World Bank. If approved, Banga would be the first-ever Indian American and first Sikh American to lead either the World Bank or the IMF. He previously worked for Nestlé, PepsiCo and Citigroup, and now serves as vice chair at the Wall Street investment firm General Atlantic. The anti-corruption group the Revolving Door Project condemned the selection, writing, "President Joe Biden and Secretary Yellen have literally named the Vice Chairman of a rapacious international private equity firm to take his first job ever in public service at nearly the highest level in the world possible. Nothing in Banga's resume inspires confidence that he will turn the World Bank away from a path of neocolonialism and predation by Global North corporations upon Global South countries."
Texas Judge Could Block Access to Abortion Pill for Patients Nationwide
Feb 24, 2023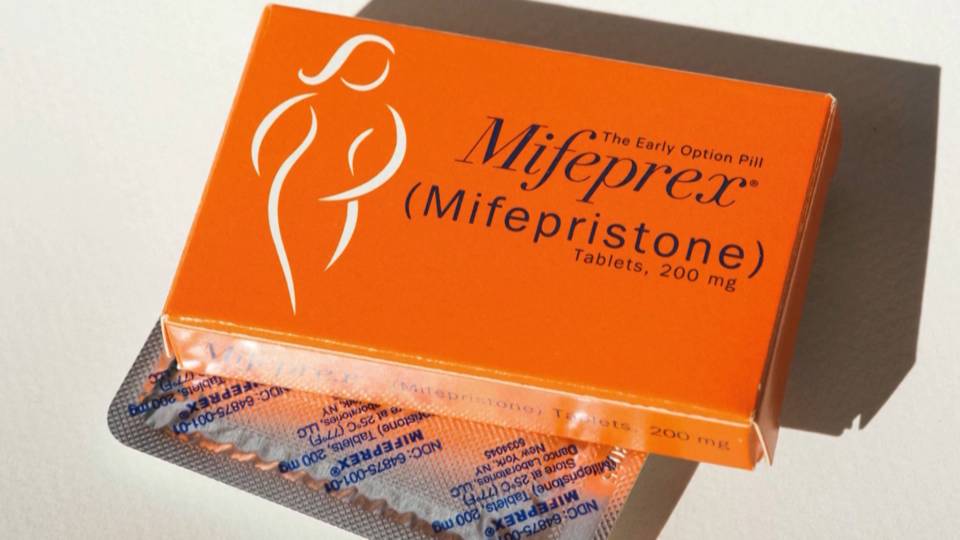 A judge in Texas is expected to issue a ruling as soon as today that could block access to the common abortion medication mifepristone nationwide. Plaintiffs in the case are challenging the Food and Drug Administration's approval of mifepristone over two decades ago. The move would impact even states like New York and California, where abortion is still legal following the overturning of Roe v. Wade. Mifepristone is used in more than half of the abortions provided by clinics and physicians in the U.S. In January, the FDA announced retail and mail order pharmacies can now sell the abortion pill directly to patients with a prescription.
Pregnant Woman Argues Her Fetus Is Being Unlawfully Detained in Florida Jail
Feb 24, 2023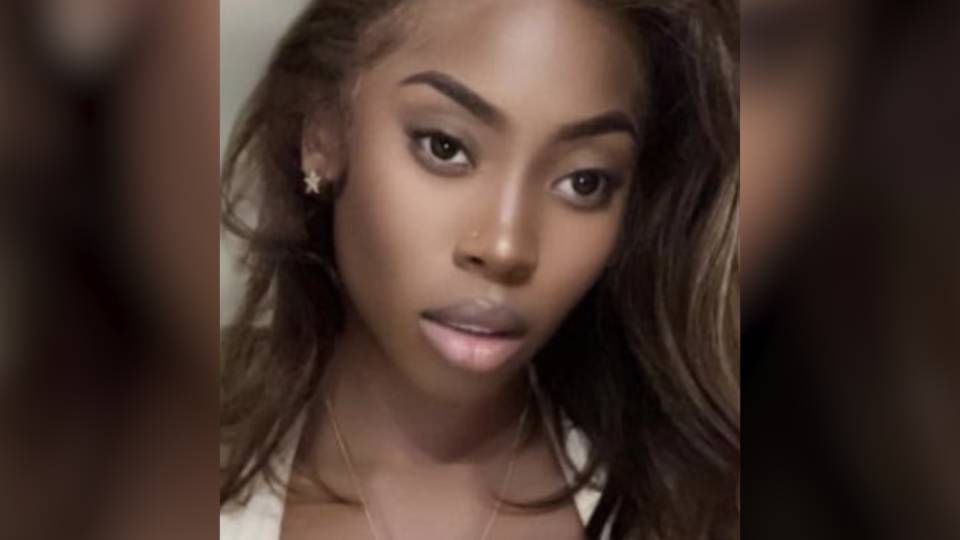 Image Credit: Instagram: @queen_starr410
In Florida, a petition seeking to release a pregnant woman from jail argues her fetus is being held in "unlawful and illegal detention" and being deprived of its due process rights. Natalia Harrell, who's eight months pregnant and charged with murder, also accuses the jail of endangering the fetus by failing to provide proper prenatal and medical care. The filing argues that the fetus "is a person under the Florida constitution and the United States constitution." So-called fetal personhood laws have been fundamental in the anti-abortion movement; reproductive rights advocates say recognizing fetal personhood helps strengthen the criminalization of abortion.
One Person Dies Every Two Minutes from Pregnancy or Childbirth Complications
Feb 24, 2023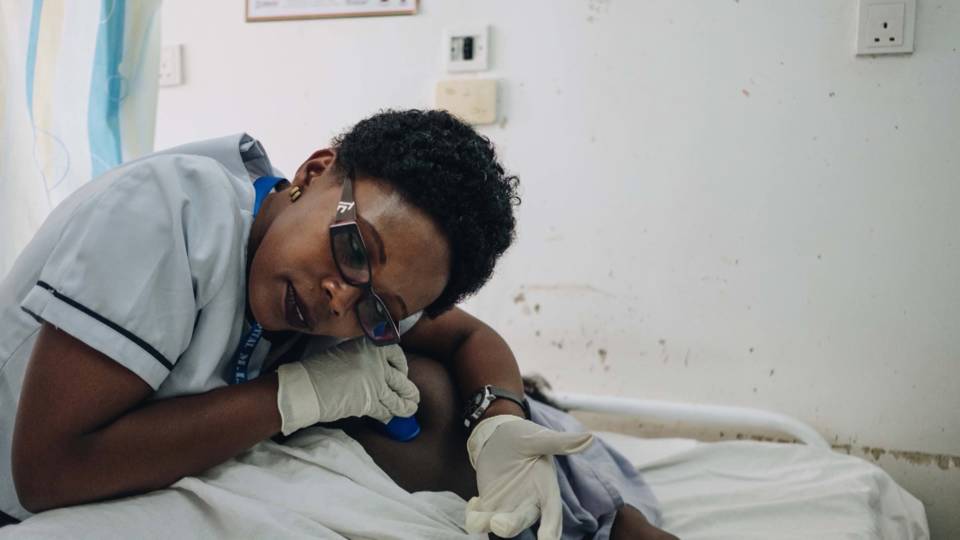 Image Credit: WHO/Khadijah Farah
A new report by the United Nations finds one person dies during pregnancy or childbirth every two minutes — revealing an alarming setback in reproductive health in recent years in nearly all regions of the world. The report tracks these deaths from 2000 to 2020. Europe and North America, as well as Latin America and the Caribbean, had the largest increase of pregnancy or childbirth deaths from 2016 to 2020. But as a whole, these deaths continue to be largely concentrated in the poorest parts of the world and in countries impacted by conflict.
In the United States, new research shows childbirth is deadlier for Black families regardless of their socioeconomic background. Black pregnant people and their babies, even when wealthy, are still twice as likely to die than their white counterparts.
Pandemic-Era Federal Food Assistance Benefits to End in March
Feb 24, 2023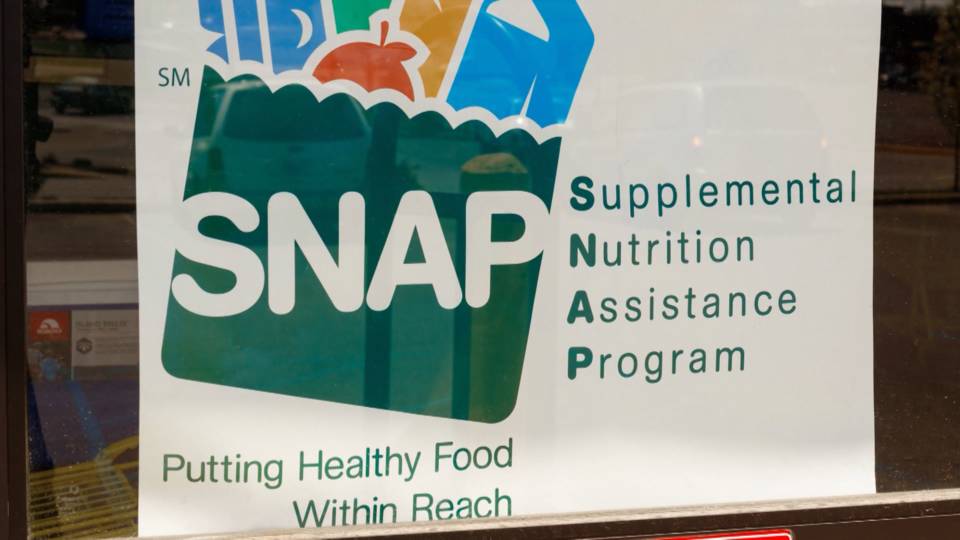 Millions of people around the United States will lose their additional disbursement of federal food assistance starting next week on March 1. The Supplemental Nutrition Assistance Program, or SNAP, had increased benefits as part of the emergency response to the COVID-19 pandemic. Households will lose a minimum of $95 a month as families continue to face increased food prices and data show at least one in eight U.S. kids regularly face hunger.
Harvey Weinstein Sentenced to Another 16 Years for Rape in Los Angeles
Feb 24, 2023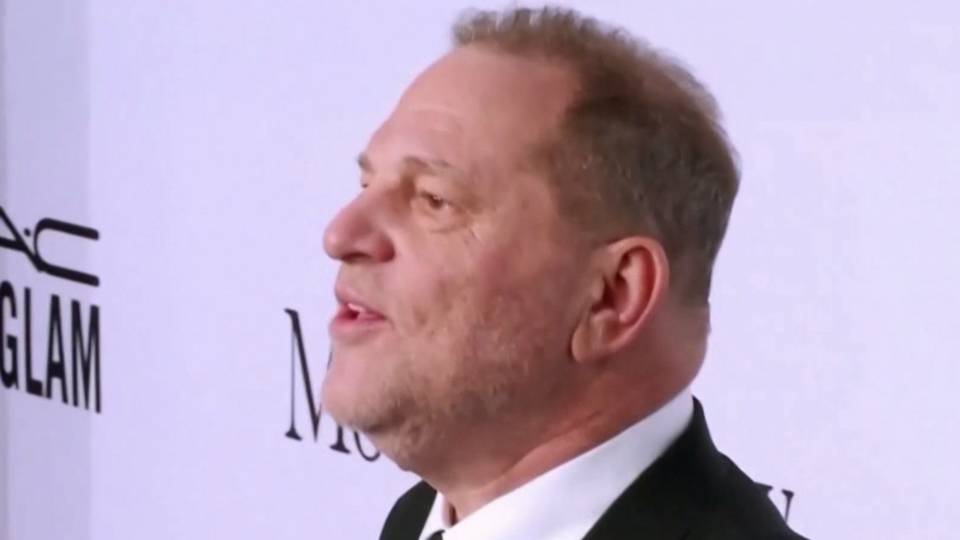 In Los Angeles, Harvey Weinstein was sentenced Thursday to 16 years in prison for rape. The sentence is to be served after his 23-year term stemming from his New York sexual assault conviction, effectively ensuring the one-time Hollywood mogul will spend the rest of his life behind bars. Weinstein's Los Angeles conviction was based on his assault of one survivor, though dozens have accused him of rape and other sexual crimes. Attorney Gloria Allred filed appeals on behalf of two survivors who were denied the right to deliver victim impact statements before the sentencing.
Gloria Allred: "You may say, 'Well, isn't it too late? He was sentenced today.' It's never too late to argue or to assert a constitutional right that we think has been violated."
Court Sentences R. Kelly to 20 Years for Child Sex Crimes
Feb 24, 2023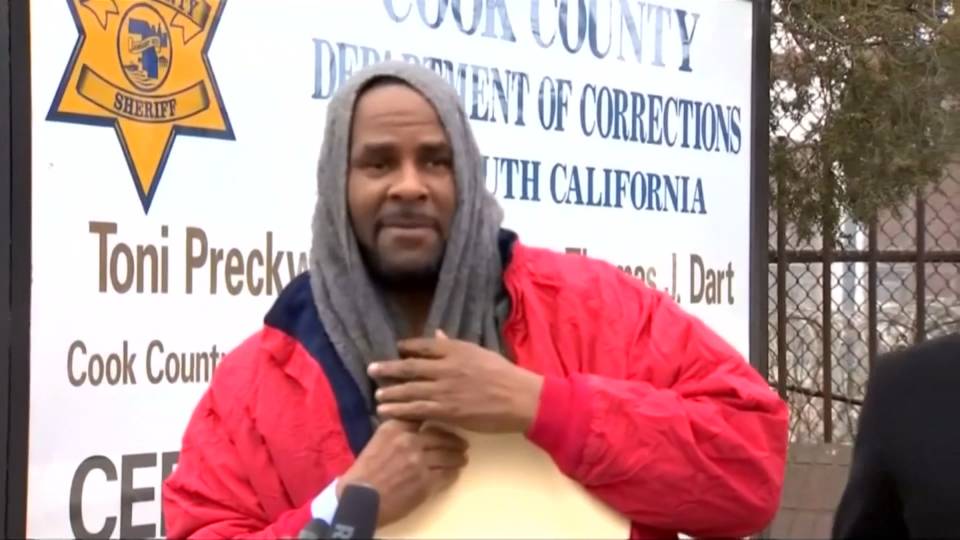 In Chicago, a court sentenced R. Kelly Thursday to 20 years in prison for child sex crimes. But the former R&B star and sexual predator will be able to serve all but one year of that sentence concurrently with a previous 30-year term handed down in New York for racketeering and sex trafficking. A victim impact statement read in court Thursday asked for the longest possible sentence for Kelly that was allowed under the law, with the survivor saying she will be "permanently scarred" and that "no amount of therapy will make me normal."
Warrior Met Coal Miners Offer to End Nearly 2-Year Strike
Feb 24, 2023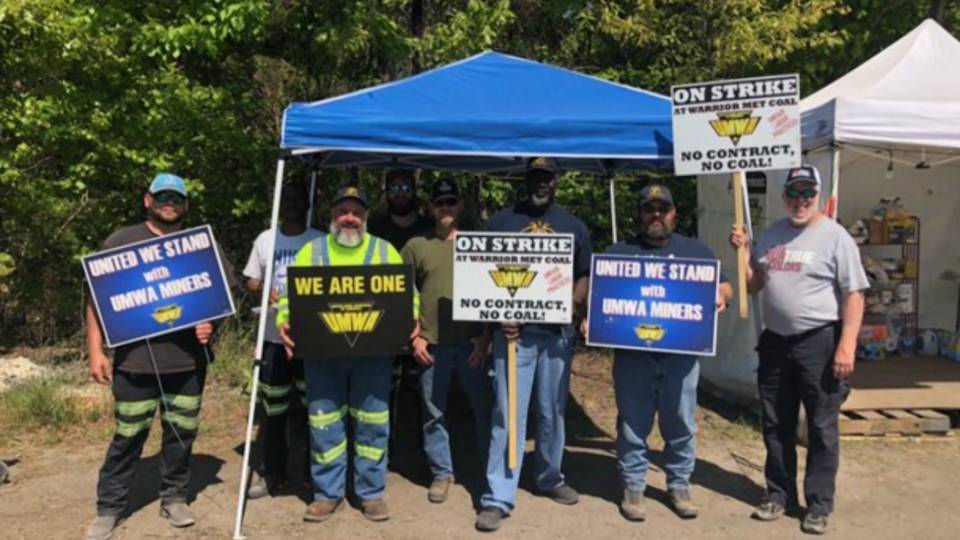 Image Credit: Twitter: @MineWorkers
In Alabama, hundreds of striking miners could soon return to work at the Warrior Met Coal company after nearly two years spent on picket lines. The president of the United Mine Workers of America recently sent a letter to Warrior Met granting the company an "unconditional offer to return to work" on March 2 while the two parties continue to negotiate a new contract. The offer to end the strike came after Warrior Met reported large profits due to the skyrocketing price of coal, and after it successfully used replacement workers to keep its mines running. The union called the strike in April of 2021. It's believed to be the longest in the history of Alabama, a so-called right-to-work state with powerful anti-union laws.