B'Tselem Accuses Israeli Government of Backing Pogrom in West Bank
Feb 28, 2023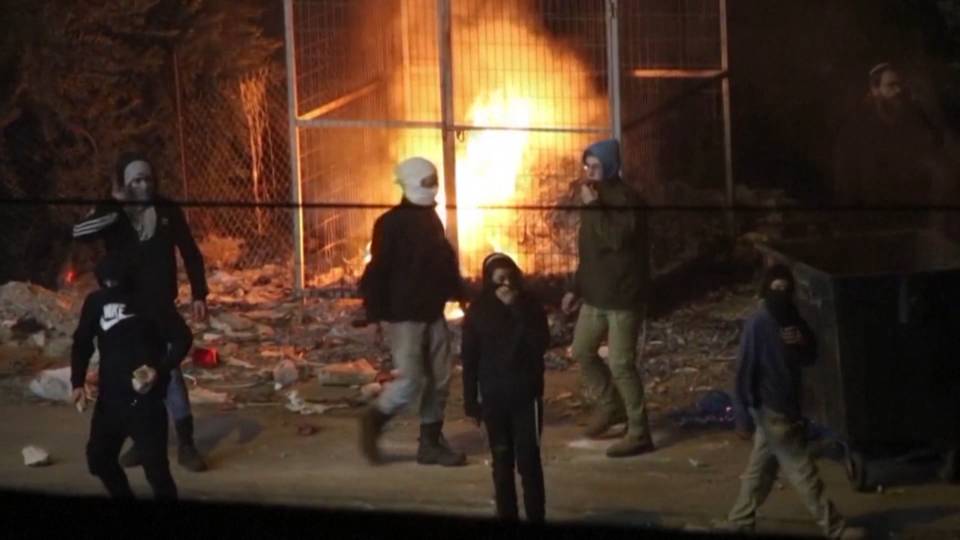 The Israeli human rights group B'Tselem has accused Benjamin Netanyahu's government of backing a pogrom in the West Bank town of Huwara. On Sunday night, Jewish settlers attacked the town, burning cars and homes and killing Sameh Aqtash, a Palestinian man who had recently returned from Turkey where he volunteered to help after the earthquake. B'Tselem said, "The Jewish Supremacist regime carried out a pogrom in the villages around Nablus yesterday. This isn't 'loss of control.' This is exactly what Israeli control looks like. The settlers carry out the attack, the military secures it, the politicians back it. It's a synergy." The Israeli publication +972 magazine reports the Israeli military allowed the rampaging settlers to walk into Huwara "on foot, while preventing journalists, medics, and Palestinian aid workers from doing the same." According to The Times of Israel, eight settlers were initially detained but all have been released. This is Nabil Abu Rudeineh, a spokesperson for Palestinian President Mahmoud Abbas.
Nabil Abu Rudeineh: "Undoubtedly, this is a war against the Palestinian people, an inclusive war that is backed by the Israeli government. These settlers' attacks are part of the policy of the government in spite that some try to deny it. These crimes will not pass without penalty, and Israelis shall be held responsible for all that happens. And so does the military. And the American administration, who also backs this government, should stop all this violence and all these crimes. The Palestinian people shall not be defeated or back out, and we will chase after them in all the international platforms."
The settler attack in Huwara came hours after a Palestinian gunman shot dead two brothers from a nearby settlement. That shooting came four days after Israeli forces killed 11 Palestinians and injured 500 in a daytime raid of Nablus. In the latest violence in the West Bank, an Israeli-American named Elan Ganeles was shot dead Monday while driving near Jericho.
Biden Vows to Crack Down on Migrant Child Workers in U.S. After NYT Exposé
Feb 28, 2023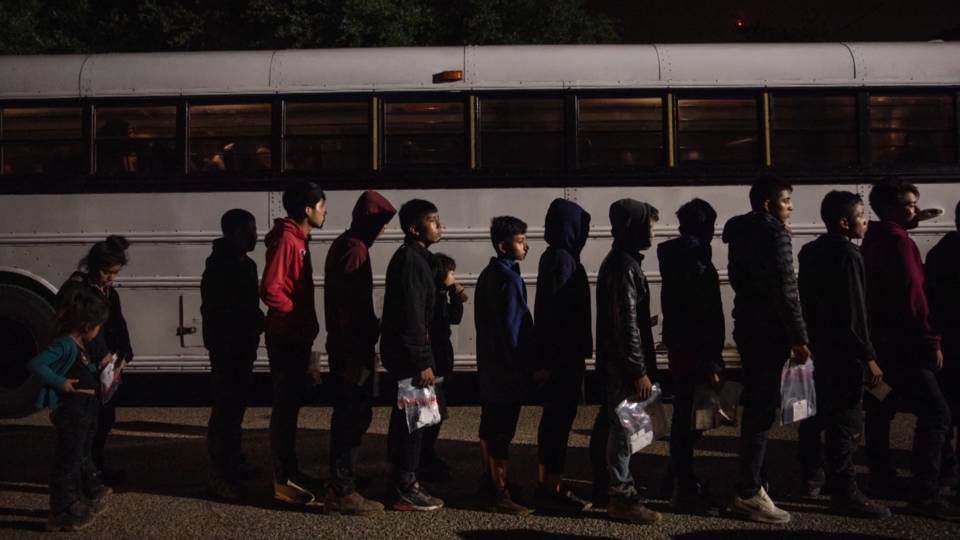 Image Credit: Kirsten Luce for The New York Times
The Biden administration has vowed to crack down on the exploitation of migrant children working inside the United States. This comes just days after The New York Times published a shocking exposé revealing how migrant children were working in the supply chains of many major brands, including Fruit of the Loom, Ford, General Motors, J.Crew, Walmart, Whole Foods, Target and Ben & Jerry's. We will speak to the New York Times reporter who broke the story after headlines.
Biden Admin to Require Recipients of CHIPS Subsidies to Offer Affordable Child Care
Feb 28, 2023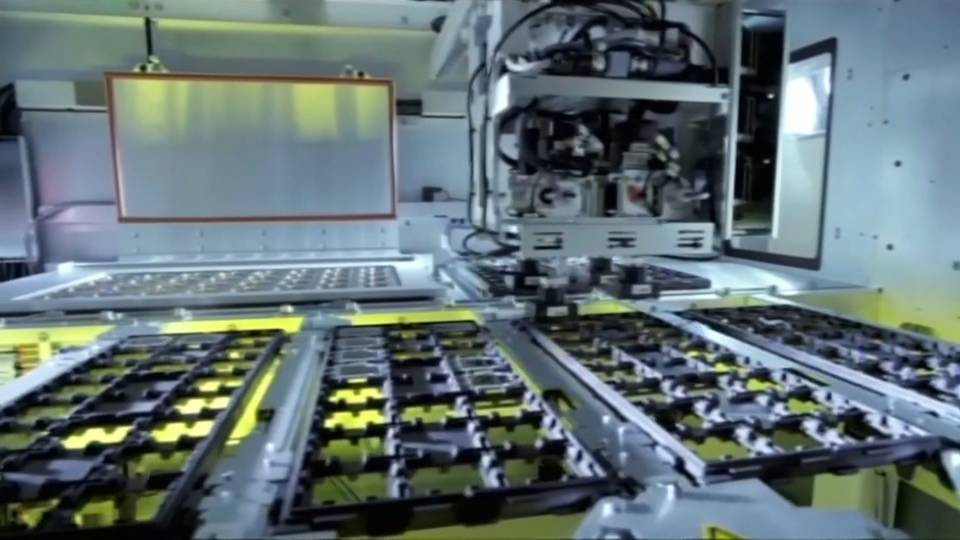 The Biden administration has announced manufacturers seeking federal subsidies to make computer chips will need to provide affordable child care for their workers. White House Press Secretary Karine Jean-Pierre outlined part of the plan Monday.
Press Secretary Karine Jean-Pierre: "The need for child care to boost our workforce is undeniable. Part of the solution to that is that the Commerce Department is going to require companies seeking substantial CHIPS funding to submit a robust child care plan that reflects the needs of their workers' communities where they plan to build."
Supreme Court Hears Student Debt Relief Case
Feb 28, 2023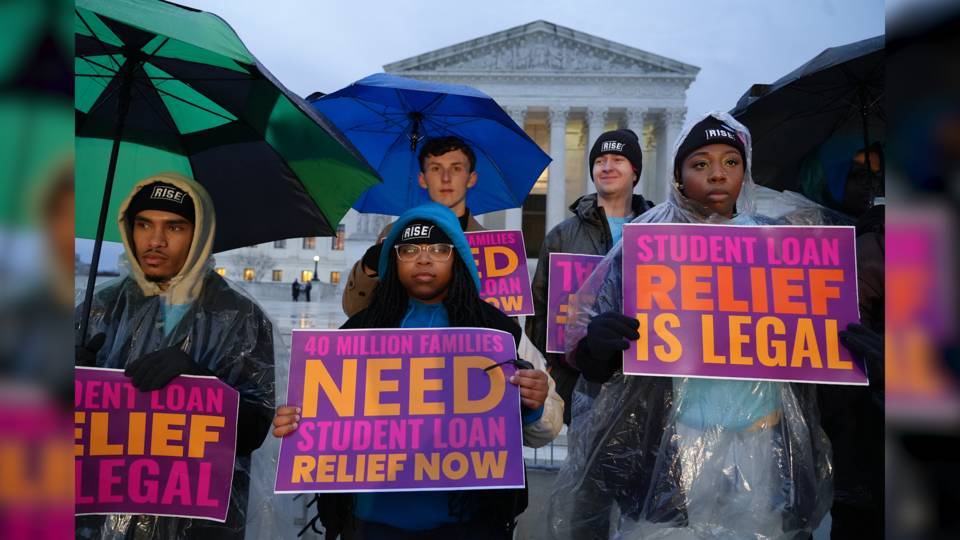 Advocates for student debt relief are rallying outside the Supreme Court today as justices hear arguments in a case that could determine whether the Biden administration can proceed with a plan to eliminate up to $20,000 in federal student loan debt for many borrowers. President Biden announced the plan in August, but it has been held up over legal challenges.
In other Supreme Court news, justices agreed Monday to hear a case that could decide the fate of the Consumer Financial Protection Bureau, which was created by President Obama after the financial crisis.
Rupert Murdoch Admits Fox Hosts Endorsed Election Lies to Boost Network Profits
Feb 28, 2023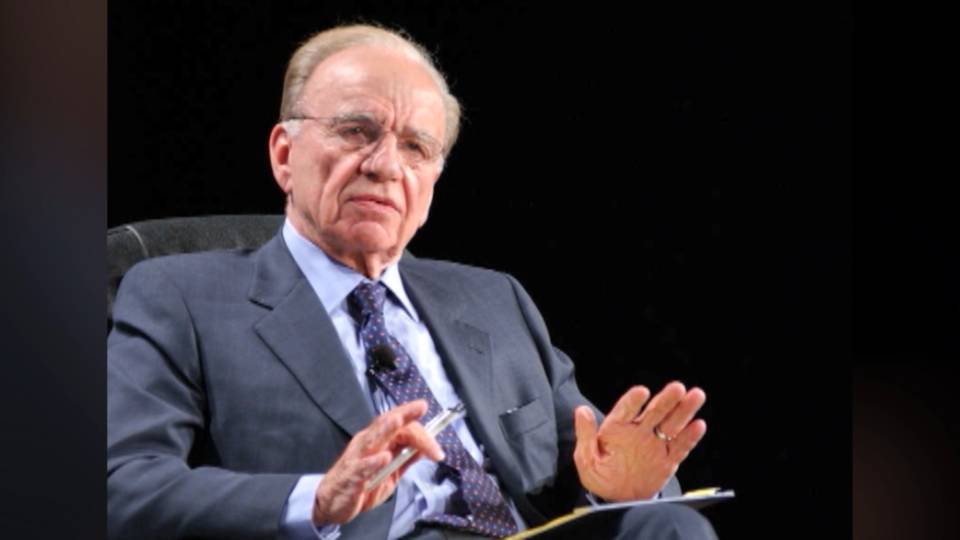 Rupert Murdoch, the owner of Fox News, has admitted under oath that many hosts on his network "endorsed" Donald Trump's false claims about the 2020 election. Murdoch also admitted it was "wrong" for Fox to keep interviewing pro-Trump conspiracy theorist Mike Lindell, the CEO of MyPillow. But Murdoch suggested it was done for financial, not political reasons. Murdoch said, "It is not red or blue, it is green." Murdoch made the remarks in a deposition as part of a $1.6 billion defamation lawsuit filed by Dominion Voting Systems against Fox. In a new court filing, Dominion also revealed that Murdoch had given Trump's son-in-law Jared Kushner confidential information about Biden's campaign ads, along with debate strategy during the campaign.
"I Am Going to Die": Tenn. Woman Dies of Stroke in Police Cruiser After She Was Denied Medical Care
Feb 28, 2023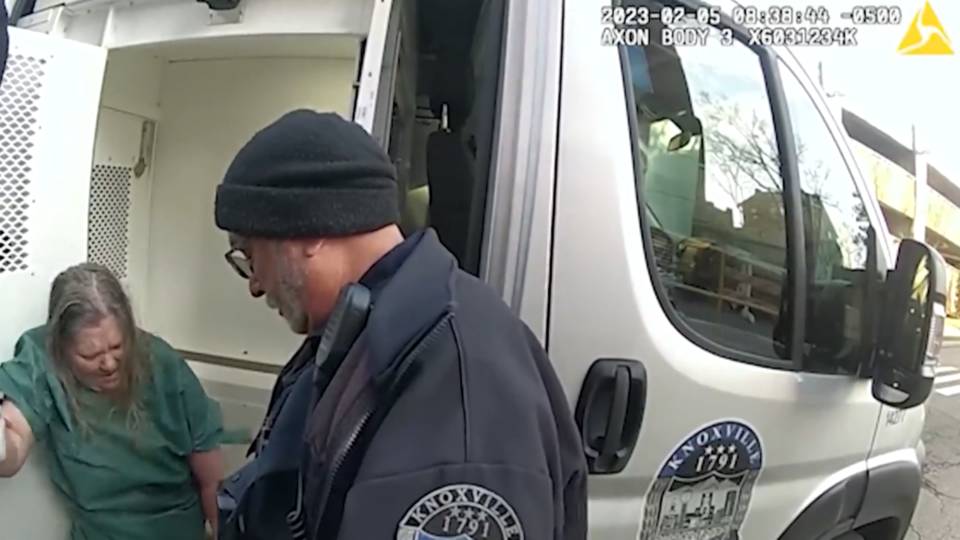 Protesters gathered in Knoxville, Tennessee, on Monday to demand justice for Lisa Edwards, a 60-year-old woman who died after suffering a stroke in the back of a Knoxville police patrol car. Edwards was arrested on February 5 on trespassing charges after she refused to leave a local hospital following her discharge. At the time of her arrest, she was still wearing her hospital gown. Police bodycam video shows she repeatedly told officers she needed medical care, saying, "I'm going to have a stroke," and "I can't breathe."
Lisa Edwards: "Oh my god."
Police officer: "You've been medically cleared, so let's get in."
Lisa Edwards: "May I please stop? I can't even breathe."
Police officer: "Yes, ma'am, you're going to have to get in there."
Lisa Edwards: "My ankle. I can't breathe."
Police officer: "That was your — you've been medically cleared, ma'am. This is not going to work. So we need you to help us."
Lisa Edwards: "My hand, it hurts."
Police officer: "Ma'am, you need to get in there."
At another point, Lisa Edwards can be heard telling the Knoxville police officers, "You guys are going to let me die." One officer can be heard dismissing her warning, saying, "It's all an act." Instead of bringing her back inside the hospital, officers placed her in the back of a patrol car, where she became unresponsive. Eventually she was brought back to the same hospital, Fort Sanders Regional Medical Center. She was then placed on life support and died the following day. In an interview on WVLT in Knoxville, her son decried how the police treated his mother.
Tim Boylan: "I can't even wrap my head around it. I just don't see how somebody could treat someone like that. Like, they — they treated her like she's trash."
Ecuadorian Indigenous Leader Eduardo Mendúa Assassinated at His Home
Feb 28, 2023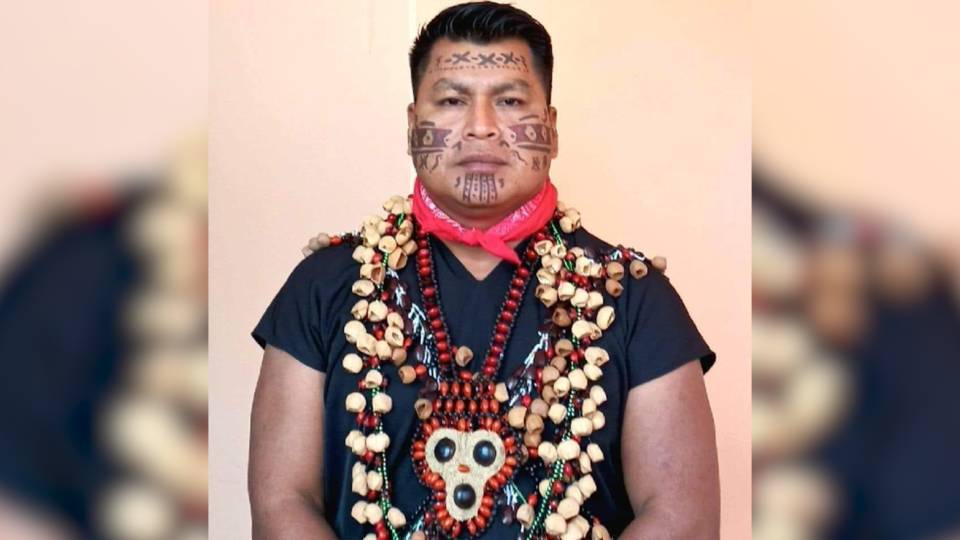 Image Credit: Facebook: Eduardo Mendua
In Ecuador, Eduardo Mendúa, an A'i Cofan Indigenous leader who fought against oil extraction in the Amazon rainforest, was assassinated Sunday. He was a member of the Confederation of Indigenous Nationalities of Ecuador. The group said Mendúa was shot 12 times by two armed men wearing hoods while he was at his home garden in the town of Dureno. Mendúa's murder is believed to be linked to the community's fight to block Ecuador's state-owned oil company, Petroecuador, from expanding its drilling in the region of Sucumbíos.
Indigenous communities in the Ecuadoran Amazon have for decades dealt with the horrific health and environmental impacts of oil production. Over a decade ago, they won a lawsuit against Chevron over the spilling of billions of gallons of crude oil, which contaminated the water and soil and caused cancer rates among locals to skyrocket.
Climate Activists in France & Norway Engage in Direct Action Protests Outside Gov't Ministries
Feb 28, 2023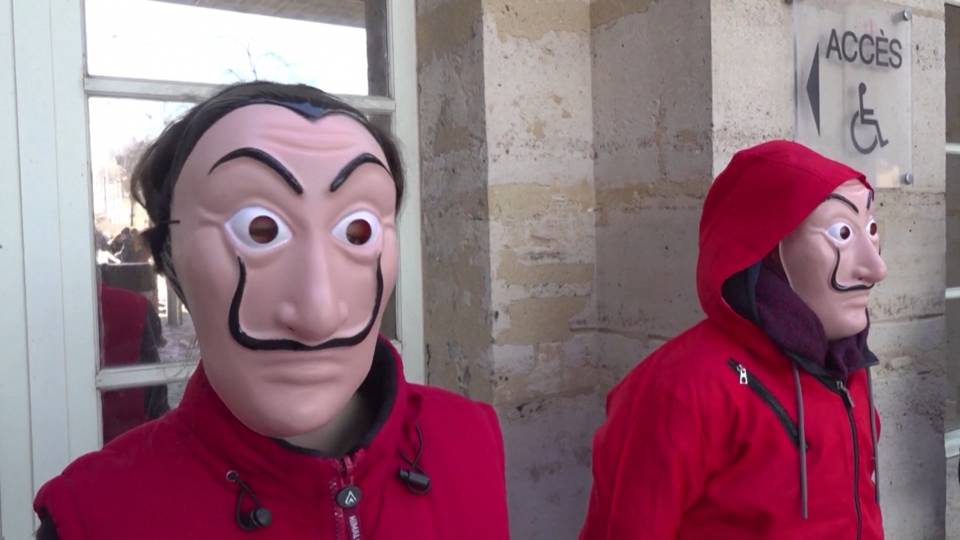 About 15 climate activists chained themselves to the French Finance Ministry in Paris on Monday in a protest demanding debt cancellation for countries in the Global South and for wealthy polluting nations to pay a climate debt. The activists, who wore red jumpsuits and masks, splattered fake blood on the walls of the ministry.
Extinction Rebellion protester: "We are chained up just like the countries which are most affected by global warming and are tied down by the debt they have to reimburse, which keeps them from putting money where they need it to protect themselves."
Meanwhile, in Norway, dozens of Indigenous and climate activists chained themselves to the doors of Norway's Energy Ministry on Monday to protest the placement of wind turbines on land traditionally used by Indigenous Sámi reindeer herders. The protest continued today when activists blocked access to Norway's Finance Ministry. This is the Sámi musician and activist Ella Marie Haetta Isaksen.
Ella Marie Haetta Isaksen: "We are here to protest against the ongoing human rights violations, against Fosen, where 151 wind turbines are on the land illegally — that's according to a high court decision — but they are there anyway, so we demand that they should be taken down and that Indigenous peoples' rights should be respected."
Northern Ireland: U.K. Reaches Deal with European Union on Post-Brexit Trade Rules
Feb 28, 2023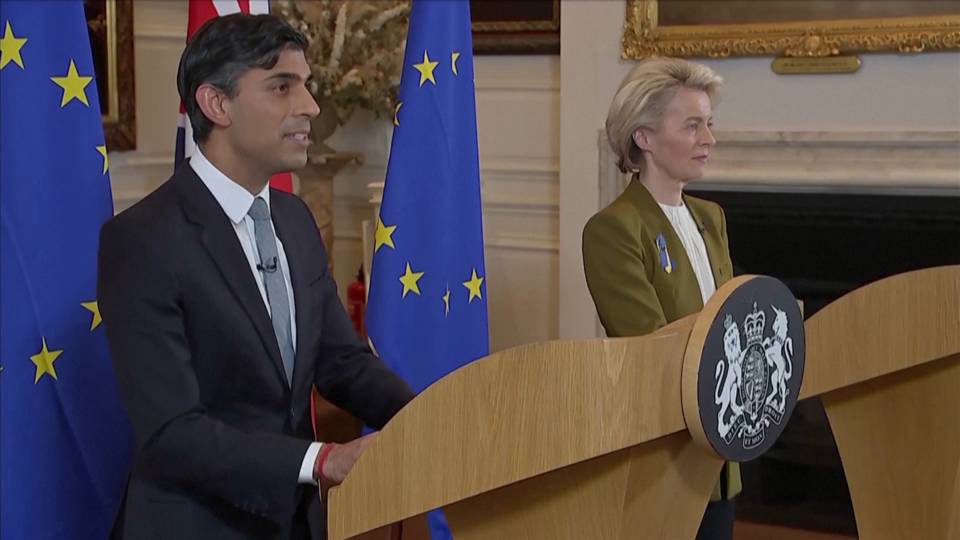 British Prime Minister Rishi Sunak has reached a deal with the European Union on post-Brexit trade rules for Northern Ireland. Sunak said the deal will remove "any sense of border in the Irish sea." Speaking in Belfast, Sinn Féin Vice President Michelle O'Neill welcomed the deal.
Michelle O'Neill: "What I've said consistently throughout the whole of the Brexit debate is that the people here have been left in limbo, they've been left with uncertainty. I'm hoping that today — because we're at the end of the negotiation, the deal is now done — I'm hoping that today all energy and efforts focus at home here to making politics work and actually getting around the executive table."
American Indian Movement's Occupation of Wounded Knee Began 50 Years Ago
Feb 28, 2023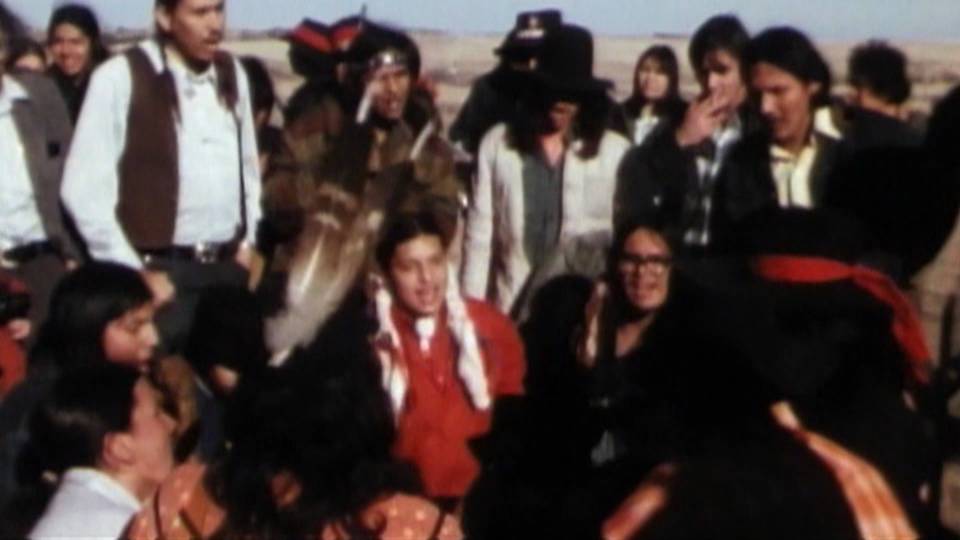 This week marks 50 years since the start of the American Indian Movement's 71-day occupation of the village of Wounded Knee on the Pine Ridge Indian Reservation. The occupation helped draw international attention to the plight of Indigenous peoples within the borders of the United States. The U.S. government responded to the occupation with a full military siege that included armored personnel carriers, F-4 Phantom jets, U.S. Marshals, FBI, state and local law enforcement. During the occupation, two Sioux men were shot dead by federal agents, and a Black civil rights activist, Ray Robinson, went missing. The FBI confirmed in 2014 that he had been killed during the standoff.