"Cop City" Activist Was Seated with Arms Raised When Shot Dead Says Autopsy
Mar 13, 2023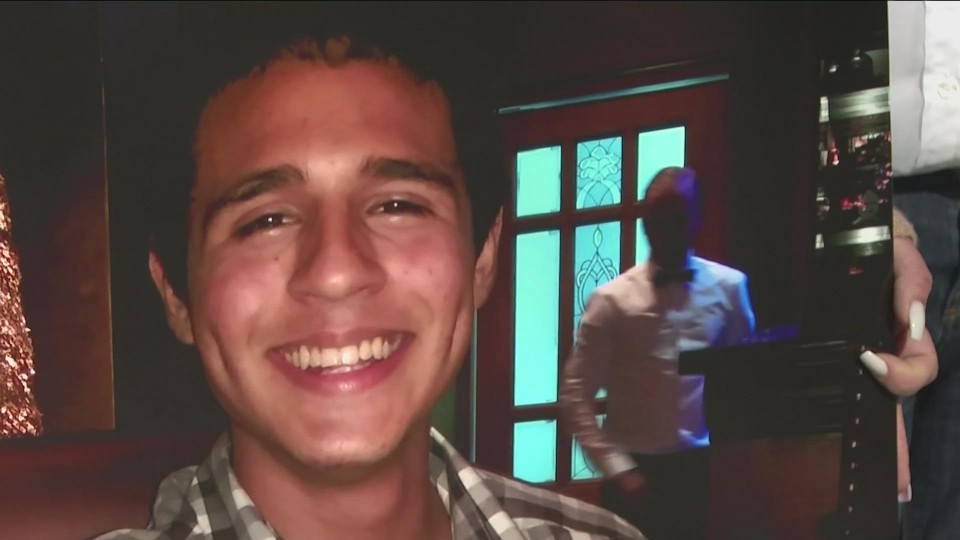 Image Credit: Twitter @atlanta_press
In Georgia, an independent autopsy of an activist who was fatally shot by Atlanta police in January concludes their hands were raised when they were killed. Georgia State Patrol shot 26-year-old Manuel Esteban Terán, known as Tortuguita, as they raided the encampment of forest protectors who have been opposing the construction of Atlanta's $90 million police training center dubbed "Cop City." The autopsy, which will be released in full today, also reveals Tortuguita was likely seated cross-legged when shot. Tortuguita's family on Friday sued the city of Atlanta, after the release of more video evidence of the shooting was blocked. The killing has drawn national attention to Cop City as protests spread across the country.
8 Dead After 2 Migrant Boats Capsize Off San Diego Coast
Mar 13, 2023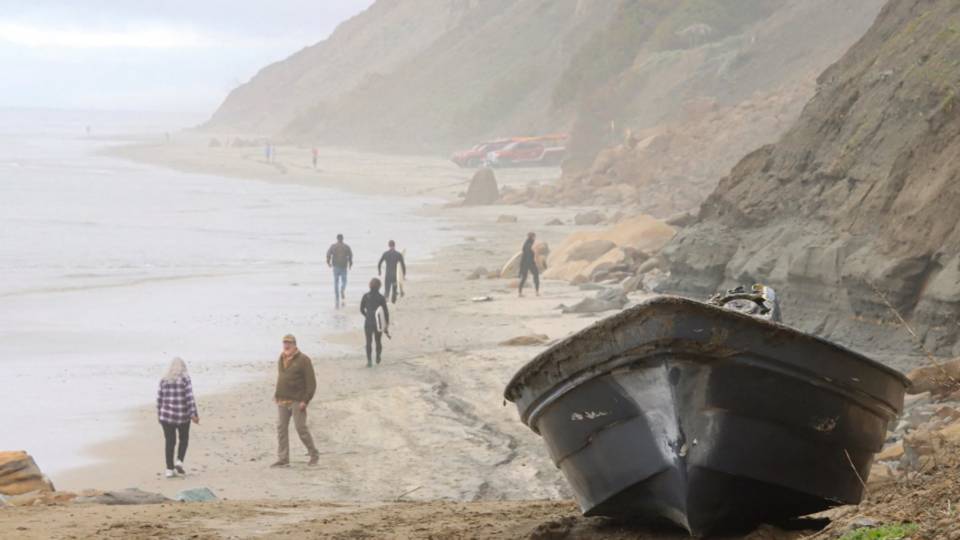 Image Credit: Sandy Huffaker/Reuters
In California, at least eight migrants died after two boats capsized off the coast of San Diego Saturday. A woman aboard one of the boats called 911 late that night asking for help. When authorities arrived, they found two boats but no survivors. There are no further details about the victims. Boats attempting to cross from Mexico to the U.S. have become more frequent in recent years as the Biden administration continues to enforce harsh immigration and border policies that have blocked most people from seeking asylum at the southern border and safely enter the United States.
5 Migrants Drowned, 30 Missing and 1,300 Rescued Over Weekend in Multiple Maritime Tragedies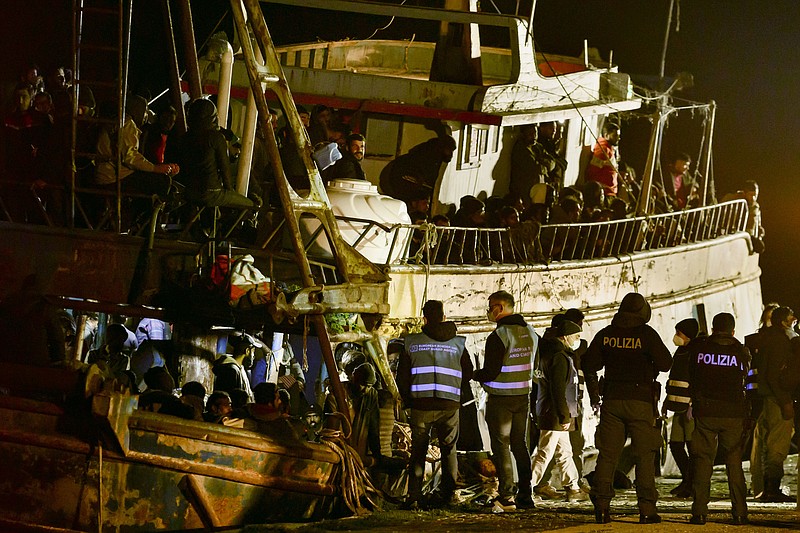 Mar 13, 2023
In Europe, over 1,300 people aboard three overcrowded migrant boats were rescued off the southern Italian coast Saturday as the death toll from a shipwreck off the shore of Calabria two weeks ago has risen to 76. Three more bodies were found Saturday, including two children. That same day, thousands protested near the site of the shipwreck, denouncing Italy's deadly anti-immigrant policies.
Meanwhile, at least 30 migrants are missing in the central Mediterranean after their boat capsized Sunday as they fled Libya for Italy. Over a dozen others were rescued by Italian authorities.
In Turkey, at least five migrants drowned off the country's southwestern coast Saturday as they traveled to Greece on a rubber boat. And in Spain, a group of 48 migrants were rescued Friday off the Canary Islands.
Iran and Saudi Arabia Sign China-Brokered Normalization Deal
Mar 13, 2023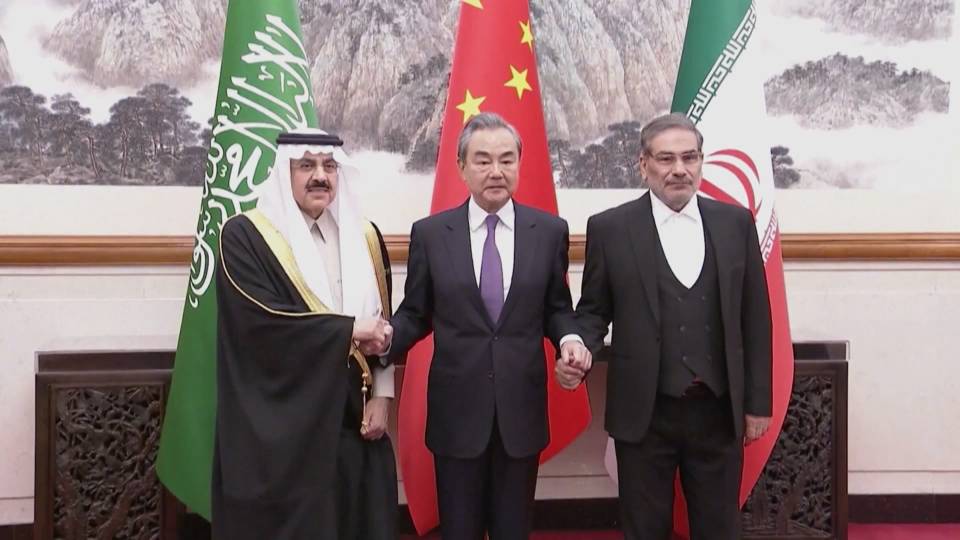 Iran and Saudi Arabia agreed to reestablish diplomatic relations in a deal brokered Friday by China and signed in Beijing. The agreement ends a seven-year dispute between the two countries, who plan to reopen their embassies within two months. This is Ali Shamkhani, secretary of the Supreme National Security Council of Iran, who represented Tehran at the talks.
Ali Shamkhani: "At the end of the talks, we reached a conclusion, to start a new chapter after seven years of breaking off relations between the Islamic Republic of Iran and Saudi Arabia, while considering the matters of the two countries and the security and future of the region, to prevent meddling from extraregional and Western states and consistent meddling of the Zionist regime in the region."
The news comes at a time of heightened tensions between Washington and Tehran, and Washington and Beijing. The White House cautiously welcomed the deal while denying it signaled China's increasing global influence, as National Security Council spokesperson John Kirby said the U.S. would not be "stepping back" from its role in the Middle East.
Israeli Forces Kill 3 More Palestinians as 500,000 Israelis Join Protests Against Attack on Courts
Mar 13, 2023
In the occupied West Bank, Israeli soldiers killed three Palestinian men in a shootout near Nablus on Sunday morning. The violence came a day after an estimated half-million people rallied in cities across Israel for a 10th consecutive week of protests against plans by Israel's far-right government to gut the judiciary.
Hundreds Protest U.S. Visit of Israeli Minister Who Called for "Erasing" Palestinian Town
Mar 13, 2023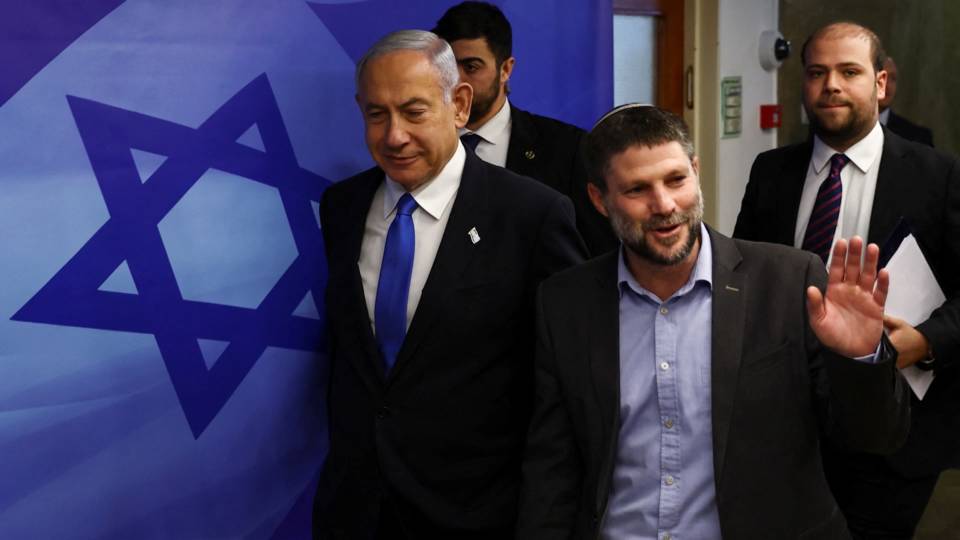 Image Credit: Ronen Zvulun/Reuters
Hundreds of demonstrators, led by several American Jewish organizations, protested a visit by Israel's finance minister to Washington, D.C., Sunday, after the Biden administration granted him a diplomatic visa to speak at an investment conference. Bezalel Smotrich was accused of backing a pogrom against Palestinians when he said earlier this month that Israel should "erase" the Palestinian town of Huwara. His comments came just days after Jewish settlers attacked the town, burning cars and homes and killing a Palestinian man.
DRC Attack Claims 19 Lives as U.N. Warns of Mounting Humanitarian Disaster
Mar 13, 2023
In the Democratic Republic of Congo, at least 19 people were killed Sunday by suspected rebels from the Allied Democratic Forces in the eastern village of Kirindera in North Kivu province. This comes just days after a twin raid in the same region killed at least 36 people. This is a survivor of that attack.
Jerry Paluku Mafuta Mingi: "The situation here is catastrophic because of the attack and the damage. Many people died after their throats were cut. Their houses were burned down. And here in the hospital, here where we are standing, even the medicines and all the hospital material was burned."
The U.N. is warning of a mounting humanitarian disaster in the DRC as some 300,000 people fled violence in North Kivu province last month. This is a UNHCR spokesperson.
Matthew Saltmarsh: "UNHCR teams reported the most horrifying testimonies of human rights violations in affected areas, especially in Rutshuru and Masisi territories, including arbitrary killings, kidnappings, extortion and rapes."
Calls have been mounting for Rwandan President Paul Kagame to stop supporting M23 rebels, whose attacks have led to the displacement of over half a million people, though Rwanda has denied any involvement.
Biden Approves Massive ConocoPhillips Oil & Gas Project in Alaska
Mar 13, 2023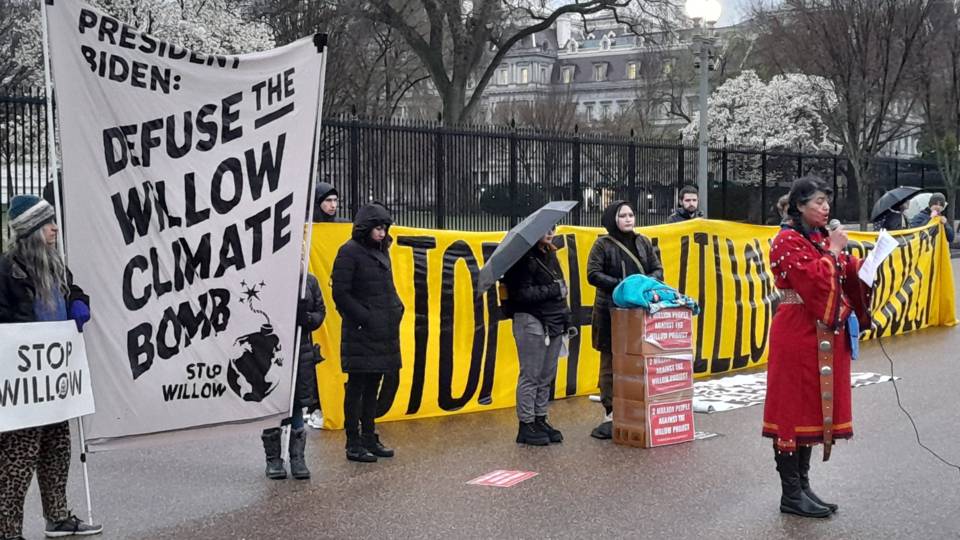 Image Credit: Twitter @SierraClub
The Biden administration said Sunday it will bar future oil and gas leasing for 3 million acres of federal waters in the Arctic Ocean and will limit drilling in a further 13 million acres in the National Petroleum Reserve in Alaska's North Slope. The announcements came as the White House approved the Willow project, an $8 billion ConocoPhillips oil and gas development in northern Alaska. On Friday, the White House had denied reports the administration is prepared to greenlight the project, saying no final decision has been made. Indigenous and environmental groups have been fighting the project for years.
Saudi Oil Giant Reports Largest-Ever $161 Billion Profit in 2022
Mar 13, 2023
Saudi Aramco has reported profits of over $161 billion last year, the largest-ever annual profit for any fossil fuel company. Agnès Callamard, secretary general of Amnesty International, said the figure was "shocking," and called on Saudi Arabia, which owns almost all of Saudi Aramco, to phase out fossil fuels and use the exorbitant profits from its oil sales to support human and environmental rights. Other major oil companies also reported record revenues in 2022 as demand surged amid the war in Ukraine.
Winter Storms Put 15 Million Under Flood Watch in California and Nevada
Mar 13, 2023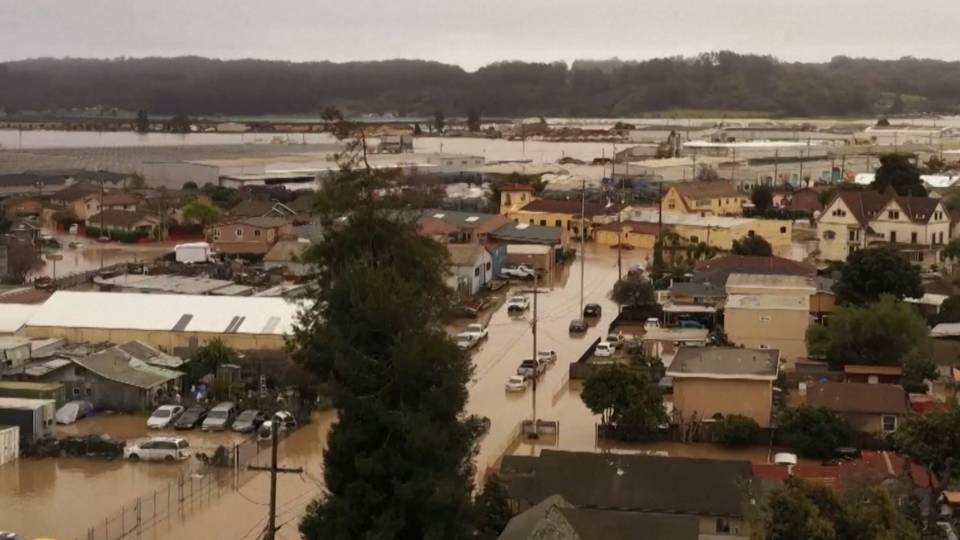 Image Credit: Instagram @terrywayphoto
California residents are bracing for more extreme weather as another "atmospheric river" has put some 15 million people in California and Nevada under flood watches. In Northern California's Monterey County, the Pajaro River breached a levee over the weekend, triggering an "uncontrolled flow" of water into the surrounding areas and forcing thousands of people to flee their homes.
Cyclones hit Peru and Mozambique, Australia has Record Floods
Mar 13, 2023
In Peru, at least six people were killed and hundreds of homes damaged or destroyed over the weekend as a powerful cyclone unleashed torrential rains.
Elsewhere, Australia's Queensland state experienced record-breaking floods sparked by heavy rain, prompting evacuations.
And on Sunday, Cyclone Freddy made landfall in Mozambique for the second time in a month, breaking an all-time record for the longest-lived tropical cyclone and the highest accumulated energy ever observed in a single storm.
FDIC to Fully Reimburse Depositors After Silicon Valley Bank and Signature Bank Collapse
Mar 13, 2023
U.S. banking regulators have taken extraordinary measures to shore up the financial system, after a run on Silicon Valley Bank in California last week caused its sudden collapse and sparked fears of financial contagion. The Biden administration says all of Silicon Valley Bank's depositors will have access to their funds today, including uninsured deposits and those exceeding the quarter-million-dollar cap set by the Federal Deposit Insurance Corporation. The FDIC, the Federal Reserve and the Treasury Department have taken similar steps to protect depositors at Signature Bank of New York — a major lender to cryptocurrency companies — after its rapid collapse on Sunday. These are the second- and third-largest bank failures in U.S. history. Cecilia Rouse, chair of the White House Council of Economic Advisers, sought to downplay fears of a wider collapse.
Cecilia Rouse: "Our banking system is in a fundamentally different place than it was, you know, a decade ago, and that the reforms that were put into place back then really provide the kind of resilience that we'd like to see. So we have every faith in our regulators."
A bill signed by then-President Trump in 2018 rolled back key parts of the Dodd-Frank banking regulations passed after the 2008 financial crisis. Seventeen Senate Democrats and 33 House Democrats sided with Republicans in support of the deregulation, which ended mandates that banks keep more cash and other liquid assets on hand to prevent bank runs. The 2018 law also rolled back "stress tests" that might have exposed weaknesses at SVB and Signature Bank. SVB's CEO Greg Becker lobbied Congress in 2015 for the rollback of Dodd-Frank. President Biden is addressing this issue in a speech today.
Mike Pence Criticizes Trump Even as He Resists Subpoena to Testify About Jan. 6
Mar 13, 2023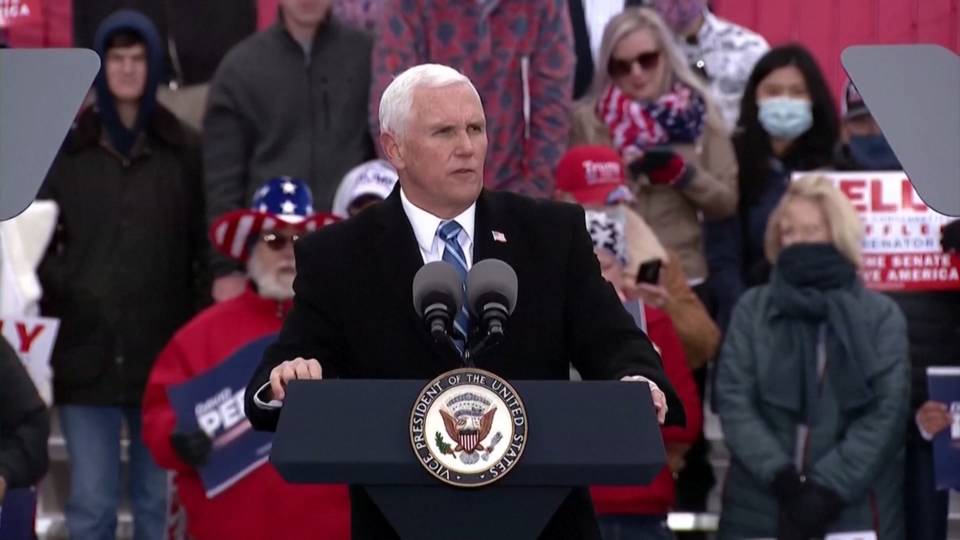 Former Vice President Mike Pence delivered his sharpest criticism yet of former President Trump for his role in the January 6 Capitol insurrection. Pence told attendees at the annual Gridiron Dinner, an elite D.C. event bringing establishment reporters and politicians together, "His reckless words endangered my family and everyone at the Capitol that day, and I know history will hold Donald Trump accountable." Pence's remarks came even as he is resisting a federal grand jury subpoena to testify about January 6.
Michelle Yeoh Makes History as "Everything Everywhere All at Once" Sweeps Oscars
Mar 13, 2023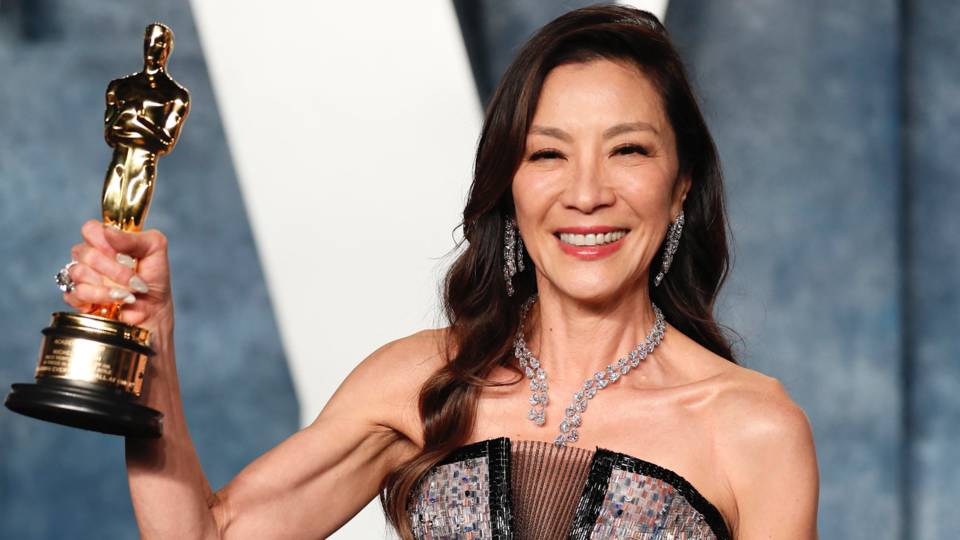 Image Credit: Danny Moloshok via Reuters Connect
The 95th Academy Awards were handed out in Los Angeles last night. Malaysian-born Michelle Yeoh made history as the first Asian woman to win best actress for her role in "Everything Everywhere All at Once," which also won best picture.
Michelle Yeoh: "To all the little boys and girls who look like me watching tonight, this is a beacon of hope and possibilities."
Ke Huy Quan won best supporting actor for the same film, marking the first time two Asian actors won Oscars in the same year. Ruth Carter became the first Black woman to win two Oscars, after she took home the costume design trophy for "Black Panther: Wakanda Forever" last night, four years after winning for "Black Panther." The winner of the best documentary was "Navalny," about Russian opposition leader Alexei Navalny, his 2020 poisoning, imprisonment and his anti-corruption movement.