Protesters Call for End to U.S. Wars on 20th Anniversary of Iraq Invasion
Mar 20, 2023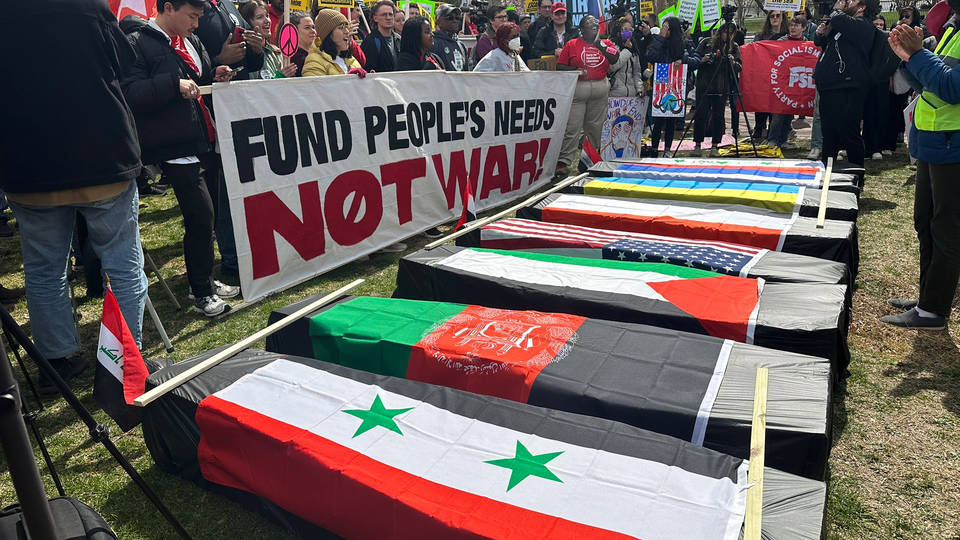 Over the weekend, protests took place across the U.S. calling for an end to U.S. involvement in the Ukraine war as the world marks the 20th anniversary of the U.S. invasion of Iraq. In the nation's capital, people rallied in front of the White House and marched in the streets of D.C. This is Claudia de la Cruz from The People's Forum.
Claudia de la Cruz: "We're here to let the world know that we are committed as a people to shut the war machine down. The planet and humanity depend on us. We've got to fight. We've got to continue to demand an end to NATO, an end to AFRICOM, an end to the Southern Command and the levels of sanctions that the U.S. has all across the globe. We need to continue to make the connections of working-class people in the United States to the working-class people all around the world. So we're here making those demands. We're also recommitting ourselves to lift up the antiwar movement once again."
The Costs of War Project estimates up to 306,000 Iraqi civilians have died from direct war-related violence, while hundreds of thousands more Iraqi civilians have died from indirect causes and millions have been displaced. Some estimates put the death toll in Iraq at over 2 million. In the lead-up to the illegal 2003 invasion, tens of millions of people took to the streets in thousands of antiwar protests around the globe.
Sen. Warren Calls for Bank Crisis Probe, Firing of Fed Chair
Mar 20, 2023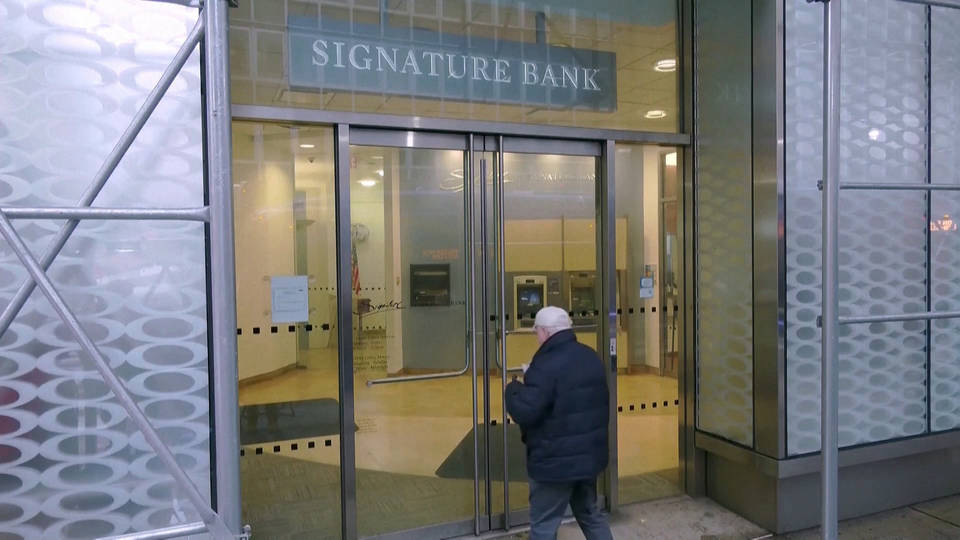 In the U.S., New York Community Bancorp reached a deal to take over the failed Signature Bank and assume all its deposits, a week after it was seized by the Federal Deposit Insurance Corporation. Signature's 40 branches will now operate as Flagstar Banks, which New York Community Bancorp acquired in December.
Senator Elizabeth Warren called Sunday for an independent investigation into the collapse of Signature and Silicon Valley Bank. Warren also called for Biden to fire Fed Chair Jerome Powell, whom she blames for helping undo financial regulations and for continuing to raise interest rates despite forecasts it could cost 2 million people their jobs.
French Protests Continue, Hundreds Arrested, as Macron Faces No-Confidence Vote over Pension Law
Mar 20, 2023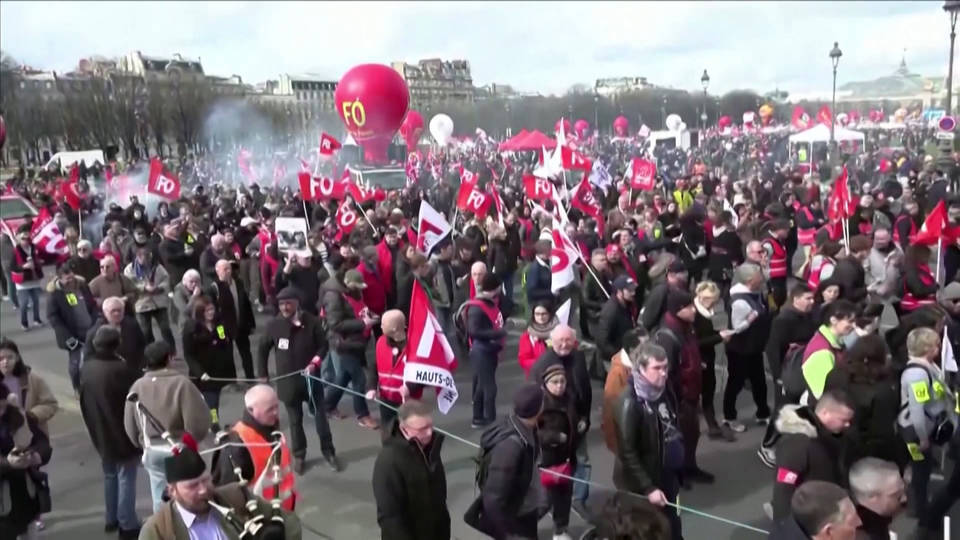 French President Emmanuel Macron is facing no-confidence votes in Parliament today, after he pushed through a highly unpopular pension law using executive powers Friday, raising the retirement age from 62 to 64. Protests continued to rock France over the weekend, with over 300 people arrested. Garbage continues to pile up on city streets as sanitation workers have been on strike for two weeks.
Yoland Porfal: "We continue. We continue. We don't give in. We resist it despite the fatigue. Our determination is more than reinforced since the reform was pushed through. So I hope that everywhere in France people will mobilize."
More protests and labor strikes are planned for this week.
Pakistani Court Cancels Arrest Warrant for Imran Khan as Police Arrest His Supporters
Mar 20, 2023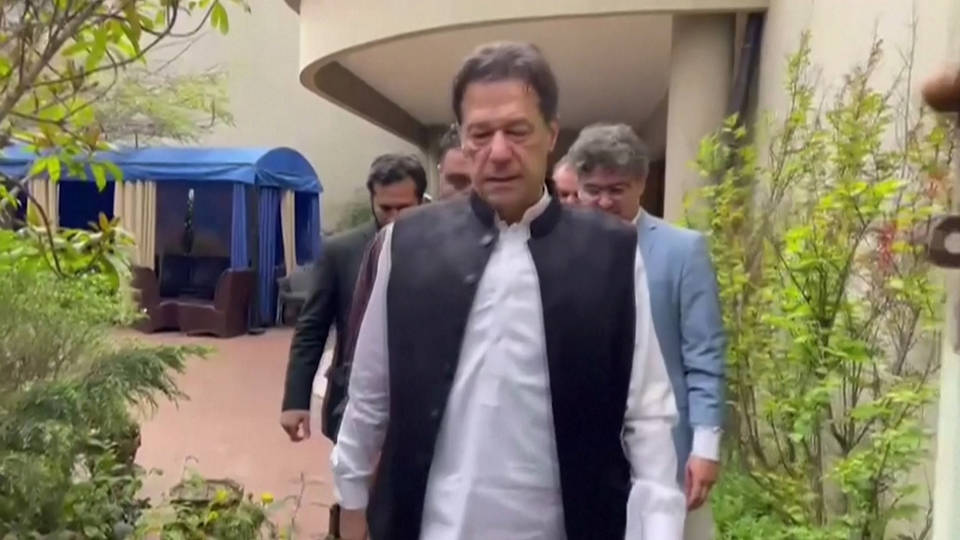 In Pakistan, police have raided and arrested dozens of supporters and aides of former Prime Minister Imran Khan following protests over Khan's attempted arrests. On Saturday, a court canceled arrest warrants for Khan after he appeared in person, and scheduled a hearing on March 30. Khan, who was removed from office by Parliament last year, denies the corruption charges against him and is calling for snap elections.
16 People Killed After 6.8-Magnitude Earthquake Hits Ecuador and Peru
Mar 20, 2023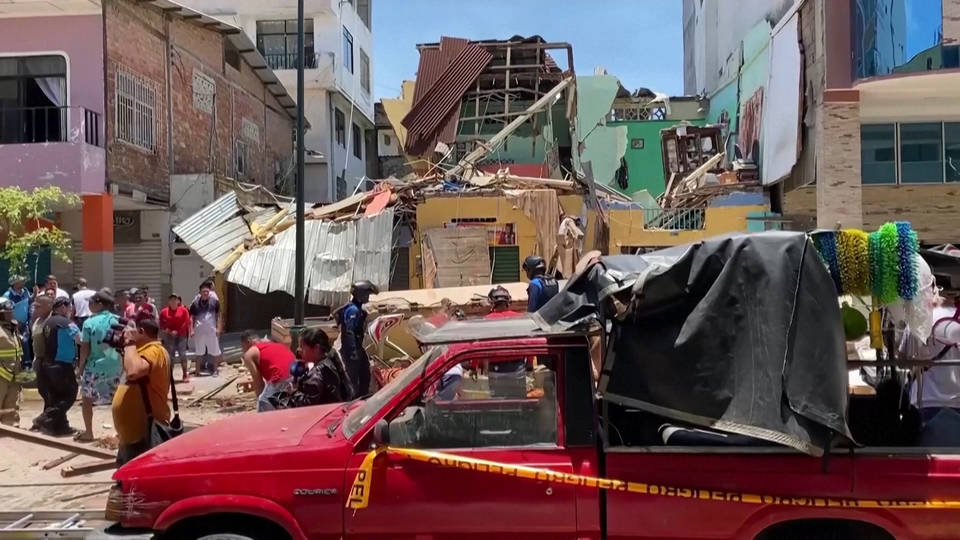 At least 16 people have died after a 6.8-magnitude earthquake struck off the southern coast of Ecuador Saturday, about 50 miles from Guayaquil. One of the deaths was reported in northern Peru. This comes as the region is still reeling from Cyclone Yaku, which killed at least eight people.
Survivor: "My house was filled with water up to the waist. It reached us. We have lost everything. I lost everything. I don't even have anywhere to sleep or to sit."
An estimated 60 people have died since the rainy season began in Peru.
Maternal Mortality Rate Soared by 40% in 2021
Mar 20, 2023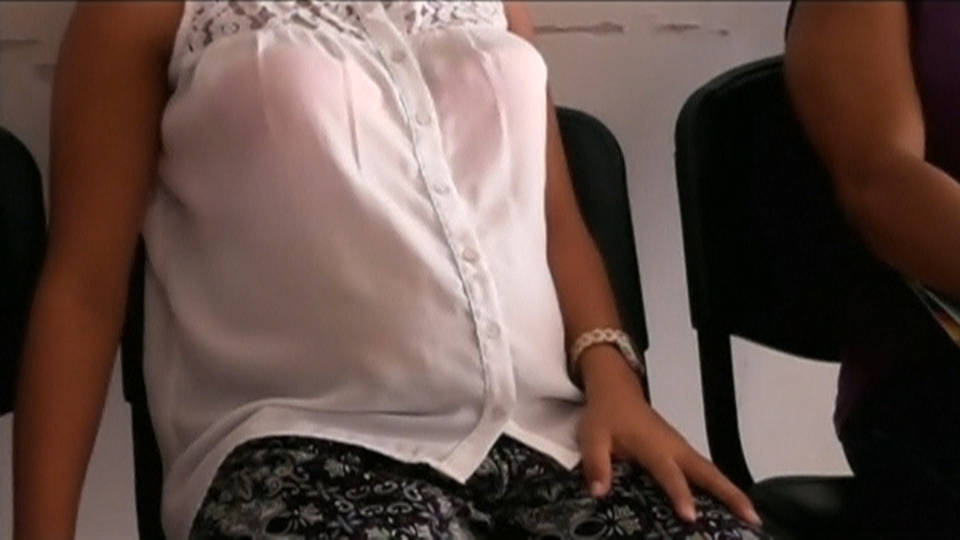 The maternal mortality rate in the United States skyrocketed in 2021, with Black women more than twice as likely to die than white women. That's according to new CDC data, which said the U.S. saw a 40% increase in maternal deaths in 2021 compared to the previous year, largely due to the compounding impacts of the COVID-19 pandemic. The U.S.'s maternal mortality rate is more than 10 times higher than the estimated rates in other wealthy countries.
Trump Says He Expects to Be Arrested Tuesday, Calls on Supporters to Protest
Mar 20, 2023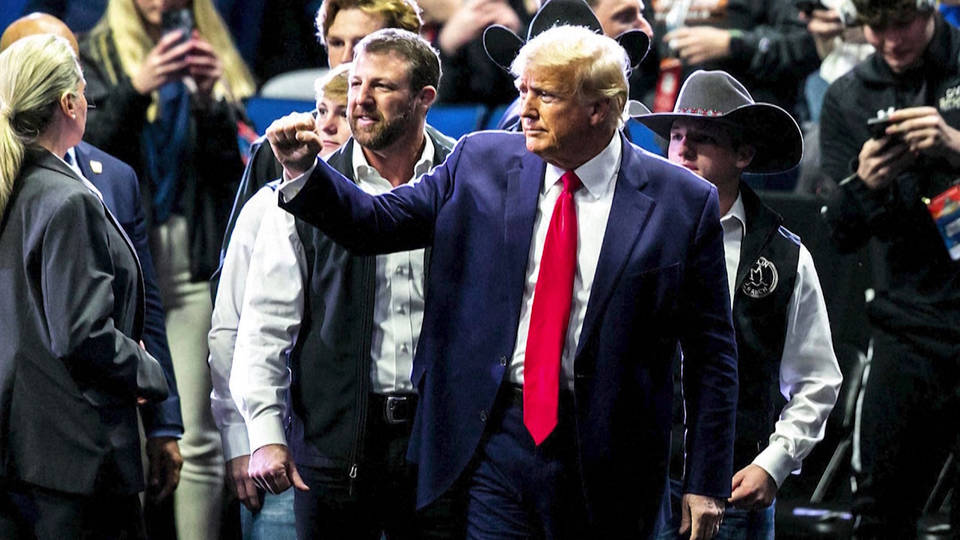 Image Credit: Joseph Cress-USA TODAY Sports
Donald Trump said he expects to be arrested Tuesday in connection with the Manhattan DA investigation into hush money payments made to adult film actor Stormy Daniels during the 2016 presidential campaign. In a post on his site, Truth Social, Trump called on his supporters to "PROTEST, TAKE OUR NATION BACK!" Trump is expected to be indicted in the case, though the timing is unknown.
Farmworkers Demand Publix, Kroger, Wendy's Stop Enabling Labor Abuses
Mar 20, 2023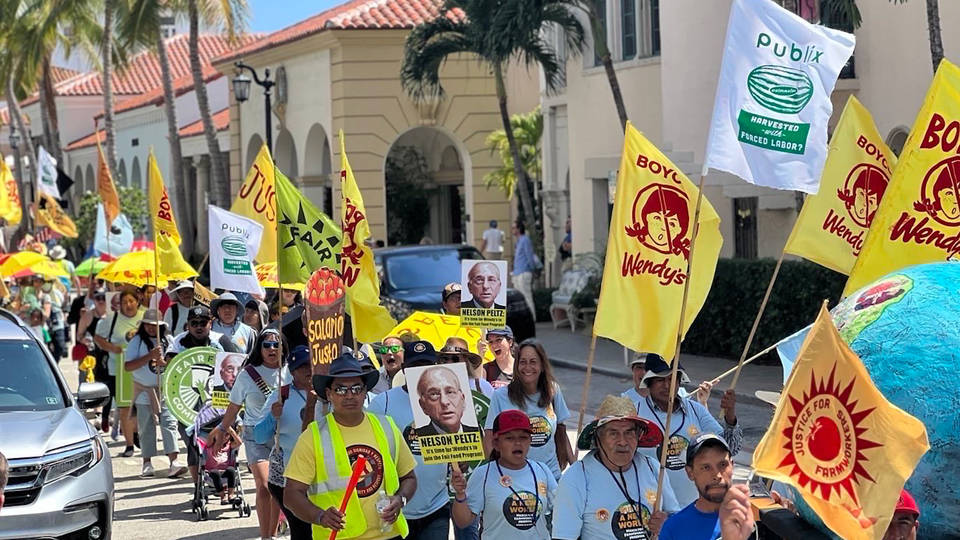 Image Credit: Twitter: @ciw
In Florida, hundreds of farmworkers and their supporters led a five-day, 50-mile march demanding humane working conditions and better protections. Workers are calling on food retailers to join the Fair Food Program, an initiative launched by the Coalition of Immokalee Workers in 2011 to improve conditions for farmworkers and end modern-day slavery. The march began outside a labor camp in the agricultural community of Pahokee, where hundreds of farmworkers were forced into brutal working and living conditions under threats of violence, deportation and insurmountable debts. The owner of the labor camp was sentenced to nearly a decade in prison in 2022 for leading a federal racketeering and forced labor conspiracy across at least five states. The march ended in Palm Springs Saturday. This is Gerardo Reyes Chaves, a member of the Coalition of Immokalee Workers, which organized the action.
Gerardo Reyes Chaves: "We've come here to demand that Publix and Kroger supermarkets, which are directly connected to the situation of modern slavery in Pahokee — they bought watermelons from there, and Wendy's, too — for them to join the Fair Food Program and put an end to the extreme labor abuses in this country."