South African Protesters Demand  Resignation of President Ramaphosa
Mar 21, 2023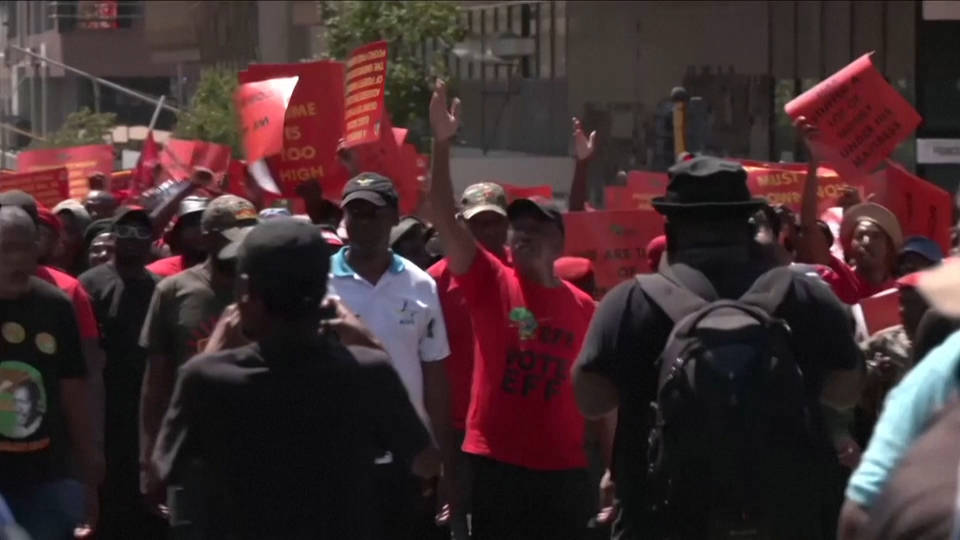 In South Africa, thousands of protesters marched in cities nationwide Monday, demanding President Cyril Ramaphosa resign over widespread unemployment and rolling blackouts. South Africa's national police agency said officers had arrested more than 550 protesters since Sunday. About half of all young people in South Africa are unemployed. Meanwhile, South Africa's public electric utility continues to impose rolling blackouts of up to 10 hours a day as demand for electricity exceeds supply.
French Government Narrowly Survives No Confidence Vote After Macron Slashes Pensions
Mar 21, 2023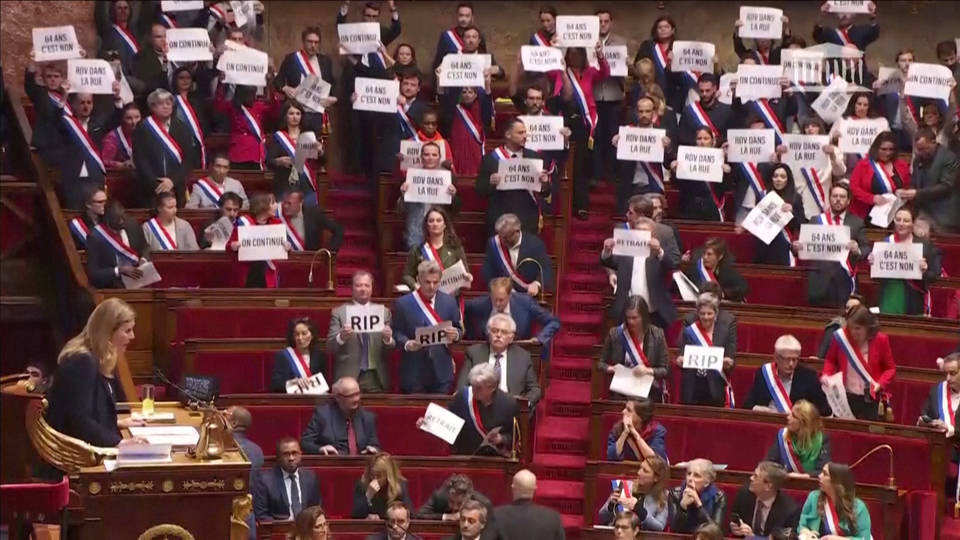 The French government narrowly survived a pair of no-confidence votes in Parliament Monday, after President Emmanuel Macron rammed through an unpopular law by executive fiat, raising the retirement age from 62 to 64. The failure of the no-confidence votes sparked fresh protests across France, with police firing tear gas at demonstrators in Lille and Bordeaux, and protesters setting piles of uncollected trash on fire in central Paris. This is French Member of Parliament Mathilde Panot, speaking just after Monday's vote.
Mathilde Panot: "As you could have understood, the hundreds of thousands of people who are now gathering together every day in the entire country since last Thursday and since Macron bypassed the assembly will not stop just because this motion of no confidence has barely failed, just lacking nine little votes. Nothing has been fixed in the country, and the country continues to head toward a political crisis that Macron himself started."
Unions and French opposition parties have called a ninth nationwide day of strikes and protests on Thursday.
Four More Oath Keepers Convicted over Jan. 6 Insurrection
Mar 21, 2023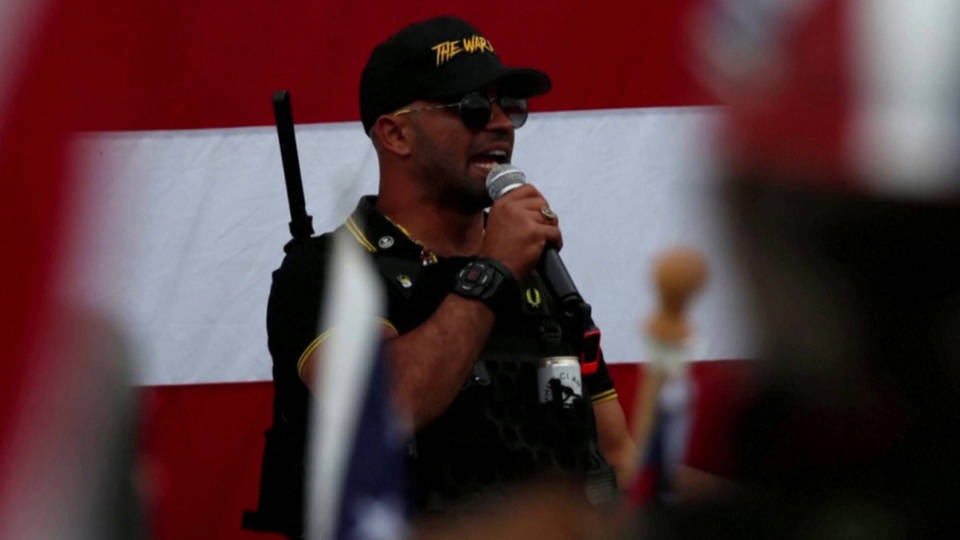 In Washington, D.C., a federal jury has found four members of the far-right Oath Keepers militia group guilty of felony and misdemeanor charges — including obstructing an official proceeding — over their roles in the January 6 Capitol insurrection. The four face prison terms of up to 20 years. Their convictions on Monday came as federal prosecutors in a separate trial rested their case against former Proud Boys leader Enrique Tarrio and four other defendants who face charges of seditious conspiracy.
Amazon Announces More Job Cuts, Bringing Recent Layoffs Total to 27,000
Mar 21, 2023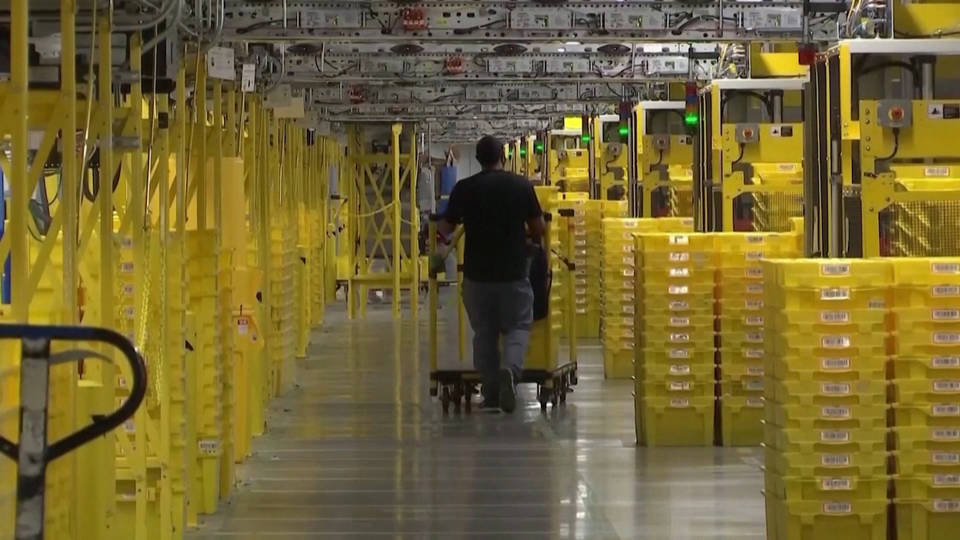 Amazon has announced plans to lay off 9,000 more workers in the coming weeks. The layoffs build on 18,000 job cuts at Amazon that began in November and extended into January. U.S. high-tech firms have laid off more than 300,000 workers since 2022.
Los Angeles School Workers Launch Three-Day Strike, Demanding Living Wages
Mar 21, 2023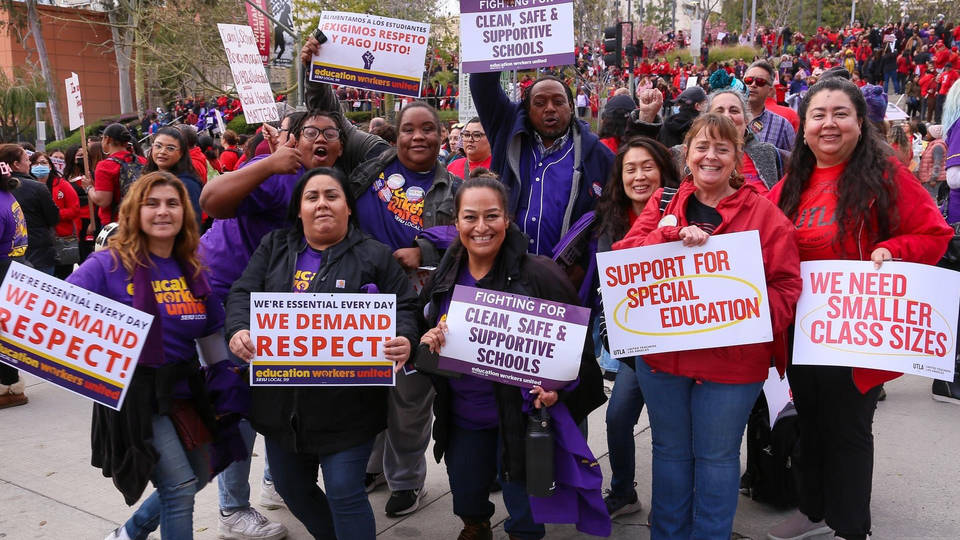 Image Credit: LA STRO
In Los Angeles, tens of thousands of school custodians, cafeteria workers, bus drivers and other school support staff have begun a three-day strike demanding dignified working conditions and living wages, after nearly a year of negotiations with the Los Angeles Unified School District. Their union is calling for at least a 30% income increase as school staff only makes an average of $25,000 annually, or roughly $12 per hour. Tens of thousands of L.A. teachers have joined the strike in solidarity.
Protesters Decry Military Recruitment at Bronx Job Fair Co-Hosted by Rep. Alexandria Ocasio-Cortez
Mar 21, 2023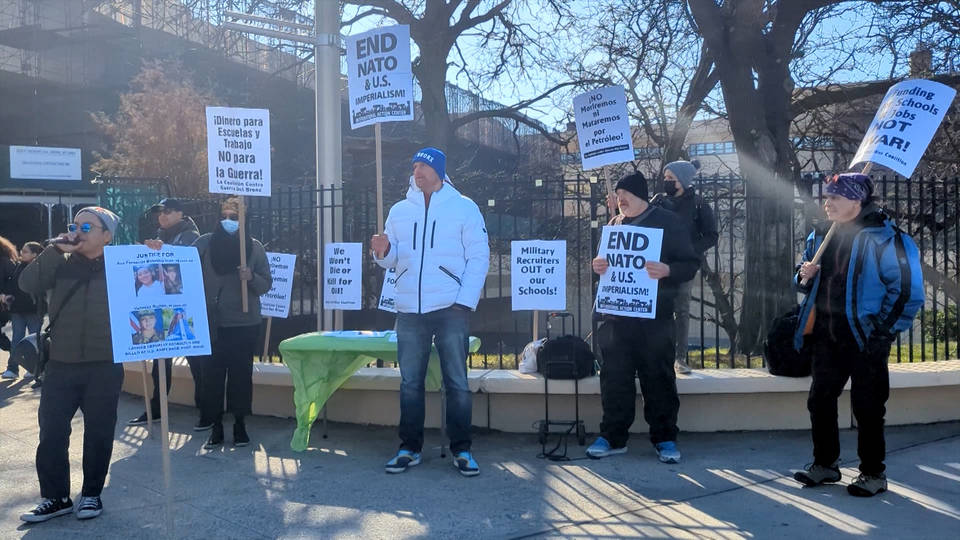 Here in New York, dozens of community organizers, parents, teachers and students rallied at a Bronx high school Monday, protesting a military recruitment and job fair event hosted by U.S. Congressmembers Alexandria Ocasio-Cortez and Adriano Espaillat. The so-called student services fair featured representatives from military service academies for the Army, Navy, Air Force and Coast Guard. Advocates accused Ocasio-Cortez of backtracking on her antiwar campaign promises and policies opposing predatory military recruitment tactics that predominantly target Black, Brown, Latinx and low-income students. In 2020, Ocasio-Cortez proposed a ban against military recruitment on the online gaming platform Twitch, while she later pushed for an amendment that would have halted federal funding for military recruitment in middle and high schools.
Democracy Now!'s Sonyi Lopez spoke to Richie Merino, an organizer with the Bronx Anti-War Coalition, at Monday's rally at Renaissance High School, which took place on the 20th anniversary of the U.S.'s illegal invasion of Iraq.
Richie Merino: "A lot of youth here are struggling to find jobs. Many youth here are not prepared to go to college. Right? Instead of bringing military recruiters here, we should be having a jobs fair, we should be having a college fair. Renaissance High School is an arts and theater school. Where are the arts and theater programs represented here, AOC? You're saying this is a student services fair. Where are the services for the youth?"
Organizers also demanded justice for Vanessa Guillén and Ana Basaldua Ruiz, two Latina women who were killed after they reported being sexually assaulted at the Fort Hood U.S. Army base in Texas — Guillén in 2020 and Ruiz last week — and 21-year-old Abdul Latifu, who was murdered in January by another soldier at Fort Rucker in Alabama. Latifu was from the Bronx.