Youth Lead Marches on International Transgender Day of Visibility
Apr 03, 2023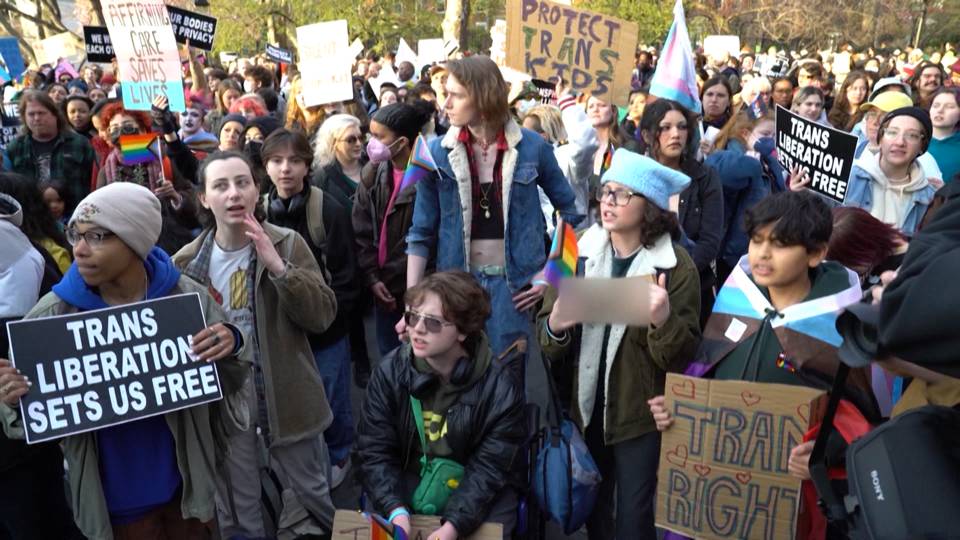 Queer and trans youth led actions across the United States Friday, marking International Transgender Day of Visibility amid intensifying discrimination, violence and anti-trans laws pushed by Republicans. Here in New York, hundreds took to the streets in a march organized by NYC Youth for Trans Rights. Democracy Now! producers Tey-Marie Astudillo and María Taracena were there and spoke to 17-year-old Raven.
Raven: "It is so amazing to look around and see people like me that have had the same experiences as me, who know what it's like to be trans. And it's so great to just, you know, watch everybody be happy and be themselves in a safe place. … I'm the happiest I've been in a really, really long time here in this space with these people. And I think that it's so good for people who think that they're alone to know that they have people out there, people fighting for them, people fighting with them, people on their side, because, like, a lot of them just don't have that. They go through so, so, so much. And gathering around, being able to look at people and hug people and talk to people that are like them, is something that can really heal the heart."
NYT and Other News Sites Refuse US$1000/mo Fee for Twitter Blue Check
Apr 03, 2023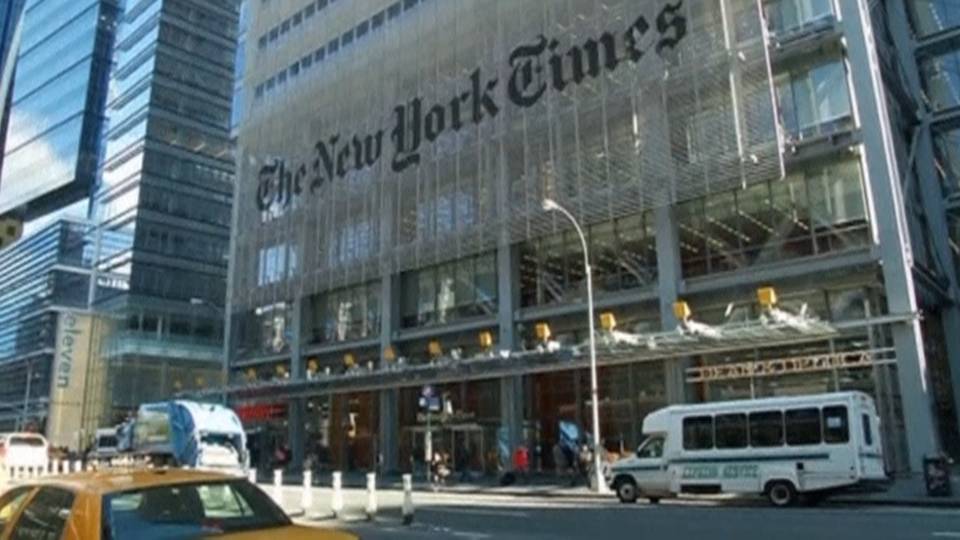 Twitter's billionaire owner Elon Musk has ordered the social media platform to remove a badge showing verified status for The New York Times, after the paper's editors refused to pay for its Twitter Blue service. This comes after Twitter instituted a pay-for-play system in which companies, nonprofits and government institutions have to pay $1,000 a month to keep checkmarks showing their accounts have been verified. So far only a few dozen accounts have seen their badges removed; Musk signaled he'd removed the Times's checkmark over its coverage, which he blasted in a tweet as "propaganda." Other prominent accounts — reportedly including those of White House staffers — have refused to pay for Twitter Blue. That's led to fears over misinformation and hate speech by imposter accounts on Twitter ahead of the 2024 presidential elections.
Trump Uses Manhattan Indictment to Fundraise, Lashes Out at Judge
Apr 03, 2023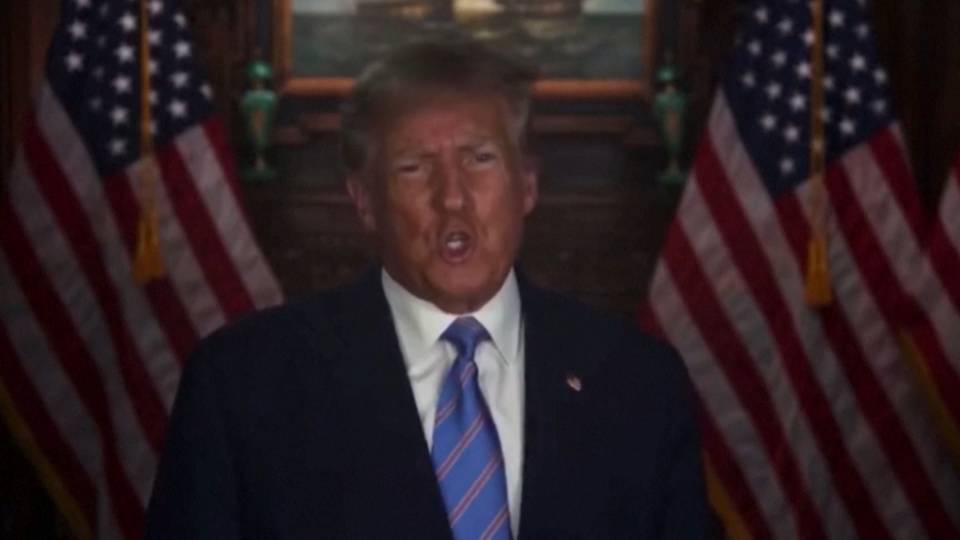 Donald Trump's 2024 presidential campaign raised over $4 million in the 24 hours following the news last week of his indictment by a Manhattan grand jury connected to a 2016 hush-money scheme. Trump released a fundraising video Sunday, two days before his expected arraignment in New York.
Donald Trump: "The election was rigged and stolen. But now we're going to take back our country in 2024. … If you're doing well because all of the things that I've done have brought you wealth and prosperity, or at least you're extremely comfortable, it would be really great if you could contribute to our campaign."
Trump is expected to speak from Mar-a-Lago Tuesday evening following his arraignment. Over the weekend, Trump lashed out against New York Supreme Court Justice Juan Merchan, who is overseeing his criminal case, claiming, "HE HATES ME." It's the same judge who presided over the prosecution of the Trump Organization and CFO Allen Weisselberg.
Ex-Arkansas Gov. Asa Hutchinson to Challenge Trump for GOP Nomination
Apr 03, 2023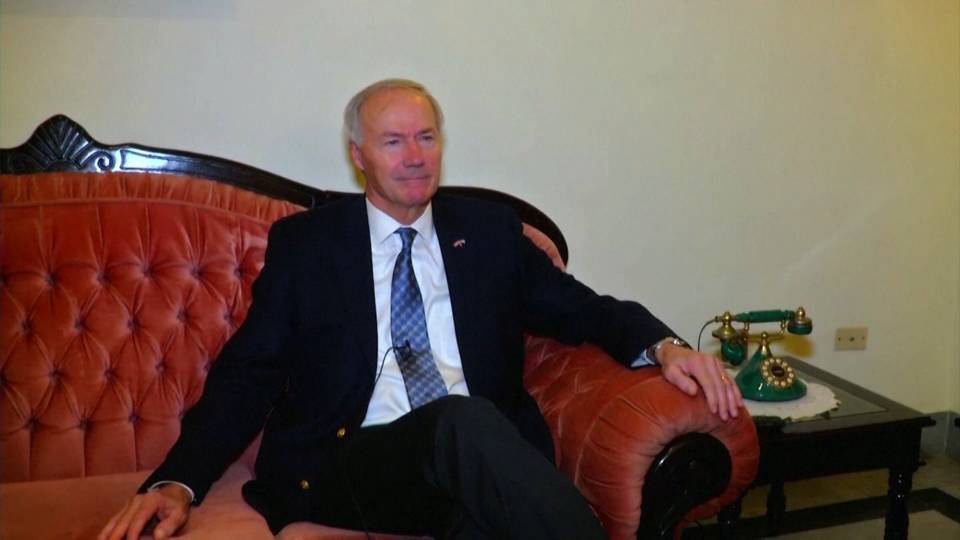 Former Arkansas Governor Asa Hutchinson announced Sunday he will run for the Republican presidential nomination. Hutchinson called on Trump to withdraw from the race due to his legal troubles. As governor, Hutchinson signed a trigger law banning abortion in 2019 and made Arkansas the first state to impose work requirements for Medicaid recipients, costing over 18,000 people access to the program before a court blocked the requirement.
15 Million Expected to Lose Medicaid Benefits as Pandemic Protections Expire
Apr 03, 2023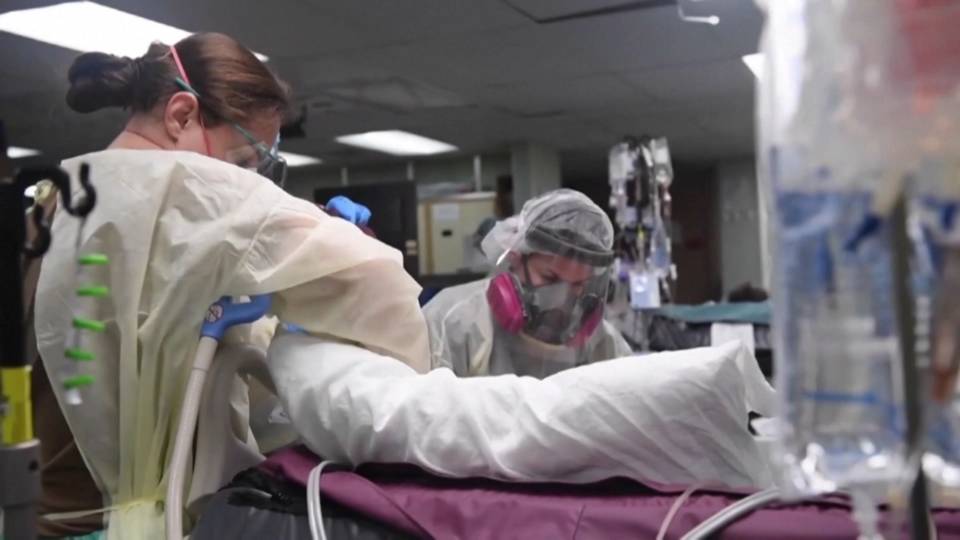 Millions of U.S. residents are poised to lose Medicaid health insurance as protections put in place at the start of the COVID-19 pandemic begin to lapse. Under a bipartisan deal reached by Congress late last year, states are allowed to remove Medicaid recipients from the rolls as early as April 1 unless they prove they still qualify. Some residents of five states — Arizona, Arkansas, Idaho, New Hampshire and South Dakota — have already been kicked off Medicaid, part of what the Biden administration estimates will ultimately be 15 million people losing benefits, including millions of children.
California to Require Half of Heavy Trucks Sold by 2035 to Be Electric
Apr 03, 2023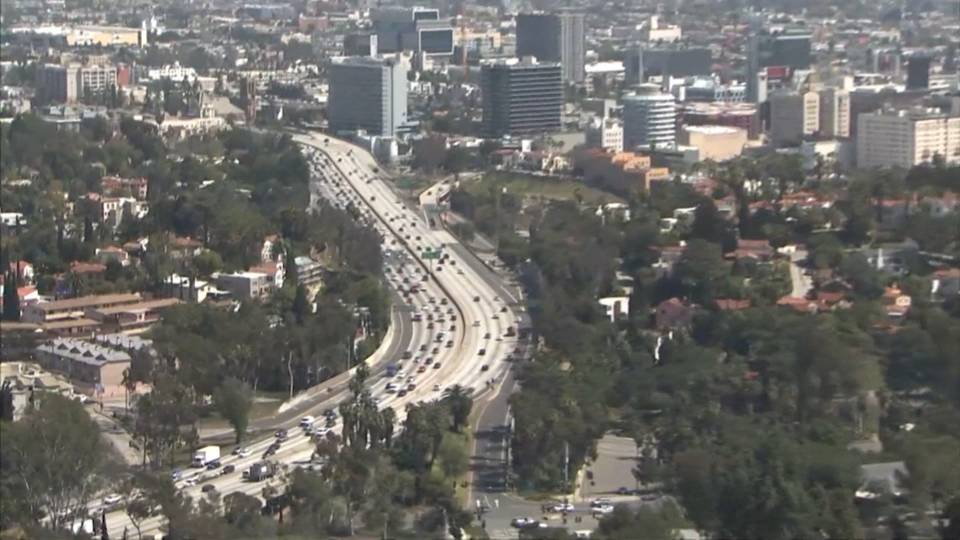 California will require half of all heavy trucks sold by 2035 to be electric, as it moves to phase out diesel trucks. The Environmental Protection Agency on Friday granted waivers for California to set its own truck pollution standards that are stricter than federal ones. Last year, California passed a measure requiring all new passenger vehicles sold to be fully electric by 2035. Transportation accounts for some 40% of California's greenhouse gas emissions.
Philadelphia Judge Denies New Trial to Mumia Abu-Jamal
Apr 03, 2023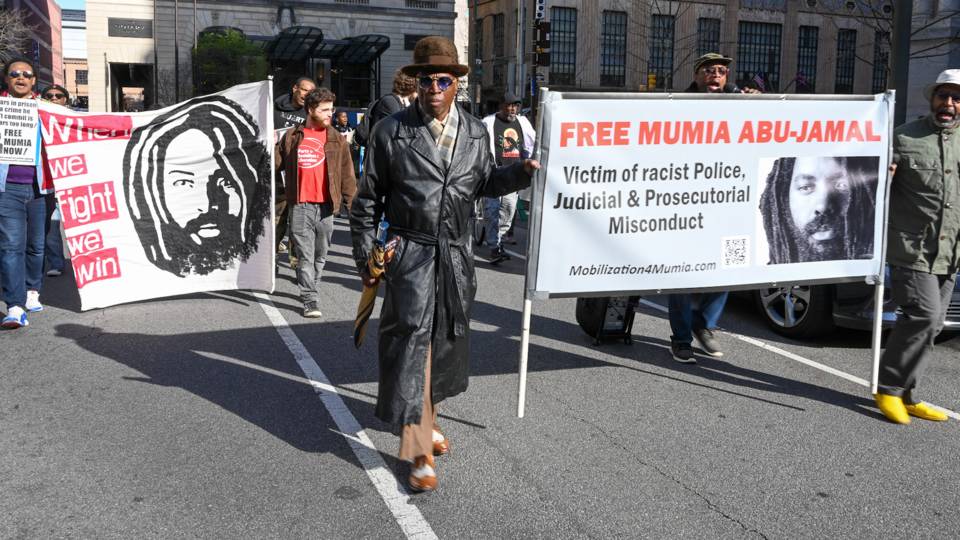 Image Credit: Joe Piette
Supporters of political prisoner Mumia Abu-Jamal are raising alarm after a judge on Friday denied his request for a new trial. Philadelphia Judge Lucretia Clemons dismissed evidence the case was tainted by judicial bias, police and prosecutorial misconduct, and that key witnesses were bribed or coerced. Mumia is 68 years old and suffers from numerous health problems. The journalist and former Black Panther has maintained his innocence for the four decades he's been in prison after being convicted of murdering a police officer.
Federal Judge Puts Temporary Hold on Tennessee Law Restricting Drag Performances
Apr 03, 2023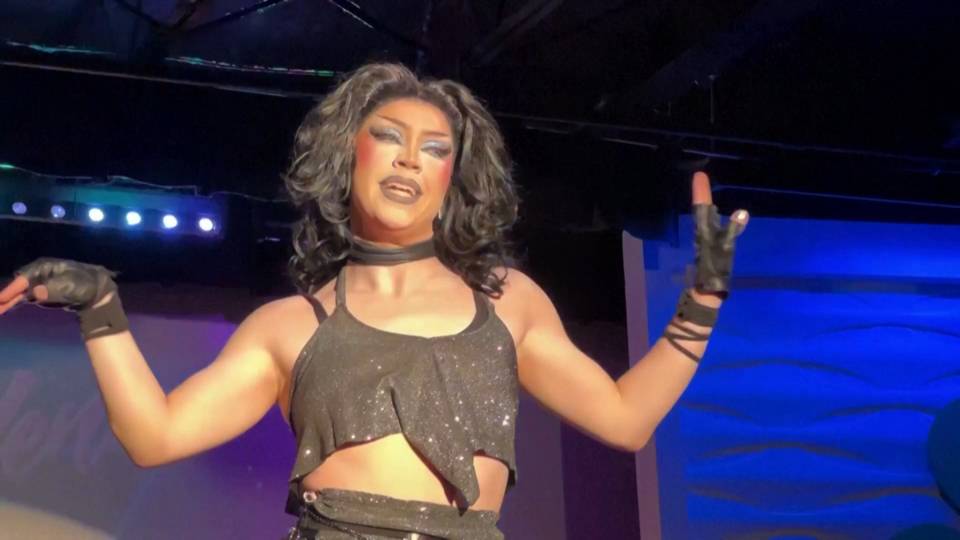 A federal court blocked Tennessee's highly contested law targeting drag performance on Friday, just hours before it would have gone into effect. The temporary injunction came in response to a lawsuit filed by LGBTQ group Friends of George's, which argued the legislation is overly broad and violates the First Amendment. The measure is the second major legislative attack on the trans community in Tennessee; the state also banned gender-affirming healthcare for trans youth last month.