Why We Must Impeach  Clarence Thomas
Apr 14, 2023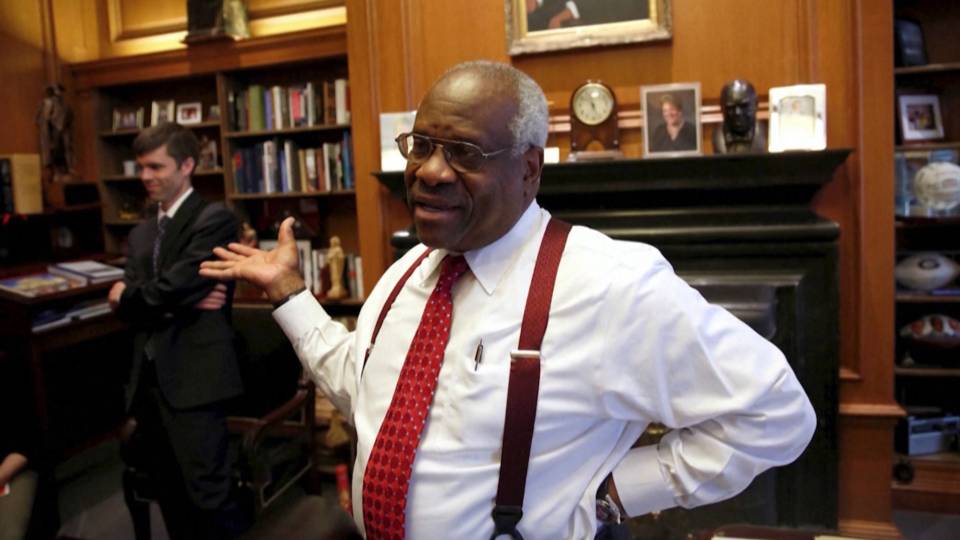 Calls are growing for Supreme Court Justice Clarence Thomas to be impeached, after ProPublica on Thursday released more damning information about his relationship with Republican megadonor Harlan Crow. In 2014, Thomas and his family sold a house and two vacant lots in Savannah, Georgia, to Crow for around $130,000 but never disclosed the sale, which appears to be a violation of the 1978 Ethics in Government Act. This comes after ProPublica published a bombshell investigation last week detailing unreported luxury trips Harlan Crow lavished on Thomas over two decades. In addition to being a major benefactor to Thomas and the GOP, Crow is also an avid collector of Nazi memorabilia.
Leaked Documents Show U.S. Spied on U.N. Leader, Reveal Russian Infighting over Ukraine
Apr 14, 2023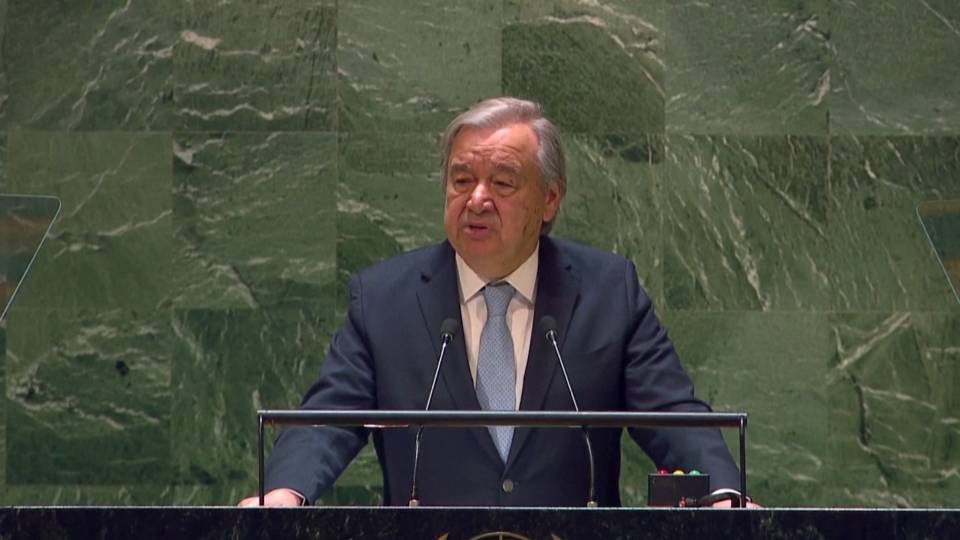 A newly discovered batch of classified U.S. intelligence documents leaked online shows infighting among Russian officials over the war in Ukraine. The documents reveal Russia's Federal Security Service accused the Russian military of downplaying the number of casualties in Ukraine due to the reluctance of officials to convey bad news up the chain of command. Other newly discovered leaked documents reveal the U.S. has been closely spying on U.N. Secretary-General António Guterres. U.S. intelligence officials accused Guterres of being overly soft on Russian President Vladimir Putin. Meanwhile, Germany's foreign minister has urged China to use its influence on Moscow to push for an end to the war, following similar calls from French President Macron and the EU. 
Florida Governor Ron DeSantis Signs Bill Banning Abortions at Just Six Weeks
Apr 14, 2023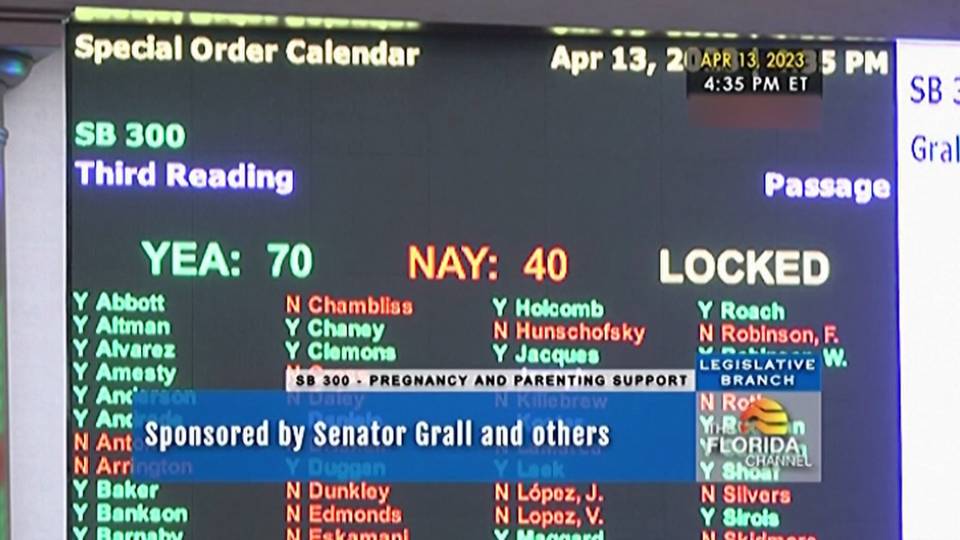 Image Credit: The Florida Channel
Florida's Republican Governor Ron DeSantis signed a six-week abortion ban into law Thursday. The ban will take effect if Florida's current 15-week ban is upheld at the conservative-controlled state Supreme Court, where it is being challenged. The six-week ban would make exceptions for rape, incest and human trafficking; in such cases, survivors could get an abortion up to 15 weeks into pregnancy, but only if they are able to provide official documentation such as a police report or medical records. Since the U.S. Supreme Court overturned Roe v. Wade last year, many pregnant people in the South have traveled to Florida for abortions. Democratic Minority Leader Fentrice Driskell spoke out against the six-week ban during a debate in the Florida House of Representatives Thursday. 
Minority Leader Fentrice Driskell: "This is not reasonable, because it amounts to an outright ban. Most women don't know that they are pregnant at six weeks. Let's be clear about the silent part: You just don't want women to have choice."
Federal Judge Issues Conflicting Ruling on Abortion Medication, Setting Up Supreme Court Fight
Apr 14, 2023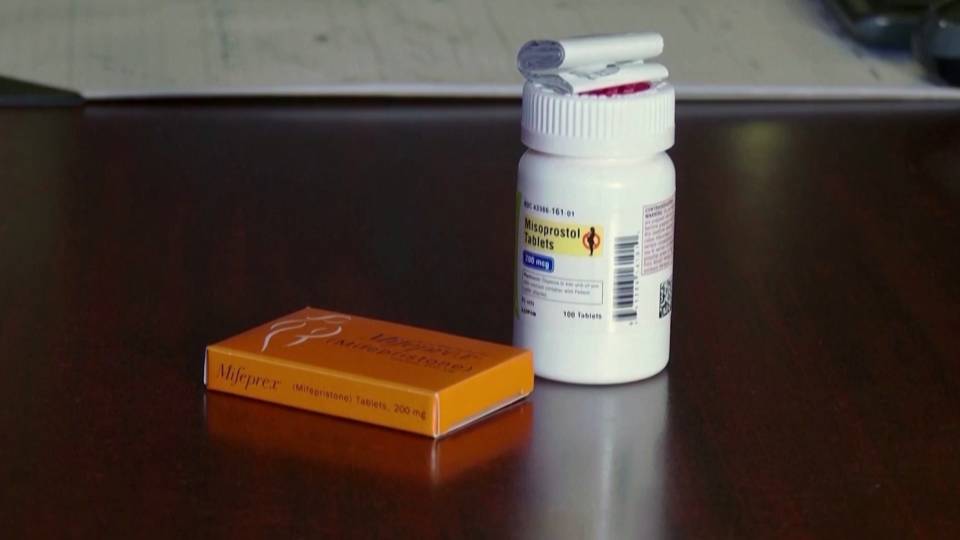 Image Credit: WCVB
In Washington state, U.S. District Judge Thomas Rice has rebuffed Wednesday's appeals court ruling that temporarily restored access to the abortion medication mifepristone across the U.S., but with restrictions. Judge Rice said the drug is to remain available, restriction-free, to 17 states and the District of Columbia, following his ruling last Friday ordering the FDA not to roll back access to mifepristone. The Justice Department also said it is asking the U.S. Supreme Court for an emergency order to halt Wednesday's restrictions on mifepristone. Protests to save abortion access are planned across the nation over the weekend. We'll have the latest on the state of reproductive rights in the U.S. after headlines with The Nation correspondent Amy Littlefield.
21-Year-Old Air National Guardsman Jack Teixeira Arrested over Leaked Classified Documents
Apr 14, 2023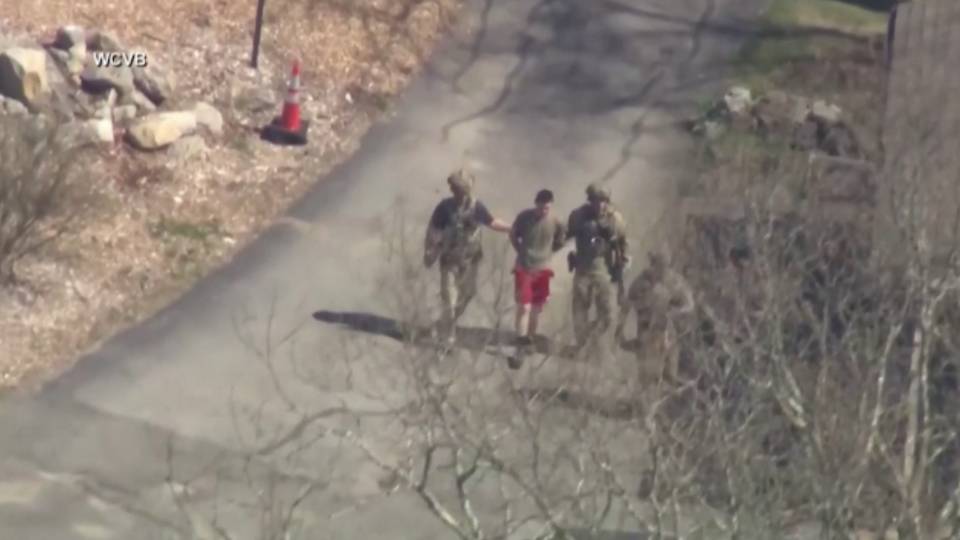 Federal authorities have arrested a 21-year-old Massachusetts man over the recent leak of highly classified Pentagon intelligence documents. Attorney General Merrick Garland announced the arrest on Thursday.  
Attorney General Merrick Garland: "Today, the Justice Department arrested Jack Douglas Teixeira in connection with an investigation into alleged unauthorized removal, retention and transmission of classified national defense information. Teixeira is an employee of the United States Air Force National Guard."
Teixeira is an enlisted airman first class — one of the Air National Guard's lowest ranks. He worked in the Guard's 102nd Intelligence Wing. Federal authorities say he was also the leader of an online chat group that shared racist memes and information about guns on the Discord online platform popular among gamers. Teixeira is due in federal court in Boston, Massachusetts, today for his arraignment, where he faces charges under the Espionage Act.
Russian Opposition Leader Alexei Navalny May Have Been Poisoned in Prison, Supporters Say
Apr 14, 2023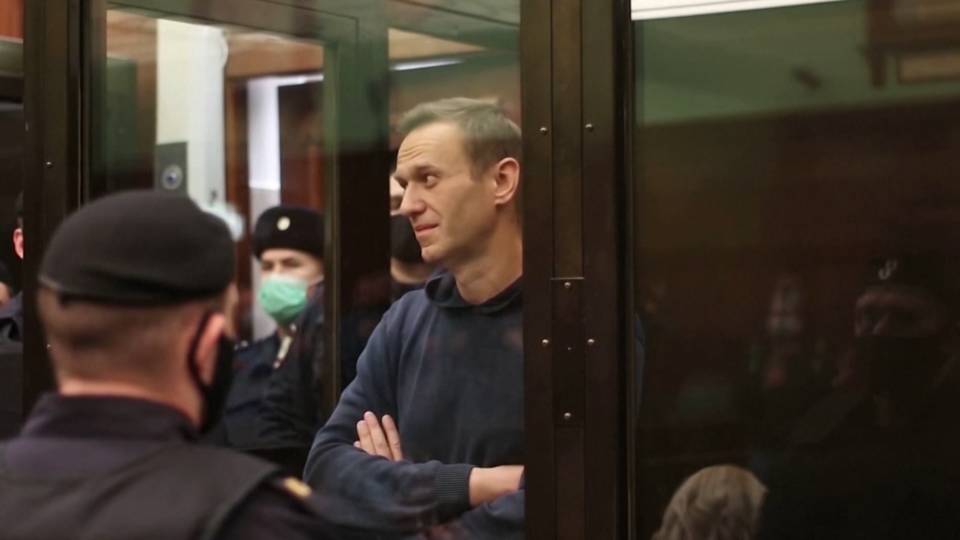 In Russia, supporters of the jailed opposition leader Alexei Navalny say his health has rapidly deteriorated in recent days. Spokesperson Kira Yarmysh says Navalny lost nearly 20 pounds in just two weeks after complaining of stomach pains. bq. Kira Yarmysh: "We can't rule out the idea that he is being poisoned even now, but not in a huge dosage as before, but in small ones, so that he not — so he not to die immediately, but to suffer." Navalny is one of President Vladimir Putin's most prominent critics. In 2020, he narrowly survived an apparent assassination attempt when he was poisoned with the nerve agent Novichok.
Saudi Arabia Restores Ties with Syria, Swaps POWs with Yemen's Houthi Rebels
Apr 14, 2023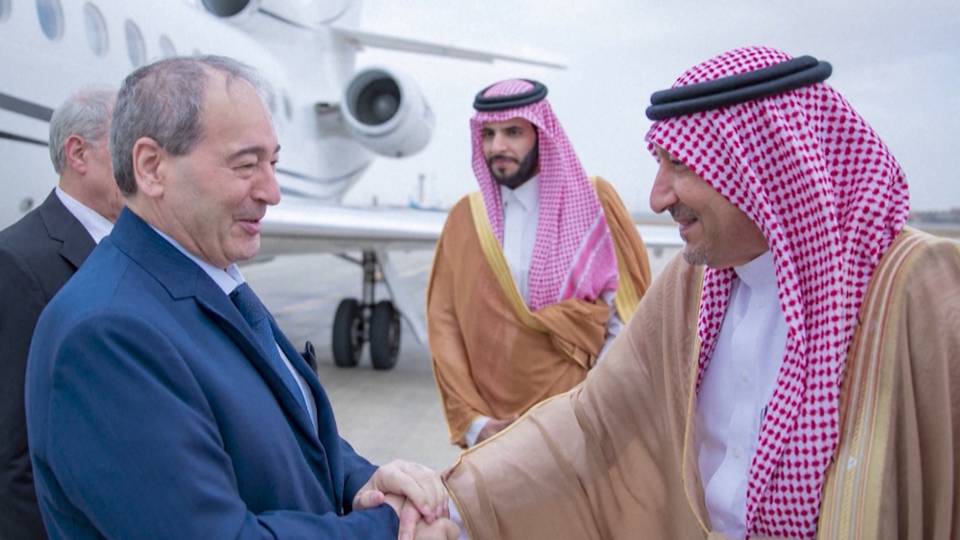 Saudi Arabia has exchanged more than 800 prisoners of war with Yemen's Houthi rebels. It's the largest such prisoner exchange since 2020 and comes after Saudi Arabia and Iran recently agreed to restore ties, boosting the prospects for a negotiated settlement to the U.S.-supported, Saudi-led war on Yemen, which has left over 21 million people in need of assistance. Meanwhile, Saudi Arabia has reached a deal to resume consular services with Syria, after the first trip by a Syrian foreign minister to the kingdom since Syria's civil war began in 2011.
El Salvador's News Site El Faro Relocates to Costa Rica Amid Bukele's Crackdown on Press
Apr 14, 2023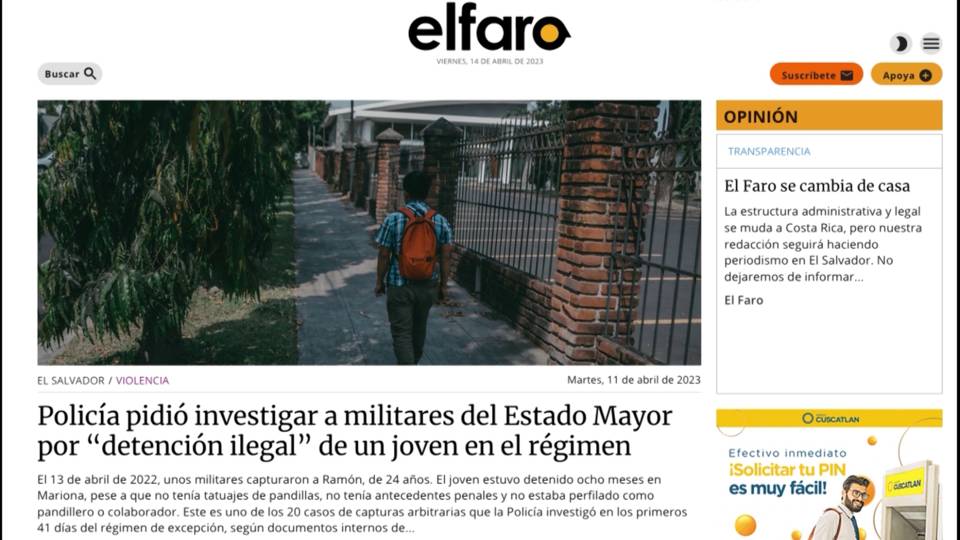 Image Credit: El Faro
The award-winning Central American independent news outlet El Faro announced Thursday it's relocating most of its operations from El Salvador to Costa Rica as repression against free press intensifies under the government of Salvadoran President Nayib Bukele. El Faro journalists and newsroom staff have faced physical threats, judicial persecution, and in 2021 it was revealed nearly two dozen of them were being surveilled with the Israeli NSO Group's Pegasus spyware.
Biden Seeks to Expand Medicare Access to DACA Recipients
Apr 14, 2023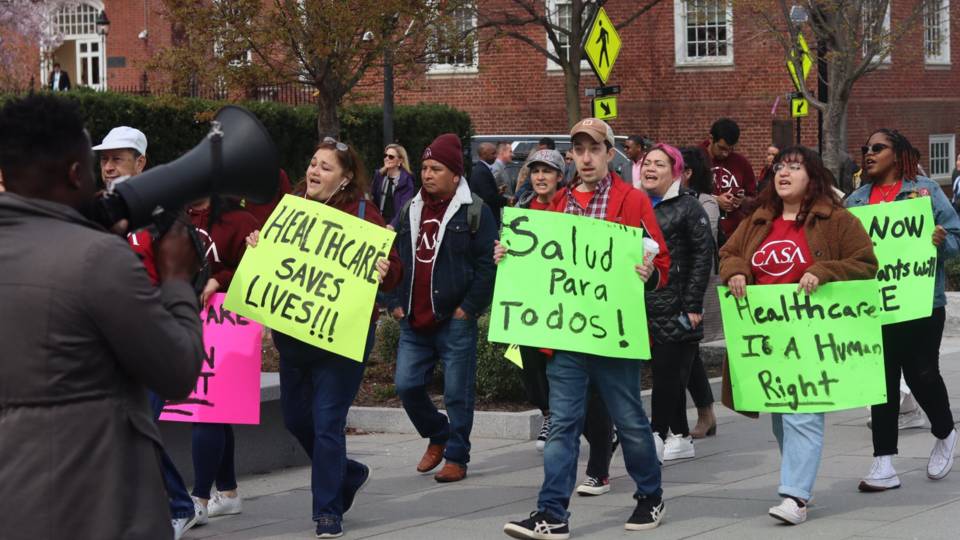 Image Credit: Twitter: @CASAforall
President Biden announced Thursday his administration plans to expand healthcare access to hundreds of thousands of immigrants brought to the U.S. as children. People with Deferred Action for Childhood Arrivals, or DACA, would be able to enroll in Medicare if they're low-income, or find coverage through the Affordable Care Act. This comes at a time when the rate of uninsured people in the country is at a record high.
North Dakota Becomes 20th State to Ban Trans Students in School Sports
Apr 14, 2023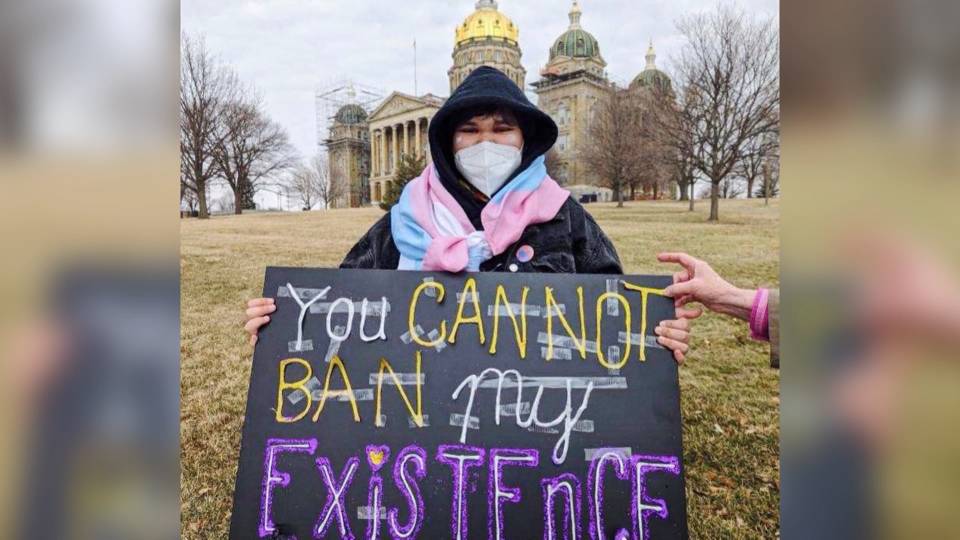 Image Credit: ACLU of Iowa
North Dakota's Republican Governor Doug Burgum signed a law Tuesday banning trans girls and women from participating in school sports. Similar laws now exist in 19 other states, though a new rule proposed by the Biden administration is seeking to outlaw such blanket bans, setting conservative states up for a clash with the federal government.
NE Democratic Lawmaker Machaela Cavanaugh Has Been Filibustering Anti-Trans Legislation For 7 Weeks
Apr 14, 2023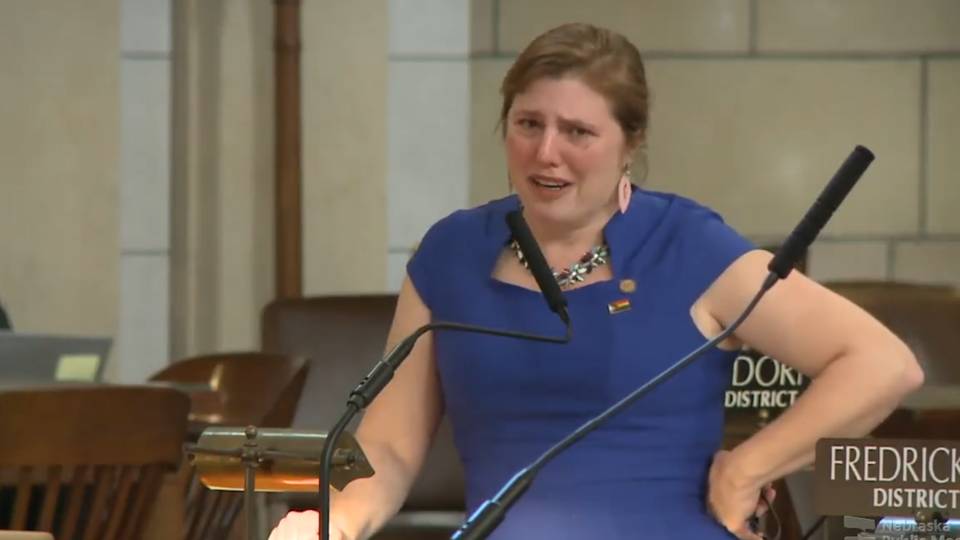 Image Credit: Nebraska Public Media
In Nebraska, state Senator Machaela Cavanaugh has been filibustering an anti-trans package for seven weeks. The measure seeks to ban gender-affirming care for minors and penalize their healthcare providers.
Sen. Machaela Cavanaugh: "I am going to give you everything I can for your children, and I will continue. No matter what happens today, I will continue. And I am sorry that there's nothing more I can do within my control. I am doing everything I can within my control, and I am sorry."
Cavanaugh has blocked every related bill from consideration in the Nebraska Legislature, vowing to "burn this session to the ground over this bill." Nebraska's filibuster rules allow for taking bathroom breaks and sitting.
More Mass Protests Take Over French Streets Ahead of Ruling on Macron's Pension Cuts
Apr 14, 2023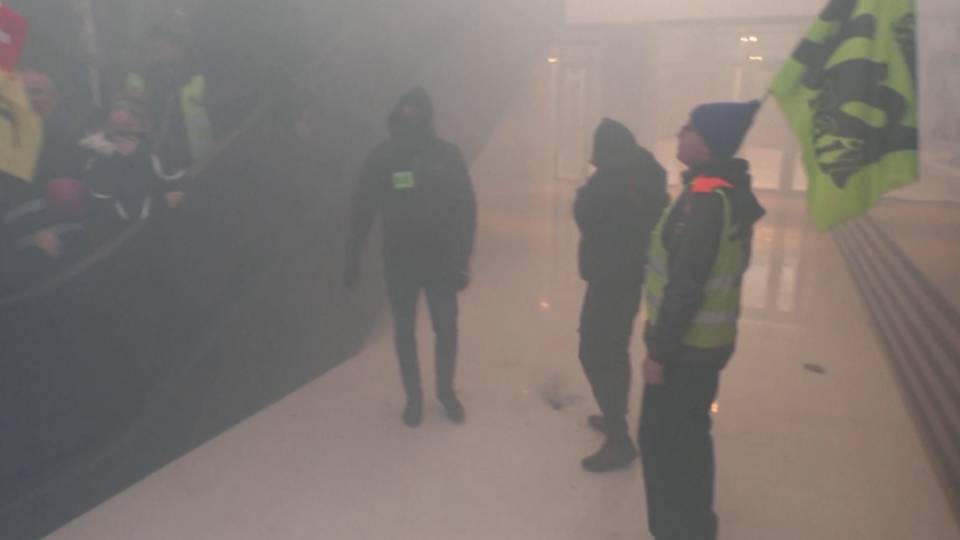 In France, hundreds of thousands of people flooded the streets Thursday in the latest protests against President Emmanuel Macron's measure raising the retirement age from 62 to 64. The mobilizations came as France's top court is expected to rule today on the policy's constitutionality, after Macron rammed it through by executive fiat. In Paris, protesters stormed the headquarters of luxury group LVMH, demanding France's wealthiest contribute more to financing the state pension.
Fabien Villedieu: "They are looking for solutions to finance the pension system. There is a very simple solution. It is to take from the pockets of billionaires. We are here at the headquarters of LVMH. This is the seat of Bernard Arnault, who is the richest billionaire of all billionaires in France and in the whole world. If the social security funds are running out, they can come and get money here, among other places."