Oklahoma Officials Caught on Tape Discussing Lynching Black People, Murdering Journalists
Apr 20, 2023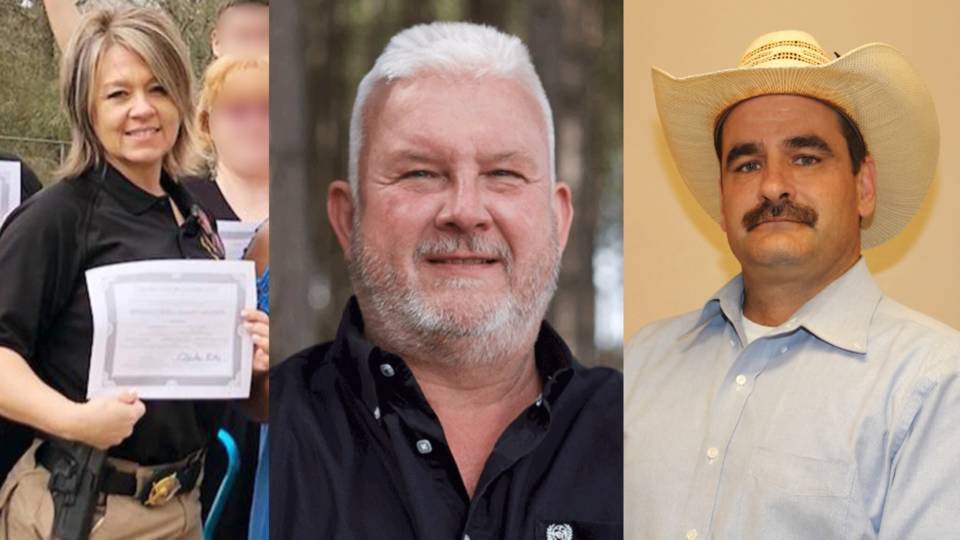 Image Credit: BallotReady.org, Oklahoma Sheriff's Assoc.
In Oklahoma, a county commissioner in McCurtain County resigned Wednesday, days after a local newspaper published secretly recorded audio revealing he spoke with local law enforcement officials about lynching Black people and assassinating reporters. Mark Jennings's resignation came after Oklahoma's Republican Governor Kevin Stitt called on him and three other officials to resign. They are county jail administrator Larry Hendrix, sheriff's investigator Alicia Manning and McCurtain County Sheriff Kevin Clardy. In this clip, secretly recorded last month after a McCurtain County Board of Commissioners meeting and published by the McCurtain Gazette-News, Jennings discusses the county's history of racist beatings and hangings with Sheriff Clardy.
Mark Jennings: "I'm gonna tell you something. If this was back in the day, would that — would Alan Marston take a damn Black guy, whoop their [bleep] and throw them in the cell, I'd run for [bleep] sheriff."
Sheriff Kevin Clardy: "Well, it's not like that no more."
Mark Jennings: "I know. Take them down to Mud Creek and hang them up with a damn rope."
Sheriff Kevin Clardy: "Yeah."
Mark Jennings: "But you can't do that anymore."
Sheriff Kevin Clardy: "And the thing about it is" —
Mark Jennings: "They got more rights than we got."
In another clip, Sheriff Clardy and Jennings are heard discussing hiring hit men to kill two journalists who'd reported on misconduct by county officials.
Sheriff Kevin Clardy: "The old saying is: What comes around goes around."
Mark Jennings: "It will. I told you it will."
Sheriff Kevin Clardy: "Yeah."
Mark Jennings: "I know where two big deep holes are here, if you ever need them."
Sheriff Kevin Clardy: "I've got an excavator."
Mark Jennings: "Well, these are already pre-dug."
Since the McCurtain Gazette-News published those and other hateful comments, Sheriff Clardy has so far refused calls to step down. The sheriff instead accused the publisher of the McCurtain Gazette-News, Bruce Willingham, of making the recording illegally, and predicted he would face felony charges. Willingham and his son, whose potential murders were discussed in the tape, have turned the recordings over to the FBI and the Oklahoma Attorney General's Office.
Supreme Court Delays Decision on Medication Abortions Until Friday
Apr 20, 2023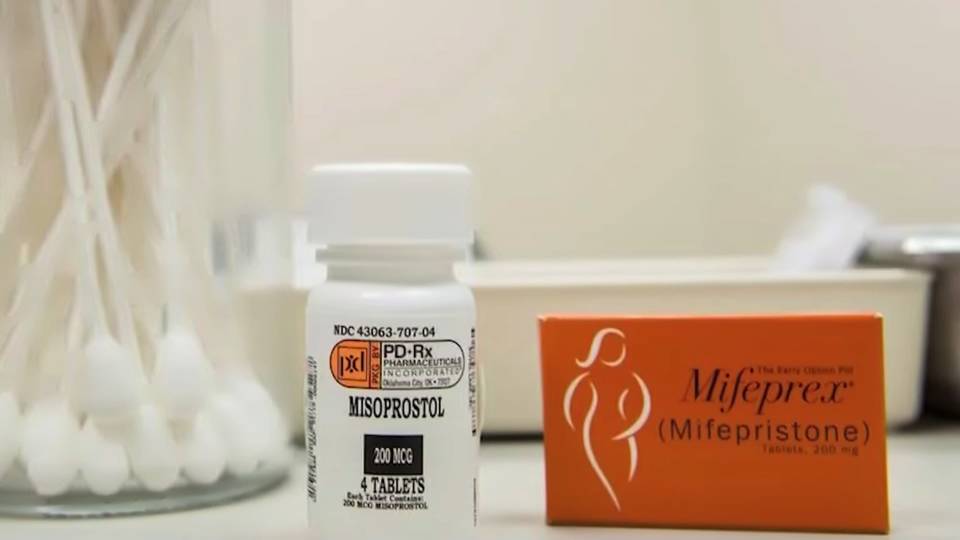 The Supreme Court has pushed back a decision on the fate of the abortion pill mifepristone until Friday, keeping the country's most popular abortion method available for at least another two days, as the court reviews a ruling earlier this month which banned the drug. We'll have the latest on the state of abortion access in the United States after headlines.
Autopsy Shows #StopCopCity Forest Defender Tortuguita Was Shot 57 Times by Police
Apr 20, 2023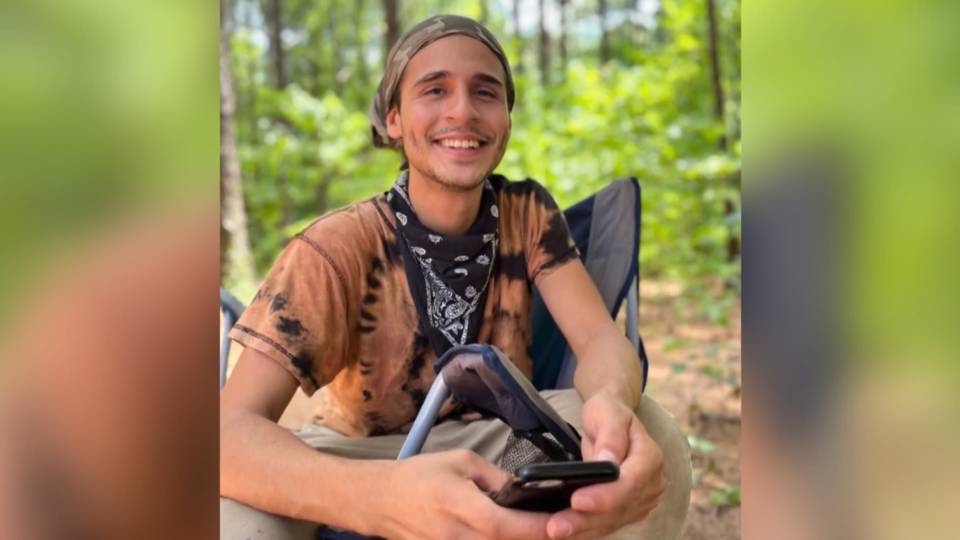 Image Credit: Twitter: @atlanta_press
In Georgia, an autopsy by the DeKalb County Medical Examiner has revealed an activist who was fatally shot by Atlanta police in January was struck by at least 57 bullets. Twenty-six-year-old Manuel Esteban Terán, known as Tortuguita, was killed as police raided an encampment of forest protectors opposing the construction of Atlanta's $90 million police training center dubbed "Cop City." No officers have been charged over the killing; meanwhile, at least 42 activists arrested while protesting Cop City face state charges of domestic terrorism.
Kansas City Homeowner Pleads Not Guilty for Shooting Black Teen Ralph Yarl
Apr 20, 2023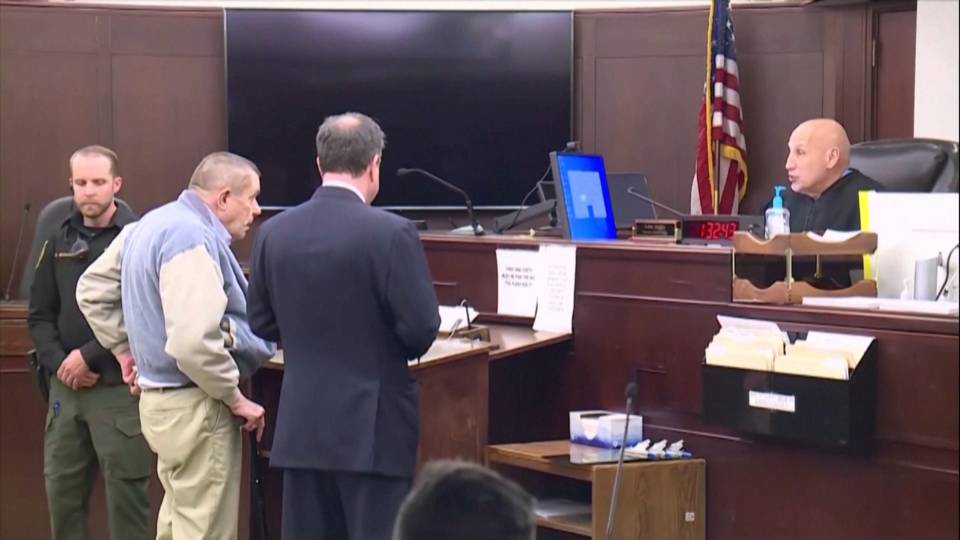 In Kansas City, Missouri, the white homeowner accused of shooting a Black teenager who rang his doorbell by mistake pleaded not guilty Wednesday to charges of first-degree assault and armed criminal action. Prosecutors say 84-year-old Andrew Lester exchanged no words with 16-year-old Ralph Yarl before opening fire on him through a glass door, striking him in the chest and head. Yarl had simply gone to the wrong house to pick up his younger twin brothers. On Wednesday, activist and family spokesperson Shaun King published a photo showing Ralph Yarl out of the hospital and posing alongside attorney Lee Merritt. King wrote that Yarl is recovering from a traumatic brain injury and faces a long road to recovery, adding, "Had the bullet hit his head a fraction of an inch in any other direction he would probably be dead right now."
Mass Shooting in Maine Adds to Grim Toll of U.S. Gun Violence
Apr 20, 2023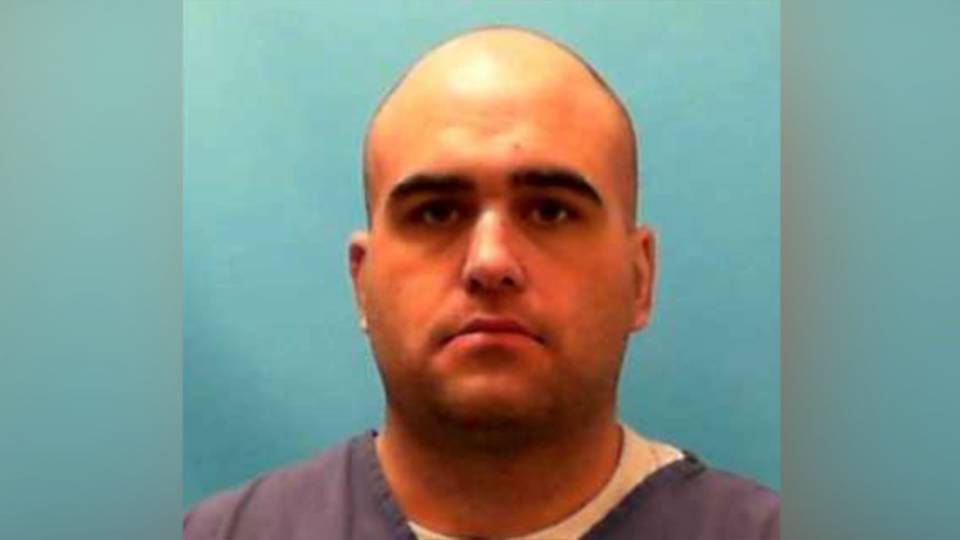 Here in New York, prosecutors in Saratoga County have charged a 65-year-old man with second-degree murder after he allegedly shot and killed 20-year-old Kaylin Gillis on Saturday. Gillis and a friend were shot after their car mistakenly pulled into the wrong driveway.
In Elgin, Texas, two cheerleaders were shot by a man in the parking lot of a grocery store on Tuesday after one of them mistakenly tried to get into the wrong car.
In Maine, four people were fatally shot in their home Tuesday, shortly before three others were wounded by gunfire on a busy interstate highway. Police arrested a 34-year-old who had just completed a sentence for aggravated assault; they say he confessed to the shootings, which left his parents and two of their friends dead. According to the Gun Violence Archive, there have been 166 mass shootings in the U.S. so far this year.
Tennessee GOP Passes Bill Protecting Gunmakers from Litigation Weeks After Nashville Massacre
Apr 20, 2023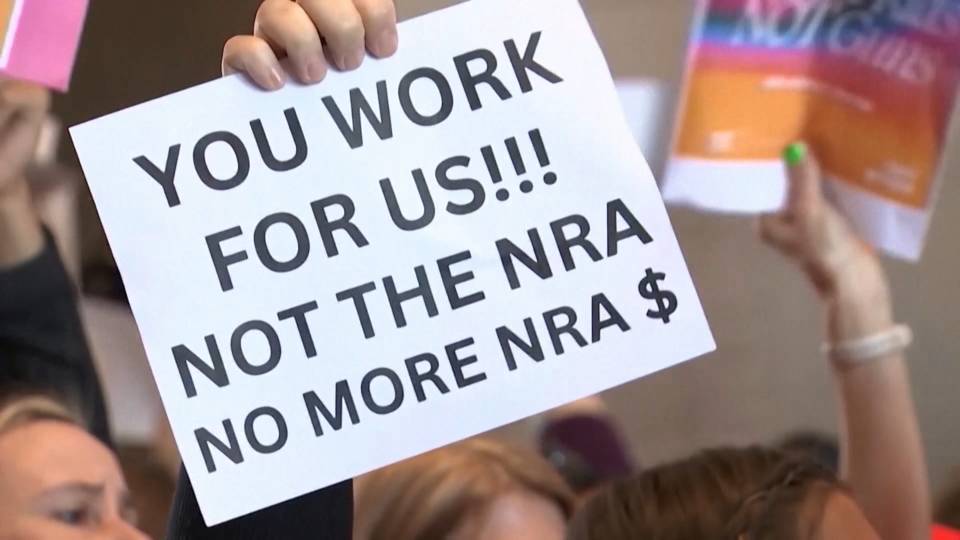 Tennessee lawmakers have approved a bill to shield gun and ammunition manufacturers and dealers from lawsuits. Republican Governor Bill Lee has promised to sign the legislation, which comes less than a month after three 9-year-olds and three adults were killed by a shooter armed with an AR-15-style semiautomatic assault rifle at The Covenant School in Nashville. In response, Democratic Representative Justin Jones of Nashville tweeted, "There's a soul sickness in our state when Tennessee Republican legislators are more concerned with protecting gun manufacturers from lawsuits, than children from being killed by mass shootings. We said, protect children not guns — they choose the guns. This is morally insane."
Meanwhile, special election dates have been set to fill the seats of Democratic Representatives Justin Jones and Justin Pearson, after Tennessee Republicans voted to expel them for leading peaceful protests against gun violence inside the Capitol. Both Black lawmakers have been temporarily reappointed to their House seats and are expected to compete in primaries to be held on June 15, with an election set for August 3.
Montana Conservatives Seek to Censure Transgender Lawmaker for Calling Out GOP's Transphobia
Apr 20, 2023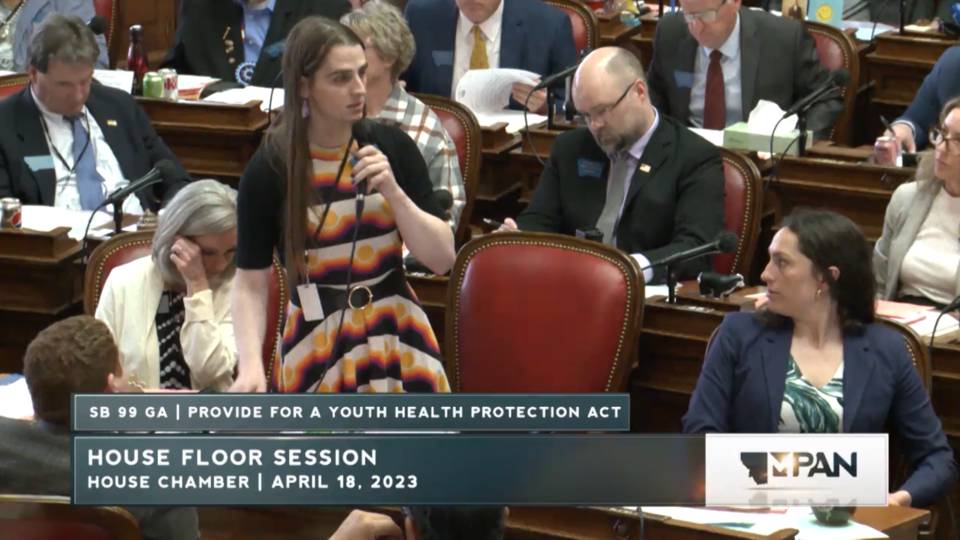 Republicans in Montana's Legislature are attempting to censure Democrat Zooey Zephyr, Montana's first and only openly transgender lawmaker. This comes after Zephyr delivered a searing condemnation Tuesday of a bill that would ban gender-affirming healthcare for youth, among other anti-trans measures.
Rep. Zooey Zephyr: "If you are forcing a trans child to go through puberty when they are trans, that is tantamount to torture. This body should be ashamed. … If you vote yes on this bill and yes on these amendments, I hope the next time there's an invocation, when you bow your heads in prayer, you see the blood on your hands."
The bill is expected to be passed and signed by Republican Governor Greg Gianforte.
DOJ Indictment Claims Pan-Africanist Group Conspired with Russia to Interfere in U.S. Elections
Apr 20, 2023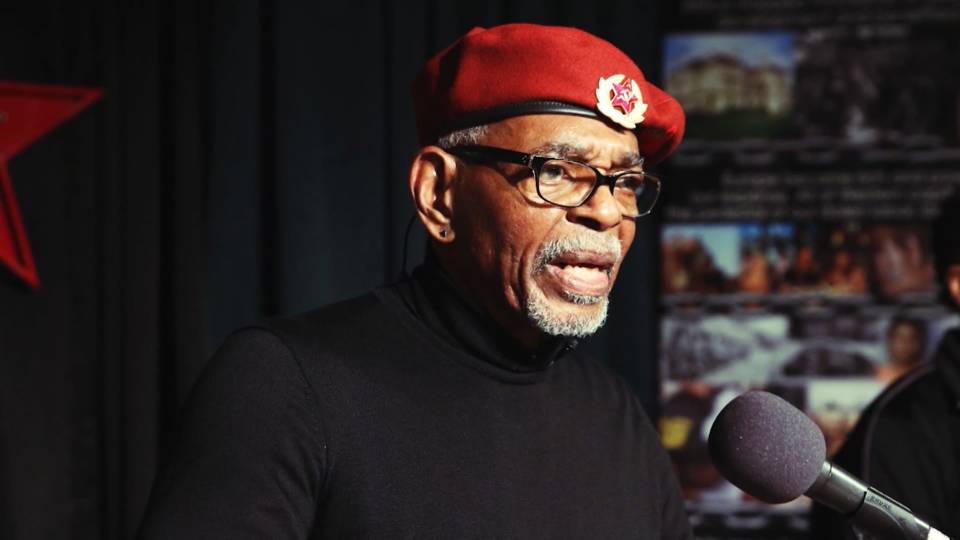 Image Credit: African People's Socialist Party USA
The Biden administration has charged four U.S. citizens from a pan-Africanist group with conspiring with the Russian government to sow discord in U.S. elections. Omali Yeshitela, chair of the African People's Socialist Party, faces charges of conspiracy to defraud the United States, along with Penny Hess, Jesse Nevel and Augustus Romain Jr. Three Russians were also named in an indictment unsealed by the Justice Department on Tuesday. This follows a violent FBI raid on the activists' properties in Missouri and Florida last summer. Speaking to Democracy Now! in August of last year, Omali Yeshitela called the FBI's case against his organization "ridiculous" and "asinine."
Omali Yeshitela: "The work we've been doing for 50 years as a party and that I've been doing for nearly 60 years is about the liberation of Black people. I want to be clear on that. And the government is clear on that. They use Russia, they use this nonsense, even at a time when we've seen white people scaling the walls of the Capitol, threatening to kill the vice president, the feet on the desk of Nancy Pelosi. And you talk about we have some role under the Russians of contaminating the pristine elections that happen in this country?"