Jury Selection Begins in Civil Trial Accusing Trump of Rape and Defamation
Apr 25, 2023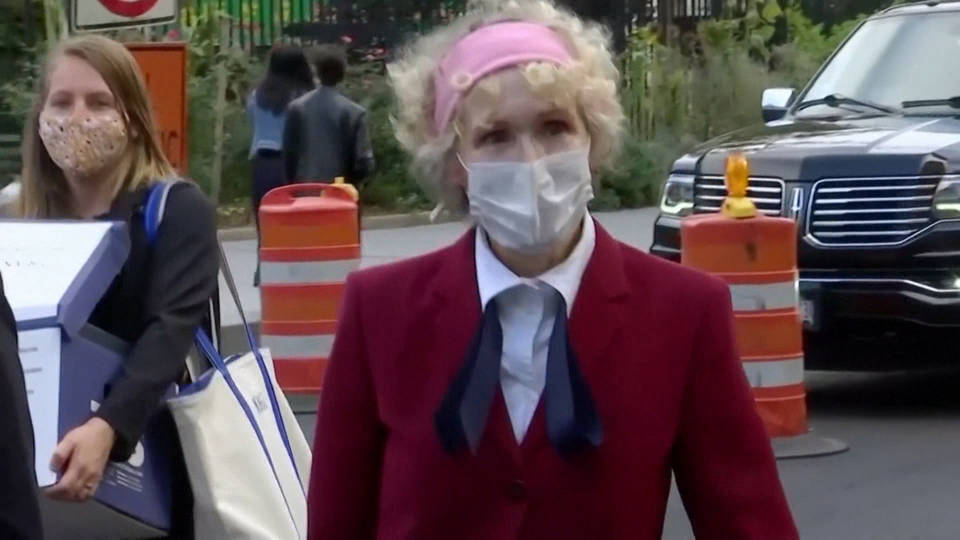 Here in New York, jury selection has begun in a civil trial against Donald Trump brought by author E. Jean Carroll. The former magazine columnist alleges Trump raped her in a dressing room at a department store in the mid-1990s. Carroll can bring the case decades later because New York opened a one-year window on the statute of limitations for adult survivors of sexual assault. The judge in the case has ruled two other women who say they were sexually assaulted by Trump can take the stand, as well.
2022 Goldman Environmental Prize Winners Protect Forests and Oceans
Apr 25, 2023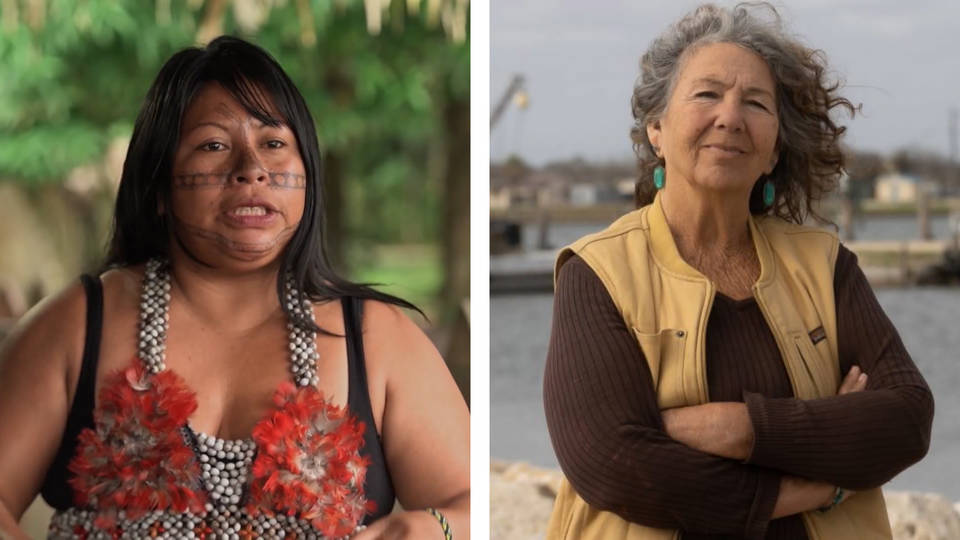 The 2022 Goldman Environmental Prize recipients have been announced. In Brazil, Indigenous leader Alessandra Korap won for leading a campaign against the mining giant Anglo American, safeguarding 400,000 acres of Amazon rainforest.
Alessandra Korap: "It was a huge victory. We realize that we are like little ants. When the little ants join forces, we get stronger. And we got stronger, until we won the battle against Anglo American."
Here in the United States, environmental activist and fourth-generation shrimper Diane Wilson received a Goldman Prize for winning a historic $50 million settlement in a case against Formosa Plastics for dumping toxic waste on Texas's Gulf Coast. The 2019 civil settlement was the largest in the history of the Clean Water Act. This is Diane Wilson.
Diane Wilson: "Formosa makes a trillion pellets, or 'nurdles,' a day, and they lose a lot of the powder and the pellets through 10 stormwater outfalls. And so, Formosa was discharging this plastic everywhere. And they have been doing this for 27 years."

 
Republicans Silence Montana Transgender Lawmaker During Anti-Trans Bill Debate
Apr 25, 2023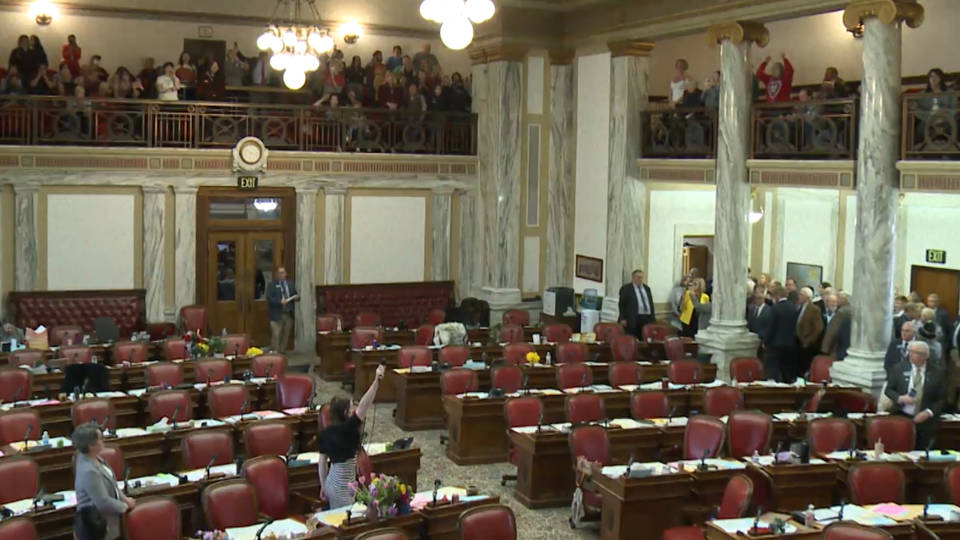 In Montana, protesters rallied inside the state Capitol Monday in support of Democratic transgender state Representative Zooey Zephyr after Republican lawmakers blocked her from speaking on the House floor for a third day. Zephyr raised her microphone into the air as her supporters interrupted proceedings for nearly half an hour, leading to the arrest of at least seven people.
Speaker Matt Regier: "Our guests will come to order. Sergeant-of-arms, will you please clear the gallery?"
Protesters: "Let her speak! Let her speak! Let her speak! Let her speak! Let her speak! Let her speak! Let her speak!"
Republicans have denied Zephyr's repeated requests to debate on proposed anti-trans legislation, after last week she told them they would have "blood on their hands" if they banned gender-affirming healthcare for trans children and youth.
Clarence Thomas Failed to Recuse in Decision Involving Billionaire Harlan Crow
Apr 25, 2023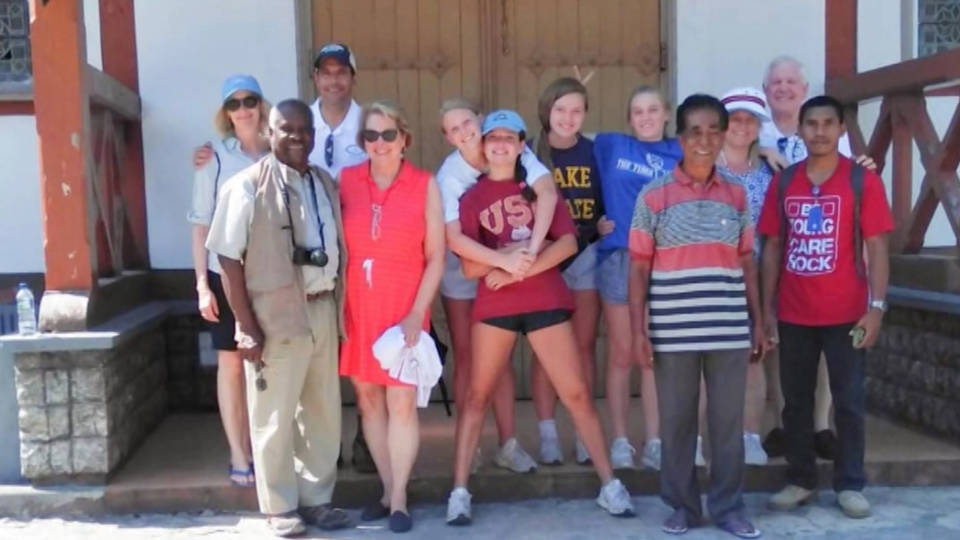 The chair of the Senate Finance Committee has asked Texas billionaire and conservative activist Harlan Crow to provide Congress with a detailed list of undisclosed gifts and payments benefiting Supreme Court Justice Clarence Thomas, including private real estate transactions and the use of Crow's private jet and superyacht. In a letter sent to Crow Monday, Democratic Senator Ron Wyden wrote, "The secrecy surrounding your dealings with Justice Thomas is simply unacceptable. The American public deserves a full accounting of the full extent of your largesse towards Justice Thomas, including whether these gifts complied with all relevant federal tax and ethics laws." Meanwhile, Bloomberg News is reporting Justice Thomas failed to recuse himself from a 2005 Supreme Court decision to reject a case which benefited the Trammell Crow Residential Company, a real estate firm named after Harlan Crow's father that was partly owned by the Crow family. Harlan Crow was CEO and chair of the board at the time.
Lizzo Hosts Drag Queens at Nashville Concert to Protest TN Law Banning Drag Shows
Apr 25, 2023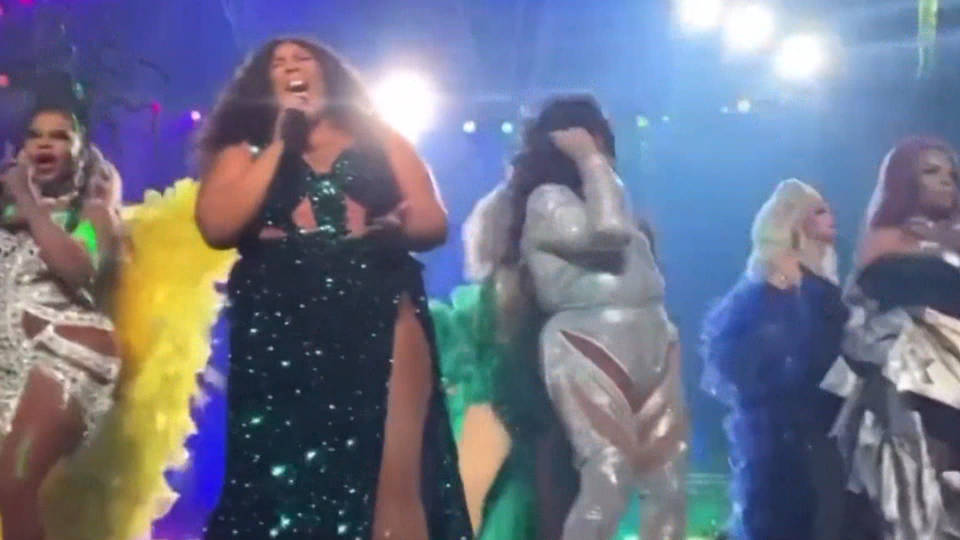 In Tennessee, Grammy-winning rapper and singer Lizzo invited dozens of drag performers on stage during a concert in Knoxville Friday night, protesting Republicans' efforts to ban public drag performances in the state. Tennessee Republican Governor Bill Lee signed the measure into law last February, but it was blocked by a federal judge the following month who argued it was too vaguely written.
Biden and Harris Welcome "Tennessee Three" to White House to Call for Gun Controls
Apr 25, 2023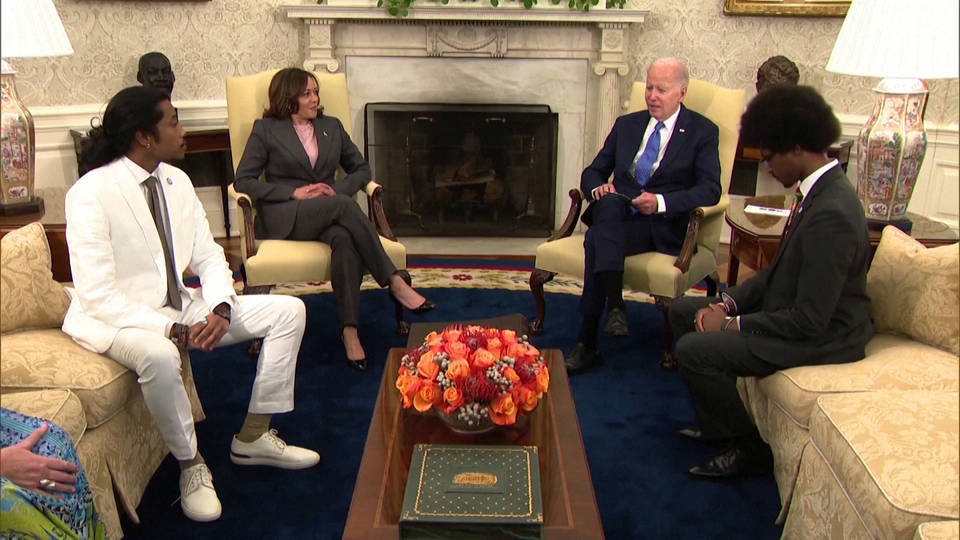 President Biden on Monday welcomed Tennessee Democratic Representatives Justin Pearson, Justin Jones and Gloria Johnson to the White House for a discussion on gun reform. The lawmakers became known as the "Tennessee Three" after facing Republican-led expulsion votes from the state Legislature for supporting recent student protests calling for gun control after six people, including three 9-year-old students, were killed in a mass shooting at a Nashville elementary school in March. Pearson and Jones, who were the only two formally expelled, were unanimously reappointed to the Tennessee House of Representatives by local officials in Memphis and Nashville earlier this month. This is Jones speaking Monday from the Rose Garden.
Rep. Justin Jones: "We lifted this issue above the partisan divide, that this is not left or right, but we talked to the president about how this is a moral issue, an issue of conscience, an issue in the South, where we are trying to build a multiracial democracy and challenge these extreme forces that rather than passing an assault weapons ban, they assaulted our democracy, as we saw when we were expelled from the state Legislature."
North Dakota Governor Signs Near-Total Abortion Ban into Law
Apr 25, 2023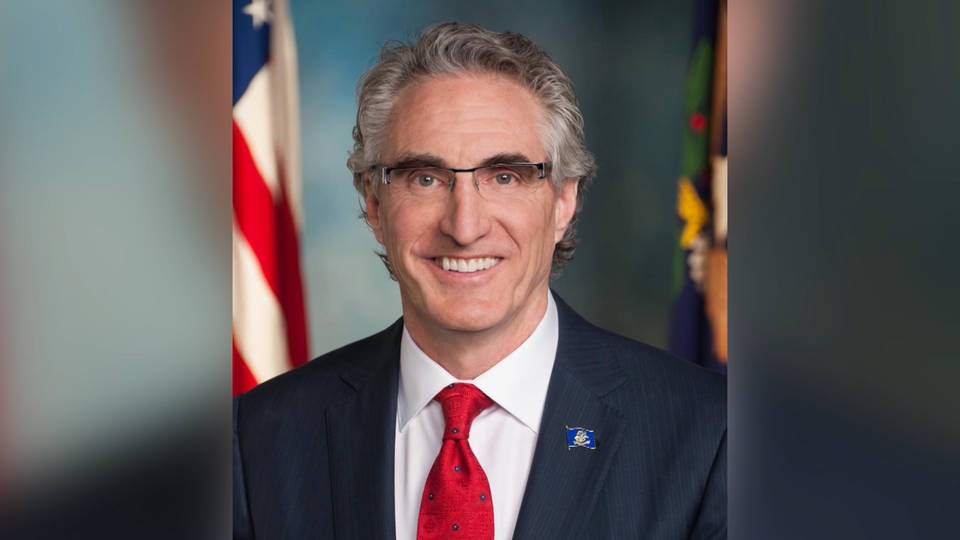 In North Dakota, Republican Governor Doug Burgum has signed into law a near-total ban on abortion that would only allow people to get the procedure in cases of rape or incest during the first six weeks of pregnancy. The legislation is one of the most severe anti-abortion measures in the country. Reproductive rights advocates say most people don't even know they're pregnant at six weeks.
Trial Begins for 2018 Pittsburgh Synagogue Massacre
Apr 25, 2023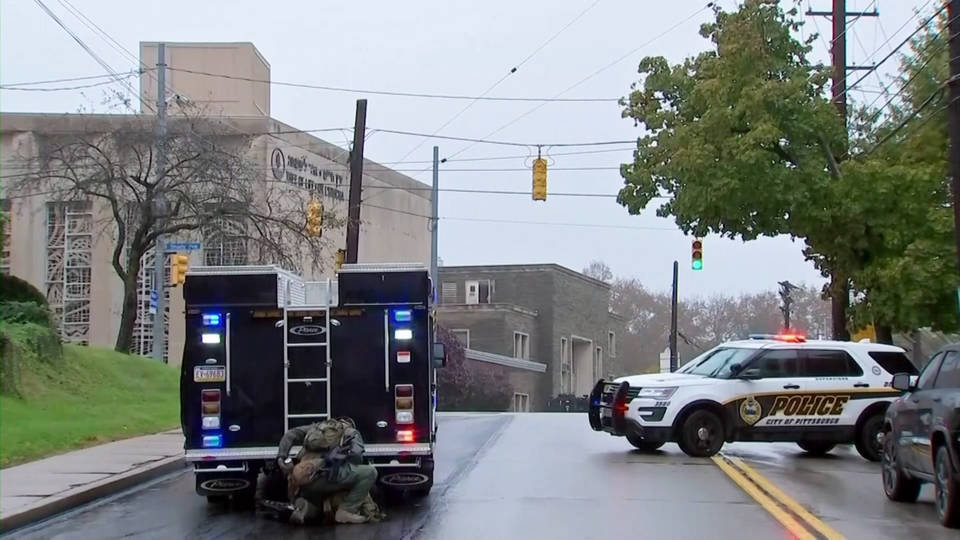 In Pennsylvania, the trial for the man accused of killing 11 worshipers at the Tree of Life synagogue in Pittsburgh in 2018 began Monday. The mass shooting was the deadliest antisemitic attack in U.S. history.
Breonna Taylor's Killer Hired as Sheriff's Deputy
Apr 25, 2023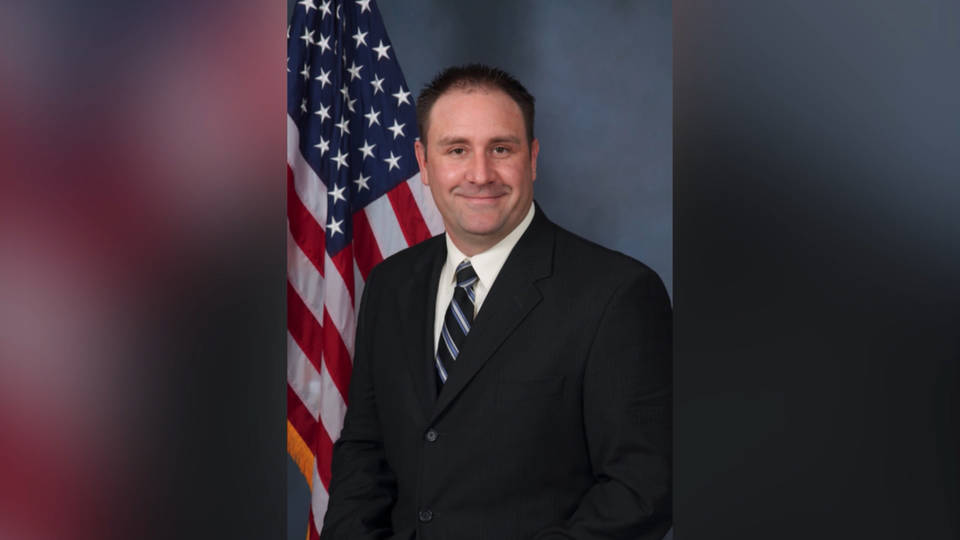 In Kentucky, the Carroll County Sheriff's Office has hired the former Louisville police detective who fired the shot that killed 26-year-old Black emergency room technician Breonna Taylor in her own home during a no-knock raid in March 2020. Myles Cosgrove was fired from the Louisville Metro Police Department in January 2021 for violating use-of-force procedures and failing to use a body camera.
Pakistan Counterterrorism Center Explosion Kills 17
Apr 25, 2023
In northwestern Pakistan, at least 17 people were killed and more than 50 others wounded Monday as a pair of explosions tore through an ammunition depot run by Pakistan's counterterrorism office in the Swat Valley. Most of the dead were police officers, though at least four were civilians. A police spokesperson said the blast was triggered when ammunition caught fire, likely due to an electrical short circuit.