Egypt Frees Al Jazeera Journalist Hisham Abdel Aziz After Four Years Behind Bars
May 04, 2023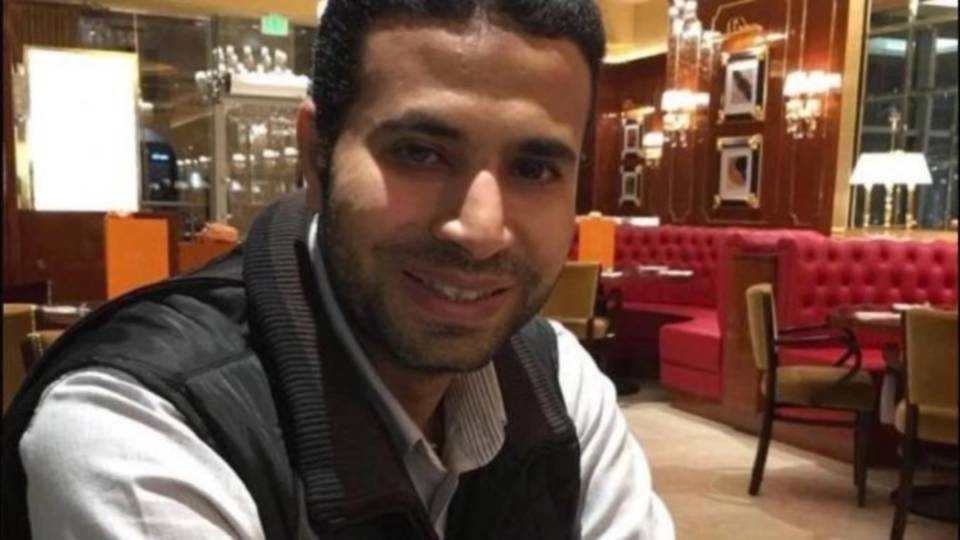 Egyptian authorities have freed Al Jazeera journalist Hisham Abdel Aziz four years after he was arrested and accused of belonging to a terrorist group. Al Jazeera called the allegations "baseless" and said authorities targeted Abdel Aziz over the network's reporting, which has been critical of Egypt's U.S.-backed authoritarian President Abdel Fattah el-Sisi, who took power in a 2013 coup. Tens of thousands of people have since been arrested in a crackdown on dissent; among them are two other Al Jazeera journalists, Bahaa Eldin Ibrahim and Rabie el-Sheikh.
Protesters Confront Blinken over Julian Assange Extradition and Killing of Shireen Abu Akleh
May 04, 2023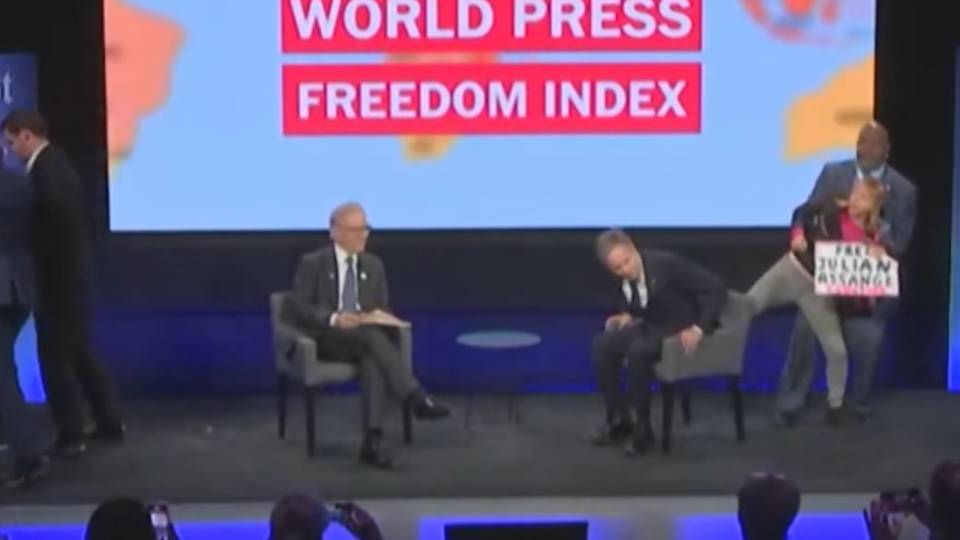 Protesters have confronted Secretary of State Antony Blinken over the Biden administration's prosecution of WikiLeaks founder Julian Assange and for failing to condemn the killing of Palestinian American journalist Shireen Abu Akleh, who was killed by an Israeli military sniper last year while reporting from the occupied West Bank. Wednesday's protest was led by CodePink's Medea Benjamin, who interrupted Washington Post columnist David Ignatius as he interviewed Blinken in a forum marking World Press Freedom Day.
Medea Benjamin: "Excuse us. We can't use this day without calling for the freedom of Julian Assange."
Security: "You've got to go. Come on, you've got to go." 
Medea Benjamin: "The Biden administration" — 
At this point the live stream went silent, as Medea Benjamin hooked her leg around Blinken's chair while security pulled her off the stage.
Medea Benjamin: "Stop the extradition request" —
Protester: "Two hours and not one word about Shireen Abu Akleh!"
Secretary of State Antony Blinken: "Take it easy. Take it easy. Take it easy, guys."
Protester: "Not one word about journalist Shireen Abu Akleh, who was murdered" —
David Ignatius: "So" —
Protester: — "by the Israeli occupation" —
David Ignatius: "So" —
Protester: — "forces in Palestine! Not one word about Julian Assange!
David Ignatius: "We're here to celebrate freedom of expression, and we just experienced it."
Reporters Without Borders warns 2023 is among the worst years on record for journalists worldwide, with seven media workers killed since January 1 and 563 detained or in prison.
Fed Chair Accused of "Aiming to Put People Out of Work" with Latest Interest Rate Hike
May 04, 2023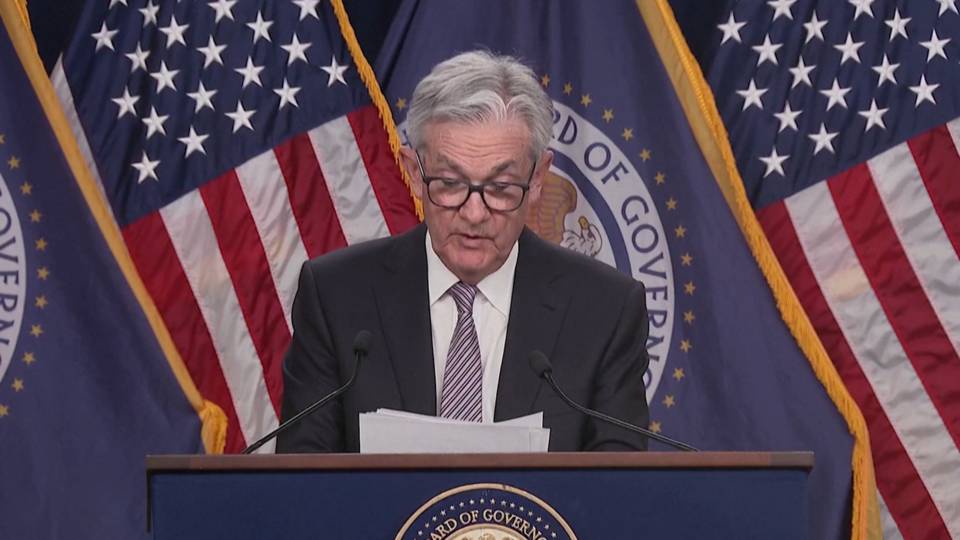 The Federal Reserve has voted to raise interest rates for the 10th consecutive time. Fed Chair Jerome Powell announced the latest increase on Wednesday, which brings the benchmark interest rate to a 16-year high of more than 5%.
Jerome Powell: "Reducing inflation is likely to require a period of below-trend growth and some softening of labor market conditions."
Labor organizations blasted the Fed's move, saying it will drive unemployment higher and further risks plunging the economy into recession. Massachusetts Democratic Senator Elizabeth Warren accused Powell of "aiming to put people out of work." 
Police Arrest Wife of Texas Mass Shooter, Whom She Accused of Domestic Violence
May 04, 2023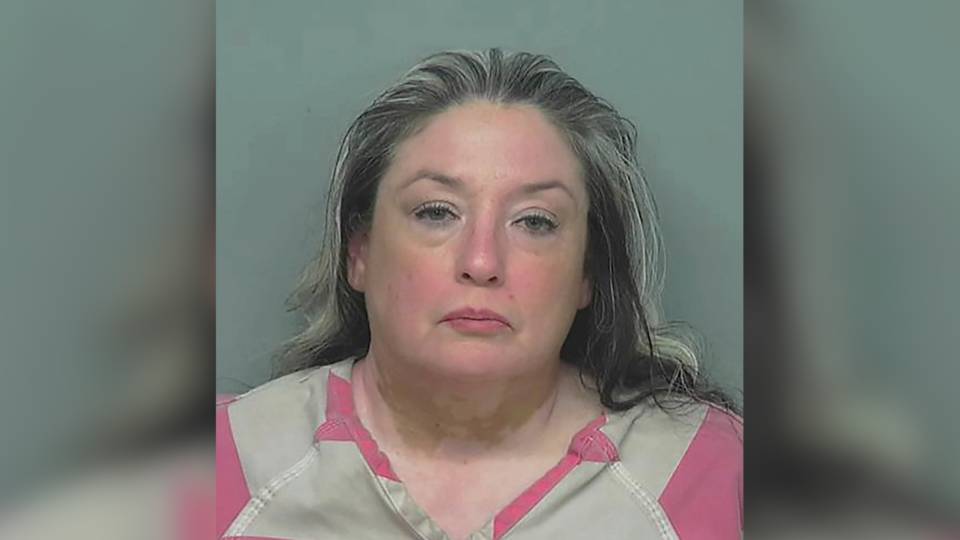 Authorities in Texas have arrested the wife of the suspect in last week's mass shooting which killed five people in the town of Cleveland, including a 9-year-old child. Divimara Nava is accused of helping her husband, Francisco Oropesa, as he evaded capture for four days during a statewide manhunt. Last year, Nava asked a judge for a restraining order against Oropesa after reporting he was drunk and had physically assaulted her. A 2021 study found more than two-thirds of mass shootings are perpetrated by people with a history of domestic violence.
Georgia Police Arrest Mass Shooting Suspect as Sen. Warnock Demands Gun Legislation
May 04, 2023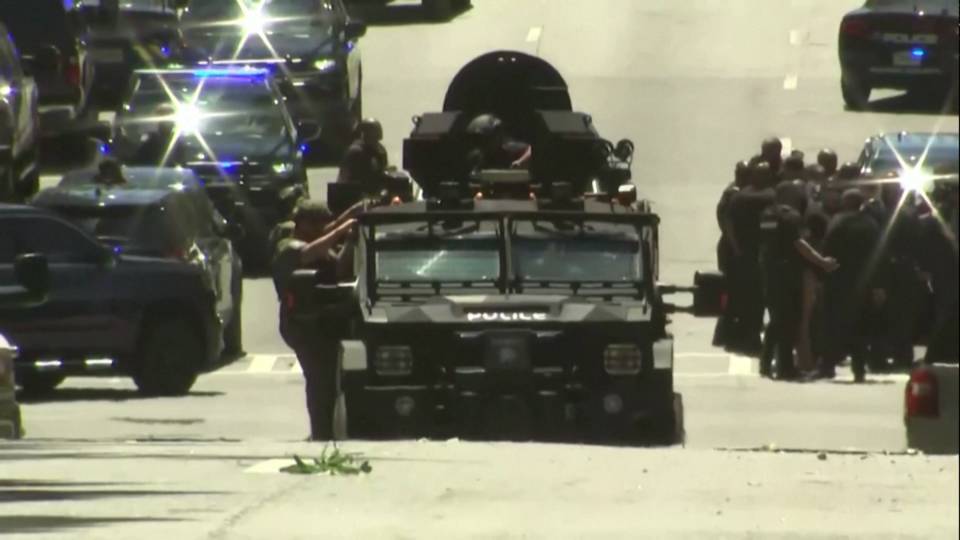 In Georgia, police have arrested a 24-year-old suspect accused of opening fire inside an Atlanta medical office building on Wednesday, killing one person and injuring four others. The mass shooting prompted road closures and evacuations and led several schools to lock down during an hours-long manhunt. Georgia Democratic Senator Raphael Warnock responded to the news from the Senate floor, demanding Congress pass new legislation to prevent gun violence.
Sen. Raphael Warnock: "We're not safe in our schools. We're not safe in our workplaces. We're not safe at the grocery store. We're not safe at movie theaters. We're not safe at spas. We're not safe in our houses of worship. There is no sanctuary in the sanctuary. We're not safe at concerts. We're not safe at banks. We're not safe at parades. We're not safe in our own yards and in our own homes. And now, today, we can add medical facilities to that list."
Oklahoma AG Appeals to SCOTUS to Stay Execution of Richard Glossip
May 04, 2023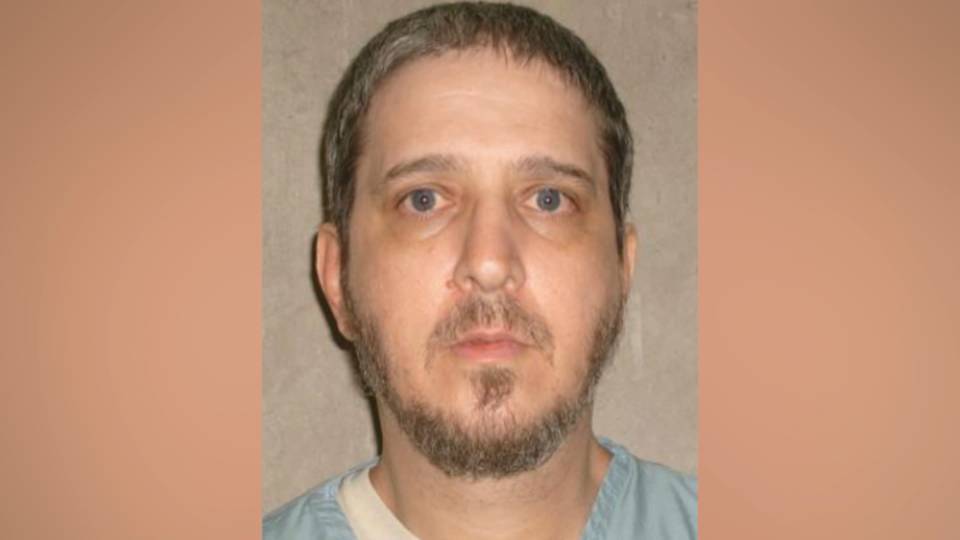 Oklahoma's Republican Attorney General Gentner Drummond filed a motion with the U.S. Supreme Court Monday to stay the execution of Richard Glossip. Glossip is scheduled to be executed on May 18 for a 1997 murder-for-hire, despite major issues with the trial that resulted in his conviction. Glossip has maintained his innocence for the past quarter-century. Click here to see our coverage of this case.
Montana Imposes New Restrictions on Abortion Access
May 04, 2023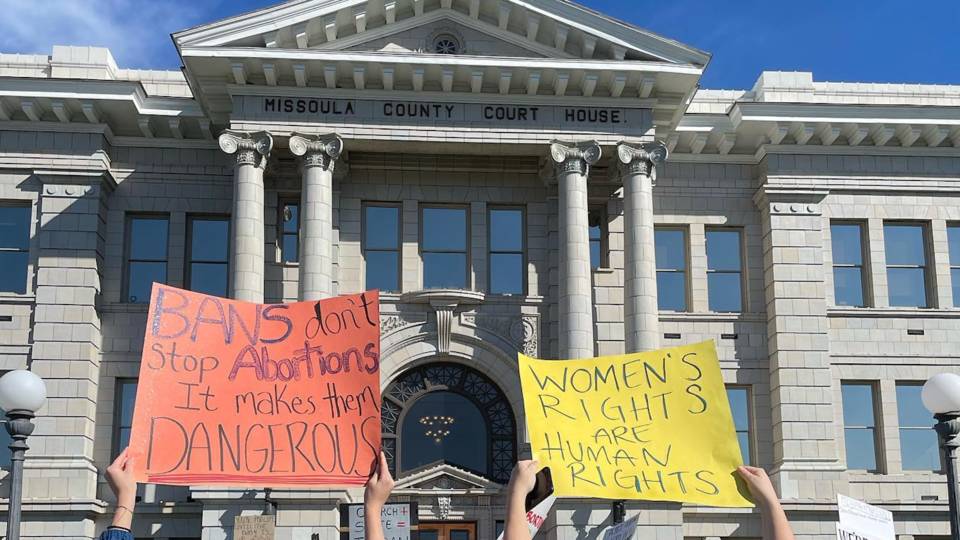 Montana's Republican governor has signed several bills severely curtailing the right to an abortion. One bill directly conflicts with a 1999 Montana Supreme Court ruling that the state Constitution's privacy clause guarantees the right to an abortion. Other legislation would require abortion providers to track more paperwork, and requires pregnant people to submit to an ultrasound before getting an abortion. Planned Parenthood of Montana president Martha Fuller said in response, "By adding unnecessary and burdensome red tape to a safe and legal medical procedure, these politicians have made clear that it was never about our health and safety. It was always about undermining our personal freedom and shaming people who seek abortions."
Activists Arrested at Peaceful Protest Against Florida's Attacks on Abortion, LGBTQ, Immigrant Rights 
May 04, 2023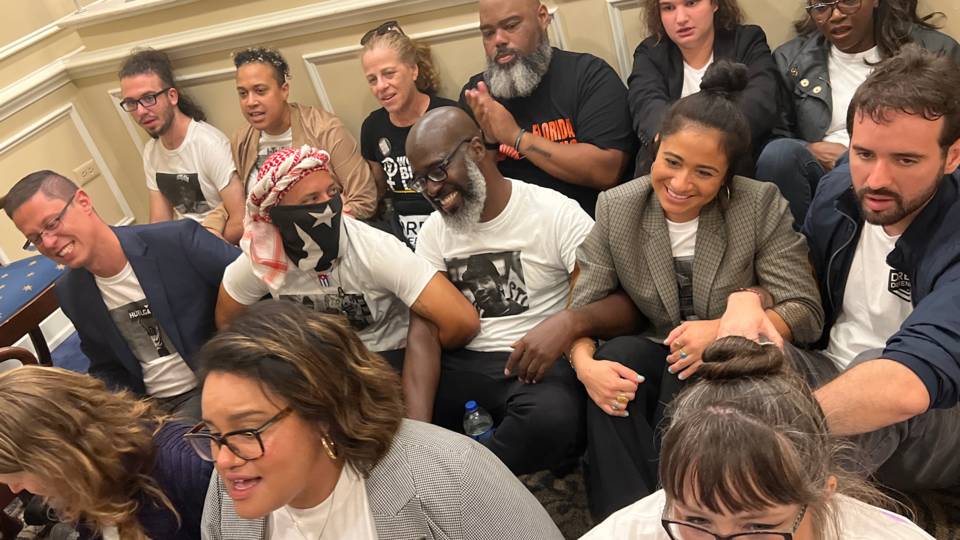 In Tallahassee, Florida, police arrested 14 protesters who staged a peaceful sit-in Wednesday inside the office of Republican Governor Ron DeSantis. Florida's Dream Defenders organized the action to protest new legislation banning abortion after six weeks, denying gender-affirming care for youth, rolling back rent control, banning discussions of LGBTQ issues in schools, and cracking down on immigrants and unions. Dream Defenders co-founder Nailah Summers-Polite said protests would continue until DeSantis agrees to a meeting.
Nailah Summers-Polite: "So we're going to sit here until Ron DeSantis deigns to come back to his office to meet with the people of Florida who have been directly affected by his nonsense and his hate and his pandering and his petty BS."
"It's Not How White Men Fight": Tucker Carlson Text Reportedly Led to His Firing from Fox
May 04, 2023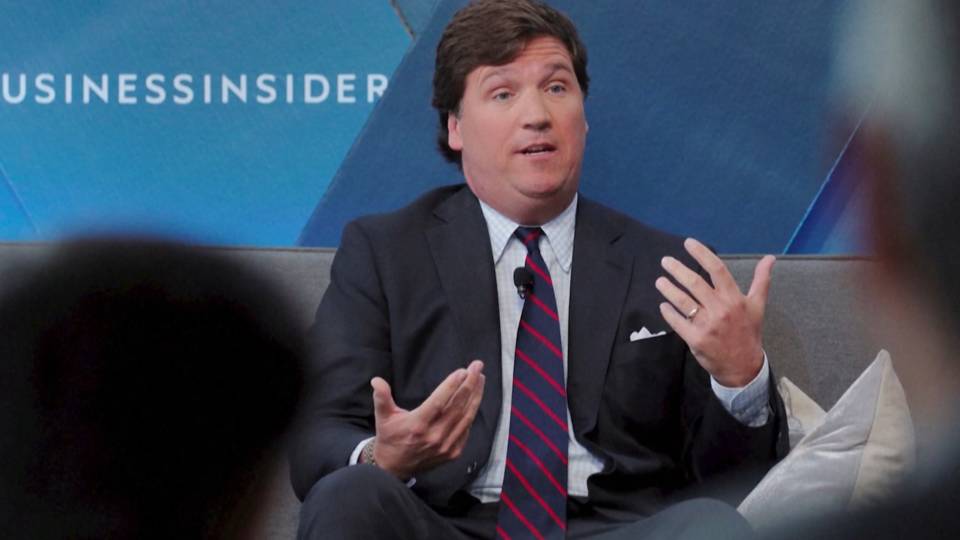 The New York Times is reporting a text message sent by former Fox host Tucker Carlson containing violent and racist content is what ultimately led to his firing by the far-right network. In a text message to a Fox producer, revealed as part of the Dominion defamation suit against Fox, Carlson describes his thoughts while watching a video of at least three Trump supporters violently beating "an antifa kid." It reads, in part, "Jumping a guy like that is dishonorable obviously. It's not how white men fight. Yet suddenly I found myself rooting for the mob against the man, hoping they'd hit him harder, kill him."
Fox fired Tucker Carlson just days after it settled with Dominion Voting Systems for $787.5 million for promoting Trump's lies about election fraud. Fox was not required to apologize to Dominion or its viewers as part of the deal. Carlson and other Fox hosts have for years attacked people of color, immigrants and the LGBTQ community on air. 
Trump Team Will Not Offer Defense in E. Jean Carroll Rape and Defamation Case
May 04, 2023
Donald Trump's legal team says they will not put on a defense case in his rape and defamation trial brought by writer E. Jean Carroll. Carroll has accused Trump of raping her in a dressing room at Bergdorf Goodman in the 1990s, then accusing her of lying about it. Earlier this week, Jessica Leeds testified that Trump repeatedly groped her during a flight in the 1970s. Journalist Natasha Stoynoff also took the stand and recounted how Trump allegedly pushed her against a wall and forcibly kissed her during a 2005 photo shoot and interview at Mar-a-Lago. The jury is expected to begin deliberating next Tuesday.
Meanwhile, a judge dismissed Trump's lawsuit against The New York Times Wednesday, asserting the newspaper's 2018 reporting on his finances, including the gathering of his tax records, is protected by the First Amendment.
New Documents Show Jeffrey Epstein Had Meetings with Ehud Barak, Noam Chomsky, Lawrence Summers
May 04, 2023
The Wall Street Journal has obtained a trove of personal documents of convicted sexual predator and child sex trafficker Jeffrey Epstein, including his schedules from 2013 to 2017. It shows he met with a number of prominent figures following his 2008 Florida conviction for "procuring a child for prostitution." The list includes now-CIA Director William Burns, former Israeli Prime Minister Ehud Barak, filmmaker Woody Allen, former Treasury Secretary and Harvard President Lawrence Summers, and the famed linguist Noam Chomsky. Chomsky confirmed to The Harvard Crimson that he knew Epstein, writing in an email to the paper, "Like all of those in Cambridge who met and knew him, we knew that he had been convicted and served his time, which means that he re-enters society under prevailing norms." Chomsky also wrote, "I've met [all] sorts of people, including major war criminals. I don't regret having met any of them." Epstein was arrested again in 2019 after the Miami Herald revealed he had sexually assaulted and trafficked women and girls for decades. He died of an apparent suicide in his New York jail cell in 2019.
New Yorkers Demand Justice for Unhoused Subway Performer Who Was Killed by Another Passenger
May 04, 2023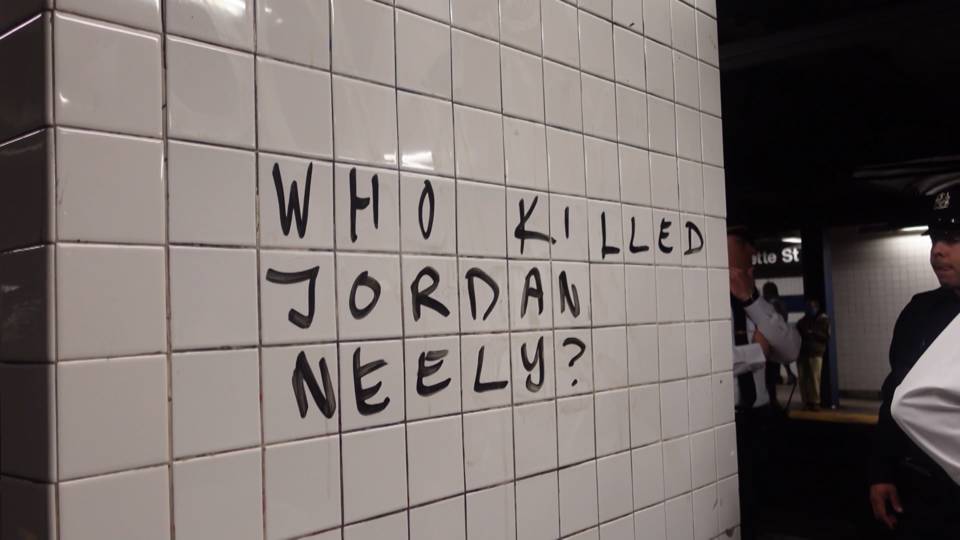 Protesters and mourners gathered on a subway platform in lower Manhattan Wednesday, calling for justice for Jordan Neely, a 30-year-old unhoused subway rider and Black man who was choked to death Monday while he was suffering an apparent mental health crisis. Neely was a busker well known for his impersonations of Michael Jackson. He was reportedly yelling and complaining of hunger and thirst but had not physically attacked anyone before three other passengers tackled him on the floor of the train. An unnamed former marine held Neely in a chokehold. His death has been ruled a homicide and likened to a lynching. This is a protester speaking yesterday from the Broadway-Lafayette subway station.
Protester: "A lot of us are closer to homelessness than we are to being millionaires. And so, to see someone be treated like that as a homeless person is scary for people who are unhoused or scary for people who are at risk of being homeless, whose rent is overdue, whose rent is being increased, whose shelter is the next step. So, it's really, really scary in a city that is going through a housing crisis to see homeless people being murdered."