New Yorkers, Lawmakers Demand Action on Murder of Subway Performer
May 05, 2023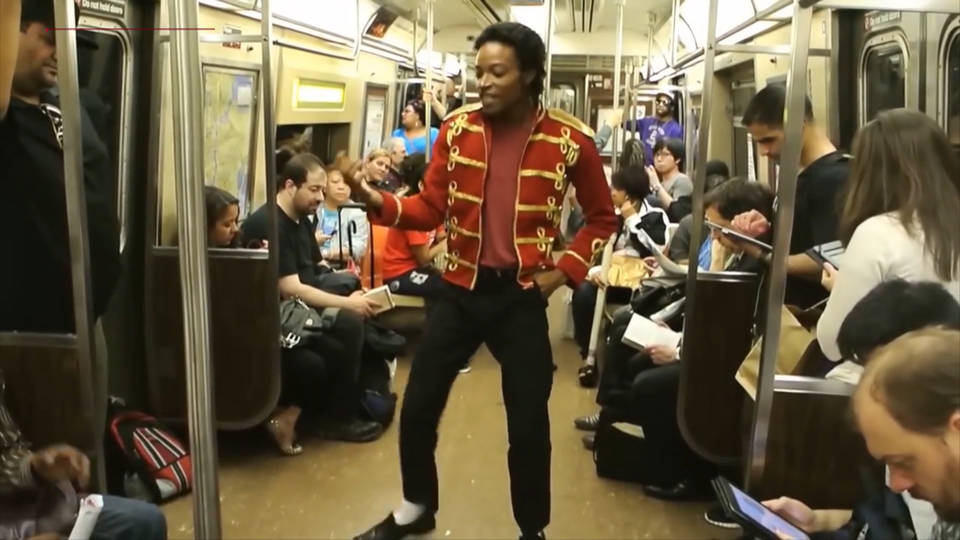 Here in New York, protests continue amid mounting anger over the killing of street performer Jordan Neely, who was choked to death by another subway passenger Monday while being held down by another two riders. Neely, an unhoused 30-year-old Black man, was crying out that he was hungry when he was fatally attacked on the train. No one has been arrested or charged despite the death being ruled a homicide by the medical examiner. Neely was a beloved fixture of the New York City subway for his performances impersonating Michael Jackson. A number of lawmakers have joined the chorus of voices condemning the vigilante-style murder and Mayor Eric Adams, who has demonized and cut services for unhoused people and mental illness while flooding the train system with police. New York City Council Speaker Adrienne Adams said in a statement, "Racism that continues to permeate throughout our society allows for a level of dehumanization that denies Black people from being recognized as victims when subjected to acts of violence. … Any possible mental health challenges that Jordan may have been experiencing were no reason for his life to be taken."
Sudan Conflict Intensifies with No End in Sight
May 05, 2023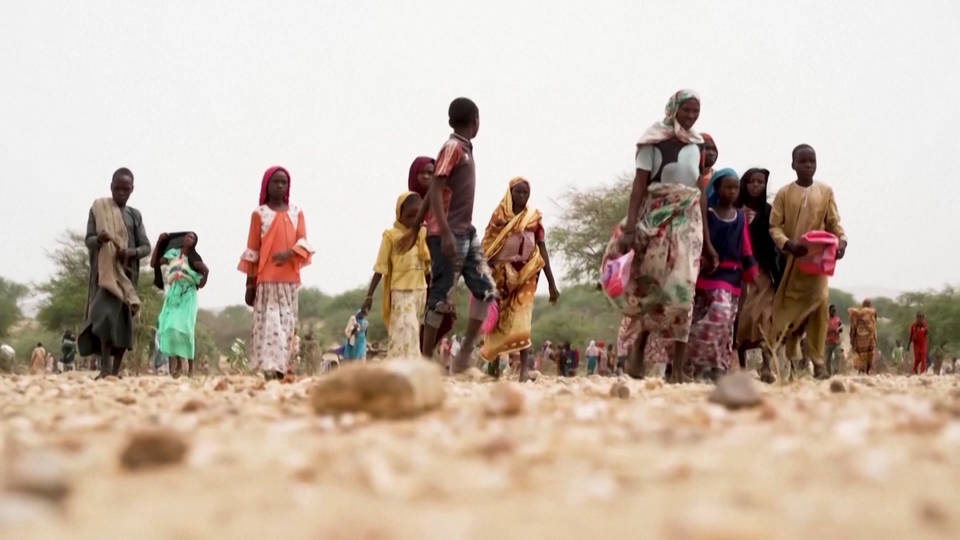 Fighting in Sudan's capital Khartoum has intensified as the Sudanese army battles the Rapid Support Forces paramilitary group for strategic locations. The U.N.'s top humanitarian official, Martin Griffiths, arrived in Port Sudan this week, where he called on combatants to allow the distribution of critically needed relief shipments to millions of civilians trapped by the fighting.
Martin Griffiths: "We need access. We need airlift. We need supplies that don't get looted. World Food Programme today, James, informed me six trucks of theirs, which were going to Darfur, were looted en route, despite assurances of safety and security. So it's a volatile environment."
The U.N. says the violence has forced 100,000 civilians to flee their homes, with critical shortages of food, water, medicine and electricity.
In Washington, D.C., President Biden signed an executive order Thursday authorizing sanctions against Sudanese leaders. The order came as U.S. Director of National Intelligence Avril Haines told a Senate panel Sudan's conflict is likely to be protracted, as both sides believe that they can win militarily and have few incentives to come to the negotiating table.
Jury Finds Proud Boys Guilty of Sedition and Other Felonies for Jan. 6 Insurrection
May 05, 2023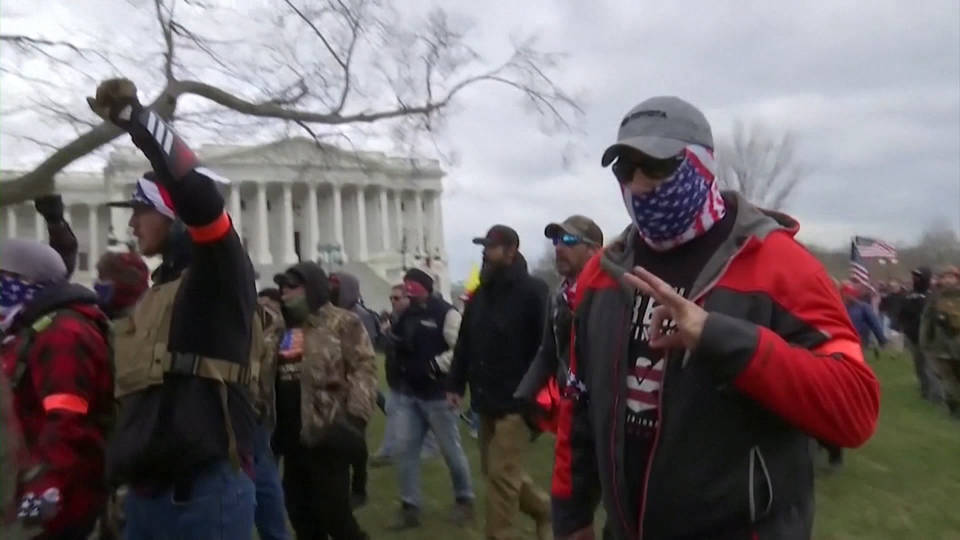 A jury in Washington, D.C., has convicted four members of the far-right group Proud Boys of seditious conspiracy and other felonies for their role in the January 6 Capitol insurrection and for attempting to keep Donald Trump in power after the 2020 election. The Proud Boys verdict is seen as a major victory for the Justice Department. During two previous trials, six members of another far-right group, the Oath Keepers, were also convicted of sedition. We'll have more on the Proud Boys after headlines.
Clarence Thomas Failed to Disclose Tuition Payments from Billionaire GOP Donor Harlan Crow
May 05, 2023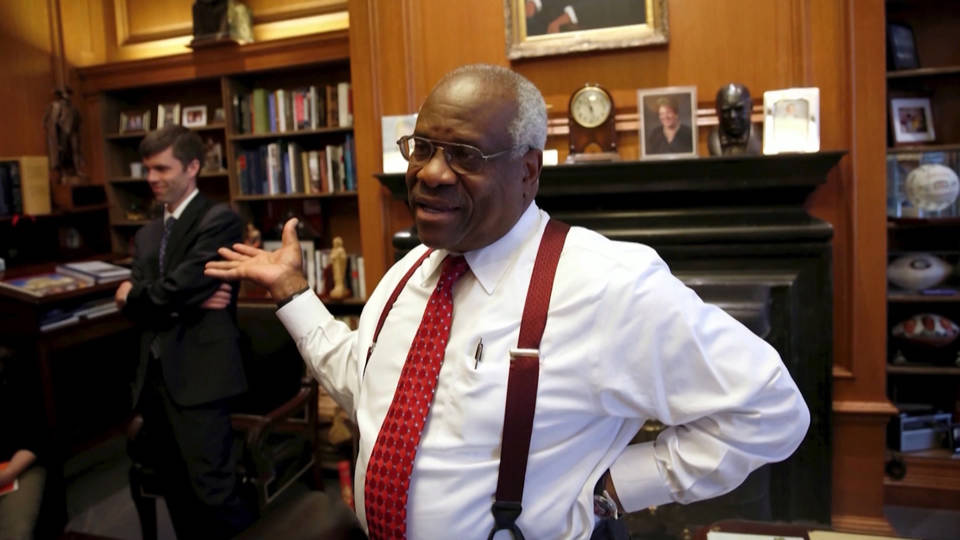 ProPublica reports billionaire Republican donor Harlan Crow paid two years of private school tuition for the grandnephew of Supreme Court Justice Clarence Thomas, who failed to report the payments on his annual financial disclosures. Tuition at the Hidden Lake Academy in Georgia cost over $6,000 a month. ProPublica previously reported Crow also paid money to Thomas and his relatives in an undisclosed real estate deal, and that Thomas accepted luxury travel from Crow virtually every year for decades, while failing to follow a federal law that requires him to publicly report most gifts.
Eight People, Including 6 Teachers, Killed in Pakistan Shootings
May 05, 2023
In Pakistan, at least eight people were killed in two separate shootings in the town of Kurram Thursday. Gunmen stormed a government school, opening fire and fatally shooting five teachers and two construction workers. Another teacher was killed after their vehicle was ambushed on a nearby road. No one has claimed responsibility for the attacks.
Serbia Pledges Gun Controls After Two Mass Shootings in Two Days Claim 17 Lives
May 05, 2023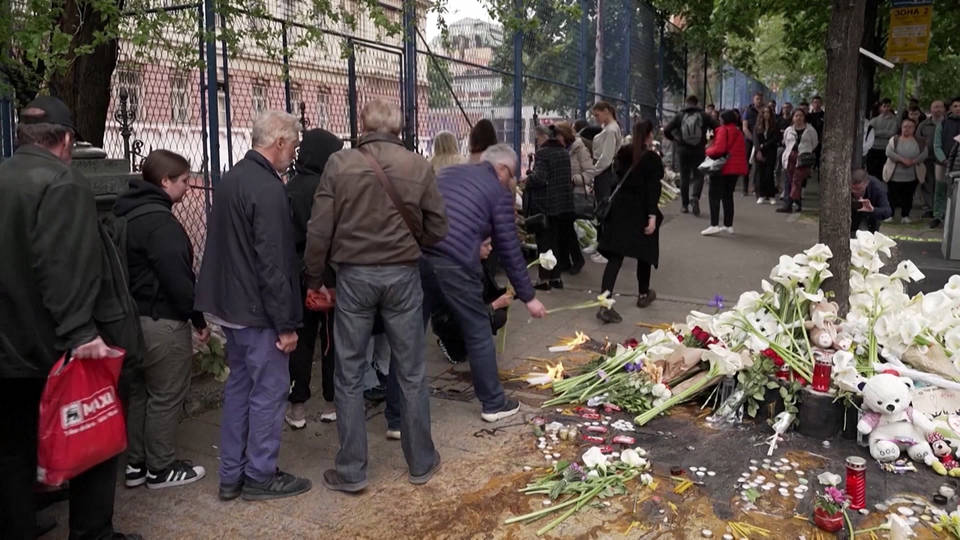 In Serbia, President Aleksandar Vučić has vowed to completely disarm the country after at least eight people were killed in a mass shooting near the town of Mladenovac Thursday. The suspect opened fire from his moving vehicle. He was arrested earlier today. The latest massacre came just one day after a 13-year-old boy went on a rampage at a school in the capital Belgrade, killing eight students and a school guard. The boy was using guns that belonged to his parents, who have both been arrested. The attacks have sent shock waves through the Balkan nation, where mass shootings are extremely rare; the last one happened in 2013. Hours before Thursday's shooting, protesters gathered outside the Education Ministry in Belgrade demanding justice for the school shooting victims.
Marija Mitrovic: "I am sincerely sorry that Serbia is now on a list of countries where things like this happen. … And it has changed the feeling of going to school for all children and everyone who works there. Some mothers had to send their kids back to class today. How can they explain to children that they can safely go to school? How can we explain it to them? There are no words for something like this."
Though Serbia has strict gun control laws, thousands of illegal weapons flooded the streets following the Balkan Wars in the 1990s.
Shootings in Georgia and Oklahoma Add to Staggering U.S. Gun Violence Toll
May 05, 2023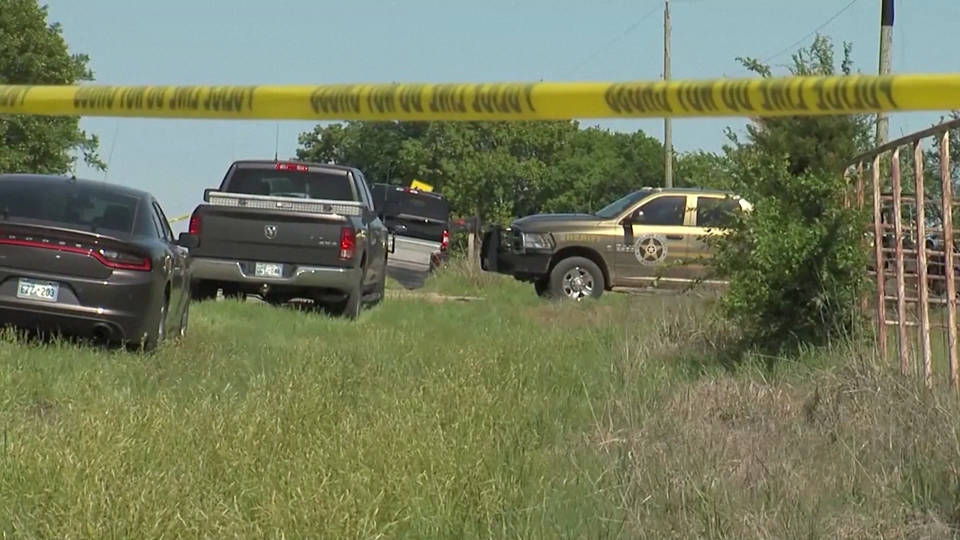 Back in the United States, in Georgia, at least three people were killed in two separate shootings Thursday. A gunman is accused of killing his mother and grandmother at their homes and a McDonald's store manager in Moultrie. The suspect then took his own life. This came a day after another shooting in Atlanta left at least one person dead and four injured.
In Oklahoma, authorities said Wednesday they found the bodies of seven people at a home in Henryetta. A man who was convicted of rape and was facing a child sex abuse trial is suspected of shooting dead his wife, his three children, and two teenage girls who were there for a sleepover, before taking his own life. The youngest victim was 13 years old.
Meanwhile, in California, a former UC Davis student was arrested Thursday in connection with three recent stabbings, including the killings of an unhoused man and another college student. The 21-year-old suspect was charged with murder and attempted murder. The two victims have been identified as David Breaux, who was unhoused and a beloved figure in Davis, and UC Davis senior Karim Abou Najm.
Iowa Rolls Back Child Labor Protections
May 05, 2023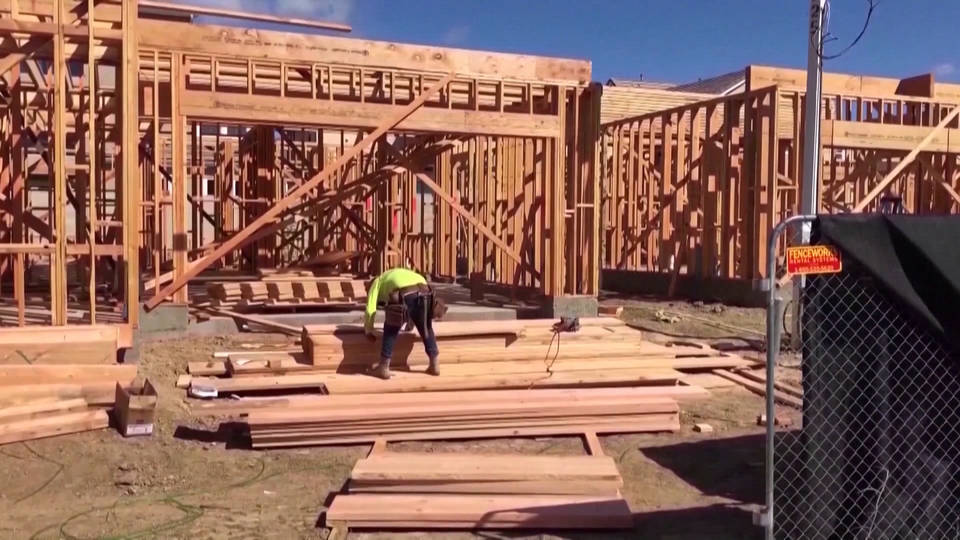 Iowa Republican Governor Kim Reynolds on Thursday pledged to sign a bill rolling back child labor protections. Among other things, the legislation will permit children as young as 14 to work in construction and demolition jobs if a guardian has granted permission.
Bernie Sanders Calls for $17 Minimum Wage, 32-Hour Workweek
May 05, 2023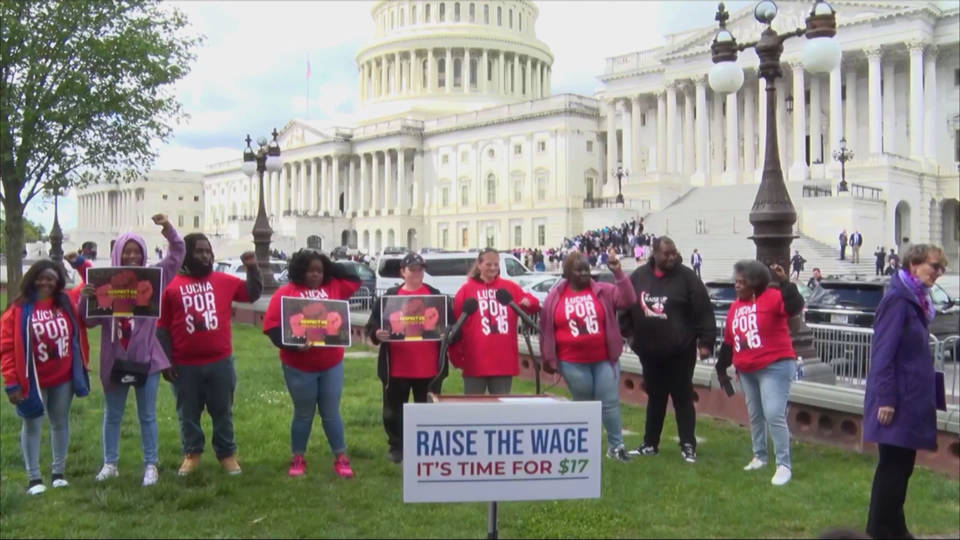 In Washington, D.C., Vermont independent Senator Bernie Sanders called Thursday for a 32-hour workweek with no pay cuts for U.S. workers. Senator Sanders also said he'll introduce legislation to more than double the federal minimum wage — from $7.25 to $17 an hour.
Sen. Bernie Sanders: "In the year 2023, in the richest country in the history of the world, nobody should be forced to work for starvation wages. That's not a radical idea. If you work 40, 50 hours a week, you should not be living in poverty. It is time to raise the minimum wage to a living wage."