Police Arrest Anti-Monarchy and Environmental Protesters at Coronation of King Charles
May 08, 2023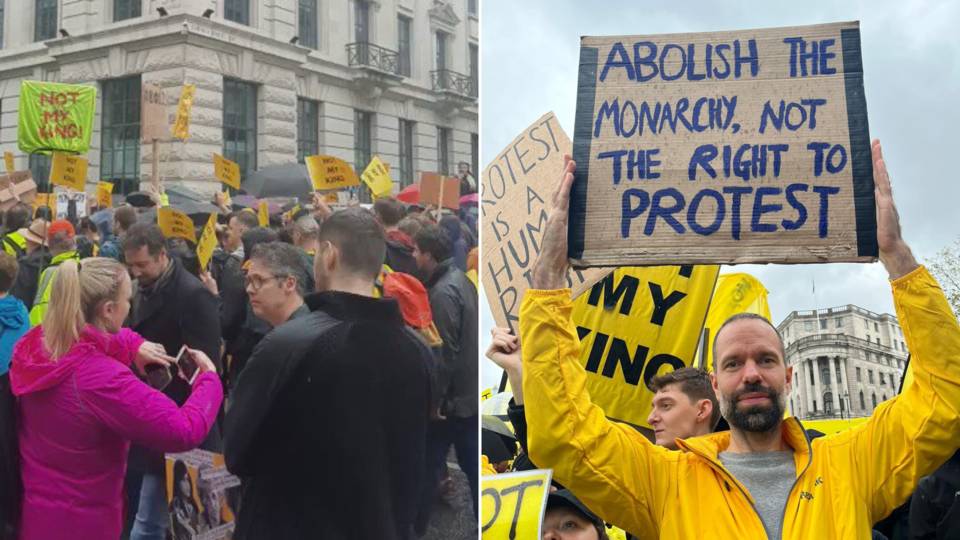 Image Credit: Republic
In Britain, thousands of guests packed into Westminster Abbey Saturday to witness the coronation of King Charles. Outside the ceremony, police cracked down on protesters, arresting at least 52 people. Activists from the anti-monarchy group Republic say their leader and other members were detained even before they started protesting. Environmentalists with Just Stop Oil and other groups were also arrested. Demonstrators condemned laws suppressing public protest, the monarchy's colonial history and its anti-democratic nature.
Protester: "Our intention is to show that there is a republican movement in the U.K., and it is growing every single day. The trends show more and more people dislike the monarchy and want an elected head of state, or no head of state, or a democratic alternative to what we have now."
9 Workers Hospitalized from Massive Fire at Shell Petrochemical Plant in Deer Park, TX
May 08, 2023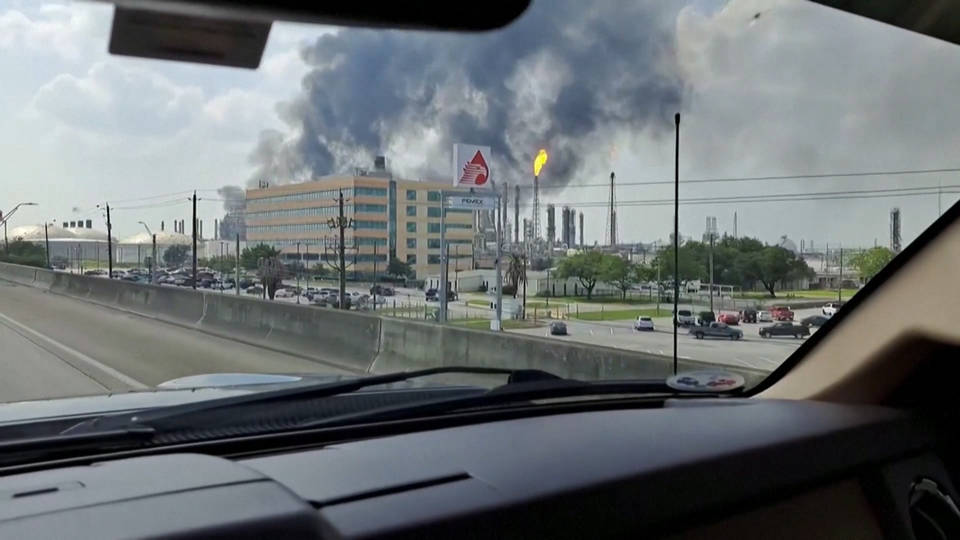 In Deer Park, Texas, nine workers were hospitalized after a Shell petrochemical plant exploded on Friday, spawning a massive fire that burned throughout the weekend. According to the Climate Justice Alliance, about 40% of U.S. residents live within a three-mile radius of high-risk chemical facilities, where they face the threat of leaks, spills and explosions. A disproportionate share of those at high risk are from communities of color.
Over 400 Killed in DRC Flooding as U.N. Chief Points to Climate Change
May 08, 2023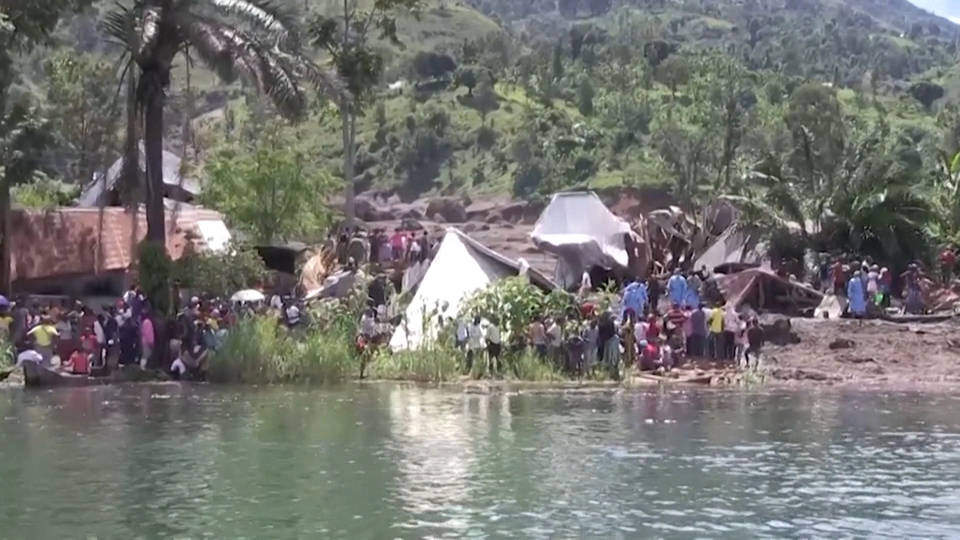 In the Democratic Republic of Congo, over 400 people were killed and entire villages were wiped away after torrential rains on Thursday led rivers to burst their banks in South Kivu province. A head of a local civil society organization said his group is appealing for whatever help they can get, as many people have lost everything.
Martin Ngonyozi: "People are sleeping out in the open. There are schools that have been washed away. We do not know how our students will study. There are hospitals that have been taken away."
The tragedy comes just days after floods killed at least 136 people in neighboring Rwanda. While visiting the region, U.N. Secretary-General António Guterres offered his condolences and said, "This is yet another illustration of accelerating climate change and its disastrous impact on countries that have done nothing to contribute to global warming." During his talk in Burundi, Guterres also called for a halt to violence in the DRC.
Secretary-General António Guterres: "I renew my call for deescalation, appeasement and restraint of armed groups, whether local or foreign. They must lay down their arms in the DRC."
Ethnic Conflict Kills Dozens While Tens of Thousands Flee Indian State of Manipur
May 08, 2023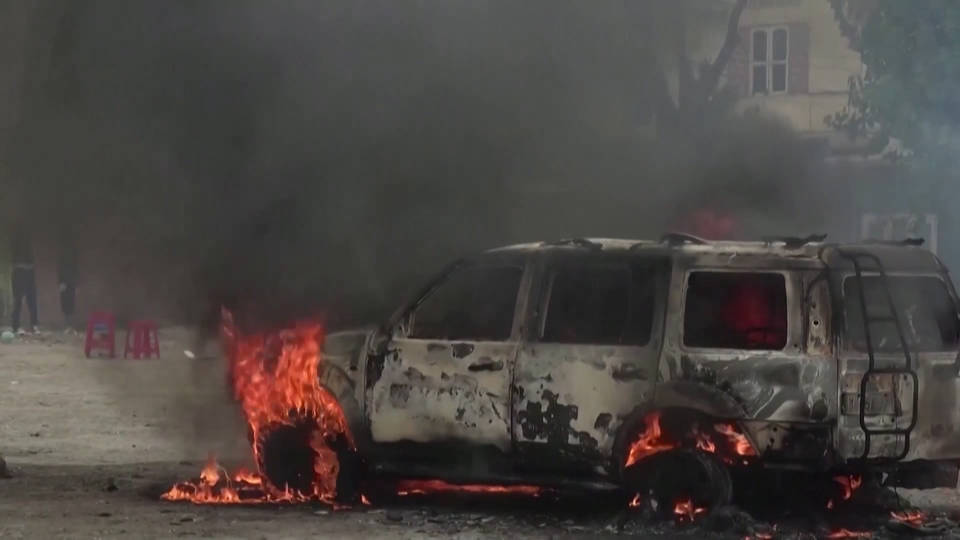 In the northeastern Indian state of Manipur, as many as 55 people have been killed, hundreds more injured, and tens of thousands have fled since fighting broke out between two ethnic groups last Wednesday. The clashes were triggered by a dispute over the state's largest ethnic group, which is seeking a special tribal designation that would grant members certain benefits including access to colleges, government jobs and elected positions.
Texas Gunman Kills 8 People, Including Children, at Dallas-Area Shopping Mall
May 08, 2023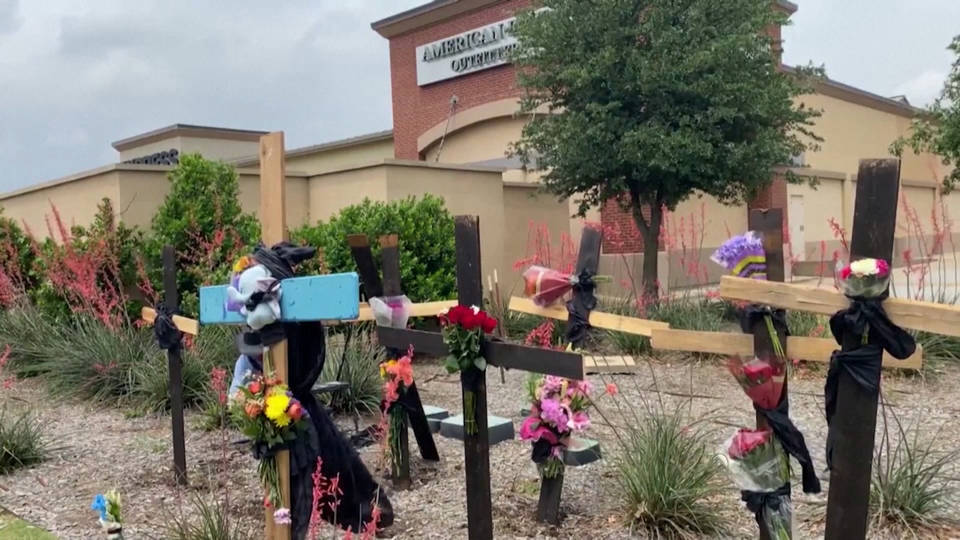 In Texas, a man armed with a semiautomatic rifle killed eight people and injured seven others Saturday at a suburban shopping mall outside Dallas before he was shot dead by a police officer. Hospitals treated victims as young as 5 and as old as 61. Among the dead were Christian LaCour, a 20-year-old security guard at the mall, and Aishwarya Thatikonda, a 27-year-old engineer from India whose fiancé was injured and had two bullets removed from his body. One young boy was found alive beneath the body of his mother, who died protecting him. Over 100 spent shell casings were recovered from the scene.
Authorities haven't yet cited a motive but are investigating whether the 33-year-old gunman had ties to white supremacist groups. He wore tactical gear and a patch on his chest reading "RWDS," for "Right Wing Death Squad," a slogan popular among neo-Nazis. As Texas Governor Greg Abbott spoke Sunday at a prayer vigil in Allen, protesters outside demanded reforms to gun laws.
Driver Plows SUV into Migrants in Brownsville, Texas, Killing Eight People
May 08, 2023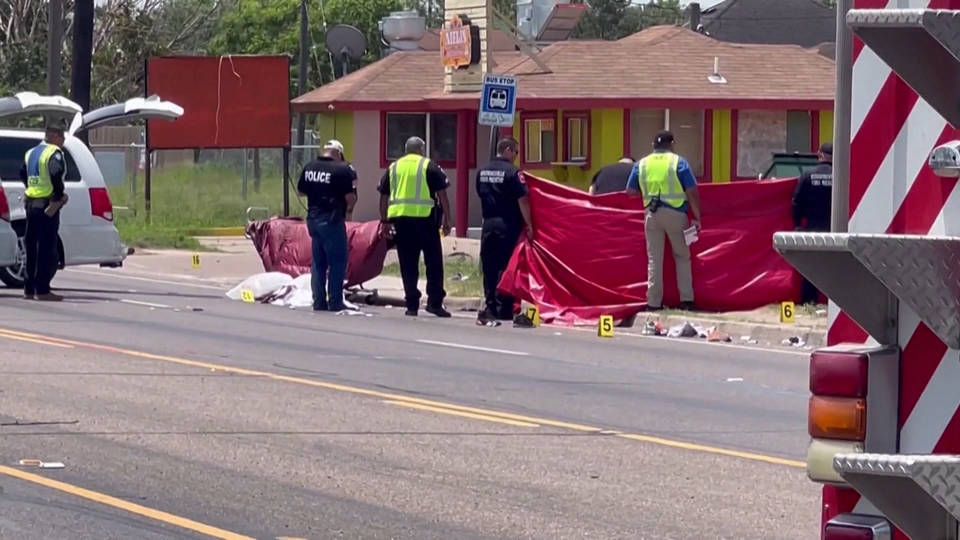 In Brownsville, Texas, eight people were killed and at least 10 others injured Sunday after an SUV plowed into a group of pedestrians gathered at a bus stop near a shelter for migrants and unhoused people not far from the U.S.-Mexico border. The driver was treated for injuries and arrested for reckless driving, though is likely to face additional charges. Investigators say the driver is refusing to identify himself and is not cooperating with their probe into whether the killings were intentional. At least one witness reported the driver gestured at and insulted migrants as his car plowed into them. An unidentified witness reflected on the journey taken by migrants who were injured in the crash.
Witness: "We hope they will recover, because they have families far away who count on them. We crossed mountains, marched and passed migration. It was a long way to come here, and we fought hard."
The ACLU of Texas noted the crash followed weeks of escalating anti-immigrant policymaking by Texas lawmakers, and while the Biden administration considers imposing a new ban on the right to seek asylum in the U.S. when the Trump-era Title 42 policy ends on Thursday. In a statement, the ACLU added, "President Biden, Texas Gov. Abbott, and other elected officials continue to spread fear about immigration instead of treating the needs of people crossing the border as a humanitarian matter."
IDF Kills 2 Palestinians, Razes West Bank School as Dems Push Bill to Stop Funding Israeli Violence
May 08, 2023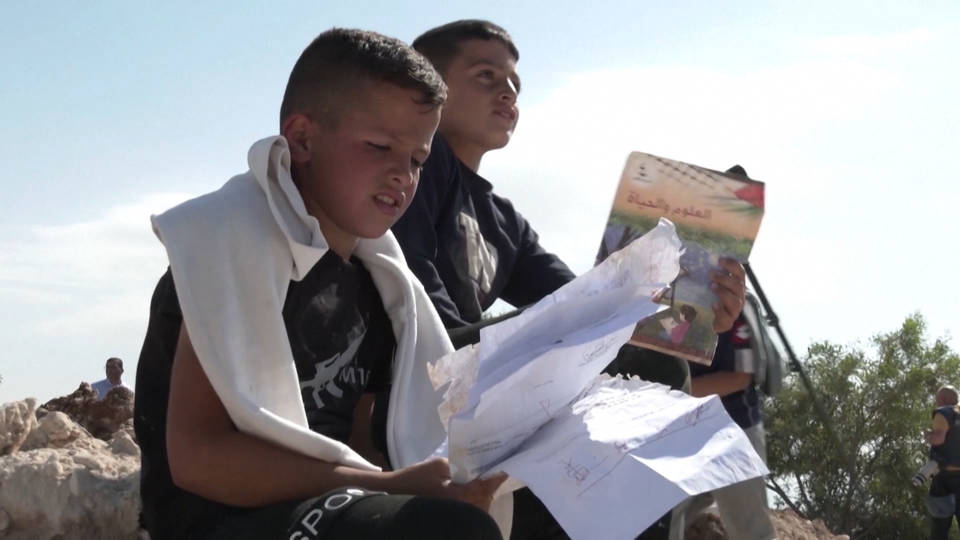 In the occupied West Bank, Israeli soldiers shot and killed two more Palestinian men Saturday, both 22 years old, during a raid on a refugee camp near the city of Tulkarem. Elsewhere in the West Bank, Israeli forces demolished a Palestinian elementary school in the village of Jabbet al-Dhib, near Bethlehem, Sunday. The European Union, which funded the school, condemned its destruction and called on Israel to halt all demolitions and evictions. This is student Mohammed Ibrahim.
Mohammed Ibrahim: "We got ready to come to school. And when we arrived, we didn't find the school. We want a school today. We want to study. If the Israeli forces will keep demolishing, we will keep building. We want to study at our school. It was a nice school. We want another one."
Here in the U.S., Minnesota Democratic Congressmember Betty McCollum reintroduced a bill Friday that would bar U.S. aid to Israel from being used to detain Palestinian children, as well as military activities that lead to the "further unilateral annexation" of the occupied West Bank. The bill is backed by 17 Democrats.
Meanwhile, the World Food Programme says it will suspend food aid to over 200,000 Palestinians starting next month because of funding shortages.
Arab League Readmits Syria After 12-Year Suspension
May 08, 2023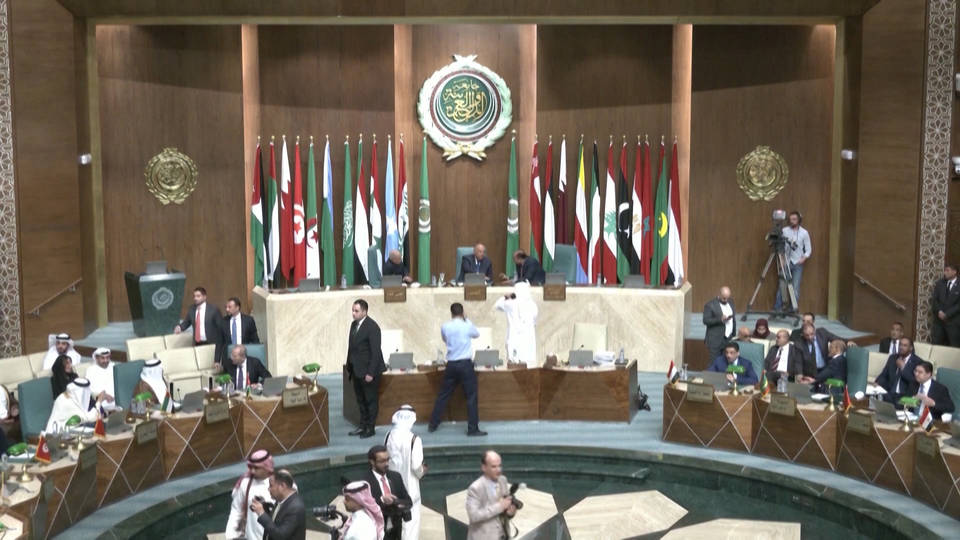 Members of the Arab League moved to readmit Syria after 12 years of suspension during a meeting in Cairo Sunday. It's the latest push to reestablish ties between Arab nations and Damascus, after Syria's Arab League membership was revoked in 2011 following President Bashar al-Assad's violent crackdown on protesters that drove the country into a devastating civil war, killing an estimated half-million people and displacing millions more. This is Ahmed Aboul Gheit, secretary-general of the Arab League.
Secretary-General Ahmed Aboul Gheit: "The return of Syria is the beginning of a movement, not an end. The direction of the resolution to the crisis in Syria will take time for procedures to be implemented, and it will be gradual. The task of this committee is to follow up on those procedures. Also, it is not a decision to resume relationships between Arab states and Syria. This is a sovereign decision left for every country to take on its own."
Right-Wing Parties Win Majority of Seats on Commission to Rewrite Chile's Constitution
May 08, 2023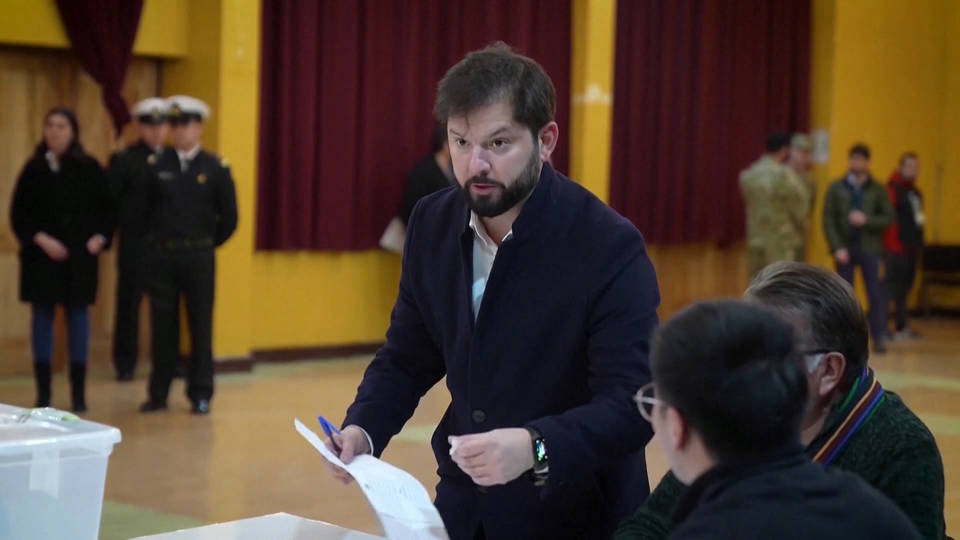 In Chile, right-wing parties have won a majority of seats on a 50-member commission tasked with rewriting the nation's Pinochet-era constitution. Sunday's vote was another defeat for President Gabriel Boric, after voters last September rejected a proposed progressive constitution that would have expanded rights for Indigenous peoples and abortion seekers, guaranteed universal healthcare and addressed the climate crisis.
Supreme Court Grants Indefinite Stay of Execution to Oklahoma Prisoner Richard Glossip
May 08, 2023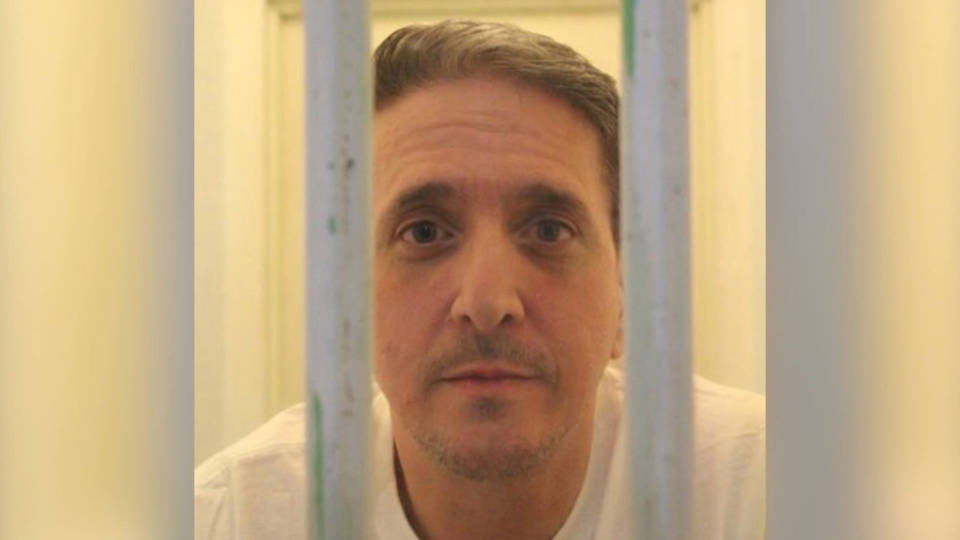 The Supreme Court on Friday granted an indefinite stay of execution for Oklahoma prisoner Richard Glossip, who had been scheduled to be put to death May 18. This comes after Oklahoma's attorney general and Glossip's defense team filed a joint motion to halt the execution. Glossip has maintained his innocence in the 1997 murder-for-hire for the past quarter-century. Later in the show, we'll talk to his spiritual adviser, anti-death penalty activist Sister Helen Prejean.
Pennsylvania Man Gets 14+ Years in Prison for Assaulting Police at Jan. 6 Insurrection
May 08, 2023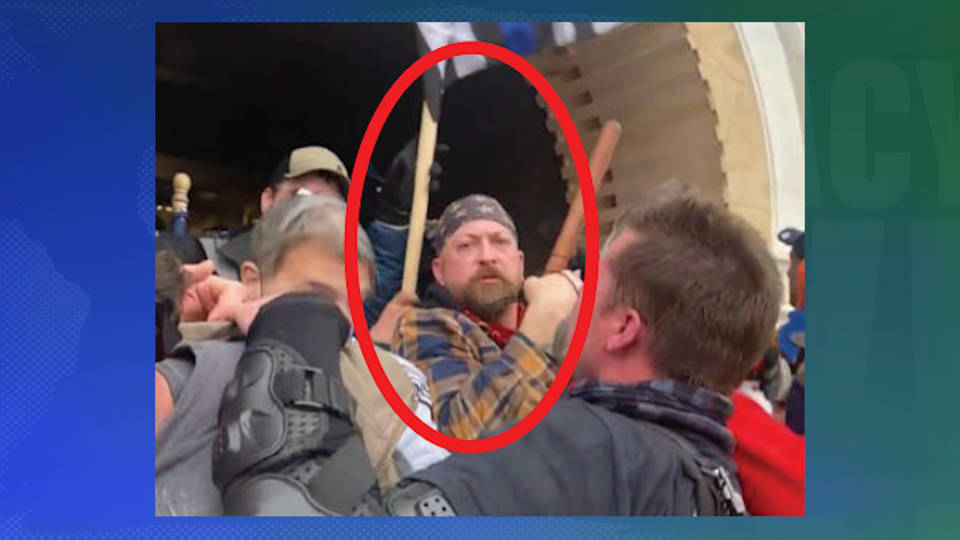 In Washington, D.C., Peter Schwartz, a Pennsylvania man who pepper-sprayed officers and threw a chair at them during the January 6 Capitol insurrection, was sentenced Friday to more than 14 years in prison. It's the longest sentence yet for a Capitol rioter.