New York AG Sues Donald Trump and His Children for "Staggering" Financial Fraud
Sep 22, 2022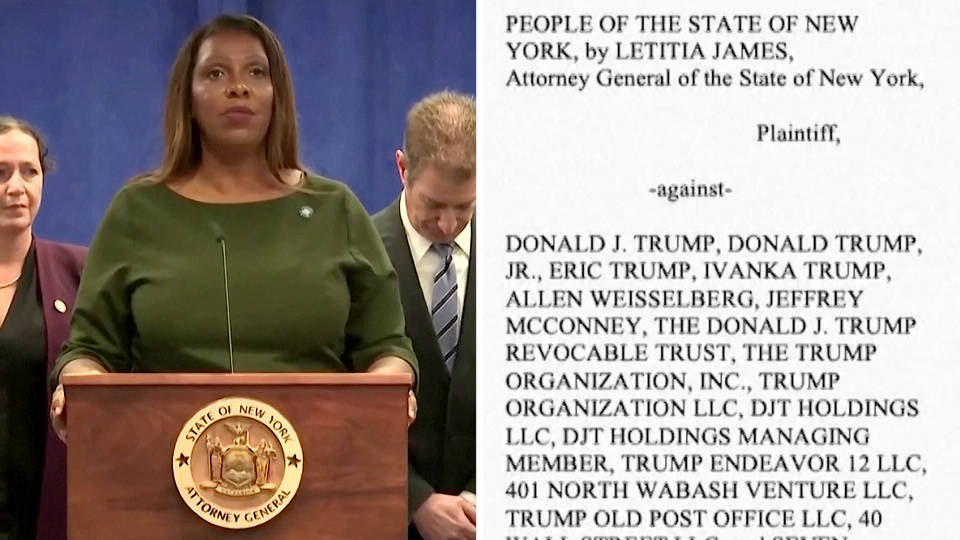 New York's attorney general has sued Donald Trump, three of his adult children and other executives at the Trump Organization, accusing them of widespread financial fraud. Letitia James announced the charges on Thursday, saying that for over a decade the Trumps "grossly" inflated their business's net worth by billions of dollars, while deceiving lenders, insurers and tax officials with false and misleading financial statements. James's civil lawsuit seeks a quarter-billion dollars in penalties and to bar the Trumps from operating a business in New York. James is also sharing her findings with the Manhattan District Attorney's Office, the IRS and the Department of Justice to aid any future criminal prosecutions of the Trumps.
bq. Attorney General Letitia James: "The pattern of fraud and deception that was used by Mr. Trump and the Trump Organization for their own financial benefit is astounding. … Claiming you have money that you do not have does not amount to the art of the deal. It's the art of the steal. And there cannot be different rules for different people in this country or in this state, and former presidents are no different."  Donald Trump
Appeals Court Will Allow DOJ to Resume Use of Documents Seized at Trump's Mar-a-Lago
Sep 22, 2022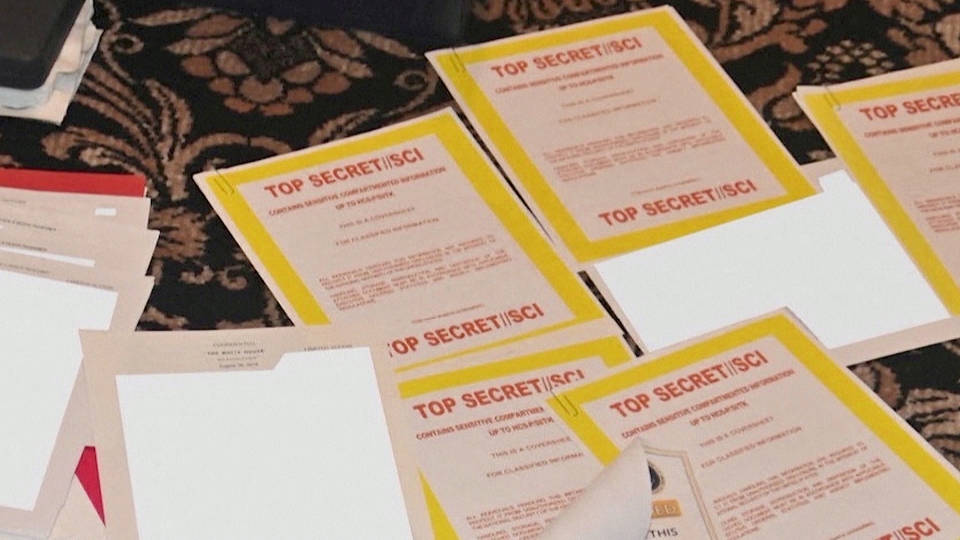 A federal appeals court has ruled the Justice Department can resume its use of records marked as "classified" in its investigation of former President Trump's mishandling of government documents. The ruling is a major setback for Trump in his efforts to derail a federal criminal probe into whether he violated the Espionage Act and presidential records laws — and whether he obstructed justice to cover up those crimes. On Wednesday, a three-judge panel of the 11th Circuit Court of Appeals rejected key parts of an order by Federal District Judge Aileen Cannon that put the DOJ's investigation on hold while a special master reviews the documents. Judge Cannon was nominated to the federal bench by Trump.
On Wednesday, Donald Trump gave his first TV interview since the FBI executed a search warrant at his Mar-a-Lago resort in August. Trump told Fox News there doesn't have to be a process by which presidents declassify secret materials.
Donald Trump: "If you're the president of the United States, you could declassify just by saying it's declassified, even by thinking about it."
Ginni Thomas Agrees to Be Questioned by Jan. 6 Committee
Sep 22, 2022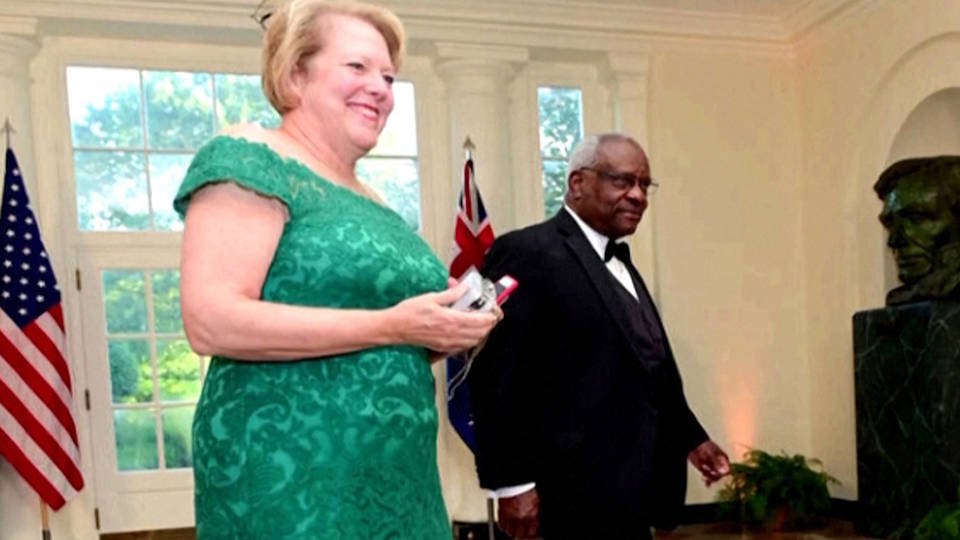 The House select committee investigating the January 6 Capitol insurrection says it's reached an agreement with Ginni Thomas — a far-right activist and wife of Supreme Court Justice Clarence Thomas — to have her testify. In the weeks following the November 2020 election, Ginni Thomas sent a flurry of text messages to Trump's chief of staff, Mark Meadows, urging him to take action to prevent a Biden victory. The messages included conspiracy theories popularized by the far-right QAnon movement. Thomas also attended the so-called Stop the Steal rally in Washington, D.C., that preceded the January 6 assault on Congress, and she lobbied dozens of Republican lawmakers in Wisconsin and Arizona to overturn Joe Biden's Electoral College victory. The House committee is expected to hold its last public hearing on Wednesday, September 28.  U.S. Capitol Insurrection
203 Republicans Vote "No" as House Approves Bill to Prevent Stolen Elections
Sep 22, 2022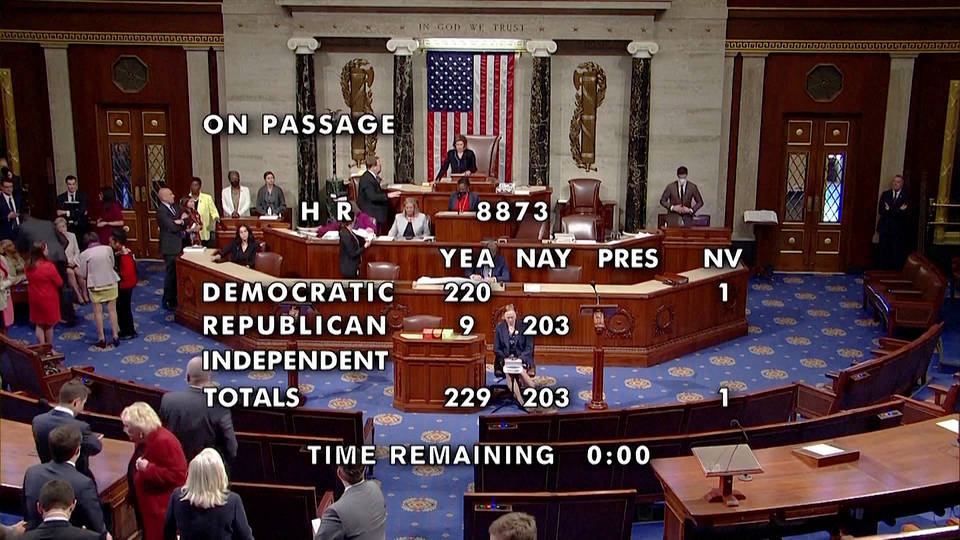 The House of Representatives has approved a bill to reform the Electoral Count Act in an effort to prevent a repeat of January 6, 2021. The legislation clarifies that the vice president has no power to overturn the votes cast by the Electoral College. It would also make it harder for lawmakers to object to a state's electoral votes. Two hundred three House Republicans voted to reject the bill, prompting Democrats to accuse them of siding with insurrectionists. This is Democratic House Speaker Nancy Pelosi.
Speaker Nancy Pelosi: "To all those who oppose this legislation, I ask you: How could anyone vote against free and fair elections, a cornerstone of our Constitution?"
Nearly 1,400 Arrested as Antiwar Protests Erupt Across Russia
Sep 22, 2022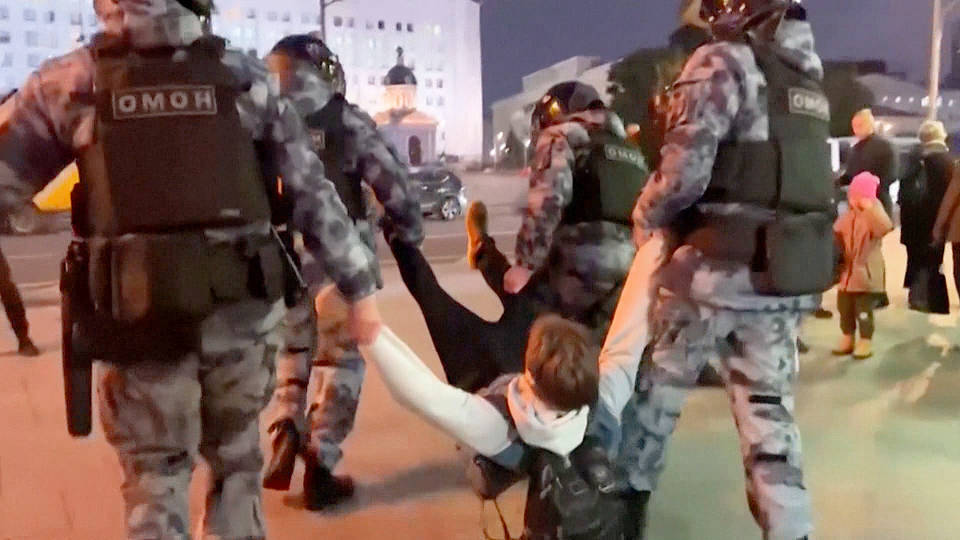 In Russia, protests erupted in Moscow, Saint Petersburg and at least three dozen other cities Wednesday after President Vladimir Putin announced plans to mobilize 300,000 additional troops to fight in Ukraine.
bq. Protesters: "Nyet voinye! Nyet voinye! Nyet voinye!"
In Moscow, demonstrators chanting "Nyet voinye!" or "No to war!" were met by officers in riot gear, who dragged them into police buses. A Russian human rights monitor says similar scenes played out across 38 Russian cities as police arrested nearly 1,400 people Wednesday.
Russia and Ukraine Agree to Swap Prisoners
Sep 22, 2022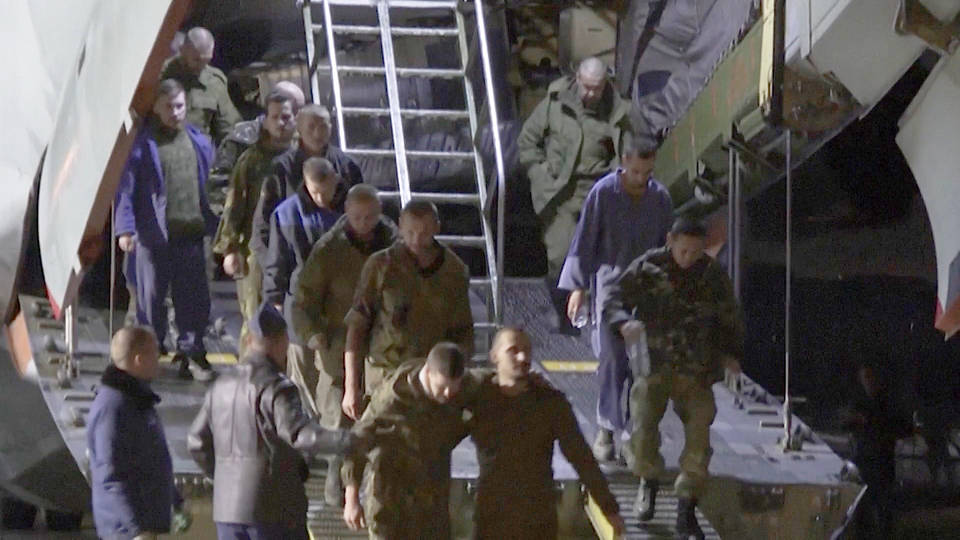 Russia and Ukraine have agreed to a swap that will see 215 Ukrainian prisoners of war released in exchange for 55 prisoners held by Kyiv, including a Ukrainian businessman and ally of Russian President Vladimir Putin. Among those set to be released are members of Ukraine's Azov Regiment, which fought a weeks-long battle against Russia in the city of Mariupol before finally surrendering in May.
Meanwhile, Russian-backed separatists in eastern Ukraine have released two U.S. citizens and eight other foreign nationals as part of a complex prisoner exchange. The deal was brokered by Saudi Crown Prince Mohammed bin Salman and Turkish President Recep Tayyip Erdogan.
At U.N. General Assembly, Biden and Zelensky Condemn Russia's Invasion of Ukraine
Sep 22, 2022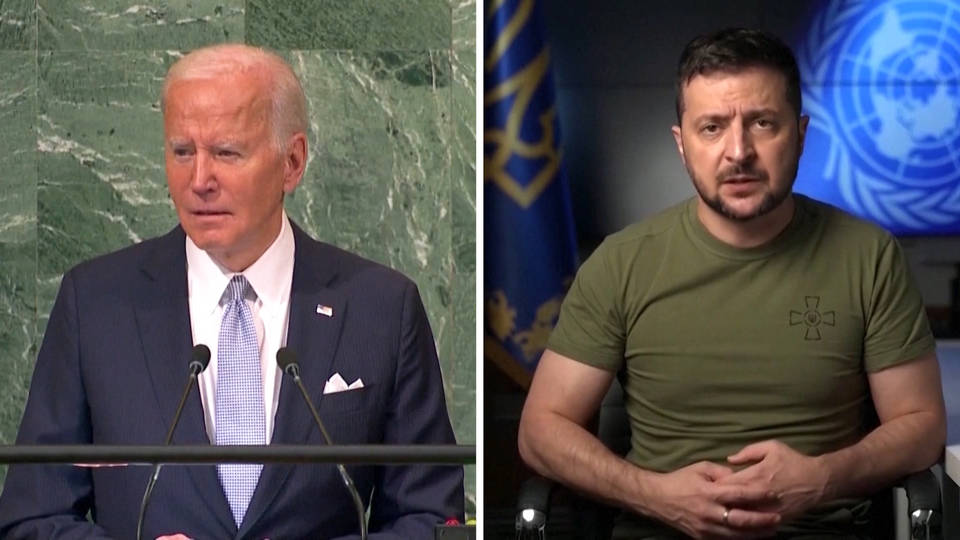 Here in New York, President Biden addressed the United Nations General Assembly on Wednesday, calling on nations to give more weapons and aid to Ukraine, while condemning Vladimir Putin's invasion as a threat to the U.N. Charter and to democracy.
President Joe Biden: "Because if nations can pursue their imperial ambitions without consequences, then we put at risk everything this very institution stands for. Everything."
Ukrainian President Volodymyr Zelensky also addressed the General Assembly, saying in a rare video address, "A crime has been committed against Ukraine, and we demand just punishment."
Senate Votes to Phase Out Use of Refrigerants That Contribute to Climate Crisis
Sep 22, 2022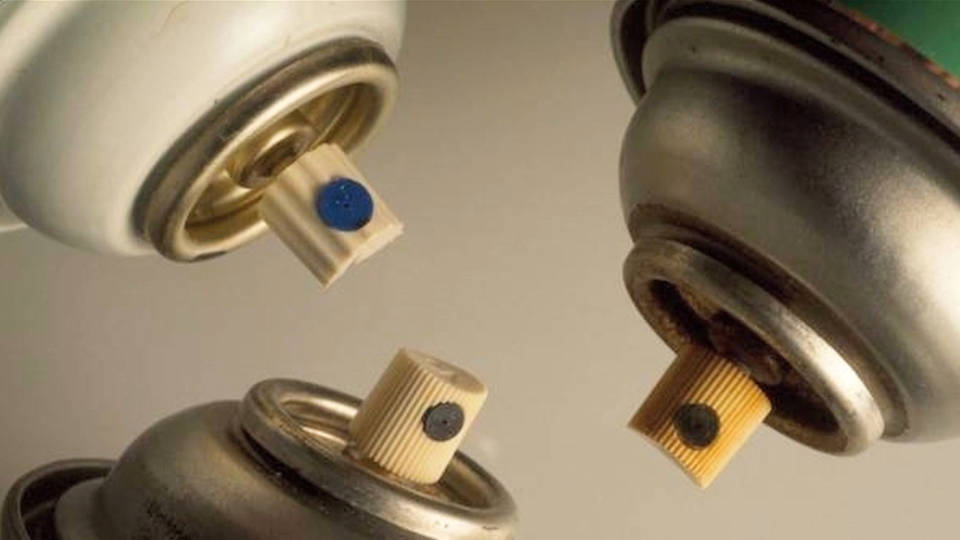 The U.S. Senate has ratified an amendment to an international treaty that seeks to phase out the use of hydrofluorocarbons, or HFCs, chemicals commonly used in refrigerators and air conditioners that contribute to the climate emergency. HFCs emerged as a popular substitute to fluorocarbons, which are largely banned under the Montreal Protocol, a 1987 treaty to end the use of chemicals that deplete the Earth's protective ozone layer. But HFCs are extremely potent greenhouse gases, trapping heat in the atmosphere about a thousand times more effectively than carbon dioxide. On Thursday, 69 senators voted to amend the Montreal Protocol to phase out the use of HFCs. Senate Democratic Majority Leader Chuck Schumer celebrated the move.
Majority Leader Chuck Schumer: "Experts say that phasing out our use of HFCs will help prevent up to half a degree Celsius of warming by the end of the century. … Ratifying the Kigali Amendment, along with passing the Inflation Reduction Act, is the strongest one-two punch against climate change any Congress has ever undertaken."
Democratic Sen. Joe Manchin Unveils Bill to Speed Permitting of Energy Projects
Sep 22, 2022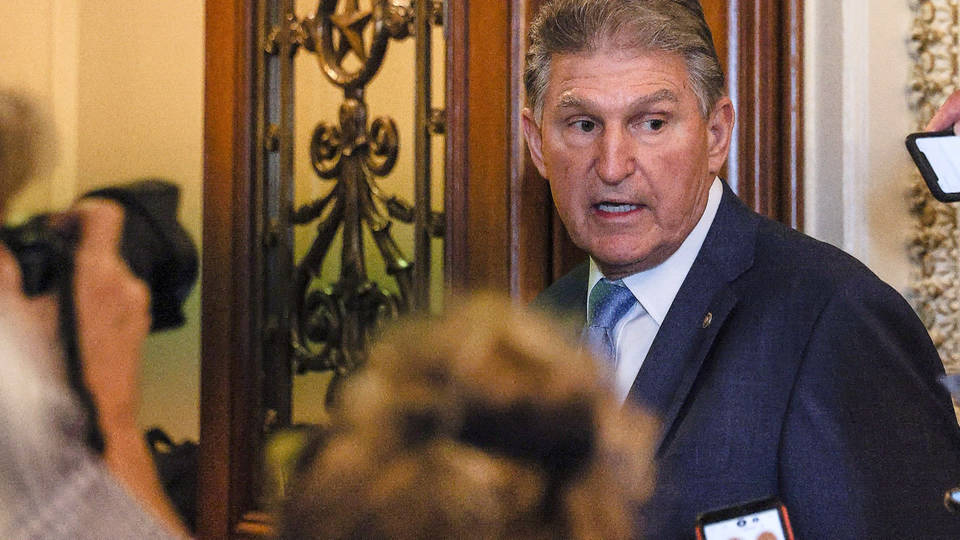 Image Credit: Leah Millis/Reuters
Democratic Senator Joe Manchin has unveiled a bill that would speed federal review of energy projects. The legislation would shorten public comment periods on proposed fossil fuel projects, while weakening environmental and public health laws. It would also fast-track approval of the Mountain Valley Pipeline, which would carry fracked gas across Manchin's home state of West Virginia. Food & Water Watch blasted the legislation as a "shameless handout to the fossil fuel industry — a green light for oil and gas companies to keep on digging, drilling, fracking, and polluting."  West Virginia
Ex-Minneapolis Cop Thomas Lane Gets Three Years in Prison for Manslaughter of George Floyd
Sep 22, 2022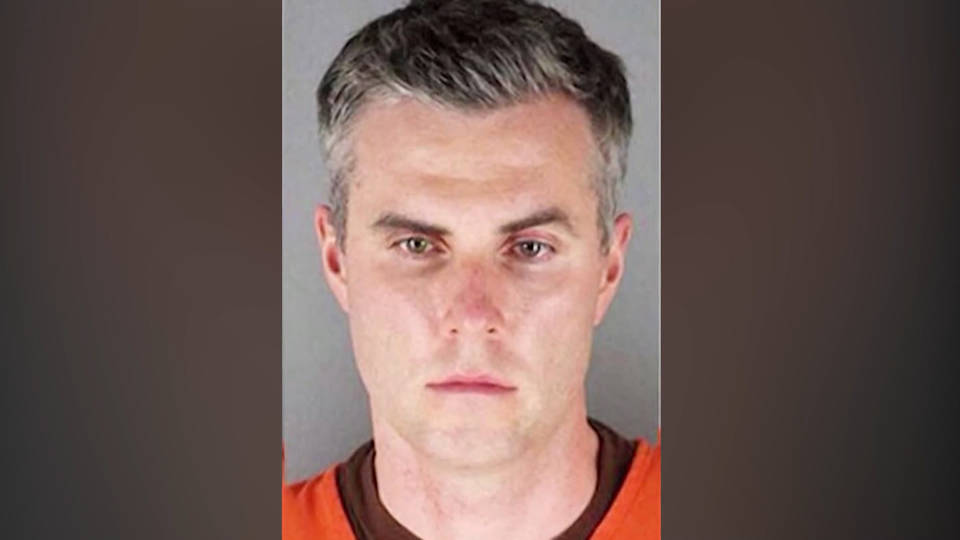 The former Minneapolis police officer who pinned George Floyd's legs to the pavement while fellow officer Derek Chauvin choked him to death was sentenced to three years in prison by a Minnesota court on Wednesday. Thomas Lane had pleaded guilty in May to a second-degree manslaughter charge in connection with Floyd's murder in May of 2020. Lane is already serving a 30-month federal prison term for violating Floyd's civil rights.  George Floyd
Progressives Warn Fed's Interest Rate Hikes Will "Throw Millions of Americans Out of Work"
Sep 22, 2022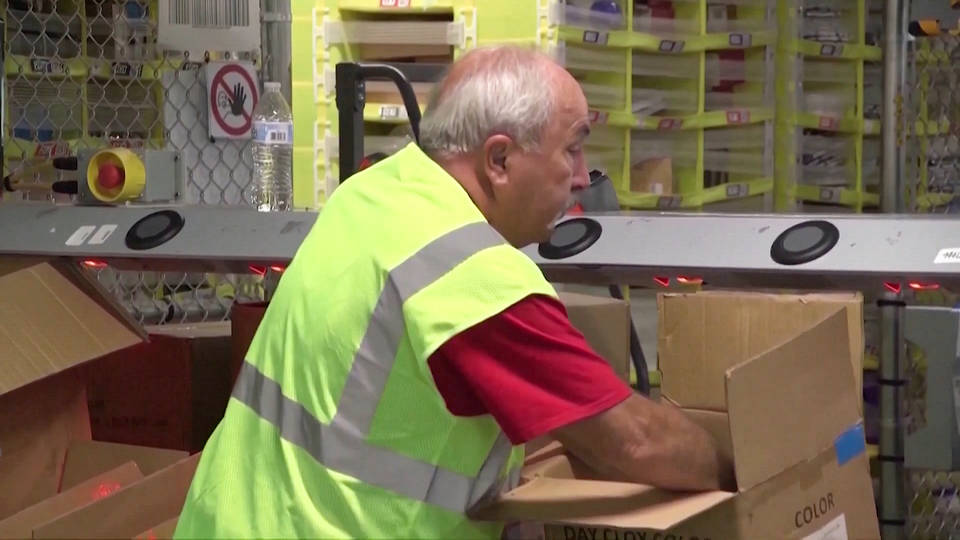 The Federal Reserve has voted to raise U.S. interest rates for the third consecutive time, bringing the cost of borrowing money from the Treasury above 3%. Fed Chair Jerome Powell acknowledged Wednesday that the move could lead the U.S. into a recession, but said the need to battle inflation outpaced the prospect of an economic slowdown. Powell said the U.S. housing market is headed for a "correction," and said U.S. unemployment remains too low, with demand for labor outpacing supply.
Jerome Powell: "The labor market continues to be out of balance, with demand for workers substantially exceeding the supply of available workers."
The Fed's interest rate hikes have prompted fierce criticism from progressives and union leaders. Massachusetts Democratic Senator Elizabeth Warren tweeted, "I've been warning that Chair Powell's Fed would throw millions of Americans out of work — and I fear he's already on the path to doing so."  Federal Reserve