DOJ Called to Investigate Giuliani's Plan to Sell Presidential Pardons
May 17, 2023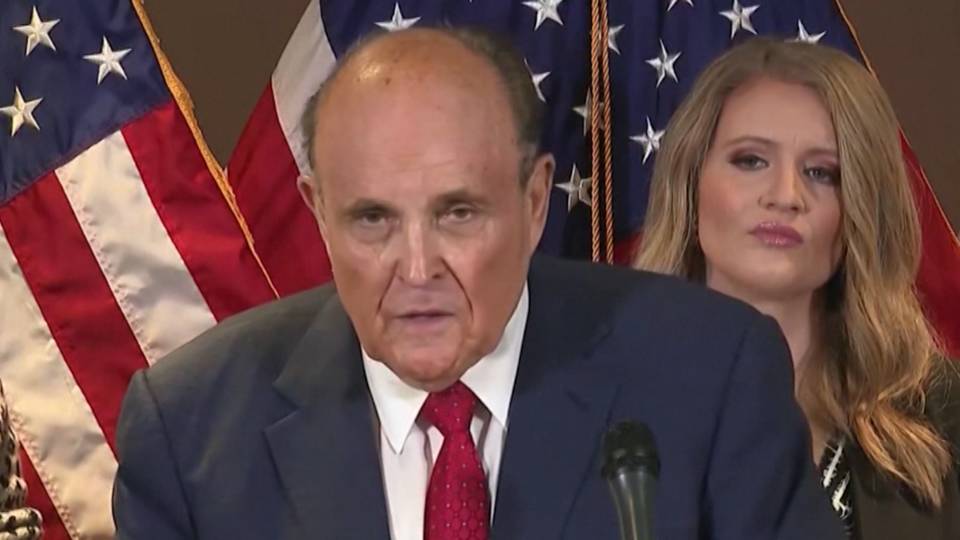 The Justice Department is facing calls to investigate Donald Trump's attorney and former New York City Mayor Rudy Giuliani for allegedly plotting to sell presidential pardons. On Monday, a former associate of Giuliani's, Noelle Dunphy, filed a $10 million lawsuit against him for sexual assault. Dunphy also accused Giuliani of scheming to sell pardons for $2 million, to be split between him and Donald Trump. In 2021, the CIA whistleblower John Kiriakou also revealed an aide to Giuliani had told him a pardon would cost $2 million. Kiriakou appeared on Democracy Now! in 2021 and talked about meeting Giuliani at the Trump Hotel in Washington during the summer of 2020.
John Kiriakou: "One of his aides who was there at the meeting then said to me, 'Rudy doesn't talk about pardons. You have to talk to me. And he's going to ask you for $2 million.' And I laughed. And I said, 'I don't have $2 million.' I said, 'Are you out of your mind? Two million dollars? Why would I spend $2 million to recover a $700,000 pension? That doesn't make any sense.' And I dropped it. But he said that that's what the price was."
Pennsylvania, Kentucky and Florida Hold Elections
May 17, 2023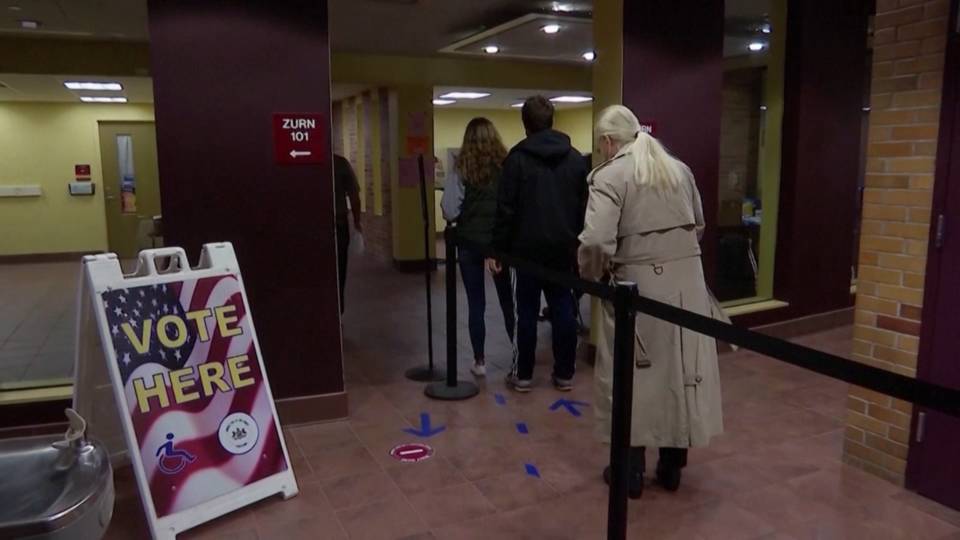 Voters went to the polls Tuesday in Pennsylvania, Kentucky and Florida. Kentucky Attorney General Daniel Cameron, who is a close ally of Mitch McConnell, won the Republican primary for Kentucky governor. He will face Democratic Governor Andy Beshear in November. In Jacksonville, Florida, Democrat Donna Deegan pulled off a shocking upset over her Republican rival to become the city's next mayor. Jacksonville had been the most populous city in the country with a Republican mayor. In Philadelphia, Cherelle Parker won a crowded Democratic mayoral primary. Parker had campaigned in part on hiring more police officers, while embracing the police tactic known as stop-and-frisk. In the heavily Democratic city, Parker appears set to become the first woman and first Black woman to run Philadelphia.
Biden Heads to Hiroshima for G7 Summit, Cutting His Asia Trip Short
May 17, 2023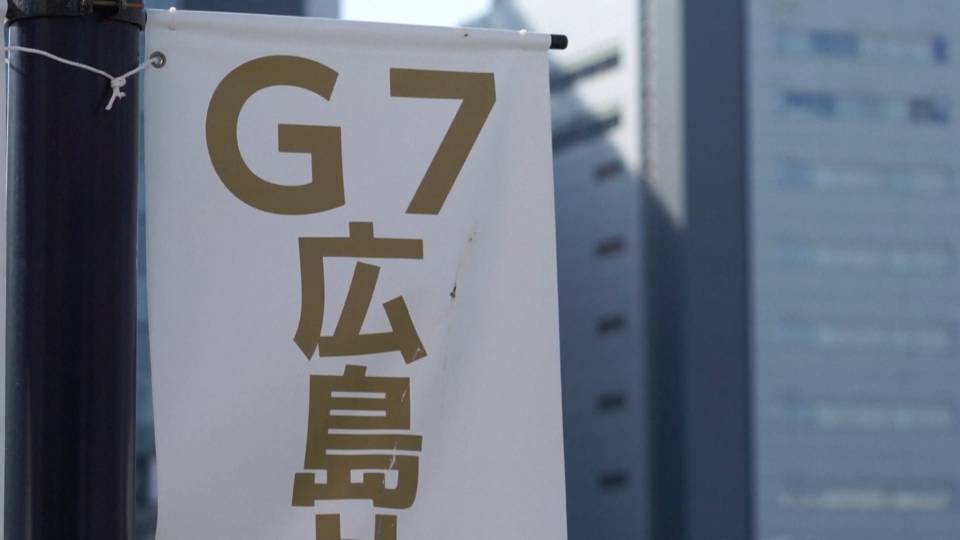 President Biden is flying to Japan today for a meeting of the G7 in Hiroshima. The White House has announced he will return to Washington after the summit instead of going to Papua New Guinea and Australia as planned. Biden was supposed to meet with leaders from Pacific Island nations and the so-called Quad. Biden would have been the first U.S. president to ever visit Papua New Guinea. At the G7, leaders are expected to discuss imposing new sanctions on Russia, including a ban on Russian gas imports through pipelines connecting to Germany and Poland. Biden will become just the second U.S. president, after Barack Obama, to visit Hiroshima, where a U.S. nuclear attack in 1945 killed 140,000 people and seriously injured another 100,000. Ahead of the talks, the Nobel Prize-winning International Campaign to Abolish Nuclear Weapons called on G7 member nations to unequivocally condemn any and all threats to use nuclear warheads, and to sign the Treaty on the Prohibition of Nuclear Weapons. They were joined in their call by survivors of the 1945 U.S. nuclear attack on Hiroshima, including 85-year-old Teruko Yahata.
Teruko Yahata: "I want them, the G7 leaders, to seriously acknowledge the inhumanity of nuclear weapons. These are weapons that can destroy humankind. I want them to strongly feel that these are terrible things and that they have to be abolished."
Chinese Special Envoy Arrives in Ukraine to Push for War to End
May 17, 2023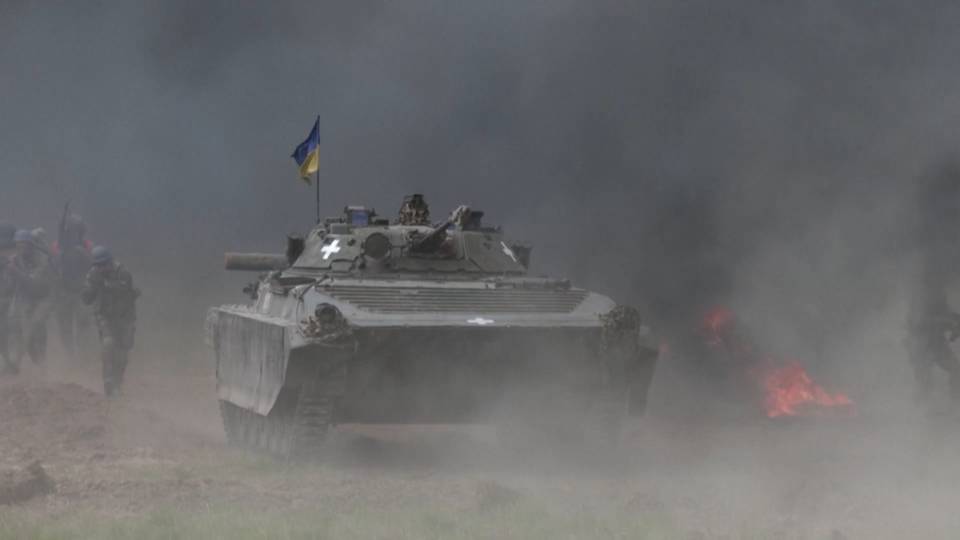 A Chinese special envoy has arrived in Ukraine as part of a Chinese-led effort to end the 15-month-old war. The envoy, Li Hui, is expected to also visit Russia, Poland, France and Germany.
Meanwhile, South African President Cyril Ramaphosa has announced that leaders from six African nations will soon visit Moscow and Kyiv on a peace mission. Ramaphosa said he recently spoke with Russian President Vladimir Putin and Ukrainian President Volodymyr Zelensky.
President Cyril Ramaphosa: "My discussions with the two leaders demonstrated that they are both ready to receive African leaders and to have a discussion on how this conflict can be brought to an end."
In other news on the war, Russia is claiming it has destroyed a U.S.-made Patriot missile defense system in Kyiv that had been used earlier in the week to intercept a barrage of Russian strikes, including six hypersonic missiles. U.S. and Ukrainian officials have admitted the missile defense system had been damaged, but said it was not destroyed.
Meanwhile, the head of Ukraine's Supreme Court has been dismissed after he was detained as part of a probe into corruption and bribery.
Costs of War Project: Post-9/11 Wars Have Resulted in 4.5 Million Deaths
May 17, 2023
A new report from the Costs of War Project at Brown University is estimating at least 4.5 million people have died as a consequence of the wars in Afghanistan, Iraq, Pakistan, Syria, Yemen, Libya and Somalia after the United States launched its so-called war on terror following the September 11 attacks. The report also estimates 7.6 million children are suffering today from acute malnutrition in these countries.
Ecuador: Guillermo Lasso Dissolves National Assembly to Block Impeachment Push
May 17, 2023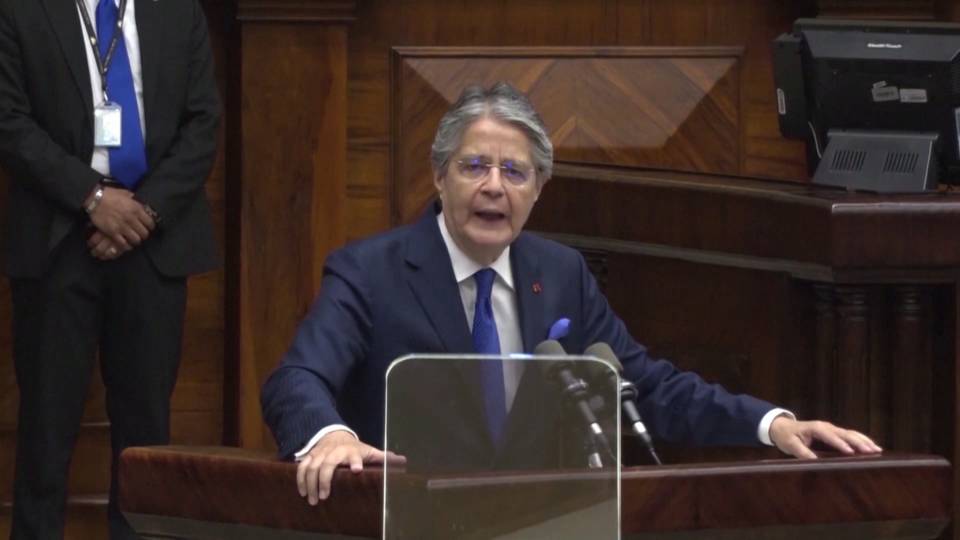 Ecuador's conservative President Guillermo Lasso has dissolved the opposition-led National Assembly, blocking efforts by lawmakers to impeach him amid accusations of corruption and embezzlement in a scheme involving a state-owned oil transportation company. The constitutional power, which had never been used in Ecuador before, allows Lasso to rule by decree until new elections can be held. Lasso made the move a day after Ecuador's National Assembly held its first hearing, where Lasso addressed lawmakers and denied involvement in the scheme, which opponents of Lasso say cost Ecuador millions in losses
Biden Administration Grants Key Permit for Mountain Valley Pipeline
May 17, 2023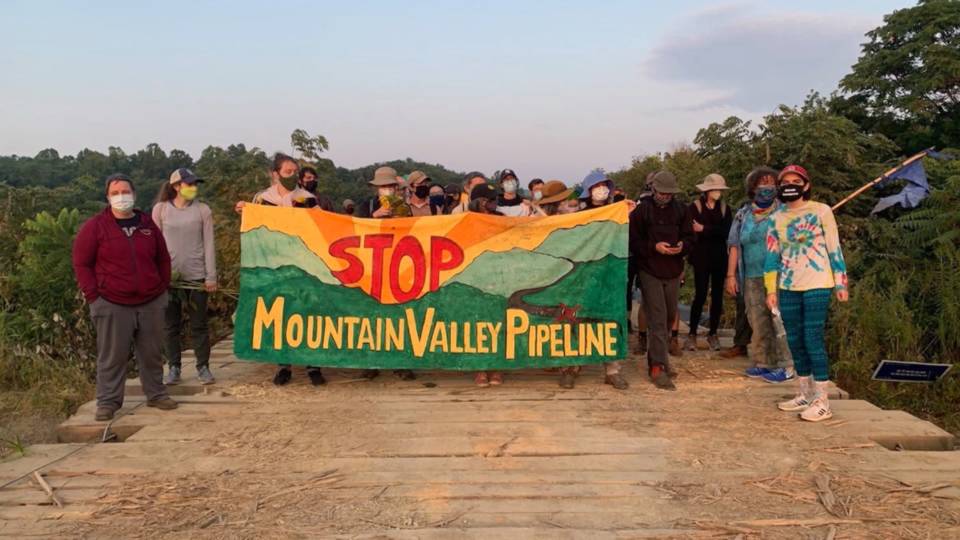 Image Credit: Appalachians Against Pipelines
The U.S. Forest Service has approved a key permit for the proposed $6.6 billion Mountain Valley Pipeline to run through part of the Jefferson National Forest in Virginia and West Virginia. Conservation and climate groups have been trying to block the fracked gas pipeline for years. In a statement, the Wilderness Society said, "The Forest Service has bent to the will of the oil and gas industry, and is placing fossil fuel profits above our environment and public safety." One key backer of the pipeline has been West Virginia Democratic Senator Joe Manchin.
Florida Investigates Teacher for Showing Disney Film with a Gay Character
May 17, 2023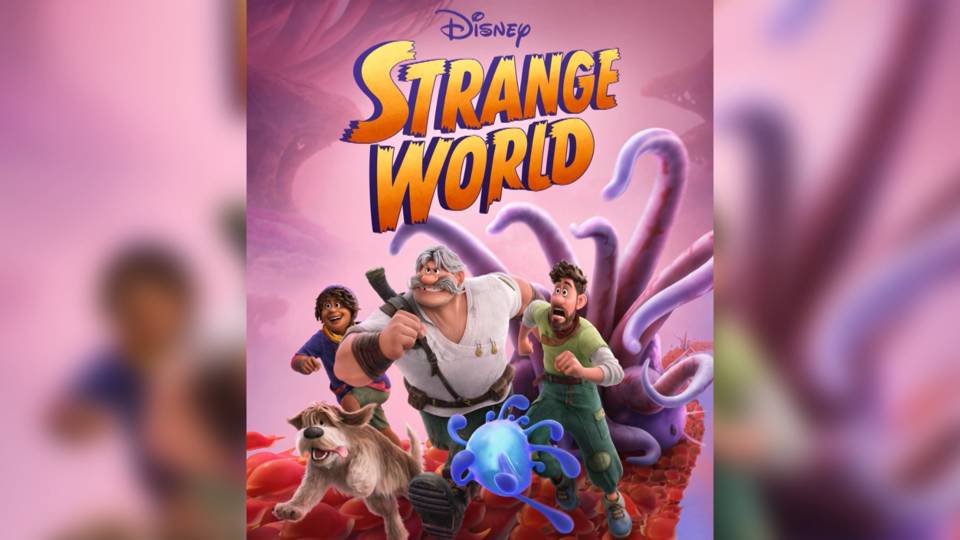 The Department of Education in Florida is investigating a fifth grade teacher for showing her class an animated Disney movie that included a gay character. The teacher said she picked the film, "Strange World," as part of a lesson on ecosystems, plants and animals, but a parent filed a complaint after learning one of the characters in the film was gay. The teacher, Jenna Barbee, talked about the investigation in a video on TikTok.
Jenna Barbee: "The reason I was turned in is because one of the split students was a school board member's daughter. That school board member is currently on a rampage to get rid of every form of representation out of our schools. She even spent days this past week going to all the high schools to get rid of anything that had to do with representation whatsoever. She even had admin escort her to a teacher's classroom that had a sticker of a Black hand and a white hand holding hands, and the white hand had a different color fingernail for every finger. So, the school board member called the Department of Education on me for indoctrination, before ever coming to our school to talk with me or admin about the situation."
Education officials say the screening of the film might have violated Florida's so-called Don't Say Gay law, which bans teachers from talking about sexual orientation and gender identity.
1.63 Million Excess Deaths over Past 20 Years Among Black Community in U.S.
May 17, 2023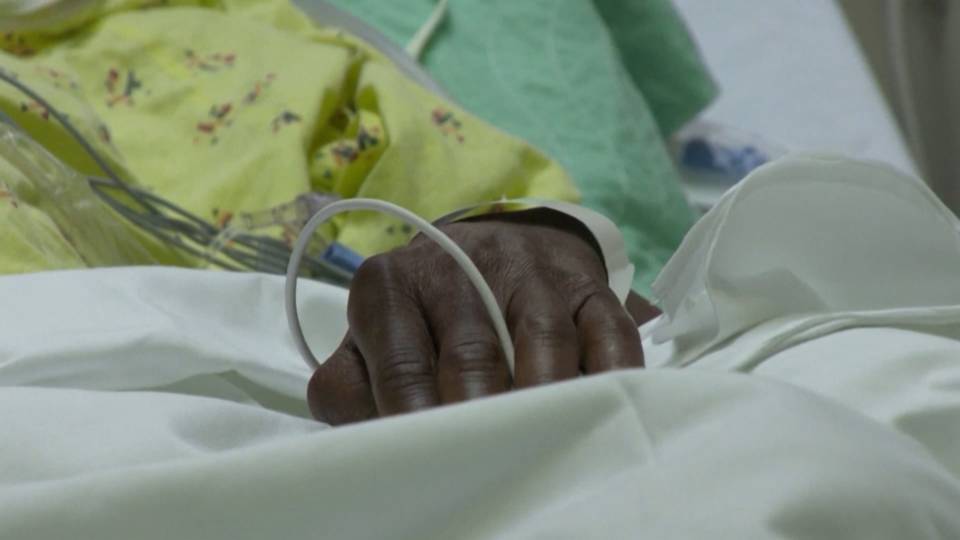 New research into healthcare inequities in the United States shows higher mortality rates among Black communities resulted in a staggering 1.63 million excess deaths in the past two decades compared to the white population. One study says the COVID-19 pandemic's disproportionate impact on Black communities erased years of progress in attempting to close the healthcare gap. Black people are also far more likely to die at a younger age than white people due to the impacts of long-standing discrimination in access to health insurance, medical care, housing, employment and other living necessities.
Democrats Introduce Resolution to Expel George Santos After DOJ Indictment
May 17, 2023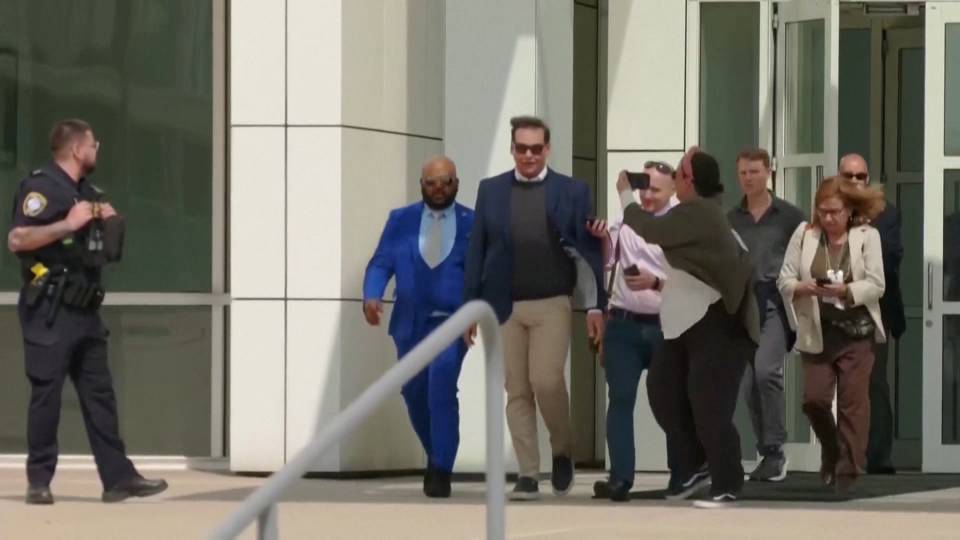 In news from Capitol Hill, California Democratic Congressmember Robert Garcia has introduced a resolution to expel Republican George Santos, who was indicted last week by the Justice Department for wire fraud, money laundering and theft of public funds. Garcia introduced the resolution through a process called a privileged motion in an attempt to force the House to vote on it within two days. Santos would be expelled if two-thirds of the House supported the motion. In a statement, Garcia said, "George Santos is a fraud and a liar, and he needs to be expelled by the House. Republicans now have a chance to demonstrate to Americans that an admitted criminal should not serve in the House of Representatives." The Advocate newspaper has noted that Garcia is the first out gay immigrant elected to Congress, while Santos is the first gay Republican elected to Congress while publicly out.