Biden Won't Apologize for 1945 Nuclear Attacks on Japan as G7 Leaders Gather in Hiroshima
May 19, 2023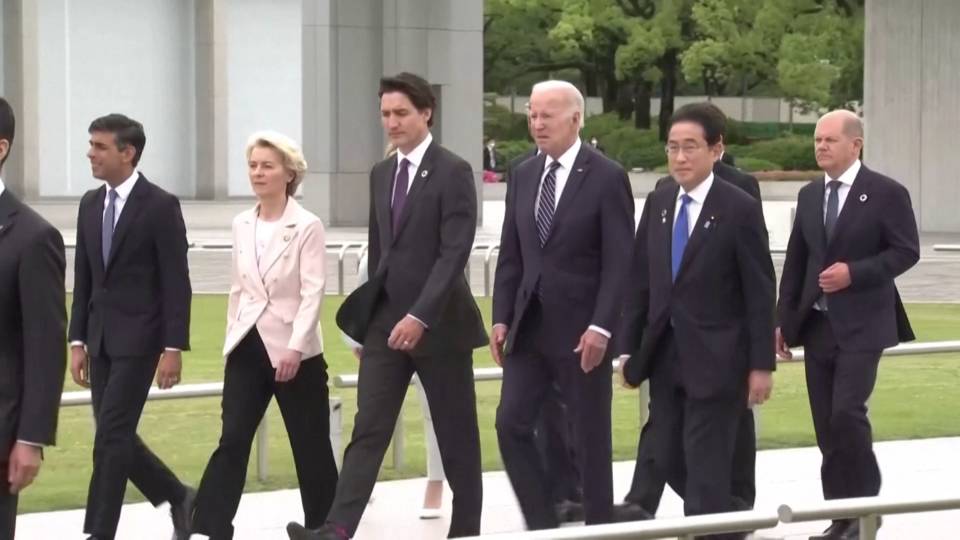 As the G7 summit gets underway in Hiroshima, Japan, world leaders agreed to new sanctions against Russia over the invasion of Ukraine. Ahead of their first joint meeting today, President Biden and the other leaders paid tribute to the victims of the world's first nuclear attack — the U.S. bombing of Hiroshima on August 6, 1945 — laying wreaths at the Hiroshima Peace Memorial and planting a tree. President Biden did not issue an apology for the attack. A group of anti-nuclear activists rallied on the streets.
Niishima: "Biden is in Hiroshima, and he's brought along with him a button to fire a nuclear missile. I cannot forgive him for this. He needs to apologize to the people in Hiroshima."
At least 140,000 people died in the atomic bombing of Hiroshima, which leveled the city. Three days later, the U.S. dropped an atomic bomb on Nagasaki, killing another 74,000 people. Japan's Prime Minister Fumio Kishida's family is from Hiroshima, and he lost relatives in the city's bombing. Kishida has pushed for the abolition of nuclear weapons, while leading the nation's biggest military buildup since World War II.
Meanwhile, Oxfam reports G7 countries collectively owe poor nations in the Global South more than $13 trillion in development and climate assistance. But instead, these countries are saddled with daily debt repayments of $232 million, deepening the global chasm of inequality.
Ukrainian President Volodymyr Zelensky is expected to appear at the G7 summit over the weekend to appeal for more arms and aid for the war.
Russia and Ukraine Agree to Extend Black Sea Grain Deal
May 19, 2023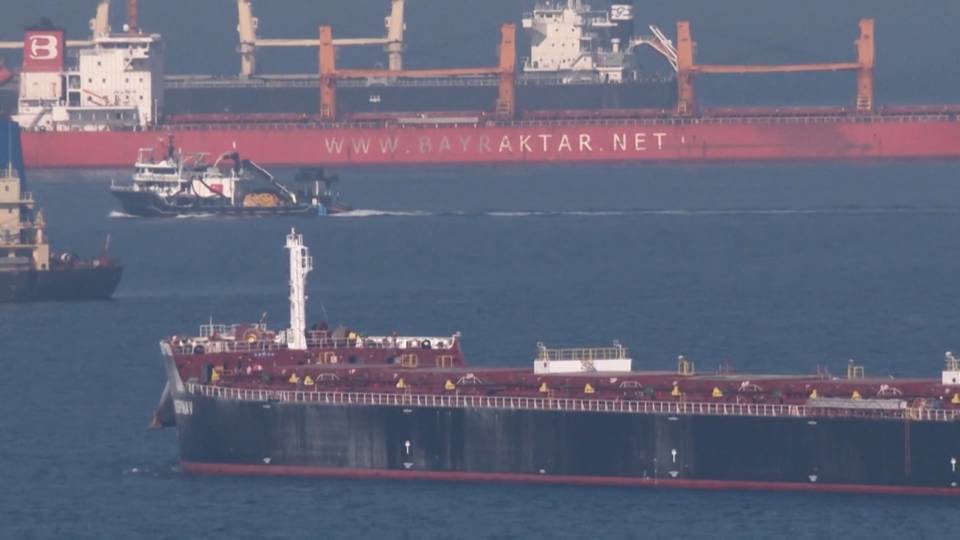 Russia and Ukraine have agreed to a two-month extension of the Black Sea grain deal, which grants Ukraine safe passage to export food and fertilizer. U.N. Secretary-General António Guterres said the extension would save lives.
Secretary-General António Guterres: "These agreements matter for global food security. Ukrainian and Russian products feed the world. Under the Black Sea Initiative, more than 10 million tons of food have been exported."
Family of Syrian Killed in U.S. Drone Strike Says He Had No Ties to al-Qaeda
May 19, 2023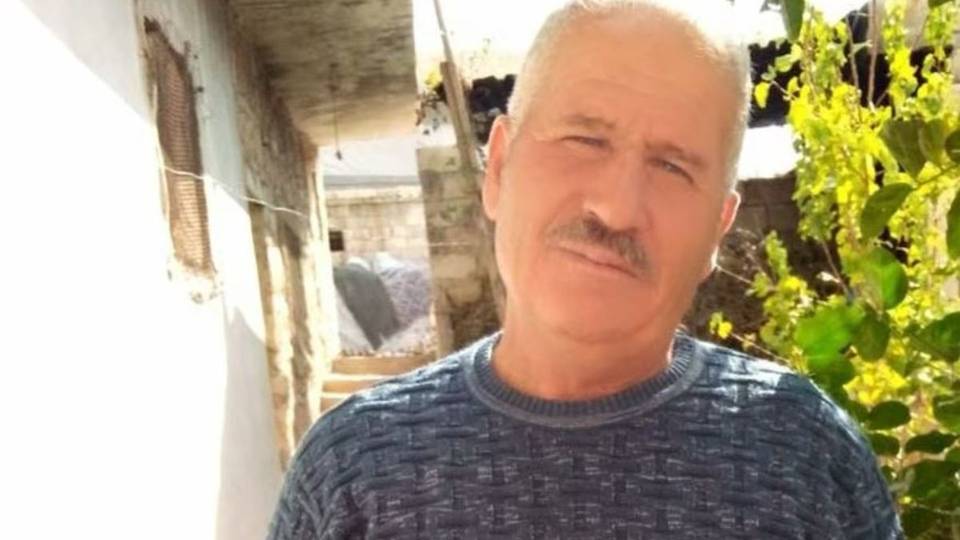 The U.S. military has dropped its claim that a man killed by a U.S. drone strike in northwest Syria on May 3 was a "senior al-Qaeda leader." In interviews with The Washington Post, family members denied 56-year-old Lotfi Hassan Misto had any ties to al-Qaeda, and said he was a former bricklayer and father of 10 who was tending his sheep when a U.S. missile killed him. So far, U.S. Central Command has refused to say who its target was.
Bashar al-Assad Joins Arab League Summit for First Time Since Start of Syrian Civil War
May 19, 2023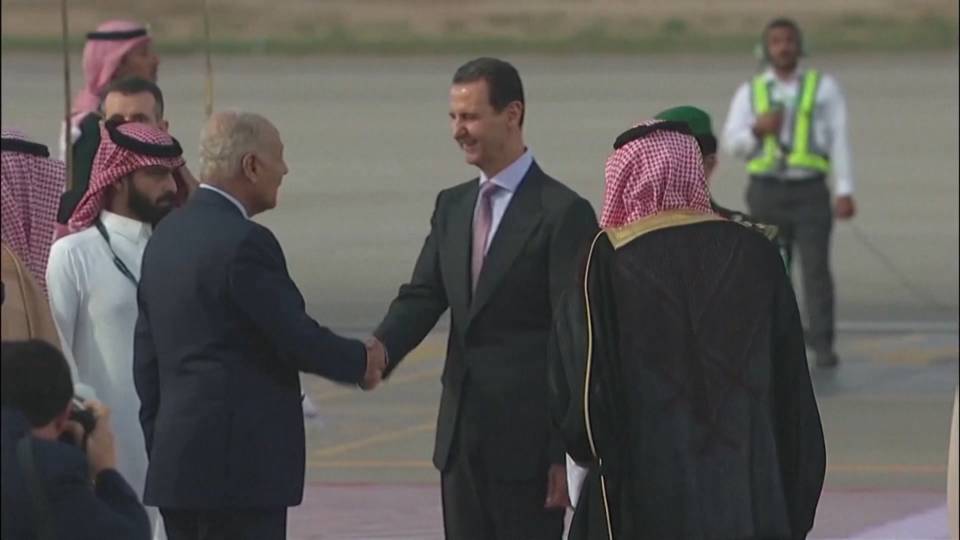 Syrian President Bashar al-Assad is in Saudi Arabia to attend his first Arab League summit since Syria was suspended from the group 12 years ago as Syria descended into a devastating civil war following Assad's violent crackdown on protesters. Earlier this month, the Arab League agreed to readmit Syria as part of an effort to reintegrate the war-torn nation in the region. Volodymyr Zelensky is also in Jeddah, where he is addressing the summit and will meet with Crown Prince Mohammed bin Salman and others.
Pentagon Accounting Error Manipulated to Exceed Ukraine Appropriation by US$3 Billion
May 19, 2023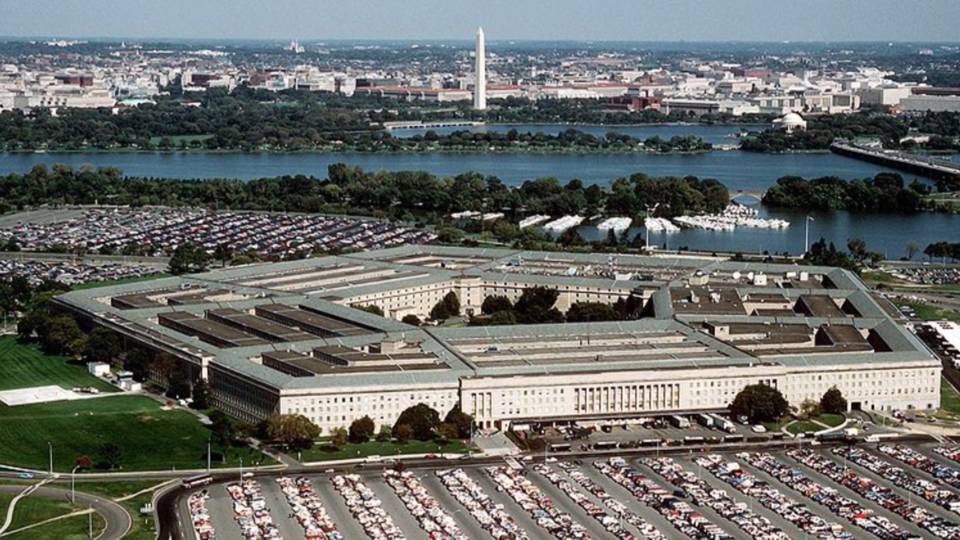 The Pentagon said Thursday an accounting error led it to overestimate the value of arms shipments sent to Ukraine by the Biden administration as part of a $44 billion military aid package approved by Congress last year. The Pentagon said by correcting the error, it could send another $3 billion worth of weapons to Ukraine.
Democrats Mull 14th Amendment Workaround as Republicans Stonewall on Debt Limit
May 19, 2023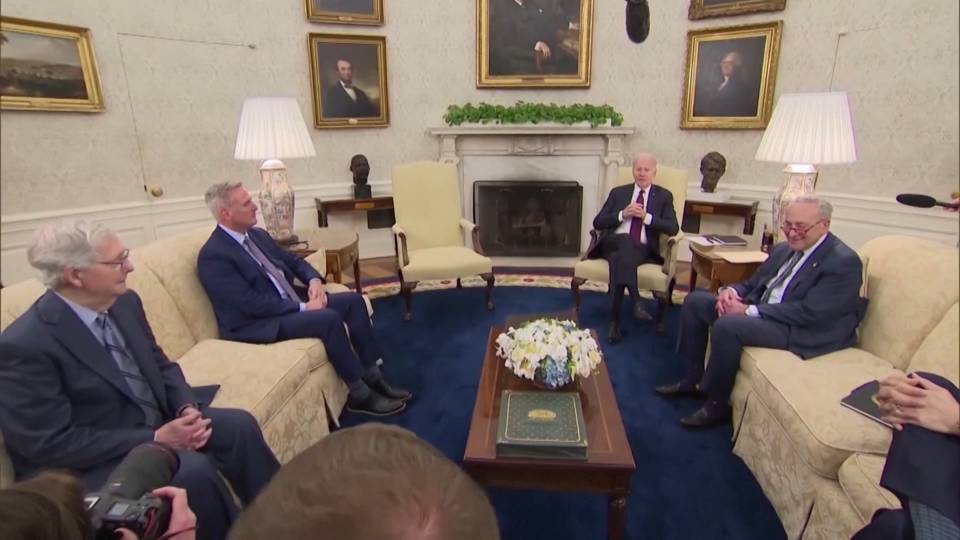 Here in the United States, members of the far-right House Freedom Caucus are calling on Republican House Speaker Kevin McCarthy to suspend negotiations with the White House on raising the limit on the national debt. Caucus members said they're willing to allow the U.S. to default on its debts — something that could happen as soon as June 1 — unless Democrats agree to sweeping cuts in federal spending on housing, education, healthcare, food assistance and the environment. They're also demanding that Democrats agree to speed the approval of oil, gas and mining permits, and rescind most of the climate legislation signed by President Biden. In response, a growing number of Democrats are calling on Biden to invoke his authority under the Constitution to avert a debt default — a legal strategy that's never been tested. This is Vermont independent Senator Bernie Sanders.
Sen. Bernie Sanders: "In fact, the 14th Amendment of the Constitution clearly states, quote — it's not ambiguous — 'The validity of the public debt of the United States … shall not be questioned,' end-quote. Is this a perfect solution? Is imposing the 14th Amendment a perfect solution? No, it is not. But using the 14th Amendment would allow the United States to continue to pay its bills on time and without delay, prevent an economic catastrophe and prevent devastating cuts to some of the most vulnerable people in this country."
New Details Reveal Gravity of Sen. Dianne Feinstein's Health Problems 
May 19, 2023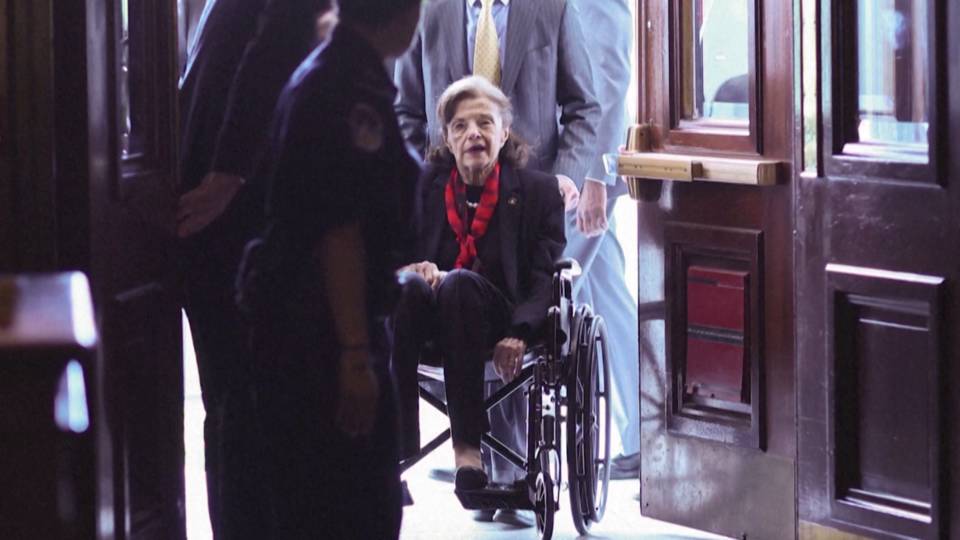 California Democratic Senator Dianne Feinstein suffered far more serious complications from her recent illness than her staff previously acknowledged. That's according to The New York Times, which reports Feinstein's recent bout with shingles triggered a previously unreported case of encephalitis, or swelling of the brain, which can leave patients with lasting memory or language problems and other cognitive effects. She's also reportedly suffering from vision and balance impairments and facial paralysis from Ramsay Hunt syndrome. Feinstein , who is 89 years old, returned to Capitol Hill last week after a months-long leave during which she missed more than 90 floor votes. Her absence also held up dozens of votes on President Biden's nominees to federal courts in the Senate Judiciary Committee. A growing number of Democrats have called on Feinstein to resign, but so far she has refused.
Medicare for All Act Reintroduced with Record 120+ Congressional Backers
May 19, 2023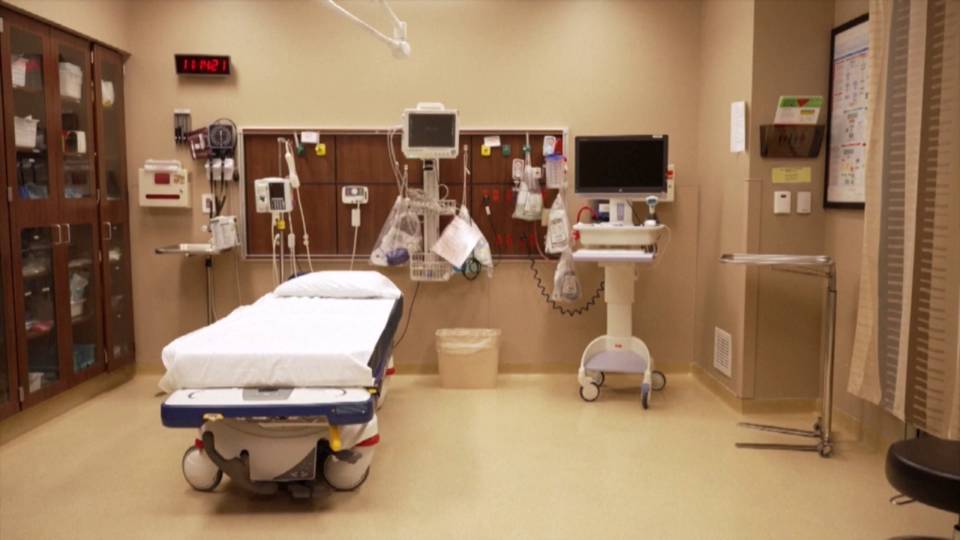 Progressive lawmakers have reintroduced legislation that would expand Medicare coverage to all U.S. residents. The Medicare for All Act of 2023 has garnered more congressional support than ever before, with over 120 lawmakers backing the measure. Washington Democrat Pramila Jayapal, who chairs the Congressional Progressive Caucus, says 38% of people surveyed last year reported they did not get the medical care they needed because it was too expensive.
Rep. Pramila Jayapal: "That's not to mention the millions who are drowning in medical debt and the millions who are one broken bone, one car accident, one new prescription away from medical bankruptcy. An estimated 68,000 people die every year solely because they can't afford healthcare. That is criminal."
Israeli Flag Day Marchers Chant "Death to Arabs" and Attack Palestinians and Journalists
May 19, 2023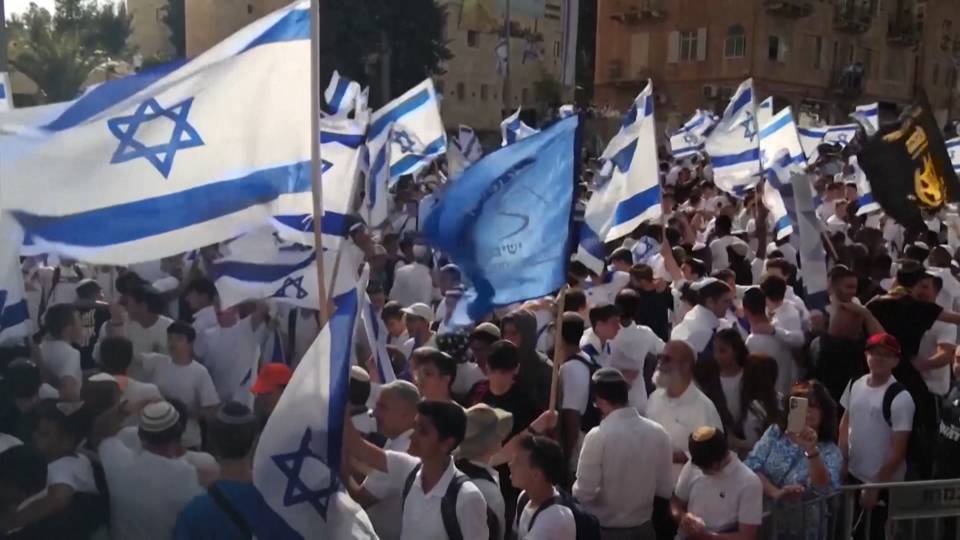 Tens of thousands of Israeli nationalists escorted by heavily armed soldiers marched through occupied East Jerusalem Thursday marking "Flag Day," which celebrates Israel's seizure of Jerusalem and the West Bank in the 1967 Middle East war. Many of the marchers chanted "Death to Arabs" and directed racist slurs at Palestinians. Palestinian residents of the Old City's Muslim Quarter were beaten by Israeli ultranationalists. Far-right National Security Minister Itamar Ben-Gvir was among senior politicians who joined the march. Ben-Gvir was previously convicted of racist incitement against Arabs and supporting a terrorist group.
AFP's Jerusalem correspondent Rosie Scammell published video of Israelis throwing sticks, stones and bottles at journalists at the Damascus Gate, writing, "They cheer every time they hit us with projectiles." Three journalists were wounded, at least two of them with head injuries.
In the Gaza Strip, Israeli soldiers fired live rounds and tear gas toward Palestinians who'd gathered to protest along the heavily fortified barrier separating the besieged territory from Israel. This is Hamas official Ismail Rudwan.
Ismail Rudwan: "The march of the flags will not bring you sovereignty over Jerusalem, which you turned into a military base. Jerusalem will forever remain the single united capital of Palestine."
New Bill Would Make Paid Sick Leave Mandatory for Most U.S. Workers
May 19, 2023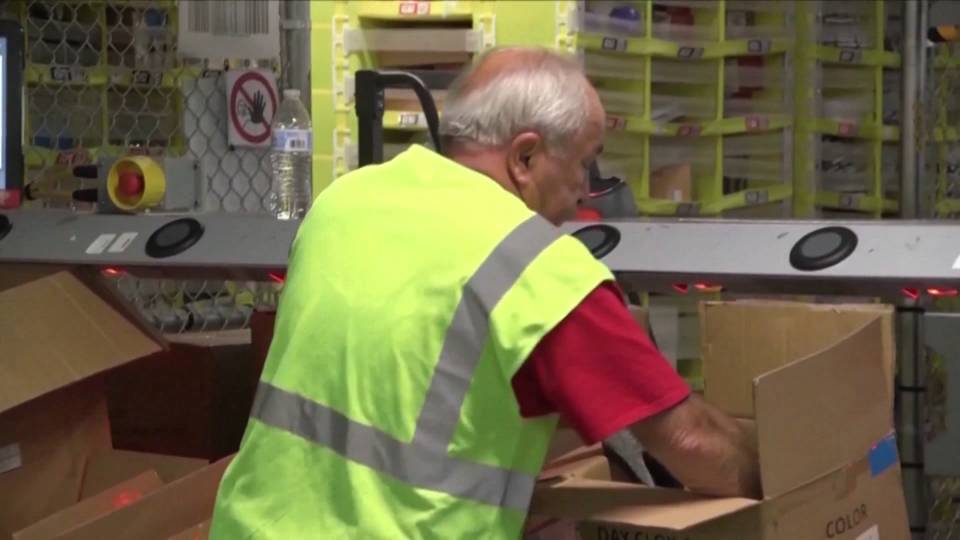 In more news from Congress, legislation that would guarantee paid family and medical leave nationwide was introduced Wednesday. The measure, co-sponsored by Democratic Congressmember Rosa DeLauro of Connecticut and Senator Bernie Sanders, would allow everyone working for businesses with 15 or more employees to earn up to seven paid sick days a year. Some 34 million U.S. workers still don't have paid sick time.
Supreme Court Tosses Republican-Led Effort to Revive Title 42
May 19, 2023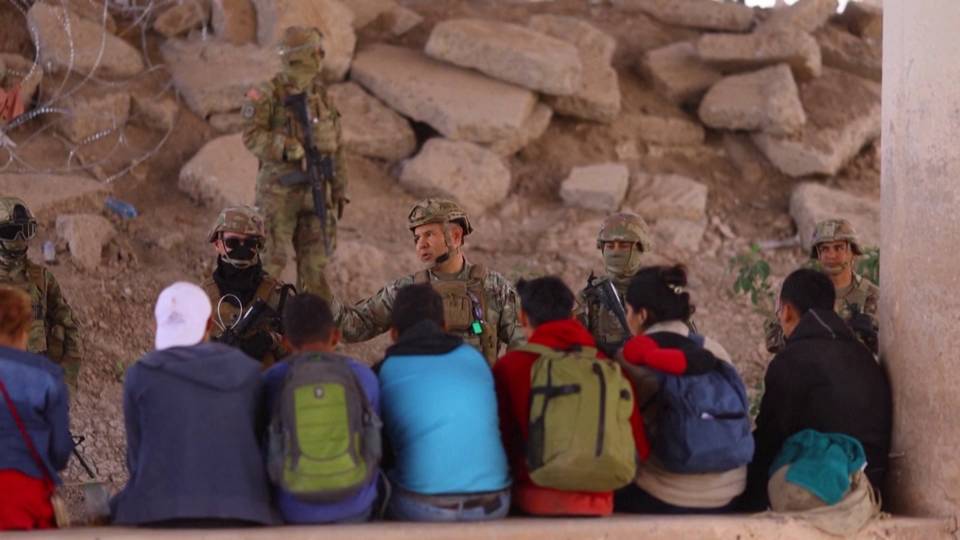 The U.S. Supreme Court has dismissed an attempt by Republican-led states to revive the Trump-era Title 42 pandemic policy, which was lifted last Thursday by the Biden administration. The rule was enforced for three years, leading to the expulsion of nearly 3 million asylum seekers at the U.S.-Mexico border without due process.
Cori Bush Unveils Reparations Bill to Address Slavery and Its Enduring Effects on Black Americans
May 19, 2023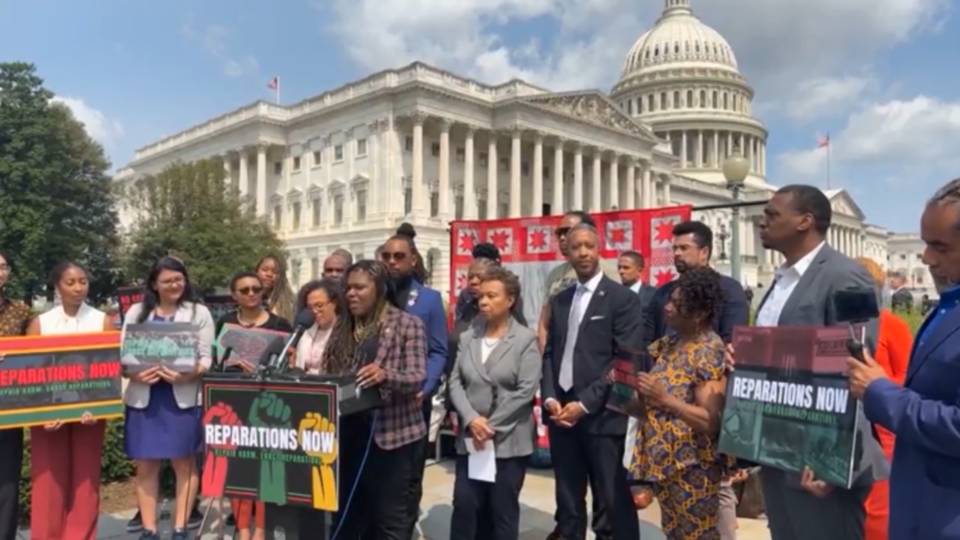 Democratic Congressmember Cori Bush has introduced a bill that would allocate $14 trillion in reparations for Black Americans. The progressive lawmaker from Missouri spoke Wednesday at a news conference in front of the U.S. Capitol.
Rep. Cori Bush: "We know that we continue to live under slavery's vestiges. We know how slavery has perpetuated Jim Crow. We know how slavery's impacts live on today, from the Black-white wealth gap to voter suppression to segregation and redlining to disparities in infant mortality rates and other health outcomes. When the Black-white wealth gap is $14 trillion, it's unjust, and it wouldn't happen in a just and fair and equitable society."
Cori Bush was surrounded by co-sponsors of the bill, including California congressmember and U.S. Senate candidate Barbara Lee, who also introduced a resolution to create a Commission on Truth, Racial Healing, and Transformation.