Fetterman Beats Oz in PA Sen. Race; Warnock and Walker Likely Headed to Runoff in GA
Nov 09, 2022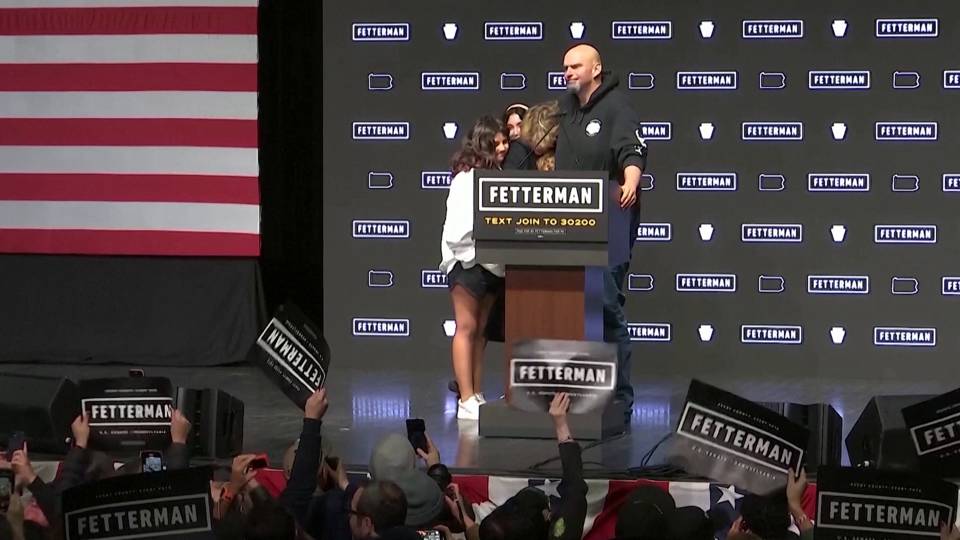 The balance of power in Congress is still up in the air after Democratic candidates outperformed expectations in much of the country in Tuesday's midterm election. With ballots still being counted in many key races, it remains unclear which party will control the Senate or the House. In one of the most closely watched Senate races, Pennsylvania Democrat John Fetterman has declared victory over his Trump-backed challenger, Dr. Mehmet Oz, to fill the Senate seat held by Republican Pat Toomey. Fetterman's election victory came six months after suffering a stroke just before the Democratic primary. He addressed supporters early this morning.
Sen.-elect John Fetterman: "I'm proud of what we ran on: protecting a woman's right to choose, raising our minimum wage, fighting the union way of life, healthcare as a fundamental human right. It saved my life, and it should all be there for you, would you ever should need it."
Control of the Senate now rests on four states: Wisconsin, Georgia, Arizona and Nevada. In Georgia, it appears increasingly likely the race between Democratic Senator Raphael Warnock and Republican Herschel Walker will go to a runoff. With 95% of the vote counted, Warnock is leading with 49.4% of the vote — just shy of the 50% needed in Georgia to win the election outright. Walker has 48.5% of the vote. Warnock spoke to supporters early this morning.
Sen. Raphael Warnock: "Well, good evening, Georgia. Or maybe I should say 'good morning.' Here's where we are: We are not sure if this journey is over tonight or if there's still a little work yet to do. But here's what we do know: We know that when they're finished counting the votes from today's election, that we are going to have received more votes than my opponent. We know that."
In Wisconsin, Republican Senator Ron Johnson is in the lead over Wisconsin's Lieutenant Governor Mandela Barnes, but the race is still too close to call. In Nevada's Senate race, Republican Adam Laxalt is leading Democratic Senator Catherine Cortez Masto with 75% of the vote counted. In Arizona, Democratic Senator Mark Kelly has a six-point lead over his Trump-backed challenger, Blake Masters, with two-thirds of the vote counted.
In other key Senate races, in Ohio Republican J.D. Vance defeated Democrat Tim Ryan, while in New Hampshire Maggie Hassan beat her far-right challenger, General Don Bolduc.
As for the House, more than 70 races have yet to be called, but many analysts are predicting Republicans will flip the House, but just by a small margin. One prominent Republican incumbent who might lose her seat is Lauren Boebert in Colorado. Early this morning, House Speaker Nancy Pelosi said House Democratic candidates are "outperforming expectations."
Democrats Win Governor Races in MD, MA, WI, NY, PA; Republican Govs. Hold On to FL, TX, GA
Nov 09, 2022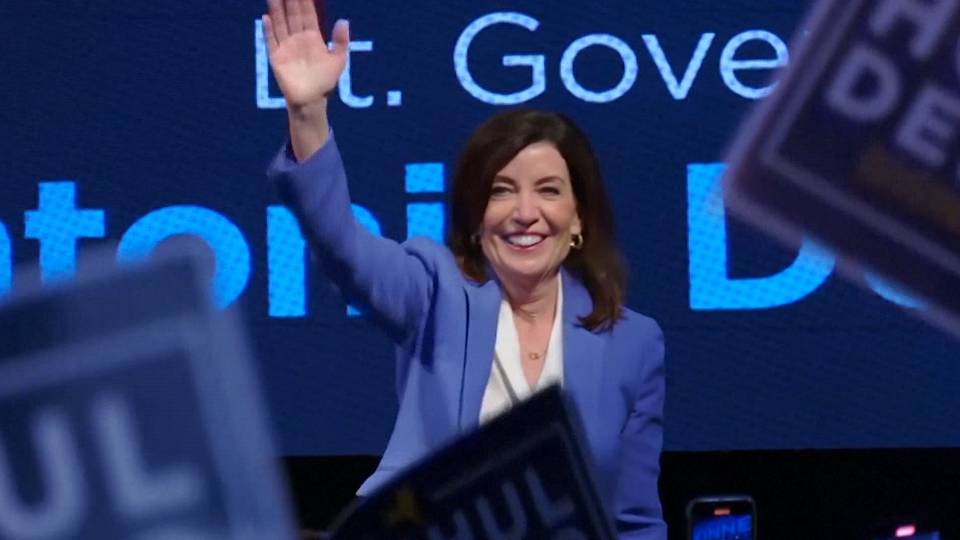 In other key races, Florida governor and possible Republican 2024 presidential candidate Ron DeSantis easily won reelection. In Georgia, Republican Governor Brian Kemp defeated Democrat Stacey Abrams. In Pennsylvania's governor's race, Democrat Josh Shapiro trounced Doug Mastriano, a far-right election denier backed by Trump. In Wisconsin, Democratic Governor Tony Evers has been reelected, while Republican state lawmakers in Wisconsin appear to have fallen short in their effort for a supermajority.
Here in New York, Democratic Governor Kathy Hochul has defeated her Trump-backed challenger, Lee Zeldin. Hochul, who took office after Andrew Cuomo resigned, became the first woman elected as governor in New York. Massachusetts will also soon have its first woman governor with the election of Democrat Maura Healey. She will also become the nation's first openly lesbian governor.
In Vermont, Becca Balint has made history by becoming the first woman and the first openly out candidate in Vermont to be elected to Congress. Balint was elected to the House to fill the seat held by Peter Welch, who was elected to the Senate to replace Patrick Leahy.
In Maryland, voters elected Democrat Wes Moore, who will become Maryland's first Black governor. Meanwhile, in Arizona, Democrat Katie Hobbs is leading in the governor's race against Republican Kari Lake. In Arizona's closely watched secretary of state race, Democrat Adrian Fontes is leading over Mark Finchem, one of numerous Republican election deniers running to oversee elections. CNN reports election deniers won secretary of state races in Alabama, Indiana, South Dakota and Wyoming.
Mexico City Mayor Accuses Authorities of Covering Up Murder of Young Woman
Nov 09, 2022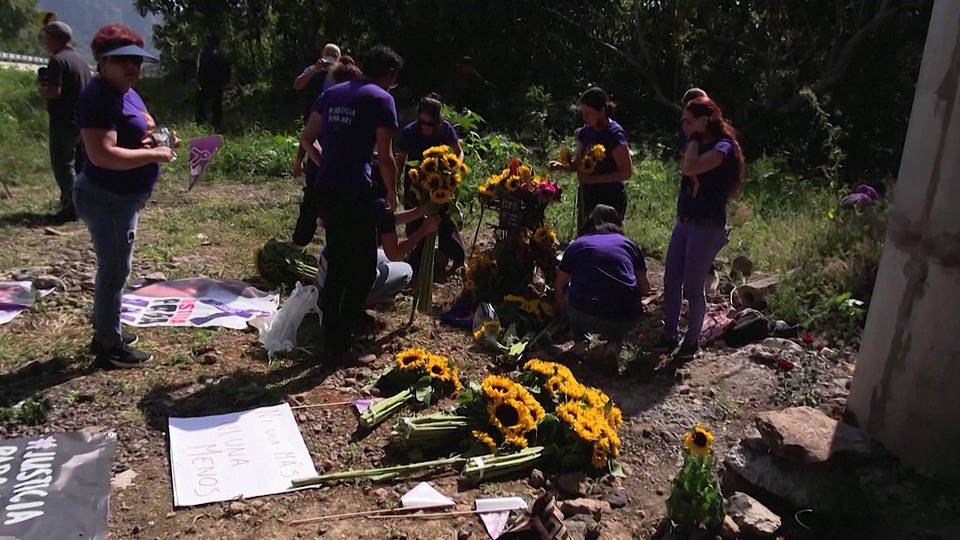 In Mexico, anti-corruption officials are investigating the attorney general's office in the state of Morelos, accusing it of covering up the femicide of 27-year-old Ariadna López, whose body was found by a highway last week. Morelos officials claimed López had died of alcohol intoxication. But during a press conference Monday, Mexico City Mayor Claudia Sheinbaum presented the results of a second autopsy that found López had actually died of multiple force trauma. Sheinbaum also played security footage of a man in an apartment building parking garage carrying a body — which Sheinbaum alleged was Ariadna López. Last year alone, there were over 1,000 femicides reported in Mexico. This is activist Karina Vara.
Karina Vara: "We ask the authorities to work and give accurate, substantive results. We do not want declarations or statements. We demand justice and dignity. The state is femicide and revictimizes with its actions. Its omissions build the path of impunity that our aggressors enjoy. The community is an accomplice. Men take our lives."