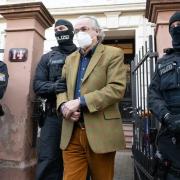 INDYRADIO (8dec22) At least 25 have been arrested while German police continue to dismantle an "anti-constitutional" group with it's own government "councils" preparing to take power in Germany. Most of the story developed in the early hours Wednesday. The German prince, who was to be their figurehead, is seen being taken into custody at right and links to original, auf Deutsch. Royal titles have no legal recognition in Germany for more than a hundred years, though some former royalty choose to preserve their history, especially in Baden-Württemberg, where most of the warrants have been served. According to BZ-Berlin:
"Since November 2021, the members of the council have met regularly in secret to plan the intended takeover of power in Germany and the establishment of their own state structures," said a spokeswoman for the federal prosecutor's office.
Here is a rough translation of coverage from BZ-Berlin.com, which is the best we have seen:
Raid against Reich Citizens' Network
By Axel Lier, Karl Keim, Matthias Becker and Dirk Böttger
Were the prince, judge and KSK soldier planning a putsch in Germany?
Judge Birgit Malsack-Winkemann (58) had to appear in court herself in October 2022 because a decision was to be made about her early retirement Photo: dpa
They are said to have planned a violent "systemic upheaval" and have already set up a government. Since the early hours of Wednesday, officials from the Federal Criminal Police Office (BKA) and special units such as the GSG 9 and several SEK have been taking action nationwide against the so-called Reichsbürger scene. Under the alias Soko "Shadow", around 3,000 emergency services searched 137 objects owned by 52 suspects. There are said to have been 25 arrests. At 6 a.m. sharp, special forces stormed a house in the Wannsee villa district of Berlin and arrested the former AfD member of the Bundestag and Berlin judge Birgit Malsack-Winkemann (58). Three minutes later, the Waidmannsheil hunting lodge in Bad Lobenstein (Thuringia) was accessed. At the same time, the officers moved into around 30 properties in Baden-Württemberg and, among other things, into a car repair shop and a carpentry shop in the Ore Mountains (Saxony). Further searches took place in Bavaria, Hesse, Lower Saxony, Austria (Kitzbühel) and Italy (Perugia). The Targets According to B.Z. information, the terror network around Prince Heinrich XIII, who was classified as a threat, Reuss (71) and the Berlin judge Birgit Malsack-Winkemann. Masked police officers lead Heinrich XIII Prince Reuss (2nd from right) to a police vehicle after searching a house Photo: dpa Other members of their association: Maximilian E., Michael F., Paul G., Norbert G., Markus H., Frank H., Matthias H., Ruth L., Andreas M., Thomas M., Harald P., René R., Melanie R., Ralf S., Wolfram S., Thomas T., Marco v. H., Ruediger v. P., ex-AfD city councilor Christian W. and Peter W. After the arrest, forensic technology moves in to secure further evidence in the houses and apartments Photo: Spreepicture Russian nationals Vitalia B. and Germans Alexander Q. and Frank R. were arrested as suspected supporters.
Note came from Berlin
The investigators of the Berlin LKA had tracked down the secret alliance around a man living in Hesse. According to B.Z. information, the Senate administration reported the suspicion of an "anti-constitutional group" to the federal security authorities at the end of August 2022. The central body of the association is a "council". Similar to the cabinet of a government, this has departments such as justice, foreign affairs and health. "Since November 2021, the members of the council have met regularly in secret to plan the intended takeover of power in Germany and the establishment of their own state structures," said a spokeswoman for the federal prosecutor's office.
Armed police officers storm an object in Berlin Photo: Spreepicture
"You have set yourself the goal of overcoming the existing state system in Germany and replacing it with your own form of government that has already been worked out in outline." The criminals' plan: A "military arm" was to eliminate the democratic rule of law at the municipal, district and municipal level. Casualties were accepted as part of the plan, and fatalities were expected. "The association takes this scenario as a necessary intermediate step towards the desired system change at all levels," said the federal prosecutor. Among the suspects is an active KSK soldier. His apartment and office in a barracks were searched in Calw (Baden-Württemberg). The soldier is likely a member of the elite unit's staff, according to the Military Counterintelligence Service (MAD). After the coup, they are said to have planned to form the government. The new government apparatus was to be established as a "principality" according to monarchical principles and divided into various ministries. Explosive: Those responsible for the individual departments are said to have already been determined. They should be people with influential positions in socially or financially strong areas of public life. Former soldiers of the Bundeswehr are also involved in the coup plans. According to B.Z. information, several of the people are said to be in possession of legally acquired weapons. Federal Minister of Justice Marco Buschmann (45, FDP) described the raid as an "anti-terrorist operation", writing on Twitter: "A major anti-terrorist operation has been taking place since this morning. The Federal Public Prosecutor is investigating a suspected terrorist network from the Reich citizen milieu. There is a suspicion that an armed attack on constitutional bodies was planned."
What are Reich Citizens?
Reich citizens are people who do not recognize the Federal Republic and its democratic structures. They refuse to pay taxes, for example, and are often in conflict with the authorities. The Office for the Protection of the Constitution ascribes around 21,000 followers to the scene. About five percent of them, i.e. around 1150, are right-wing extremists. In 2021, the Office for the Protection of the Constitution attributed 1,011 extremist crimes to the "Reichsbürger und Selbstverwalter" scene. Assistance: Jürgen Mahnke, Jan Schumann and Stefan Hässler
related notes:
The would-be royals are very touchy about their website, and protect it from possible infringement with capital letters:
"This article is the intellectual property of Unofficial Royalty and is NOT TO BE COPIED, EDITED, OR POSTED IN ANY FORM ON ANOTHER WEBSITE under any circumstances.",
but they do fairly credit Wikipedia, which is the source for any credible information on their site, including the photos of royal pretenders who they idolize. If your eally want the  photos, you can download the same ones from Wikipedia,where they are shared with a Creative Commons  license. The website's history is contemporary to the organization currently being dismantled, and more than 1000 acts of extreme right terrorism have been associated with the group during the past year.