brew your coffee at home, in solidarity
Starbucks Workers at 100 Locations Hold Three-Day Strike
Dec 19, 2022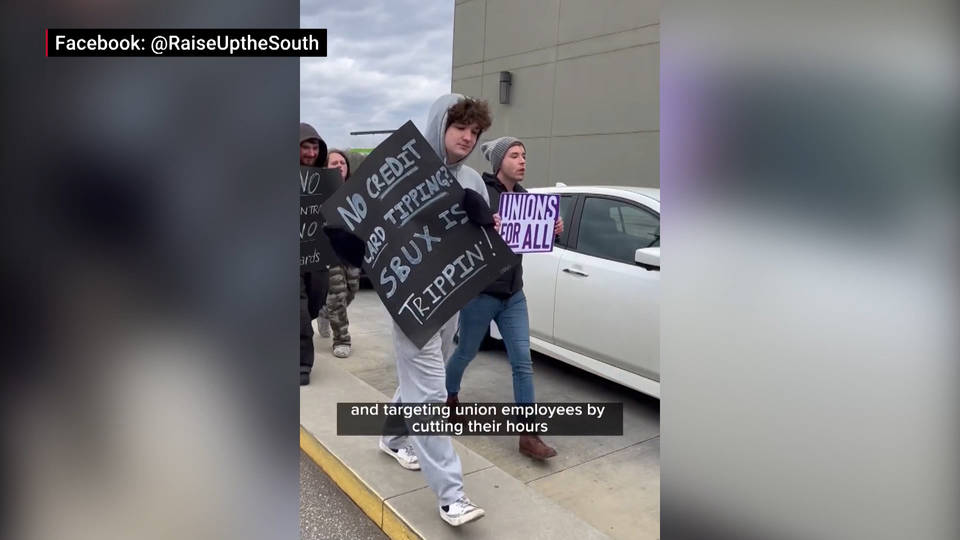 Over 1,000 Starbucks workers from 100 stores went on a three-day strike from Friday through Sunday to protest the megachain's union-busting efforts. It's the largest coordinated labor action by Starbucks employees. Two hundred seventy locations have voted to unionize in just one year. But the company has waged an escalating anti-union campaign and has refused to bargain with its workers in good faith. This is a former Starbucks worker in Anderson, South Carolina, who was fired along with five other employees in retaliation for their organizing efforts.
Aneil Tripathi: "Starbucks is doubling down on its union-busting tactics, so we are out here doubling down on our strikes. Starbucks continues to withhold benefits from its union stores like credit card tipping, but gives it to nonunionized stores. They also are cutting our hours and targeting union employees by cutting their hours and withholding benefits from them so they can't receive Starbucks benefits. We're out here together in solidarity standing against the company as they make billions of dollars but as our employees fail to scrape by and struggle to pay their bills. So we're out here standing up against a billion-dollar corporation."
Unionized workers are asking customers to refrain from buying Starbucks gift cards this holiday season in a show of support for their organizing campaign.