118th Congress Convenes as GOP's Kevin McCarthy Struggles to Clinch House Speaker Role
Jan 03, 2023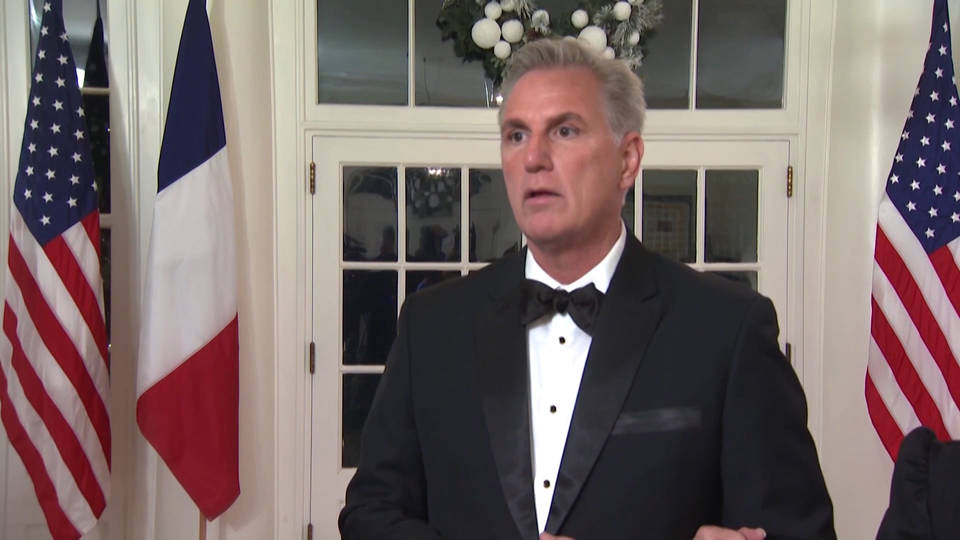 The 118th United States Congress officially begins today, with lawmakers taking their oaths of office amid a leadership fight in the House of Representatives. Republican leader Kevin McCarthy is the front-runner to be elected speaker of the House but appears short of the 218 votes needed to clinch a victory in the first round of voting. That's despite a major concession McCarthy made to far-right Republicans over the weekend, when he agreed to a rule that would allow a snap election at any time to oust him from the role of House speaker.
Disgraced GOP Rep.-elect George Santos Travels to Washington, D.C., for Congressional Swearing-In
Jan 03, 2023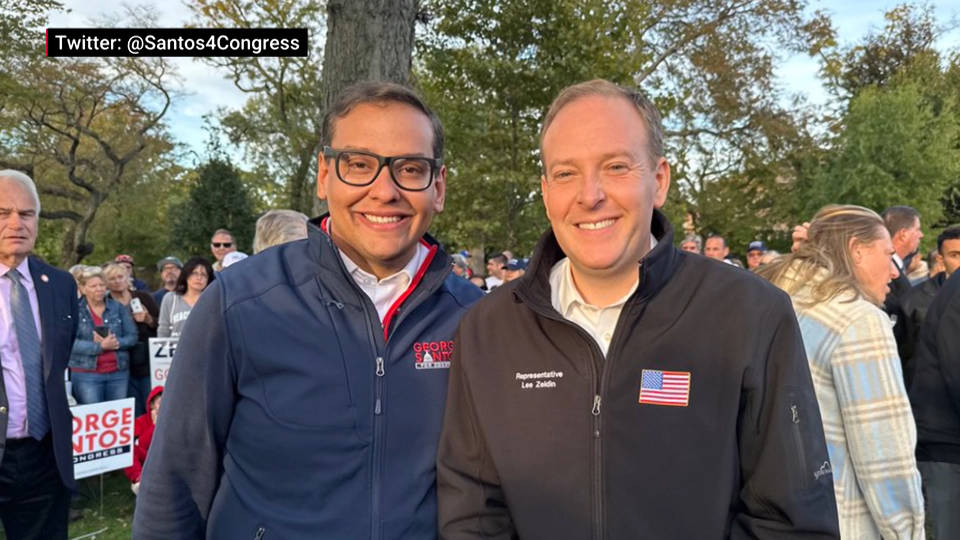 Among the new congressmembers to be sworn in today is Republican George Santos of New York, who's facing mounting outrage and several investigations after he admitted he lied about his work, education and family history on his résumé and campaign platform. Federal and state investigations were launched against Santos. Meanwhile, Brazilian authorities also announced this week they're planning to revive fraud charges against Santos stemming from a 2008 incident in which Santos reportedly used a stolen checkbook and a false name to make a $700 purchase in Rio de Janeiro. The criminal charges were approved by a Brazilian judge in 2011, but by then Santos was already living in New York. Santos reportedly confessed to the fraud while still in Brazil but has recently denied having committed any crimes.
Luiz Inácio Lula da Silva Sworn In to Historic Third Term as Brazil's President
Jan 03, 2023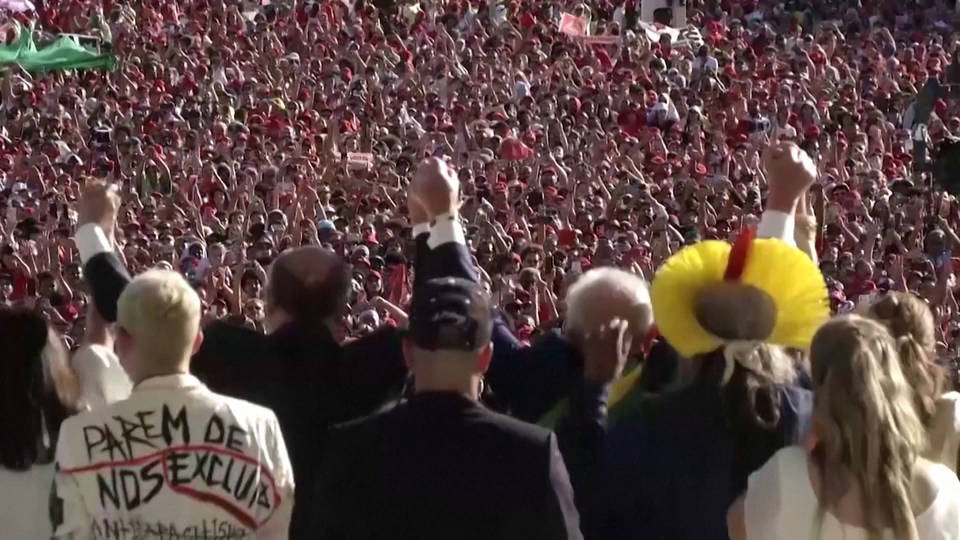 In Brazil, Luiz Inácio Lula da Silva has been sworn in to a third term as president. Lula spoke to hundreds of thousands of supporters in the capital Brasília on Sunday, pledging to fight poverty, invest in education and health, and halt illegal logging in the Amazon rainforest.
President Luiz Inácio Lula da Silva: "In the fight for the good of Brazil, we will use the weapons that our adversaries fear the most: the truth that prevails over the lies, the hope that conquers fear, and the love that defeats hatred. Long live Brazil, and long live the Brazilian people!"
The far-right former President Jair Bolsonaro boycotted Sunday's ceremony, leaving Brazil on Friday to go to Orlando, Florida, after first refusing to concede the election to Lula. We'll have more on Lula's historic third presidential term after headlines.
Xi Jinping Acknowledges "New Phase" of Pandemic After China Halts "Zero-COVID"
Jan 03, 2023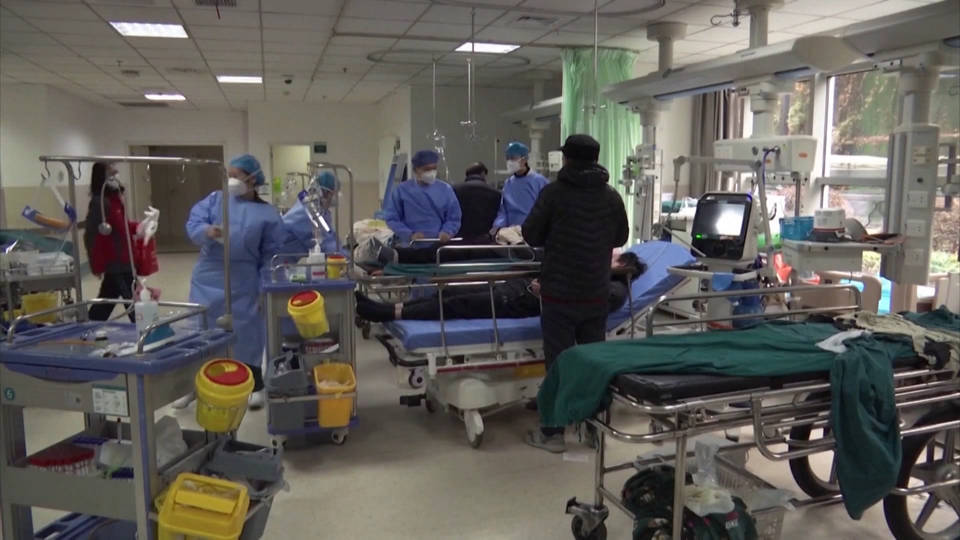 The World Health Organization has once again called on China to share real-time data on the country's massive surge in coronavirus cases, amid dire predictions that China could face over 1 million COVID deaths this year. The WHO is seeking information on hospitalizations, infections and deaths, and wants genetic sequencing data that could help identify the emergence of dangerous new coronavirus variants. In a New Year's address, Chinese President Xi Jinping defended his government's handling of the pandemic while acknowledging that the former "zero-COVID" policy had taken a toll on China.
President Xi Jinping: "After arduous efforts, we have overcome unprecedented difficulties and challenges, which were not easy for everyone. At present, the epidemic prevention and control is entering a new phase. It is still a time of struggle. Everyone is persevering and working hard, and the dawn lies ahead."
Extreme Winter Warmth Shatters Temperature Records Across Europe
Jan 03, 2023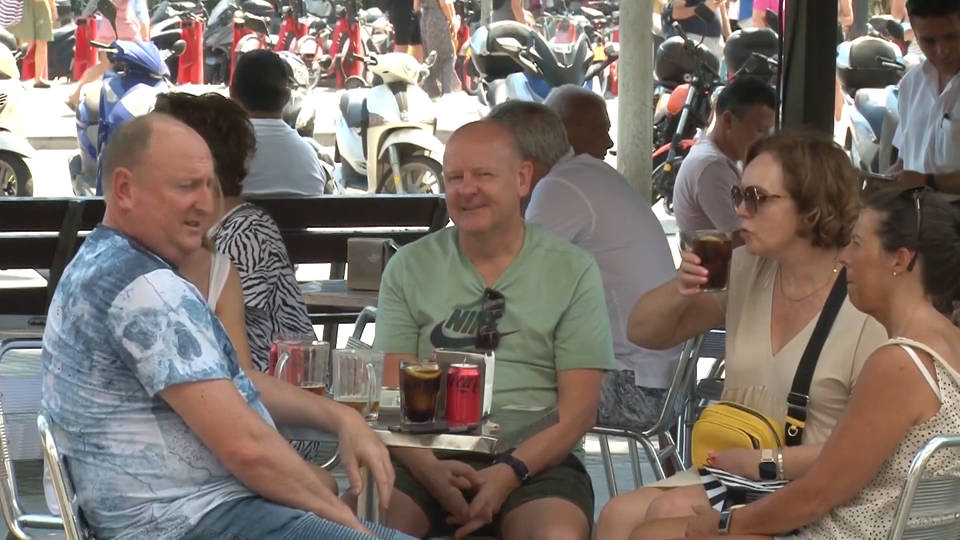 In Europe, a massive heat dome has brought unseasonably warm winter weather that's shattered records in at least seven countries. Weekend temperatures soared by as much as 36 degrees Fahrenheit above normal over a vast region stretching from France to western Russia. This comes after Europe logged its warmest year on record in 2022.
Israeli Minister Itamar Ben-Gvir Visits Al-Aqsa Mosque in "Provocation" to Palestinians
Jan 03, 2023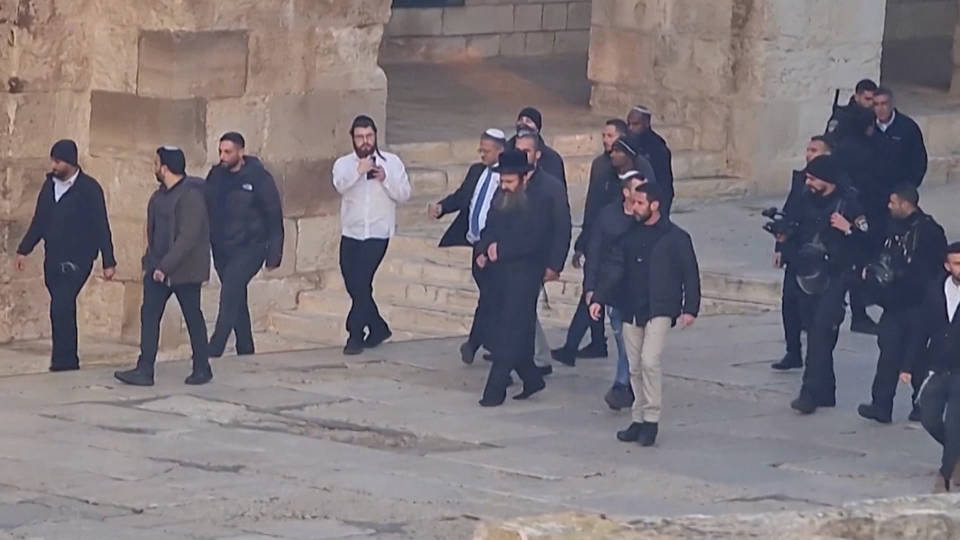 Palestinians have condemned a visit by Israel's newly installed National Security Minister Itamar Ben-Gvir to the Al-Aqsa Mosque in occupied East Jerusalem. It was Ben-Gvir's first public act since he was sworn in last week to the most far-right government in Israel's history. Ben-Gvir was previously convicted of racist incitement against Arabs and supporting a terrorist group. The Palestinian Foreign Ministry called his visit to Al-Aqsa under heavy security an "unprecedented provocation," and a spokesperson for Hamas said it would lead to more conflict.
Hazem Qassem: "It is clear that the members of the current government are more extreme than any previous one. Neither the U.S. nor the international community nor the regional powers can stop the extremists of this government. Therefore, if this behavior continues, it will bring us all to a big conflict and a real battle on the ground."
Israeli Troops Kill Two Palestinians During Home Demolition in Occupied West Bank
Jan 03, 2023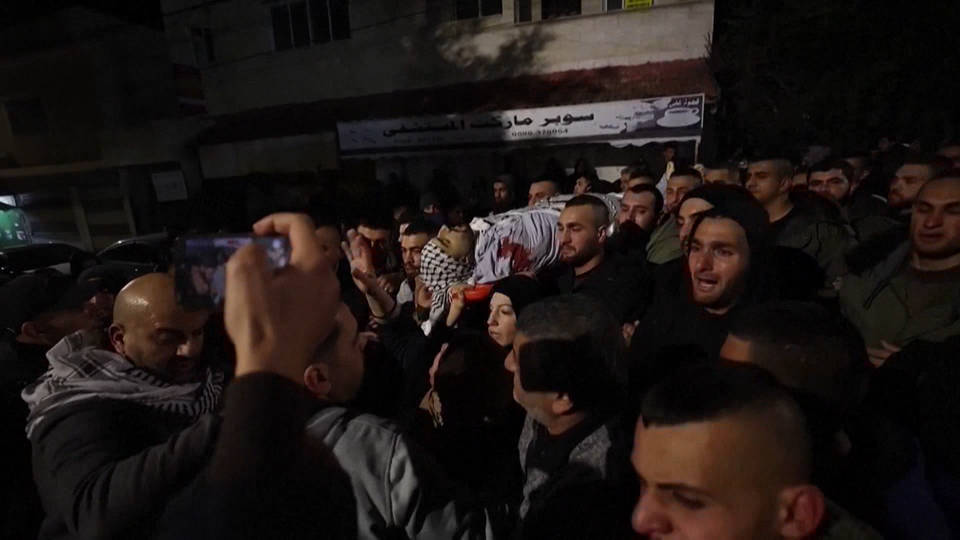 In the occupied West Bank, Israeli forces shot and killed two Palestinians and wounded three others in a raid on a village outside Jenin overnight Sunday. The killings came as Israel's army worked to demolish the family homes of two Palestinians who were killed in a shootout in September. This is Hani Abed, whose home was demolished.
Hani Abed: "They made two families homeless. They were vengeful. And this is collective punishment. If they could, they would demolish the entire area. … The policy that the occupation implements will definitely not bring the result they are expecting. They will not break our spirit. On the contrary, this will make people more determined and steadfast, God willing."
Iranian Woman Chess Player Defects to Spain After Defying Dress Code
Jan 03, 2023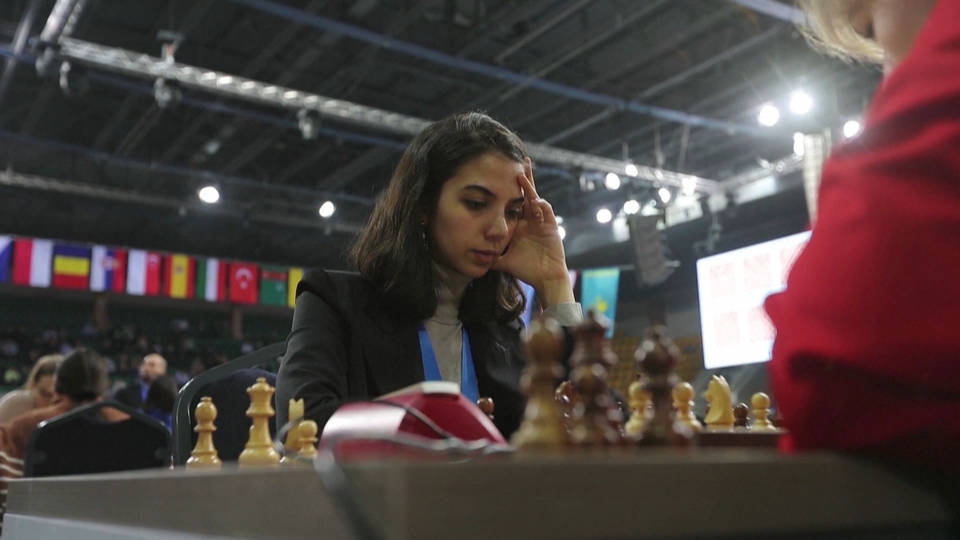 Iran's top woman chess player has fled to Spain after receiving threats not to return to Iran for competing at an international tournament in Kazakhstan without a hijab. Iranian law requires women to wear a headscarf in public, even when visiting other countries. Sarasadat Khademalsharieh's decision was seen as a gesture in solidarity with anti-government protests that erupted in Iran in September in response to the death of Mahsa Amini in the custody of Iranian so-called morality police. In related news, several Iranian soccer players were arrested after attending a New Year's Eve party with women and where alcohol was served. The players were current and former members of one of Tehran's prominent soccer clubs. A local media outlet said many of the detained soccer players had also expressed support for the mass protests.
Russia Admits Ukrainian Missile Attack Killed Dozens of Soldiers
Jan 03, 2023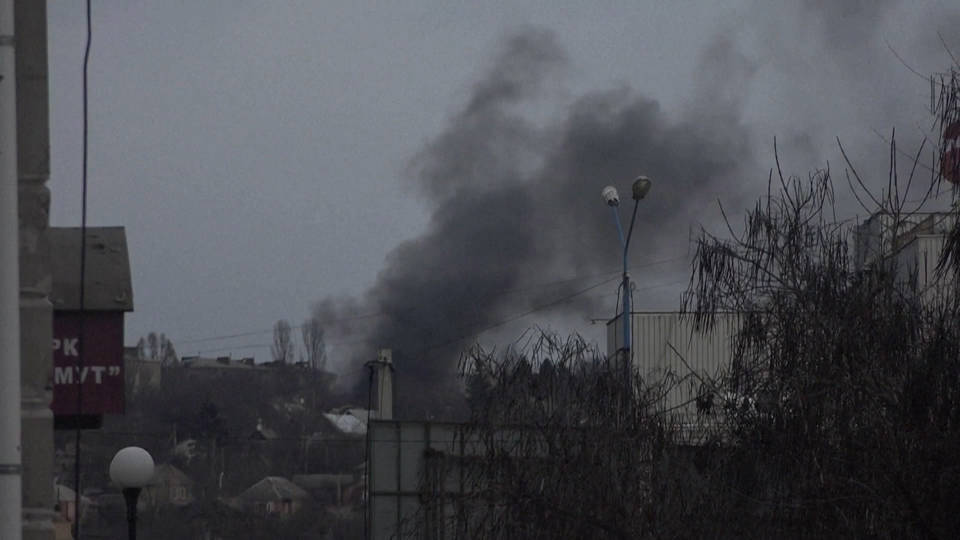 Ukraine's military says 400 Russian conscripts were killed and another 300 were wounded in a massive New Year's Day missile strike in the Russian-occupied Donetsk region. In a rare admission of heavy battlefield losses, Russia's Defense Ministry acknowledged that dozens of troops were killed, but gave a much lower death toll.
Igor Konashenkov: "Russian air defense systems shot down two HIMARS missiles. As a result of the strike by four rockets with high-explosive warheads against the temporary deployment point, 63 Russian servicemen were killed."
Even if the lower death toll is accurate, it was one of the deadliest single attacks on Russian forces since the start of the war last February. It came as Russia began 2023 by firing a barrage of cruise missiles across Ukraine just after midnight on New Year's Day.
Former Pope Benedict XVI Dies at 95
Jan 03, 2023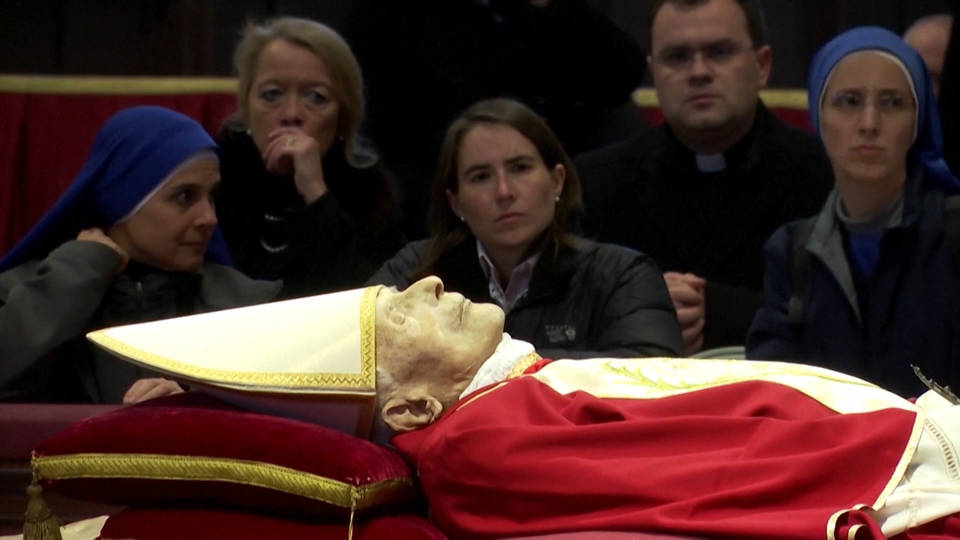 At the Vatican, tens of thousands of people have paid final respects to Pope Benedict as he lay in state in St. Peter's Basilica. Benedict died on Saturday at the age of 95. In 2013, Benedict shocked the Catholic Church when he became the first pontiff to resign in almost 600 years. His tenure was marked by widening sexual abuse scandals in the Catholic Church. A 2021 report found Benedict failed to act in at least four cases of sexual abuse by priests when he was the archbishop of Munich. Benedict was a fierce opponent of abortion, birth control and LGBTQ+ rights. He opposed reforms to the Catholic Church including allowing women to join the clergy, and as a cardinal, he led a campaign to stamp out liberation theology and to silence and expel priests who taught it.
17 Killed in Juárez, Mexico, Prison Break That Springs Cartel Leader
Jan 03, 2023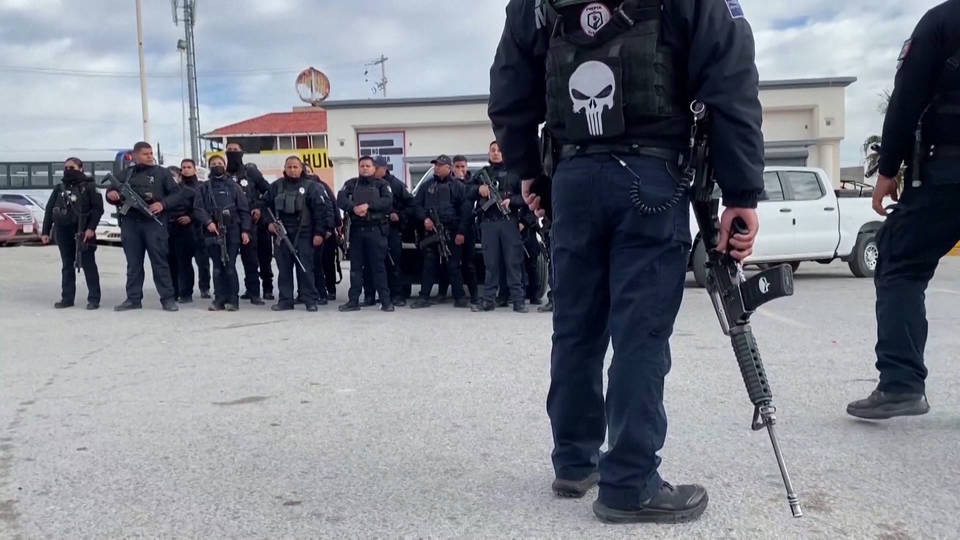 In Mexico, at least 17 people were killed after gunmen attacked a prison in the northern border city of Juárez Sunday. The Associated Press reports at least two dozen prisoners escaped, identified by local officials as members of a drug gang with ties to a powerful cartel. The drug lord Rafael Caro Quintero is reportedly among the escapees. Juárez, located across the border from El Paso, Texas, has been an epicenter of drug violence since the launch of the U.S.-backed war on drugs that has killed tens of thousands of people in Mexico.
Missouri Set to Kill Amber McLaughlin in First Execution of Openly Transgender Woman
Jan 03, 2023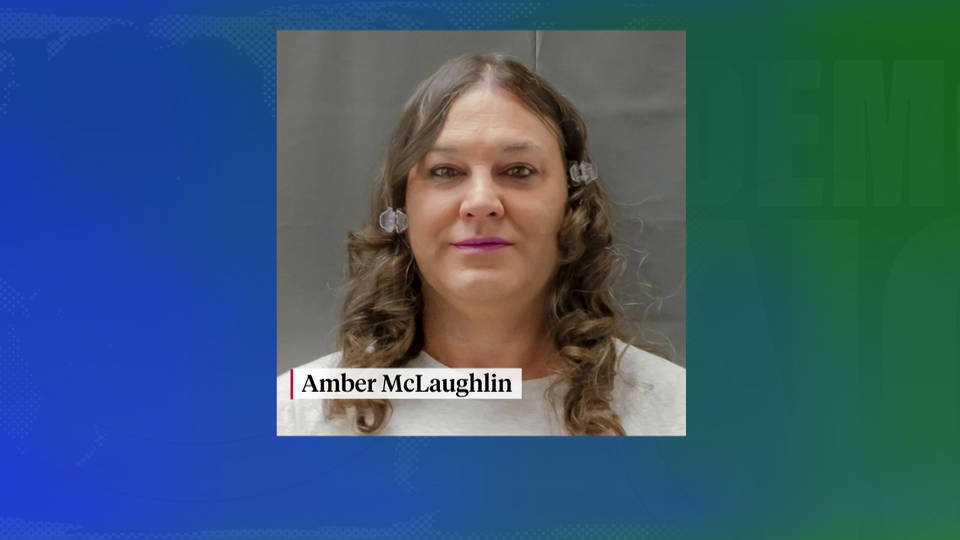 The state of Missouri is slated to execute the first openly transgender woman in U.S. history. Forty-nine-year-old Amber McLaughlin is scheduled to die by lethal injection today, Tuesday, unless a request for clemency is approved by Missouri's Republican Governor Mike Parsons. McLaughlin's clemency plea details her traumatic childhood, facing horrific abuse from a foster parent and her adoptive father. She suffered from a brain injury and fetal alcohol syndrome and struggled with severe mental health issues as an adult, having attempted suicide several times. McLaughlin was convicted of murder and other charges in 2006. The jury in her case was deadlocked over her sentencing, but Missouri law allows the trial judge to issue a sentence in those cases, including the death penalty. McLaughlin, who transitioned during her time on death row, would also be the first woman executed in Missouri since 1976.
Tax Returns Show Trump Claimed Huge Losses While Paying Little or No Income Tax
Jan 03, 2023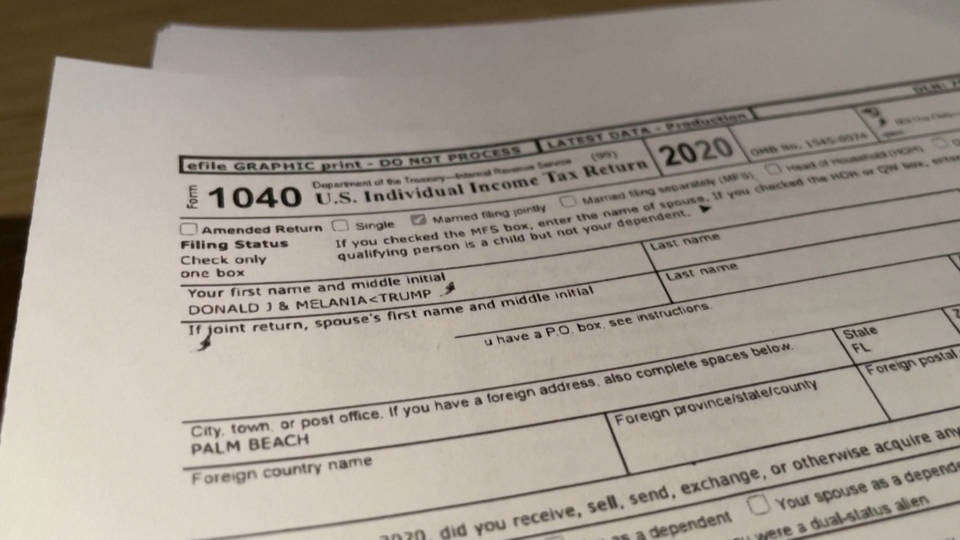 Democrats on the House Ways and Means Committee released six years' worth of Trump's tax returns on Friday. The release contains thousands of pages of tax documents for Trump and his wife Melania, along with business returns for several of Trump's hundreds of companies for the years he ran for president and was in office. The records reveal Trump paid just $750 in federal income tax during his first year in office in 2017. He paid no tax in 2020. Later in the broadcast, we'll speak with Pulitzer Prize-winning journalist David Cay Johnston, who says the returns show Trump knowingly committed brazen tax fraud.
Buffalo Bills' Damar Hamlin Suffers Cardiac Arrest in Monday Night Football Game
Jan 03, 2023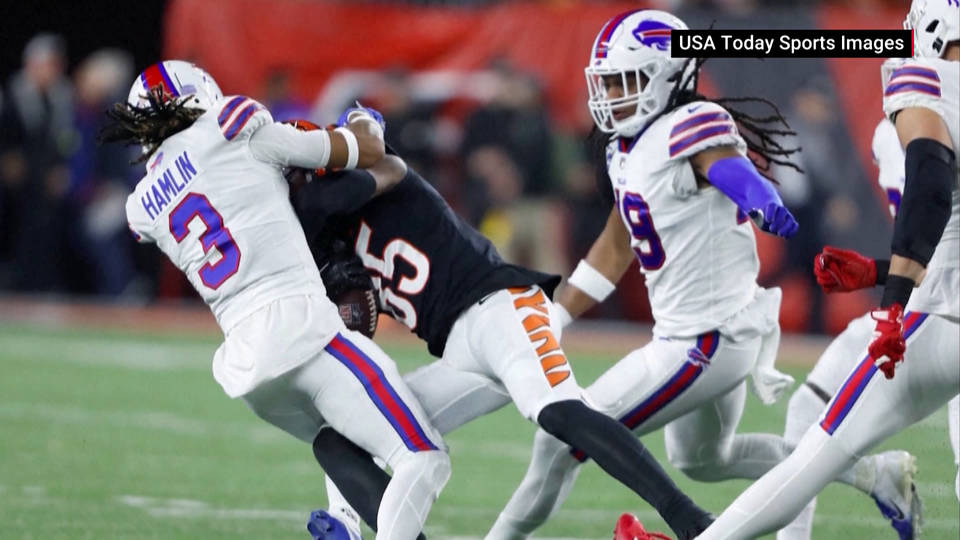 In sports news, Buffalo Bills player Damar Hamlin remains hospitalized in critical condition after he suffered a cardiac arrest on the field at Monday night's game against the Cincinnati Bengals. The 24-year-old collapsed less than six minutes into the game's first quarter after making a tackle. Medical staff administered CPR and used a defibrillator to restore his pulse, before bringing an ambulance onto the field. The game was indefinitely suspended as other players wept. Hamlin was rushed to the University of Cincinnati Medical Center, where he was intubated and sedated. Hamlin's injury came just minutes after Bills defensive back Taron Johnson left the game with a head injury, and just days after Miami Dolphins quarterback Tua Tagovailoa suffered his third head injury of the season — following a concussion that left him hospitalized in week four.