House of Representatives Fails to Elect Speaker for 2nd Straight Day Amid GOP Fractures
Jan 05, 2023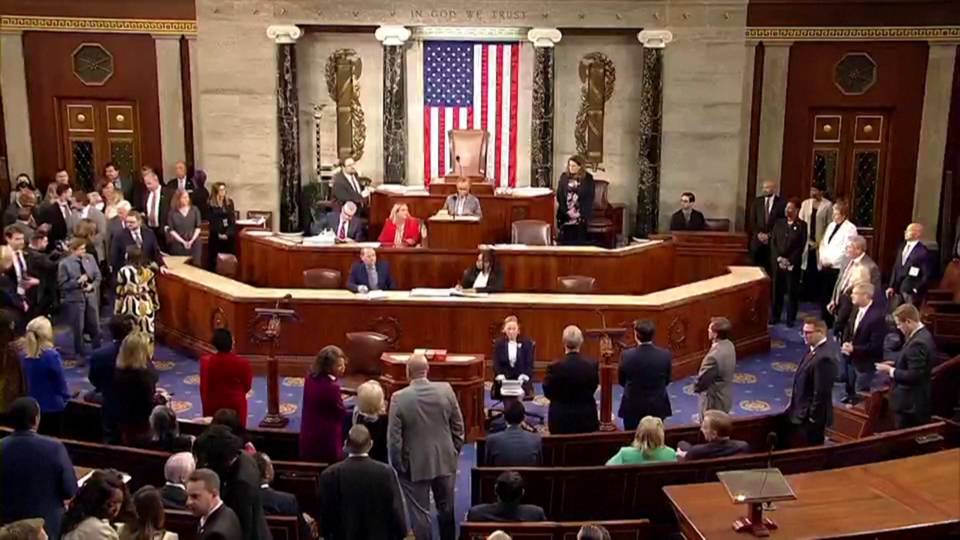 The House of Representatives has adjourned for a second consecutive day without swearing in members of the 118th Congress, after lawmakers once again failed to elect a new House speaker. On Wednesday, the House held three more rounds of votes, and in each one Republican Leader Kevin McCarthy failed to muster the 218 votes needed after 20 members of his party instead backed Byron Donalds of Florida. Until a speaker is elected, the House cannot perform any other actions. Mississippi Congressmember Trent Kelly joined other Republicans calling on members of his party's far-right "Freedom Caucus" to drop their opposition to McCarthy.
Rep. Trent Kelly: "But we've asked, and we've asked: What is it you want? What do you need? But you have 20 people demanding the unconditional surrender of — including this group of warriors. We will not unconditionally surrender. Tell us what you want. We might surrender if you tell us the terms, but just so you know, we're in the strong position: There's 201 of us and 20 of them."
After headlines, we'll go to Capitol Hill for the latest with Representative-elect Greg Casar of Texas, who is still waiting to be sworn in.
California Under State of Emergency as Massive Winter Storm Strikes
Jan 05, 2023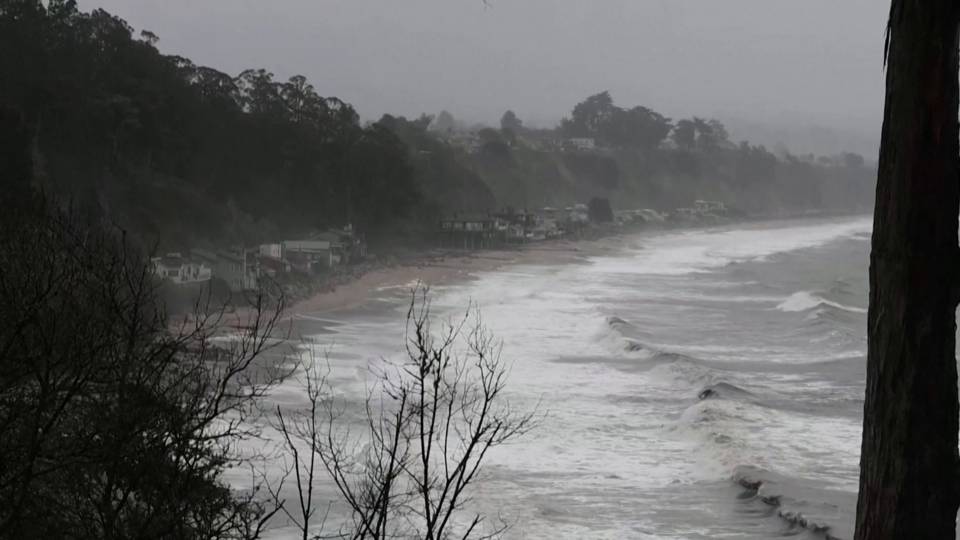 In California, Governor Gavin Newsom has declared a state of emergency and ordered evacuations as a cyclone slammed into the San Francisco Bay Area Wednesday night with hurricane-force winds and torrential downpours. California's second major storm this week is expected to wreak havoc across the state, including flooding, landslides and dangerous winds. A young child was killed in Sonoma County when a tree fell on the family home. Over 180,000 customers had lost power by early this morning. This is a resident of Santa Cruz County in Northern California.
Miguel: "We get home last night, and the first thing we did was pack our stuff off the floor and, you know, all the important stuff, gather it, get some luggage ready just in case, and get some sandbags, too, for the possible evacuation."
California has been experiencing a series of extreme weather events known as "atmospheric rivers" — which have been described as "rivers in the sky" — unleashing unrelenting storms; scientists say climate change will continue to increase the intensity of these storms.
Israeli Forces Shoot and Kill 16-Year-Old in Nablus, 4th Palestinian Killed in 2023
Jan 05, 2023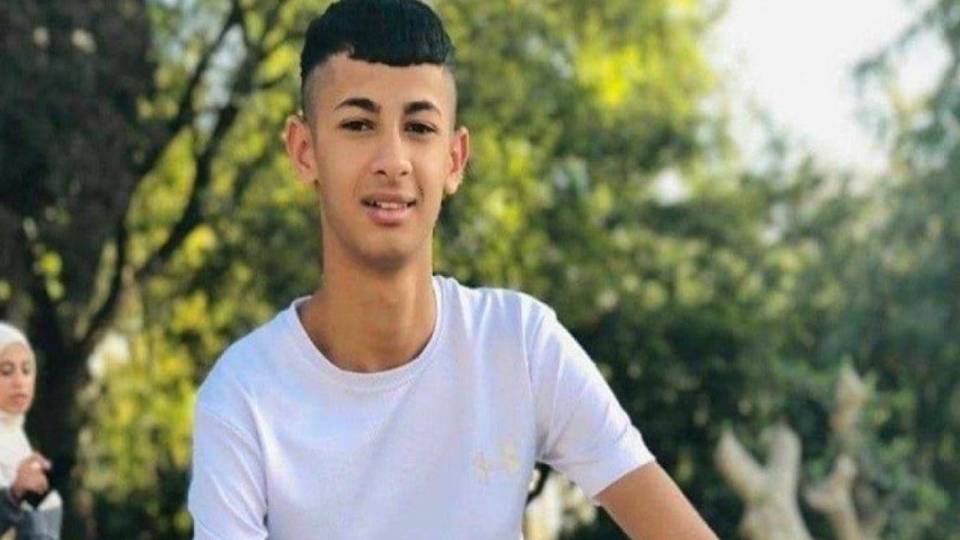 In the occupied West Bank, Israeli forces have shot and killed a Palestinian teen during a raid on the city of Nablus. The Palestinian Health Ministry reports 16-year-old Amer Abu Zaytoon was the fourth Palestinian killed by Israeli forces since the start of the new year.
Over 1,000 Palestinians Receive Eviction Notices as Israel Begins Home Demolitions Near Hebron
Jan 05, 2023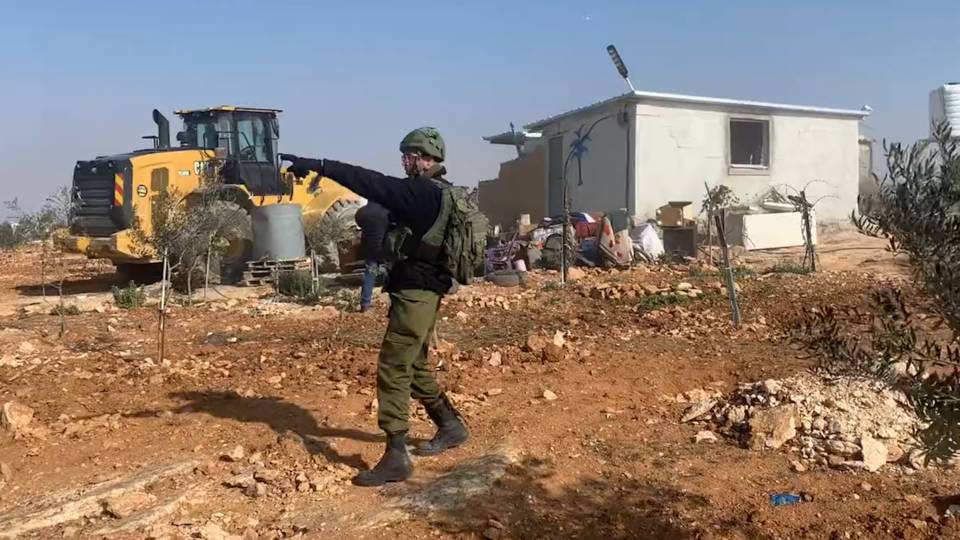 Israel's military has begun demolishing homes, water supplies and olive orchards in Masafer Yatta in the occupied West Bank, near Hebron. This week, Israeli armored vehicles accompanied demolition crews as they razed homes and farms in two villages. Last year, the Israeli High Court of Justice approved the home demolitions, which will uproot more than 1,000 people.
In Washington, D.C., Palestinian American Congressmember Rashida Tlaib tweeted, "Not even one week into 2023, [Israel's] new far-right apartheid government is moving to ethnically cleanse entire communities — which would displace more than 1,000 Palestinian residents, including 500 children. All with American backing, bulldozers, and bullets."
Palestinian Ambassador Condemns Desecration of Christian Gravesites in Jerusalem
Jan 05, 2023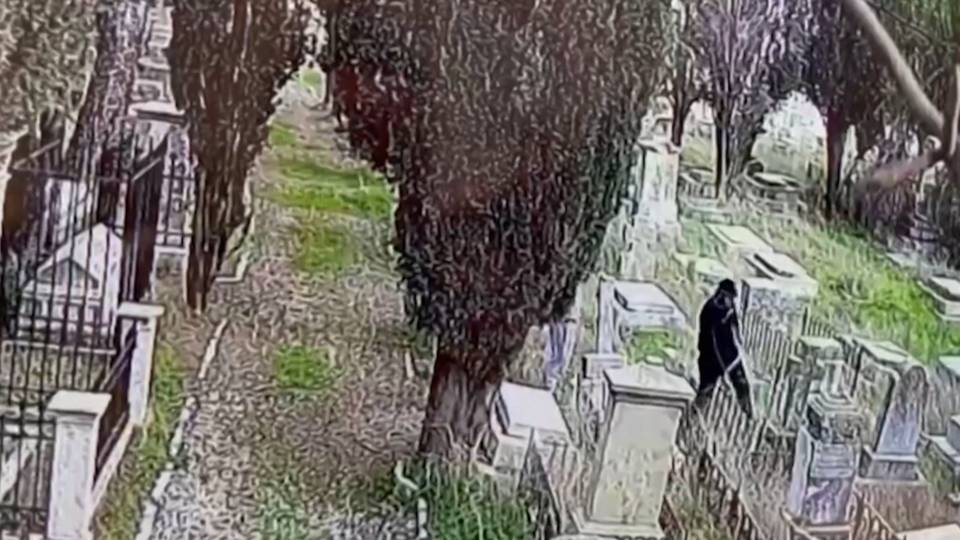 The Anglican Church has expressed "dismay" over an attack on a Christian cemetery close to Jerusalem's walled Old City. Security camera footage taken on New Year's Day shows two men entering the graveyard, toppling a cross-shaped tombstone and smashing it to pieces. More than 30 gravesites were damaged. Jerusalem's Anglican archbishop called the desecration a "clear hate crime" carried out by "Jewish extremists." The incident came days after Israel swore in the most far-right government in its history, led by ultrareligious and ultranationalist members. Palestinian Ambassador Riyad Mansour addressed the incident at the United Nations on Wednesday.
Riyad Mansour: "You've seen by now that there are crosses over, you know, graveyards being trampled upon and attacked by extreme settlers. This is a toxic environment. The international community has to speak with one voice in rejecting this extremism and rejecting those terrorists and those elements of fascists in the Israeli government."
The U.N. Security Council has scheduled an emergency meeting at the request of the U.N.'s Palestinian delegation, after Israel's new national security minister, the ultranationalist politician Itamar Ben-Gvir, visited the Al-Aqsa Mosque in occupied East Jerusalem. In Washington, D.C., U.S. State Department spokesperson Ned Price was critical of Ben-Gvir's visit, which other nations have condemned as a "provocative act."
Ned Price: "We stand firmly for preservation of the historic status quo with respect to the holy sites in Jerusalem. Any unilateral actions that depart from that historic status quo is unacceptable."
Gen. Mark Milley Dissuaded Trump Officials from Trying to Court-Martial Trump's Critics
Jan 05, 2023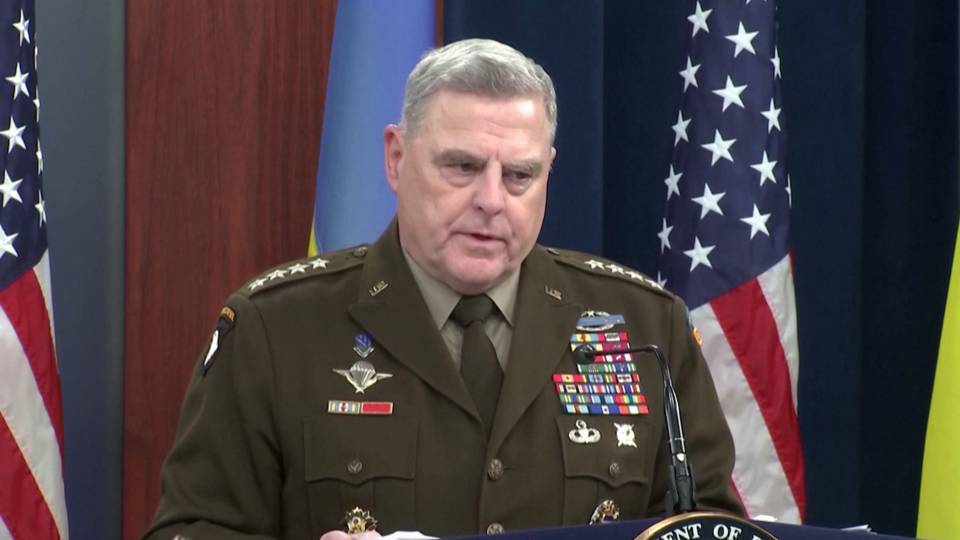 Back in the United States, newly released documents reveal the Pentagon's top general had to dissuade senior Trump administration officials from attempting to court-martial retired military officers who wrote editorials critical of Donald Trump. That's one of dozens of new revelations from testimony by Joint Chiefs Chair General Mark Milley to the House January 6 committee made public this week in a 300-page transcript. Among other revelations: General Milley ordered his staff to preserve what he called "boatloads" of documents about the January 6 attack for future investigations. And Milley told Congress there were "indications" that Trump was contemplating issuing unlawful orders to the military.
European Regulator Fines Meta $414 Million for Forcing Users to Accept Personalized Ads
Jan 05, 2023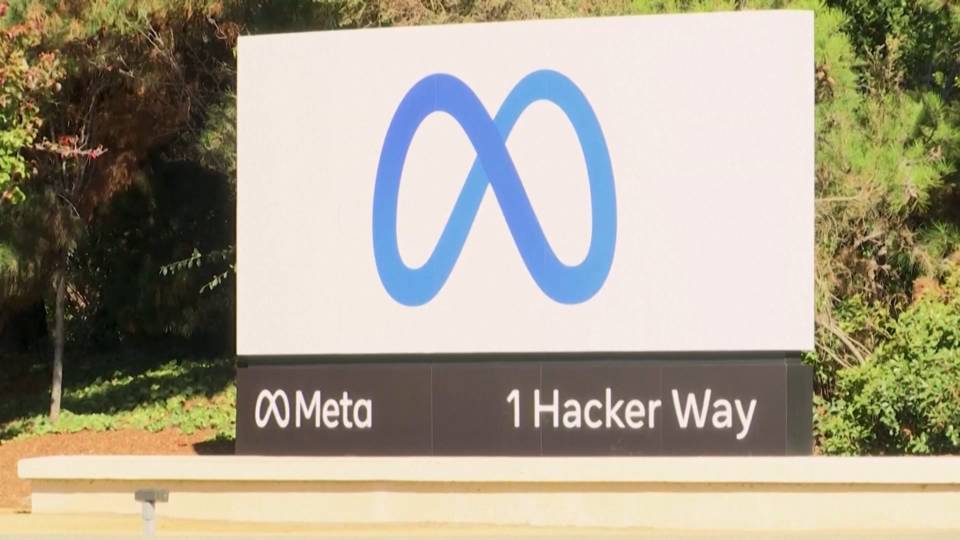 A European regulator has ruled that Meta, the parent company of Facebook and Instagram, illegally forced users to accept personalized ads. Meta is appealing Wednesday's ruling, which ordered the social media giant to pay $414 million in fines and to allow customers to opt out of so-called behavioral ads.
Meanwhile, Twitter said Wednesday it will once again allow political advertisements, after former CEO Jack Dorsey banned all political ads on Twitter worldwide in 2019. This comes as Twitter's new owner, Elon Musk, struggles to retain advertisers, and after Twitter recently relaxed its COVID-19 misinformation policy and restored the accounts of thousands of banned users.
Amazon Cuts 18,000+ Jobs, Salesforce Slashes 10% of Workforce Amid Steep Cuts in Tech Sector
Jan 05, 2023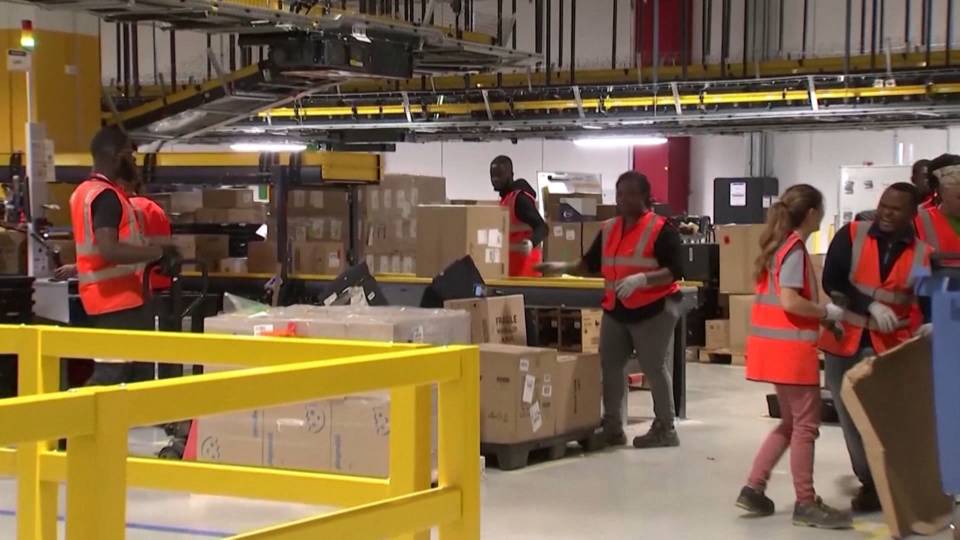 Amazon's CEO has announced plans to cut more than 18,000 jobs. They're the largest layoffs in Amazon's history, representing some 6% of the retail giant's 300,000 workers. Meanwhile, Salesforce announced plans to lay off 10% of its workforce. U.S. tech companies cut more than 150,000 jobs in 2022.
Biden to Visit Southern Border as Fate of Thousands Stranded in Mexico Remains Uncertain
Jan 05, 2023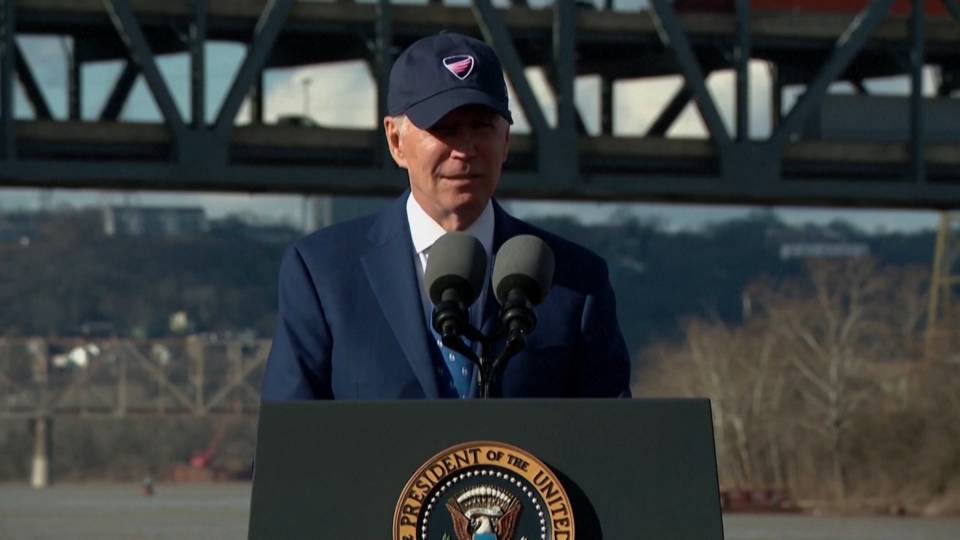 President Biden said he will visit the U.S.-Mexico border next week as part of his upcoming trip to Mexico. It will be Biden's first visit to the border since taking office and comes amid mounting fallout from the extension of the Trump-era Title 42 by the Supreme Court as Republicans challenge ending the policy, which has been used to expel over 2 million people at the border since March 2020. Biden is expected to focus on "securing" the U.S.'s southern border, leading to fears of further militarization and abuses against asylum seekers. Thousands of migrants have sought asylum in Mexico in recent weeks over fears the U.S. would keep Title 42 in place. This is an asylum seeker from Honduras.
Asylum seeker: "Some of us came here pregnant since the Honduran economy cannot support our needs. What we want is asylum in the United States and to go to a shelter that can support us, so that our family in the U.S. can help us with the little that they have."
Judge Sentences Mastermind of Elite College Admissions Scheme to 3.5 Years in Prison
Jan 05, 2023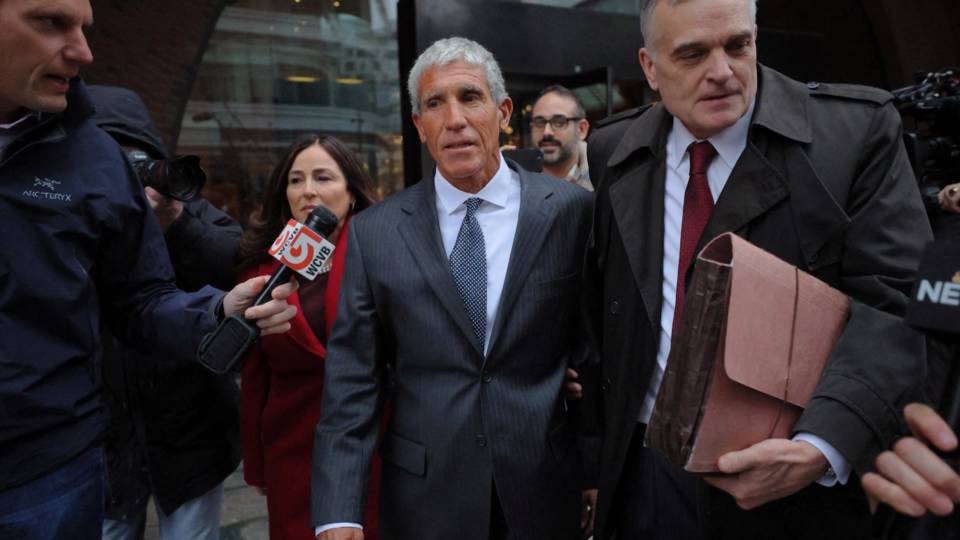 Image Credit: Reuters
A federal judge in Boston has sentenced the mastermind of a college admissions scam to three-and-a-half years in prison over a scheme where wealthy parents paid exorbitant bribes to secure spots for their unqualified children in prestigious universities. In some cases, photos were staged or doctored to make the teenagers seem like accomplished athletes. William "Rick" Singer received the sentence Wednesday, nearly three years after he pleaded guilty to criminal charges including racketeering, money laundering and obstruction of justice. Singer's clients included Hollywood stars Felicity Huffman and Lori Loughlin, and Bill McGlashan, a founder of TPG Capital, one of the largest private equity investment firms in the world.
New York Uber Drivers Begin One-Day Strike over Company's Refusal to Raise Wages
Jan 05, 2023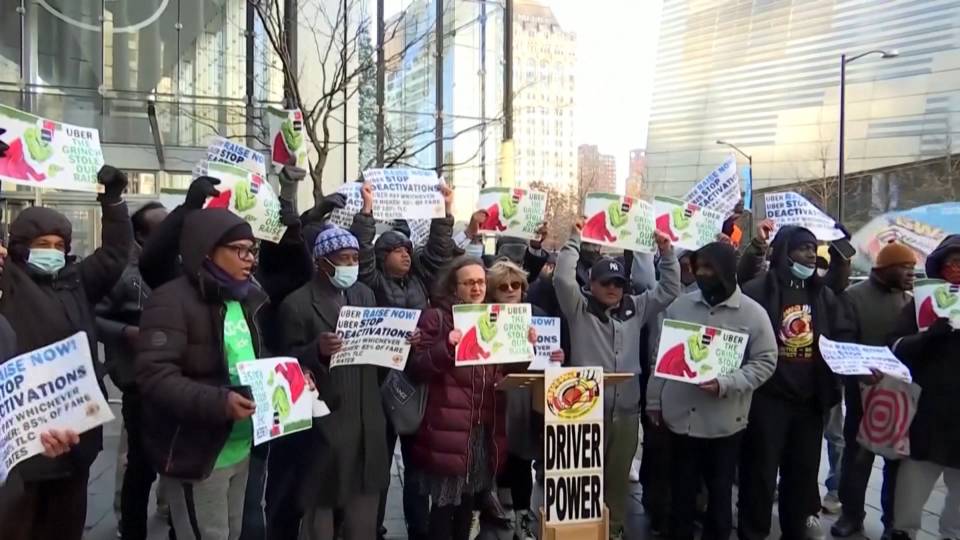 Here in New York, thousands of Uber drivers are on a 24-hour strike today. They're demanding the ride-hailing corporation drop its lawsuit aimed at stopping a pay raise approved by the Taxi and Limousine Commission. The New York Taxi Workers Alliance says drivers were cheated out of $12 million in pay in late December after Uber refused to implement pay raises that were supposed to go into effect.
NYPD Sparks Outrage for Escorting Proud Boys to Subway, Allowing Them to Evade Fare
Jan 05, 2023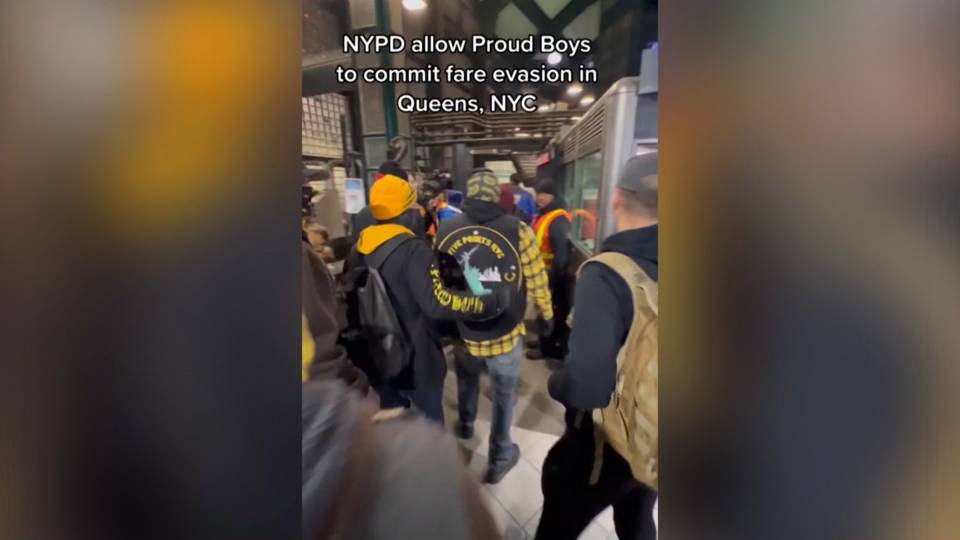 Image Credit: TikTok: @brennalip
In other news from New York, the NYPD is facing new backlash after officers escorted members of the far-right Proud Boys to a subway station, apparently helping them evade their fares, after they sought to disrupt a "Drag Story Hour" — a popular reading event for children — at a Queens library in late 2022.
Brenna Lip: "Proud Boys don't have to pay for the fare?"
Proud Boy 1: "No, we're special."
Brenna Lip: "Proud Boys don't have to pay for the fare?
Proud Boy 1: "We're special. Thank you."
Brenna Lip: "You don't have to pay for the fare? Wow!"
Proud Boy 1: "Appreciate it. From your taxes."
Brenna Lip: "Proud Boys don't have to pay for the fare."
Proud Boy 1: "Oh, thank you."
Brenna Lip: "That is insane. Proud Boys don't have to pay for the fare."
Proud Boy 2: "Three dollars. Three dollars."
NYPD officer: "I just need you to" —
Brenna Lip: "Oh, I have to pay for the fare, but they don't?"
Unidentified: "Right."
Brenna Lip: "Is that the situation you're saying?"
NYPD officer: "That's correct."
New York City authorities have been cracking down on fare evasion, flooding subway stations with police, leading to assaults on passengers and arrests.