Amnesty for Ricardo Patiño Will Be Considered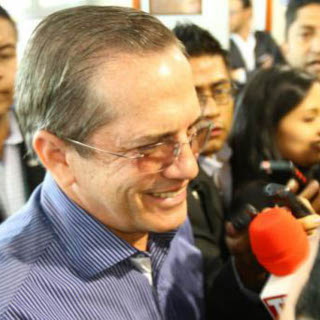 The National Assembly of Ecuador accepted an amnesty request for the former foreign minister of Rafael Correa, Ricardo Patiño.
The Administration Council of the Legislature (CAL), approved the request with five votes in favor and one abstention. Since the plea involves Patiño's constitutional right to free speech, the measure moves next to a special commission assigned to issues that arose from the 2019 protests of Correísmo and Pachakutik.
The only abstention was Nathalie Arias, while the president of the Assembly, Virgilio Saquicela (ind.), and the delegates of correísmo, the Social Christian Party (PSC) and the Democratic Left (ID), voted in favor.
Reactions among the assembly members
Arias recalled that Patiño faces legal proceedings for harangueting protests against the Government of Lenín Moreno, in 2019. The former foreign minister remains a fugitive from justice and obtained political asylum in Mexico.
"I do remember and I keep in mind the message that is sent to an entire country that suffered the excesses, in this case, of all kinds of extremely violent demonstrations," said the legislator.
The coordinator of the PSC and first member of CAL, Esteban Torres, defended his vote. He argued that the body verified that the request meets the requirements, such as the identity of the interested parties, the motivations.
"That means absolutely nothing. Simply that it goes to the designated Commission and the Commission must produce a report that it will present to the Plenary. In the past, the PSC bench opposed the granting of amnesties to people who did not correspond with them,"he said.
In the end, everything will depend on 92 votes when the issue reaches the plenary session. Torres anticipated that his bench does not support it. The amnesty implies the forgiveness of judicial processes such as the one that benefited the leaders of the October 2019 protests.
Correísmo defends the request
Assemblywoman Victoria Desintonio is vice president of the Constitutional Guarantees Commission. "Everyone knows that our dear comrade was politically persecuted in the Moreno government for making statements calling on citizens to stand firm against the measures that led to a national strike," she said.
The request was presented by Wilma Salgado, from the Jubilee 2000 organization, and by Billy Navarrete, from the Committee for the Defense of Human Rights, on November 9. The Commission will have a period of 30 days to deliver the report and, if it is approved, Patiño will be able to return to the country.
Updated January 23, 2023
By mid-February, a vote on amnesty for Ricardo Patiño will be held in a plenary session of the National Assembly. At this point, it looks like it may fall short by 5 or 6 votes.
Translated from El Comercio
for INDYRADIO