Over 200 Arrested as Peruvian Police Violently Raid University in Lima
Jan 23, 2023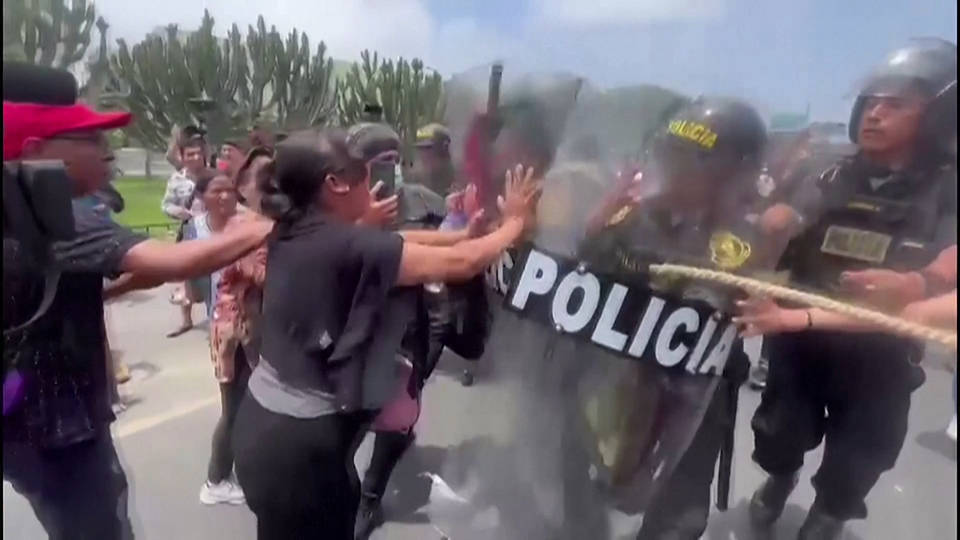 In Peru, police raided a university in Lima Saturday and arrested some 200 anti-government demonstrators. Peruvian security forces smashed down the gates of San Marcos University with armored vehicles, fired tear gas, kicked, punched and assaulted protesters with batons. Protesters are demanding interim President Dina Boluarte step down, after weeks of violence following the ouster of leftist President Pedro Castillo last month. Protesters took to the streets before the detainees were released Sunday.
Enrique Saraza Quispe: "We're not going to step back. If something happens to them, if something happens to the detainees, we will take up arms. I am sincerely ready to take up arms if something like this happens to my family."
Meanwhile, Peru has indefinitely shut down Machu Picchu, the sacred, ancient Inca city and popular tourist attraction, amid the ongoing protests. Over 50 people have been killed in clashes with Peruvian security forces.
Rights Groups Decry "Politically Motivated" Charges Against El Salvador Water Defenders 
Jan 23, 2023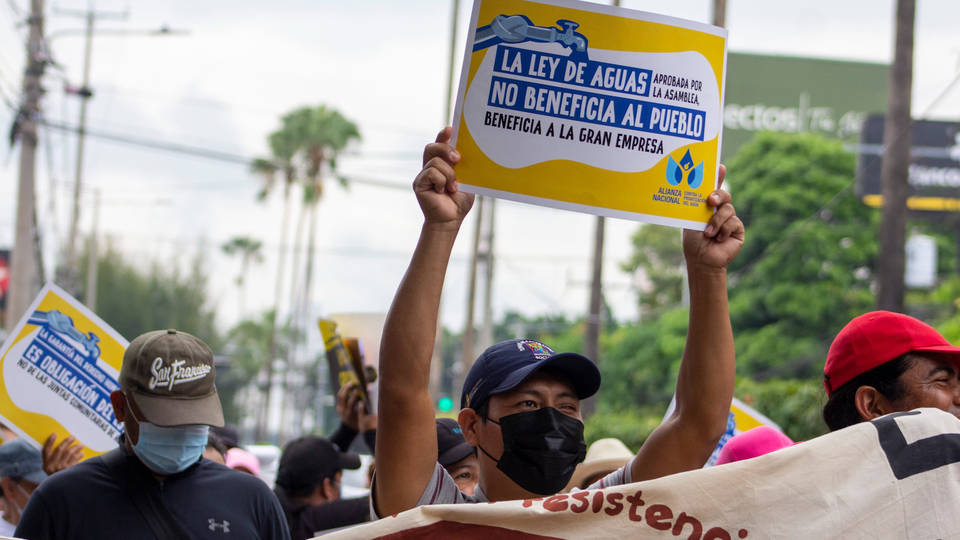 Rights advocates from around the world are demanding El Salvador's government release five water defenders who were detained earlier this month on charges denounced as politically motivated. The five water defenders were instrumental in pressuring the Salvadoran legislature to issue a 2017 ban on metal mining to protect the country's rivers and water sources. They're accused of murdering an alleged military informant over three decades ago while El Salvador was in the midst of a brutal war. This comes as the government of Salvadoran President Nayib Bukele is reportedly considering reversing the metal mining ban.
100,000 March in Tel Aviv to Protest Far-Right Israeli Government 
Jan 23, 2023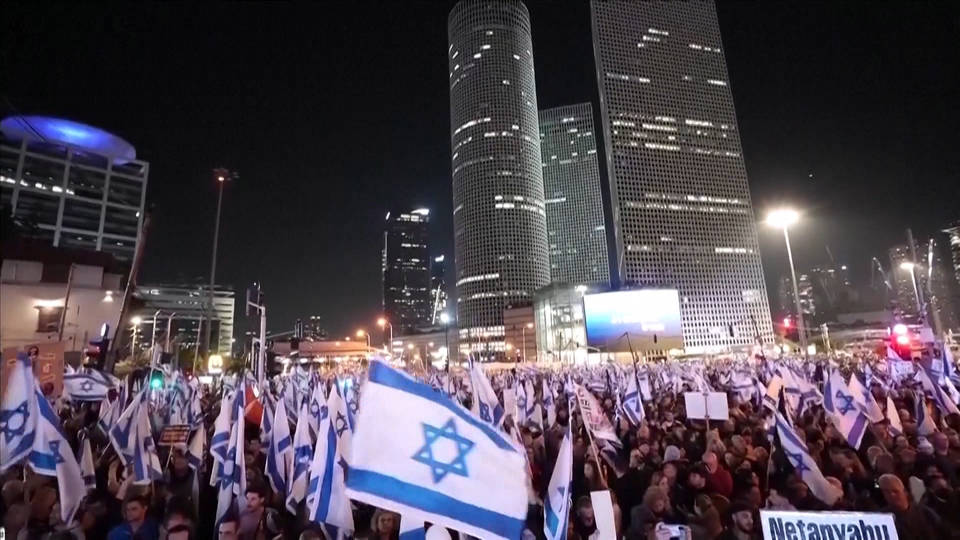 In Israel, Prime Minister Benjamin Netanyahu has removed a top minister, following an order last week by the Supreme Court, which ruled the far-right Aryeh Deri was unfit for office due to his criminal convictions. Netanyahu's compliance with the Supreme Court order comes even as his extremist new coalition seeks to disempower the judiciary. An estimated 100,000 people took to the streets of Tel Aviv Saturday to protest the new government. This is Avi Chimi, chair of the Israeli Bar Association.
Avi Chimi: "We are shouting against a coup d'état. I call upon the citizens of the nation and upon the nation. They want to turn us into a dictatorship. They want to destroy the democracy. They want to destroy the judicial authority. There is no democratic country without a judicial authority."
Meanwhile, 42-year-old Tariq Maali became the 18th Palestinian to be killed by Israeli fire since the start of the year. He was shot dead by a settler in Ramallah, in the occupied West Bank.
National Grid Failure Leaves 220 Million Without Power Across Pakistan
Jan 23, 2023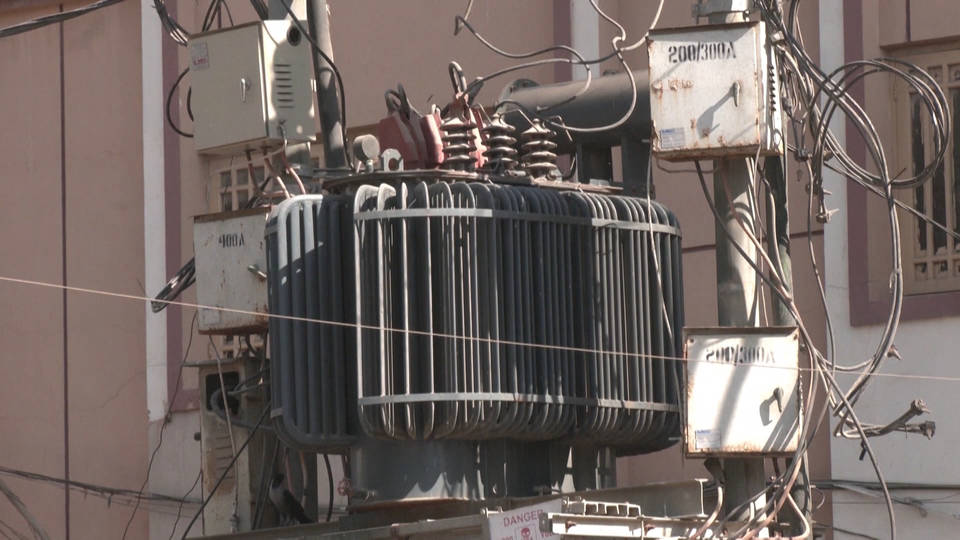 In Pakistan, nearly 220 million people were left without electricity earlier today as the national grid suffered its second nationwide power outage in the past three months. The blackout idled public transit, closed factories and schools, and forced hospitals to turn to emergency backup generators.
Canada to Pay $3 Billion to Settle Lawsuit over Residential School Abuses
Jan 23, 2023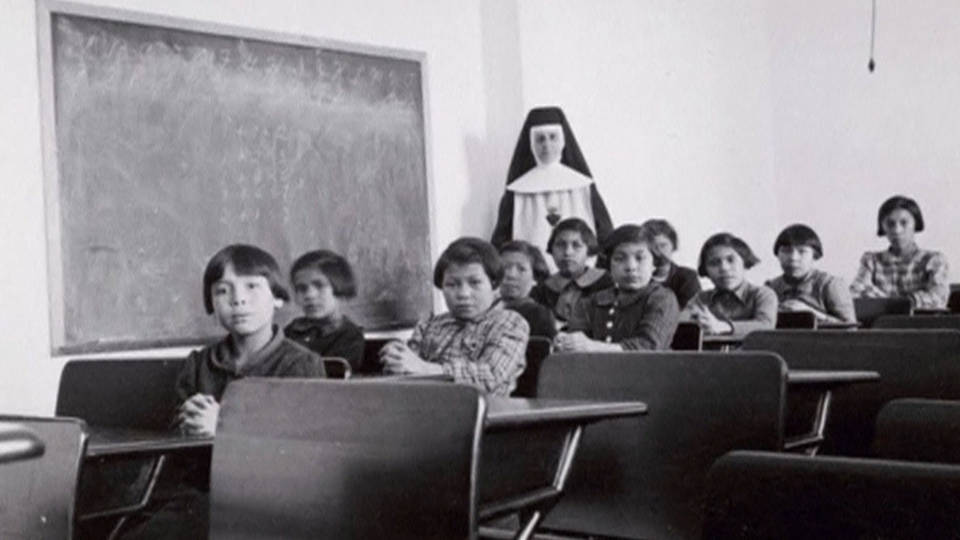 Canada has agreed to pay nearly $3 billion as part of a class-action lawsuit for the cultural genocide of Indigenous communities in the Canadian government-funded residential school system. Around 150,000 children from First Nations, Métis and Inuit communities were forced to leave their families for the boarding schools from the 19th century until the 1970s. Physical, emotional and sexual abuse were rife at the schools, and children were deprived of their Native languages and culture. If the settlement is approved, the funds will go toward supporting Indigenous communities over the next 20 years.
Burkina Faso's Military Rulers Order French Troops to Depart
Jan 23, 2023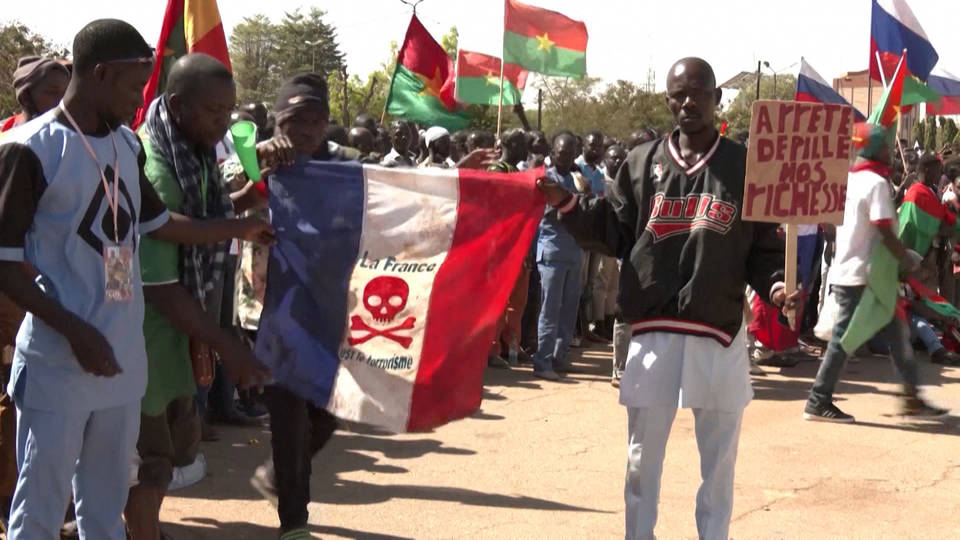 In Burkina Faso, state media is reporting military leaders ordered France to remove all its troops within one month. The country is currently ruled by the military, after Burkina Faso experienced its second coup in just eight months last September. France has some 400 special forces stationed in Burkina Faso as part of the fight against militant jihadist groups, but the prime minister recently said it wants Russia to join them in the counterinsurgency. Protesters took to the streets of Ouagadougou to call for an end to the relationship with its former colonizer.
Adama Sawadogo: "Burkina Faso is tired with France. Burkina Faso wants to break all relations with France. That is why we are burning the French flags, because we want to show France we don't need her anymore."
In other news from Burkina Faso, 66 women and children who were kidnapped last week by armed men in the north of the country were freed Saturday.
FBI Discovers More Classified Documents in Biden's Home After 12-Hour Search
Jan 23, 2023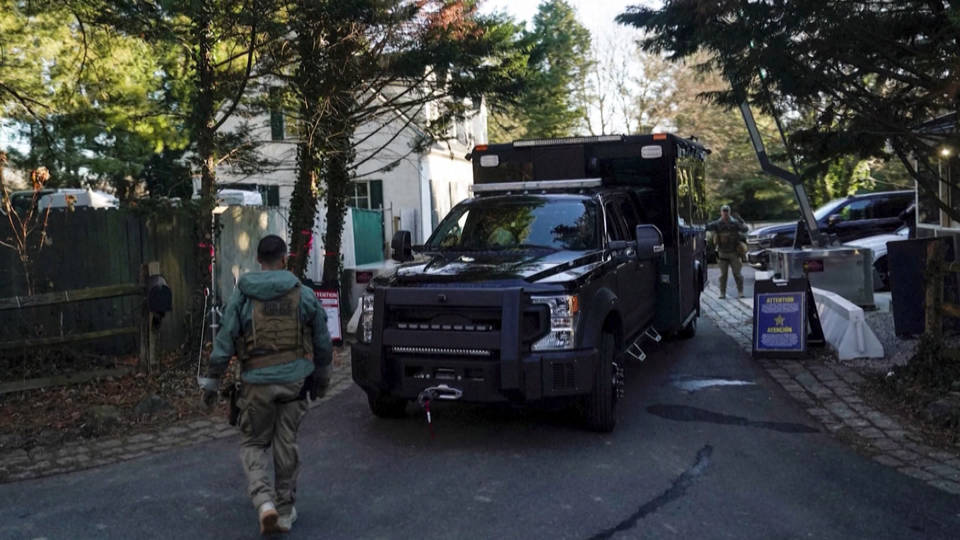 Back in the U.S., Justice Department investigators discovered six more classified documents at President Biden's Delaware home on Friday as FBI agents carried out a 12-hour search. The documents dated back to Biden's vice presidency and his time as a senator. Attorney General Merrick Garland has appointed a special counsel to probe the matter.
U.S. Judge Orders Trump to Pay $1 Million over Frivolous Lawsuit Against Hillary Clinton and Others
Jan 23, 2023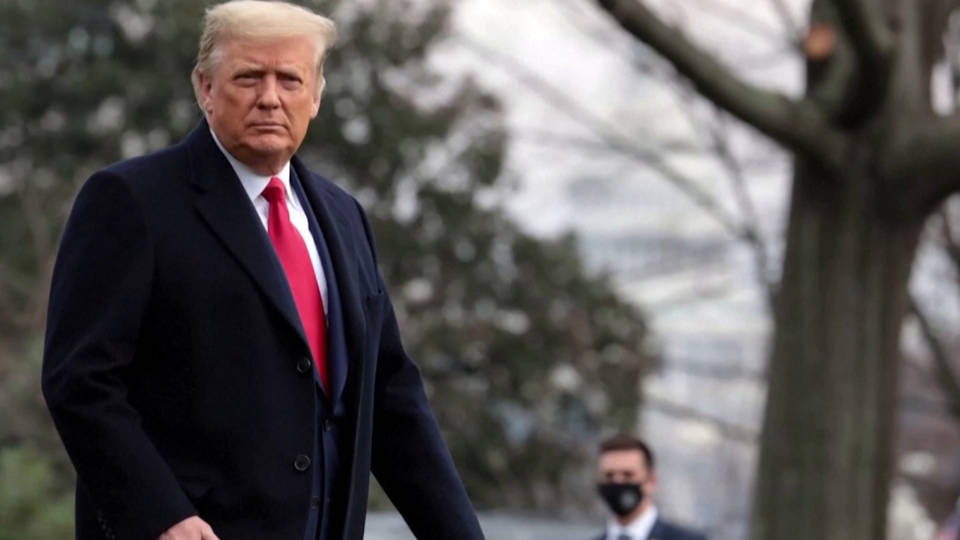 A federal judge in Florida on Thursday ordered former President Trump and one of his lawyers to pay nearly $1 million for filing a frivolous lawsuit against Hillary Clinton and multiple other Trump critics, including former FBI Director James Comey, over what they alleged was a political conspiracy in the 2016 election. One day later, on Friday, Trump dropped a lawsuit against New York Attorney General Letitia James, who is suing the Trump Organization for fraud.
UIC Faculty End Strike After Reaching Deal on Pay and Mental Health Resources for Students 
Jan 23, 2023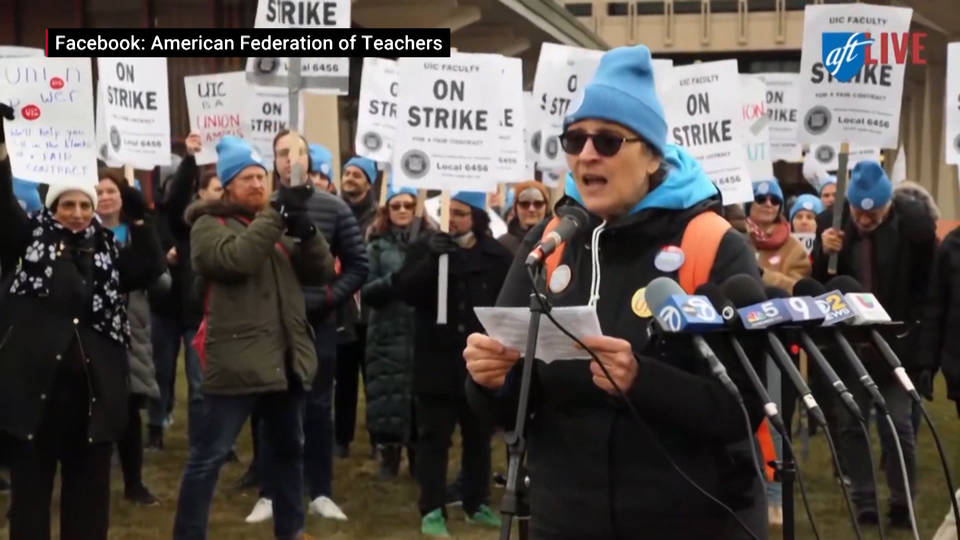 About 1,500 faculty members at the University of Illinois Chicago have ended a four-day strike after winning a tentative agreement on a new contract. If union members approve the deal, it will boost minimum salaries for the lowest-paid faculty members to $60,000 a year and will see the university commit to providing free mental health assessments for struggling students.
ATL Police Arrest Protesters Demanding Justice for Slain Activist as Opposition to Cop City Grows
Jan 23, 2023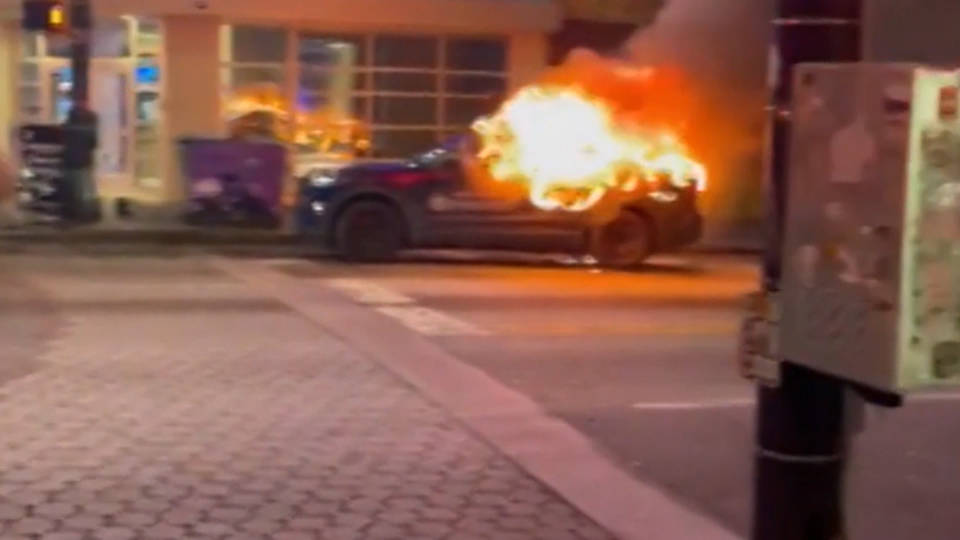 In Georgia, hundreds of protesters marched through downtown Atlanta Saturday to demand justice for an activist killed by police earlier in the week. Manuel Terán, who went by the name Tortuguita, was shot dead by a SWAT team on Wednesday as officers violently raided an encampment of protesters opposed to "Cop City," a proposed $90 million police training facility in a public forest. Protesters are demanding an independent probe into the killing. Atlanta police arrested six people at Saturday's protest and charged them with felonies including domestic terrorism. Demonstrations and vigils for Tortuguita also took place in other cities across the U.S. as opposition to Cop City grows.
Rallies Take Place Across U.S. on 50th Anniversary of Roe v. Wade, 7 Months After Ruling Overturned
Jan 23, 2023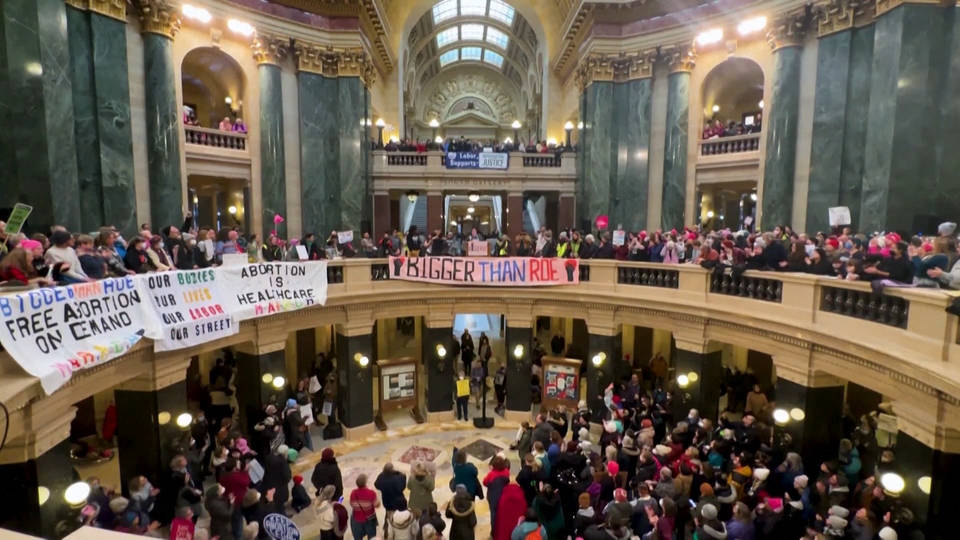 Sunday marked the 50th anniversary of the landmark Roe v. Wade Supreme Court ruling, which enshrined the right to abortion in the Constitution, until it was overturned by conservative justices last year. Since then, 12 states have enacted total abortion bans. Rallies to defend abortion rights took place across the U.S. This is Amadi Ozier, a professor and reproductive rights defender in Madison, Wisconsin.
Amadi Ozier: "We will be putting politicians on notice: You come for our abortion rights, you come for our reproductive rights, and we will vote you out!"