"The Killing of Shireen Abu Akleh" Wins Coveted Journalism Award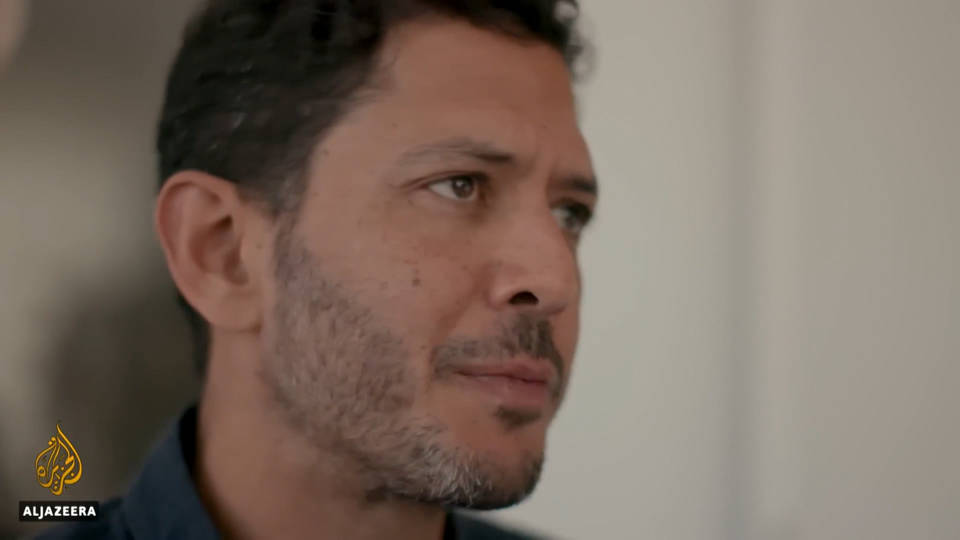 Journalism's prestigious George Polk Awards have been announced. Among 2022's winners is former Democracy Now! producer Sharif Abdel Kouddous, a reporter for the independent Egyptian outlet Mada Masr. Sharif won the foreign television award for "The Killing of Shireen Abu Akleh" along with Al Jazeera "Fault Lines" senior producer Kavitha Chekuru and executive producer Laila Al-Arian. Their remarkable documentary investigates the killing of Palestinian American journalist and longtime Al Jazeera correspondent Shireen Abu Akleh by Israeli forces last May during a raid in the occupied West Bank. It draws on videos and eyewitness accounts of Abu Akleh's killing to establish that she was fatally shot in the head by an Israeli sniper, a finding supported by numerous other press investigations. Shireen and other reporters were wearing blue helmets and blue flak jackets clearly emblazoned with the word "press." Click here to see our interview with Sharif Abdel Kouddous and Lina Abu Akleh, niece of Shireen Abu Akleh.
One Person Killed, 12 Others Injured in Ohio Metal Factory Explosion 
Feb 21, 2023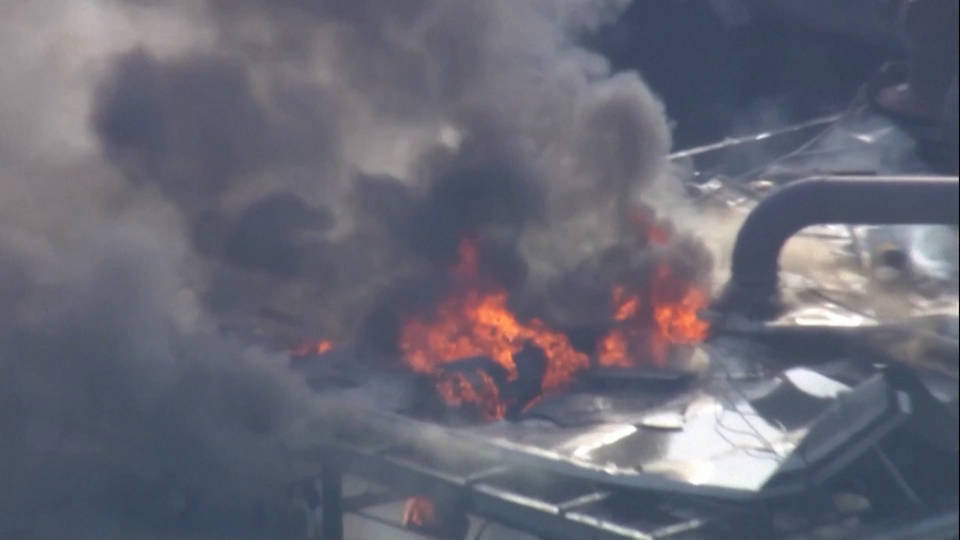 In Ohio, one person was killed and 12 others injured Monday as a large explosion tore through a metal factory outside Cleveland, shattering windows, scattering molten debris around the site and setting vehicles on fire. Residents of Oakwood Village reported a scent like "burning oil" after the explosion, which sent a huge plume of smoke billowing into the sky. Records from the Occupational Safety and Health Administration show the factory's operator, I. Schumann & Co., was recently cited in several complaints. In one instance, a worker suffered third-degree burns. In another case, OSHA cited the company for a "serious violation" over its control of hazardous energy.
Ohio Opens Health Clinic for Residents Near Site of Toxic Train Crash
Feb 21, 2023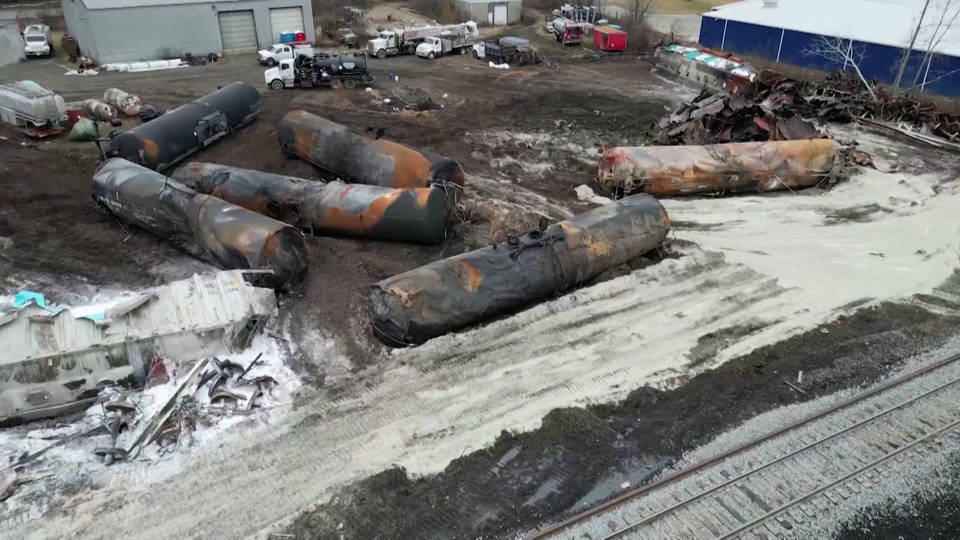 The Ohio Department of Health is opening a health clinic today for residents of East Palestine, who've reported health effects including headaches, sore throats and respiratory problems following the February 3 derailment of a Norfolk Southern train. The crash led to a massive fire and the release of toxic chemicals, including vinyl chloride. The head of the Environmental Protection Agency, Michael Regan, is headed back to East Palestine today. His trip comes as Transportation Secretary Pete Buttigieg is coming under fire for not visiting the crash site. Buttigieg told reporters on Monday, "When the time is right, I do plan to visit East Palestine. I don't have a date for you right now." Click here to see our coverage of the Ohio rail disaster.
Students Demand Gun Reforms After Mass Shooting at Michigan State University
Feb 21, 2023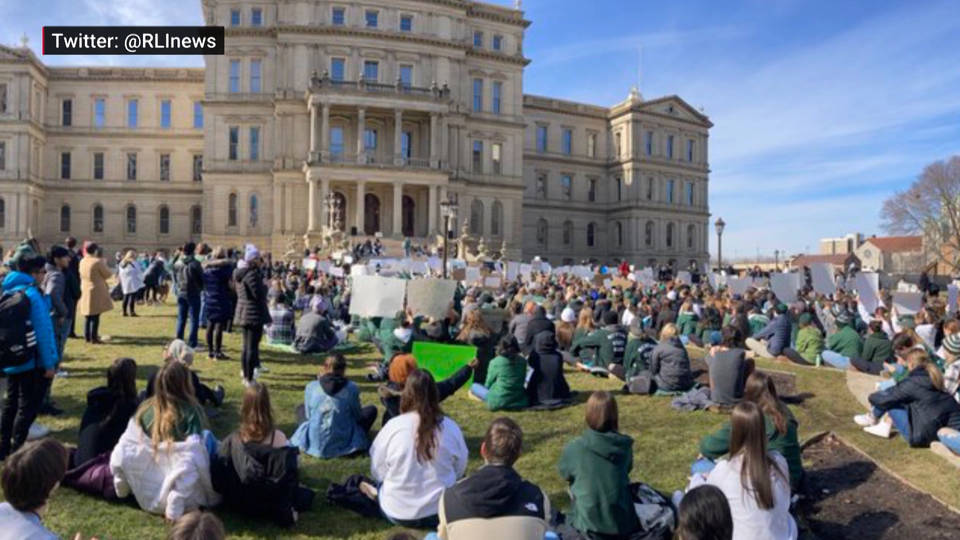 Students at Michigan State University returned to classes on Monday, one week after a gunman's rampage left three students dead and five others critically wounded. Many MSU students and faculty reported they weren't ready to resume classes and need more time to heal. Meanwhile, hundreds of students and their supporters gathered at the Michigan state Capitol Monday for a sit-in protest demanding the state Legislature put new limits on guns. This is MSU senior Mahek Khangura.
Mahek Khangura: "I texted my family, friends and loved ones for what I thought would be the last time ever. The wifi and data kept going in and out, and for every minute over four hours I thought I was going to die. I didn't think I was going to make it out alive anymore. While I'm standing here before you today lucky to be alive, I should not be lucky to be alive. The right to bear arms should have never come before our right to live. And my life matters more than guns."