More Than 62 Refugees Die in Shipwreck as Italy Cracks Down on Rescues
Feb 27, 2023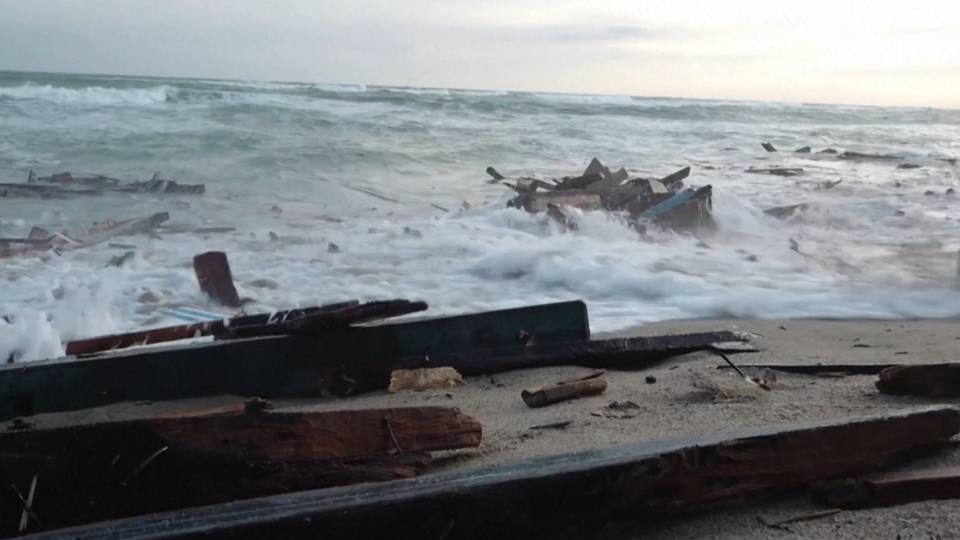 At least 62 people died over the weekend after a boat carrying refugees fell apart at sea off of Italy's Calabrian coast. At least one baby and 12 children were among the deceased. Around 80 survivors, from Iran, Pakistan and Afghanistan, were pulled to safety after they were found in the water clinging on to pieces of the ship, which had departed the Turkish city of Izmir a few days earlier.
The latest migrant tragedy in the Mediterranean came just days after the Italian government of far-right leader Giorgia Meloni approved a new law making it harder for humanitarian aid rescue vessels to carry out their missions. Doctors Without Borders said their rescue ship was detained by Italian authorities as part of the new measures, blocking it from going to sea to save lives for at least 20 days.
In the town of Crotone, where the bodies of the victims are being kept, community members gathered to pay their respects. This is Bishop Francesco Savino.
Bishop Francesco Savino: "It is the hour of silence, of prayer, of recollection, of deep meditation. But it is the hour in which we must also question ourselves responsibly about this new tragedy, with respect to which we risk all becoming accomplices."
Israeli Settlers Go on Anti-Palestinian Rampage in Huwara as Officials Agree to Deescalate Tensions
Feb 27, 2023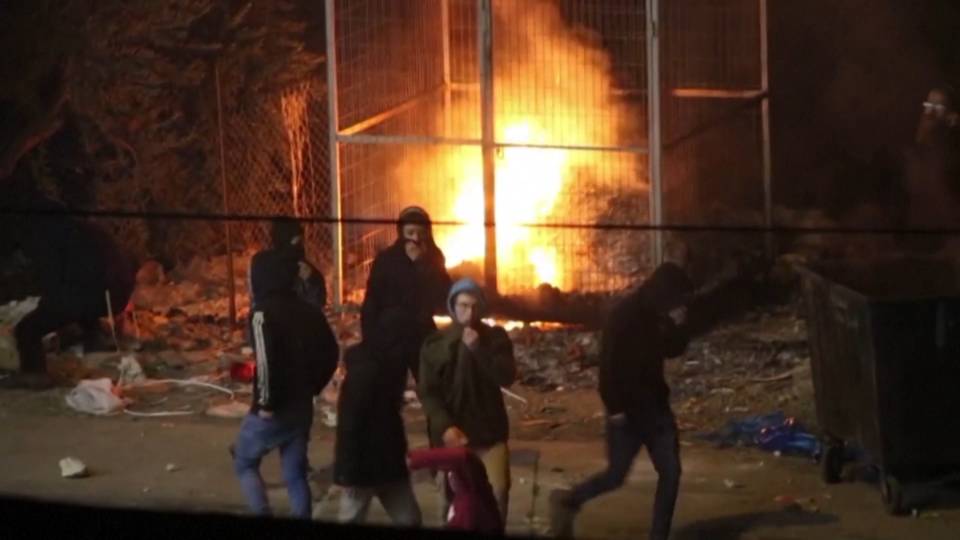 Israeli and Palestinian officials have agreed to measures to deescalate tensions after meeting this weekend in Jordan. Israel said it would pause discussion of new settlement units for four months and halt new settlement approvals for six months. Officials from Israel, the Palestinian Authority, the U.S., Jordan and Egypt took part in the meetings. But some Palestinians, including members of Hamas in Gaza, condemned the negotiations. This is a university student from Gaza.
Youssef Seyam: "How should we accept such a meeting, a meeting that gives up the Palestinian rights and revokes the right of resistance for the Palestinians?"
The talks came as more violence plagued the region. On Sunday, Israeli settlers ransacked and torched Palestinian homes in Huwara, near the occupied West Bank city of Nablus, killing at least one Palestinian and injuring dozens of others. The brutal attack on Huwara followed the fatal shooting of two Israeli brothers by a Palestinian gunman. This is a young Palestinian girl whose home was attacked by Israeli settlers.
Lamar Abusarees: "We started to hear sounds from outside the house. I moved to the windows in our room, but they were shooting, so I moved down to the floor. Then they broke the windows. My mother moved us to a corner because there was no safe place."
 Zelensky Fires Top General in Corruption Purge, Plans Meeting with Chinese
Feb 27, 2023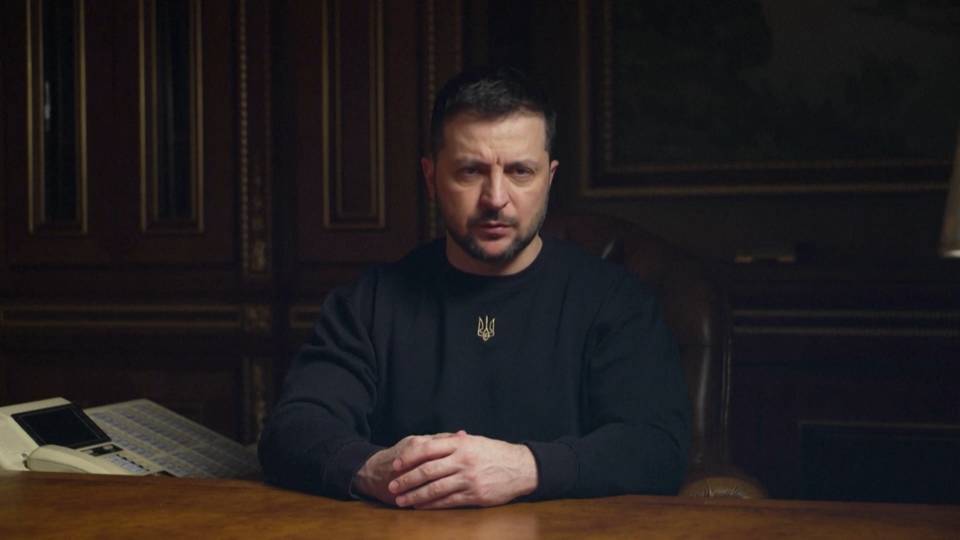 Zelensky fired his top Ukrainian military commander Sunday without giving a public reason, though a number of high-profile officials were fired or resigned last month as part of an anti-corruption purge.
In other war news, Zelensky said he plans to meet Chinese leader Xi Jinping to discuss Beijing's proposal for ending the war.
Protesters in Tunisia Condemn President Saied's Racism Amid Ongoing Political Turmoil
Feb 27, 2023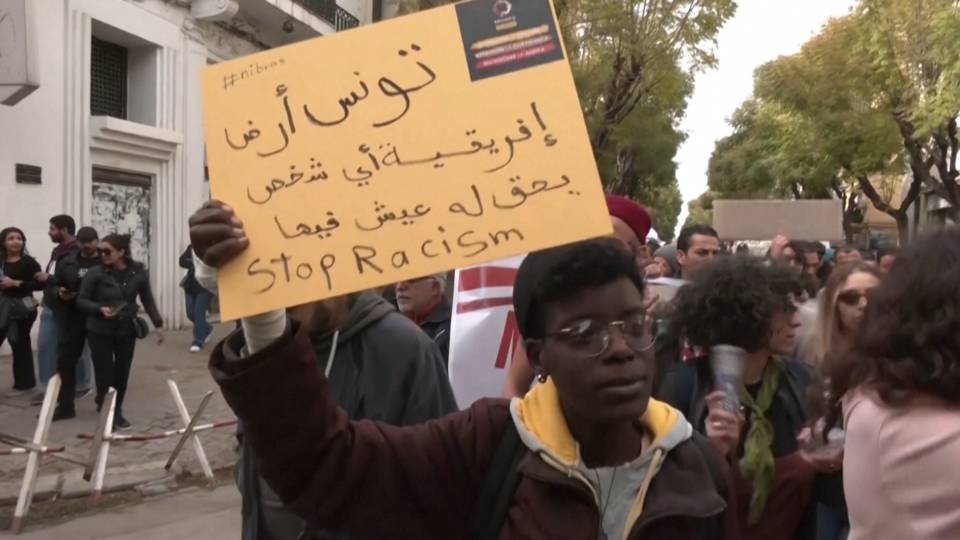 The African Union condemned recent racist comments by Tunisian President Kais Saied after he called for an end to sub-Saharan migration to Tunisia and claimed Black undocumented migrants were part of a plot to alter Tunisia's demographics. Hundreds of people in the capital Tunis took to the streets Saturday to demonstrate against hate speech and anti-immigrant rhetoric and policies.
Nibras Mjanah: "The president incited people against each other. The level of racism was much lower in the past, not like now. Now it is normal for you to be assaulted for no reason, just because of your color."
This comes amid ongoing protests against President Saied since he dismissed the Tunisian government in 2021 and started consolidating power. Last week security forces arrested prominent opposition figure Jaouhar Ben M'barek as detentions of Saied's critics and political opponents have been ramping up.
El Salvador's Pres. Nayib Bukele Touts "Megaprison" with Shocking Images of Shackled Detainees
Feb 27, 2023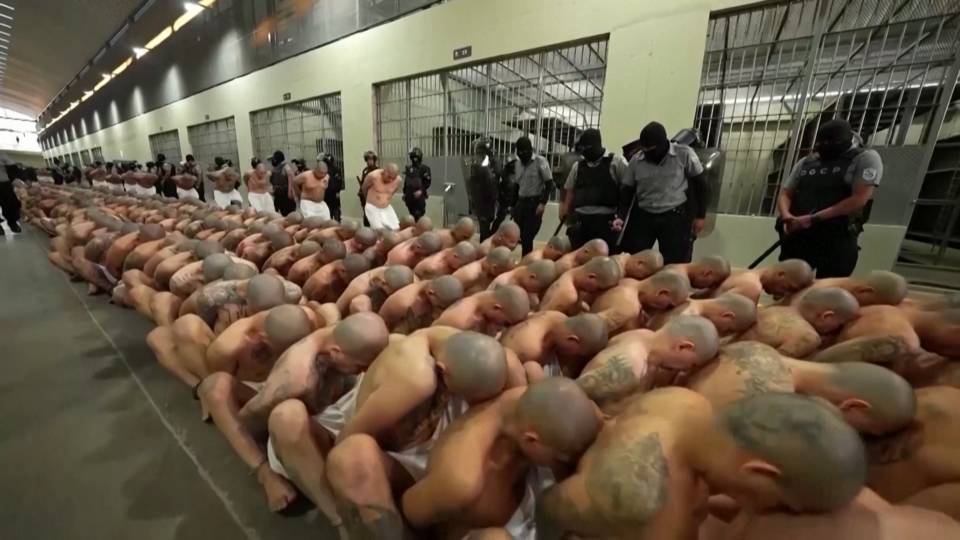 In El Salvador, human rights advocates are condemning the transfer of some 2,000 suspected gang members to a newly opened megaprison as part of an ongoing crackdown by President Nayib Bukele. Over the weekend, Bukele shared images of prisoners wearing nothing but white shorts being rushed into the prison, then sitting in rows with their heads down. The so-called terrorism confinement center has a capacity of 40,000 and is now considered to be the largest prison in the Americas. Bukele's government has been enforcing a state of exception since last March, suspending several constitutional protections and leading to the arbitrary arrest of an estimated 64,000 people — many without any ties to gangs or access to due process. Human rights groups say at least 80 people have died in police custody.
Erin Brockovich Tells East Palestine Residents to Remain "Vigilant" Following Toxic Train Crash
Feb 27, 2023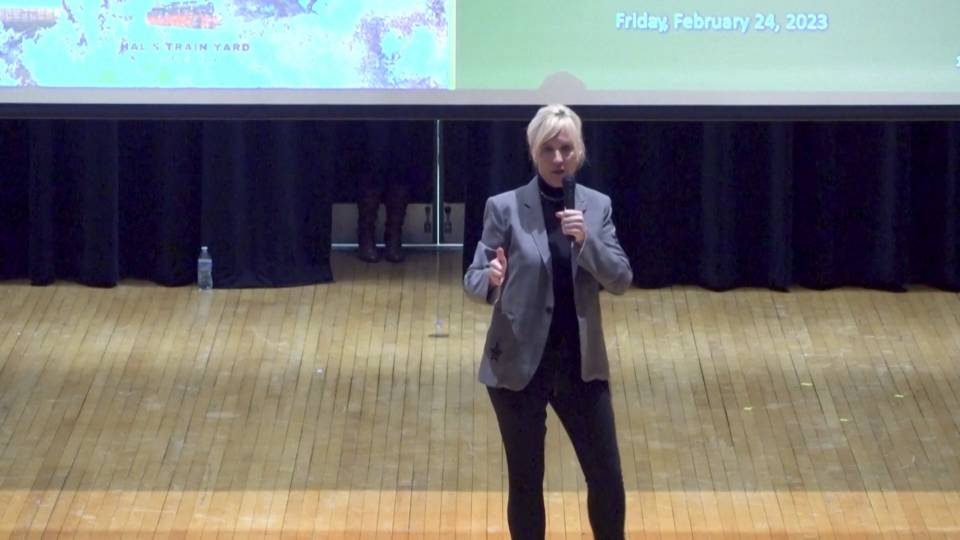 Here in the U.S., federal personnel are going door to door in East Palestine, Ohio, to conduct health surveys as fallout continues over the February 3 Norfolk Southern train wreck and release of toxic chemicals. Meanwhile, residents of Harris County, Texas, are expressing outrage following news that toxic wastewater which was used to extinguish fires from the East Palestine crash is being transported to Texas for underground disposal. A local environmental group said, "Our county should not be a dumping ground for industry."
In East Palestine, prominent environmental advocate and whistleblower Erin Brockovich addressed community members Friday during a crowded town hall.
Erin Brockovich: "We often find out five and 10 years down the road, after you were told it was safe, 'Oh, oops! Houston, we have a problem.' … Be vigilant. Hold your ground. We're going to give you as much information as we can. And like I said, some of it, you might not want to hear. It might surprise you. It could scare you. But now you can know more so you're prepared better."
Erin Brockovich is involved in organizing a class-action lawsuit against Norfolk Southern.
This comes as Republicans on the House Oversight Committee are launching a probe into Transportation Secretary Pete Buttigieg's response to the disaster, citing his "slow pace" following the crash.
In related news, another Norfolk Southern train derailed on Saturday — this time in Lexington, North Carolina. The company said the crash posed no danger to the public.
FDA Approves At-Home Combined COVID and Flu Test
Feb 27, 2023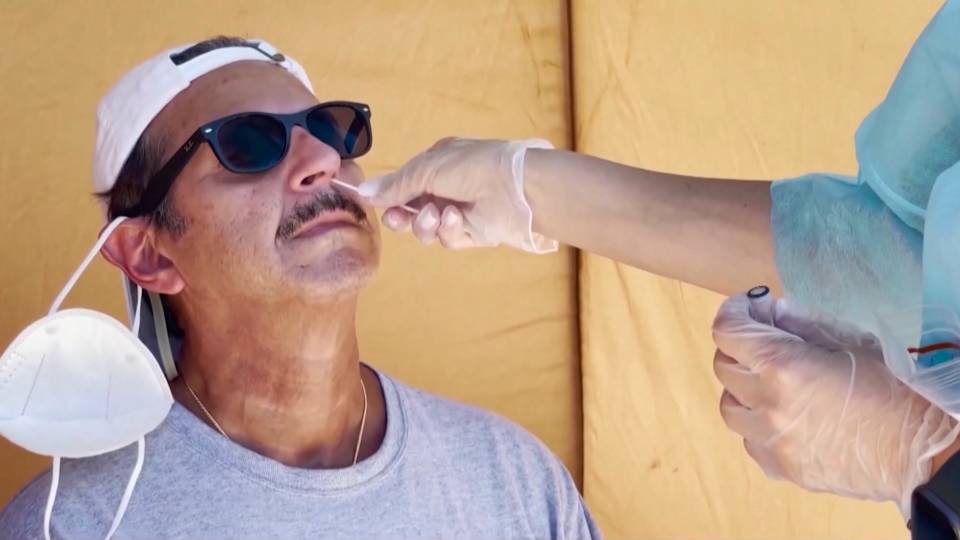 In other coronavirus news, the FDA has given emergency authorization for the first over-the-counter combined COVID and flu test. It's not yet clear when the test, manufactured by Lucira Health, will be available to consumers in the U.S. and how widely it will be covered by health insurance.
Newspapers Drop Dilbert Comic After Creator's Racist Comments
Feb 27, 2023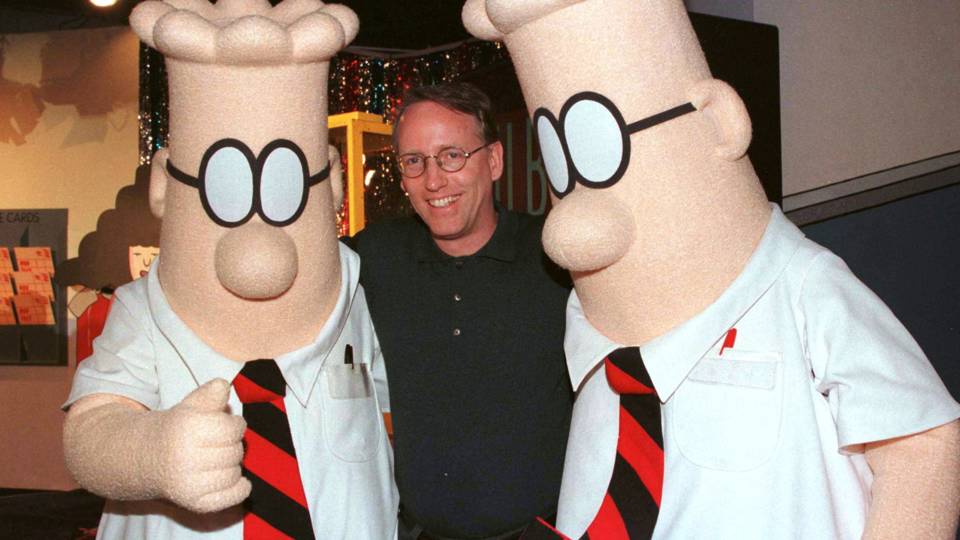 Image Credit: Fred Prouser/Reuters
A growing list of media outlets will stop publishing the long-running Dilbert comic strip after its creator Scott Adams made racist comments on his YouTube show. Dilbert's distributor has also cut ties with Adams, after he said Black Americans are part of a "racist hate group" and advised white people to "get the hell away from Black people." The remarks were made in response to the results of a poll that asked respondents if they agreed with the statement "It's OK to be white." A number of major publications severed ties with Adams, including The New York Times, The Washington Post, the Los Angeles Times and USA Today.
Uber and Lyft Drivers Strike in Ongoing Battle Against Wage Theft
Feb 27, 2023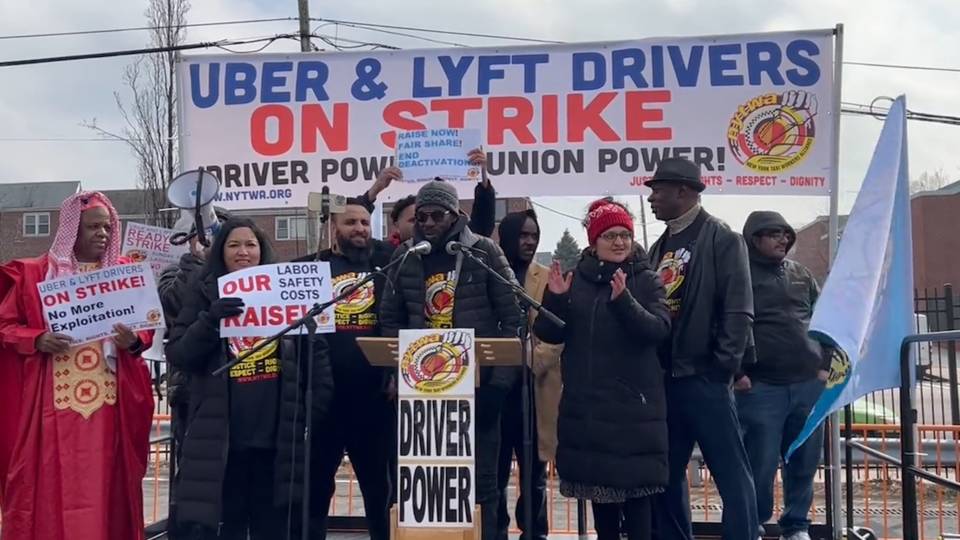 Image Credit: PowerSwitch Action
Here in New York, Uber and Lyft drivers led a 12-hour strike, from noon until midnight Sunday, at LaGuardia Airport as they continue to demand fair wages. This is the third strike since December in response to a lawsuit filed by Uber that blocked a pay increase for drivers, approved by the Taxi and Limousine Commission and that was supposed to go into effect in December. This is an Uber driver speaking from the picket line yesterday.
Ibrahima Gory: "All they see is the money. All they see is the money. But we are the one who makes the money. The money doesn't make us. The money doesn't make us. We make the money. Do you believe that?"
Crowd: "Yes!"
Ibrahima Gory: "So let's stick together and do the fight together until the end."
Bhairavi Desai: "That's right!"