SCOTUS Hears Challenges to Government Student Relief Plan as Activists Rally
Mar 01, 2023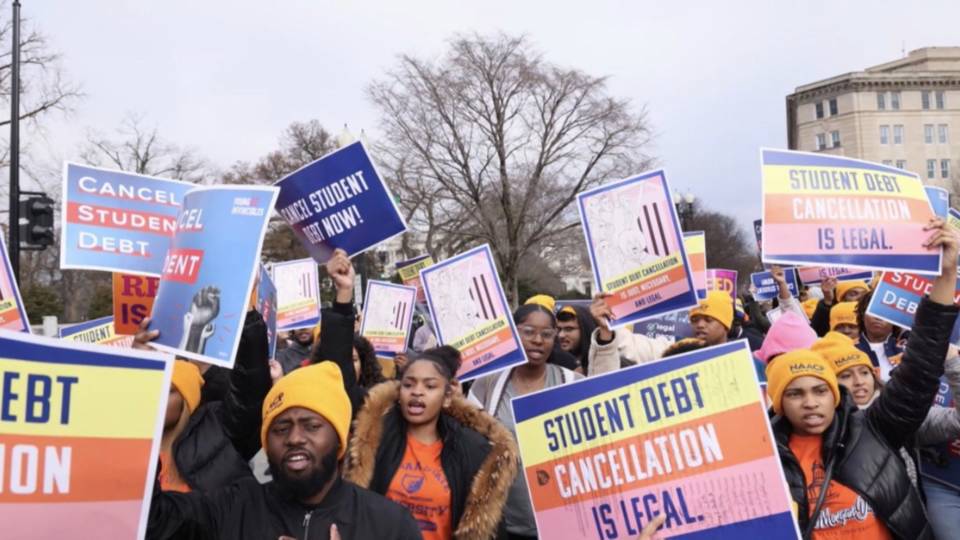 Image Credit: Twitter: @NAACPYC_
The Supreme Court heard arguments Tuesday in two challenges to the Biden administration's student debt relief plan, which could give tens of millions of federal borrowers up to $20,000 of relief. Several conservative justices expressed skepticism over the plan, while liberal Justice Sonia Sotomayor blasted the Republican states that brought one of the lawsuits, arguing 50 million students will suffer if the program is rescinded, and that the Education Department should be making decisions about how to handle their debt rather than judges. Activists gathered outside the court. This is Maddy Clifford of the Debt Collective.
Maddy Clifford: "These lawsuits are bogus, literally backed by right-wing billionaires. Look it up. Rich people who have happily accepted government handouts in the form of having their PPP loans forgiven or receiving government subsidies — does the government work for them, or does it work for us? That's my question. OK? So, if you ask me now what it feels like to be $120,000 in student loan debt, I say it feels like solidarity. It feels like power. If one person owes the bank, that's that one person's problem. But when a million people owe the bank, that's the bank's problem."
Senate Holds Equal Rights Amendment Hearing as U.S. Court Denies Attempt to Include in Constitution
Mar 01, 2023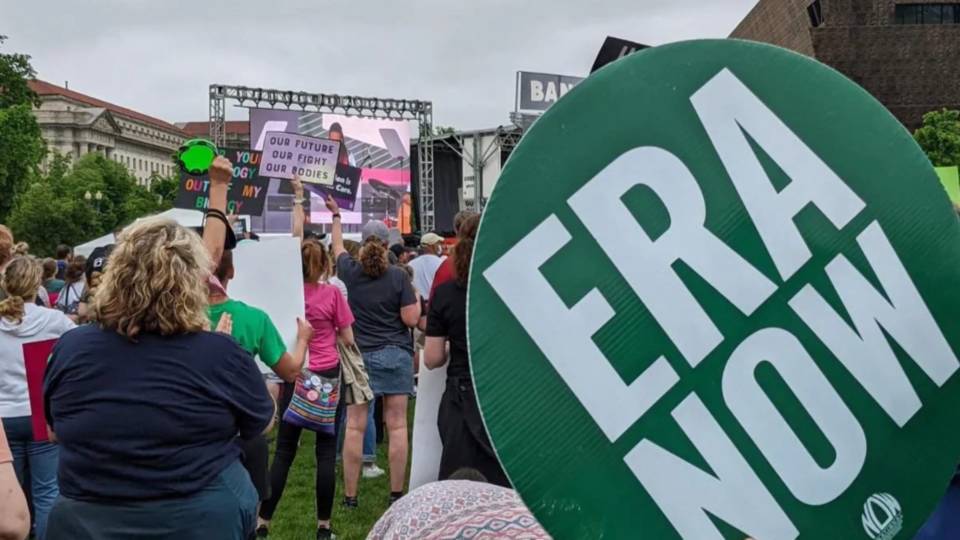 Image Credit: ERA Coalition
The Senate Judiciary Committee held a hearing Tuesday for the Equal Rights Amendment, which would codify gender equality in the Constitution. The ERA was passed in 1972 but was never ratified, as conservative opponents have argued the deadline for ratification has passed. The ERA would not only help address persistent inequality in areas like wages, it could also protect abortion rights and the rights of trans and nonbinary people. Constitutional and legal experts say Congress has the authority to change the ratification timeline. This is lawyer and constitutional scholar Kathleen Sullivan speaking at yesterday's hearing.
Kathleen Sullivan: "It's my belief that under Article 5 — Congress proposed it, 38 states ratified it — it is the law now. And the only thing standing in the way is the congressional deadline, which Congress set in 1972, altered in 1978, and has the power to change today."
Yesterday's hearing came as the Washington, D.C., Circuit Court struck down a case which would have compelled the U.S. archivist to publish and certify the Equal Rights Amendment as part of the Constitution.
Bola Tinubu of Ruling Party Wins Nigeria Election Amid Low Turnout, Rigging Charges
Mar 01, 2023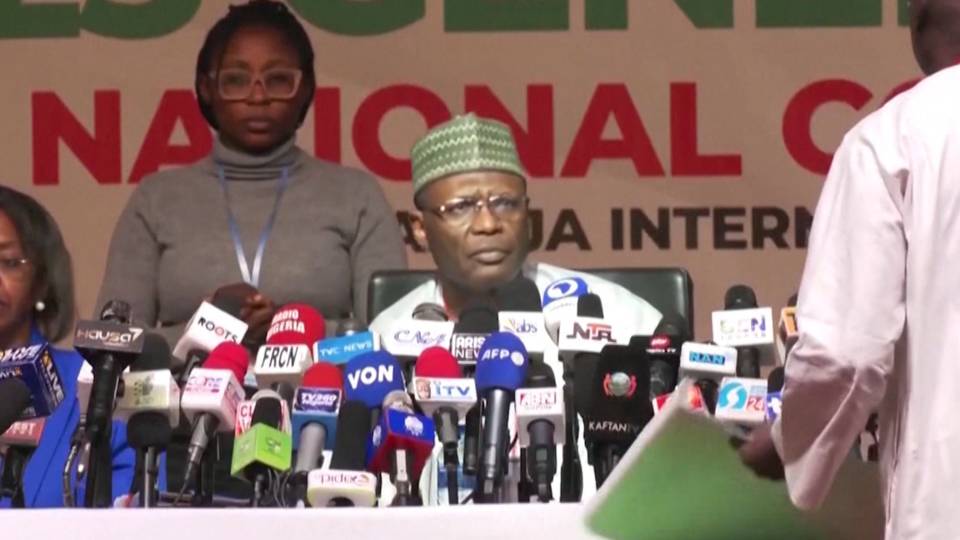 In Nigeria, Bola Tinubu of the ruling All Progressives Congress party was declared the winner of the weekend's presidential election. But his opponents have disputed the results, alleging fraud, while election observers and voters have cited delays, closures and violence at voting sites. Turnout was less than 30%. Tinubu, the former governor of Lagos, lost the vote in Lagos state to the Labour Party's Peter Obi, who came in third overall. Obi had received much of his support from young voters, who saw him as the candidate of change. Atiku Abubakar of the main opposition party Peoples Democratic Party received the second-highest number of votes, according to Nigeria's Electoral Commission.
The new president of Africa's most populous nation will have to face the ongoing security and violence crisis, as well as double-digit inflation and unprecedented oil theft.
Biden Names Labor Advocate Julie Su to Lead Labor Dept.; Democrats Reintroduce PRO Act
Mar 01, 2023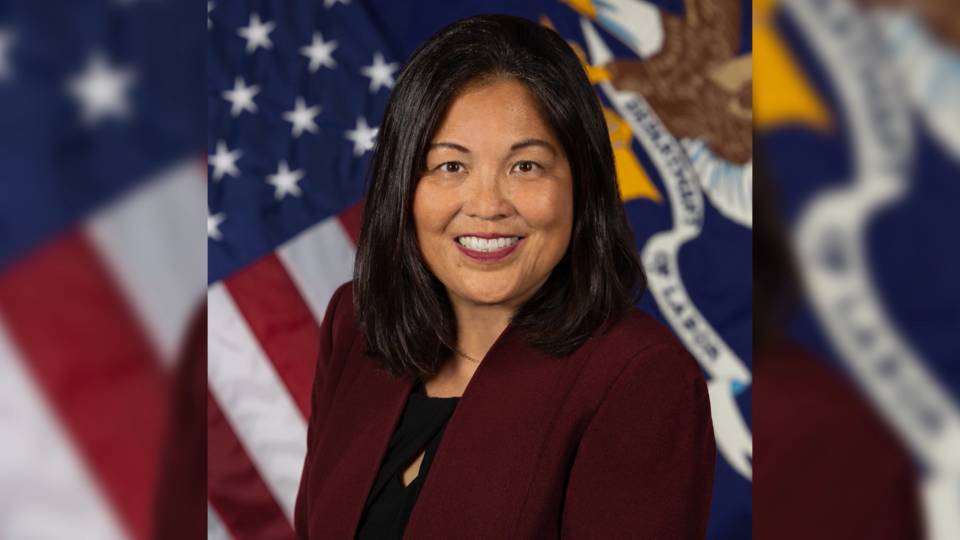 Back in the U.S., President Biden has tapped Deputy Secretary of Labor Julie Su to be the next labor secretary, as former Boston Mayor Marty Walsh leaves his post this month to head the National Hockey League's players' union. The nomination of Su, a civil rights attorney and former head of California's Labor Department, was welcomed by progressive and pro-labor groups. She would be the first Asian American to serve as secretary in Biden's Cabinet. Aimee Allison, founder of She the People, said, "[Julie Su's] commitment to ensuring equity and compliance, … to her work as a labor expert and attorney fighting for the rights of women workers nationally, … makes her the ideal choice to lead the Labor Department."
Meanwhile, Democrats reintroduced the PRO Act Tuesday for the third time. The legislation would protect the right to organize, and penalize companies that engage in union busting. This is Senator Bernie Sanders.
Sen. Bernie Sanders: "Under this bill, it will no longer be cheaper for corporations to break the law than to obey the law. … In a time when we are seeing — and here's good news — more and more workers wanting to join unions, it is unacceptable that over half of workers who vote to form a union don't have a union contract a year after their union victory. That will change under the PRO Act."
Mississippi Enacts Transgender Healthcare Ban for Youth Amid Spate of Anti-Trans Laws in Red States
Mar 01, 2023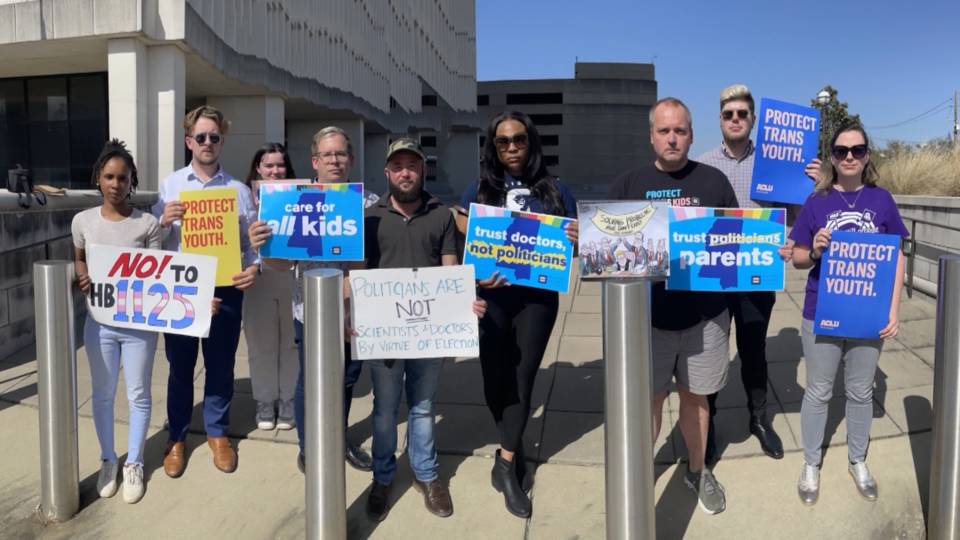 Image Credit: Twitter: @HRC
In Mississippi, Republican Governor Tate Reeves has signed into law a bill that bans gender-affirming healthcare for transgender youth. The legislation criminalizes providing transition-related care to minors, frees health insurance companies from having to cover gender-affirming care for youth and blocks public funding for clinics and institutions that offer this type of care.
Mississippi is at least the fifth state in the U.S. to ban healthcare for trans youth. In just the past month, Utah and South Dakota enacted trans healthcare bans, and the Oklahoma House just passed a similar measure. Two other bans in Alabama and Arkansas are currently being challenged in federal court. In Arkansas, the Legislature has also voted to advance a bill that criminalizes trans adults for using public restrooms when children are present.
30 Million SNAP Recipients Get Their Food Benefits Slashed
Mar 01, 2023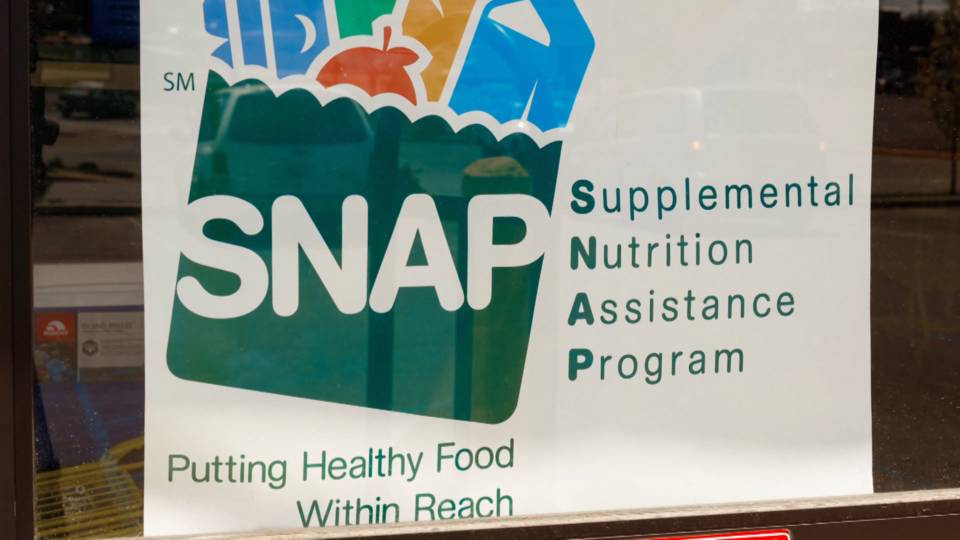 Some 30 million people across the U.S. are seeing a portion of their federal food assistance taken away today. The Supplemental Nutrition Assistance Program, or SNAP, had increased benefits as part of the emergency response to the COVID-19 pandemic. Some households could lose hundreds of dollars each month even as families continue to face increased food prices and analysts warn the cuts will bring millions to a "hunger cliff." Congressmember Pramila Jayapal said, "It's unacceptable. Poverty and hunger are policy choices. It's time we step up and do more."
Lori Lightfoot Loses Reelection for Chicago Mayor; Paul Vallas & Brandon Johnson Advance to Runoff
Mar 01, 2023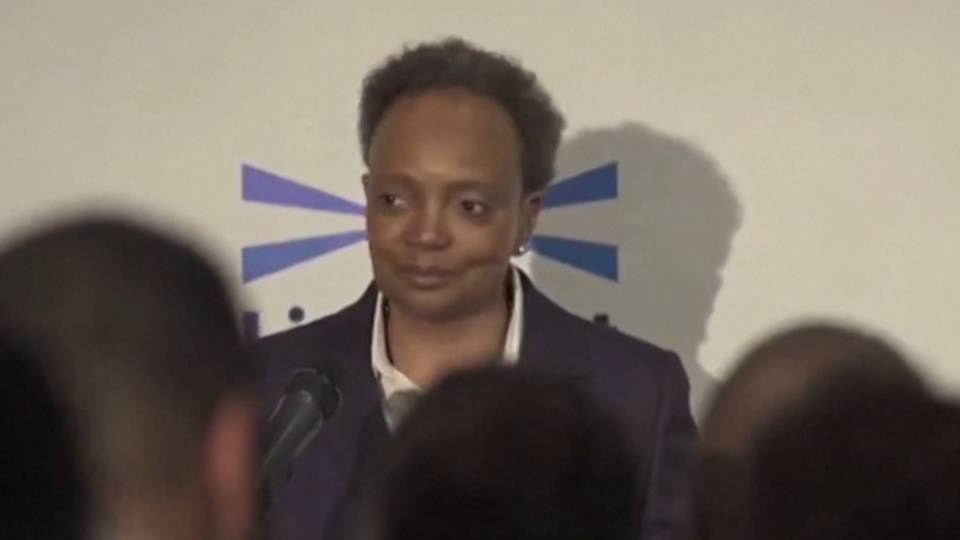 In Chicago, Mayor Lori Lightfoot conceded Tuesday evening after losing her bid for reelection. An April 4 runoff will pit Paul Vallas, the former superintendent of Chicago Public Schools, who is backed by the Fraternal Order of Police, and progressive Brandon Johnson, a Cook County commissioner and organizer for the Chicago Teachers Union. This is Paul Vallas speaking to supporters last night.
Paul Vallas: "We will have a safe Chicago. We will make Chicago the safest city in America."
In Chicago's election, Paul Vallas received about 34% of the vote. Brandon Johnson placed second with just over 20%. On Tuesday night, Johnson criticized Vallas's record.
Brandon Johnson: "He is backed by the same forces who have done nothing as crime has paralyzed our city. He is backed by the same supporters who have failed to enforce the consent decree, even after Adam Toledo, Laquan McDonald were killed."
Chicago Mayor Lori Lightfoot placed third in Tuesday's race. Four years ago, she became the first Black woman and openly gay Chicago mayor, but she came under intense criticism during her term, including for her handling of the pandemic, racial justice protests, the Chicago teachers' strike, crime levels and skyrocketing property taxes.