Ex-Pakistan PM Imran Khan Evades Arrest
Mar 06, 2023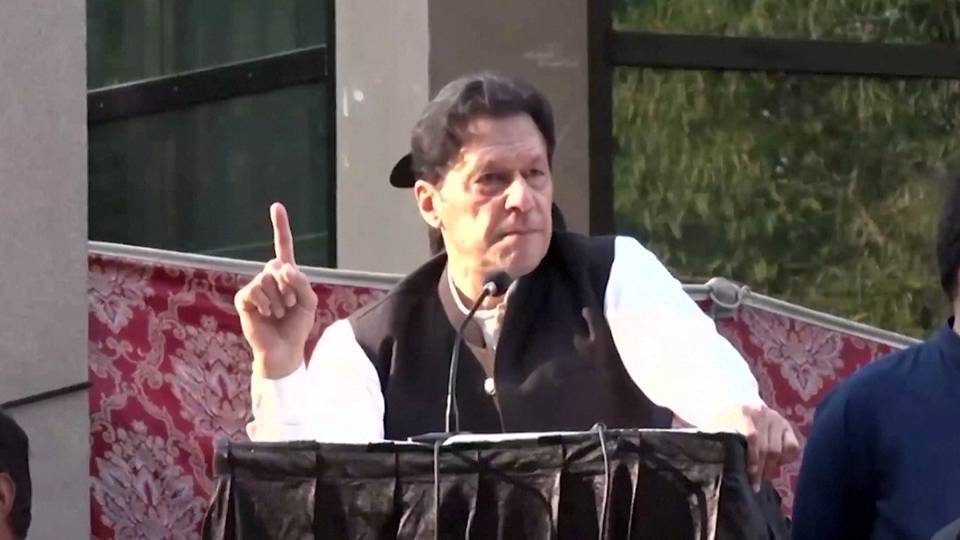 In Pakistan, former Prime Minister Imran Khan evaded arrest Sunday as police showed up to his home in Lahore while hundreds of his supporters protested outside. Khan is accused of corruption and terrorism — charges he denies. Khan has been demanding a snap election since his ouster in a parliamentary vote early last year. Pakistan's media regulator has banned the broadcasting of speeches and news conferences by Imran Khan.
Huge Blaze in Cox's Bazar Rohingya Refugee Camp Destroys Thousands of Homes
Mar 06, 2023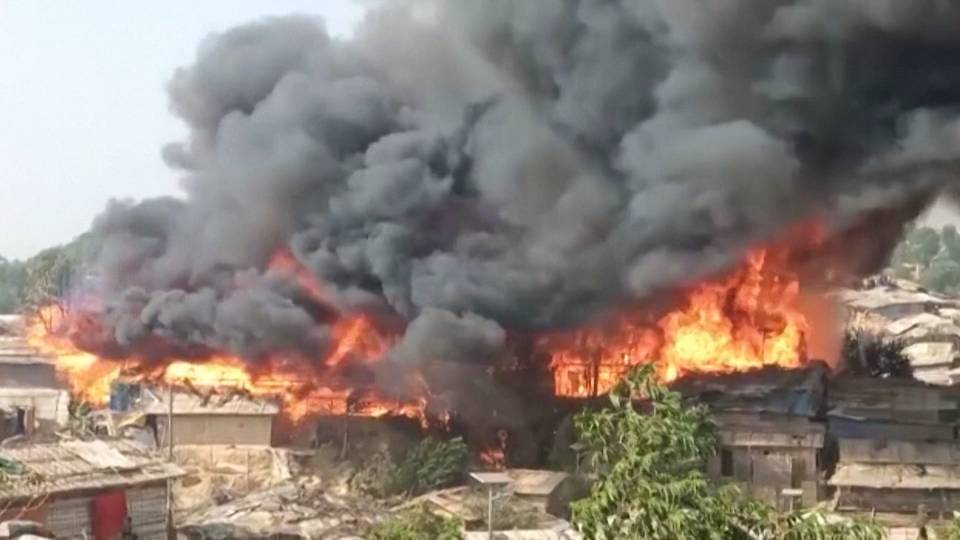 In Bangladesh, a massive fire at a refugee camp in Cox's Bazar has left at least 12,000 Rohingya Muslims without shelter. Some 2,000 housing structures, as well as health clinics, learning centers, water distributing facilities and over two dozen mosques were destroyed by the blaze. Many refugees returned to the site today to try to salvage some of their belongings from the burnt rubble. Authorities say one person has been detained in connection with the fire, which is still under investigation. Cox's Bazar houses over 1 million Rohingya Muslims forced to flee violent persecution in Burma beginning in 2017.
Shell Pipeline Kills 12 in Nigeria; Massive Lawsuit Targets Shell's Operation in Niger Delta
Mar 06, 2023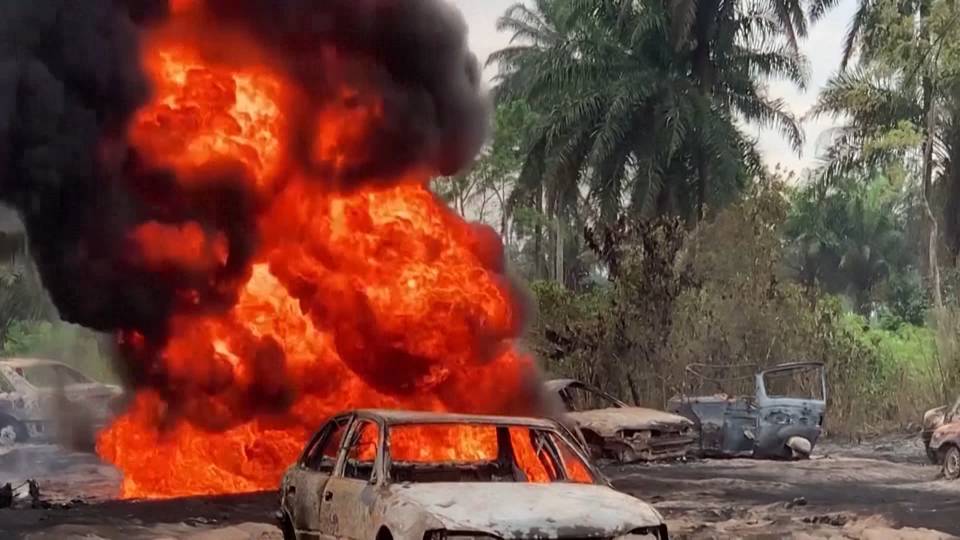 In Nigeria, an explosion at a Shell oil pipeline killed at least 12 people Friday in the southern Rivers State. The blast came during a theft of crude oil, a booming illicit industry in Nigeria.
In related news, over 13,000 residents of the oil-rich Niger Delta joined a landmark British lawsuit against Shell and its Nigerian subsidiary earlier this year. The lawsuit is demanding compensation and cleanup for dozens of oil spills that have devastated land and waterways, destroying local livelihoods and ecosystems. Click here to see Democracy Now!'s documentary "Drilling and Killing: Chevron and Nigeria's Oil Dictatorship."
U.K. Cracks Down on Refugee Rights in Right-Wing Effort to "Stop the Boats"
Mar 06, 2023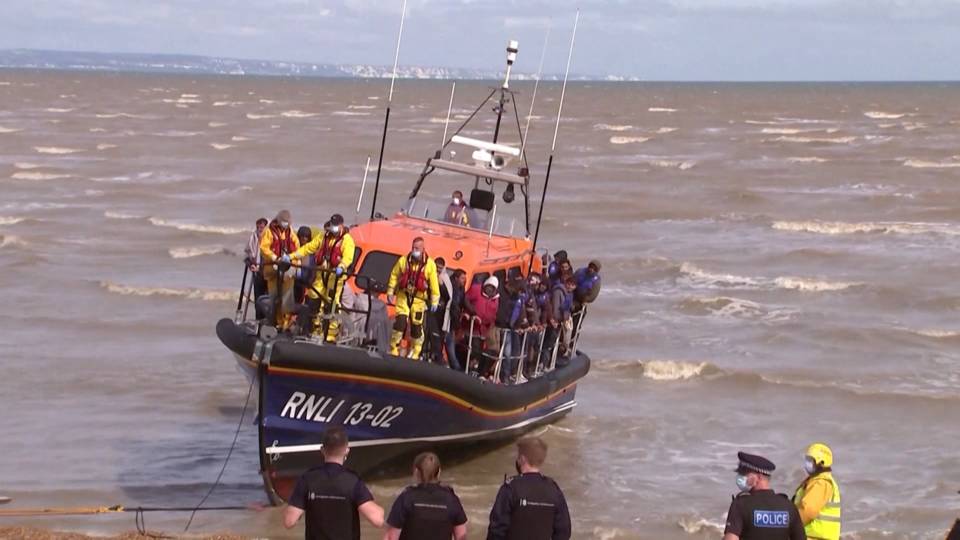 The U.K. will start removing asylum seekers who arrive on small boats through the English Channel, barring anyone who lands on British soil through unofficial ports of entry. Under the new rules, the removed individuals would also be barred from returning to the U.K. The Conservative British government of Prime Minister Rishi Sunak has vowed to "stop the boats" as one of its main priorities.
Protests Rock Athens Amid Mounting Anger over Greek Train Tragedy
Mar 06, 2023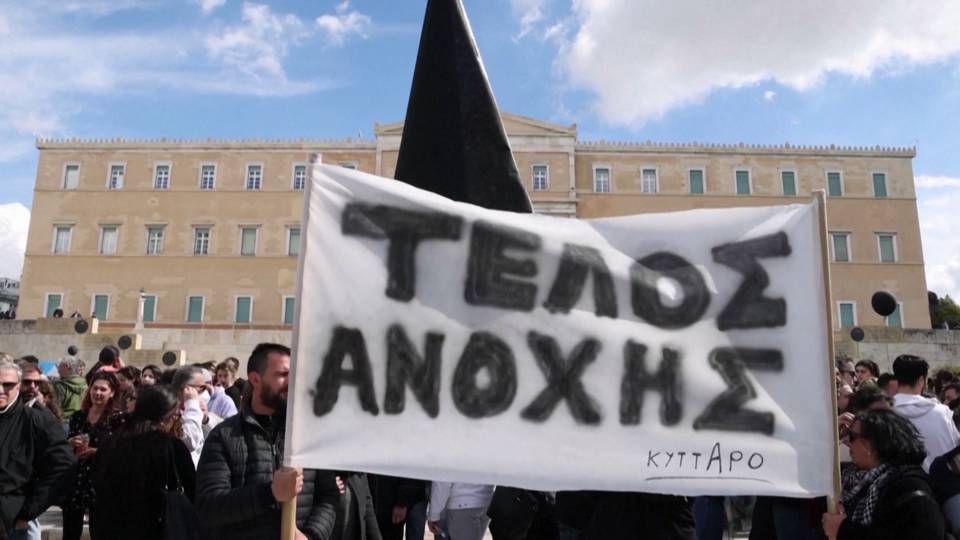 In Greece, fresh protests rocked the streets of Athens Sunday as anger mounts over last week's train crash that killed 57 people. Greek Prime Minister Kyriakos Mitsotakis apologized for the disaster Sunday, saying in a statement, "We cannot, will not, and must not hide behind human error." The station master at the Larissa railway station has been detained and awaits trial. Among the 10,000 estimated protesters yesterday were many rail workers.
Vasiliki Svarna: "We feel unspeakable grief over the incident. It is tragic. We cannot soothe the pain of the families who lost their kids, nor can we bring them back. But we are here so that nothing remains in darkness, for everything to be revealed to the bone, for those responsible to pay, those who have left the railway to its fate, all the governments, all these years."
Another Norfolk Southern Train Derails in Ohio Ahead of Senate Testimony by CEO Alan Shaw
Mar 06, 2023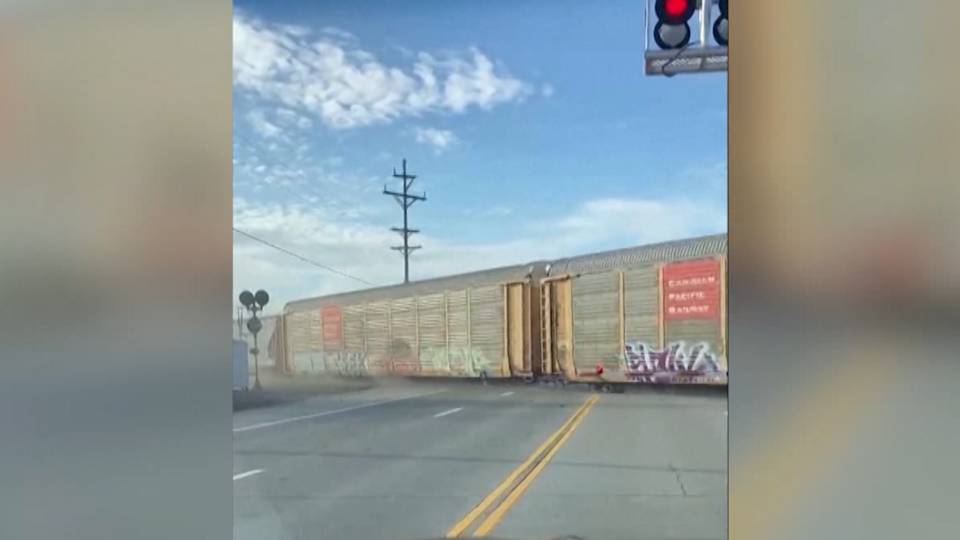 Image Credit: Courtesy: Shawn Heaton
Here in the U.S., Norfolk Southern CEO Alan Shaw will testify before a Senate panel Thursday about last month's train derailment and contamination of East Palestine, Ohio. This comes as another Norfolk Southern train derailed near Springfield, Ohio, on Saturday, prompting officials to issue a temporary shelter-in-place order. Officials said none of the 28 train cars involved in the crash contained hazardous materials, though other sections of the 212-car train did contain dangerous chemicals, including propane.
Biden Commemorates 58th Anniversary of Bloody Sunday in Selma, Alabama
Mar 06, 2023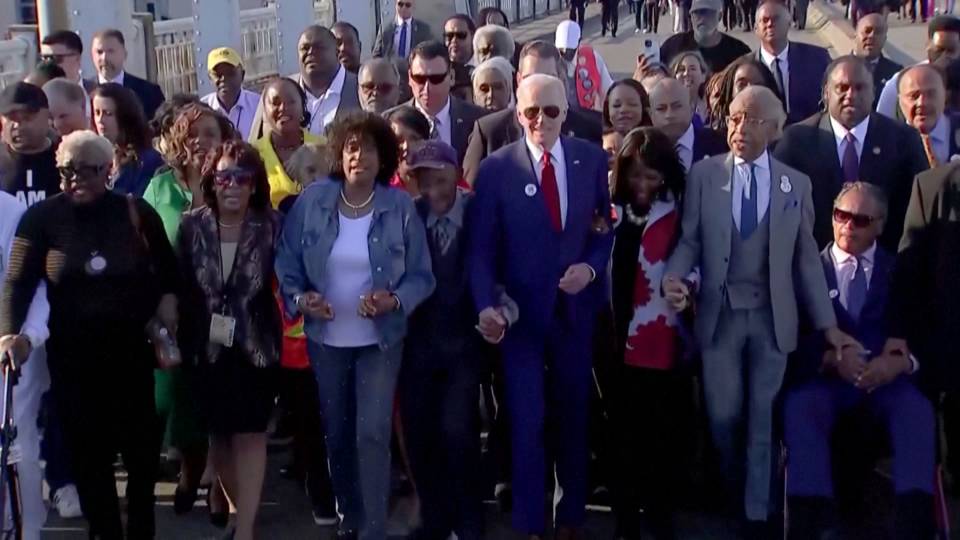 President Biden was in Selma, Alabama, Sunday to mark the 58th anniversary of Bloody Sunday, when state troopers violently attacked Black voting rights activists as they attempted to cross the Edmund Pettus Bridge. Biden sought to refocus attention on voting rights legislation — which has stalled in Congress — as he is expected to soon announce his bid for reelection.
President Joe Biden: "The right to vote, to have your vote counted, is the threshold of democracy and liberty. With it, anything's possible. Without it, without that right, nothing is possible. And this fundamental right remains under assault."
Donald Trump Repeats Lies About 2020 Election in CPAC Keynote Speech
Mar 06, 2023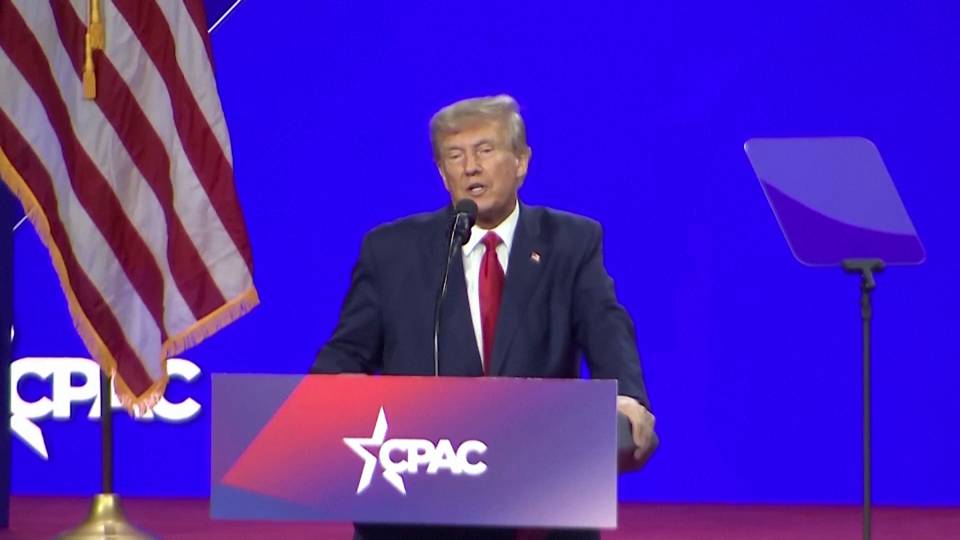 In Maryland, former President Trump was met with thunderous applause at this year's Conservative Political Action Conference, where he delivered the keynote speech Saturday. Trump, who was introduced as "the next president of the United States," gave a nearly two-hour address in which he railed against the investigations he is under, and lied about winning the 2020 election.
Donald Trump: "In 2016, I declared I am your voice. Today, I add: I am your warrior, I am your justice. And for those who have been wronged and betrayed, I am your retribution."
Trump's likely competitor, right-wing Florida Governor Ron DeSantis, addressed supporters at a rally in Southern California Sunday, where he repeated his motto, "[Florida] is where woke goes to die."
Marianne Williamson Launches 2024 Presidential Campaign
Mar 06, 2023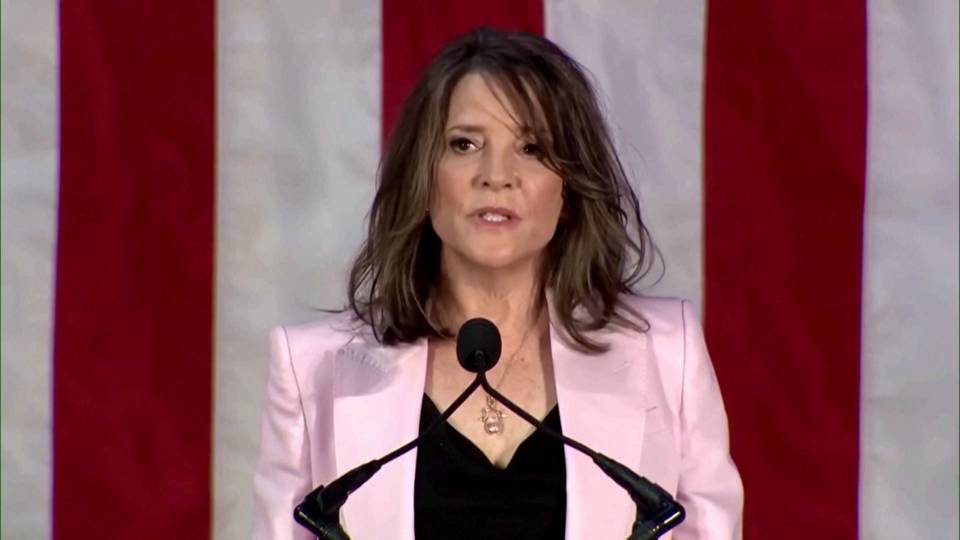 Self-help author Marianne Williamson launched her bid for the Democratic nomination this weekend.
Marianne Williamson: "It is our job to create a vision of justice and love that is so powerful that it will override the forces of hatred and injustice and fear."
Williamson, who also ran in 2020, said some of her key campaign promises were free healthcare, free college and free child care.
35 Arrested Near Site of Proposed "Cop City" Police Training Center in Atlanta
Mar 06, 2023
In Atlanta, at least 35 people were arrested Sunday as protesters marked the start of a nationwide week of action against Cop City, a $90 million police training facility being built in the Weelaunee Forest. The Defend the Atlanta Forest collective said those arrested were peaceful protesters who were attending a concert in the forest when they were surrounded by police. This comes less than two months after Atlanta police shot and killed Manuel Paez Terán, a 26-year-old environmental defender, who also went by the name Tortuguita.
22 Lawmakers Call on Biden to Block Willow Project Oil and Gas Development in Alaska
Mar 06, 2023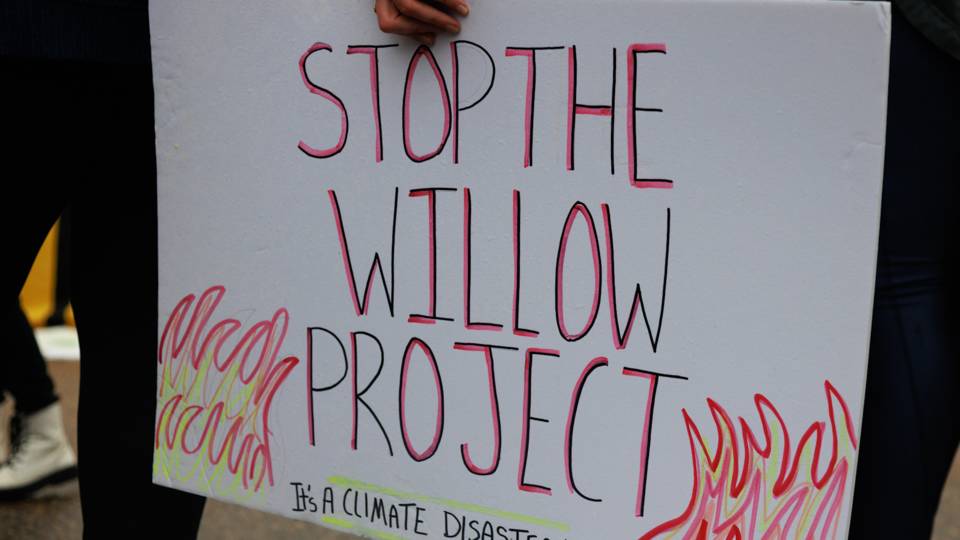 Image Credit: Bryan Olin Dozier via Reuters Connect
Nearly two dozen lawmakers are calling on President Biden to reject a massive oil and gas development in northern Alaska known as the Willow project. The project was initially approved by President Trump in 2020 and would have allowed ConocoPhillips to extract over 100,000 barrels of oil a day for the next 30 years. The project was halted by a federal judge in 2021 after environmental and Indigenous groups sued. Since then, the Biden administration has been considering a scaled-down plan, and a final decision is expected within days. In a letter sent to President Biden Friday, 22 members of the House and Senate wrote, "No version of the Willow Master Development Plan is consistent with your commitments to combat the climate crisis and promote environmental justice."
Judy Heumann, "Mother of the Disability Rights Movement," Dies at 75
Mar 06, 2023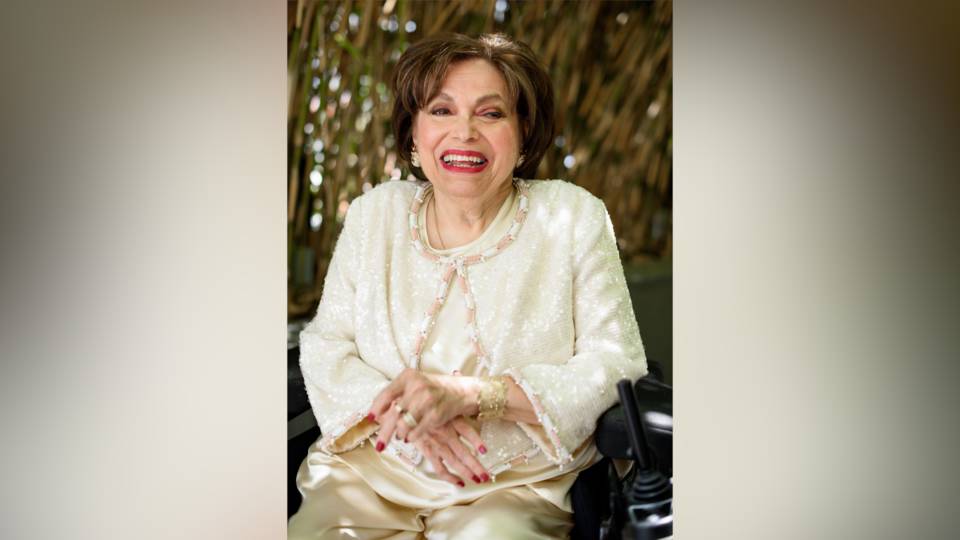 Image Credit: Vlasta Pilot/BFA.com via Reuters Connect
The trailblazing civil rights activist Judy Heumann died Saturday at the age of 75. Heumann was widely known as "the mother" of the U.S. disability rights movement, for breaking down barriers faced by disabled people and leading campaigns for historic legislation, including the Americans with Disabilities Act.
In 1970, Heumann became the first teacher in New York to use a wheelchair. In 1977, she led a 26-day sit-in protest at a federal building in San Francisco that led to enforcement of the Rehabilitation Act's prohibition on discrimination against disabled people.
President Biden honored Heumann in a statement, writing, "After her school principal said she couldn't enter Kindergarten because she was using a wheelchair, Judy dedicated the rest of her life to fighting for the inherent dignity of people with disabilities."