Uber and Lyft Drivers Receive Owed Pay Raises in NY After Strike Campaign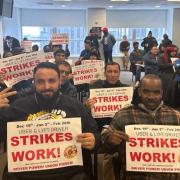 Mar 10, 2023
Here in New York, Uber and Lyft drivers have declared victory after city regulators granted a pay raise to drivers following a strike campaign. The fare raise by the Taxi and Limousine Commission, announced Wednesday, replaces another planned raise that was agreed to last year but blocked after a successful legal challenge by Uber. Last week, New York Taxi Workers Alliance director Bhairavi Desai testified to the New York Taxi and Limousine Commission.
Bhairavi Desai: "Every day that's passed, that is a million dollars that were collectively owed to this workforce, a workforce that has had to pay for every single penny of operating expenses — Uber and Lyft don't have to pay a dime — a workforce that works not only with economic risk, but also with great risk to their safety and to their life every single day."
35-Year-Old Exonerated After Spending Over Half His Life Behind Bars Due to Police Deception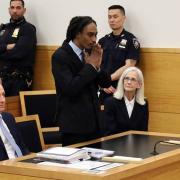 Mar 10, 2023
Image Credit: Twitter: @BrooklynDA
In more news from New York, Sheldon Thomas, a 35-year-old Black man from Brooklyn who was wrongfully convicted of murder, has been exonerated and freed from prison after nearly 19 years behind bars. Thomas was only 17 when he was arrested and accused of killing a 14-year-old boy in 2004. Detectives on the case misled a witness into identifying Thomas using a photo of another person with the same name. When the botched identification was brought up in court, the judge said at the time there was still probable cause to arrest Thomas because the photo had enough of a resemblance. Thomas was sentenced to 25 years to life. His exoneration follows over two dozen others after new investigations were launched by the Brooklyn district attorney's Conviction Review Unit.
Newark Unveils Harriet Tubman Statue, Replacing Statue of Columbus
Mar 10, 2023
Image Credit: Eduardo Munoz/Reuters
In New Jersey, a monument honoring abolitionist hero Harriet Tubman was unveiled in Newark Thursday, replacing a statue of Christopher Columbus that was removed in 2020 as racial justice protests erupted nationwide in response to the police murder of George Floyd. Washington Park has been renamed "Harriet Tubman Square." Among the guests at Thursday's ceremony were rapper Queen Latifah, who is from Newark, and Tubman's great-great-great-grandniece Michele Jones Galvin.
Biden's FY2024 Budget Proposes Guns and Butter for US$7 Trillion
Mar 10, 2023
President Biden has unveiled his $6.8 trillion budget proposal for the 2024 fiscal year. The plan would begin the process of trimming $3 trillion from the federal deficit over the next decade by raising taxes on wealthy individuals and corporations, and allowing Medicare to negotiate drug prices. Progressive groups praised the White House plan for investing in healthcare, housing and the environment, while expanding free community college, early childhood education and child care. But Biden's budget also includes a request for a record-shattering $886 billion in military spending. Republican House Speaker Kevin McCarthy has signaled Biden's budget will be dead on arrival on Capitol Hill. House Republicans have yet to unveil their own budget; Biden said Thursday he's prepared to negotiate with Speaker McCarthy at any time.
Pentagon Chief Lloyd Austin Meets Israeli PM Amid Escalating West Bank Violence
Mar 10, 2023
U.S. Defense Secretary Lloyd Austin met with Israeli Prime Minister Benjamin Netanyahu and other leaders in Israel Thursday, where he called for an independent judiciary and for deescalating tensions with Palestine, while reiterating the U.S.'s "deep commitment" to Israel's security.
Defense Secretary Lloyd Austin: "But the United States also remains firmly opposed to any acts that could trigger more insecurity, including settlement expansion and inflammatory rhetoric. And we're especially disturbed by violence by settlers against Palestinians."
Secretary Austin also said he believed diplomacy was the best strategy when it comes to Iran and nuclear weapons. Israel has openly backed military action against Iran. Austin's visit comes against the backdrop of intensifying violence. Earlier today in the occupied West Bank, an Israeli settler shot dead a Palestinian man near an illegal settlement outside the city of Qalqilya. Separately, Israeli forces raided the town of Ni'lin, near Ramallah, overnight, arresting relatives of a Hamas gunman and ordering the immediate destruction of his family's home. Palestinians have condemned such demolitions as collective punishment. At least 79 Palestinians have been killed so far this year by Israeli forces.
U.N. Condemns Israeli Strike on Aleppo Airport; U.S. Votes Against Ending Involvement in Syrian War
Mar 10, 2023
The U.N.'s humanitarian coordinator for Syria has condemned an airstrike by Israel on Aleppo International Airport earlier this week, which forced it to shut down, complicating humanitarian relief efforts as Syrians reel from last month's devastating earthquake in the region. Here in the United States, a legislative push to end U.S. military interference in Syria through a War Powers Resolution was voted down Wednesday. The latest effort was led by Republican Matt Gaetz and supported by a bipartisan mix of progressives and far-right lawmakers.
Xi Embarks on Unprecedented Third Term as Chinese President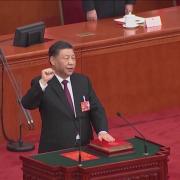 Mar 10, 2023
In Beijing, the Communist Party-controlled legislature confirmed Xi Jinping's historic third term as China's president. This comes amid growing tensions with the U.S., including over the issue of Taiwanese autonomy. We'll have more on this after headlines with historian Alfred McCoy.
At Least 36 Killed in DRC Near Border with Uganda
Mar 10, 2023
In the Democratic Republic of Congo, at least 36 civilians were killed overnight Wednesday in an attack blamed on rebels with the Allied Democratic Forces. The killings took place in two villages in a part of the eastern DRC near the Ugandan border, where Congolese and Ugandan forces are fighting rebel groups.
Gunman Kills 8 People, Including Self, in Mass Shooting at Jehovah's Witnesses Center in Germany
Mar 10, 2023
In Germany, eight people were killed and dozens more injured Thursday evening as a gunman opened fire on a Jehovah's Witnesses congregation in the city of Hamburg. Authorities say the shooter, who fatally turned the gun on himself after the massacre, was a former member of the group. This is the fourth known mass shooting in Germany since 2020. Here in the United States, the Gun Violence Archive has reported 105 mass shootings so far in 2023.
New York Could Soon Charge Trump with Financial Crimes
Mar 10, 2023
Here in New York, prosecutors have signaled they may soon bring charges against former President Donald Trump for campaign finance violations and other crimes. On Thursday, The New York Times reported Manhattan District Attorney Alvin Bragg invited Trump to testify next week before a grand jury that's been investigating a $130,000 hush money payment Trump sent to adult-film actress Stormy Daniels through an intermediary. In 2018, Trump's former personal attorney and fixer, Michael Cohen, pleaded guilty to charges of tax evasion, bank fraud and lying to Congress about the hush money payments. Cohen says Trump directed him to make them through a shell company shortly before the 2016 presidential election.
Mitch McConnell Still Sidelined After Fall at Waldorf Astoria
Mar 10, 2023
On Capitol Hill, a spokesperson for Mitch McConnell says the Senate minority leader is recovering from a concussion and will remain in a hospital for observation and treatment, after he fell and hit his head Wednesday evening. The 81-year-old Kentucky Republican sustained the injury at a dinner for the Senate Leadership Fund super PAC at the Waldorf Astoria hotel in Washington, D.C., formerly the Trump International Hotel.
Arkansas Loosens Child Labor Protections
Mar 10, 2023
Arkansas Republican Governor Sarah Huckabee Sanders has signed a law dropping a requirement that employers verify the age of children who apply to jobs. A spokesperson for Sanders told The Washington Post the provision was "burdensome and obsolete." Arkansas law allows children as young as 14 to obtain jobs. Republican lawmakers in several other states, including Iowa and Minnesota, have recently advanced similar legislation. This comes after an investigation by The New York Times exposed the forced labor of unaccompanied migrant children as young as 12 at factories across the United States. Click here to see our interview with the report's author, Pulitzer Prize winner Hannah Dreier.
Michele Jones Galvin: "Many call her an American heroine. In our family, we simply refer to her as 'Aunt Harriet.' She is Harriet Tubman, greatest conductor of the Underground Railroad. Aunt Harriet said, 'I reasoned this out in my mind. There was one of two things I had a right to: liberty or death. If I could not have one, I would have the other. And no man should take me alive.'"