Donald Trump Criminally Charged in New York, Will Be Arraigned Tuesday
Mar 31, 2023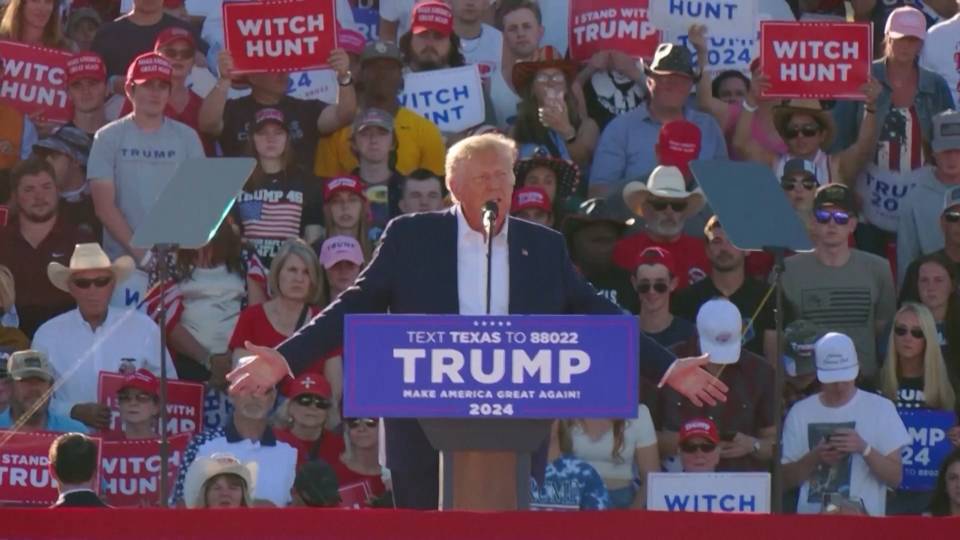 A grand jury in Manhattan has indicted Donald Trump on more than 30 criminal counts related to hush-money payments Trump made to adult film star Stormy Daniels during his 2016 presidential campaign. The charges come four-and-a-half years after Trump's former personal attorney and fixer, Michael Cohen, pleaded guilty to charges of tax evasion, bank fraud and lying to Congress about the hush-money payments, which he says Trump directed him to make. It's the first time a former president has faced criminal charges in the United States. Trump is expected to surrender to authorities on Tuesday. Trump responded to the indictment by releasing a long statement that read in part, "This is political persecution and election interference at the highest level in history." We'll have much more on Trump's indictment after headlines.
Students Protest Gun Violence at Tennessee Capitol in Wake of Nashville School Shooting
Mar 31, 2023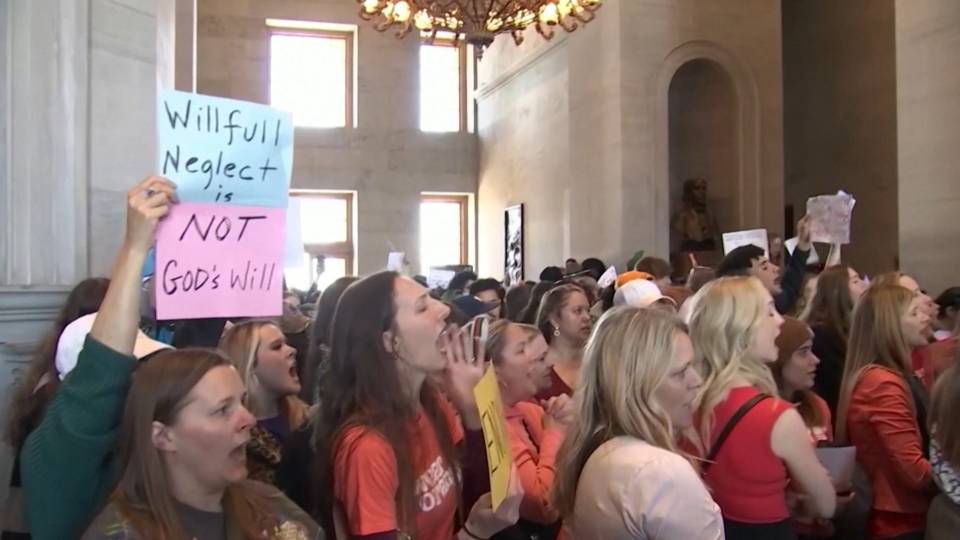 In Nashville, Tennessee, more than a thousand protesters flooded the state Capitol building Thursday demanding an end to gun violence. The protest followed Monday's shooting at Covenant School in Nashville, where a shooter armed with two rifles and a handgun killed three adults and three 9-year-old students. This is 16-year-old Tennessee high school student Chloe Spangler.
Chloe Spangler: "I have grown up all my life being scared of getting shot in school. And I really just want to fight for gun control because I'm tired of my life being put second to a firearm. And I want students to have the opportunity to be able to share their voices, because they are the ones being affected by this issue."
The protests came as Tennessee's Republican-controlled Legislature is considering measures to further deregulate guns. One bill would let people as young as 18 carry rifles and shotguns in public without a permit. Another would allow education workers to carry concealed handguns on school grounds with a permit. Later in the broadcast, we'll speak with Dr. Katrina Green, an emergency physician in Nashville who joined Thursday's protest at the Tennessee Capitol.
U.S. Lawmakers Reintroduce Trans Bill of Rights Ahead of Transgender Day of Visibility
Mar 31, 2023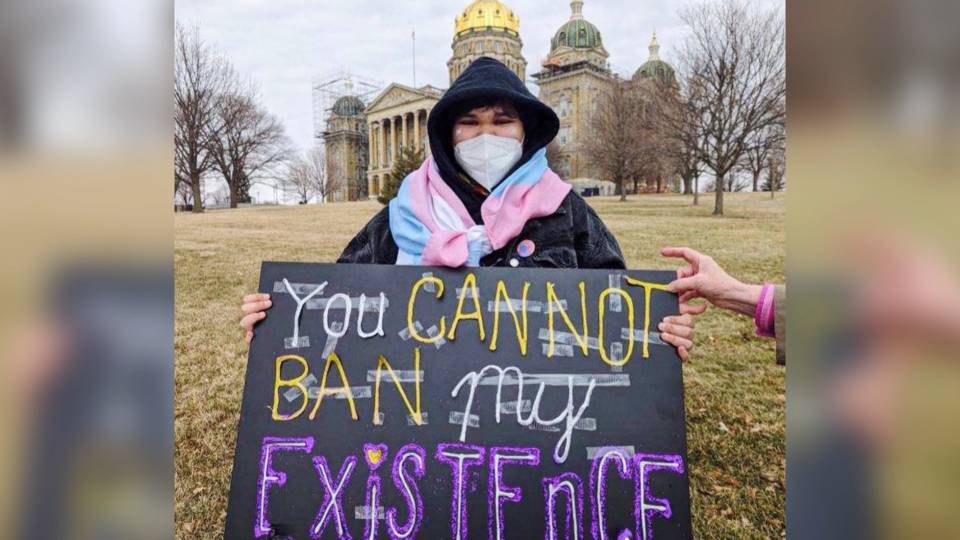 Today marks International Transgender Day of Visibility, a celebration of trans and nonbinary people. Actions and protests are planned across the U.S. and worldwide, including here in New York, as communities fight intensifying discrimination, violence and anti-trans laws. On Capitol Hill, progressive lawmakers have reintroduced the Transgender Bill of Rights. The measure, revived by Congressmember Pramila Jayapal and Senator Ed Markey, would "provide protections for transgender and nonbinary people, ensuring that everyone has the opportunity to thrive, regardless of their gender identity or expression." In 2023 alone, there have been at least 450 anti-LGBTQ bills proposed in state legislatures and Congress.
Historically Black D.C. Church Terrorized by Proud Boys in 2020 Seeks Punitive Damages
Mar 31, 2023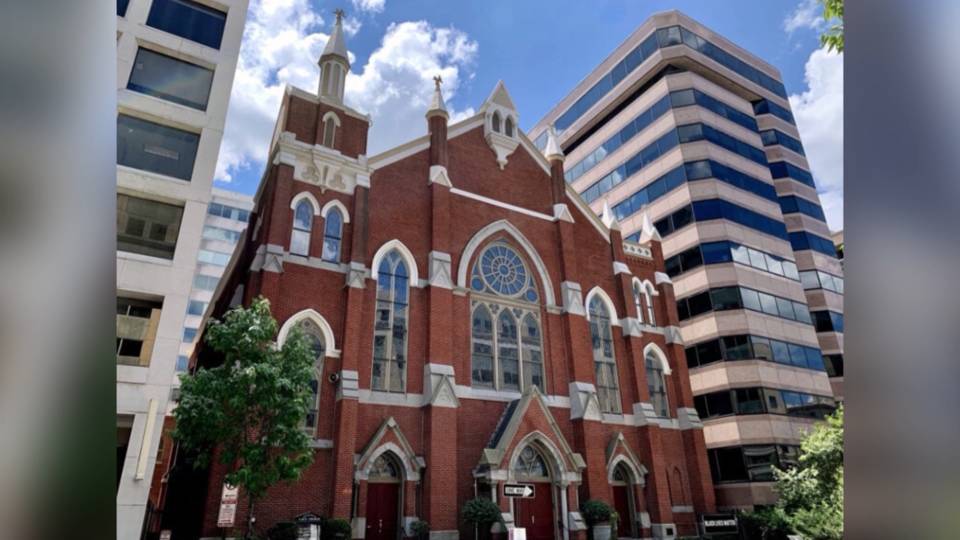 Washington, D.C's historically Black Metropolitan AME Church says it's seeking $22 million in punitive damages from the far-right Proud Boys group for destroying the church's Black Lives Matter sign in 2020 and terrorizing Black communities. On Wednesday, church leaders and congregants testified in a D.C. court that the lawsuit seeks to permanently deter the Proud Boys from future attacks.
Lawyer Barred from Courtroom as WSJ Reporter Detained in Russia Denies Spying Charges
Mar 31, 2023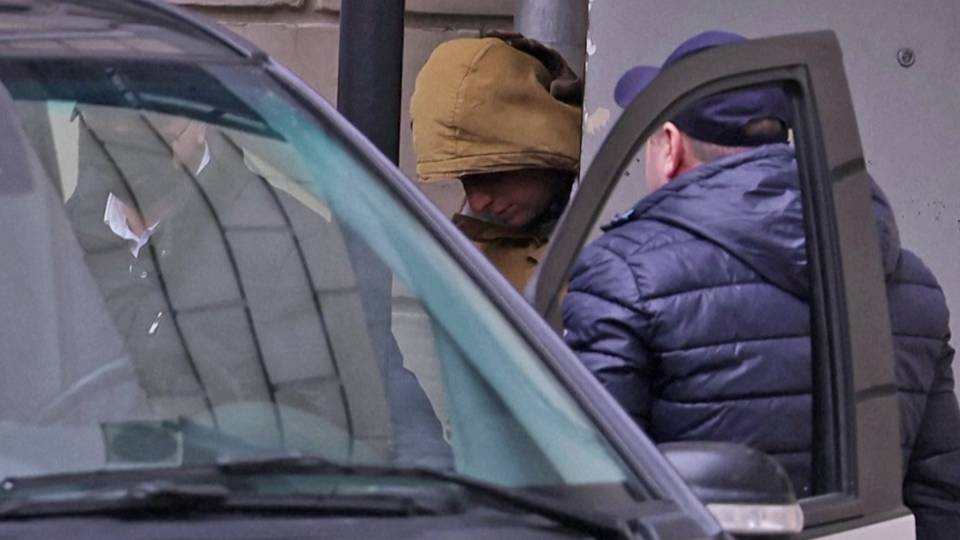 In Russia, Wall Street Journal reporter Evan Gershkovich pleaded "not guilty" Thursday to charges of espionage during a brief appearance at a court in Moscow. Gershkovich's lawyer said after the hearing that he was not allowed in the courtroom and not allowed to see the charges against his client.
Daniil Berman: "They held a quick hearing. I don't know how long it lasted. Three minutes, 15 minutes, I don't know. And that's it. And after that, as far as I understand, again, I can only guess what position has been taken. Evan was taken away from here with a decision to hold him in custody."
Gershkovich was ordered to be held in custody until May 29. The Wall Street Journal denied the allegations and is seeking his immediate release. The Biden administration called the espionage charges "ridiculous" and demanded immediate consular access to Gershkovich. Many foreign news organizations pulled out of Russia last year after President Vladimir Putin signed a law making it a crime to disseminate what the Kremlin calls "fake" information about the invasion of Ukraine.
2023 Izzy Award Goes to The Lever, Mississippi Free Press, Carlos Ballesteros and Liza Gross
Mar 31, 2023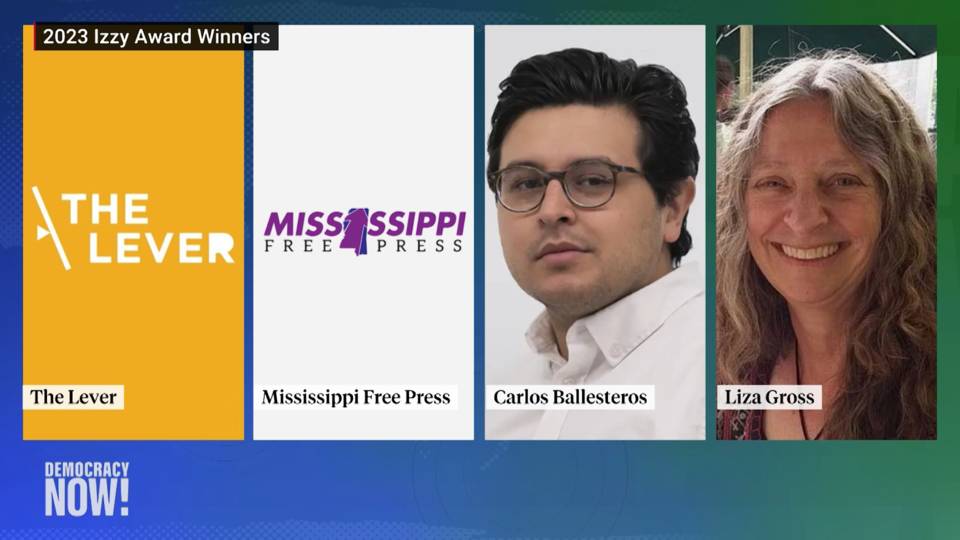 The 2023 Izzy Award for "outstanding achievement in independent media" will be shared by The Lever, Mississippi Free Press and journalists Carlos Ballesteros and Liza Gross. The Lever exposes corruption behind the nation's most powerful institutions, leaders and companies, from dark money influence on the Supreme Court to Medicare privatization. Mississippi Free Press is a women-led team reporting on racial and economic inequities, and covered the ongoing water crisis in Jackson, while fighting for transparency and public access to open records. Carlos Ballesteros's reporting for Injustice Watch exposed how two Chicago police officers issued arbitrary denials of U visas, which offer a path to citizenship for undocumented victims of crime, leading to a review of all denied U visas in Chicago and plans to rework the city's visa procedures. Liza Gross of Inside Climate News uncovered how oil companies have bought the ability to dump its toxic wastewater on farms in Kern County, California. An award ceremony for the winners will take place in April.