Donald Trump Prepares to Surrender to New York Court to Face 34 Felony Counts
Apr 04, 2023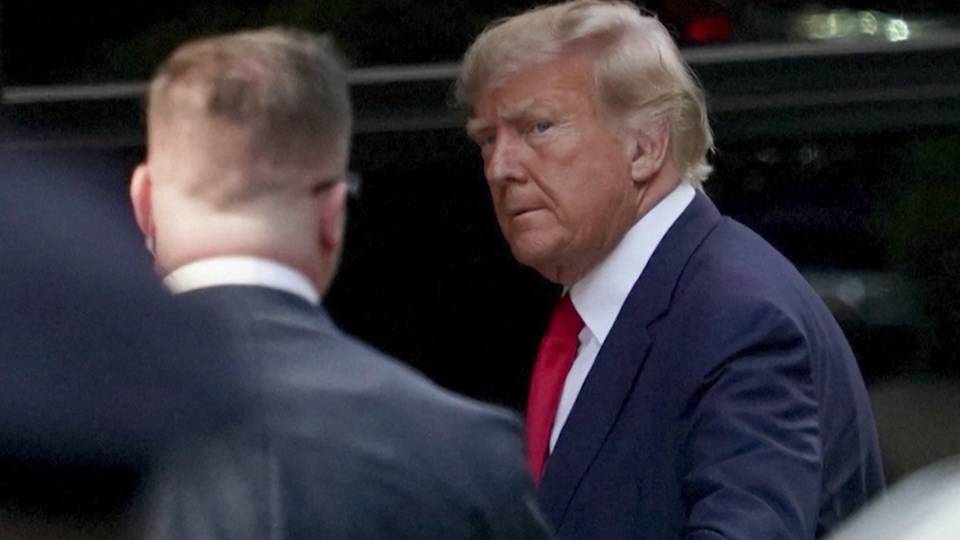 Former President Donald Trump is expected to turn himself in today to face criminal charges in a New York City court. The case stems from hush-money payments Trump made to adult film star Stormy Daniels during the 2016 presidential campaign, just days after the release of the infamous "Access Hollywood" tape in which Trump brags about sexually assaulting women. While the indictment remains sealed, Newsweek is reporting Trump will face 34 felony counts for falsifying business records. Trump is the first former U.S. president to ever be criminally charged. His arraignment hearing is scheduled for 2:15 p.m. Trump's supporters, including far-right Georgia Congressmember Marjorie Taylor Greene, are expected to rally outside the courthouse. Ahead of those protests, New York City Mayor Eric Adams issued a warning to people he called "rabble-rousers."
Mayor Eric Adams: "Control yourselves. New York City is our home, not a playground for your misplaced anger. We are the safest large city in America because we respect the rule of law in New York City. And although we have no specific threats, people like Marjorie Taylor Greene, who is known to spread misinformation and hate speech, she's stated she's coming to town."
After his arraignment, Trump is expected to fly back to his Florida Mar-a-Lago estate, where he will speak publicly tonight. We'll have more on Trump after headlines with Pulitzer Prize-winning investigative reporter David Cay Johnston.
Syria Says 2 Civilians Killed in Israeli Missile Attacks on Damascus 
Apr 04, 2023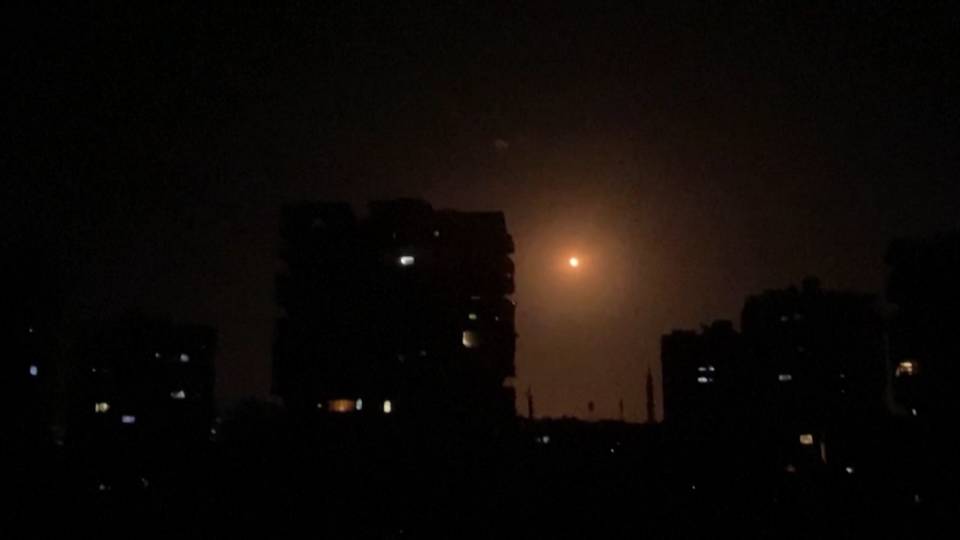 Syrian state media reports two civilians were killed overnight as Israeli missile strikes hit the capital Damascus. Video of the attack appears to show a defense system hitting several targets in the sky, with audible explosions. It was reportedly the fourth attack by Israel on Damascus in recent days and followed the deaths of two Iran-affiliated fighters in an airstrike on Sunday. In Tehran, thousands of people gathered at a funeral for the two men earlier today. This is Hossein Salami, commander-in-chief of the Islamic Revolutionary Guard Corps.
Hossein Salami: "I will say one thing: We will definitely take revenge."
Nashville Students Walk Out of Classes to Demand Gun Controls
Apr 04, 2023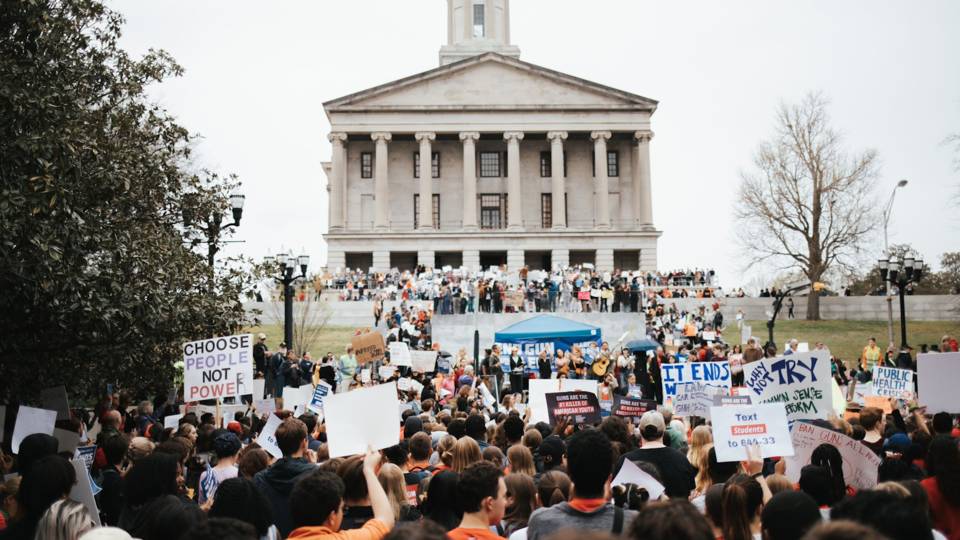 Image Credit: Twitter: @AMarch4OurLives
In Tennessee, thousands of students in Nashville walked out of their classrooms Monday and marched to the state Capitol demanding lawmakers pass gun control legislation, including a ban on assault weapons. The action came one week after a shooter killed three adults and three 9-year-old students at a private Christian elementary school in Nashville. 
Tennessee GOP Moves to Expel 3 House Democrats Who Joined Peaceful Anti-Gun Protests
Apr 04, 2023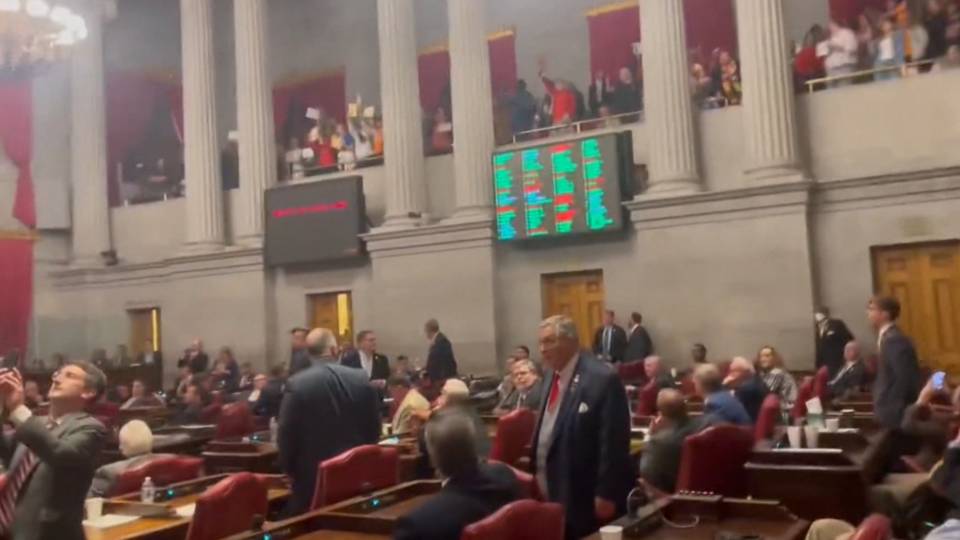 Image Credit: Twitter: @TheTNHoller
Tennessee Republican leaders have removed three Democratic lawmakers from their committee assignments for participating in peaceful protests following the mass shooting. On Monday, large crowds of protesters in the gallery of the Tennessee House of Representatives erupted in chants of "fascists!" as members of the Republican supermajority moved to permanently expel Democratic Representatives Justin Jones of Nashville, Gloria Johnson of Knoxville and Justin Pearson of Memphis. This is Representative Justin Jones.
Rep. Justin Jones: "Each of us represents 70-80,000 people, and our people are being silenced because they're kicking us off committees. They're threatening to take a vote to expel us today. Our member ID badges have been shut off. Our representative ID badges have been shut off. And this is not what democracy looks like. You know, we are elected to serve our constituents. And I'm the youngest Democratic lawmaker here, the most diverse district. And by shutting me down, they're shutting down the voice of my constituents."
Virginia Medical Examiner: Irvo Otieno Died by Homicide Due to Asphyxiation 
Apr 04, 2023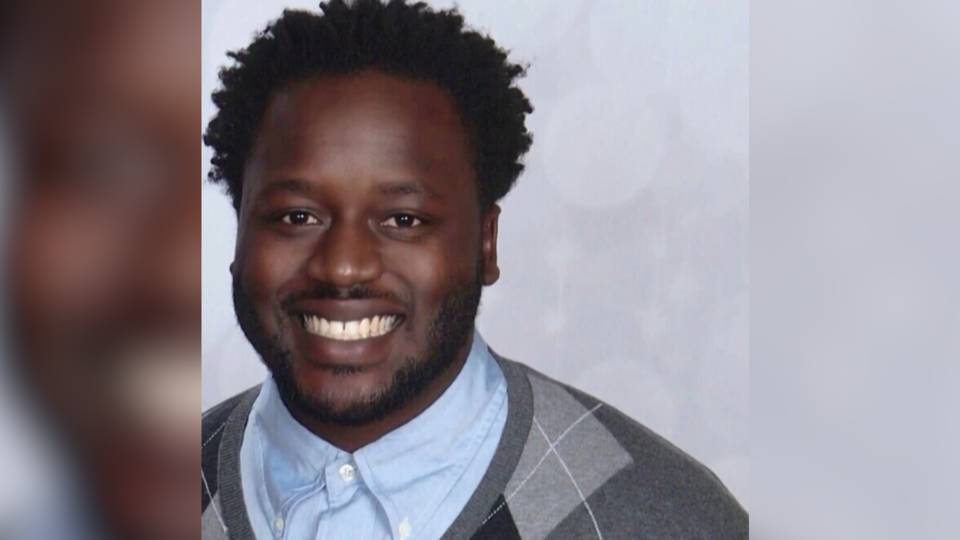 The Virginia Medical Examiner's Office has confirmed that 28-year-old Irvo Otieno died by homicide after he was violently pinned down and piled on by sheriff's deputies and medical staff at the Central State Hospital in Petersburg on March 6. Otieno was a 28-year-old Black man whose violent death during a mental health crisis renewed calls for police accountability. His official cause of death is listed as "positional and mechanical asphyxia with restraints." Last month, a Virginia grand jury indicted 10 people — seven sheriff's deputies and three hospital workers — on second-degree murder charges for Otieno's killing.
Justice Department Sues Norfolk Southern over East Palestine, OH, Rail Disaster
Apr 04, 2023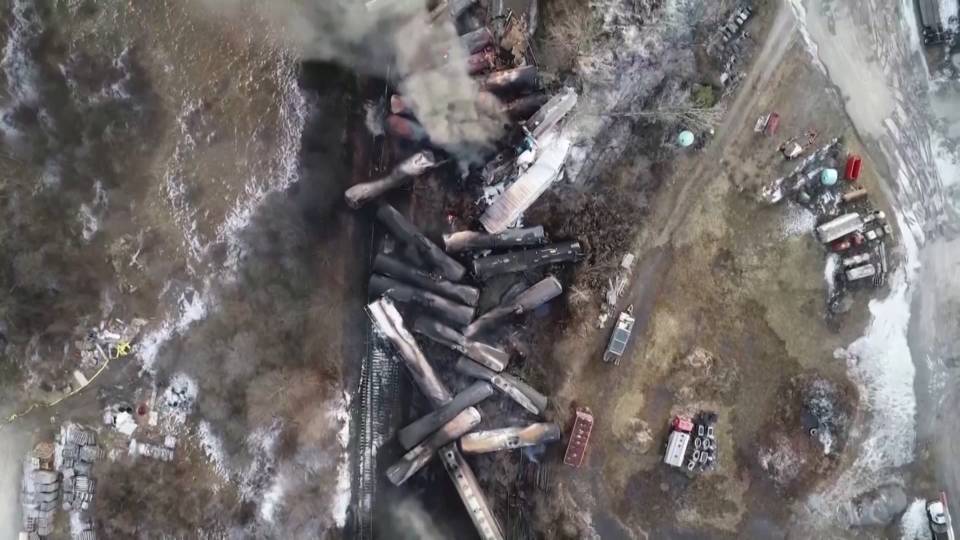 The Department of Justice has filed a civil lawsuit against Norfolk Southern, accusing the U.S. railroad giant of violations of the Clean Water Act over the February 3 derailment of a freight train in East Palestine, Ohio. The disaster led to a massive explosion and the release of toxic chemicals, including levels of dioxin hundreds of times higher than what's considered safe. Meanwhile, CNN reports seven U.S. government investigators briefly fell ill in early March while studying the possible health impacts of the disaster. The investigators with the Centers for Disease Control and Prevention reported sore throats, headaches, coughing and nausea. 
Starbucks Worker Alexis Rizzo Fired After Leading Historic Union Organizing Campaign
Apr 04, 2023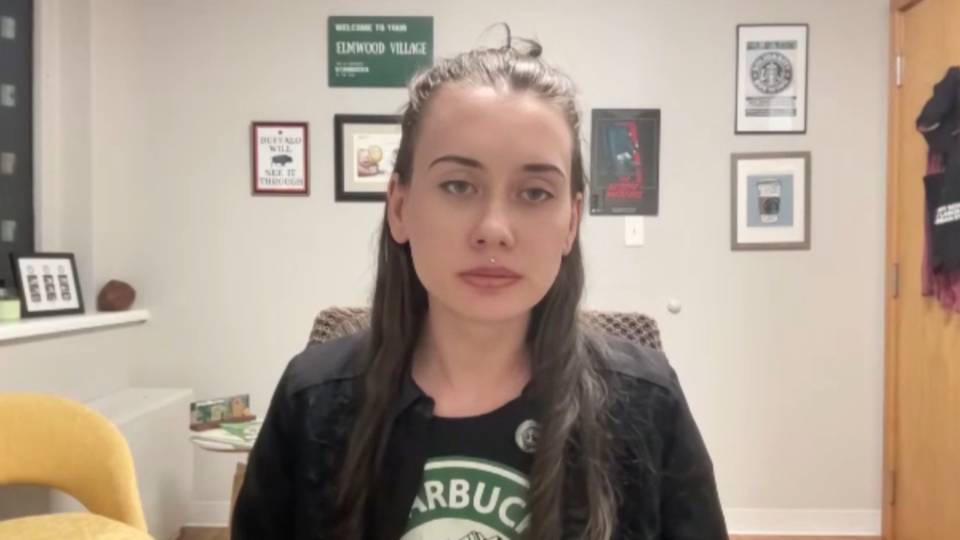 Starbucks has fired another worker who led a historic union organizing campaign in 2021. Alexis Rizzo was a shift supervisor at Starbucks's Genesee Street store in Buffalo, New York, one of the first two stores in the U.S. to form a union. She was fired just weeks after the National Labor Relations Board accused Starbucks of engaging in "egregious and widespread misconduct" to prevent workers from organizing, and just two days after former Starbucks CEO Howard Schultz testified to Congress about the company's union-busting record. Rizzo worked at Starbucks for seven years, since she was 17 years old. She told Democracy Now! her firing left her "devastated."
Alexis Rizzo: "I'm going to be fighting tooth and nail to get my job back. I think it's not at all a coincidence that this happened two days after Howard Schultz had his ego bruised in front of the Senate. I was fired that day. Two other partners in Buffalo were fired on the same day. Another very vocally pro-union shift supervisor here was written up on the same day. And I don't think that's a coincidence whatsoever. I think Howard Schultz was trying to prove to us that he does still have power over us, and this is how we can exercise it. But it's not just that; for me, it's losing my whole life."
Click here to see our interview with Jaysin Saxton, another Starbucks worker fired after organizing a union
Finland Formally Joins NATO, Doubling Military Alliance's Border with Russia
Apr 04, 2023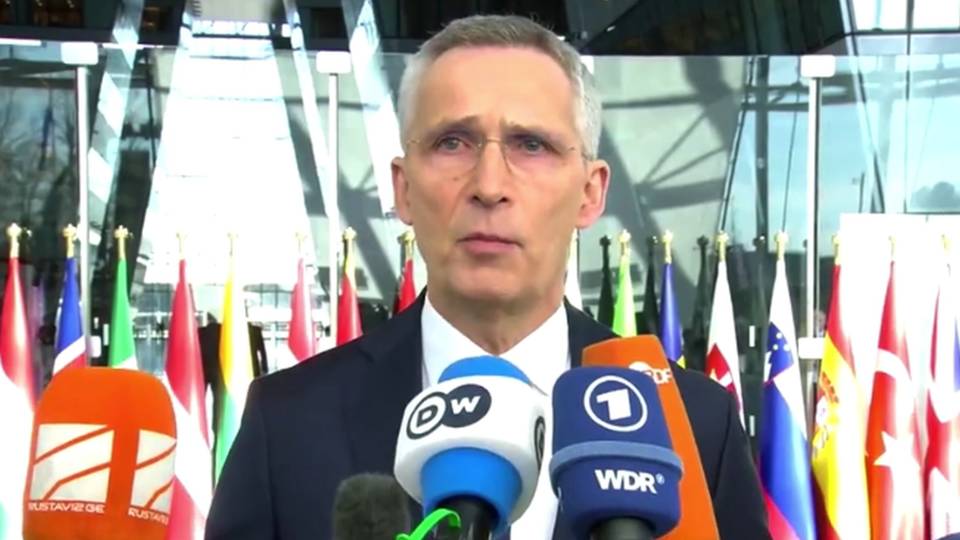 Finland is formally joining NATO today in a move that doubles NATO's border with Russia. Finland and Russia share an 800-mile border. Finland is joining the military alliance a week after Turkey's parliament voted to ratify Finland's membership. Turkey and Hungary have yet to approve Sweden as a member of NATO. The Kremlin decried Finland joining NATO as an "assault on our security." We will have more on this story later in the program.