Ohio Police Officers Who Shot Jayland Walker 46 Times Won't Be Indicted
Apr 18, 2023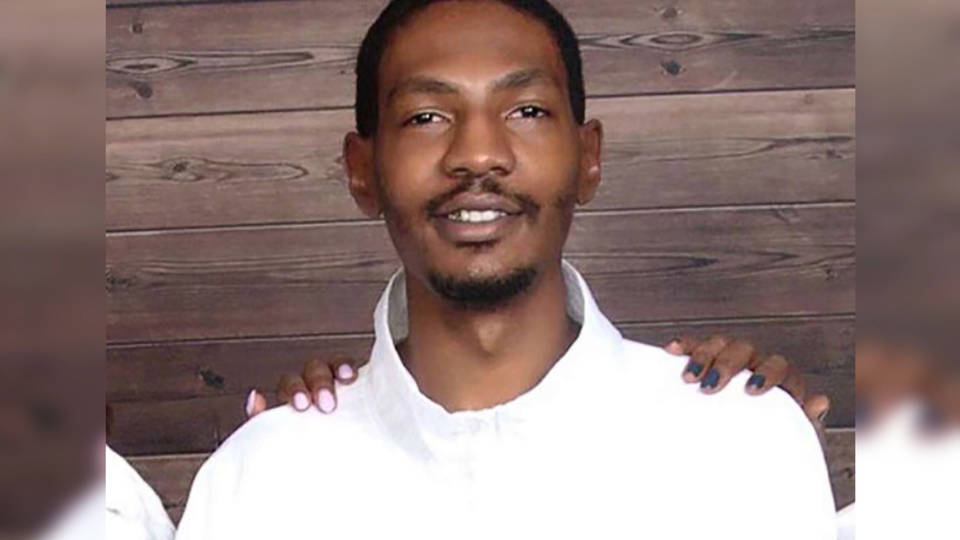 A grand jury in Akron, Ohio, has decided not to bring criminal charges against eight police officers who fatally shot Jayland Walker, a 25-year-old Black man, after a traffic stop last June. Body-camera video shows the officers chasing Walker after he got out of his car and was running away, unarmed. An autopsy later revealed Walker was struck by 46 police bullets as he fled. Lawyers for the Walker family say that after officers shot Jayland, they handcuffed him before administering first aid. Elizabeth Paige White is an attorney for the Walker family.
Elizabeth Paige White: "I don't care what he did. But let's be clear: When Jayland was shot, he was running away; he was unarmed. Those are two things that we know. And for any state official to stand up there and justify what was done to Jayland, shame on you. Shame on each and every one of you. What we saw happen this week in the grand jury was a miscarriage of justice."
Two Indianapolis Cops Charged with Manslaughter for Killing Herman Whitfield in Parents' Home
Apr 18, 2023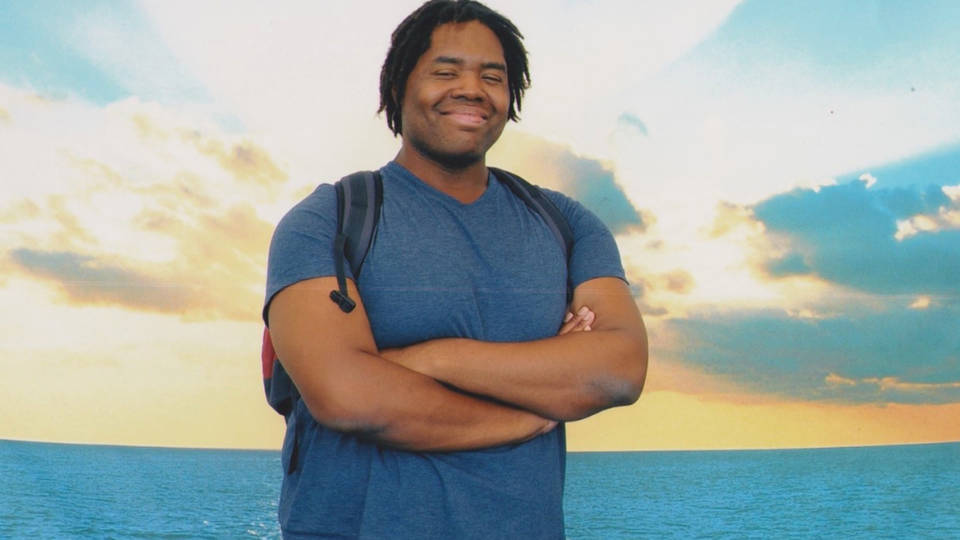 Two Indianapolis police officers have been indicted over the killing of Herman Whitfield nearly a year ago. Whitfield was an award-winning African American piano virtuoso who would have turned 40 last October. Last April, his parents called 911 to ask for help as their son experienced a mental health crisis in their home. Officers responded with deadly force, pinning Herman Whitfield to the ground, cuffing him, tasering him, and continuing to press their weight into him even though he was crying out he couldn't breathe. The city of Indianapolis and its police department fought for months to block a judge's order that raw videos of Whitfield's killing be made public. Last Friday, officers Steven Sanchez and Adam Ahmad pleaded not guilty to charges of manslaughter, reckless homicide and battery. They were released on $15,000 bond; a trial for both officers is scheduled to begin in June.
Sudan's Army Agrees to 24-Hour Ceasefire with Rival Faction as Civilian Toll Mounts
Apr 18, 2023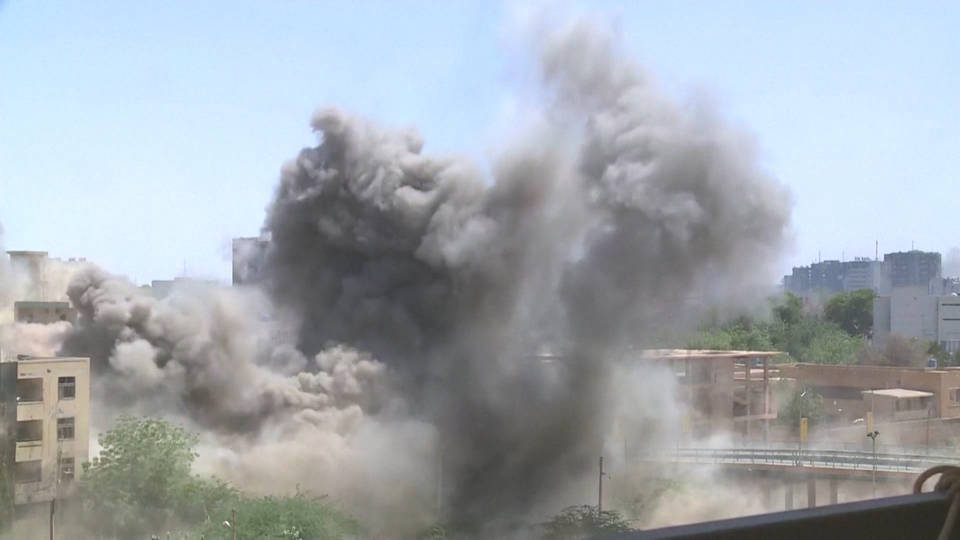 Sudan's warring factions say they have agreed to a 24-hour ceasefire, after four days of violence plunged the northeast African nation into chaos. A United Nations envoy says the civilian death toll in Sudan has reached at least 185, with more than 1,800 others wounded, since fighting between rival wings of the military junta erupted on Saturday. The true toll is likely far higher, with emergency crews unable to retrieve bodies from the streets of the capital Khartoum, where tanks, fighter jets and artillery fire struck densely populated urban areas. In a widely shared social media post, architect and Khartoum resident Tagreed Abdin said Monday that civilians were being killed in the crossfire and that the fighting could benefit Islamist groups in Sudan.
Tagreed Abdin: "My only fear is that they come back to power on the back of whoever wins this idiocy, this ridiculous battle that has civilians caught in the middle, and we have nothing to do with this. … I don't have a preference. I don't even — you know, it's like just this is our new normal now."
More than a dozen hospitals have been shut down across Sudan, some of them after sustaining bomb damage. Humanitarian aid groups have suspended their operations. U.S. Embassy officials have been sheltering in place after a U.S. diplomatic convoy came under attack on Monday. Meanwhile, the European Union ambassador to Sudan reports he was assaulted in his residence in Khartoum. U.N. Secretary-General António Guterres strongly condemned the fighting and appealed to the warring factions to cease hostilities and begin a dialogue to resolve the crisis.
Kansas City Homeowner Charged for Shooting Black Teen Who Rang Wrong Doorbell
Apr 18, 2023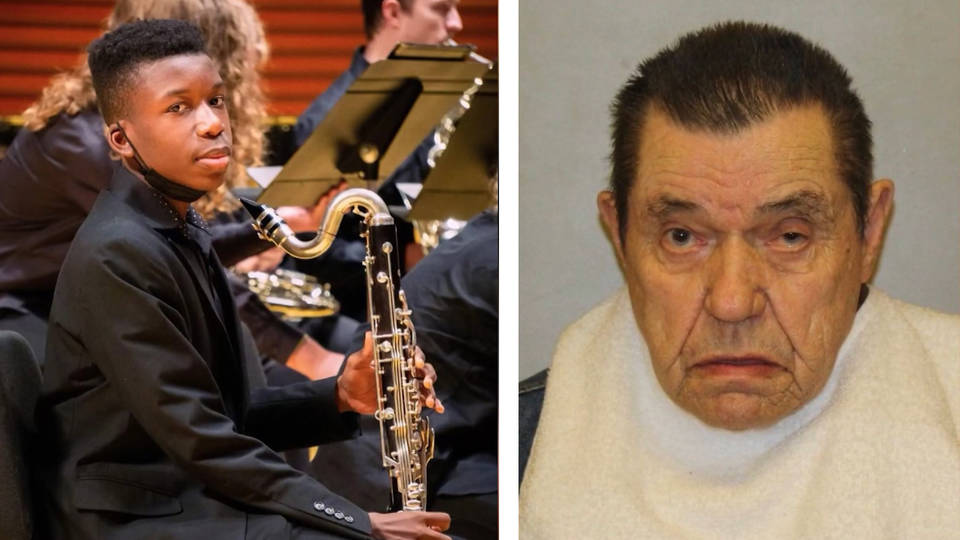 In Kansas City, Missouri, a white 84-year-old homeowner was charged with two felonies Monday after he shot and critically injured a Black teenager who rang his doorbell by mistake. Police say the homeowner, Andrew Lester, did not exchange words with Ralph Yarl last Thursday before opening fire through a locked glass door with a .32-caliber revolver, hitting the 16-year-old twice, in the head and chest. Yarl underwent surgery to remove bullet fragments and was released from the hospital on Sunday to recover at home. Lester walked free for several days before his arrest. Clay County Prosecutor Zachary Thompson announced the charges on Monday before taking questions from reporters.
Reporter: "Was there a racial component to this case, however?"
Zachary Thompson: "As the prosecutor of Clay County, I can tell you there was a racial component to the case."
The 16-year-old Ralph Yarl had simply rung the doorbell of the wrong address to pick up his two younger brothers.
Video Shows New Mexico Police Fatally Shooting Homeowner After Knocking on Wrong Door
Apr 18, 2023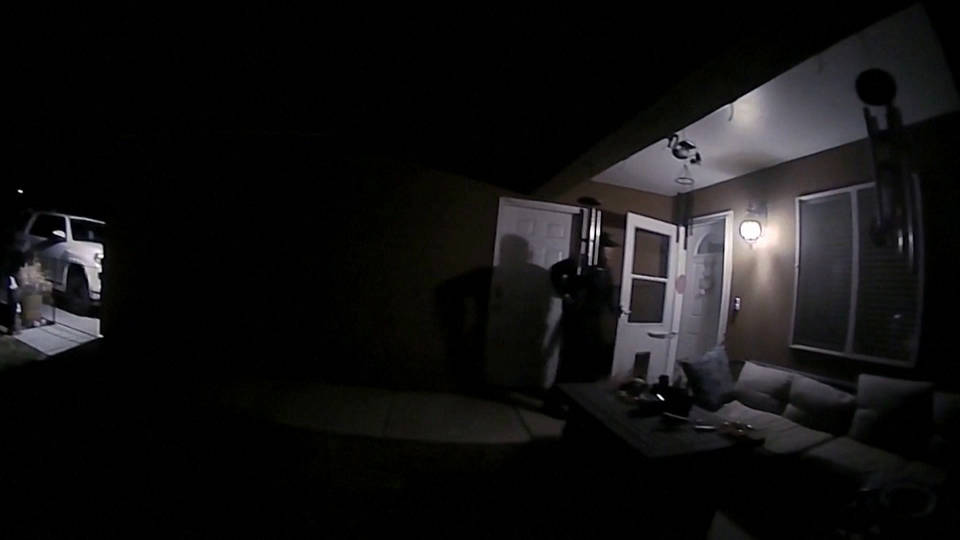 Police in New Mexico have released body-camera footage showing how officers shot and killed a Farmington resident in his own home on April 5. The video shows officers repeatedly knocking on a door before realizing they'd come to the wrong address. Seconds later, 52-year-old Robert Dotson appears at his front door, holding what appears to be a handgun; three officers immediately open fire, killing Dotson. The officers then exchanged gunfire with Dotson's wife, who cried out for help. The officers, who have not been publicly identified, have been placed on paid leave pending a state police investigation.
Florida Gov. DeSantis to Sign Bill Allowing Divided Juries to Hand Down Death Sentences
Apr 18, 2023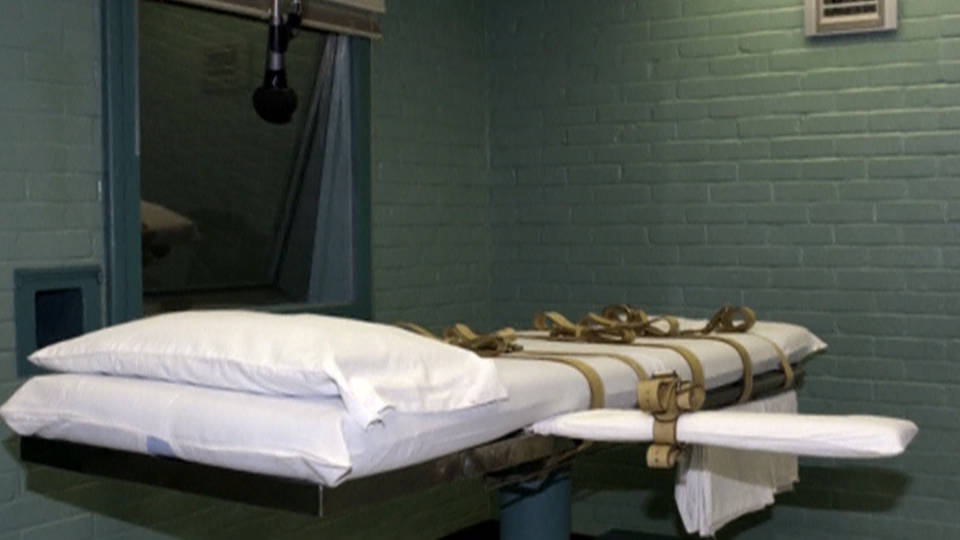 Florida is on the verge of joining Alabama as the only states in the country where a divided jury can impose the death penalty. Florida Governor Ron DeSantis is expected to sign legislation this week that would allow defendants to be sentenced to death even if as many as four members of a 12-person jury opposed the decision. Momentum for the legislation grew after the Parkland school shooter was sentenced to life in prison because the jury did not reach a unanimous decision on a death sentence.
DeSantis Proposes New Prison Near Disney World over Disney's LGBTQ+ Advocacy
Apr 18, 2023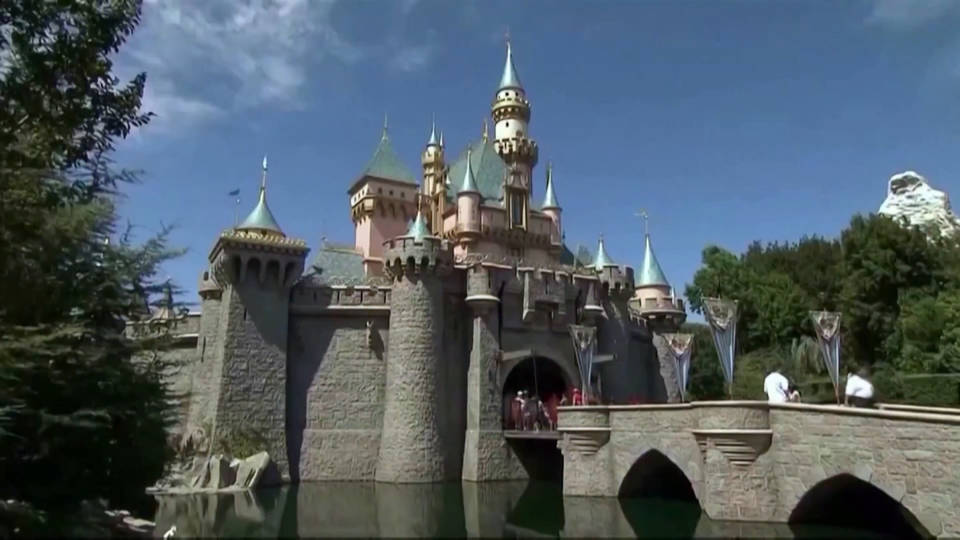 In other Florida news, Governor DeSantis is escalating his attacks on Disney as part of an ongoing dispute that began when the company criticized Florida's "Don't Say Gay" law. On Monday, DeSantis threatened to build a prison on state-owned land next to Disney World.
Gov. Ron DeSantis: "Well, there's — what should we do with this land? And so, you know, it's like, OK, I mean, people have said, you know, maybe — maybe have another — maybe create a state park, maybe try to do more amusement parks. Someone even said, like, 'Maybe you need another state prison.' Who knows?"
House Speaker McCarthy Proposes Raising Debt Ceiling in Exchange for Sweeping Budget Cuts
Apr 18, 2023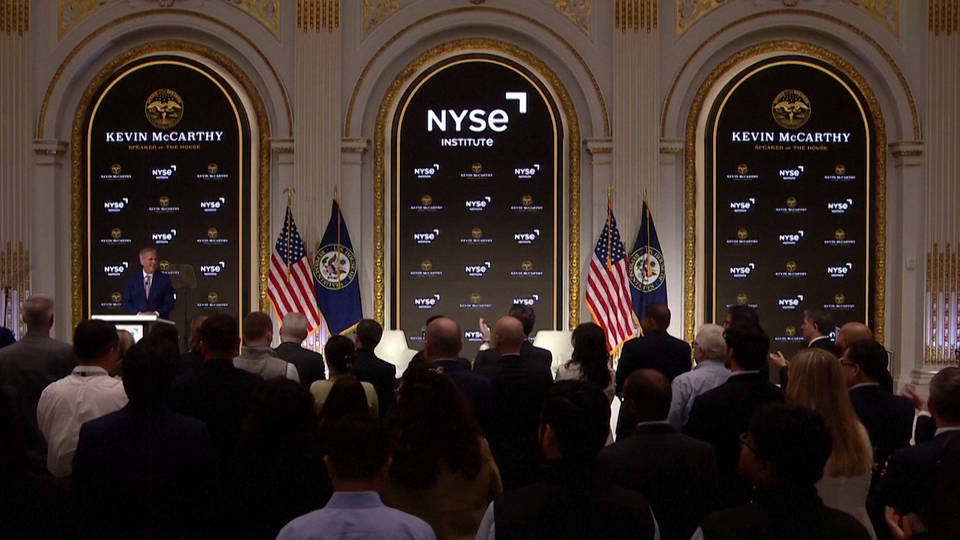 Republican House Speaker Kevin McCarthy has proposed increasing the debt ceiling for one year in exchange for sweeping budget cuts that would likely result in less federal money for housing, education, healthcare and the environment. McCarthy also pushed for tougher work requirements for recipients of SNAP, the Supplemental Nutrition Assistance Program, and to expand domestic mining and fossil fuel production. McCarthy outlined his plan in a speech at the New York Stock Exchange on Wall Street.
Speaker Kevin McCarthy: "Before we borrow another dime, we owe it to our children to save money everywhere. Our proposal will examine wasteful Washington spending and executive overreach in all forms."
The White House slammed Speaker McCarthy's proposal, warning it would impose devastating cuts on families and take healthcare and food assistance away from millions of people.
GOP Rep. Jim Jordan Holds Hearing in NYC to Attack DA Alvin Bragg After Trump Indictment
Apr 18, 2023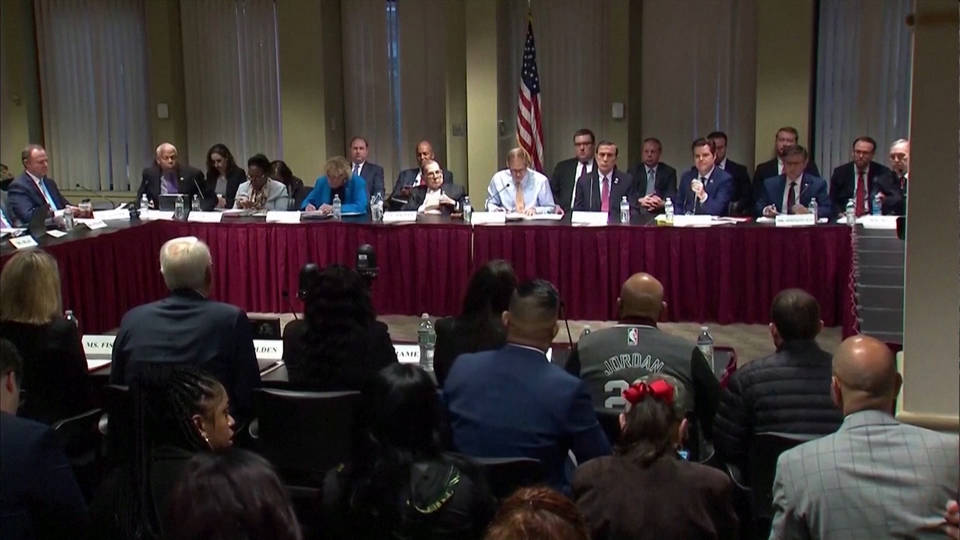 The Republican-led House Judiciary Committee, led by Jim Jordan, held a field hearing in New York City, where Republicans repeatedly attacked Manhattan District Attorney Alvin Bragg, claiming the DA pushed "pro-crime, anti-victim policies." The hearing came just weeks after Bragg filed criminal charges against Donald Trump. The focus of the hearing was on what Republicans described as "violent crime" in New York, even though it's one of the safest large cities in the United States. The New York Daily News reports the homicide rate in Ohio — the home state of committee chair Jim Jordan — is 73% higher than the homicide rate in Manhattan. This is committee chair Jim Jordan.
Rep. Jim Jordan: "Their stories are emblematic of a city that's lost its way when it comes to fighting a crime and upholding the law."
Democratic Congressmember Jerry Nadler blasted Jim Jordan for holding the hearing in New York and for attacking DA Alvin Bragg.
Rep. Jerrold Nadler: "The chairman is doing the bidding of Donald Trump. Committee Republicans designed this hearing to intimidate and deter the duly elected district attorney of Manhattan from doing the work his constituents elected him to do. They have demanded access to the inner workings of an ongoing criminal case, information to which they know they are not entitled. … They have perpetuated the antisemitic racist tropes that Mr. Trump has directed at both the prosecutor and the judge in this case. They are using their public offices and the resources of this committee to protect their political patron, Donald Trump. It is an outrageous abuse of power."
GOP Rep. George Santos Will Run for Reelection as He Faces Multiple Scandals
Apr 18, 2023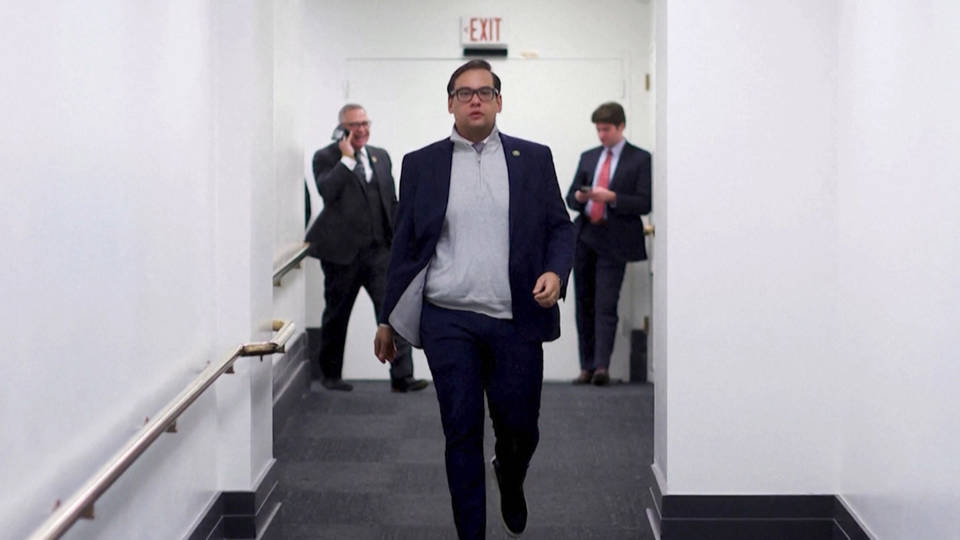 In other congressional news, New York Republican George Santos has announced he will seek reelection for Congress in 2024 despite growing calls for him to resign over his extensive lies about his background during his successful 2022 campaign.
FBI Arrests Two, Alleging They Ran "Secret Police Station" for China in New York
Apr 18, 2023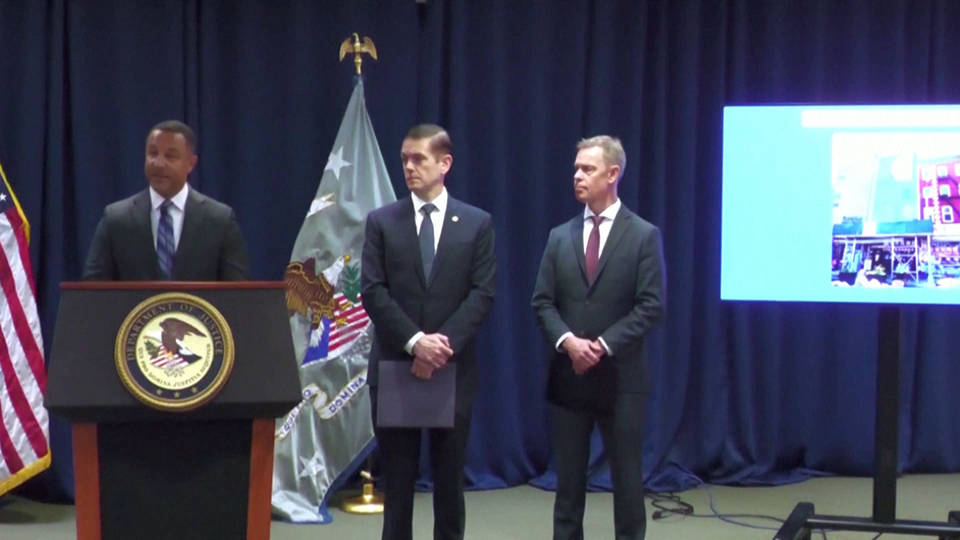 The FBI has arrested two New York residents for allegedly running a covert police station in Manhattan's Chinatown on behalf of the Chinese government. U.S. Attorney Breon Peace announced the indictment on Monday, saying the site was operated by China's Ministry of Public Security to target pro-democracy activists and other Chinese dissidents in the U.S.
Breon Peace: "On at least one occasion, an official with the Chinese national police directed one of the defendants, a U.S. citizen who worked at the secret police station, to help locate a pro-democracy activist of Chinese descent living in California. In other words, the Chinese national police appear to have been using the station to track a U.S. resident on U.S. soil."
China's Foreign Ministry denied the charges and accused the U.S. of "groundless accusations."
U.S. Journalist Evan Gershkovich Denied Bail by Russian Court, Faces Espionage Charges
Apr 18, 2023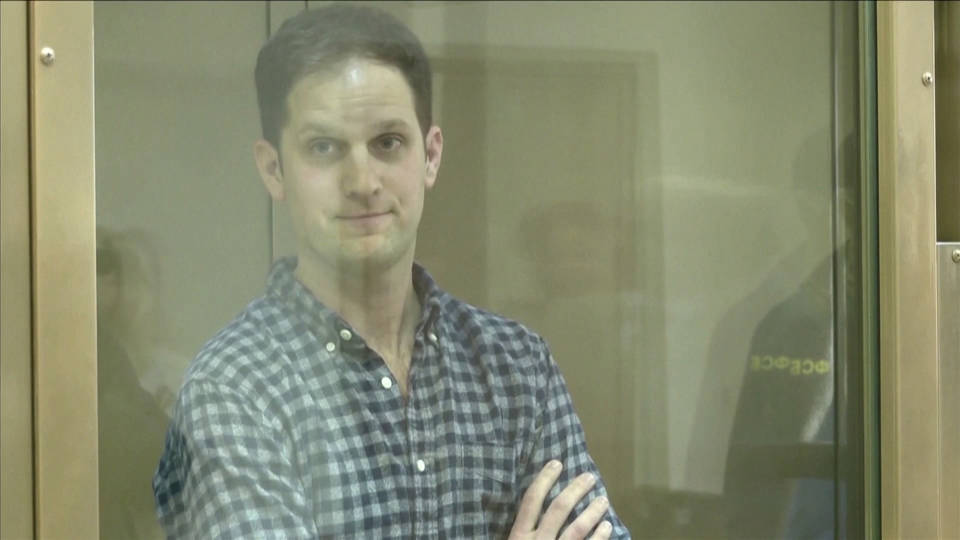 A Russian judge in Moscow has denied bail to detained Wall Street Journal reporter Evan Gershkovich, who was arrested on espionage charges on March 29. During his first court appearance, Gershkovich was held in a glass and metal enclosure. He was seen smiling at times, but marks from his handcuffs could be seen on his wrists. If convicted, he faces up to 20 years in prison. The U.S. ambassador to Russia recently visited him in his Moscow jail, reporting he's in "good health and remains strong."
New Jersey Climate Activists Hold Peaceful Protest Against Fracked Gas Project
Apr 18, 2023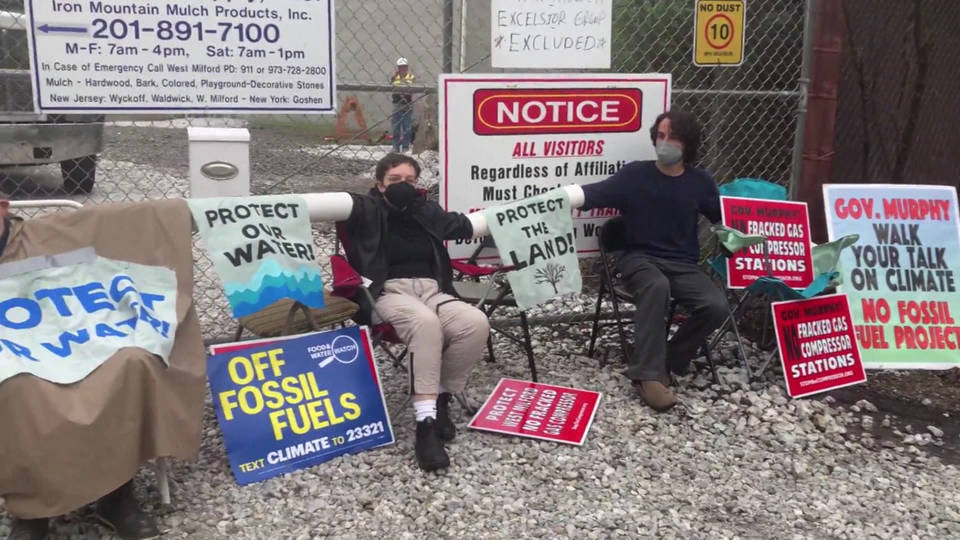 In New Jersey, climate activists held a nonviolent civil disobedience protest Monday at the construction site of a fracked gas expansion project. If completed, the East 300 Upgrade Project would expand the flow of methane through Kinder Morgan's aging Tennessee Gas Pipeline. Among those detained by police at Monday's protest was Paula Rogovin, a longtime environmentalist and peace activist, who called on New Jersey's Democratic Governor Phil Murphy to cancel the project.
Paula Rogovin: "Governor Murphy, you promised! You promised environmental justice! You promised clear air, clean water. And what do you do? You allow this lousy compressor station to be built. You allow pipelines." bq. Police officer: "You're under arrest. Come on."