U.N. Secretary-General Warns World Is in Peril
Sep 21, 2022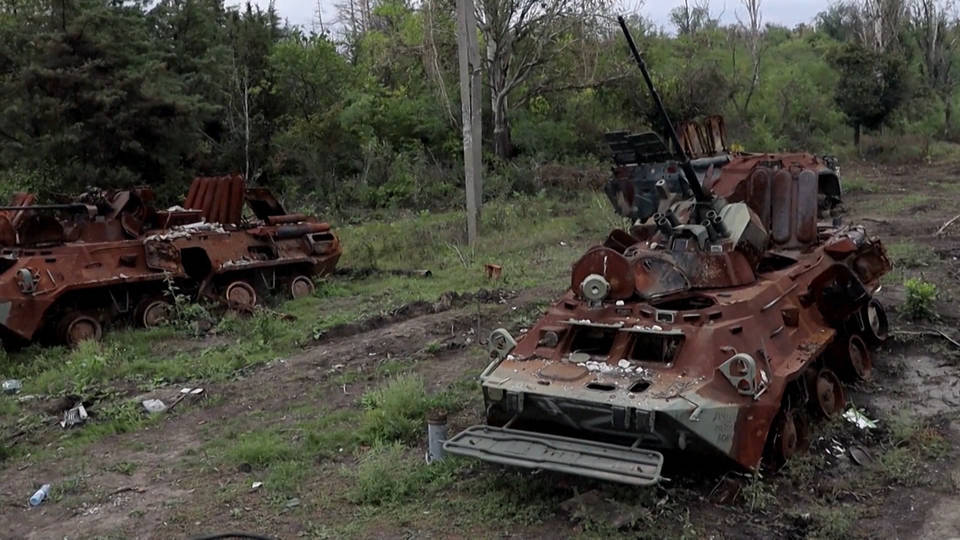 The opening day of the U.N. General Assembly began with a dire warning from U.N. Secretary-General António Guterres.
Secretary-General António Guterres: "Our world is in peril and paralyzed. Geopolitical divides are undermining the work of the Security Council, undermining international law, undermining trust and people's faith in democratic institutions, undermining all forms of international cooperation. We cannot go on like this."
U.N. Secretary-General António Guterres also warned about the climate emergency and blasted fossil fuel companies.
Secretary-General António Guterres: "The fossil fuel industry is feasting on hundreds of billions of dollars in subsidies and windfall profits, while households' budgets shrink and our planet burns. Excellencies, let's tell it like it is: Our world is addicted to fossil fuels, and it's time for an intervention. We need to hold fossil fuel companies and their enablers to account."
Colombia's Gustavo Petro Calls for End to War on Drugs
Sep 21, 2022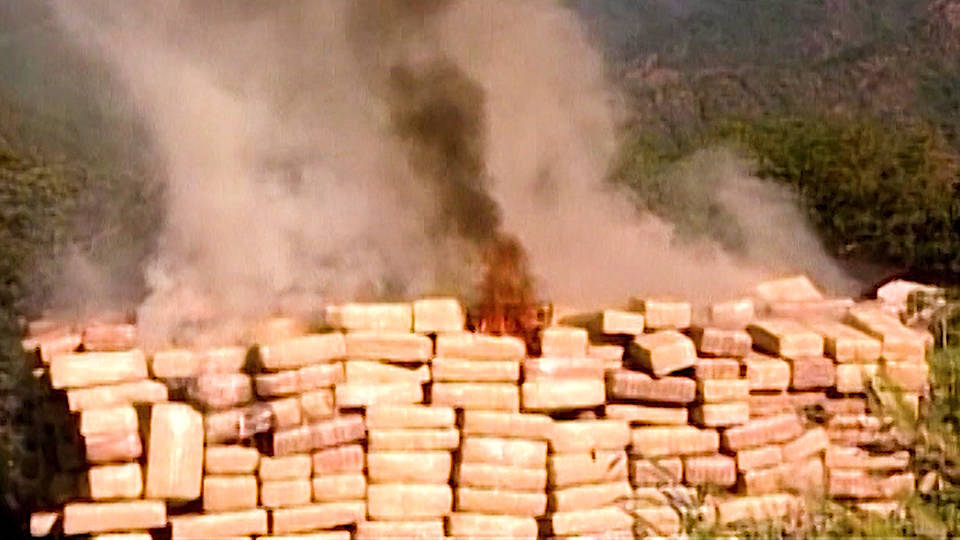 Other speakers at the United Nations on Tuesday included Colombia's newly elected President Gustavo Petro. He called for an end to the war on drugs.
President Gustavo Petro: "From my wounded Latin America, I demand you to end the irrational war on drugs. To curb on drug consumption doesn't need wars, arms. It needs us all to build a better society."
Chilean President Gabriel Boric Voices Support for Palestinians in U.N. Speech
Sep 21, 2022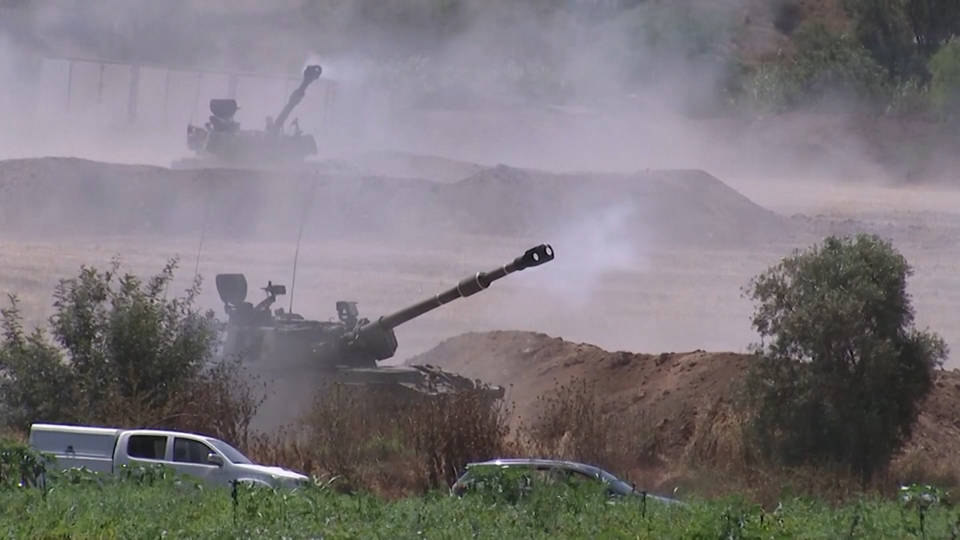 Chilean President Gabriel Boric also spoke at the U.N. Tuesday. He called on the world to defend the human rights of Palestinians.
President Gabriel Boric: "We should not normalize the permanent human rights violations against the Palestinian people, applying the international law and resolutions that this assembly states year after year. The Palestinian people should yield to their inalienable right to establish their own free and sovereign state. In the same way, let's guarantee Israel's legitimate right to live within secure and internationally recognized borders."
"No Fascist Dynasties": Protests in NYC Denounce Ferdinand Marcos Jr.
Sep 21, 2022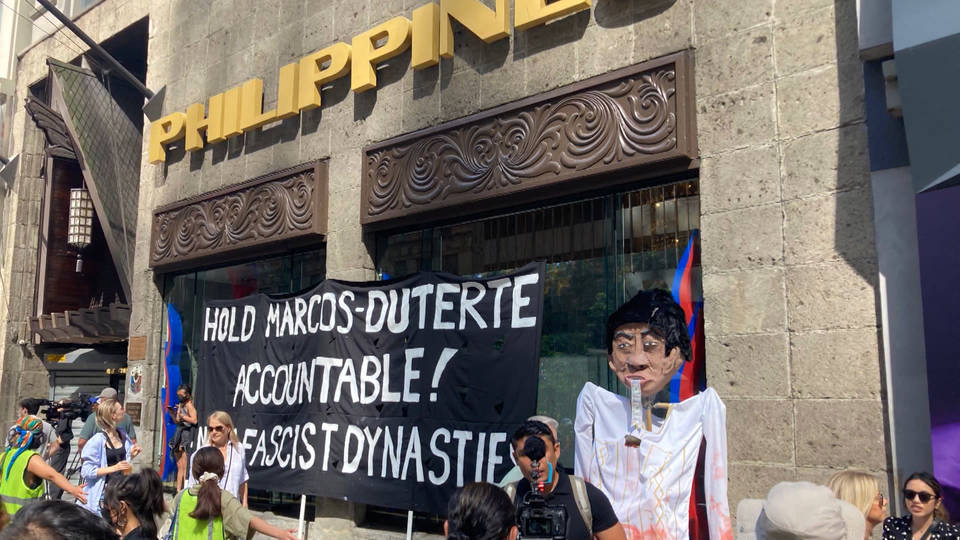 Demonstrators gathered near the United Nations on Tuesday to protest new Filipino President Ferdinand Marcos Jr., who addressed the assembly for the first time on Tuesday. Marcos Jr. is the son of the former Filipino dictator Ferdinand Marcos. Protesters were calling on the U.N. to investigate crimes by past President Rodrigo Duterte, as well as those committed during the Marcos dictatorship. Protesters held a large sign reading "Hold Marcos-Duterte Accountable. No Fascist Dynasties."
Protests in Iran Spread to Dozens of Cities over Death of Mahsa Amini
Sep 21, 2022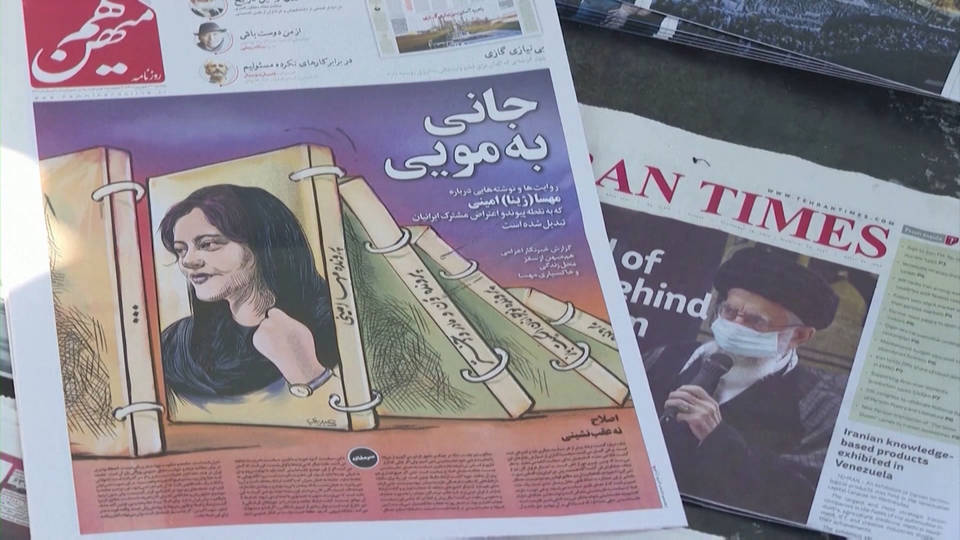 Protests in Iran have spread to dozens of cities after a 22-year-old Kurdish woman died in the custody of Iran's "morality police." The woman, Mahsa Amini, died after being detained for wearing an improper hijab in violation of an Iranian law requiring women to cover part of the head. Witnesses said Amini was severely beaten in a police van. She was later hospitalized with a coma and died on Friday. At least six people are believed to have been killed since protests began. Video posted online show women burning their hijabs. On Tuesday, the U.N. Office of the High Commissioner for Human Rights called for an investigation into Mahsa Amini's death.
Ravina Shamdasani: "There are reports that Miss Amini was beaten on the head with a baton, and her head was banged against the vehicle by so-called morality police. Authorities have stated that she died of natural causes. Acting High Commissioner for Human Rights Nada Al-Nashif has called for an investigation, a prompt, thorough, impartial investigation."
One Person Dies from Hunger Every 4 Seconds While Number of Super Wealthy Individuals Soars
Sep 21, 2022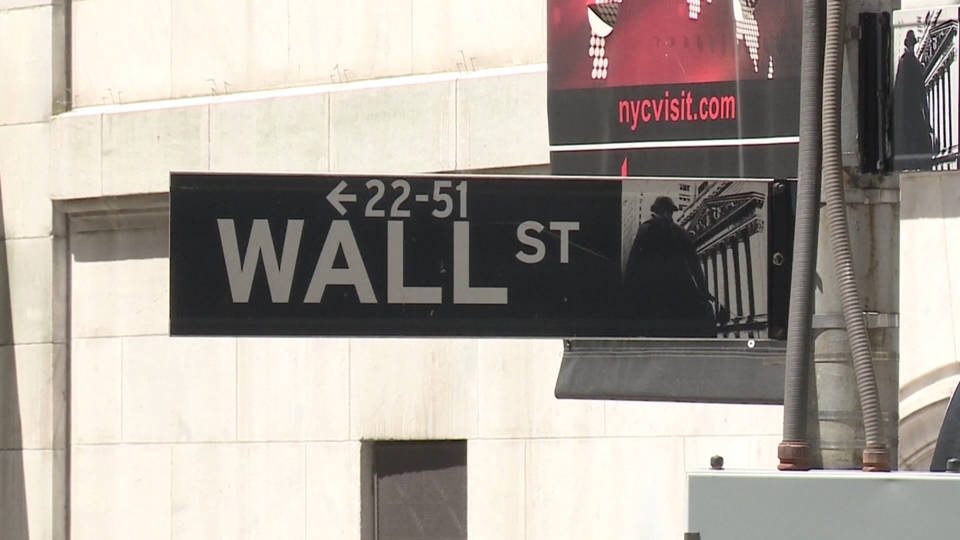 One person is dying of hunger every four seconds — that's the warning from a coalition of humanitarian groups who say global hunger is spiraling out of control. Oxfam, Save the Children and other groups say 345 million people are now experiencing acute hunger — double the number from 2019. Meanwhile, a new report finds there are now over 215,000 individuals worldwide who are worth more than $50 million. That's an increase of 46,000 people over the past year, this according to the bank Credit Suisse.
Venezuelan Asylum Seekers Sue DeSantis After Being Sent to Martha's Vineyard
Sep 21, 2022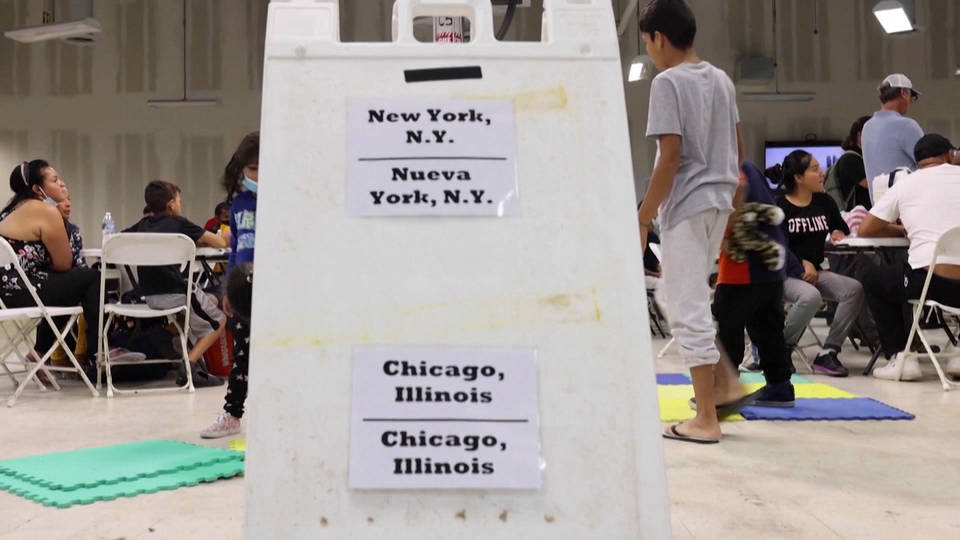 A group of Venezuelan asylum seekers has filed a class-action lawsuit against Florida Republican Governor Ron DeSantis and other officials after they were tricked into being flown to Martha's Vineyard, an island off of Massachusetts. The lawsuit accuses the officials of being engaged in a "premeditated, fraudulent, and illegal scheme" to advance their own personal, financial and political interests.
Puerto Rico Remains Without Power; Lin-Manuel Miranda Calls for More Help for Island
Sep 21, 2022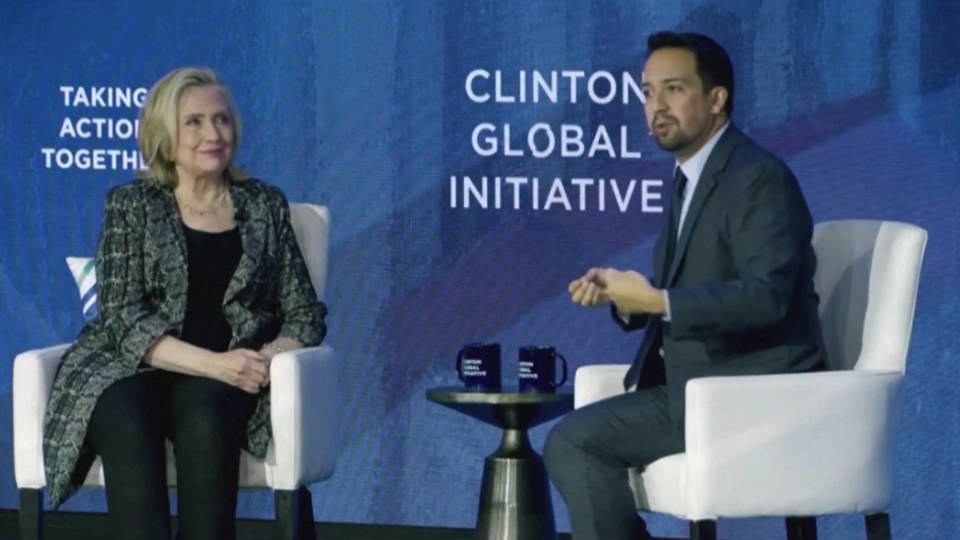 Most of Puerto Rico remains without power three days after Hurricane Fiona pummeled the island. The majority of homes also do not have access to clean water. On Tuesday, the creator of the hit Broadway show "Hamilton," Lin-Manuel Miranda, called for more aid for Puerto Rico. He spoke at an event organized by the Clinton Global Initiative.
Lin-Manuel Miranda: "We are looking for partners, because we have to start recovery. The goal is to build. We're never going to stop hurricanes, and climate change, of course, I'm sure you've heard about in many different panels today, is not going away anytime soon. But we can build a more resilient Puerto Rico, and we need your help to do that. So, please, email my dad."
Hillary Clinton: "That's right. Email. Email Luis."
Lin-Manuel Miranda: "Luis@linmanuel.com. Join us. Join us. Join us. Join us."
On Tuesday, Hurricane Fiona passed near the Turks and Caicos Islands. Earlier today the hurricane strengthened into a Category 4 storm. It is now threatening Bermuda.
Palestinian Authority Arrests Men Wanted by Israel, Sparking Uprising in Nablus
Sep 21, 2022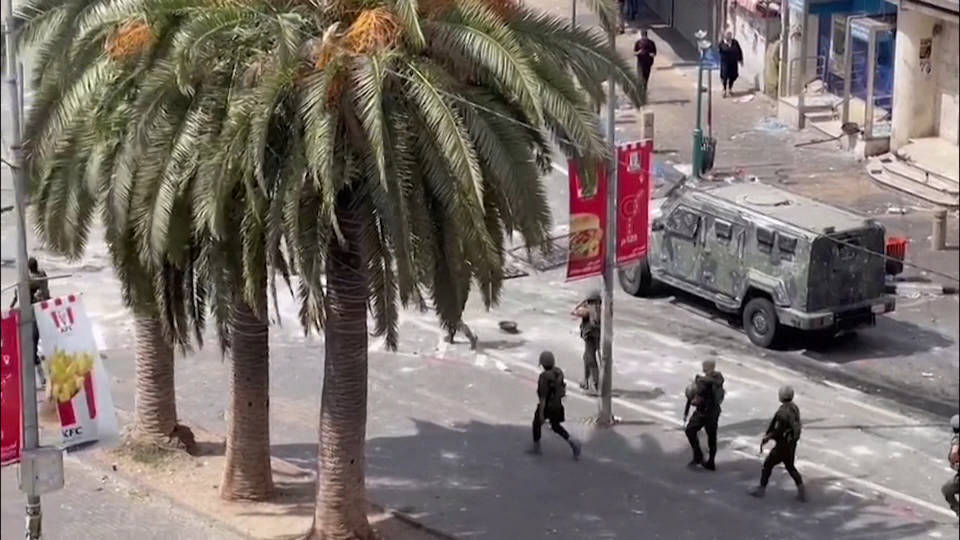 In news from the occupied West Bank, at least one person died Tuesday in the city of Nablus in fighting between Palestinians and security forces with the Palestinian Authority. The unrest began after the Palestinian Authority detained two Palestinian fighters who were wanted by Israel.
Eritrea Accused of Full-Scale Offense in Tigray Region of Ethiopia
Sep 21, 2022
In news from Ethiopia, rebel forces in the Tigray region have accused the neighboring country of Eritrea of launching a full-scale offensive in Tigray. The news has not been independently confirmed, but aid workers in the region report heavy fighting along the Eritrean-Tigray border. Eritrea backed the Ethiopian government's initial offensive in Tigray that began in 2020, but last year Eritrea withdrew most of its forces.
Seattle Teachers Agree to New Contract After 5-Day Strike
Sep 21, 2022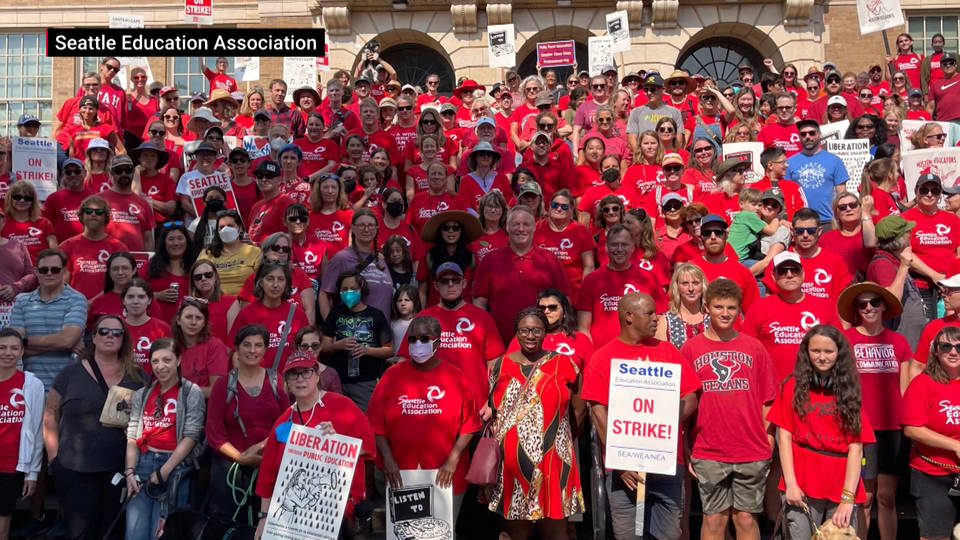 In labor news, teachers in Seattle have approved a new three-year contract. Earlier this month, the teachers staged a five-day strike, delaying the opening of school. The new contract includes additional support staff in classrooms and pay raises.
Headlines continue at DEMOCRACY NOW!