Senate GOP Blocks Equal Rights Amendment 100 Years After Its Introduction
Apr 28, 2023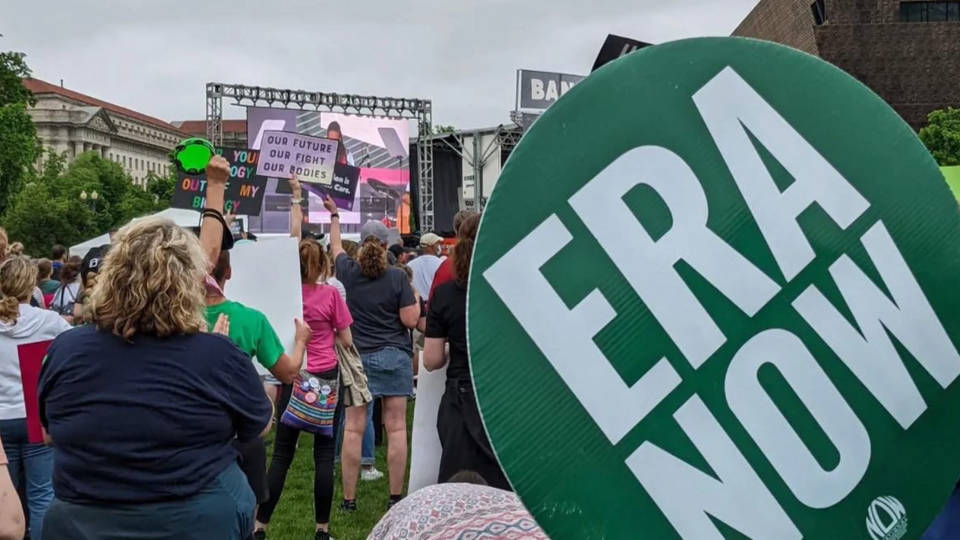 Image Credit: ERA Coalition
On Capitol Hill, Senate Republicans filibustered to block ratification of the Equal Rights Amendment, which would codify gender equality in the Constitution. The measure was first introduced 100 years ago and passed 50 years ago but has never been ratified, as conservative opponents have argued the deadline for ratification has expired. Ahead of Thursday's vote, women House Democrats marched to the Senate to demand their colleagues pass the ERA. Legal experts believe its ratification would have helped prevent mounting attacks on LGBTQ communities and reproductive rights.
U.S. Plans Rapid Deportations from Southern Border
Apr 28, 2023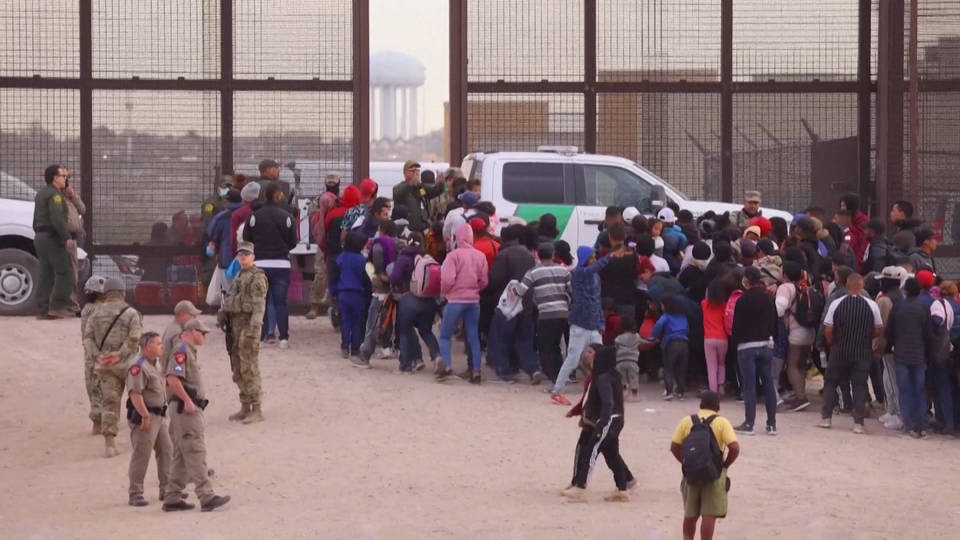 The Biden administration has announced plans to open processing centers across Latin America where asylum seekers would have to request permission to come to the U.S., blocking tens of thousands from seeking relief at the U.S.-Mexico border. The first processing centers will be located in Guatemala and Colombia. Migrants from Latin America and the Caribbean will be forced to journey to one of the nearest centers to start an asylum application or ask for refugee status to then be resettled to either the U.S., Canada or Spain. The U.S. has agreed to take in 20,000 refugees over the next two fiscal years, while doubling or tripling the rapid deportations of migrants who are deemed "not eligible" to enter the United States. Homeland Security Secretary Alejandro Mayorkas and Secretary of State Antony Blinken laid out the sweeping measures Thursday, threatening migrants at the southern U.S. border with harsher consequences, including possible criminal charges. This is Mayorkas.
DHS Secretary Alejandro Mayorkas: "Beginning on May 12, we will be — we will place eligible individuals who arrive at our southern border in expedited removal proceedings. Those who arrive at our border and do not have a legal basis to stay will have made the journey, often having suffered horrific trauma and having paid their life savings to the smugglers, only to be quickly removed. They will be removed most often in a matter of days and just a few weeks."
This comes as the U.S. is preparing to lift the Trump-era Title 42 pandemic policy in May, which for the past three years has been used to expel some 2.7 million migrants at the U.S.-Mexico border without due process. Immigrant justice advocates have denounced the Biden administration for violating international law and enforcing policies similar to those pushed by Donald Trump. The new measures exclude migrants from Africa. Eleanor Acer of Human Rights First said in a statement, "The Biden administration should focus on measures like increasing refugee resettlement and regular pathways and abandon its plan to impose an asylum ban that would be a legal, moral, and political mistake."
Senate GOP and Joe Manchin Vote Against New Emissions Limits for Heavy Trucks
Apr 28, 2023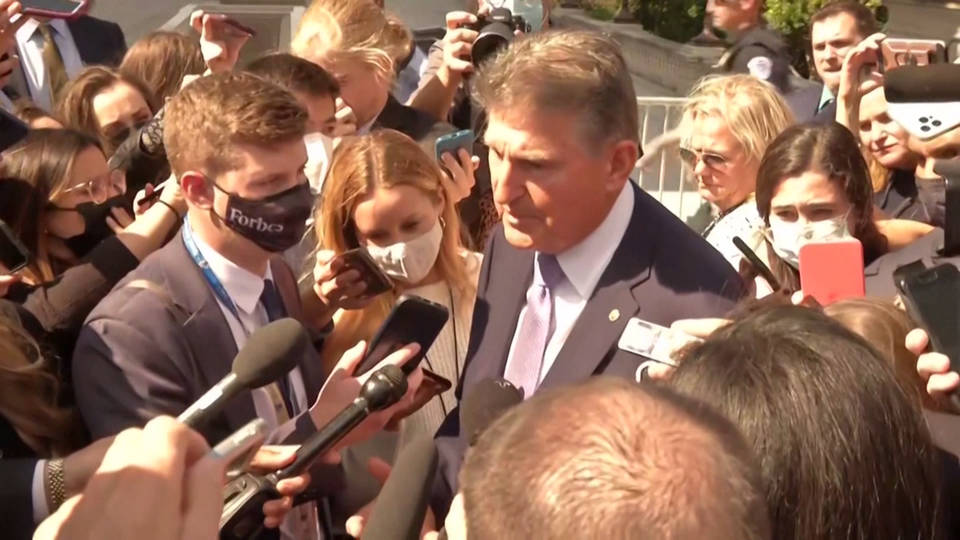 The Senate has voted to roll back emissions standards for heavy-duty trucks set by the White House. Conservative West Virginia Democrat Joe Manchin joined Republicans in Wednesday's 50-49 vote, setting up a veto by President Biden if the Republican-led House also passes the measure. This comes after environmental groups and some Democrats condemned Energy Secretary Jennifer Granholm's endorsement of the Mountain Valley fracked gas pipeline earlier this week. Arizona Congressmember Raúl Grijalva said in a statement that "fully greenlighting the pipeline will condemn Appalachian communities to generations of pollution and related health and safety issues, while also doing nothing for our ambitious climate goals."
Mike Pence Testifies Before Jan. 6 Grand Jury
Apr 28, 2023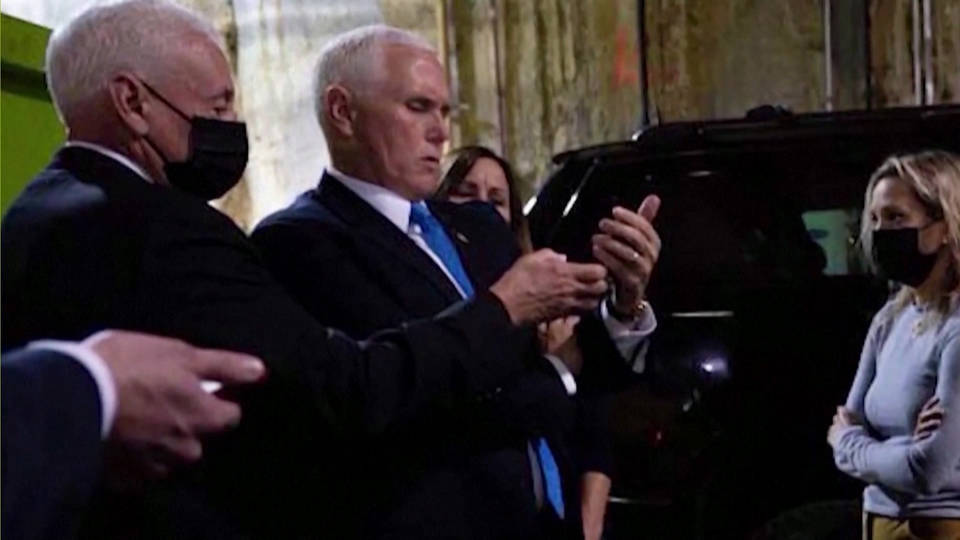 Former Vice President Mike Pence has appeared before the federal grand jury investigating Donald Trump's efforts to overturn the results of the 2020 presidential election. His testimony on Thursday came a day after a federal appeals court rejected an emergency request to quash special counsel Jack Smith's subpoena of Pence by Trump's lawyers, who cited claims of executive privilege.
Climate Protesters Demand Halt to Fossil Fuel Projects at Podesta Talk
Apr 28, 2023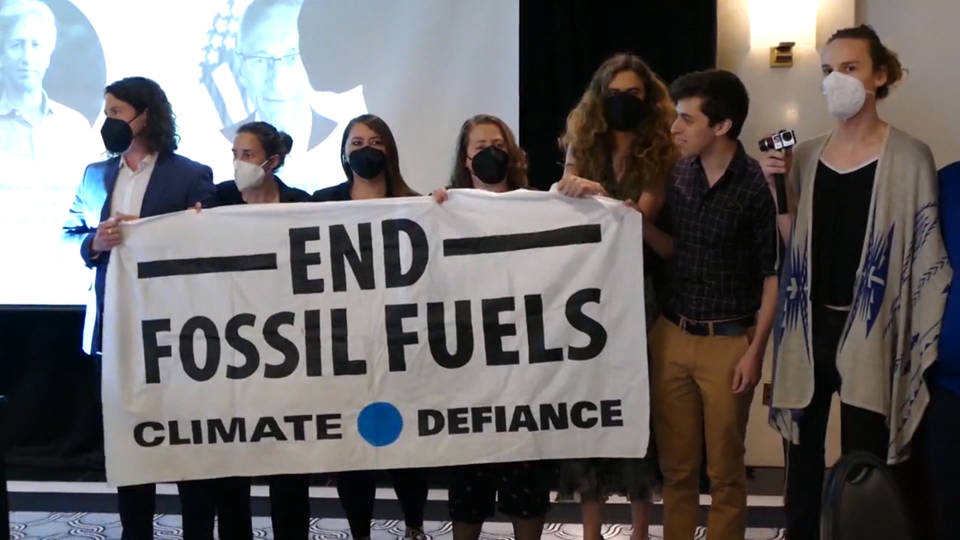 Protests demanding urgent action on the climate crisis have ramped up across the United States. On Thursday, a pair of protesters smeared red and black paint on a glass case housing artwork at the National Gallery of Art in Washington, D.C., demanding that President Biden declare a climate emergency. This follows demonstrations earlier this week outside the offices of banking giants Citibank in New York and Wells Fargo in San Francisco. A new study titled "Banking on Climate Chaos" finds the world's largest private banks loaned $5.5 trillion to fossil fuel projects since the Paris Climate Agreement was adopted.
On Tuesday, climate activists interrupted a talk by John Podesta, who heads the White House Office of Clean Energy Innovation and Implementation. They were demanding the Biden administration reverse its approval of ConocoPhillips's Willow project in northern Alaska and act swiftly to end the use of fossil fuels.
Protester: "We never needed fossil fuels. Y'all need to stop supporting it. You are going to be complicit to the destruction of Mother Earth and everyone's future."
John Podesta: "I appreciate their passion. And we're trying to do a creative transition that gets to net zero by 2050."
Protester: "Too late!"
John Podesta: "They have a point of view" —
Protester: "That is too late!"
Unidentified: "Thirty years" —
Protester: "That is too late!"
The protest was organized by Climate Defiance, a new organization that has vowed to disrupt the annual White House Correspondents' Dinner in Washington, D.C., this weekend.
"Vice News Tonight" Canceled as Vice Media Fires Over 100 Staff
Apr 28, 2023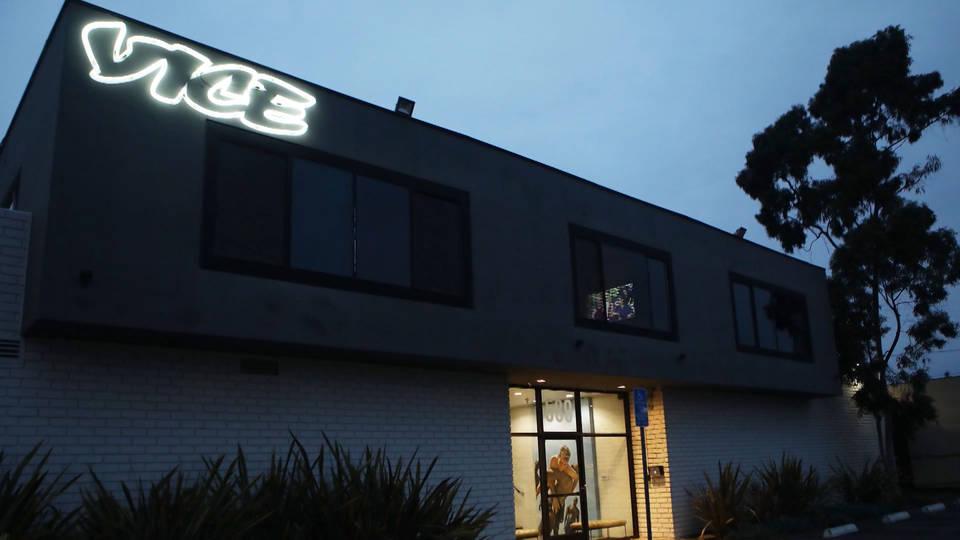 Vice Media is canceling its award-winning show "Vice News Tonight" as part of the company's mass layoff of over 100 employees, including most of its audio team. Vice is the latest media outlet to cut jobs after BuzzFeed last week announced it was shutting down BuzzFeed News. Vice Union said on Twitter, "These workers are suffering the consequences of years of poor decisions they played no part in."
White Woman Whose False Accusation Led to Emmett Till's Lynching Dies Without Ever Facing Justice
Apr 28, 2023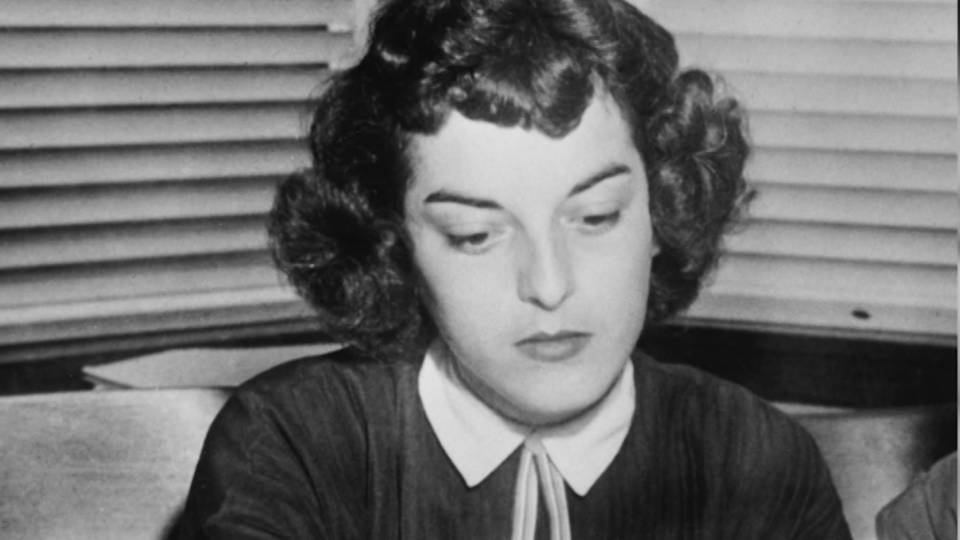 Image Credit: Bettman Archive / Getty Images
The white woman whose discredited accusations led to the lynching death of Black teenager Emmett Till in Mississippi seven decades ago has died of cancer at the age of 88. It was 1955 when Carolyn Bryant Donham accused Till of whistling at her in her store. That prompted Till's abduction, torture and murder. Donham's husband and his half-brother were tried for the lynching and acquitted by an all-white jury. In 2007, Donham confessed she had fabricated her claim, leading the FBI to reopen Till's case. But the Justice Department ended its investigation in 2021 without filing charges. Last year, a team searching for evidence in Emmett Till's case found an unserved warrant charging Donham in his kidnapping
Abortion Ban Bills Fail in South Carolina and Nebraska, Keeping Abortion Legal Until 22 Weeks
Apr 28, 2023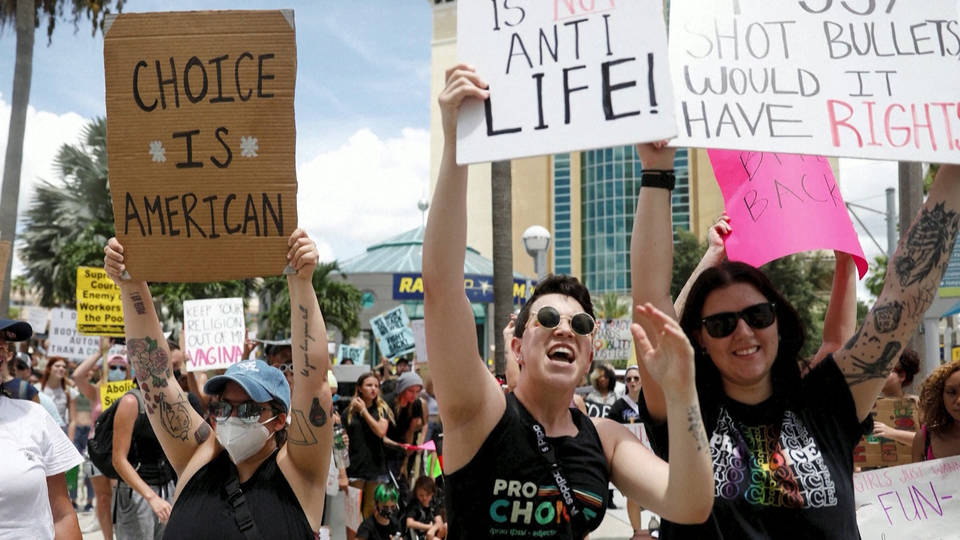 In reproductive rights news, near-total abortion bans failed to advance in two conservative-led states Thursday. South Carolina and Nebraska both narrowly defeated draconian anti-choice measures, allowing the procedure to remain legal until 22 weeks of pregnancy. Meanwhile, lawmakers in Vermont passed a bill Thursday further protecting access to abortions, including medication abortion, as well as gender-affirming healthcare, by shielding providers from liability.