Activist Banko Brown Shot Dead Outside Walgreens for Alleged Theft of Snacks
May 15, 2023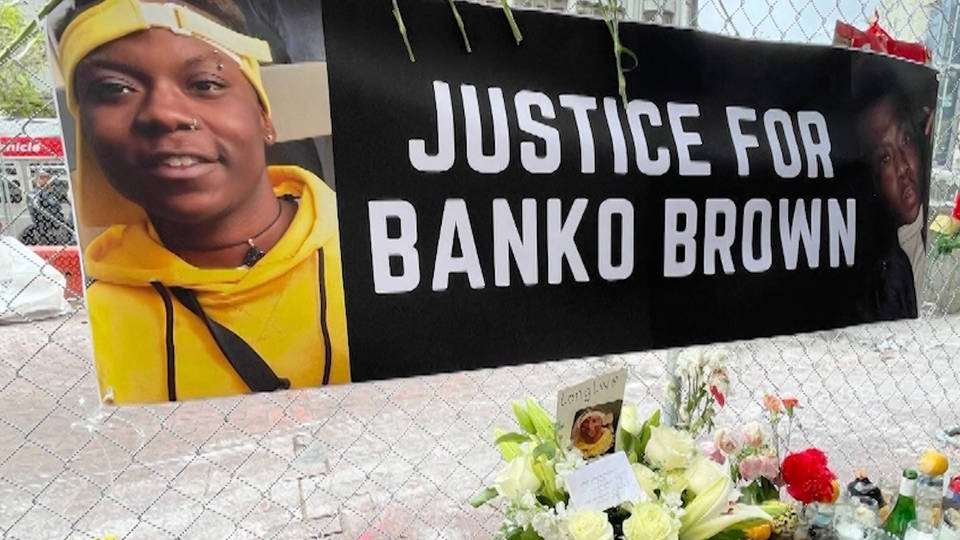 In San Francisco, the transgender community and loved ones of slain activist Banko Brown are calling for justice for the late 24-year-old Black trans man. Brown was shot dead outside a Walgreens by a security guard in April after he allegedly tried to steal snacks from the store. The shooter has not been charged. Banko Brown's loved ones say he suffered from food and housing insecurity in a city known for its vast inequalities.
Sen. Tuberville Under Fire for Backing White Nationalists in Military
May 15, 2023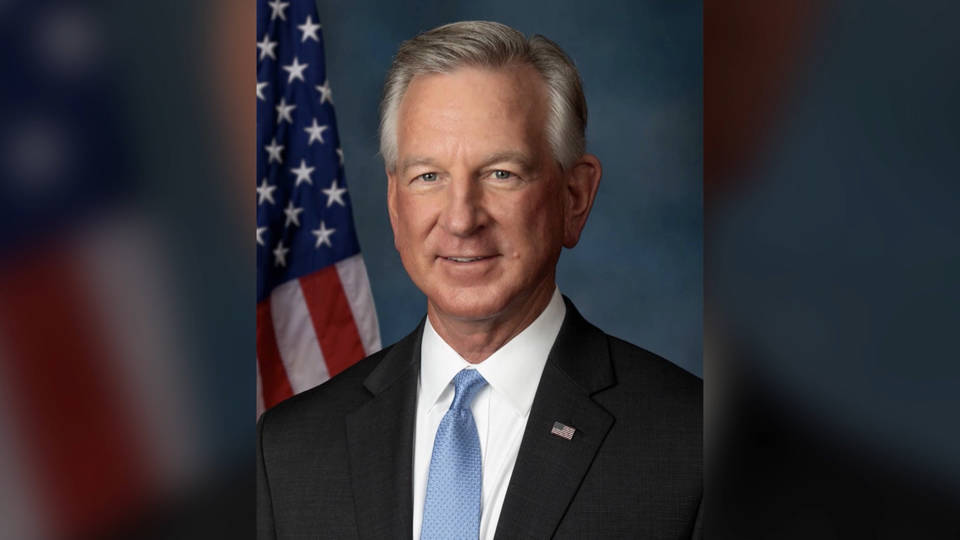 Alabama Republican Senator Tommy Tuberville has come under fire for comments defending white nationalists against the Pentagon's efforts to rid them from its ranks. He made the comments last week while talking to NPR's Alabama-based station WBHM.
Richard Banks: "You mentioned the Biden administration trying to prevent white nationalists from being in the military. Do you believe they should allow white nationalists in the military?"
Sen. Tommy Tuberville: "Well, they call them that. I call them Americans."
Tuberville and his team have since unsuccessfully tried to walk back the comments; Tuberville told NBC's Julie Tsirkin, "I look at a white nationalist as a Trump Republican." Tuberville was already under fire for holding up military nominees over a Pentagon policy which covers paid leave for employees who have to travel out of state to get an abortion. Tuberville also said the fact that a jury found Donald Trump liable for the sexual abuse and defamation of E. Jean Carroll "makes me want to vote for him twice."
In related news, The Washington Post is reporting suspected Pentagon leaker Jack Teixeira was obsessed with guns and was preparing for a "race war." Videos and chat logs show the 21-year-old National Guard member viewed Black people, liberals, Jews and LGBT people as enemies and threats he may have to fight.
North Carolina's Democratic Gov. Vetoes Abortion Ban, Setting Up Possible GOP Override
May 15, 2023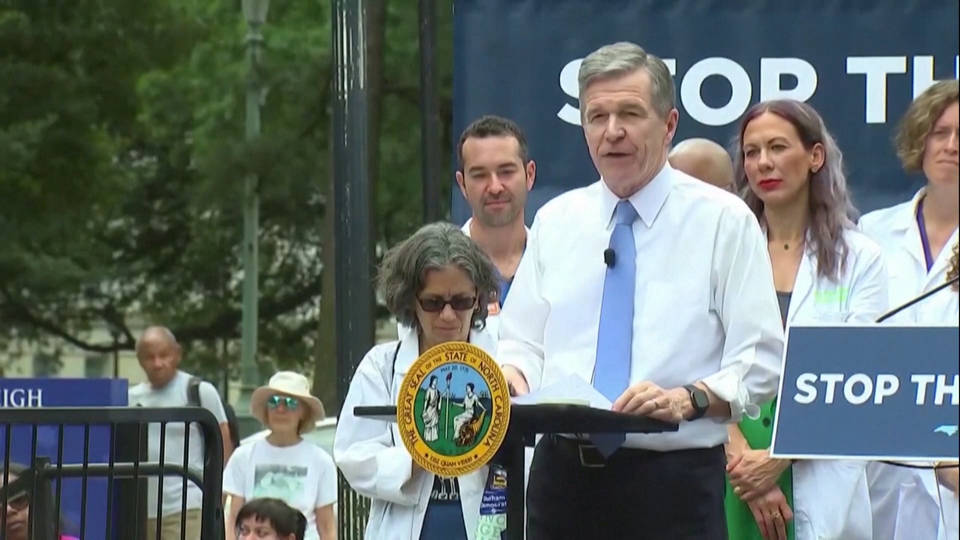 North Carolina's Democratic Governor Roy Cooper vetoed a Republican-led bill banning nearly all abortions after 12 weeks, setting up a likely override vote. Republicans have a supermajority in the North Carolina Legislature, but it would only take one defector to keep the veto in place. Governor Cooper signed the veto at an abortion rights rally in Raleigh Saturday. This is reproductive rights advocate Janice Robinson, speaking from the event.
Janice Robinson: "We do not appreciate what the Republicans have done in trying to take away our rights, passing this monster bill that is going to make it so much harder for women to have access to abortion care. … And if they, the legislators, do not sustain this veto, we will definitely make sure that there are people elected that are about protecting women's rights when it comes to the election in 2024."
Guatemalan Newspaper El Periódico Shutters After Persecution by Giammattei Gov't
May 15, 2023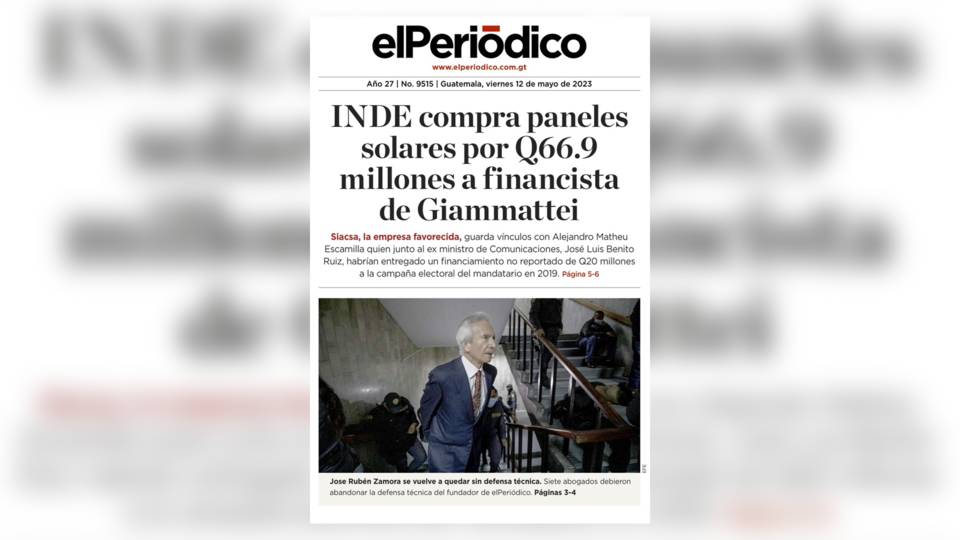 In Guatemala, the prominent investigative newspaper El Periódico is closing after months of intensifying harassment and persecution from the right-wing government of President Alejandro Giammattei. Founder José Rubén Zamora remains in detention after nearly one year, accused of money laundering and other charges that human rights and press freedom groups have denounced as political retaliation over exposés of government corruption. Zamora's trial began earlier this month. Meanwhile, several of El Periódico's journalists and columnists are also being investigated by Guatemalan authorities. The newspaper laid off most of its staff and shut down its print edition in November.
Texas Woman Killed by Partner After Returning from Colorado, Where She Had an Abortion
May 15, 2023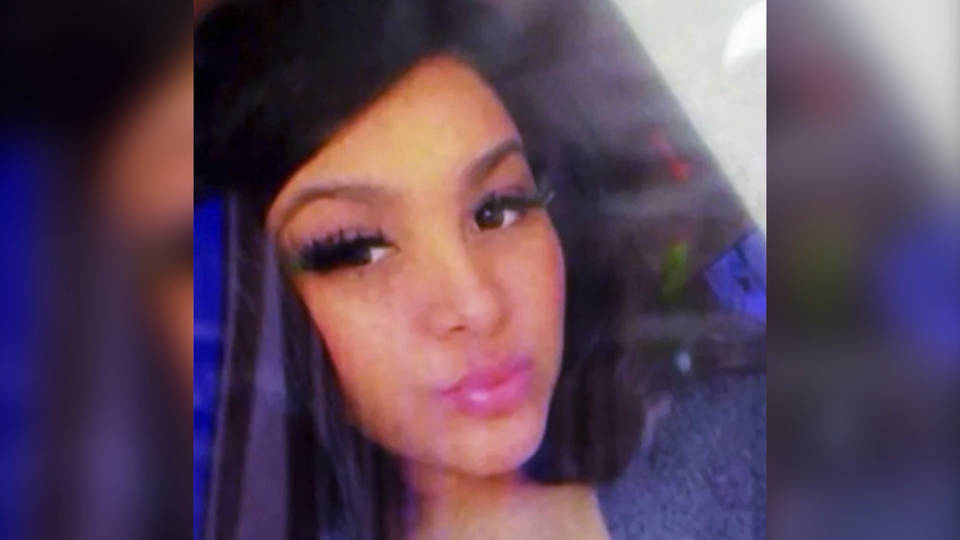 In Texas, a woman was shot dead by her boyfriend after she returned from traveling to Colorado to get an abortion, where the procedure remains legal. Abortions are banned in Texas. Police say Harold Thompson, who has been arrested and charged with murdering 26-year-old Gabriella Gonzalez, did not want her to terminate her pregnancy.
Florida Bans Textbooks Dealing with Race, Social Justice; Allows Discrimination in Healthcare
May 15, 2023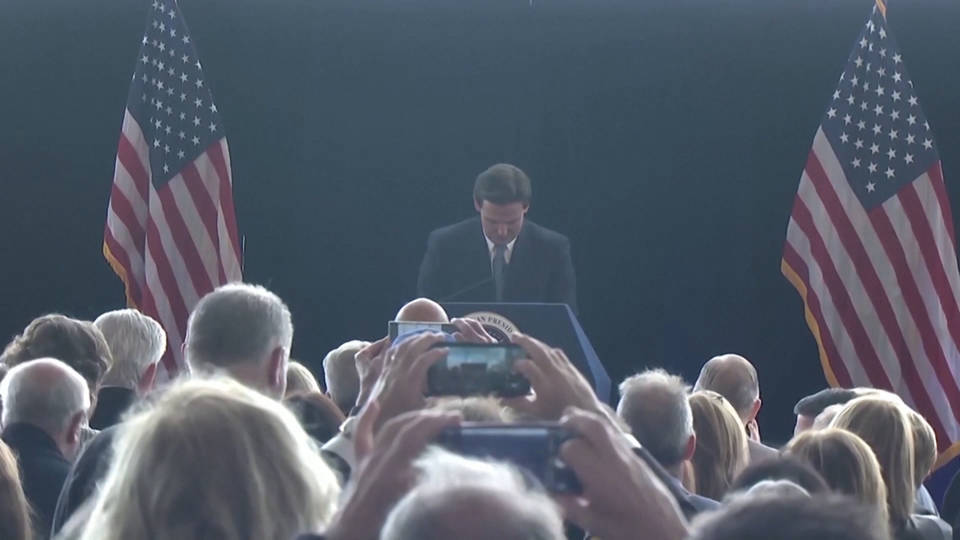 Florida's education officials blocked dozens of textbooks and forced publishers to edit dozens of others to remove information on racial and social justice issues. This comes as part of Republican Governor Ron DeSantis's ongoing campaign criminalizing the teaching of critical race theory, LGBTQ topics and other issues he's described as "woke indoctrination." One middle school textbook no longer includes a section on the Black Lives Matter movement and the police murder of George Floyd.
Meanwhile, DeSantis has signed into law a bill that will allow healthcare providers and insurers to deny patient care on the basis of religious or moral beliefs. Human rights advocates say the legislation will lead to more discrimination against LGBTQ people.