McCarthy Rules Out Repealing Tax Cuts for the Rich After Deal on Debt Ceiling Fails
May 23, 2023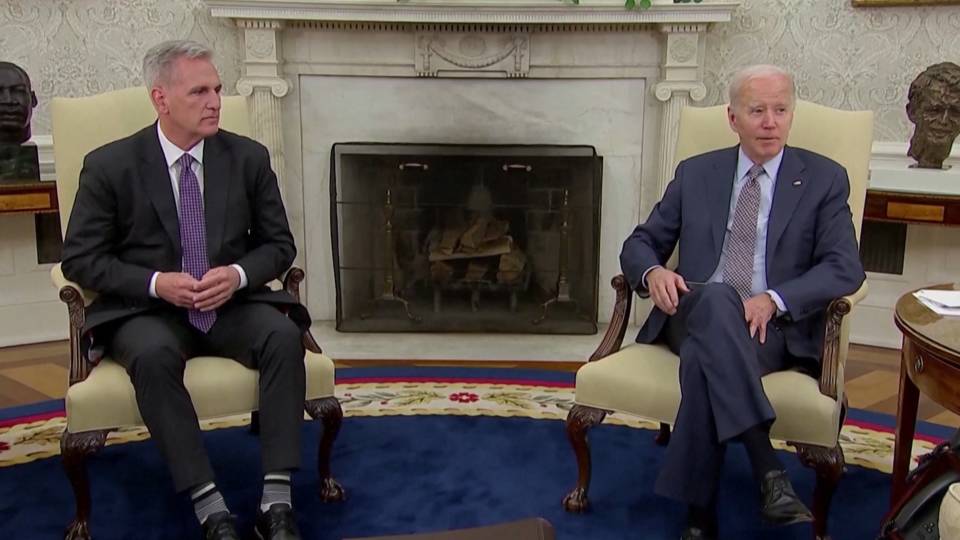 House Speaker Kevin McCarthy emerged from the White House Monday without a deal to raise the limit on the national debt. McCarthy's high-stakes negotiations with President Biden came just 10 days before the U.S. faces a possible default on loans, with Republicans demanding sweeping cuts to social programs as the price of any deal to raise the U.S. debt ceiling. After the talks, McCarthy shrugged off a reporter's question about whether Republicans would support rescinding the Trump-era tax cuts that overwhelmingly favor corporations and wealthy U.S. residents. 
Speaker Kevin McCarthy: "So the problem is not revenue. The problem is spending. … I simply believe, like any household, like any business, like any state government, when you're this far out of whack, you have to spend less than you spent last year."
Earlier this month, the Congressional Budget Office reported extending tax cuts passed in 2017 and signed by then-President Trump would add $3.5 trillion to the federal deficit through 2033. This is House Democratic leader Hakeem Jeffries.
Rep. Hakeem Jeffries: "They've taken revenues off the table. They don't want to revisit the GOP tax scam, which exploded the debt by $2 trillion to subsidize the wealthy, the well-off and the well-connected. They said, 'No, we can't have a conversation about that, can't have a conversation about revenue, can't have a conversation about any policy changes that Democrats would like to have.' Does that sound like a negotiation? Or is that a hostage-taking situation?"
Congressmember Jeffries said he's open to a deal that would see federal spending frozen at current levels. Members of the Congressional Progressive Caucus have rejected that idea and are calling on President Biden to invoke his authority to avert a debt default under the 14th Amendment to the Constitution.
Anti-Putin Militias Launch Cross-Border Raid on Russia's Belgorod from Ukraine
May 23, 2023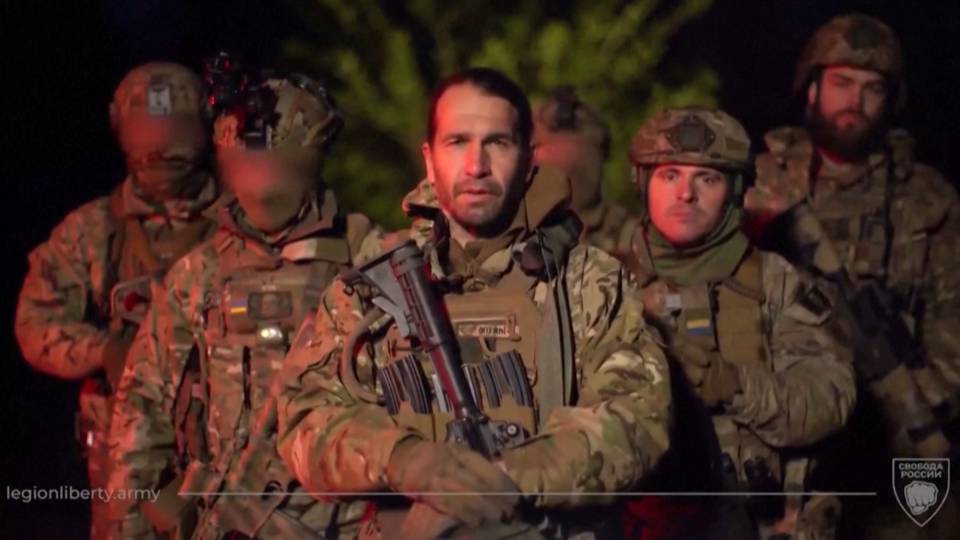 Image Credit: Liberty of Russia Legion Press Service
Russia's war in Ukraine spilled back into Russian territory Monday as self-described anti-Kremlin Russian militias launched cross-border raids into the Belgorod region of southwestern Russia. Groups calling themselves the Russian Volunteer Corps and the Freedom of Russia Legion claimed to have captured the Russian border town of Kozinka and several others. This is an unnamed fighter with the group in a video released Monday.
Russian fighter: "We are Russians, just like you. We are people, just like you. We want our children to grow up in peace and be free people, so that they can travel, study and just be happy in a free country. But this has no place in today's Putin's Russia, rotten from corruption, lies, censorship, restrictions on freedoms, repressions."
In a statement, Russian officials said they'd opened a terrorism investigation against anti-Kremlin militia fighters in Belgorod.
India Issues Heat Alerts as Temperatures Top 113 Degrees Fahrenheit
May 23, 2023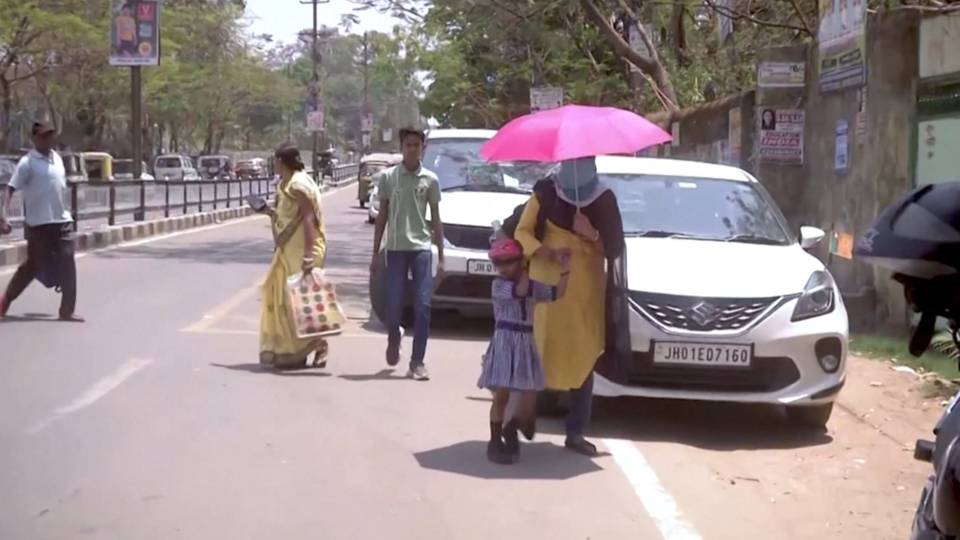 India's Meteorological Department has issued heat alerts for the capital New Delhi and several states as daytime temperatures soar to 45 degrees Celsius — or more than 113 degrees Fahrenheit. Parts of the northern state of Uttar Pradesh have suffered blackouts of more than 12 hours, coming despite a government order that all power plants run at full capacity.
Nevada Lawmakers Approve Bill Protecting Out-of-State Abortion Patients
May 23, 2023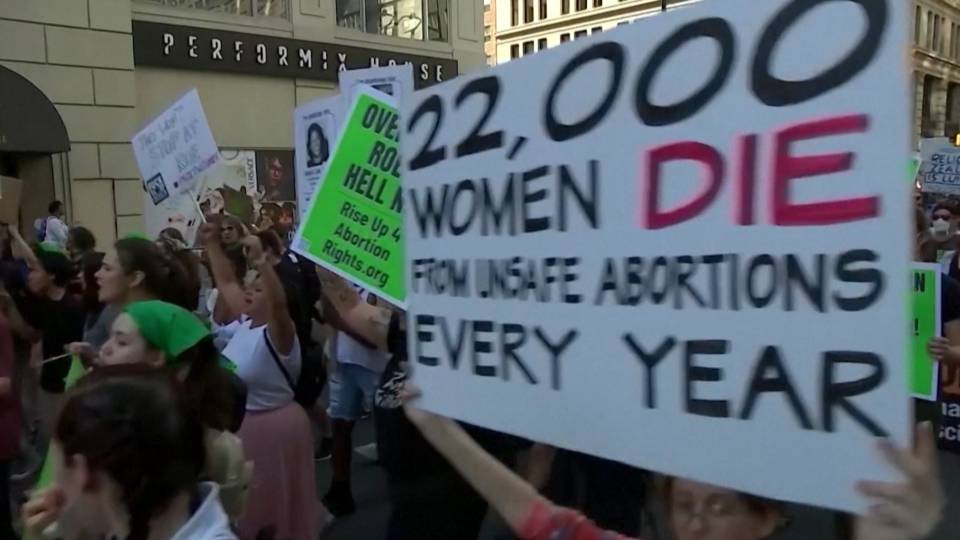 Nevada lawmakers have approved a measure that would protect from prosecution people from out of state who travel to Nevada seeking an abortion. The bill now heads to Republican Governor Joe Lombardo's desk. Lombardo's office said he hadn't yet decided if he would sign it into law.
In related news, eight more women have joined a lawsuit against Texas's near-total abortion ban, arguing the restrictions put their health and lives at risk as they were forced to carry out pregnancies despite experiencing medical emergencies. Five other women had initially filed the lawsuit in March.
Alberta Wildfires Scorch Millions of Acres and Trigger Air Quality Alerts
May 23, 2023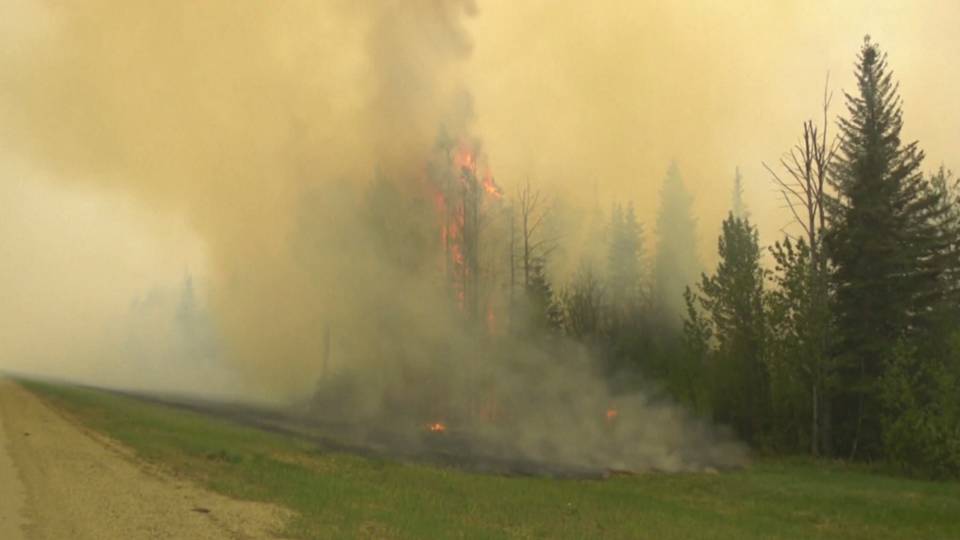 In Alberta, Canada, forecasters say rain and cooling temperatures should help firefighters bring a record-smashing spring wildfire season under control, after some 2.3 million acres burned. Smoke from the fires has prompted air quality alerts in U.S. states including Colorado, Idaho, Montana and Utah.  On Monday, the World Meteorological Organization reported extreme weather events have caused some 2 million deaths since 1970, with over 90% of those killed from the Global South.
Sen. Tim Scott Enters Race for 2024 Republican Presidential Nomination
May 23, 2023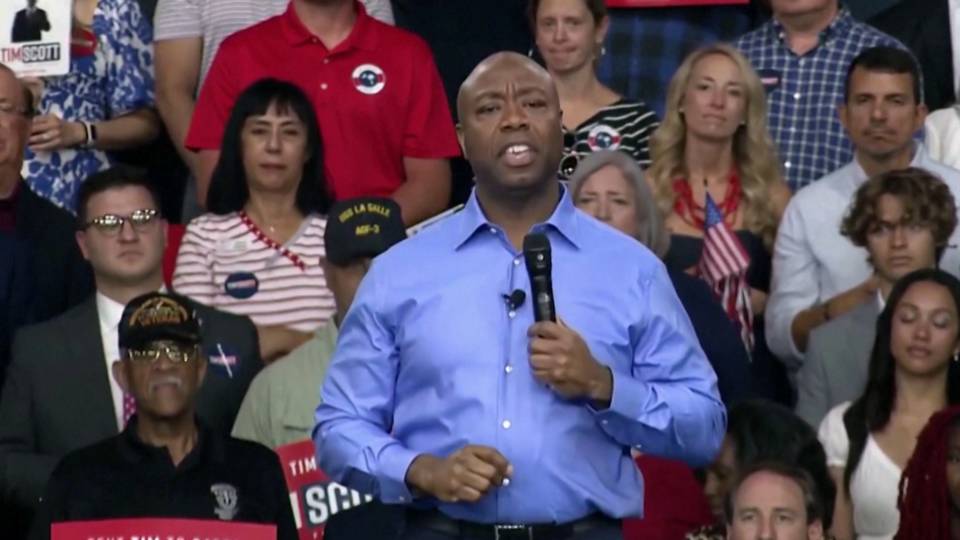 South Carolina Republican Senator Tim Scott has entered the race for his party's 2024 presidential nomination. Scott officially announced his candidacy Monday at a campaign rally in North Charleston.
Sen. Tim Scott: "Joe Biden and the radical left are attacking every single rung of the ladder that helped me climb. And that's why I'm announcing today that I am running for president of the United States of America!"
Senator Scott is the 11th Black senator in U.S. history, and only the second African American Republican senator since Reconstruction in the 1860s and '70s. He has "A" ratings from anti-abortion and pro-gun groups.
Special Counsel to Probe Trump's Foreign Ties in Mar-a-Lago Documents Investigation
May 23, 2023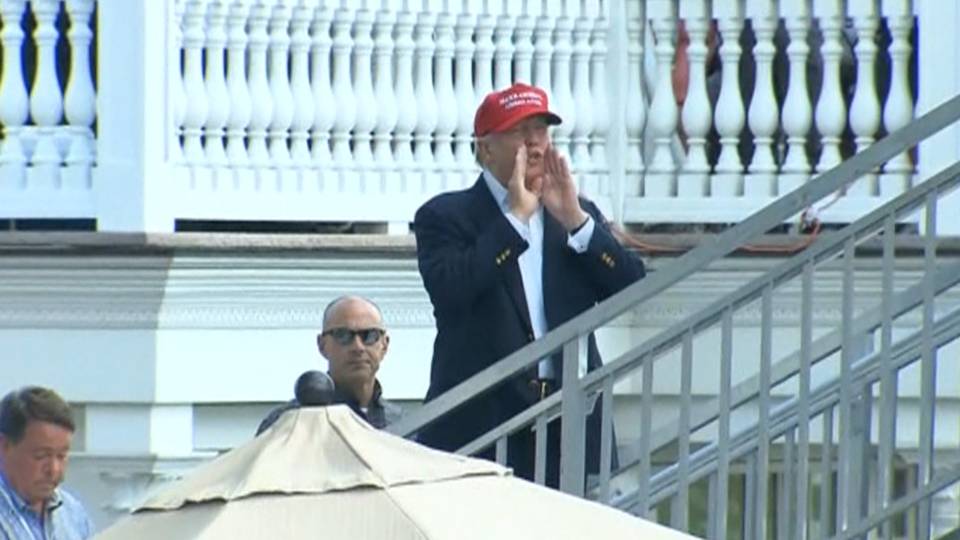 Federal prosecutors led by special counsel Jack Smith have filed a subpoena seeking information about the Trump Organization's deals in seven countries since 2017. The probe suggests Smith is looking into possible connections between Trump's foreign business dealings and classified documents taken to Trump's Mar-a-Lago resort after he left office.
Driver Who Crashed Into White House Barriers Had Nazi Flag in Truck
May 23, 2023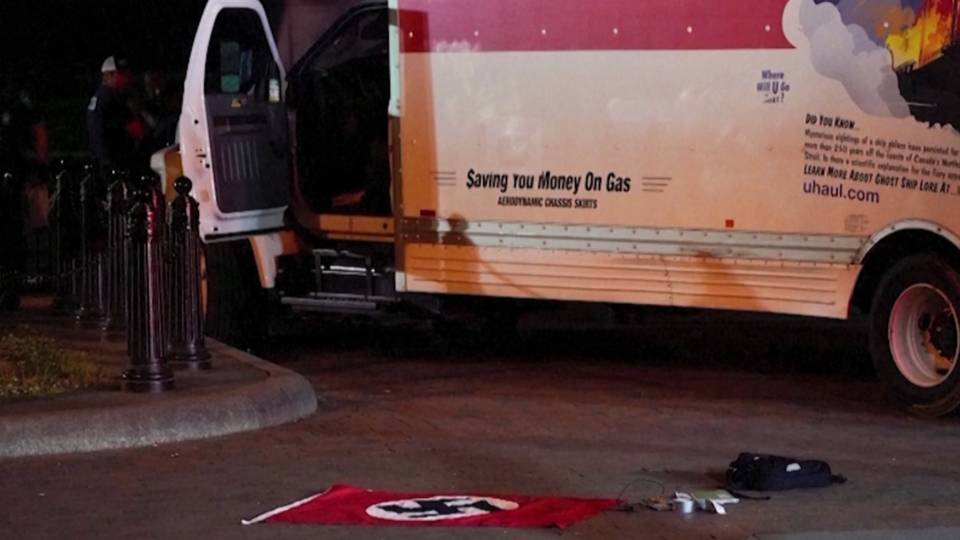 The U.S. Secret Service has detained the driver of a rental truck that crashed into security barriers outside the White House on Monday night. No one was injured in the ramming. Investigators found a Nazi swastika flag in the truck and say the driver hit the barriers at least twice in an apparently deliberate attack.
Border Patrol Agents Shoot and Kill Tohono O'odham Artist in Arizona
May 23, 2023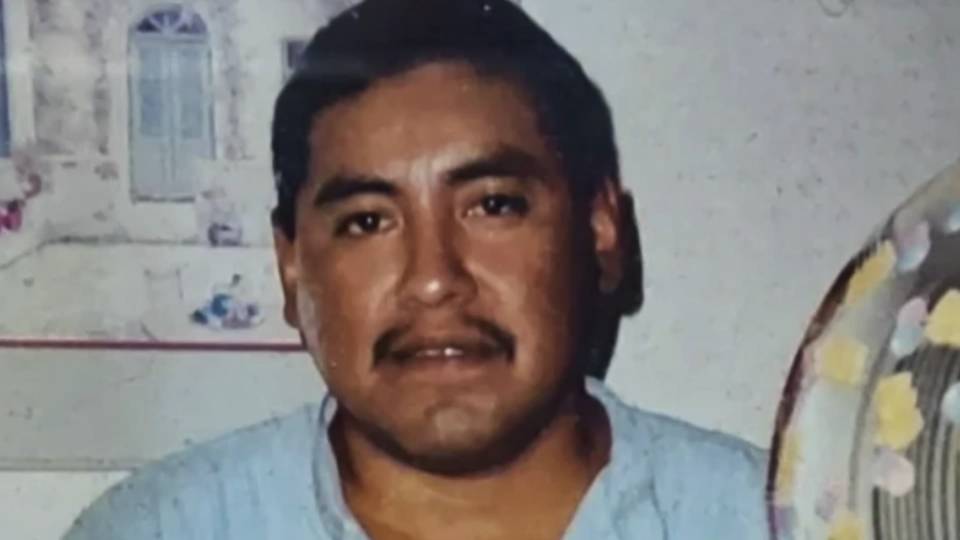 In Arizona, the FBI has launched an investigation into the fatal shooting of respected Tohono O'odham artist and leader Raymond Mattia, who was gunned down by Border Patrol agents outside his home last Thursday. Mattia lived in the community of Menagers Dam, just a few miles from the U.S.-Mexico border, and had called Border Patrol after finding a group of migrants on his property. Mattia's family says he went outside when the agents arrived and that he was about two feet from his front door when they heard gunshots. His relatives are demanding justice as authorities have released few details into what happened.
Autopsy Finds Lashawn Thompson Died of Homicide Due to Severe Neglect of Fulton County Jailers
May 23, 2023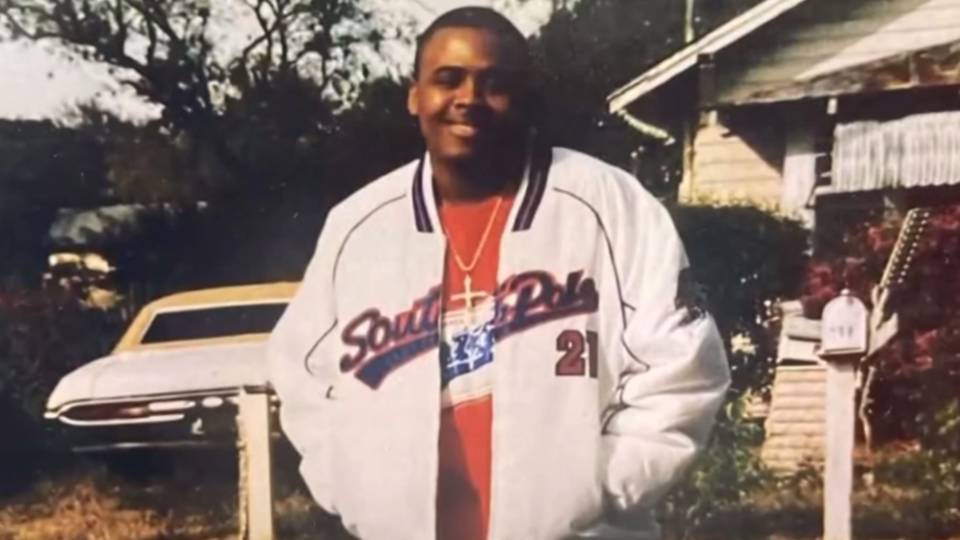 In Georgia, the gruesome death of Lashawn Thompson, a 35-year-old Black man, in the Fulton County Jail last year has been ruled a homicide due to "severe neglect." The findings of the independent autopsy were released Monday by Thompson's family and civil rights attorney Ben Crump. Thompson was being held in the jail's psychiatric wing, where his family says he was "eaten alive" by insects and bedbugs in his cell. The report found the lack of treatment for Thompson's schizophrenia, as well as dehydration, malnutrition, rapid weight loss and "severe body insect infestation," all contributed to his death. Thompson's independent autopsy, which was funded by former NFL star Colin Kaepernick, came after the Fulton County medical examiner ruled his cause of death was "undetermined."
Transgender Youth Hold First-Ever "Trans Prom" Celebration on National Mall 
May 23, 2023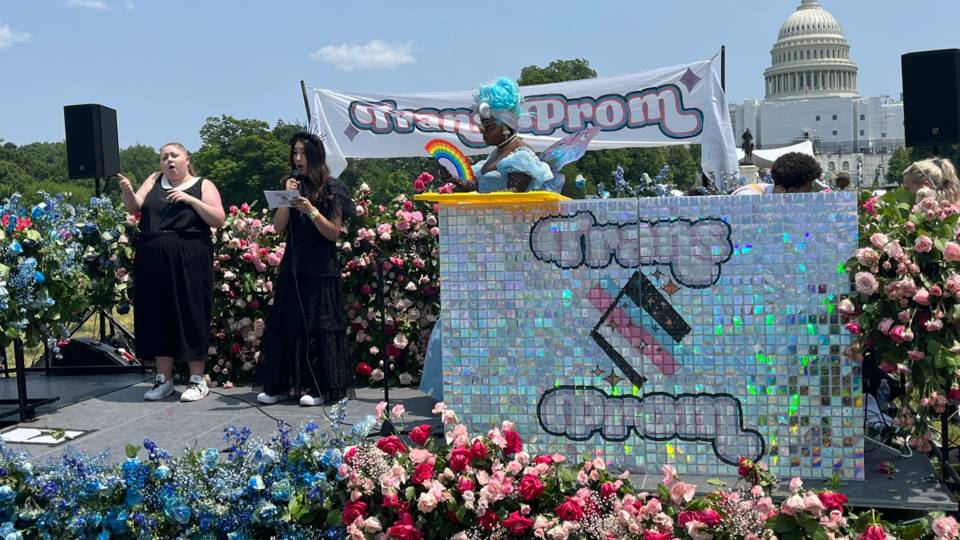 Image Credit: Twitter/@chasestrangio
Dozens of transgender children and youth from across the country gathered in Washington, D.C., Monday for a prom celebrating trans lives. The prom was held on the National Mall near the Capitol as anti-LGBTQ attacks intensify nationwide. This is trans activist Chase Strangio, a staff attorney at the ACLU and one of the organizers of the action.
Chase Strangio: "These young people are here with the families and trans adults who love and care for them. Today we are choosing to build on the legacies of our transcestors, embracing the possibilities of our futures and refocusing our collective imagination on the freedom, beauty and joy that we represent. Our joy is ours. You may not see it. You may not think it exists. You may try to take it away. But it is ours. And today, and every day, we celebrate, cultivate and embrace it."
"Pay Your Writers!": Warner Bros. CEO Booed at Boston University Commencement
May 23, 2023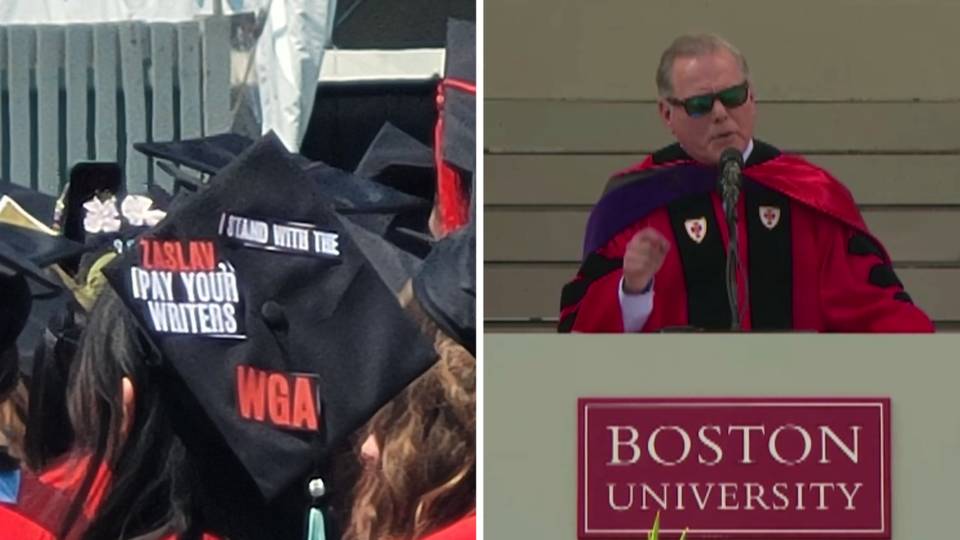 Image Credit: Twitter/@megdanabishop and Boston University
In Hollywood, members of the SAG-AFTRA actors union have set a June 5 deadline for 160,000 members to cast ballots in a strike authorization vote. In recent days, actors have joined Hollywood writers on picket lines, after some 11,500 members of the Writers Guild of America went on strike on May 2 to demand livable wages as corporate profits soar. On Sunday, students at Boston University's graduation ceremony booed and chanted, "Pay your writers!" as Warner Bros. Discovery CEO David Zaslav delivered the commencement address.
David Zaslav: "If you want to be successful, you're going to have to figure out how to get along with everyone. And that includes difficult people."
Students: "Pay your writers!" 
David Zaslav: "Some people" —
Students: "Pay your writers! Pay your writers! Pay your writers!"