U.K. Regulator Orders Meta to Sell Giphy; U.S. Judge Dissolves American Airlines-JetBlue Partnership
May 24, 2023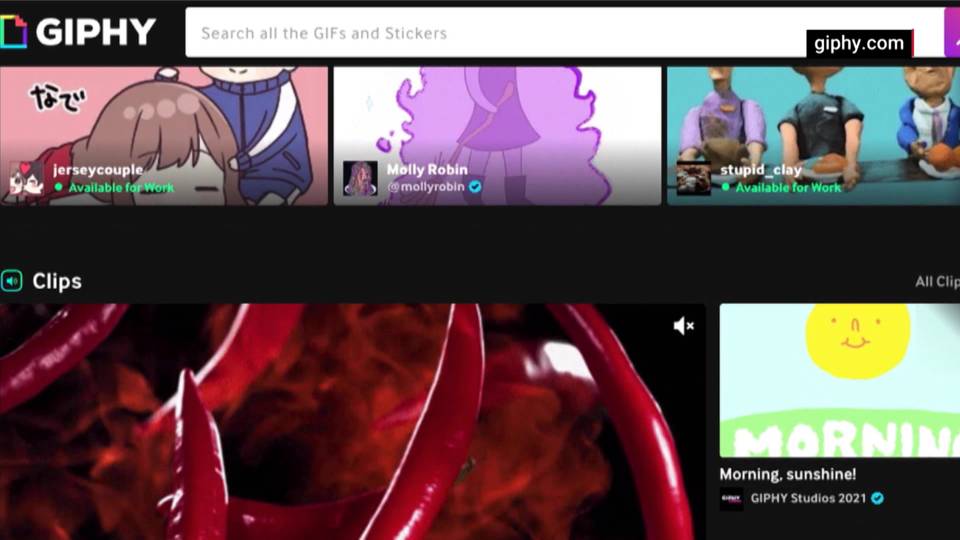 Meta, the parent company of Facebook and Instagram, will sell the GIF-sharing website Giphy to Shutterstock for $53 million — at a loss of over $260 million — after an order by British antitrust regulators.
In other antitrust news, a federal judge has ordered American Airlines and JetBlue to end their partnership in the Northeast, siding with the Justice Department, which argued the alliance would reduce competition and lead to higher costs for travelers. The Justice Department also has a pending anti-monopoly suit against the $3.8 billion merger of JetBlue and fellow budget carrier Spirit Airlines.
Julian Assange's Family Says His Release Could Be Closer Than Ever as Australia Ups Diplomatic Push
May 24, 2023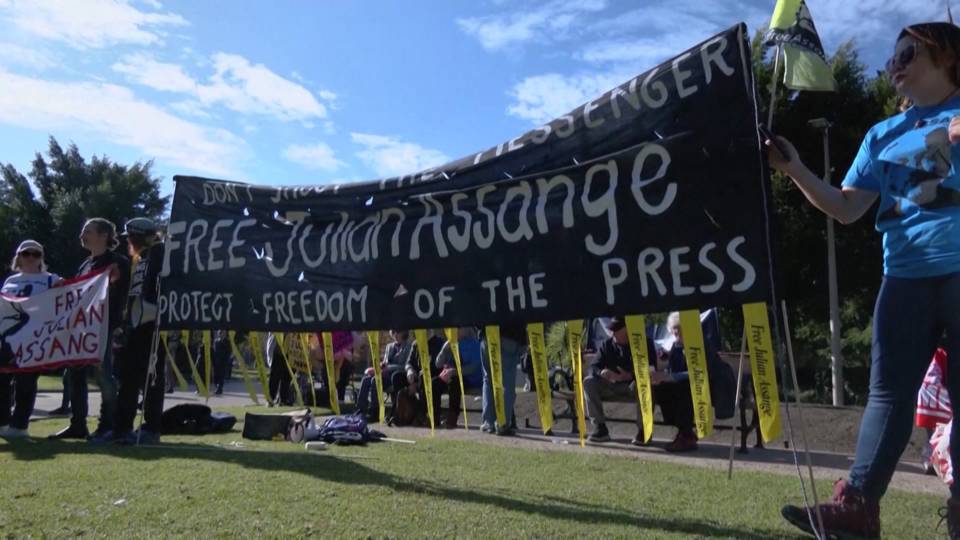 In Australia, family members and supporters of Julian Assange rallied in Sydney as they say momentum to free the jailed WikiLeaks founder is at its peak.
Rosslyn: "It's about Julian Assange, of course, but it's also about press freedom, all our freedoms, and the fact that he exposed a crime that I was horrified about, and he's the one in trouble. He's the one imprisoned, and yet he exposed a crime, a war crime, which no one has done anything about."
Today's action in Sydney was supposed to coincide with a visit from President Biden for a Quad alliance meeting with leaders from India, Japan and Australia, but Biden canceled his trip amid ongoing negotiations over the debt ceiling. Stella Assange called on Australian Prime Minister Anthony Albanese to do more to secure the release of her husband, an Australian national, as his health rapidly deteriorates inside London's Belmarsh prison, where he awaits possible extradition to the U.S. to face espionage and hacking charges. Albanese has said he is doing everything he can, while a group of Australian lawmakers recently met with U.S. Ambassador Caroline Kennedy to push for Assange's release.
India's Kashmir Crackdown in Spotlight as China, Saudi Arabia Boycott G20 Meeting in Disputed Region
May 24, 2023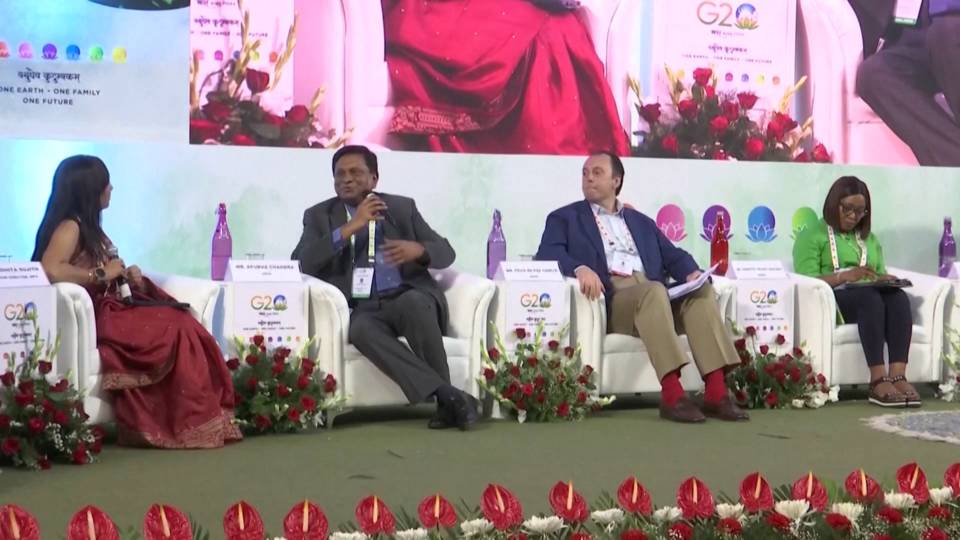 China and Saudi Arabia have boycotted G20 meetings held by host country India in the disputed and militarily occupied Kashmir region. In 2019, the Indian government stripped the Muslim-majority region of its semi-autonomous status, as it seeks to bring it fully under Indian rule. Hundreds of people rallied earlier this week in Pakistan-administered Kashmir. Pakistan's Foreign Minister Bilawal Bhutto Zardari visited the region and addressed the Legislative Assembly.
Bilawal Bhutto Zardari: "India is misusing its position as chair of the G20, a forum created to address global financial and economic issues, with utter disregard for the Security Council resolution, the U.N. Charter and its principle."
Press freedom groups have also called out India's crackdown on journalists in Kashmir.
The Earth Nears Sixth Mass Extinction in First Such Event Caused by Human Activity
May 24, 2023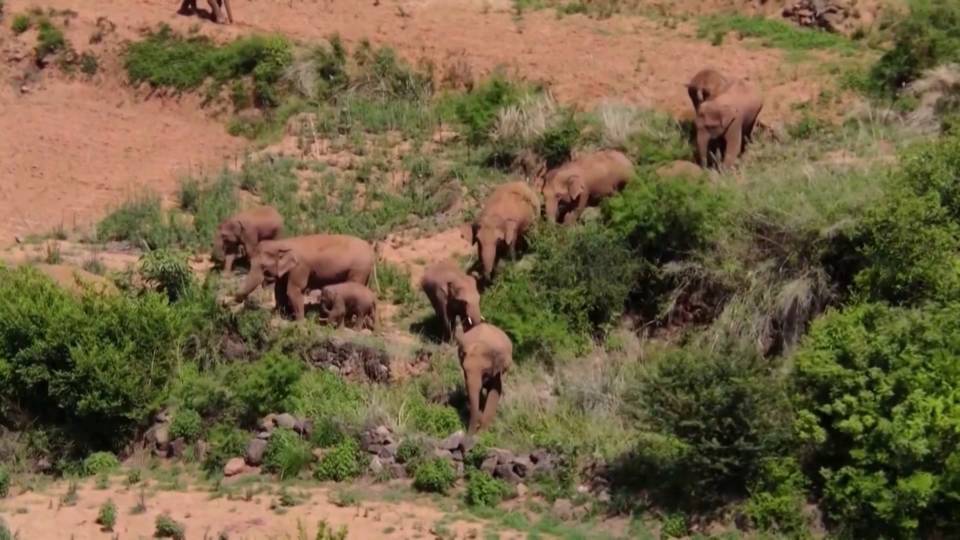 A new study warns the Earth is entering its sixth mass extinction due to the massive global loss of biodiversity triggered by human activity. The report, written by researchers at Queen's University Belfast in Northern Ireland, says that nearly half of the planet's animal species are now in decline, but that unlike past mass extinctions, the present one has been entirely caused by humans.
New Reports Sound the Alarm on Increasing Human Risks Posed by Extreme Heat
May 24, 2023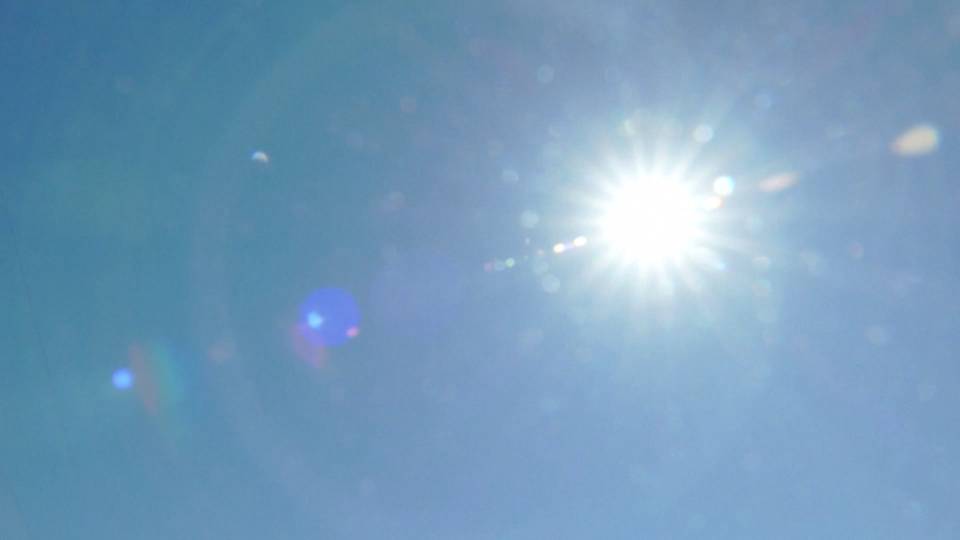 In more climate news, countries in the Middle East and across the Gulf region are more vulnerable to unprecedented extreme heat due to a worsening climate catastrophe. That's according to new research published by the Nature Sustainability journal, which also says poorer communities are particularly at risk.
Meanwhile, another study warns nearly half of the population of Phoenix, Arizona, would be in need of immediate medical attention for heat stroke or other heat-related illnesses if a heat wave coincided with a power blackout spanning multiple days. Other cities would also be at risk, as blackouts nationwide have more than doubled since 2015, while heat waves and extreme weather patterns intensify due to climate change.
U.S. and EU Lawmakers Call for Removal of Oil Company Chief as President of U.N. Climate Conference
May 24, 2023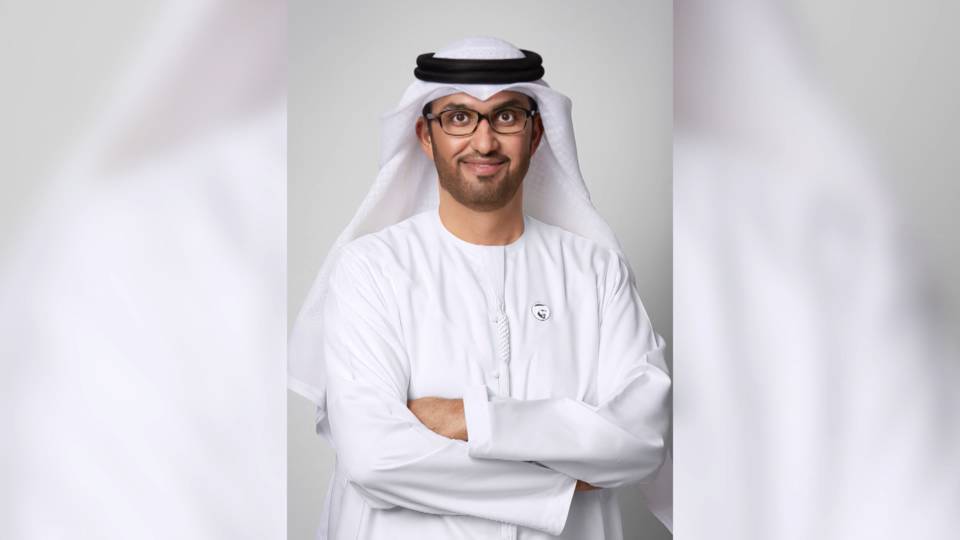 Image Credit: Balkis Press/ABACA via Reuters
Over 130 U.S. lawmakers and members of the European Parliament have sent a joint letter to President Biden, European Commission President Ursula von der Leyen, and U.N. Secretary-General António Guterres, demanding the removal of Sultan Ahmed Al Jaber, the head of the Abu Dhabi National Oil Company, as president of the upcoming U.N. climate conference, COP28. The lawmakers, including Senators Ed Markey and Bernie Sanders, say in the letter, "Since at least the 1960s, the fossil fuel industry has known about the dangers of climate change posed by its products and, rather than supporting a transition to a clean energy future, has instead chosen to promote climate denial and spend millions of dollars to spread disinformation."
Activists Take Over London Shell Shareholder Meeting as Climate Groups Stage Protests Across Europe
May 24, 2023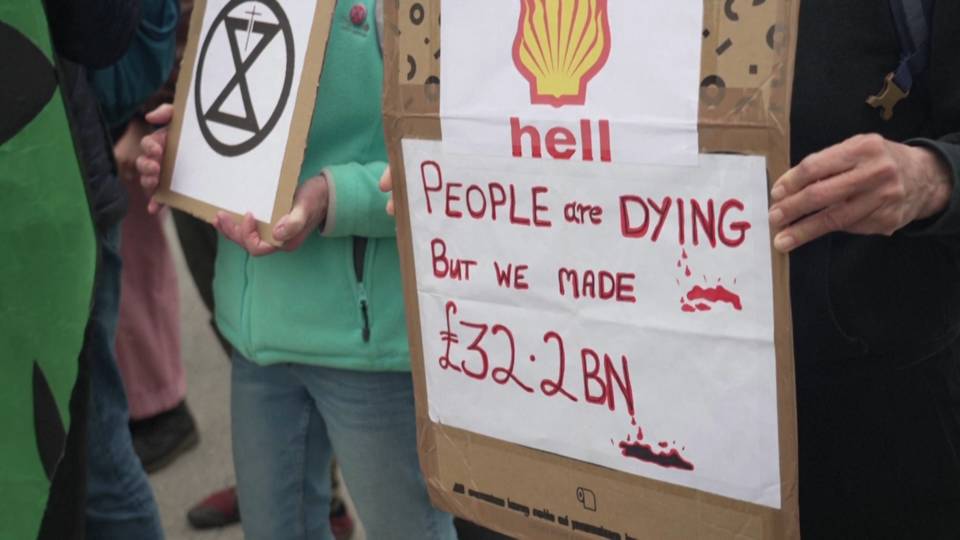 Climate activists are ramping up acts of civil disobedience and direct action to draw attention to the hastening crisis. In Britain, the group Fossil Free London and others disrupted Shell's annual shareholder meeting Tuesday, storming the stage and triggering chaotic scenes as protesters confronted investors of the oil giant.
Protester: "Congratulate yourselves for record-breaking profits, which lead to record-breaking floods, droughts and heat waves. Welcome to Shell, where you are complicit in the destruction of people's homes, livelihoods and lives. Welcome to hell! But I, ladies and gentlemen, I refuse to accept your hell on Earth."
This week, the People's Health Tribunal found Shell and Total oil company guilty of genocide and ecocide in communities in South Africa, Nigeria, Mozambique and Uganda.
This comes as Just Stop Oil activists have been leading "slow marches" on London's major streets and bridges, disrupting traffic.
In Italy, climate activists with Last Generation doused themselves and the street in front of Rome's Senate building in mud as the death toll from last week's record-breaking floods in northern Italy has risen to 15.
In Geneva, Switzerland, some 100 protesters demanding a ban on private jets descended on the international airport, blocking entry to an aircraft exhibition. A Greenpeace campaigner said there was a recent rise of 64% in private jet flights in Europe.
Klara Maria Schenk: "The climate crisis is escalating every day. We see extreme weather, even in Europe. We had droughts all winter long. Now summer storms and spring storms are starting. And at the same time, a super rich, very small elite keeps polluting as if there is no tomorrow. This needs to stop."
In related news, France has enacted its ban on domestic short-haul flights between many major cities. The move, an effort to rein in carbon emissions, will apply to routes where train alternatives exist.
Guam Residents Face Strongest Storm in Decades as Typhoon Mawar Lashes the Island
May 24, 2023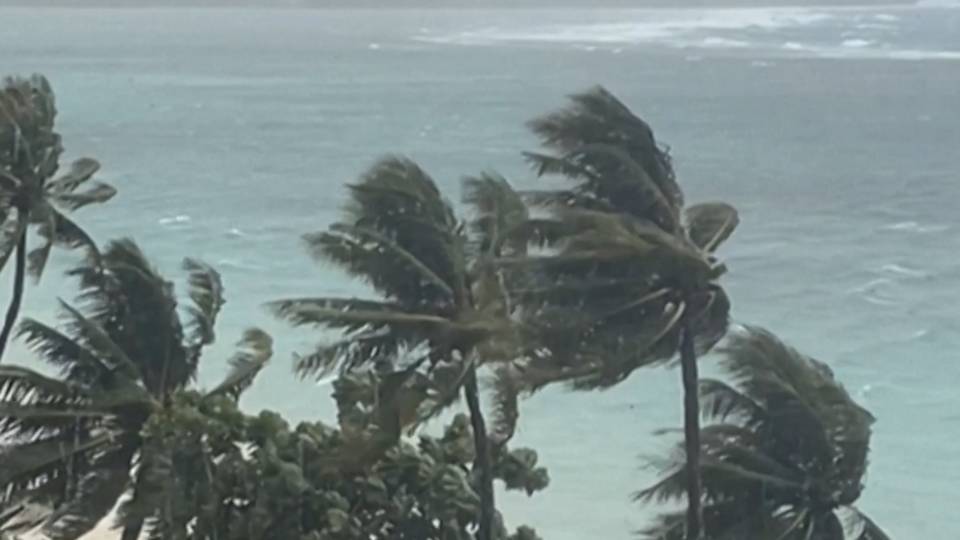 Image Credit: Instagram: @rachel.j____
Typhoon Mawar made landfall on Guam with the force of a Category 4 hurricane — the strongest storm to hit the U.S. territory in decades. Most of Guam lost power earlier today as extreme winds and torrential rain hit the island, while meteorologists have warned of life-threatening storm surges. Authorities ordered residents in coastal regions to evacuate, with some shelters already reporting they're at capacity.