UNICEF Warns 100,000 Sudanese Child Refugees in Chad Face New Dangers
Jun 27, 2023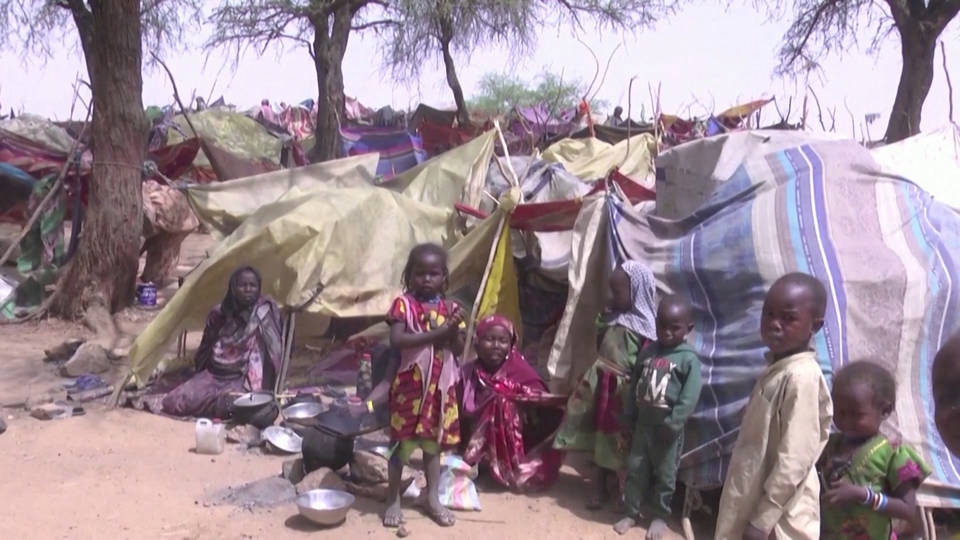 The commander of Sudan's paramilitary Rapid Support Forces has announced a 48-hour unilateral ceasefire for the Muslim festival of Eid al-Adha. The declaration came as the United Nations Children's Fund warned more than 100,000 children fleeing violence in Sudan face new dangers amid a desperate situation in refugee camps in neighboring Chad. UNICEF warned essential services such as water, shelter, health and education remain extremely limited for the more than 140,000 Sudanese refugees and 34,000 Chadian returnees who've crossed the border since fighting erupted in April between rival factions of Sudan's military junta. Many of the refugees are injured or lost loved ones as they fled rapidly rising levels of violence in Sudan.
Israeli Settlers Storm Palestinian Village in West Bank, Torching Homes and Firing Guns
Jun 27, 2023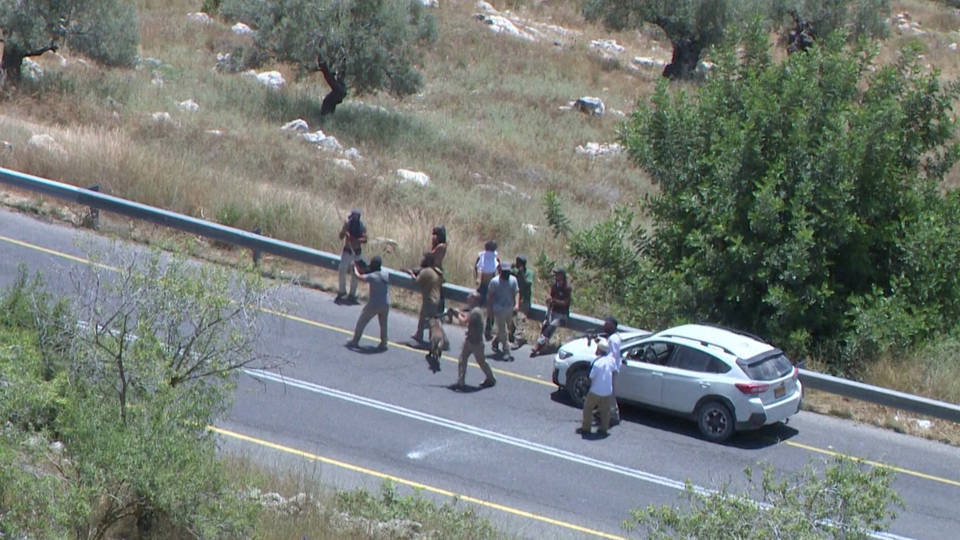 In the occupied West Bank, a mob of armed Israeli settlers stormed the village of Umm Safa over the weekend, firing bullets at residents and setting fire to homes and vehicles. Several people were injured. This is Mohammed Radi, a Palestinian journalist who was shot at by an Israeli settler as he filmed the attack.
Mohammed Radi: "We arrived in Umm Safa. There were dozens of settlers. They fired at the village. The moment one of the settlers saw us filming, he shot in our direction. Two of the bullets went into the camera. Then the camera blew up from the shooting. Thank god we are safe."
In the last week alone, Israeli settlers have carried out at least 85 assaults on Palestinian towns in the West Bank. This comes as Israel's far-right government has approved the construction of thousands of new homes in illegal settlements across the West Bank, despite growing international condemnation.
Supreme Court Orders Louisiana to Redraw Racially Gerrymandered Congressional Map
Jun 27, 2023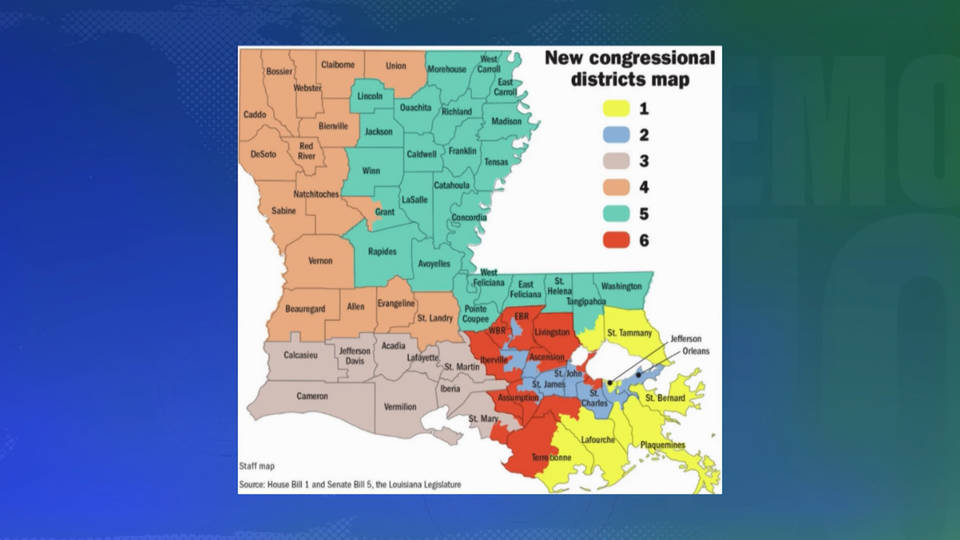 The Supreme Court has ordered Louisiana to redraw a racially gerrymandered congressional map, siding with a lower court that ordered the state to create a second majority-Black congressional district. Monday's ruling was celebrated by Louisiana's lone Black congressmember, Troy Carter, who said, "In a healthy democracy fair and equitable representation matters."
Supreme Court to Allow Sexual Assault Survivors to Sue Ohio State University
Jun 27, 2023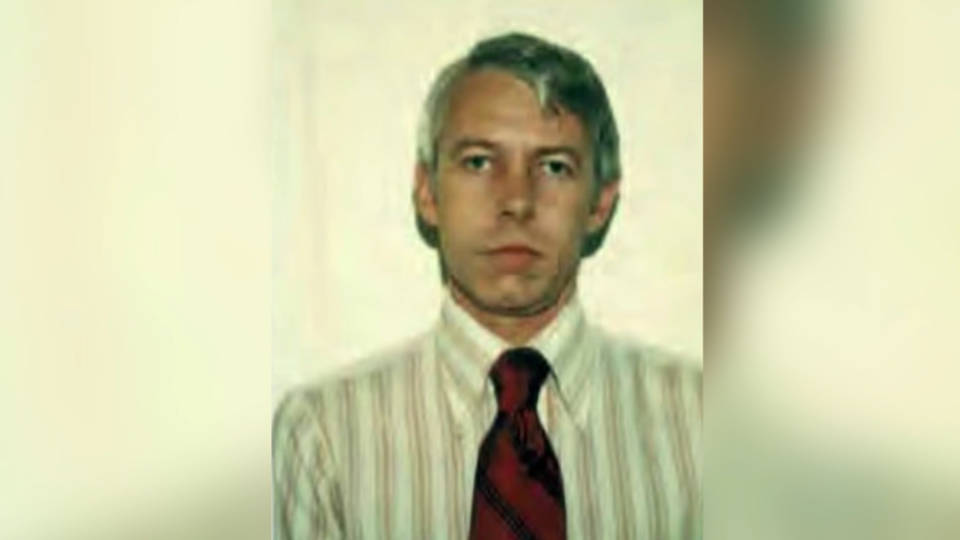 Also on Monday, the Supreme Court cleared the way for survivors of sexual assault to sue Ohio State University (OSU) for failing to protect them from predator doctor Richard Strauss. In 2020, former Ohio State wrestling captain Adam DiSabato accused Republican Ohio Congressmember Jim Jordan of begging him not to corroborate accounts of widespread sexual abuse perpetrated by Strauss, after DiSabato's brother, Mike, exposed the abuse. A 2019 university report found that at least 177 people were abused by Strauss, who died by suicide in 2005. A number of the college wrestlers say Jim Jordan, who was an OSU assistant wrestling coach at the time, knew about and did not report the abuse.
Putin Tells Wagner Mercenaries to Join Russian Military or Face Exile in Belarus
Jun 27, 2023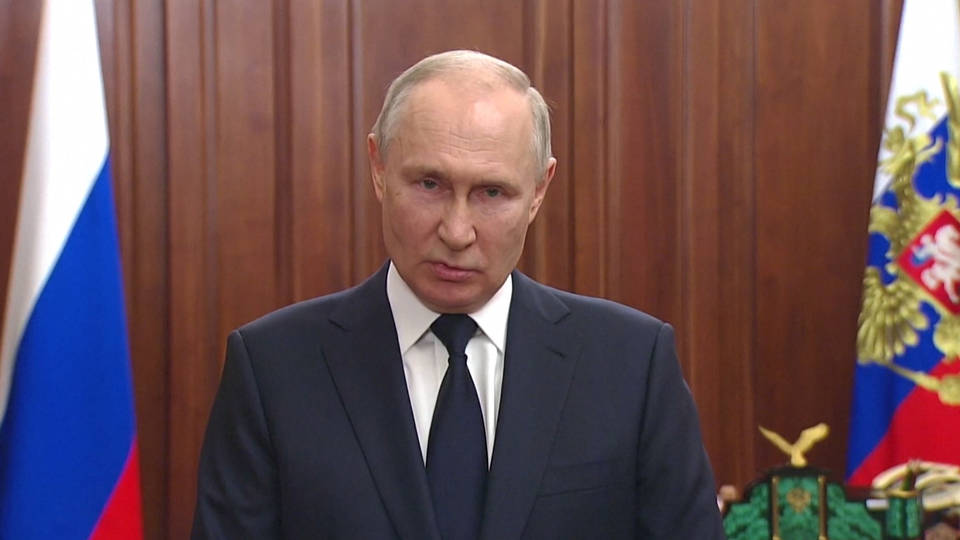 The embattled head of the Wagner Group of Russian mercenaries has reportedly arrived in Belarus to live in exile. Earlier today, the Kremlin said it had dropped criminal charges against Wagner chief Yevgeny Prigozhin after he led a mutiny that saw an armored column advance to within 120 miles of Moscow, in a major test of Vladimir Putin's rule. On Monday, Prigozhin published his first public statements since calling off the mutiny on Saturday, saying his forces were reacting to an attack by Russia's military that killed dozens of Wagner fighters.
Yevgeny Prigozhin: "Despite the fact that we did not demonstrate any aggression, a missile strike was launched against us. And helicopters followed suit right after that. About 30 people — Wagner fighters — were killed. This incident served as a trigger which forced the council of Wagner commanders to decide that we had to start the march immediately."
In Moscow, President Vladimir Putin spoke to Russian soldiers outside the Kremlin earlier today, praising them for their defense of Russia's capital, which he said "essentially prevented a civil war." Putin's remarks followed a short statement on national TV Monday evening in which he accused Wagner's leaders of treason, but offered the group's fighters a path to avoid prosecution.
President Vladimir Putin: "I thank those soldiers and commanders of the Wagner Group who made the only right decision. They did not turn to fratricidal bloodshed. They stopped at the last line. Today you have the opportunity to continue serving Russia by entering into a contract with the Ministry of Defense or other law enforcement agencies, or to return to your family and friends. Whoever wants can go to Belarus. The promise I made will be fulfilled."
Supreme Court Sides with Biden on ICE Deportations
Jun 27, 2023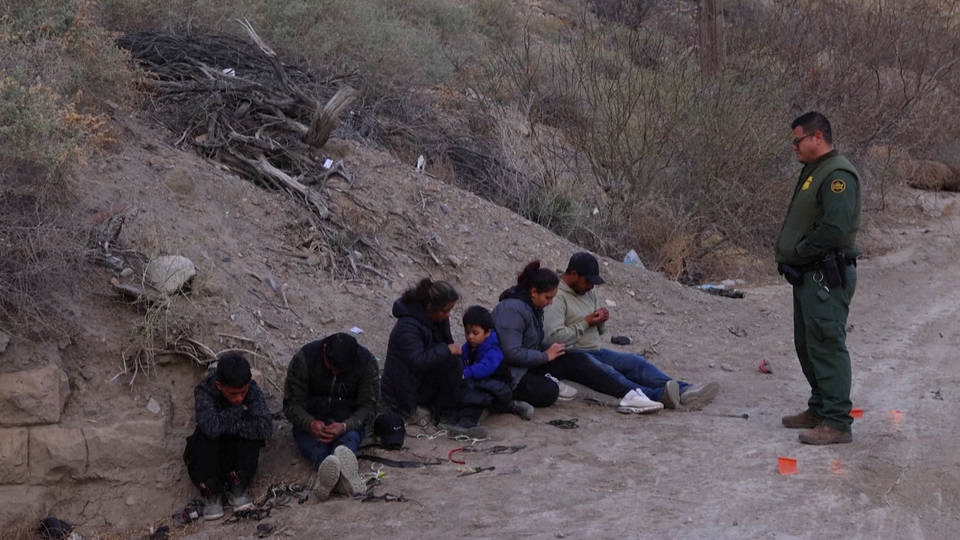 In another ruling, the Supreme Court sided with the Biden administration over its immigration policy, allowing Immigration and Customs Enforcement to prioritize certain people for arrest and deportation.
This week, the Supreme Court will rule on four other major cases. One seeks to ban the use of race-conscious college admissions policies. Another case asks the Supreme Court to embrace the "independent state legislature theory," a radical reading of the Constitution that claims state lawmakers have sweeping authority to override courts, governors and state constitutions. A third case argues businesses have the right to discriminate against LGBTQIA people if they cite religious objections. And justices will rule on whether the Biden administration can proceed with a plan to eliminate up to $20,000 in federal student loan debt for many borrowers.
Audio Reveals Trump Showed "Highly Confidential" Document to Publisher, Writer and Aides
Jun 27, 2023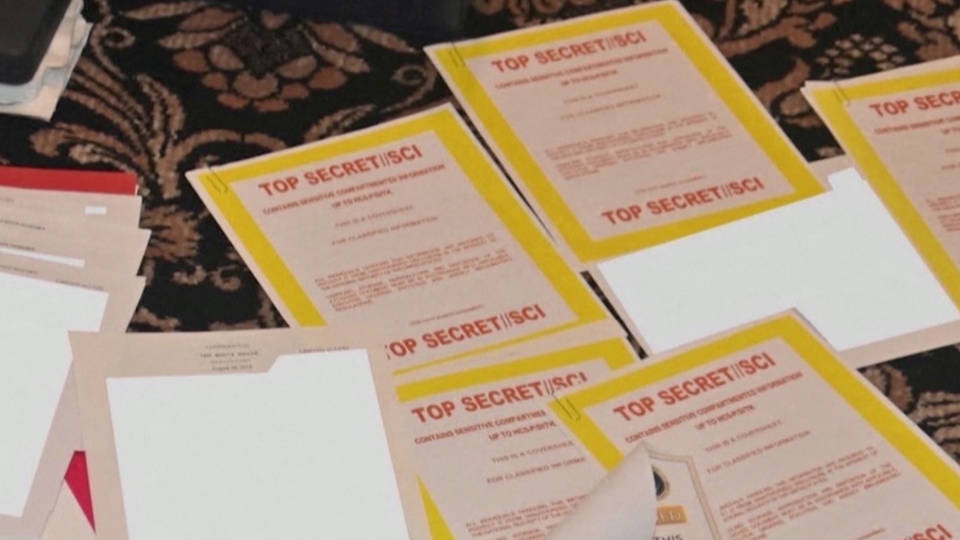 Newly published audio reveals former President Trump showed a classified Pentagon document to a publisher, a writer and two staffers during a conversation at his Bedminster, New Jersey, golf club two years ago. In the tape, Trump is heard shuffling through papers as he describes a top-secret Pentagon document revealing a plan by Joint Chiefs of Staff Chair Gen. Mark Milley to attack Iran.
Donald Trump: "Well, with Milley — uh, let me see that. I'll show you an example. He said that I wanted to attack Iran. Isn't it amazing? I have a big pile of papers. This thing just came up. Look."
The recording, which was first aired by CNN, contradicts Trump's recent claim on Fox News that he did not have classified documents with him in the July 2021 meeting.
Donald Trump: "Wait a minute. Let's see here. I just found — isn't that amazing? This totally wins my case, you know. Except it is, like, highly confidential, secret. This is secret information."
Trump faces 31 counts of violating the Espionage Act through the "willful retention" of classified records. He also faces counts of obstruction of justice and false statements at a federal trial in Miami scheduled for August 14. We'll have more on this story later in the broadcast.
Colorado Jury Sentences Club Q Shooter to Over 2,000 Years in Prison
Jun 27, 2023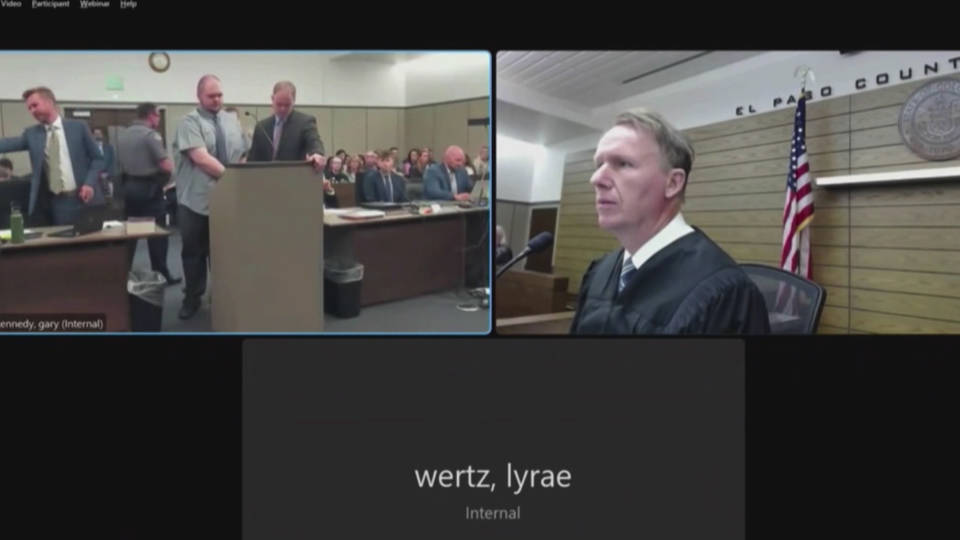 In Colorado, a shooter who killed five people and injured more than a dozen others at an LGBTQIA nightclub last November has been sentenced to more than 2,000 total years in prison. Monday's sentencing came after the shooter pleaded guilty to five counts of first-degree murder and 46 counts of attempted murder at Club Q.
Honduran Military Takes Over Prisons as Government Launches Crackdown on Gangs
Jun 27, 2023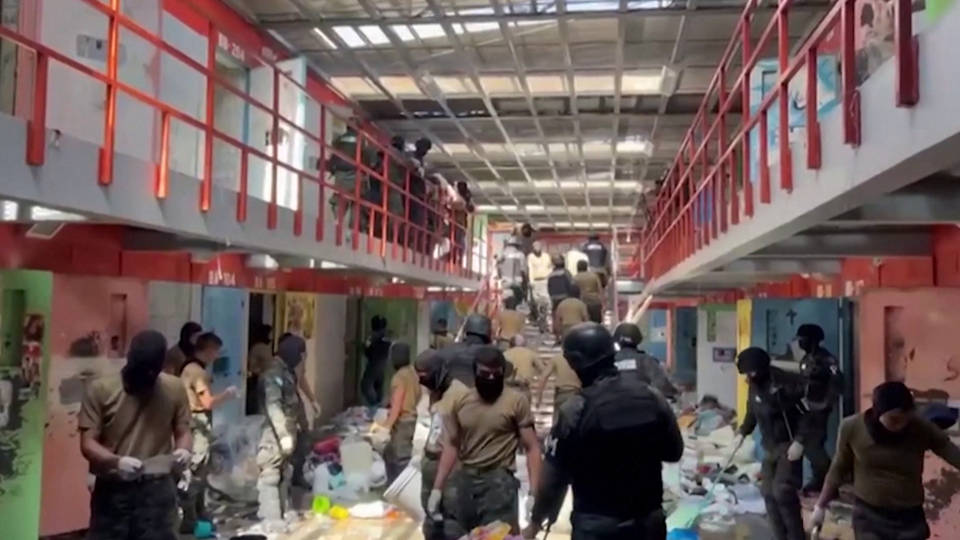 In Honduras, human rights advocates are warning of possible violations after Honduran armed forces raided prisons nationwide and the government announced a massive crackdown on organized crime. The operation drew comparisons with neighboring El Salvador, as photos emerged of prisoners wearing nothing but underwear, sitting in rows with their heads down and hands around the back of their necks while armed soldiers in riot gear watched over them. This is Colonel Fernando Muñoz speaking to reporters after soldiers said they seized guns, ammunition and grenades from a prison in the city of Tamara, where at least 41 women were killed last week by accused gang members in possible complicity with prison authorities. bq. Col. Fernando Muñoz: "Following the president's order, we have started transitioning the prisons from the National Police to the military police. We have begun the searches in order to take control of the jails."
Jury Deliberations Begin in Trial of Cop Who Failed to Intervene in Parkland High School Shooting
Jun 27, 2023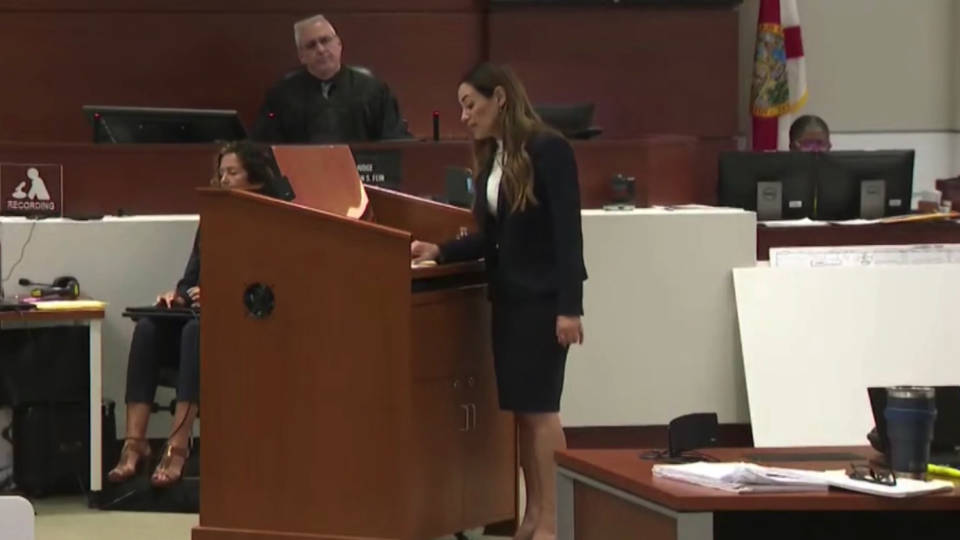 In Florida's Broward County, jury deliberations have begun in a criminal case against Scot Peterson, a former police officer who's accused of child neglect and other charges for failing to confront the gunman who killed 17 people and wounded 17 others at Marjory Stoneman Douglas High School on Valentine's Day 2018. It's believed to be the first time a U.S. police officer has faced criminal charges for inaction at a school shooting. This is prosecutor Kristen Gomes speaking in closing arguments Monday.
Kristen Gomes: "He was trained, and he was armed. And when the moment came and he was called upon to act, he made a choice. At 2:23 p.m., Scot Peterson chose not to enter, knowing that those shots were being fired and that every time the trigger was being pulled, one of his students was dying. He chose to retreat, and then he instructed all responding officers to stay back."
3 San Antonio Cops Charged with Murdering Woman in Her Own Home
Jun 27, 2023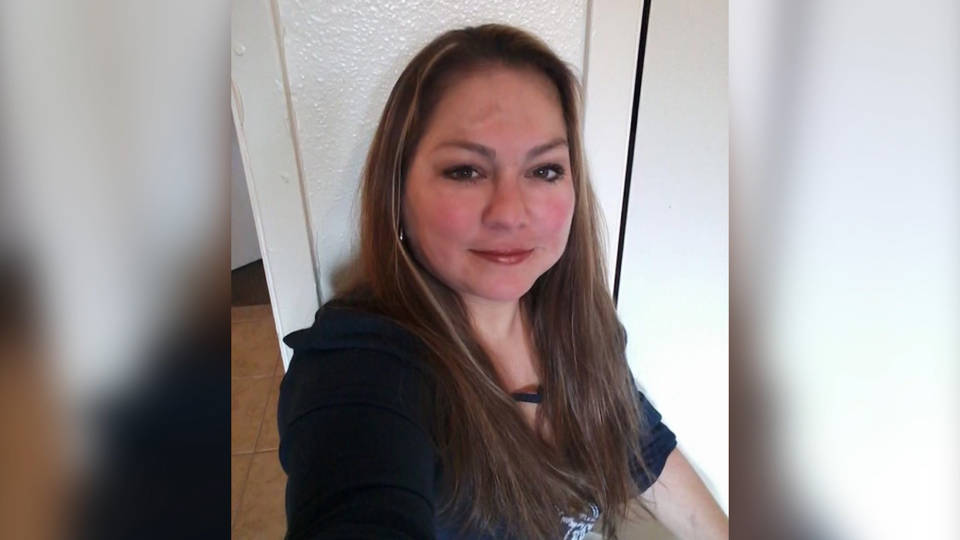 In Texas, three San Antonio police officers have been suspended without pay and arrested on murder charges after they shot and killed a 46-year-old woman in her own home. Melissa Perez was struck and killed by police gunfire as she brandished a hammer at officers while she appeared to be suffering a mental health crisis. San Antonio's police chief said Friday the actions of Sergeant Alfred Flores and officers Eleazar Alejandro and Nathaniel Villalobos were "not consistent" with the department's use-of-force policies and training.
Ex-Head of Mexico's Anti-Kidnapping Unit Arrested over Disappearance of 43 Students at Ayotzinapa
Jun 27, 2023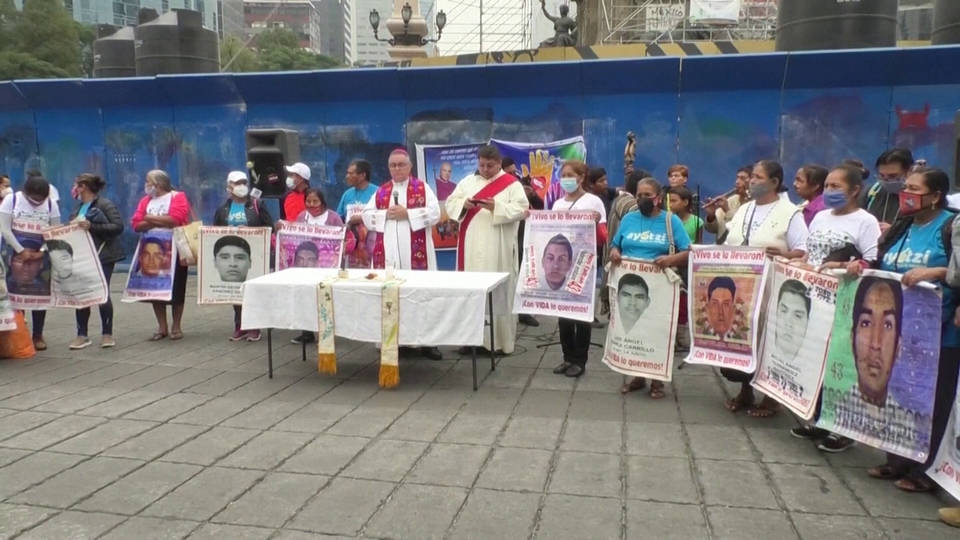 Mexican authorities have arrested the former head of Mexico's federal anti-kidnapping special unit in connection with the forced disappearance of 43 students from Ayotzinapa in 2014. Gualberto Ramírez Gutiérrez was taken into custody early Sunday morning. He was first arrested in 2015, accused of ordering the killing of the 43 students, but he was ultimately released three years later. Arrest warrants were also issued against eight other soldiers over their possible involvement in the mass kidnapping. Click here to see our extensive coverage of Ayotzinapa.