French Police Arrest 150 in Second Night of Protests over Police Killing of 17-Year-Old
Jun 29, 2023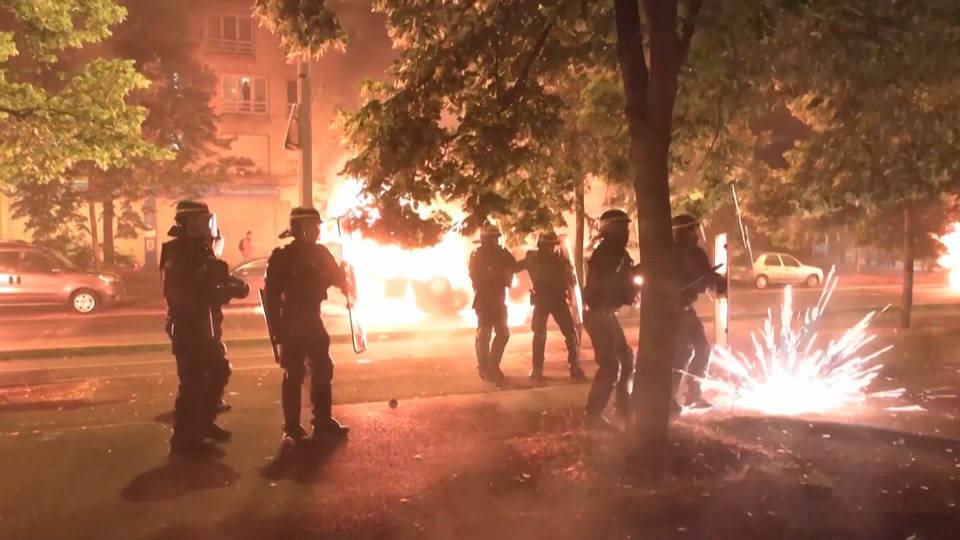 In France, anger over the police killing of a 17-year-old boiled over into protests for a second straight night in over a dozen cities. Protesters set fire to cars, trash cans and police stations, and launched fireworks at officers, who responded with volleys of tear gas. France's interior minister said 150 people have been arrested. Some 2,000 riot police were called up in suburbs around Paris, including in Nanterre, where the teen — who's been identified only by the name "Nahel M." — was shot dead Tuesday after he was pulled over for allegedly breaking traffic rules.
Video posted on social media contradicts the claims of police, who initially reported one officer shot the teen for driving his car directly at them. Instead, the video shows two officers standing beside the vehicle; one of them points a gun as a voice is heard saying, "You are going to get a bullet in the head." The officer then fires at close range as the boy drives off. French President Emmanuel Macron called the teen's killing "unexplainable and inexcusable"; he also said the resulting protests were "absolutely unjustifiable." French Prime Minister Élisabeth Borne condemned the actions of officers.
Prime Minister Élisabeth Borne: "The shocking images broadcast yesterday show an intervention that clearly does not seem to comply with the rules of engagement of our law enforcement officers."

 
U.S. Navy Deploys Largest Nuclear-Armed Submarine to South Korea
Jun 29, 2023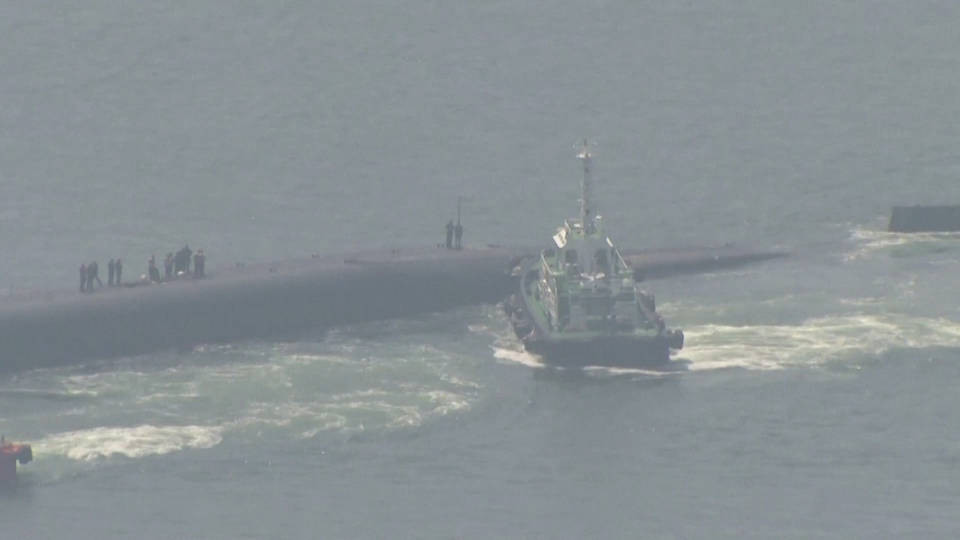 The U.S. Navy says it will station its largest nuclear-armed submarine in South Korea for the first time in four decades. This comes after South Korean President Yoon Suk-yeol and President Joe Biden agreed to a deal in April in which South Korea agreed not to develop its own nuclear weapons in exchange for a more aggressive U.S. nuclear posture toward North Korea.
Biden Holds Flurry of Fundraisers with Wealthy Donors, Touts "Bidenomics" Plan for Economy
Jun 29, 2023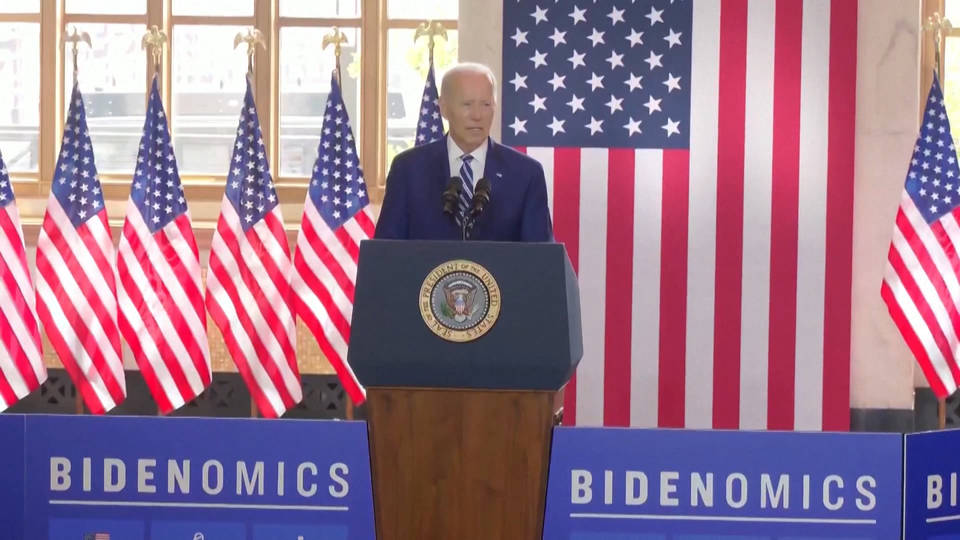 President Joe Biden is holding a pair of fundraisers with wealthy donors in New York today ahead of the Federal Election Commission's June 30 disclosure deadline. On Wednesday, Biden flew to Chicago for a fundraiser with deep-pocketed Democratic donors at the home of Illinois's billionaire Governor J.B. Pritzker. Biden also used his Chicago trip to tout his administration's handling of the U.S. economy, embracing the label "Bidenomics" as a brand for his 2024 reelection campaign.
U.S. Ambassador Offers Rare Rebuke of Israel at United Nations
Jun 29, 2023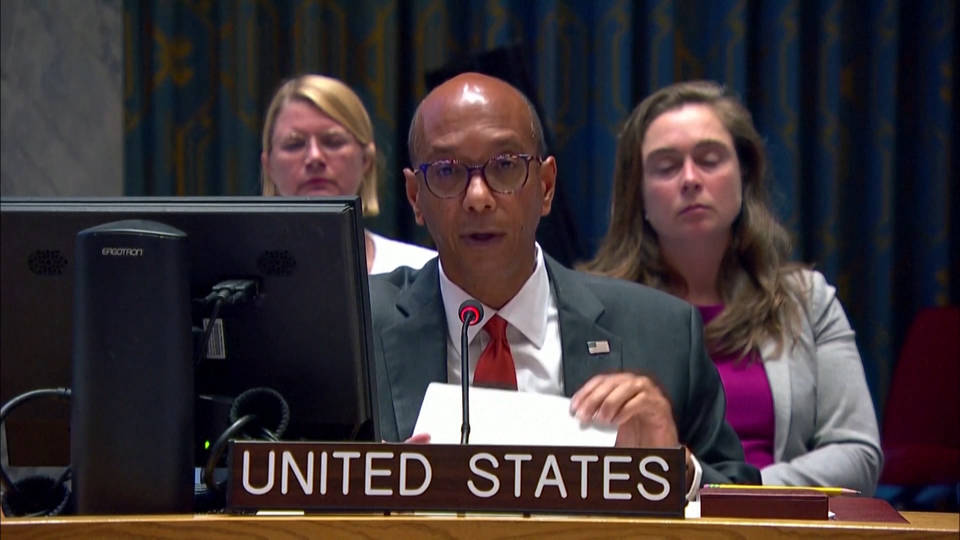 The United Nations Security Council has called for restraint on all sides of the Israeli-Palestinian conflict amid surging violence in the occupied West Bank. On Tuesday, U.S. Deputy Ambassador to the United Nations Robert Wood offered a rare diplomatic rebuke of Israel over the demolition of Palestinian homes and the incitement to violence by elected officials in Israel.
Robert Wood: "We are also deeply troubled by Israel's recent announcements advancing more than 5,000 settlement units and reports of changes to Israel's system of settlement administration that expedite the planning and approval of settlements."
Mississippi Sheriff's Deputies Fired After 2 Black Men Sue, Alleging Assault, Torture and Racism
Jun 29, 2023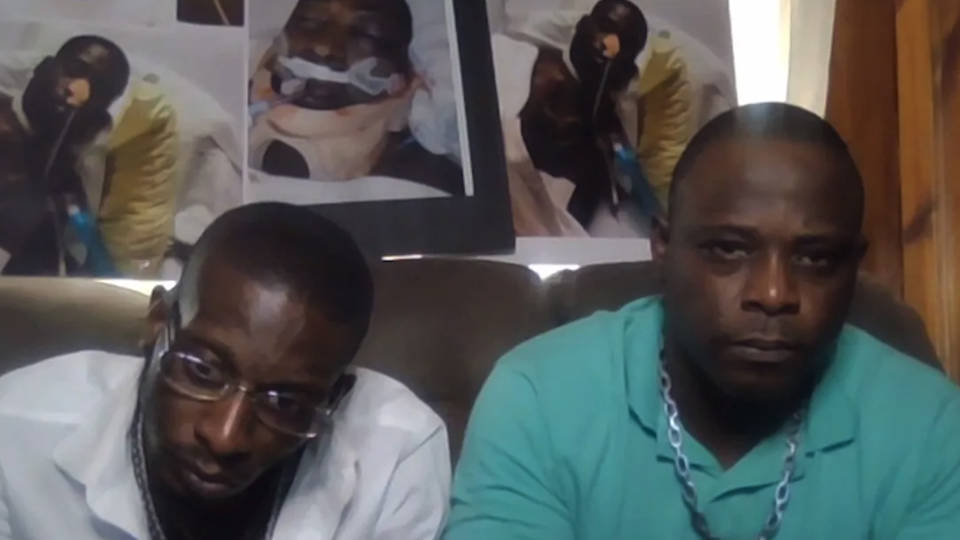 Several sheriff's deputies in Rankin County, Mississippi, have been fired after two Black men filed a lawsuit alleging torture and attempted sexual assault by officers. Michael Jenkins and Eddie Parker say six deputies entered their home outside Jackson in January and handcuffed, kicked and waterboarded them; taunted them with racist slurs; attempted sexual assault; and repeatedly electrocuted them with Tasers. Jenkins says one deputy placed a gun into his mouth and pulled the trigger, lacerating his tongue and shattering his jaw. The men are seeking $400 million in damages from Rankin County Sheriff Bryan Bailey and six deputies. The FBI, the U.S. Attorney's Office and the Department of Justice's Civil Rights Division have opened investigations.
EPA Drops Civil Rights Probe of Louisiana Regulators over "Cancer Alley"
Jun 29, 2023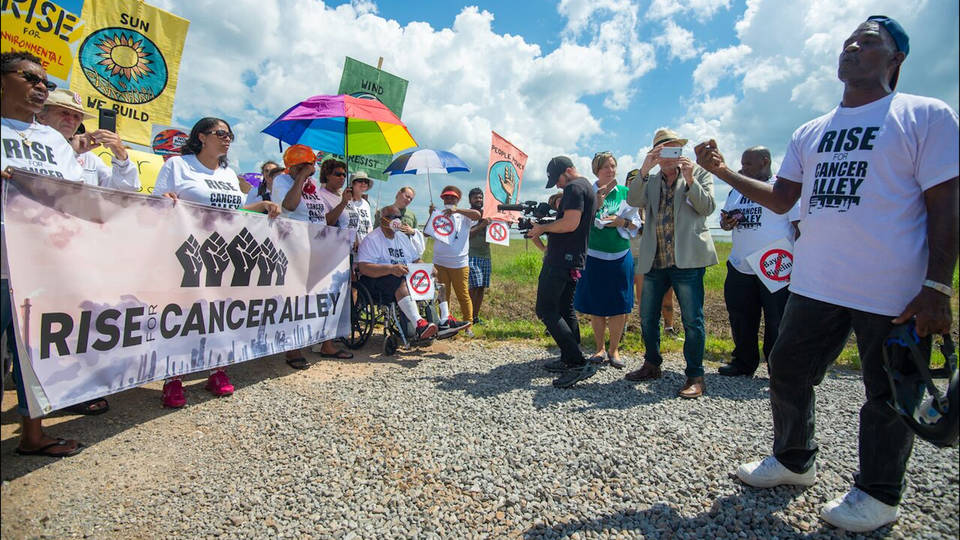 Image Credit: Louisiana Bucket Brigade
The Biden administration has dropped its civil rights investigation into whether air pollution regulators discriminated against Black communities in an industrial section of Louisiana known as "Cancer Alley." Some 200 petrochemical plants span the majority-Black region over an 80-mile stretch of the Mississippi River. On Tuesday, the Environmental Protection Agency said in a court filing it had uncovered "no finding of discrimination or other violation" of the Civil Rights Act of 1964 — that's despite initial findings that Louisiana environmental and health officials failed to provide accurate information to residents about airborne emissions of chloroprene, a hazardous chemical linked to lung and liver cancer.
Over 200 Million in U.S. and Canada Face Extreme Weather Alerts from Smoke and Heat
Jun 29, 2023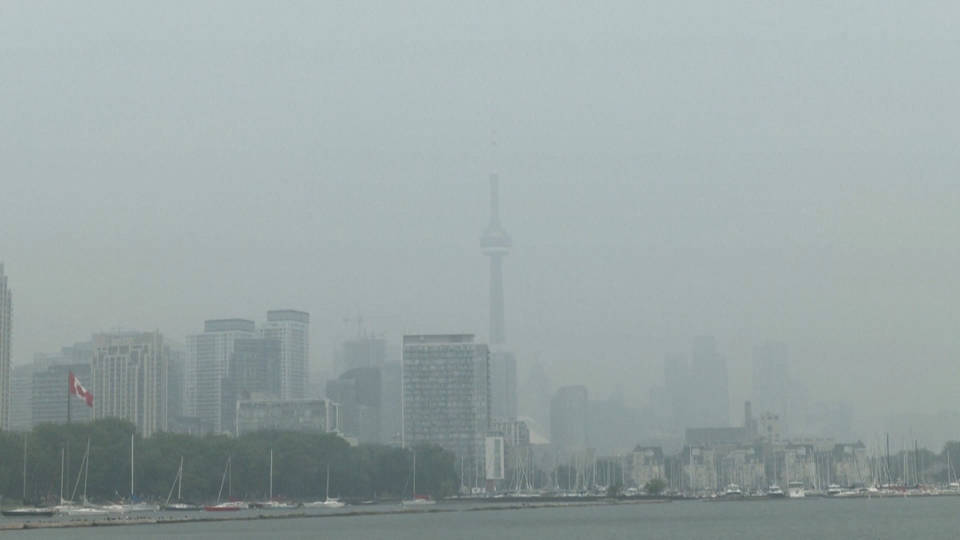 Smoke from nearly 500 wildfires in Canada is blanketing much of North America in an unprecedented haze, triggering air quality alerts in 20 U.S. states that are home to a third of the population. On Wednesday, the EPA's Air Quality Index for major cities, including Cleveland, Chicago, Indianapolis, Milwaukee, Pittsburgh and Toronto, reached "unhealthy" or "very unhealthy" levels as city skylines faded into a shroud of smoky air. Air pollution near Detroit reached "hazardous" levels. Meanwhile, over 100 million people across the U.S. are under heat warnings and watches today, as a heat dome that's lingered over Texas expands to southeastern states, and parts of California brace for triple-digit temperatures. We'll have the latest on Canada's wildfires and the climate crisis later in the broadcast.
3M and Solvay Settle Claims over Pollution from "Forever Chemicals"
Jun 29, 2023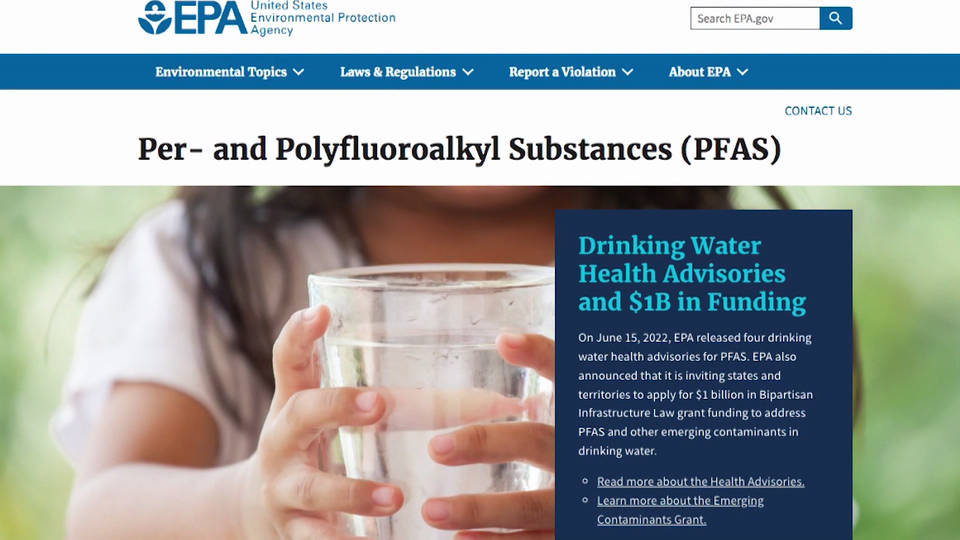 The Belgian chemical company Solvay has agreed to pay nearly $400 million to settle claims linked to drinking water contamination near its factory in southern New Jersey. The funds will be used to clean up pollution caused by PFAS — a class of toxic substances commonly called "forever chemicals" that don't break down in the environment or in the human body. PFAS have been linked to cancer, liver and thyroid disease, maternal mortality, birth defects and other health problems. Wednesday's settlement comes a week after 3M agreed to pay more than $10 billion to settle lawsuits claiming it knowingly used "forever chemicals" in its products despite risks to human health. This comes as Republican congressmembers are promoting legislation that would weaken attempts to regulate PFAS while insulating many polluters from liability under the federal Superfund law.
U.S. Logs First Domestically Transmitted Cases of Malaria in 2 Decades
Jun 29, 2023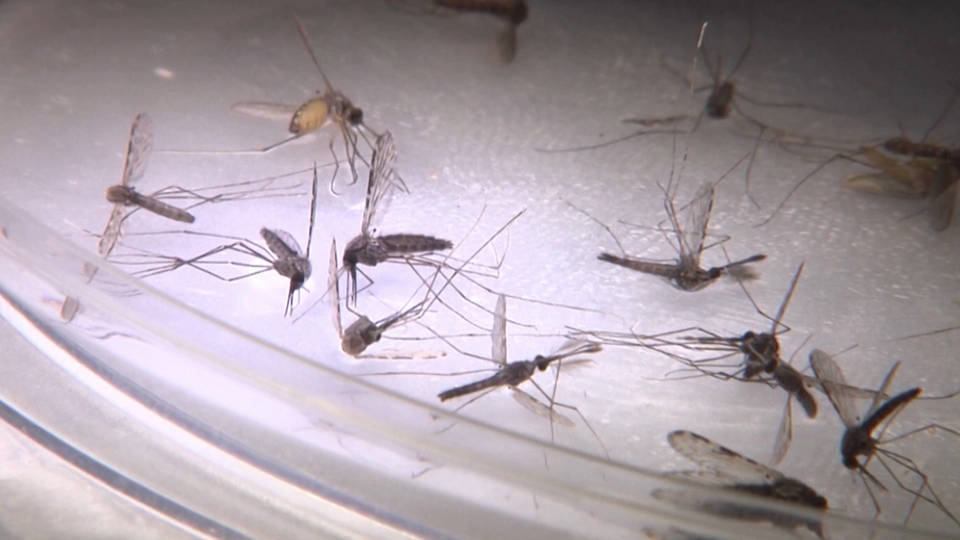 The United States has recorded its first cases of domestically transmitted malaria for the first time in two decades. Dr. Debra Houry, the chief medical officer at the U.S. Centers for Disease Control and Prevention, said Tuesday the mosquito-borne disease was discovered in four people from Florida and one person in Texas.
Dr. Debra Houry: "So, it's a concern because malaria is a life-threatening disease, it's not often seen in the United States, and we hadn't seen it domestically acquired in over 20 years."
In 2021, malaria infected nearly a quarter-billion people worldwide, killing more than 600,000 of them. The disease is triggered by a parasite that's spread to humans by certain types of mosquitoes that thrive in warm weather and humid conditions. In recent years, those mosquitoes have expanded their ranges in ways that are consistent with climate change.
Teamsters Union President Says a Strike of 340,000 UPS Workers "Appears Inevitable"
Jun 29, 2023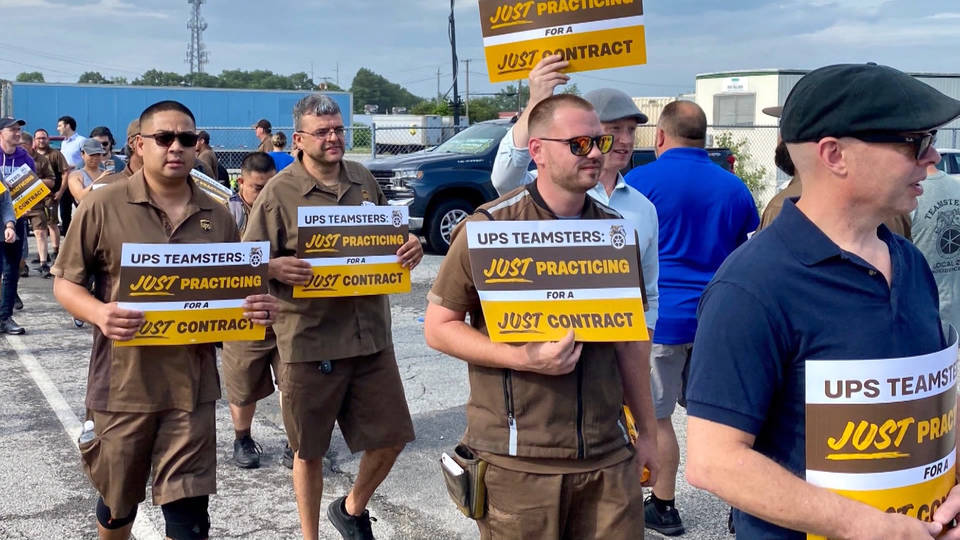 Image Credit: Teamsters
The head of the Teamsters Union says a third of a million workers at UPS will likely walk off the job on August 1, after slamming the shipping company's proposed union contract as "appalling." Teamsters President Sean M. O'Brien said in a statement, "The largest single-employer strike in American history now appears inevitable. Executives at UPS, some of whom get tens of millions of dollars a year, do not care about the hundreds of thousands of American workers who make this company run." The Teamsters are demanding UPS exchange its last, best and final offer no later than Friday. Earlier this month, 97% of unionized UPS workers voted to authorize a nationwide strike if managers don't agree to a new union contract by July 31.